(Last updated on January 30th, 2023)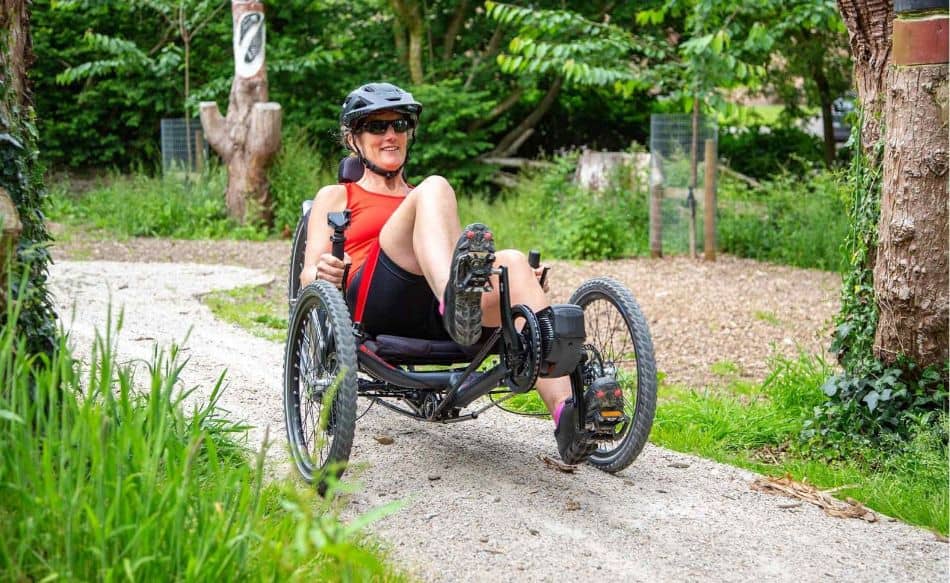 Everyone should be able to enjoy the benefits and fun of cycling, and adult tricycles are a great option for people looking for an alternative to two-wheeled bikes. Riding a bike is one of the best ways to get out in nature, breathe fresh air, and engage in physical activity, but staying comfortable or stable on a traditional bike can be a challenge for some. Tricycles are an ideal solution for riders with balance or mobility limitations and trikes offer the same amount of exercise and thrill as their two-wheeled counterparts, if not more!
Adult trikes come in many shapes and sizes, so it can be difficult to sift through all the options to find the right one for you. There are numerous designs that suit different rider needs and it's only a question of narrowing down your search. In this guide, we've done the hard work for you— keep reading to learn about the different styles of adult tricycles and how to choose the right one.
What Is an Adult Tricycle?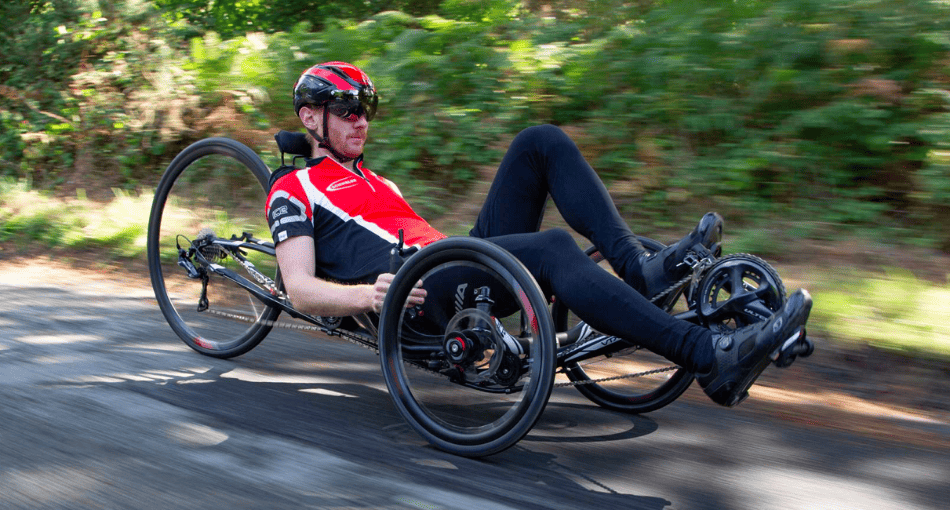 Adult tricycles are three-wheeled bikes that stand up by themselves, requiring less effort to keep the bike balanced and stable. The unique setup of one wheel in the front and two wheels in the back means riders simply have to focus on moving forward and can stay relaxed in the saddle. This category of bike is sometimes referred to as adult trikes or adaptive tricycles.
Some adult tricycles are simply built for recreation and others are designed to assist riders with specific physical limitations. Common features include additional back support, a relaxed riding position, and an ergonomic design for arms and legs.
How Can I Decide on the Tricycle That's Right for Me?
The most important things to keep in mind when on the hunt for an adult tricycle are the appropriate seat style and the position of the handlebars. In the following section, I break down the main types of trikes as well as some accessories and smaller touches that can make a big difference to your ride.
What Are the Different Types of Adult Tricycles?
There are four main types of adult trikes, each with their own advantages and specific design:
Upright tricycles
Semi-recumbent tricycles
Recumbent tricycles
Electric tricycles
Upright tricycle
Imagine a standard cruiser-style bicycle but with three wheels— that's pretty much what an upright tricycle looks like. It shares the same relaxed geometry as a standard bike, but there's two wheels in the back which makes the trike super stable. Many of these models feature a seat that's bigger than the conventional saddle to offer back support or accommodate heavier riders.
This style of tricycle is great for people who have the physical ability to steer and pedal a standard bicycle but may have challenges with balance. The setup is most similar to the kids' tricycles we remember from childhood but with much larger wheels— and typically all three are the same diameter. The step-thru frame is easy to mount, even with limited mobility, and the handlebars are high and swept back so riders don't have to lean forward to steer.
Common accessories on upright tricycles are large baskets in between the rear wheels that come in handy for transporting cargo or running errands. It goes without saying that this type of bike isn't designed to win races, its a great way to stay cycling if you need some extra support and go on weekend joyrides.
Recommended Upright Tricycle: Sixthreezero Bodyease Tricycle
PROS
Relaxed, upright riding position
Great for riders used to standard bike setup
Very stable
Easy to mount
CONS
The BodyEase trike is a comfortable cruiser-style adult tricycle with seven gears and a handy rear basket. For riders who require a bit more stability than a conventional cruiser, it's perfect for riding around bike paths or shuttling picnic items in the large basket. This $799 model is no speed demon, but your weekend joyrides will be a blast.
Semi-Recumbent Tricycle
Semi-recumbent trikes split the difference between upright tricycles and fully recumbent models that might be too low to the ground for some riders to get into safely. Rather than the pedals positioned directly below the seat, the pedals on semi-recumbent bikes are placed farther forward along the frame— many older riders find it to be a more ergonomic riding position.
Because of the slightly reclined posture, this style of trike utilizes a more substantial seat with a backrest to offer support and keep you on the bike. The handlebars sweep back significantly to meet the rider. I like to think of this bike's laid-back design as a kind of three-wheeled chopper— that said, there are actual chopper-inspired tricycles, but those are bespoke builds that aren't too common.
If a slightly reclined position is more comfortable for you to pedal, a semi-recumbent bike is a great solution that bypasses the more involved process of mounting and dismounting a fully recumbent bike that's so low to the ground.
Recommended Semi-recumbent Tricycle: Mission TR1000 Semi Recumbent 21 Speed Adult Tricycle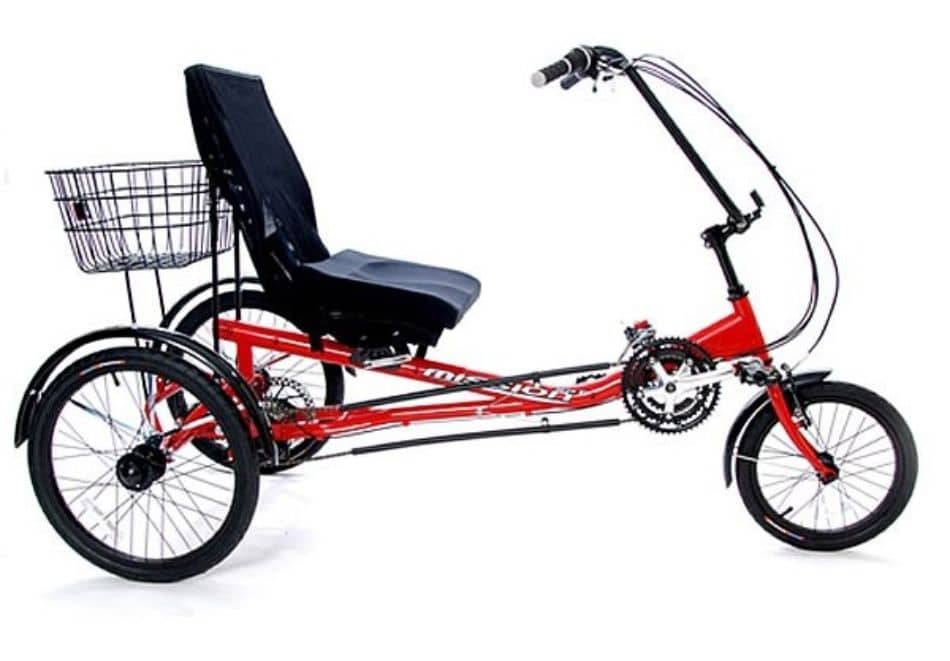 PROS
More comfortable pedaling position for some riders
More substantial back support from large seat
Great for heavier or taller riders
Easy to mount
CONS
Can feel oversized for shorter riders
Not as efficient as fully recumbent trike
This model strikes the perfect balance between the relaxed position on an upright trike and the back support offered by a more recumbent tricycle. There are 21 speeds, a backrest-equipped seat, and a useful rear basket. This model is popular on either side of the pond and is a favorite of American and British cyclists alike. At nearly $1,600, it's more expensive than an upright trike but is well worth it for the ergonomic pedaling position.
Recumbent Tricycle
Recumbent trikes allow the rider to sit in a reclined position that's low to the ground that's easy on the back. The comfortable, laid-back position spreads out a rider's weight throughout the whole bike so there's no stress on a single part of the body— on conventional bikes, most of the strain is placed on the butt (seat) and hands (handlebars).
An added benefit of the low-to-the-ground silhouette of recumbent bikes is that they are relatively aerodynamic. Like their two-wheeled counterparts, this style of bike is best suited to faster sport cycling or when you want to get a workout in. The sleeker design and popularity of higher-end models make this category the most expensive type of trike.
Some models have front-mounted handlebars, but most recumbents use steering levers placed on either side of the seat. This unique design allows riders to have control over the trike while keeping their arms in a natural position. For cycling enthusiasts who have more substantial mobility limitations or suffer from back pain, recumbents keep the spine in a neutral position so you can keep pedaling out those miles.
Recommended Recumbent Tricycle: Terratrike Maverick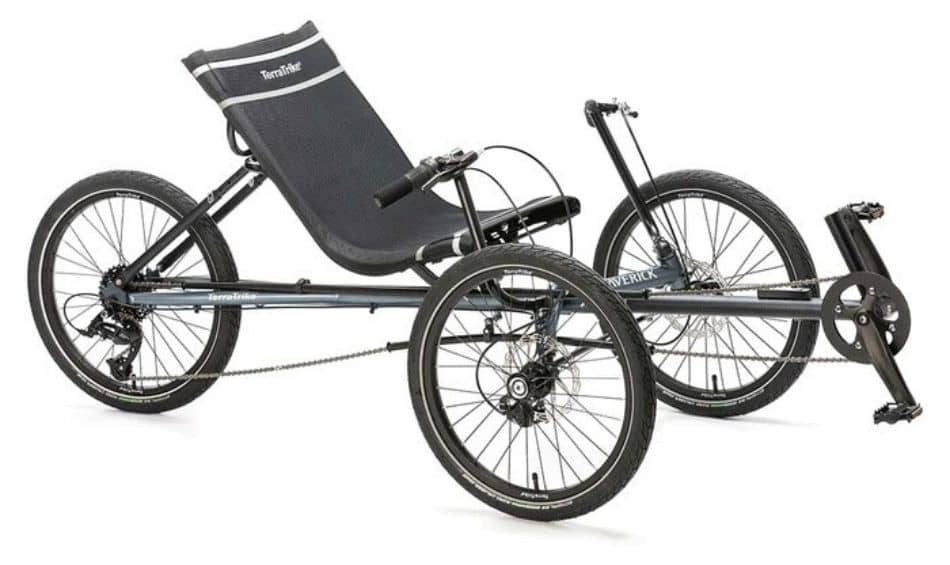 PROS
Aerodynamic, sporty performance
Recumbent position best for back pain
Side levers are easy to steer
CONS
Can be difficult to get in and out of
More expensive
The Maverick is an excellent entry-level recumbent tricycle for riders looking to experience the advantages of the laid back riding position and impressive back support. At only $1,499, it's more affordable than many semi-recumbent bikes and is much more accessible than other trikes that can cost upwards of $3,500-$4,000.
Electric Tricycle
As electric bicycles grow in popularity these days, so too do electric tricycles! Tricycles are naturally heavy because of the bigger frame and extra third wheel, so it makes sense that bike manufacturers have decided to equip some models with a motor.
Three-wheeled bikes can't turn well on sharp corners or at speed, so e-trikes aren't designed for speed, but rather to handle heavier loads. I remember riding an electric trike when I worked at bike shops in Chicago and Boston. We had a cargo trike powered by a small electric motor that made it easy to get up hills even when carrying gear across town to local farmers markets, rallies, and other events where we did bike repairs.
Whether its to carry groceries or flatten out the hills on your local paths, electric trikes are fun machines to get the job done. They'll cost a hefty sum, but all that functionality can be well worth it.
PROS
Motor makes riding a breeze
Allows riding with heavy load
You May Also Like:
What Kind of Handlebars Are on Tricycles?
Depending on their seat style, tricycles utilized different styles of handlebars to give riders the most control and comfort on the bike.
Standard, Front-Mounted Handlebars
When you think of bike handlebars, you are probably thinking of front-mounted handlebars. They extend from the stem above the front wheel and typically sweep back towards the rider so they don't have to reach too far forward. They are the most common type of trike handlebar, but they do require a certain level of hand and arm dexterity to operate.
Standard handlebars require the rider's arms to be elevated as well as a relatively wide range of motion to steer the bike. While these comfortable cruiser-style handlebars can help reduce upper-body strain, some riders find that this style leads to fatigue over longer outings.
Underseat Steering
Underseat steering means there are levers on either side of the seat (connected underneath the seat) that can turn the rear wheels. This style is found only on recumbent tricycles where the rider is laid back in the seat and their hands can grab the levers in a natural way. The main benefit here is that there's no added strain of keeping your arms elevated, ideal for people with limited shoulder or upper body mobility.
Different designs of undersea steering exist, but it's more common to see indirect steering where the levers connect to a mechanism under the trike seat that affects the turning of the wheels. This makes handling a breeze, a bit like how power steering in a car is much easier on the body than direct steering. This setup where the levers are directly connected to the wheels can be found on some bikes, but my vote is for indirect steering that offers a great turn radius and ease of use.
Hand Pedals and Handcycles
Handcycles are bikes that are pedaled with the hands rather than the feet. Their impressive engineering combines the handlebars with the pedals so riders can steer and power the bike with just their hands and arms which is ideal for people with limited lower-body capability.
It's an ultimate workout for your upper body and can reach high speeds, too. Some of the most expensive trikes are recumbent handcycles, complete with an aerodynamic silhouette that cuts through the air and high-quality components. This design is widely available on recumbent bikes— both two-wheeled and three-wheeled options— and is part of the Paralympics since it's a great alternative for athletes who have lower body limitations.
What Extra Features Come On Adult Tricycles?
To boost their utility, adult trikes typically come with some additional touches so you can optimize your ride. For this reason, trikes are often called 'adaptive tricycles' as they are specially built to serve a specific need, whether that be accommodating a physical limitation or carrying cargo.
Back Support
Many people think of the legs as the most important part of the body when it comes to cycling, but it's crucial to take care of one's back while riding, too. Lower back pain is a common physical restriction, especially with senior riders, but can be minimized via bike seats with extra support. Upright trikes rock seats with backrests and semi-recumbent and recumbent models come equipped with larger seats that help riders assume a natural, relaxed position that's easy on the spine.
Storage Basket and Cargo Hauling
Upright tricycles designed for weekend joyrides and trikes built for hauling cargo both come with a large basket between the rear wheels. This isn't like the standard bike basket you're used to, the basket is seriously spacious and can fit large objects or be outfitted with a special container, say a big cooler or lockable box.
Electric Motors
To help riders push along a heavy tricycle, many models run an electric motor that delivers a boost to the wheels. The motors are controlled with buttons or a throttle from the handlebars and while they aren't built for pure pace (turning too fast on a trike can get a bit unstable) there's plenty of torque to get you moving loaded with gear or up small hills.
Room for Two? Double-Seater Tricycles
One of the coolest niches of bikes is double-seater bikes. Sure, you have seen the occasional two-wheeled tandem around town, but have you seen a double-seater tricycle before? This sub-category of tricycles features two seats positioned next to each other (rather than one behind the other as with a conventional tandem) which is great for riders who need assistance while riding or shouldn't be left by themselves.
At my old bike shop one summer, someone donated an amazing double-seater quadricycle— that's four wheels! While not technically a trike, the design philosophy was the same, featuring a wide stable setup with two large seats so a couple could ride the bike together around the paths. They had previously used it with their daughter who loved cycling but due to her disabilities, couldn't ride a bike unassisted. Double-seaters are a great solution and my test ride convinced me they're pure fun, too!
Buyers' Guide: How to Pick the Right Trike
Some great brands to kick off your search include trusted names like TerraTrike, Catrike, GreenSpeed, and ICE recumbent bikes. Sixthreezero and Mission Bikes offer good value on a budget.
Geometry That Suits Your Needs
The first step you can take to narrow down your search is identifying the type of trike that matches your specific needs and physical ability. If you require a recumbent position or desire an upright riding posture, this directs your hunt. The main categories include: upright, semi-recumbent, and fully recumbent.
Handlebar Style
The next decision is about the type of handlebar to steer the bike in a safe and comfortable way. Riders who have limited upper body mobility are best served by undersea steering where they can keep their arms at their side and still steer the wheels via a set of levers. There are also front-mounted handlebars like those of standard bikes and hand pedals that double as a steering column.
Final Touches and Accessories
Adult tricycles are one of the most diverse categories of bike with a multitude of design features and accessories to choose from. They are called adaptive tricycles for a reason and come outfitted with specific accessories like backrests, storage baskets, electric motors, and more to complement your ride. There are also racing models that come equipped with lightweight components and high-quality parts built for speed.
The Takeaway on Trikes
Tricycles aren't intended to replace bicycles when it comes to recreation and sport, but they offer a crucial alternative for people who have special requirements or physical limitations. The wide diversity of designs, components, and accessories make tricycles one of the most inclusive categories of bikes out there that make sure that everyone, regardless of their levels of mobility, can enjoy cycling and getting out in the fresh air.
Frequently Asked Questions
How do you pick the right size tricycle?
Generally speaking, tricycles with larger diameter wheels are appropriate for taller riders whereas shorter riders fit better on smaller diameter wheels. Make sure you can easily mount and dismount the tricycle to know the frame isn't too large and that the seat can be properly adjusted to give you comfortable access to the pedals and handlebars.
What should I look for when buying a tricycle?
Make sure the tricycle has the correct style of seat and handlebars for your body and any specific needs you have. Trikes are all about having a stable and enjoyable ride so they should be comfortable and minimize any physical strain on the body.
What are the different types of trikes?
The main categories of adult tricycles are upright tricycles, semi-recumbent tricycles, recumbent tricycles, and electric tricycles. Handcycles are a special design that is an alternative to foot pedaling.
Are trikes easier to ride than bikes?
Yes, tricycles are much more stable than standard bicycles because of the third wheel. Tricycles position the rider in a natural posture that reduces strain on the body, especially for people who have lower back pain or limited mobility in their upper or lower body.
Why do adults ride tricycles?
Tricycles are a great alternative to traditional two-wheeled bicycles for people who have trouble with balance and mobility. Trikes are super stable due to the extra wheel and have special seats to minimize strain on the body so riders, no matter their physical ability, can enjoy the thrills and outdoor recreation offered by biking. Adults who suffer from limitations in their neck, knee, or back or have arthritis often ride tricycles to help reduce any fatigue or pain.
What is a tricycle for adults called?
Adult tricycles are sometimes referred to as adult trikes or adaptive tricycles.
Are tricycles good for seniors?
Tricycles are a common way for older people to continue riding even if their mobility levels aren't what they used to be. The fully recumbent position of some models can alleviate pressure on the spine and allow riders to pedal in a natural way that's easy on the joints and body. That said, some people find mounting and dismounting recumbent bikes that are so low to the ground to be a bit challenging.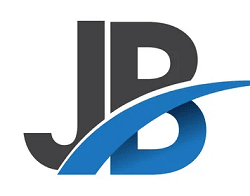 Jeffrey Brown is a writer, editor, and professional bike mechanic with over 7 years of experience working in full-service and community-based bike shops. As a bicycle educator, he has supported youth programs across the US that teach bike mechanics and life skills to prepare the next generation of cyclists.
Jeffrey began his professional mechanic career at his university bike co-op, so he recognizes the grassroots power of the cycling community. Initially self-trained as a mechanic, his subsequent positions as manager and lead educator gave him official training. He has won various awards and grants for his role as a bicycle and environmental advocate.