(Last updated on March 27th, 2023)
Electric bikes are the future, and there's no denying that they are getting very popular. Technology has gotten so good that it can't be ignored as an extremely efficient form of transport.
Not only that, with cycling clubs welcoming ebikes with open arms, they are incredibly social too.
Many new bikes are currently hitting the market, and it's not rare to see a new ebike brand or bike pop up weekly. A brand that has been around a long time and is well known for its quality is Aventon, and everyone is speaking about their new bike called the Aventure. Welcome to the Aventon Aventure Review.
Who are the Aventon?
Aventon was founded in 2013. They are an electric bike company from Southern California. The Aventon design and manufacture themselves and offer a wide range of bikes, from folding to off-road bikes, commuters, and hybrid bikes.
They boast a high level of quality and use powerful motors, very efficient batteries, and good-quality components. It doesn't stop there. They also sell accessories such as helmets, lighting, racks, baskets, bells, and even bags.
When it comes to electric bikes, they are a brand that can be trusted and have put a lot of time into ensuring top quality at a very good value-for-money price.
What Do I Look for in an Electric Bike?
Before I start the Aventon Aventure Review, it's important to speak about what I look for in an electric bicycle. As an expert and after riding and reviewing so many, here's what I look out for:
Frame and Fork
When it comes to the frame and fork, I look for a few things. Firstly, high-quality material should only be used, it should work for a wide range of users, and be well-equipped for the purpose, and I also want it to look good.
Motor and Battery
I look for powerful motors and large-high-quality batteries on electric bikes. This means you get the best experience possible by getting good acceleration, a high top speed, and many miles in range.
Gearing
You might not think gearing matters so much when you're on an electric bike, but it does. Gearing will help you get up those hills, save the battery from increasing range, and it's important for cadence control. It has to be good, or you won't enjoy riding the bike.
Wheels and Tires
Electric bikes need to have good wheels and tires. Good wheels and tires will enhance the bike's off-road capabilities and provide extra comfort. I look for the right sizes and high quality.
Brakes
If the bike allows you to go fast, it also has to give you the ability to stop quickly too. When I look at electric bikes, I want them to have excellent brakes.
Special Features
Sometimes it's the special features that make a bike. You can have USB charging ports, lighting, automatic gearing, and LCD displays. I look for special features that really enhance the cycling experience that you are going to get.
Aventon Aventure Review
Key Specifications
| | |
| --- | --- |
| Frame | Aluminum |
| Fork | 80mm Suspension Fork |
| Motor and Battery | 750w Typical (1130w Peak) |
| Distance | 45 miles |
| Wheels and Tires | 26" Wheels with 4" Tires |
| Brakes | 180mm Hydraulic Disc Brakes |
| Weight | 73Lbs |
| Cost | $1499 |
| Height Range | 5ft 1" to 6ft 4" |
| Max Weight | 400 lbs |
Aventon Aventure Review
Pros And Cons
Pros
The price is excellent at $1499 for what you get
The suspension fork gives it great off-road ability and increases comfort
Powerful 750w motor, which peaks at a very high 1130w
45 miles range is good
Very powerful hydraulic disc brakes to stop you quickly
Good height range and weight limit
Wheels and tires give it excellent ability on and off-road
Incredible LCD display
Fenders, lighting, and internal cable routing
Step through and step over version
Cons
Not the lightest of bikes
Quite large in terms of size
Not the longest range
Frame 5/5
Let's start with the frame, and it deserves a solid 5/5. Not only does it look fantastic, but it works. You get two options for the Aventure, a step-through or a normal straight frame. It comes in three different sizes, small, medium, and large.
It is made of aluminum which is lightweight and strong, so it has the capabilities for off-road riding and a huge weight limit of 400 lbs. The geometry is relaxed, and not only will you have great comfort, but it will also be excellent for control.
It comes in three different colors. You get an olive green, a sand brown, and a jet black. I love that they have routed the cables through the frame and feel compared to other electric bikes on the market. It definitely looks the part.
Forks 4/5
When it comes to the forks, I felt really happy that they went with a suspension fork compared to a rigid fork. With such large tires, you could have gotten away without suspension, but I feel they went above and beyond.
They use a Zoom fork that offers 80mm of travel and even has a lockout option. Although I am happy, they have put a suspension fork in, it is very basic, and Zoom is not a big brand name; because of this, I have given it 4/5.
Motor and Battery 5/5
My favorite bike parts are the motor and battery, which is why it gets a solid 5/5. They have equipped this bike and made it incredible by adding serious power and ability. It is a great setup, and they haven't cut corners regarding the internals. You can use this bike on either a throttle or pedal assist system.
The motor is a brushless 48v motor with a normal power of 750w but can go all the way to 1130w. This gives you excellent acceleration, and a top speed of 20 mph on the throttle and 28 mph on the pedal assist.
The battery is a 720Wh battery which is made with lithium-ion cells. It gives you a range of 45 miles and can quickly charge in roughly 4-5 hours. Being lithium-ion, it will have a long life and will work great for many years, providing it is well looked after.
Gearing 4/5
When it comes to gearing, it's important that it is good for many reasons. Firstly you need it for when you're in pedal assist mode. Secondly, it can help you conserve battery for those longer rides, and lastly, it helps you find the perfect cadence for you.
The Aventure has a 1×8 system giving you eight gears to play with. You get a wide range of climbing and descending using a single trigger shifter. It comes from Shimano and is high quality, long-lasting, and a great feature for this bike.
I gave it 4/5 because I would have loved to have seen 10-speed instead, with a larger cassette suited a bit more to off-road riding. I am happy with what is offered, but it could have been better.
Wheel and Tires 4/5
When it comes to wheels and tires, you get your money's worth for sure, but there's room for improvement hence 4/5. The Aventure uses fat bike wheels and tires, which are excellent for off-road riding and give a comfortable ride.
They are double-walled aluminum 26" rims with 36 spokes on each. This will give an excellent ride and be very strong. Paired with e-bike-rated large 4" tires, you can go anywhere and have the ability you need.
Although this is an excellent setup, riding on the road is a bit much. You don't need tires that big for popping into town. I would have loved to have seen some tires to make this bike a little bit more of an all-rounder. 3" tires would have made this a little more multi-purpose.
Brakes 5/5
Brakes are vital on ebikes, and they have to be excellent. Ebikes are typically much heavier than typical bikes, so they pick up more speed downhill fast. The Aventure being able to go to 28mph, must be able to stop quickly too.
Aventon here has nailed it here by using hydraulic disc brakes. Instead of using cables to create the force to group the pad, they use fluid. They are highly efficient and easy on the hands when being used.
They have also gone with large 180mm disc brakes, bigger than many other companies' standard 160mm discs. They are excellent in wet and muddy conditions and can even self-adjust.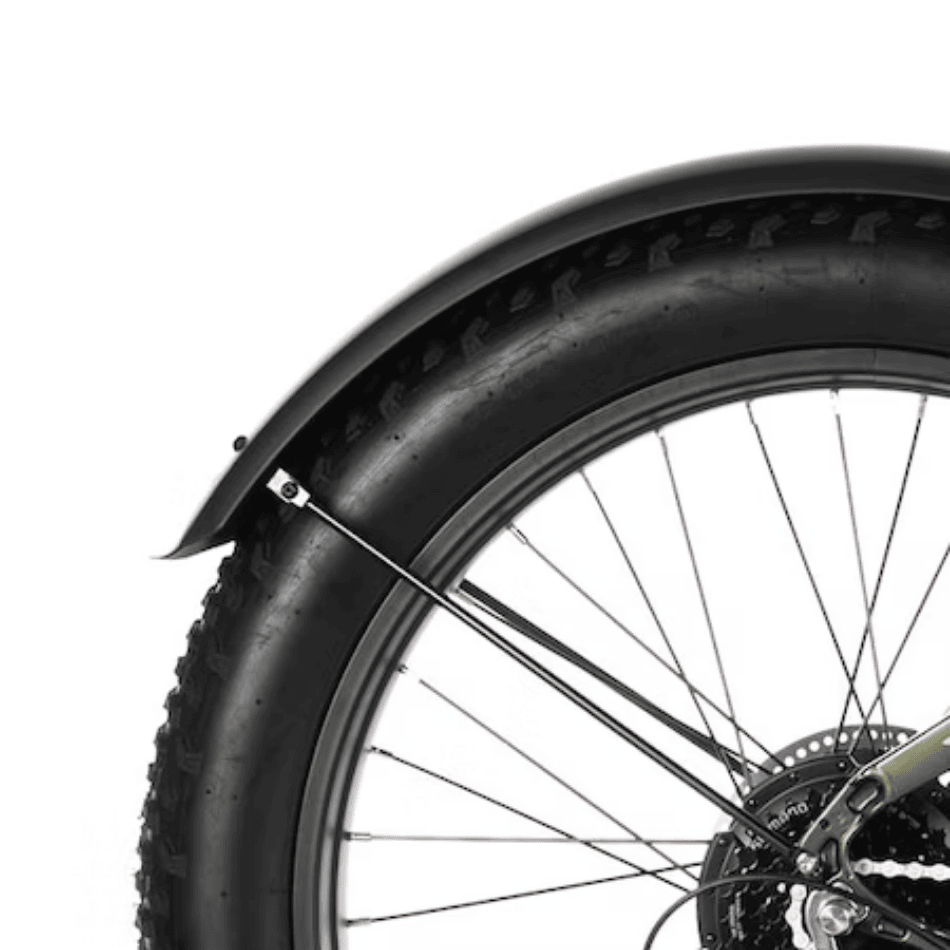 Special Features 4/5
When it comes to special features, I look for things that will improve the cycling experience. The Aventon Aventure offers some really cool features that did impress me. The first thing is the fenders. They look great and also are good at keeping you fairly clean.
Next, you have the LCD display, and I love the effort they have put into this. It looks great and has a very crisp screen. It can connect to your phone through an application and will tell you all the data you need, from range to your level of assistance.
On top of these, you can also buy lots of accessories from Aventon, such as front and rear racks, lighting, locks, mirrors, phone mounts, and much more. I gave the Aventure a 4/5 because although it comes with many features, such as an LCD display and fenders, you need to pay for anything else on top of that, such as bike lights
Weight 3/5
Electric bikes, because they have so much to them, can weigh a fair amount. It's challenging for companies to equip the bikes well but not make them too heavy, as they can be difficult to store and use. Aventon is not the heaviest, but it's not the lightest either.
The Aventure is very equipped but doesn't come light at 73 lbs. That does make it a heavy bike, and because of this, it gets a 3/5. Although it can be walked on the motor, it can be challenging to use sometimes if you are not used to a heavy bike.
User Capacity 5/5
The Aventure not only gives a great cycling experience, but it can work with a wide range of users. It has a height range of 5ft 1" to 6ft 4", which is very generous for electric bikes.
To cover this range, it comes in three sizes. A small, medium, and large. The small works from 5ft 1" to 5ft 9". The medium works from 5ft 7" to 5ft 11". Finally, the large goes from 5ft 9" to 6ft 4".
Then we have the weight limit. It's a huge 400lbs which is incredibly high and one of the largest we have seen on any bike we have reviewed. It doesn't surprise us, though, with the incredibly strong frame and larger tires.
As far as height and weight limits go, we think it's very impressive. It is a bike that, even in multiple sizes, can work with many users. This would be ideal if you wanted to share a bike with your partner.
Cost 5/5
The price is important when buying an electric bike. You can find some as little as $400 and some s $5000. The Aventure comes in at $1499, which is incredibly cheap for an electric bike of this standard.
Electric bikes are generally not very cheap. This is because compared to a typical bike, there is so much more to them. You have the motor and battery, which are made with incredible technology, and everything has to be made stronger to compensate for the extra load and power.
I gave it a 5/5 because I believe for $1499, you get a bike worth a lot more. The Aventure is incredible and not built for a year's riding. It makes for a decade of riding. I think it's worth every cent. If you want to learn more about Ebike cost, I have an excellent article on the cost of eBikes.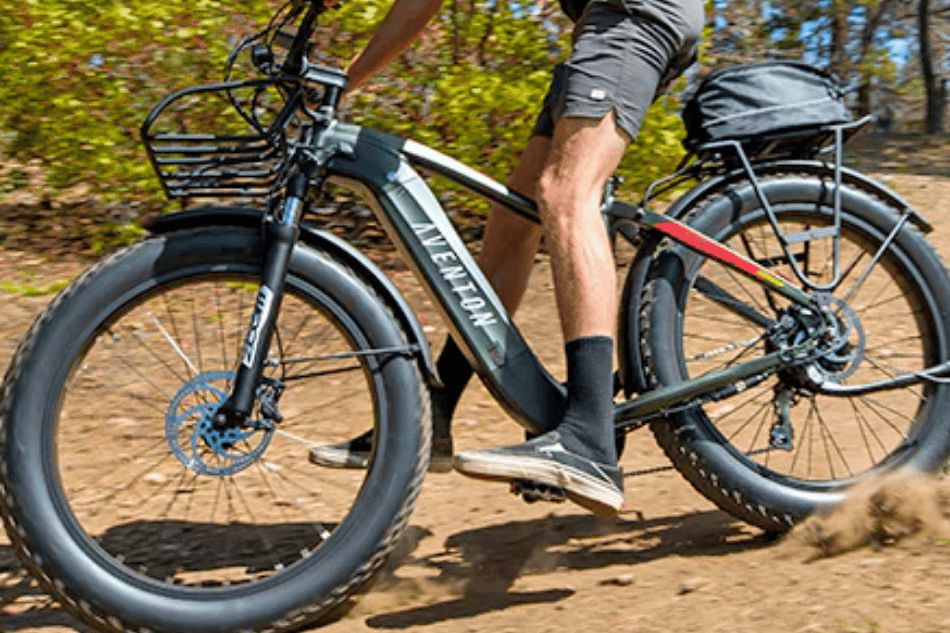 Our Verdict 4.5/5
When I first saw the Aventon, I knew it would be a good bike. It ticked all the boxes for us. It had a great motor and battery, it looked great, and you could tell they had a vision when making this.
I believe it's an excellent electric bike and well worth the money they are asking for. It will be great for adventures, and it packs a punch. I was definitely impressed. It gets a solid 4/5. They could only improve it by making it lighter and slightly better gearing.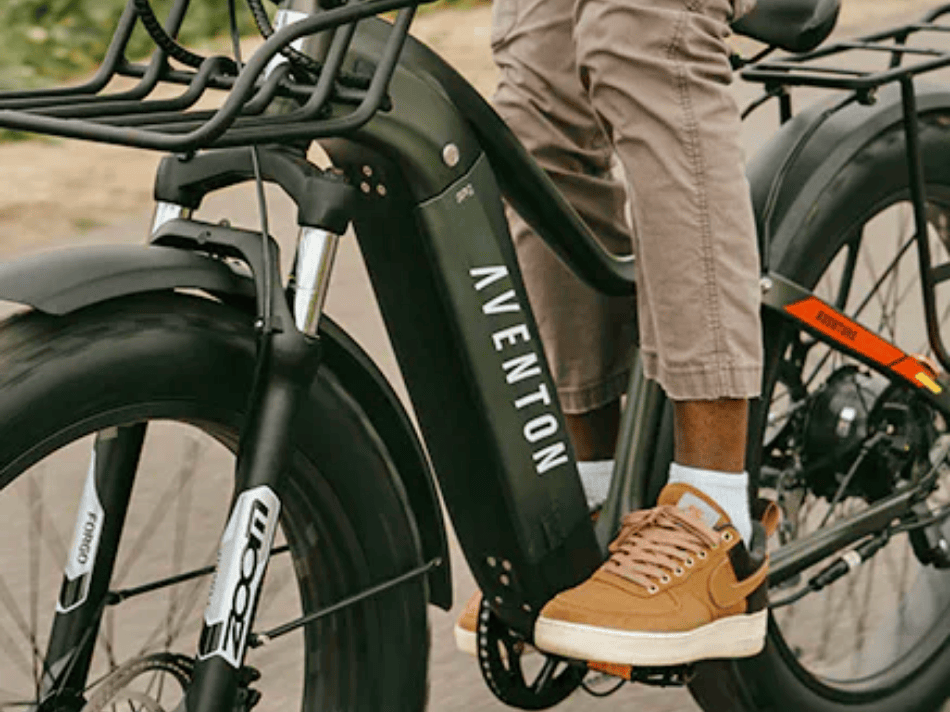 Other Products
Although you might think with the Aventure, you have already found the perfect bike for you. Other bikes might be perfect for you. Here are a couple of similar bikes I can recommend:
| | | | | | |
| --- | --- | --- | --- | --- | --- |
| Bike | Motor | Range (Miles) | Weight | Max Speed | Cost |
| Himiway Cruiser | 750w | 35 – 60 | 72lbs | 20mph | $1349 |
| Rad Expand 5 | 750w | 45 | 62.5lbs | 20mph | $1499 |
1. Himiway Cruiser
The Himiway Cruiser is another bike very similar to the Aventon Aventure. It comes in cheaper than the Aventure at only $1349 and boasts similar specifications. It has a motor of 750w, which peaks at 840w. The range is 35-60 miles which is great on such a powerful bike with a max speed of 20mph.
It also comes with 26" wheels and 4" tires for off-road riding. The gearing is much more basic with only 7-speeds, but it does offer features such as lighting and a rear rack which the Aventure doesn't. I also highly recommend this as a top electric bike.
2. Rad Expand 5
If you're looking for a more compact bike compared to the Himiway Cruiser or the Aventon Aventure, you might want to consider the Rad Expand 5. It's a folding compact ebike, which, although it might not look as capable as the Aventon, can still pack a punch on a trail.
It has a 750w motor that can take you up to 20mph with a range of 45 miles. It comes in at the same price as the Aventure but with a lesser top speed and smaller wheels and tires. What I really like about the Rad Expand 5 is the weight of 62 lbs. Overall it's a great bike and well worth looking into.
You May Also Like: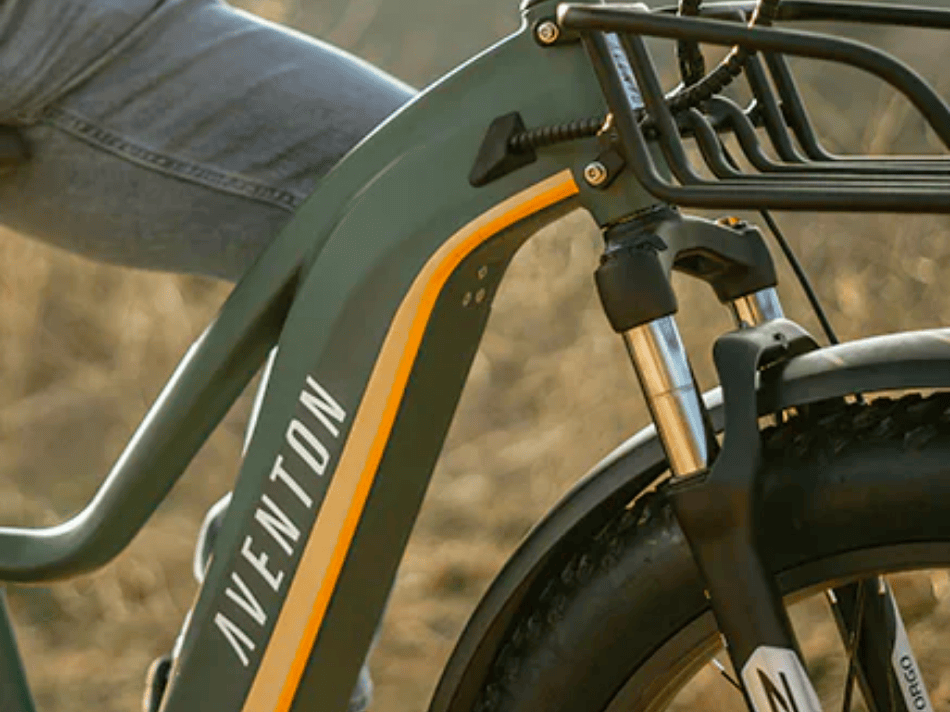 Frequently Asked Questions
Is Aventon A Good Ebike Brand?
Aventon is an excellent ebike brand. They employ over 400 people altogether and as a team. They make bikes that are not just competitive with the rest of the ebike market but also some of the best. I highly recommend them as one of the best ebike brands on the market.
How Fast Does The Aventon Aventure Go?
It depends on how you use it. If you use it on a throttle where you don't need to pedal, you will get a maximum speed of 20mph. If you use it in pedal assistance mode, where you need to pedal, you can achieve speeds up to 28mph or even more. The top speed is typically governed by the class of the electric bike.
Are Aventon Bikes Made In China?
Aventon bikes are made in China. They have a factory there where they employ 350 people, and they make the bikes in-house. It's a great way to have their own factory as they can keep prices low and quickly develop the technology.
What Brand Of Motor Does Aventon Use?
Aventon uses two different battery types depending on which bike model you are looking at. You will find either Bafang or Shengyi motors. They are both of excellent quality and will give you a great ebike experience.
Who Owns Aventon Ebike?
The owner of Aventon is Jianwei Zhang. From what I can tell, he is the company's current president and was also the person who originally founded the company in 2013. To learn more about Aventon, here is their landing page.
Should I Charge My Ebike After Every Ride?
I recommend charging your ebike when it requires it. I wouldn't after every ride unless you need more power for the next ride. Try to use a lot of the cells without completely draining them.
I'm Robbie Ferri, a writer from Norfolk in the UK. I love cycling, the gym, and have a huge passion for sharing my stories and knowledge to anyone with the time to read them. My main passion is cycling. I started eight years ago. In that time I have broken world records, cycled all over the world in Ultra Bikepacking races, and am lucky enough to have enjoyed some incredible times on two wheels with some incredible people. I have also worked in a bike shop and with some of the industries leading brands, not just promoting products but designing them too.
Under it all I am just someone very passionate about exploration and living a healthy lifestyle. Everything I do I put 100% into it and feel that life is for living. Never should you have a dull day.