(Last updated on February 8th, 2023)
My kids love to whip out their scooters and ride them up and down our long driveway. While the older kids have Razors, I always start them on a three-wheel scooter so they can learn how to ride safely. With six kids, we've been through a lot of different scooters!
There are so many 3-wheeled scooters to choose from that it can be confusing to weed through all of the different brands. But in this article, we're going to talk about the best 3-wheeled scooters for kids. We'll also talk about how we ranked these products and give you our pick for the best one! But first, let's take a quick look at reasons to ride a scooter. Let's get started.
Reasons for Purchasing 3-Wheeled Scooter for Kids
If you're wondering if your kid needs a 3-wheeled scooter, there are a few reasons to get one.
Riding a scooter helps children learn balance, control, gross and fine motor skills.
It teaches them the difference between their left and their right
It gives them the basics for pre-reading and writing skills (left and right and scanning)
Teaches safety principles
Scooters help kids learn the balance and other skills they will need to ride a bike
A Note About Safety
Your child should always wear a helmet when riding their scooter. Elbow and knee pads are also recommended. Make sure the handlebars are slightly lower than your child's shoulder height. It is essential that the bars are not level with your child's mouth or face.
Related: Best Bike Bells for Kids
How We Compared These Scooters
Size and Age
The first thing to consider when you purchase a 3-wheeled scooter is the size and age of your child. Scooters for the earliest learners start for ages 2 and 3. However, some 3-wheeled scooters will go all the way up to age 14.
You'll also want to consider how large your child is. Every scooter will have its own weight limit, and these can vary depending on the wheels and construction of the scooter.
Related: What Size Bike Is Best for a 5-Year-Old?
If your child is tall, you'll want to make sure the handlebars can go high enough to be comfortable and safe. Also, if your child is on the smaller end, you'll want to be sure the handlebars can be lowered to a comfortable level.
You Child's Ability
I personally prefer to start my children with a 3-wheeled scooter when they are young. This is because 3-wheeled scooters are more stable and easier to learn on than two-wheeled scooters. If your child has trouble with balance, you'll want to consider a scooter with a wider, more stable deck and wheelbase. If your child has trouble with coordination or tires easily, you may want to choose a scooter with a seat so they can continue playing even when they get tired. If your child is more advanced, you can look for a scooter that uses more advanced steering and braking and has a thinner deck.
Brand Names or Character Options
You may prefer to look for trusted Scooter names, such as Razor or Radio Flyers. If your child has a favorite toy, you might even want to look for scooters with Disney characters, Barbies, or Star Wars pictures. These are a lot of fun and encourage the child to engage. However, character or brand names can increase the cost of the scooter. They don't affect the safety or quality, however.
Durability
Since I have so many children, I prefer to look for extra durable scooters. My kids are all rough and tumble, and their toys need to be pretty tough, as well. And I also like toys that I can hand down to the next child when their sibling is done with it.
Steering
There are two different types of steering in 3 wheeled scooters. Standard steering means that you turn the handlebars in the direction you want the scooter to go. At higher speeds, you can lean the scooter toward the direction you want to go, just like you would when riding a bicycle. Older kids and very coordinated kids can usually get the hang of this pretty quickly. However, it requires extra balance and skill.
However, if you have a younger, smaller child or a child with special needs, you might want to consider lean to steer. Lean to steer means the child leans – or leans the handlebar – in the direction they want to go. Pushing the handlebar to the right turns the wheels to the right while pushing the handlebar to the left turns the wheels to the left.
This is easy to understand and easier for kids who are still developing their sense of balance and control.
All of the scooters on this list are lean-to-steer scooters.
Brakes
Scooters are available with two different types of brakes. First, it will have rear-wheel brakes or handlebar brakes.
Rear-wheel brakes are a small pedal over the rear wheel. You press down with your active leg to use the brake, which slows the scooter down. This type of braking is easier for new riders, especially kids who don't have great fine motor control yet.
Another type of brake are handlebar brakes. These are levers that you'll find on the handlebars of the scooter. If the scooter only has a front brake, this will stop the front wheel of the scooter. If your child stops too hard or too quickly, they could go over the handlebars. That's why this type of braking is better suited to more experienced riders.
All of the scooters on this list have rear brakes because they are the easiest to use.
Lights
Many kids' scooters will come with lights in the wheels to give the scooter extra visibility (and fun!). Unfortunately, they don't typically come with handlebar or rear lights, but you could add these if desired.
Most of the scooters with lights don't require batteries. So if the scooter moves fast enough, the power generated by the scooter will light up the wheels. If your child can't get enough speed, though, they may not light up well.
Adjustability
If you want to use the scooter for multiple children in your house or you want the scooter to last for many years, choose one with adjustable handlebars. This way, the scooter can grow with your child as they get taller.
Keep in mind, though, that every scooter has a weight limit. Most of them have a weight limit of 110 pounds. So make sure your child isn't too heavy for the scooter, even if they aren't too tall.
Seat Options
You may be interested in a scooter with an attachable seat. Your younger child can then use the scooter like a push bike or keep playing with it even when they start to get fatigued.
Foldability / Storage
If space is an issue or you want to bring along the scooter when you travel, look for one that folds or collapses. Some will fold in half by a hinge at the front of the scooter. Other types will collapse at the handlebars, or you can remove the t-bar completely.
Ease of Assembly
Is the scooter easy to assemble? Will you need specific tools? Or does it come already in one piece? Most of the scooters on this list are easy to assemble. However, they may need an Allen wrench to attach the T-bar to the scooter.
Wheels
The wheel placement helps to determine how stable the scooter is. The wider the wheelbase, the more stable the scooter will be.
Most scooter wheels are made of polyurethane, just like skateboards. It will give the scooter a smooth ride.
The bigger the wheel, the more stable the scooter will be and the easier it will go over rough terrain. However, bigger wheels may also ride more slowly and be more difficult for your child to push.
Budget
Most of the scooters on this list are under $100, although a few are a little bit more expensive.
Best 3-Wheeled Scooters for Kids
| | | | | | |
| --- | --- | --- | --- | --- | --- |
| | Unbreakable and Never Fall Down 2-in-1 Scooters for Kids | Micro Mini 3-in-1 Deluxe | Yvolution Y Glider Kiwi | Radio Flyer | Hover |
| Age | 2 and up | 12 months to 5 years | 3 – 8 years | 3 to 6.5 years | 5 and up |
| Weight Limit | 110 Pounds | 110 Pounds | 110 Pounds | 60 Pounds | 110 Pounds |
| Steering Type | Lean to Steer | Lean to Steer | Lean to Steer | Lean to Steer | Lean to Steer |
| Brakes | Rear step brake | Rear Step Brake | Rear brake | Rear Brake | Rear Brake |
| Options | Adjustable Handlebar, Flip out Seat | Adjustable, Change O bar for T bar, removable seat | Adjustable handlebar (removable for travel) | Adjustable Handlebar | Adjustable Handlebar |
| Folding | Yes | No | No | No | Yes |
| Rating | 9.5/10 | 9/10 | 8.5/10 | 10/10 | 9/10 |
| Scooter Weight | 8.5 pounds | 4.2 pounds | 5.5 pounds | 5 pounds | 4.12 pounds |
| Scooter Length and Width | 16.93 x 11.42 inches | 21 x 4.5 inches | 21.46 x 10.24 inches | 22.24 x 9.68 inches | 12.5 x 23 inches |
| Deck Width | | 4.5 inches | 5.5 inches | | |
| Deck Length | | 11.5 inches | | | |
| Price | $64.99 | $124.99 | $59 | $42 | $61.98 |
Best 3-Wheel Scooter for Beginners
1. Unbreakable & Never Fall Down 2-in-1 Scooters Kids
KEY SPECS
Lightweight, strong aluminum and polyurethane construction
Designed for ages two and up
Handlebars 5 Height Options — 24/25/26/29/32 inches.
Lean to Steer
Foldable
Inlcudes Flip down seat
Durable
Weight Limit 110 pounds
Available in Pink or aqua
PROS
Stable and easy to turn for scooters
Works for the youngest learners
Flipout seat
No tools required
CONS
It has a 'young' look to it, which may not be suitable for older kids
Young children will need help to change the 'face.'
This is an adorable scooter that makes a terrific starter. It has a nice wide deck for stability, a rear foot brake, and adjustable handlebars. The icing on the cake is a small emoji-like picture on the front that you can change to suit your mood (with an adult's help, of course).
Our Verdict
We gave this scooter a 9.5/10 because it's such a great starter scooter for toddlers. Overall, it's stable, easy to turn, easy to brake, and just cute. Just one minor drawback is that although the marketing claims it's for ages 2-14, that might be a little high since the weight limit is 110 pounds.
Best 3-Wheel Scooter for the Youngest Toddlers
2. Micro Mini 3-in-1 Deluxe
KEY SPECS
12 months to 5 years
Adjustable height handlebars
Handlebars 5 Height Options — 24/25/26/29/32 inches.
Sitting or standing mode
O-ring or T-bar handlebar
Inlcudes Flip down seat
Lean to steer
Rear brake
Durable materials
PROS
Works with the youngest riders
Adjustable bars and seat positions
Flipout seat
No tools required
CONS
Sit-and-scoot mode is intended for the younger learners rather than stand and scoot
Does not fold
The micro mini is designed for kids from 12 months to 5 years. It has an adjustable handlebar, sitting and standing modes, and a stable feel.
Our Verdict
We love this scooter because it grows with your child. But your child won't start out with stand and scoot mode. Younger riders will need to use the O bars and the sit and scoot mode. It seems a little misleading to me that your littlest ones won't be using it as a scooter. So while it's a great toy, we gave it a 9/10.
Best 3-Wheel Scooter for Balance Issues
3. Yvolution Y Glider Kiwi
KEY SPECS
Ages 3 – 8
Max weight 110 pounds
5.5 inch wide deck
Adjustable handlebar
O-ring or T-bar handlebar
LED light-up wheels
Handlebars remove for transport
PROS
Wide deck promotes balance
Light-up wheels are fun and exciting and help visibility
CONS
The handlebar is difficult to adjust
This scooter rolls slower/harder than some of the other ones.
If you have a child that needs to work on their balance skills, this scooter is a great place to start. The extra wide deck makes it feel more stable, and the low, wide rear wheel keeps speed under control.
Our Verdict
This is a nice scooter for a child who needs one that is a little bit slower and a little easier to balance. However, we give it an 8.5/10 because the bars can pinch little fingers if your child tries to adjust them themselves.
Best 3-Wheel Scooter for Visibility
4. Hover-1 Vivid Folding Kick Scooter for Kids (5+-Year-Old)
KEY SPECS
Folding
Weight limit of 110 pounds
LED wheels
Lean to Steer
Folding
Rear brake
PROS
Great colors and lights
Folds flat for easy transport and storage
CONS
Not intended for the youngest riders
It may be hard for smaller kids to maneuver
Vivid colors and bright lights make this scooter stand apart. It also folds down flat for easy transport. It has a nice wide deck for stability.
Our Verdict
We really love the aesthetics of this scooter. The bright colors and bright lights really stand out, which definitely improves visibility, especially if your child rides around the neighborhood. But other than that, it isn't exceptionally great for small or large children, so we give it a well-rounded 9 out of 10.
Best All Around 3-Wheel Scooter
5. Radio Flyer Lean 'N Glide Scooter with Light Up Wheels
KEY SPECS
My oldest son started with a Radio Flyer Scooter, and it was passed down through several of his siblings. We just love this.
Ages 3 and up
Weight Limit 60 pounds
Sturdy and durable
Light up wheels
Lean to steer
Adjustable Handlebar
Easy to assemble
PROS
Durable and easy to assemble
Radio Flyer products last
Great value for the price
Stable
CONS
The lights don't work easily
The ride may not feel as smooth as other brands
If you love nostalgia or you want to purchase from a brand that has stood the test of time, you'll love this Radio Flyer Lean 'N Glide Scooter. Radio Flyer products just last. Our wagon, for example, has withstood 15 years of use and is still going strong!
Our Verdict
We give this scooter a 10/10 because it's the best value for the money. All of the Radio Flyer products I've used were durable and also lasted a long time!
Final Thoughts On the Best 3-Wheel Scooter for Kids
These scooters all have a lot in common – adjustable handlebars, rear brakes, and sturdy wheels. They're all great scooters for kids to ride. But as for the best all-around-scooter, I have to go with the Radio Flyer Lean and Glide.
First of all, it's the best value for the money. And when you have kids, you're always looking for a good value. Second of all, it has a nice stable deck, lean-to-turn steering, and of course, the rear brake. But Radio Flyer is a family-owned business that has been around for over 100 years. Their products work well, and they last.
My kids got years of use out of their Radio Flyer 3-Wheel Scooter, and I really hope that you do, too!
Frequently Asked Questions
What's the youngest age to ride a scooter?
On this list, the youngest age is 12 months. However, this is in push-bike mode with an o-style handlebar. Other scooters start as young as 2. Most of the scooters are for ages three and up.
What road surface can 3-wheel scooters handle?
Most kids' scooters can handle road surfaces. If your child is very strong, they may be able to take their scooter on a dirt or gravel path, but it will be difficult to ride on. Always ride your scooter safely and away from traffic.
 Are 3-wheel scooters more stable than two-wheel scooters?
Yes, 3-wheel scooters are naturally more stable because they have three wheels instead of just two. However, they also have wider decks which add to their stability. In addition, your child will have more room for their feet to fit side by side, which makes it easier to balance.
 What is lean to steer?
Lean to steer is different from traditional turn to steer. When you turn the handlebars to steer, much like a bicycle, you go in the direction that you turn. But it can be hard to learn just how much to steer, and accidents from oversteering often happen since these handlebars can spin all the way around.

Lean to steer means that when you lean your handlebars, the wheels will turn and go in the direction that you lean. This prevents oversteering, and your child will naturally learn to lean to steer.
Should my child wear a helmet?
I insist that my children wear helmets whenever they pick up their scooters. And while laws vary from state to state, concussions and other head injuries can happen easily, especially in small children. In addition, small children's heads are proportionally large when compared to their bodies, making them a bit more top-heavy than adults. So it's just common sense that your child should always wear a helmet every time they ride their scooter.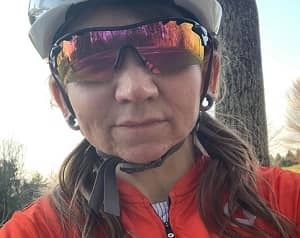 Amanda Whittington is an expert writer, impassioned cyclist, and musician. Coming from a diverse educational background, Amanda discovered a deep-rooted passion for encouraging others through her love of all things cycling, writing, and inspiring hope. 
You'll likely find Amanda pouring over bike specs, comparing the hottest cycling tech, and sporting the latest jerseys while juggling the demands of her editorial calendar, training schedule, tiny homestead, and 6 busy kids. 
She spends her free time absorbed in her own gardening and fitness, cycling, and reading, all while encouraging adoption and foster care, championing the underdog, and of course, working with her chickens and goats.