(Last updated on February 20th, 2023)
When it comes to comfort on two wheels, beach cruiser bikes are second to none. Whether you live on the coast or simply enjoy rolling around your neighborhood, beach cruisers let you enjoy a laid-back life in style. This classic bicycle design is still popular today and one of the most affordable ways to get started pedaling. Check out the list below to see my seven top picks featuring the best beach cruiser bikes of 2023.
How I Decided
As any stroll down the boardwalk will confirm, there are endless models of beach cruisers from different brands, making it hard to separate out the very best ones. I've sorted through dozens of candidates to see which models could make the cut and narrowed my search to trusted brands with reliable inventory either in-store or online.
I made my selection based on the manufacturer's specs, user reviews, and expert opinions and included a range of designs to ensure there's a bike on this list for everyone. Ratings are attached to each model according to the following criteria:
Comfort: Beach cruisers are all about feeling relaxed and laid-back as you ride. I looked for comfort-enhancing features like step-through frames, wide tires and saddle, and ergonomic grips.
Design: Let's face it beach cruisers are often chosen due to their attractive look. Good ratings meant aesthetic color options, frame design, and refined touches.
Durability: Beach cruisers have to tackle daily use and the harsh elements in coastal areas. Reliable components, double-walled rims, and quality paint jobs help the bikes keep rolling for years.
Compare the Best Beach Cruiser Bikes at a Glance
Best Beach Cruiser Bikes
Model
Takeaway
Frame
Gears
Brakes
Rating
Price
Sixthreezero EVRYjourney
Most Customizable Beach Cruiser Bike
Aluminum, steel fork
1, 3, 7, or 21-speed
V-brakes
9.5/10
$420-$600
Linus Dutchi 1
Best Dutch-Style Cruiser Bike
Steel
Single-speed
Coaster
9/10
$499
Electra Townie Original 7D

Most Comfortable Beach Cruiser
Aluminum
7-speed
V-brake
8/10
$629
Tuesday August 1
Best Beach Cruiser for the Boardwalk
Aluminum, steel fork
Single-speed
Coaster
8/10
$499
Priority Coast
Best Rust-Free Beach Cruiser
Aluminum

1, 3, or 7-speed (belt drive)
Front V-brake, rear coaster brake
9/10
From $599
Sixthreezero Around the Block Electric Bike
Best Electric Beach Cruiser Bike
Steel
7-speed
Mechanical disc brakes
9/10
$1,299
Retrospec Chatham Beach Cruiser Bike
Best Budget Beach Cruiser Bike
Steel
Single-speed
Coaster
8.5/10
$249-$329
Best Beach Cruiser Bikes in 2023
Most Customizable Beach Cruiser Bike
1. Sixthreezero EVRYjourney
KEY SPECS
| | |
| --- | --- |
| Frame: Aluminum, steel fork | |
| Gears: 1, 3, 7, or 21-speed | |
| Brake: V-brakes | |
PROS
Tons of gear choices
Attractive colors
Ebike option
The Sixthreezero EVRYjourney beach cruiser is available in tons of colors and gear options so everyone can find their dream bike. Customers can choose between single, 3, 7, or 21-speed gearing that matches their local terrain and there are 250W or 500W electric-assist models as well. There are plenty of attractive accessories.
The design pays homage to classic cruisers, boasting a lightweight aluminum frame and a steel fork. Unlike rival beach cruisers, there's a handy rear rack to carry items or install panniers or a basket so you can arrive at your destination with all your essentials. I like the upgrade to V-brakes which are stronger and more durable than traditional coaster brakes.
One shortfall of the EVRYjourney is the relatively narrow 26×1.95" tires that won't feel quite as smooth as wider rubber, knocking my rating down by half a point. Sixthreezero estimates that the one-size frame fits riders from 5'2" to 6'2" tall. With so many options to choose from, this model is an excellent one-stop-shop during your search for a new beach cruiser and you can decide on the final specs at your own pace.
Best Dutch-Style Cruiser Bike
2. Linus Dutchi 1
KEY SPECS
| | |
| --- | --- |
| Frame: Steel | |
| Gears: Single-speed | |
| Brake: Coaster | |
PROS
Elegant look
Comfortable position
Quality finishing kit
CONS
Skinny tires
Only one gear
For lovers of classic bicycles like the ones you'd see all around Amsterdam, the Linus Dutchi 1 is a modern take on a timeless design. Linus is a California-based brand that's made a splash with its sleek aesthetics and excellent value the elegant Dutchi 1 comes in at just $499.
The full steel frame has step-through geometry so riders can easily hop on and off and there are integrated fenders to keep any mess to a minus. This model pays homage to the original cruisers that only had a single gear and used a coaster brake to come to a stop. This system is super easy to use and is great for beginners, but riders seeking higher performance may be left wanting more.
The tires are very skinny compared to other beach cruisers, but that could be a plus if you generally stick to riding on smooth surfaces. The finishing touches of leather hand-stitched grips and a spring saddle add flair that complements the chrome elements. The pared-down build isn't for everyone, but if single-speed elegance is your thing, the Dutchi 1 is a sure bet.
Most Comfortable Beach Cruiser
3. Electra Townie Original 7D
KEY SPECS
| | |
| --- | --- |
| Frame: Aluminum | |
| Gears: 7-speed | |
| Brake: V-brake | |
PROS
Tons of colors
7-speed gearing
V-brakes
One of the most popular beach cruisers in the US, odds are you've already seen an Electra Townie 7D cruising down your local bike paths. Electra is a sub-brand of Trek, America's biggest bike manufacturer, so you can expect great components and good availability at local shops or licensed Trek dealers. The step-through frame comes in at least 10 different colors so there are plenty of options to match your personal style.
The Townie 7D uses Electra's patented Flat Foot Technology frame that facilitates an upright sitting position in which riders can easily plant their feet on the ground when they wish, a great feature for beginners. The saddle is wider and more comfortable than competing beach cruisers and the handlebars are mounted fairly high so your upper body can stay relaxed.
This model gets its name from its 7-speed gearing and there are V-brakes on the front and rear wheels. The rims are painted the same hue as the chosen frame color which elevates the aesthetic, matched with black 26×2.00" tires with a reflective strip for visibility. The only downside of this bike is its steep price which is well above some other models on this list, but quality construction comes at a premium.
Best Beach Cruiser for the Boardwalk
4. Tuesday August 1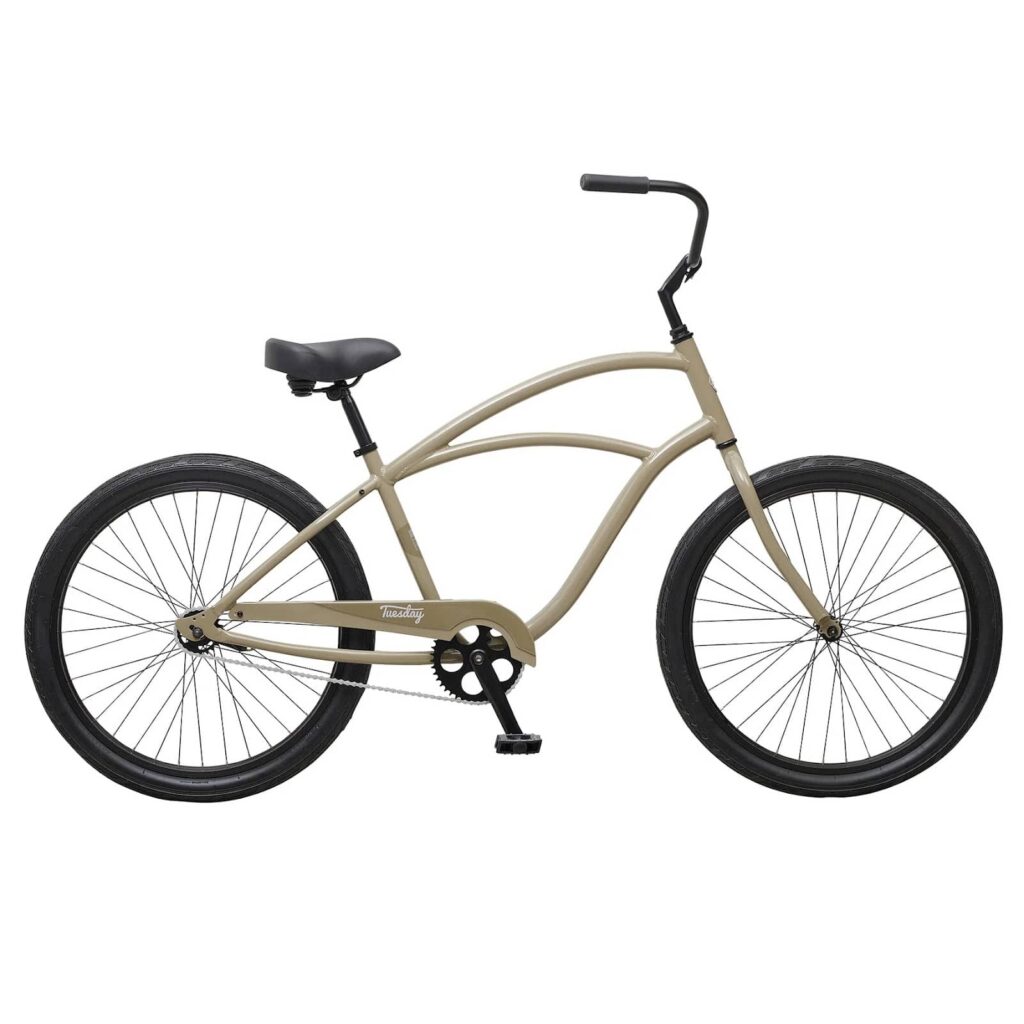 KEY SPECS
| | |
| --- | --- |
| Frame: Aluminum, steel fork | |
| Gears: Single-speed | |
| Brake: Coaster | |
PROS
Classic boardwalk design
Low-maintenance
Balloon tires
The Tuesday August 1 is a classic beach cruiser bike through and through. Its fun, date-oriented branding reminds us of the summer months and the frame design is reminiscent of boardwalks everywhere. The relaxed frame geometry and hefty tubing mean this cruiser will last for years to come from coastal rides to leisurely rolls in the neighborhood.
The frame is made of 6061 aluminum and there's a steel fork I've chosen the high-step model to include on this list, but the August 1 is also available with step-through geometry. It's a single-speed cruiser with a coaster brake so you can enjoy a pared-down, low-maintenance ride.
I'm a big fan of the 26×2.35" balloon tires that can easily roll over mounds of sand on the boardwalk, outperforming several bikes on this list with skinnier rubber. One downside, though, is the significant heft of the frame and thick tubing, dropping my rating by two points. That said, August 1 should be your go-to cruiser for the summer months if you live in a really flat area.
Best Rust-Free Beach Cruiser
5. Priority Coast
KEY SPECS
| | |
| --- | --- |
| Frame: Aluminum | |
| Gears: 1, 3, or 7-speed (belt drive) | |
| Brake: Front V-brake, rear coaster brake | |
PROS
Belt drive
Gearing options
V-brake and coaster brake combo
For seaside riders looking for ultimate rust prevention, the Priority Coast stands out from the pack as a belt-driven beach cruiser. Unlike traditional metal chains, belt drive systems are made of synthetic materials that won't oxidize or get damaged by the salt, sand, and water in coastal environments.
The rest of the Priority Coast is what you'd expect from a quality beach cruiser, including an aluminum frame, comfortable seat, fenders, and swept-back handlebars. Some distinctive features include the attractive, brick-colored tires and mixed brake system V-brake at the front and rear coaster brake. Similar to the Sixthreezero EVRYjourney, this model is super customizable at the time of purchase with high- or low-step geometry as well as 1, 3, or 7-speed gearing. There's even the option of an internally geared Enviolo hub if that's your thing!
Understandably, all this extra performance and rust protection drive the Coast's price up a bit, making it more expensive than many of the other cruisers on this list. If you live and ride next to the ocean, though, this low-maintenance beach cruiser can be the perfect rust-fighting solution for years to come.
Best Electric Beach Cruiser Bike
6. Sixthreezero Around the Block Electric Bike
KEY SPECS
| | |
| --- | --- |
| Frame: Steel | |
| Gears: 7-speed | |
| Brake: Mechanical disc brakes | |
PROS
Pedal assist and throttle modes
Mechanical disc brakes
Comfortable geometry
This list wouldn't be complete without an electric beach cruiser, the ideal choice for riders who want an extra boost along the boardwalk. The Sixthreezero Around the Block is available as a standard, non-motorized bike, but I'm most impressed by the ebike version with either a 250W or 500W rear hub motor. The large battery sits out of the way on top of the rear rack.
This model has a throttle mode that maxes out at 15 mph and riders can zoom along at speed of up to 24 mph using pedal assist. There is 7-speed gearing and my favorite feature is the dual mechanical disc brakes that provide much stronger and more predictable stopping power. The main drawback of this 62.2 lbs. ebike is its serious heft due to the steel frame and additional electronics, dropping my rating by a point.
Best Budget Beach Cruiser Bike
7. Retrospec Chatham Beach Cruiser Bike
KEY SPECS
| | |
| --- | --- |
| Frame: Steel | |
| Gears: Single-speed | |
| Brake: Coaster | |
PROS
Low-maintenance
Durable
Affordable
The Retrospect Chatham beach cruiser bike is an excellent choice for riders on a tighter budget. The single-speed gearing and rear coaster brake make this bike super easy to use and simple to maintain for years to come, even if you only use it in the summer months. The stylish color options and flowing lines remind me of classic cruiser design.
There are wide 26×2.125" tires and an oversized saddle for extra comfort as you float along seaside routes or neighborhood streets. Double-walled aluminum rims and a full steel frame provide plenty of durability. However, I don't love the fact that the steel tubing and beefy construction make the Chatham quite heavy which could feel cumbersome to some riders, dropping my rating slightly. For the price, though, the Retrospect Chatham is a deal that's hard to pass on.
Buyer's Guide
What Is a Beach Cruiser Bike?
Beach cruisers are comfort-oriented bikes with simple components that are designed for smooth surfaces in flat areas and easy maintenance. The laid-back feel and attractive look of beach cruisers have made them a popular choice in coastal towns, boardwalks, college campuses, and recreational paths.
Sometimes "beach cruiser" also refers to other categories of bikes with a relaxed riding position, such as the more streamlined Dutch-style bicycles that populate the canals of Amsterdam. Nowadays, there are also electric beach cruisers that provide a natural-feeling boost so you can glide along easier than ever.
To see another list of the best beach cruisers on the market in 2023, check out this helpful video!
Frame Design
Beach cruisers share a common frame shape with a long wheelbase, low standover height, and relaxed sitting position. The handlebars sweep back toward the rider so they can pedal in an upright posture without hunching over. The main difference between cruisers is typically whether they have high- or low-step frames.
Shorter riders or people with limited mobility should choose low-step or step-through frames that make it easy to mount and dismount the bike. The frames and tubing are so hefty that there is no difference in performance or stiffness between cruiser frame designs, it's simply a matter of personal preference based on looks or ease of use.
Single-Speed or Multiple Gears?
Beach cruisers originally only had one gear which was plenty since they are normally ridden in flat areas. These days, customers can find single-speed models as well as 3, 7, or even 21-speed cruisers that provide additional gears to make it up hills. Keep in mind that the laid-back sitting position and overall heft of beach cruisers make them slower in general, even with extra gears.
If you live in a flat area and don't expect to climb any hills, a single-speed cruiser is an excellent option with fewer moving parts to maintain or worry about breaking. Most single-speed models feature a coaster brake in the rear hub that stops the bike when you pedal backward. Choose a geared bike if you expect to go up a few hills or want a more modern setup.
Are Coaster Brakes Better?
Coaster brakes are very intuitive and easy to use, especially for riders who are just starting out and have trouble coordinating both their hands and feet while riding. Coaster brakes are contained inside the rear hub and tend to have few mechanical problems than rim brakes over time. That said, broken coaster systems are tricky to fix and require a trained mechanic to repair them.
Coaster brakes only slow down the rear wheel and can cause skidding if engaged too suddenly. Many riders enjoy the added control and predictability of rim brakes on both the front and rear wheels to come to a stop. Having a coaster brake means there are fewer components on the outside of the bike, achieving a more streamlined and elegant look than many riders appreciate. Coaster brakes are plenty safe and the choice is ultimately a matter of preference.
Electric Beach Cruisers
Some modern beach cruisers now come equipped with electric motors to give riders an extra boost along the seaside or local bike paths. Due to the unique frame shape, the large batteries are typically placed out of the way and on top of a rear rack and provide power to a hub motor inside the rear wheel. These models are significantly more expensive than non-motorized beach cruisers but take the laid-back feel to a whole new level, which can be worth it for many riders.
One-Size-Fits-Most?
Unlike other bike categories, many beach cruisers are available in only one frame size. That single option fits most riders because of the relaxed sitting position that accommodates a range of rider heights between 5' and 6'2". That said, it's always best to hop on a bike and do a test ride to confirm the bike matches your measurements. Some models are available in standard S, M, and L sizes. Brands typically post model-specific size recommendations on their websites so you can compare yourself with specific bikes for the most accurate advice.
To achieve a perfect fit for female cyclists considering cruiser bikes for a change, watch this video from the experts at Sixthreezero, who explain the measurements and right adjustments to make on their beach cruiser. https://www.youtube.com/watch?v=YtAwZgAuMsk
Frequently Asked Questions
What type of bike is best to ride on the beach?
If you are planning on riding in sand, a fat bike with 4"+ tires lets you roll around the beach with ease. Beach cruiser bikes like the ones featured on this list, however, are best for riding through town, on boardwalks, and other smooth, flat surfaces.
Are beach cruisers good for beginners?
Yes, many people's first bike is a cruiser because of its comfortable riding position and simplified gearing that's quick to learn. The low frame is easy to mount and dismount and the swept-back handlebars let you steer with confidence.
Are beach cruisers good?
Beach cruisers are a popular choice among recreation riders who live in flat areas that are ideal for a simple, durable bike. The small amount of gears and simple brakes on cruisers makes maintenance a breeze, but they aren't as well suited for hilly locations.
What size cruiser should I get for my height?
Some beach cruisers come with a one-size-fits-most frame, but others have a couple of sizes to choose from. Check out the helpful size chart I've included above to learn which frame option is right for your height many brands also have model-specific charts featured on their websites.
How do I fit myself for a cruiser bike?
The most important measurement is your leg inseam so you can reach the pedals comfortably without the bike being too small. With your feet on the ground, you should be able to stand comfortably over the frame with at least a couple of inches of clearance. At the lowest point of the pedal stroke, your knee should still have a slight bend in it.
Are cruisers good for long distances?
Cruisers are perfect for casual rides around town but aren't the best option for long-distance outings. Beach cruisers are heavier than standard bikes and have fewer gears so you may find yourself getting fatigued after a while, especially if you encounter some hilly areas.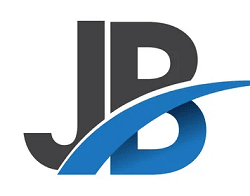 Jeffrey Brown is a writer, editor, and professional bike mechanic with over 7 years of experience working in full-service and community-based bike shops. As a bicycle educator, he has supported youth programs across the US that teach bike mechanics and life skills to prepare the next generation of cyclists.
Jeffrey began his professional mechanic career at his university bike co-op, so he recognizes the grassroots power of the cycling community. Initially self-trained as a mechanic, his subsequent positions as manager and lead educator gave him official training. He has won various awards and grants for his role as a bicycle and environmental advocate.