(Last updated on January 20th, 2023)
I was headed into my very first cyclocross season, and I only knew one thing: I needed bike lights. Cyclocross races are challenging, technical, and often in the dark! And when I started searching for bike lights, I had a hard time choosing a set because it just seemed so complicated. Lumens, run time, and even light temperature were all factors I didn't understand.
So how did I figure out which were the best bike lights?
In this article, we're going to talk about the 6 best bike lights. We'll talk about what you need to know before buying lights for your ride, tell you which ones we think are the best, why we picked them, and of course, I'll tell you which lights I chose for my race. First, though, let's talk about what you need to know before buying bike lights.
The best bike lights give you a balance of brightness, run time, and functionality. You'll probably want both a headlight and a tail light, and you might even want to include a helmet light, as well.
What You Need to Know About Bike Lights
The point of using bike lights is so that you can see and be seen. If you're riding at night, you'll most likely want a front light and a rear light. Front lights can be mounted on the handlebars, helmet, and headtube. Rear lights can be mounted on your seat tube, seat stays, and saddle bag.
The brightness of your bike lights is described in lumens. The higher the lumens, the brighter the light. The lower the lumens, the less bright the light. Also, the higher the lumens, the shorter the run time of your light. Many lights will come with a variety of settings.
You might just want a simple, basic light. But there are fancy versions too. For example, some lights have crash detection, theft prevention will pair with your phone, or have smart modes where they can detect your braking and adjust accordingly.
The Best Bike Lights to See and Be Seen
| | | | | | | |
| --- | --- | --- | --- | --- | --- | --- |
| Best for | Light Name | Max Lumens | Max Run Time | Rating | Price | Where to buy? |
| Coolest Bike Light | LEZYNE Lite Drive 1000XL Bicycle Headlight | 1000 | 87 Hours | 10/10 | $89.99 | Check price |
| Best Budget Daytime Light Set | LEZYNE Lite Drive 1000XL Bicycle Headlight | Headlight: 80 | 10 hours | 9/10 | $19.99 | Check price |
| Best All-Around Headlight Set | Cateye AMPP1100 / AMPP800 with Helmet Mount, 1900 Lumen Light Set | Headlight: 1100 Helmet Light: 800 | 50 hours | 10/10 | $149.95 | Check price |
| Best Budget Headlight | Gyhuego HeadLight | 3000 Lumens | 10 Hours | 9/10 | $33.99 | Check price |
| Best Overall Tailight | Garmin Varia | Visibility: 1 mile | 16 hours | 10/10 | $199.49 | Check price |
| Best Light Set for Commuting | Bontrager Ion Pro Light Set | 1300 Lumens | 1.5 | 9.5/10 | $199.99 | Check price |
Coolest Bike Light
1. LEZYNE Lite Drive 1000XL Bicycle Headlight
KEY SPECS
| | |
| --- | --- |
| Lumens | 1000 max |
| Run Time | 87 hours max at the lowest setting |
| Rechargeable | Yes |
| Mount Included | Handlebar |
PROS
Looks great on your bike
Excellent light output and decent run time
CONS
The advertised run time is slightly misleading, but this is a great light overall.
I drooled over this bike light for a very long time. It sat in my shopping cart for even longer because I love the aesthetic appeal. That oil-slick color absolutely appealed to me, and with 1000 lumen output, I thought I couldn't go wrong.
This is a great light, and it just looks cool, which is why it gets a 10/10. It even boasts an 87-hour run time; however, 87 hours isn't on full mode. So running it at 1000 lumens probably gives you an hour or two of run time, which is just about the same as anyone else.
I didn't go with this light, though, because it was a little bit cheaper to get a different set for roughly the same amount of lumens. You can purchase this light for $89.99.
Best Budget Daytime Light Set
2. Ascher USB Rechargeable Bike Light Set
KEY SPECS
| | |
| --- | --- |
| Lumens | 80 for front light |
| Run Time Head Light | 3.5hr (full brightness) ,10hrs (half brightness), 10.5hrs (slow flashing), 10hrs (fast flashing) |
| Tail Light | .5hr (full brightness) ,9hrs (half brightness), 9.5hrs (slow flashing), 9hrs (fast flashing) |
| Rechargeable | Yes, via USB |
| Mount Included | Yes, silicone straps |
PROS
Good value for the money
Easy to attach to any bike
CONS
Not very bright
These lights are more for visibility than being able to see in the dark.
If your budget is tight, you may consider the Ascher USB Rechargeable Bike Light Set. These aren't great for nighttime riding, but they will definitely make you more visible during the day. I have several sets of these lights and keep a few charged and in my race bag for daytime rides. They're great for making you a little more visible on cloudy days, in the fog, or just when you're out and about in traffic. They have four modes: full, half, slow flashing, and fast flashing, all of which affect run time. They're a great value at $19.99.
These are easy to attach to your bike with the included black rubber bands, and you can put them just about anywhere: handlebars, seat post, seat stay, wherever.
I give these lights a 9 out of 10. Although they're super handy to have around and use for day-to-day riding, they just aren't very bright.
Best All-Around Headlight Set
3. Cateye AMPP1100 / AMPP800 with Helmet Mount, 1900 Lumen Light
KEY SPECS
| | |
| --- | --- |
| Lumens | 1100/800 at full power |
| Run Time | Flashing Mode: 200 lumens | 50hrs |
| Mount Included | Handlebar and Helmet mounts |
| Rechargeable | Yes, USB-C |
PROS
This is a very bright light kit that helps you see and be seen
Includes mounts
CONS
Expensive
It does not include a rear light
High Mode: 1100 lumens | 1.5hrs
Middle Mode: 800 lumens | 2hrs
Low Mode: 400 lumens | 4.5hrs
If you are more worried about seeing than being seen, then the Cateye Light set is a great option. I love these lights and am amazed at how much I can see with them. This set includes two lights, a handlebar mount, and a helmet mount. I actually love this setup because the handlebar light will illuminate the road in front of you, and the helmet light will shine wherever you look.
At full power, you get 1100 lumens on your handlebars and 800 lumens on your helmet, giving you a combined 1900 lumens, which is a lot! However, the run time is pretty short at full power, so keep that in mind. But in most cases, running the lights at half capacity probably gives you enough light to stay safe anyway.
I wouldn't hesitate to ride at night with these bright lights (especially on a bike trail or rural road), but I would want to add a taillight to the mix to increase visibility.
I gave this set a 10/10 because it is pretty long-lasting for the brightness. Of course, you'll pay a little more for this kit at $149.99, but it is well worth the investment.
Best Budget Headlight
4. Gyhuego HeadLight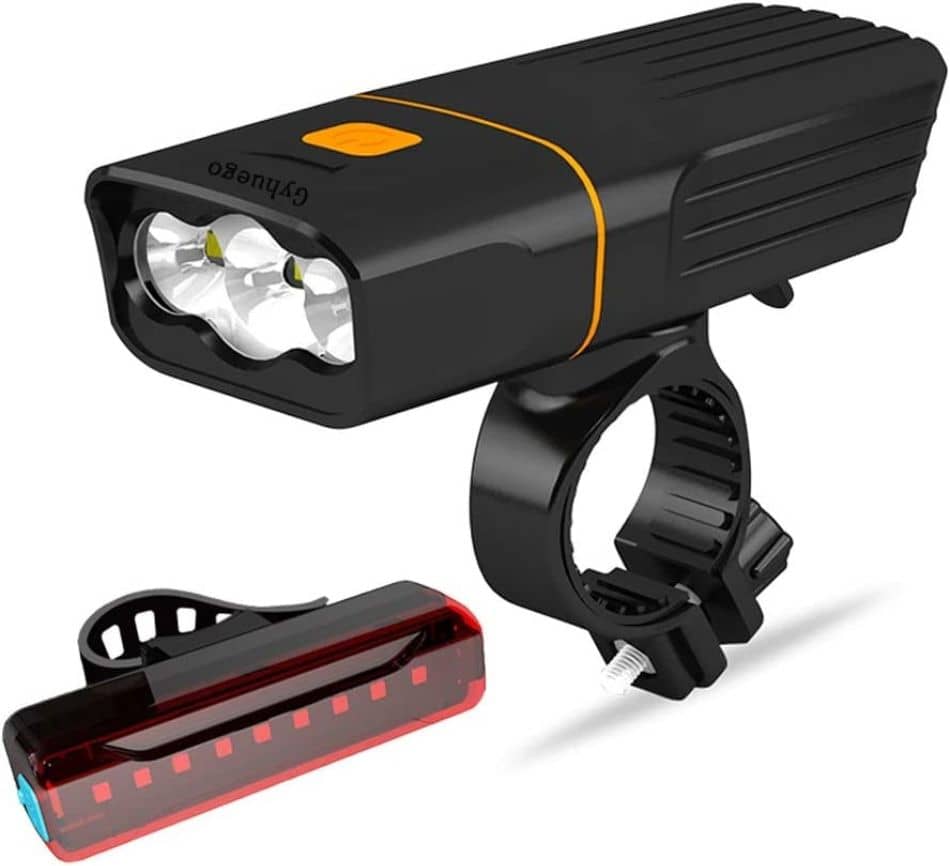 KEY SPECS
| | |
| --- | --- |
| Lumens | 3000 |
| Battery time | 10 hours |
| Modes | Solid and Flashing |
| Mount Included | Yes |
| Rechargeable | Yes |
PROS
Extremely bright lights with a long battery life
Great price
CONS
Heavy light to sit on your handlebars
The Gyhuego Headlight makes a lot of bold claims. It boasts 3000 lumens with 10 hours of use time. This seems exceptional, especially for the price. However, it does come with a taillight and mounts. So for the price, even if the light isn't as bright as it claims, you still have a nice set of bike lights for a reasonable price of $33.99.
I only give this light set a 9 /10 bad boy is heavier than a typical light so it might weigh you down.
Best Overall Tailight
5. Garmin Varia
KEY SPECS
| | |
| --- | --- |
| Lights | visible up to 1 mile |
| Battery life | Up to 16 hours in day flash mode |
| Mount | Included mounts attach to almost any seat post |
PROS
Slim design and easy to mount
Excellent visibility
Alerts you to rear traffic that you may not see or hear
CONS
You need a compatible device for alerts
Very expensive
The Garmin Varia tells you what's coming from behind, making it the best overall taillight.
Tailights are an essential part of being seen both during the day and while riding at night. And if you're going to invest in a good taillight, you might as well get one with some built-in safety features.
If you've ever been passed by a Tesla, you'll know that sometimes you just don't hear the cars coming up behind you. I definitely felt a lot more confident about traffic passing me on the road with the Varia in place.
First of all, it connects to your cycling computer (if applicable, of course) and alerts you when traffic is coming up from behind. If you are technologically savvy, you can set it so that it doesn't alert you to the cyclist on your wheel, just the traffic.
I gave the Varia a 10 out of 10 because this safety feature is a huge help when you are riding alone, and traffic is sparse. However, keep in mind that if you are in constant traffic, the alerts might be distracting.
The Varia comes with a price tag of $199.49.
Best Light Set for Commuting
6. Bontrager Ion Pro Light Set
KEY SPECS
| | |
| --- | --- |
| Lumens | 1300 Front / 90 Rear – flashing |
| Battery time | 1.5 hours on full (front) and 6 hours flashing (rear) |
| Rechargeable | Yes |
| Mount | Handlebar and Seatpost |
PROS
Very bright headlights and taillight make great visibility
Easy to use
CONS
Only connects to Garmin cycling computers
It may feel a little bit heavy on the handlebars
When you're commuting in the dark, you need to be visible and be able to see well. But you also need reliability. So let the Bontrager Ion Pro RT/Flare RT Light Set be your guide. This set gives you lots of bright light for a shorter commute. They also give you excellent rear visibility so you can see and be seen.
I give this set a 9.5 out of 10, but only because you need a Garmin head unit to connect them to. The headlight is a bit heavy, but if you are using the set for commuting rather than road racing, you probably won't notice the weight. These lights typically run $199.99.
Buyers Guide: How to Choose a Bike Light
You might be wondering why we chose these particular lights. It's essential to see and be seen, and we want to help you make the best decision for you. The lights need to be bright enough so you can see what's happening on the road in front of you, but they also need to help cars see you, so you don't get hit. Here are some of the factors that we considered.
Front and Rear Lights
This may be totally obvious, but of course, headlights and front lights will help you see the road, while taillights and headlights will help you to be seen by motorists. It's good practice to use it both during the day and during the night. They'll help you be more noticeable, and you're far safer when you are seen than when you aren't.
What Is a Lumen?
A lumen is a unit of measurement that tells you how much light is being emitted from your bike light or other light sources. If you're riding at night, you need lots of lumens so you can see the road. You don't need to illuminate the road if you're riding during the day. You just need enough lumens to be seen.
If you ride in well-lit areas at night, you won't need as many lumens as you would on a rural road with no other lights.
To be honest, a couple of hundred lumens is fine for daytime riding, but you want at least 400 lumens – or more – if you're riding on darker roads. The higher the lumens, the better you'll be able to see. However, the more lumens a light has, the more battery power it requires. The Cateye headlights boast 1100 lumens – but the run time is only a couple of hours. There's nothing wrong with this as long as you plan the length of your ride around how much light you have.
Battery Power
Every bike light on this list is rechargeable, which saves a lot of money and waste. However, you also need to know how much time your light can run.
If you need to run your light at full power, will it last long enough for your entire ride? Otherwise, you'll be limping home in the dark. Most bike lights will last for 1.5 to 2 hours at full charge and at their brightest setting.
Also, bigger batteries, which make for longer run times, also make your light heavier. This might not be a big deal on your handlebars, but if it's a helmet light, you probably want it to be light.
Waterproof
You may also want to make sure your lights are waterproof or at least water-resistant. Make sure they have a dust cover on the charging port to keep water and dirt out.
Flash Settings
Most of our lights have a variety of flash settings. Flash helps to preserve battery life, but it also makes you more visible. I personally like having a rear light that flashes because it seems to attract more attention than just a solid light.
The front and rear Ascher lights have flash settings which help get drivers' attention during the day.
Bike Mounts
The last thing you want to do is purchase a light only to find out that the mount isn't compatible with your bike. For example, the Ascher lights have small silicone band mounts. They fit well on my Canyon because the frame is thinner, but they don't fit on the bars or the head tube of my aero bike because the shape is just too wide. So I have to put them on my fork or seat stays.
I do like using the rubberband mounts because they are quick and easy to install on multiple bikes, just as long as the bands are long enough. However, the bands may break over time and heavy use, so be sure to have backups.
Other mounting systems are harder to install. For example, the Cateye system headlight mount goes around the bars and has a nut that screws overtop. You can leave the mount in place and slide the light on and off with a clip. This works really well, and you can use it for multiple bikes since it is easy to switch.
The helmet mount is a Velcro strap. It's pretty easy to attach, but it can slip loose and bang around while you're riding. So you might want to sure it up with an extra Velcro strap if you have one lying around.
Some lights can attach to your Garmin mount, but we avoided these because it puts too much weight onto the Garmin mount itself and might cause it to break.
Budget
The trouble with bike lights is that they just aren't cheap. A good bike light can run you $100 or more. But if safety is the goal, it's probably worth it.
We tried to pick reasonably priced lights that get the job done. The Gyhuego light is very inexpensive for the amount of lumens it claims to deliver. However, for the price, it's worth trying, even if it isn't quite as bright as it says it is.
The Cateye helps you see where you're going day or night.
My Choice of Bike Light for Cyclocross and Beyond
I spent a lot of time staring at websites selling bike lights, trying to figure out what I needed for cyclocross. I have several sets of Ascher lights, and while I love them for daily use, I knew they just weren't bright enough for cross-racing. There are too many bumps, lumps, ruts, and obstacles (not to mention other riders) for those to be practical.
So a few days before my first race, I ordered the Cateye light set. They shipped even faster than I expected, so I was absolutely thrilled because they showed up in time! Even for me, the mounts were easy to install, and the lights were really bright!
Since cx races are short, I can use them on full blast without worrying about running out of battery, and I still had enough light to ride back to my van afterward.
The only issue I had was that the helmet mount slid around on my helmet, so I added an extra strap to secure it better.
Keep in mind that this set does not include a taillight. So you'll want to add an Ascher taillight or, better yet, a Garmin Varia to your set so you really stand out at night.
I can't say enough good things about this combination of lights: bright, easy to use, and with excellent battery life at a reasonable cost. Safety is definitely worth it.
Frequently Asked Questions (FAQs)
Are bike lights required by law?
Every state has its own laws regarding bike lights. For example, in Pa, front headlights and reflectors must be used when riding after dark. So check your state's laws before riding at night.
Can bike lights be too bright?
Any bike light over 200 lumens can make it hard for pedestrians and even drivers to see if the light hits their eyes. Since you'll probably need something more than 200 lumens at night, make sure your light is angled correctly so that it illuminates the road without blinding people.
Should you use flashing headlights?
You can use flashing headlights during the day to attract attention. However, flashing headlights at night may make it difficult for you to see where you are going.
Are bike lights rechargeable?
Most bike lights are rechargeable via USB.  All of the lights on our list are rechargeable lights. Just be sure to check the directions before you purchase your lights if this is important to you.
Does the Varia work with cycling computers other than Garmin?
Many cycling computers will work with the Garmin Varia, such as Garmin computers, Hammerhead Karoo, and Wahoo. Before purchasing a Varia Radar, make sure that it is compatible with your cycling computer so you can make use of its technology.
---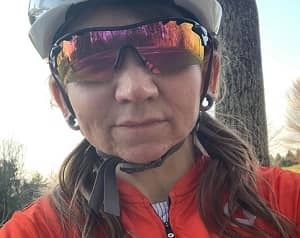 Amanda Whittington is an expert writer, impassioned cyclist, and musician. Coming from a diverse educational background, Amanda discovered a deep-rooted passion for encouraging others through her love of all things cycling, writing, and inspiring hope. 
You'll likely find Amanda pouring over bike specs, comparing the hottest cycling tech, and sporting the latest jerseys while juggling the demands of her editorial calendar, training schedule, tiny homestead, and 6 busy kids. 
She spends her free time absorbed in her own gardening and fitness, cycling, and reading, all while encouraging adoption and foster care, championing the underdog, and of course, working with her chickens and goats.