(Last updated on April 5th, 2023)
Bike trailers for dogs perfectly complement pet owners' active lifestyles. Riding your bike with your pup running alongside can be dangerous and isn't an option for older, less mobile dogs. A dog bike trailer unites cyclists and canines so they can adventure together!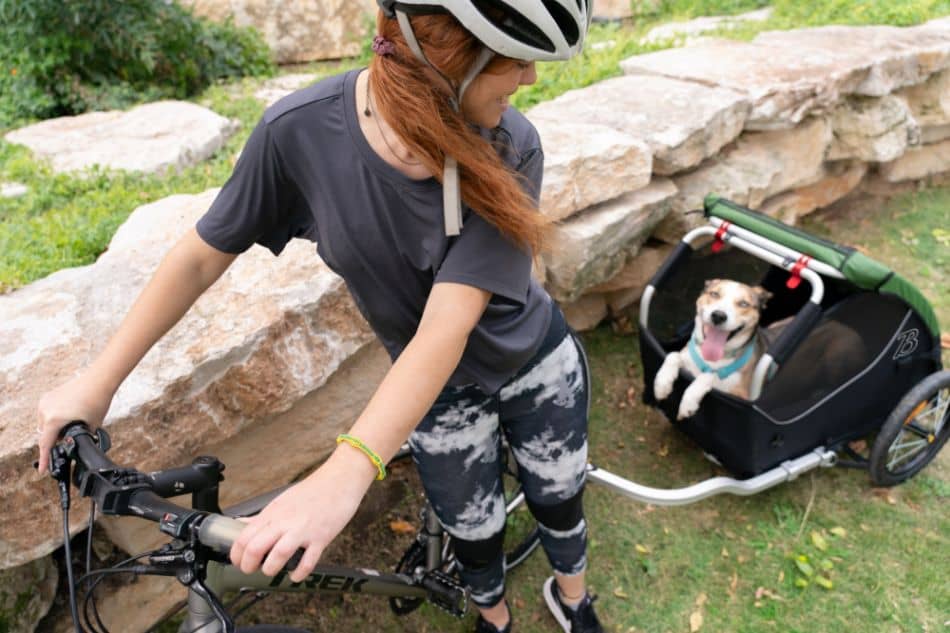 To help you, I've curated a list of the best bike trailers for dogs and included a buyer's guide to help you make the final decision. Explore the dog trailers that cut, and prepare to hit the bike paths with your pup in tow.
How I Picked the Best Bike Trailer for Dogs
My research included manufacturer specs, user reviews, and expert opinions to narrow down the candidates for the best dog trailer for bike use. I selected five high-quality trailers rated for different dog sizes and a range of rider budgets. To help you in your search, I gave each finalist an overall rating. I scored them according to the following criteria:
Ease of Use
The ideal dog bike trailer is quick to install and facilitates dogs entering and exiting the trailer. Elements like a universal coupler and high-quality fabrics or zippers make using the trailer a piece of cake.
Handling
Riding with a bike trailer behind you initially feels awkward, but cyclists rapidly get the hang of it. Low-weight and air-filled tires improve handling. I awarded extra points for trailers that could convert into a stroller or had a parking brake.
Value
Dog bike trailers are one of the more expensive bike accessories, so finding a good deal is crucial. I prioritized models with a durable construction that will withstand heavy pet use for years to come, helping to justify the price.
Compare the Best Bike Trailer for Dogs at a Glance
| | | | | | | |
| --- | --- | --- | --- | --- | --- | --- |
| Model | Takeaway | Dog size | Frame material | Trailer weight | Rating | Price |
| Burley Tail Wagon | Overall Best Dog Bike Trailer | Up to 75 lbs. | Aluminum | 20 lbs. 14.4 oz. | 9/10 | $399 |
| Schwinn Rascal Bike Pet Trailer | Best Bike Trailer on a Budget | Small: Up to 50 lbs.; Large: Up to 100 lbs. | Aluminum, steel | 25.9 lbs. | 8.5/10 | $112-$254 |
| Thule Courier Bicycle Trailer | Best Multipurpose Bike Dog Trailer | 2 kids or dogs, up to 97 lbs. | Aluminum | 35 lbs. | 8.5/10 | $799 |
| Booyah Extra Large Pet Bike Trailer | Best Bike Trailer for Large Dogs | Large, up to 110 lbs. | Aluminum | 50.9 lbs.. | 8.5/10 | $225 |
| Retrospec Rover Hauler Pet Bike Trailer | Best Bike Trailer for Small Dogs | Small or medium, up to 50 lbs. | Steel | 28 lbs. | 8/10 | $149 |
Best Bike Trailer for Dogs For Sale in 2023
Overall Best Dog Bike Trailer
1. Burley Tail Wagon
KEY SPECS
| | |
| --- | --- |
| Dog Size | Up to 75 lbs. |
| Dimensions (L x W x H) | 33.5 x 31.5 x 27.75 inches |
| Frame Material | Aluminum |
| Parking Brake? | Yes |
| Weight | 20 lbs. 14.4 oz. |
PROS
Lightweight and sturdy aluminum frame
Easy to fold down quickly and remove wheels
Large rear tailgate with low clearance to load big dogs
CONS
Doesn't double as an off-bike stroller
More expensive than other dog trailers
The Burley Tail Wagon is the ultimate way to bring your precious pet along for the ride. The quality construction and integrated features are a step above its rivals, but all that extra functionality will come at a premium. The Tail Wagon costs $399 from REI; for active people with pets, it's a smart investment for years to come!
The trailer has an impressively sturdy build— hinted at by the brand's name— that's not too heavy because of the aluminum frame. Unlike some dog bike trailers on this list, the Burley Tail Wagon won't double as a stroller, but this single-purpose design helps keep the trailer lightweight. The spacious interior has a strong floor supporting large dogs up to 75 lbs.
The Tail Wagon receives a high rating largely because of its excellent ease of use, including folding down quickly and pop-off wheels. The trailer has a large opening for effortless loading and large mesh windows so your dog can see out and enjoy the fresh air. The setup is comfortable for your pup, and there are optional accessories like the Burley Pet Bed and Pet Trailer Pouch.
For cyclists who need a larger trailer for big dogs, check out the Burley Ranger Bike Trailer. Decide which option is best for you with Burley's useful trailer comparison video highlighting the main differences. 
This wagon misses out on a perfect score because of its high price tag but is a worthwhile purchase for pet owners who frequently take their canines on rides. Dogs can quickly put significant wear and tear into gear, but the Tail Wagon's durable frame and fabric will withstand tons of use. If your budget allows it, this dependable trailer is a sure bet.
RATING
| | |
| --- | --- |
| Ease of Use | 5/5 |
| Handling | 5/5 |
| Value | 4/5 |
OUR VERDICT
High-quality dog trailer that's easy to use and durable, albeit a bit pricey
Best Bike Trailer on a Budget
2. Schwinn Rascal Bike Pet Trailer
KEY SPECS
| | |
| --- | --- |
| Dog Size | Small: Up to 50 lbs. Large: Up to 100 lbs. |
| Dimensions (L x W x H) | 31 x 8 x 20 inches |
| Frame Material | Aluminum, steel |
| Parking Brake? | No |
| Weight | 25.9 lbs. |
PROS
Excellent value and affordable price
Integrated adjustable leash inside the trailer
Universal coupler for quick install and easy breakdown process
CONS
Only works with quick-release or standard axle rear wheels (no thru-axle)
Slightly heavy steel frame
The Schwinn Rascal Bike Pet Trailer is perfect for cyclists with small dogs and a modest budget. At just $112, this trailer is a cost-effective way to transform bike rides into pet-friendly adventures. The large windows and mesh screens ensure your dog's comfort while the trailer folds small for compact storage and transport.
There are two sizes of this trailer available, but I chose the Small model for its better value. It supports small dogs up to 50 lbs. while the Large version carries big dogs up to 100 lbs. Users have reported that the Small trailer simultaneously fits two chihuahuas or Shih Tzus. I also appreciate that there's an internal adjustable leash that prevents pets from leaping or dashing out of the trailer.
The rear doggy door makes for easy entrance and exit, and pets can enjoy the large top flap that either opens up completely or leaves a mesh or plastic cover on. There's an included safety flag for added visibility, and the air-filled 16" tires ride fairly smoothly over the pavement.
The universal coupler attaches quickly to quick-release or standard axle bikes, but I can't see a solution for thru-axle bicycles. The Schwinn Rascal loses another rating point because the steel frame is heavier than aluminum. Overall, this fun and simple trailer is great value for the money, and your dogs will love it, too.
RATING
| | |
| --- | --- |
| Ease of Use | 4/5 |
| Handling | 4/5 |
| Value | 5/5 |
OUR VERDICT
Budget-friendly trailer for small dogs that are easy to install and fold up.
Best Multipurpose Bike Dog Trailer
3. Thule Courier Bicycle Trailer
KEY SPECS
| | |
| --- | --- |
| Capacity | 2 kids or dog, up to 97 lbs. |
| Dimensions (L x W x H) | 36.2 x 35.4 x 30.7 inches |
| Frame Material | Aluminum |
| Parking Brake? | Yes |
| Weight | 35 lbs. |
PROS
Can double as a 2-kid bike trailer as well as a stroller
Large-diameter 20" wheels for a smoother ride
Seamless design and ease of use with lay-flat storage
CONS
Dog Trailer Kit separately
Significantly more expensive than all other models on this list
Heavier than other models at 35 lbs.
The Thule Courier is the bike trailer to rule all bike trailers. Known for its top-quality car bike racks and vehicle storage solutions, the Thule brand consistently delivers impressive designs. The Courier doubles as a bike trailer for kids and a dog trailer, but it has many more potential uses. It is also a stand-alone stroller and dedicated gear trailer for city errands or transporting items.
Priced at $799, the Thule Courier is by far the most expensive trailer on this list, but the added utility can be well worth it for some cyclists. The standard system includes a bike trailer that can carry two small children, complete with 5-point safety harnesses.
The smaller front two wheels can be lifted to convert the trailer from stroller mode to the bike trailer setup. To make the trailer dog-ready, users need to buy the compatible Thule Courier Dog Trailer Kit for an additional $149— it includes a roll-up mesh window & rain cover and a removable padded dog bed.
While the Courier may be beyond the budget of some cyclists, the multipurpose trailer is perfect for families with children and a dog. The premium construction and stroller function outperform more budget-friendly models, and this reliable Thule product will last for years.
RATING
| | |
| --- | --- |
| Ease of Use | 5/5 |
| Handling | 5/5 |
| Value | 3/5 |
OUR VERDICT
Premium, multipurpose bike trailer that can carry children or a pet and double as a large stroller.
Best Bike Trailer for Large Dogs
4. Booyah Extra Large Pet Bike Trailer
KEY SPECS
Dog Size
Large, up to 110 lbs.
Dimensions (L x W x H)
Outside: 52" x 33" x 36"
Inside: 36" x 24" x 22"
Frame Material
Aluminum
Parking Brake?
Yes
Weight
50.9 pounds
PROS
Unique three-wheeled design for stability while walking or jogging
High maximum weight capacity for extra large dogs
Parking brake and brake lever on the stroller handlebar
CONS
Heavy construction despite aluminum frame
Large-profile can feel cumbersome while riding a bike
The Booyah Extra Large bike trailer utilizes a unique three-wheel design appropriate for hauling big dogs. The additional wheel also allows this trailer to function as a stroller or jogger, so you can take your pup on adventures on foot rather than by bike. With a maximum weight capacity of 110 pounds, the Booyah trailer can comfortably carry two dogs or one very large dog.
The extra large trailer is significantly bigger than the other models on this list and much longer, measuring 52" long because of the additional front wheel. The front wheel provides stability, and the rear wheels are set further back to prevent toppling or popping a wheelie while jogging. The front wheel can be stored at the rear when using the trailer with a bike.
There's a parking brake and a handlebar brake lever to slow down the trailer while walking or jogging downhill. While the trailer interior is spacious, large dogs need the top flap open and sit with their heads out the window.
The rear of the trailer has reflectors for better visibility from behind— to boost your bike's safety at night, explore our list of the best bike lights. The trailer weighs a hefty 50.9 pounds and can be cumbersome while biking which lowers my overall rating. Pet owners with an active lifestyle and large dogs will love this plus-sized trailer.
RATING
| | |
| --- | --- |
| Ease of Use | 5/5 |
| Handling | 4/5 |
| Value | 4/5 |
OUR VERDICT
Three-wheeled bike trailer built for large dogs that also functions as a stroller or jogger.
Best Bike Trailer for Small Dogs
5. Retrospec Rover Hauler Pet Bike Trailer
KEY SPECS
| | |
| --- | --- |
| Dog Size | Small or medium, up to 50 lbs. |
| Dimensions (L x W x H) | 30 x 19 x 17 inches |
| Frame Material | Steel |
| Parking Brake? | No |
| Weight | 28 lbs. |
PROS
Perfect size for small or medium-sized dogs
Folds down for easy storage or transport
No-slip floor and durable fabric, mesh, and plastic cover
CONS
More expensive than the similar Schwinn Rascal trailer
Won't work with bikes with thru-axles
If you're on the hunt for a bike trailer for a small dog, the Retrospec Rover Hauler is your best bet. The one-size trailer is designed specifically for small or medium-sized pups, equipped with plenty of features to ensure a comfortable ride for you and your pet. Like other trailers, the Rover Hauler folds down for easy storage and travel.
The foldable, sturdy frame is made of steel matched to a canopy constructed with weather-resistant fabric. The entire trailer weighs 28 lbs. due to the hefty steel material, making it a bit heavy considering the compact size and lowering my overall score. Depending on the weather, the trailer is easy to use with large windows and an openable 2-in-1 top flap with mesh lining or plastic cover.
Like the Schwinn Rascal, this trailer has an internal leash if your pup has a habit of running for it on exit. The Schwinn is available in a Large size, but the Small version is very similar to the Retrospec Rover Hauler. While 3 lbs. heavier and $35 more expensive, the Hauler is sturdier and has a higher quality fabric construction.
The floor is spacious and durable enough to withstand doggy scratches. There's also a useful pouch at the rear of the trailer to store bags, treats, and other ride essentials. The trailer has a coupler that works with most bikes with 20"-29" wheels but isn't recommended for bikes with thru-axles. For small dogs that love to ride along, the Retrospec Hauler is the perfect companion!
RATING
| | |
| --- | --- |
| Ease of Use | 4/5 |
| Handling | 4/5 |
| Value | 4/5 |
OUR VERDICT
Affordable and durable bike trailers for smaller dogs made from high-quality fabric.
How to Pick the Right Bike Trailer for Dogs?
The most appropriate bike trailer depends on your dog's size and desired budget. Safety is the most important factor when choosing a bike trailer for your dog. This means looking for a trailer with a sturdy frame, secure attachment to your bike, proper ventilation, and the correct weight capacity.
Dog Size
Choose a bike trailer that is appropriate for the size and weight of your dog. Each manufacturer places a maximum weight capacity on their bike trailer that should never be exceeded. Check the trailer's weight capacity and ensure your dog falls within the range.
Your dog should also have enough room to sit or lie down comfortably. Small dogs will fit almost every trailer with no problem, and depending on the model, there can be sufficient space for two small dogs. Trailers for large dogs may be designed to fit the dog with the top flat open, allowing the dog to sit up with their head outside the trailer.
Bike Compatibility
Make sure the bike trailer is compatible with your bike. Some trailers attach to the rear axle, while others attach to the frame via the chainstays. Several of the models on this list feature universal couplers that can fit most bikes with wheels between 24" and 29".
Axle-mounted trailers may not work with modern thru-axle setups and may require an additional adapter. For the most accurate information, check the manufacturer's specifications to ensure the trailer fits securely on your bike.
Frame and Canopy Materials
Bike trailer frames are typically made of either aluminum or steel. Aluminum is lighter and more oxid-resistant, while steel is tougher and more cost-effective. Consider the weight and durability of the trailer when choosing between aluminum and steel.
Your dog will sit on the trailer's padded floor inside the canopy. Trailers come with mesh cutouts and zippable flaps that allow for ventilation and keep the bugs out. Durable fabrics, including doggy scratches, rain, dirt, and mud, must withstand heavy use. If off-road terrain is your thing, learn about the best bike parks in the US and plan your next expedition!
Extra Features
Keep an eye out for features that will enhance your dog's comfort and the rider experience. Some models have a useful restraint system inside the trailer, such as a leash, to ensure your dog doesn't jump or run out unexpectedly.
Additional touches include a padded floor, reflective strips for visibility, and external pockets for storing small ride essentials. If you are browsing for bike accessories, check out our list of the best GPS bike trackers and best bike bells!
All trailers on this list fold down for easy storage and transport, and others go the extra mile. Pet owners with an active lifestyle can choose trailers that double as a stroller to go jogging with their dogs. I also appreciate the inclusion of a parking brake or large air-filled wheels for a smoother ride.
Final Thoughts
Dog trailers allow cyclists and canines to ride together and enjoy the fresh air. This product roundup recommends high-quality dog trailers for various dog sizes and budgets. Compare the specs to ensure your new trailer matches your dog's weight, and have fun taking your pup along on your next adventure!
Frequently Asked Questions
Are dog bike trailers safe?
Yes, dog bike trailers are safe ways to take your pup out for a ride but they must be used correctly. Look for models with sturdy frames, quality wheels and tires, proper ventilation, and secure attachment to your bike. Ensure that your dog is properly secured inside the trailer to prevent them from falling out or getting injured— for example, some models have an interior leash. Always follow the manufacturer's weight limits.
What is the best way to carry a dog on a bike?
Cyclists can carry their pets securely using a purpose-built dog trailer or a bike basket attached to the handlebars. I recommend dog bike trailers, which are generally more comfortable and safer, especially for longer rides. A basket on the handlebars may be a good option for smaller dogs, but it's important to ensure that your dog is securely attached and balanced.
How do I get my dog to stay in a bike trailer?
A happy dog is more likely to stay calm inside the trailer. Introduce your dog to the bike trailer gradually and positively, using treats and praise to reward them for calm behavior. Start with short rides and gradually increase the duration and distance. Padded interior liners and well-ventilated trailers make for a better experience for your pup.
Is aluminum or steel better for dog trailer for bike?
Both aluminum and steel are common materials for a dog trailer. Like bike frames, aluminum is generally lighter and more rust-resistant, while steel can be stronger and more durable.
Can you use a kid bike trailer for a dog?
Using a kid bike trailer for dogs is not recommended, but models like the Thule Courier offer a conversion kit that makes it easy to transform the trailer into a dog-ready setup. Dog bike trailers have flat, padded floors and durable materials and are typically more stable to handle a dog's movement.
Should you take dogs on bike rides?
Taking your dog along on bike rides can be fun for everyone involved! Dog trailers are a great way to carry your pup in a secure space rather than running by your side— older or less mobile dogs do well in trailers, too.
Got more questions about bike trailers for your pup? Feel free to contact us!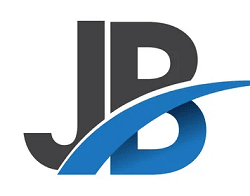 Jeffrey Brown is a writer, editor, and professional bike mechanic with over 7 years of experience working in full-service and community-based bike shops. As a bicycle educator, he has supported youth programs across the US that teach bike mechanics and life skills to prepare the next generation of cyclists.
Jeffrey began his professional mechanic career at his university bike co-op, so he recognizes the grassroots power of the cycling community. Initially self-trained as a mechanic, his subsequent positions as manager and lead educator gave him official training. He has won various awards and grants for his role as a bicycle and environmental advocate.