(Last updated on February 14th, 2023)
E-bike conversion kits in the past decade have become huge, and so many cyclists are now taking to the streets and trails with electric power. We personally think that the e-bike revolution is excellent for cycling as we're now seeing more mixed groups and are no longer defined on our ability of how fast we can ride or how quickly we can climb a mountain.
Sometimes it can be very challenging to find the right e-bike conversion kit for you as the market is limited, and they do come in at a very large price. That's why a lot of cyclists are turning to e-bike conversion kits. They are an amazing tool to boost your regular bike and help you keep up with quicker riders or even give you the ability to go further for less effort.
We're here to make it easy for you. In this article, we're going to tell you about some of the best e-bike conversion kits you can find on the market and also a guide to what to look for when buying a kit yourself.
What Is an E-Bike Conversion Kit?
An e-bike conversion kit is an upgrade you can make to your bike to give it electric power. It consists of a battery, motor, and throttle. Once attached it will assist you in pedaling, making it easy for you to climb hills, to go further, and give you the boost you need to keep up with stronger or faster riders than you. They come in all different shapes and sizes and can typically be fitted yourself.
Why Convert Your Bike?
Converting your bike can give you a huge amount of advantages when it comes to your riding. It can completely change a day out on the bike and be an excellent tool to help improve your experience out on the bike. Here's why we think e-bike conversion kits are excellent.
Faster
The first thing the e-bike conversion kit can do for you makes you go faster. With the power of electricity, you can give yourself a boost and turn those slow rides into quick rides.
Further
The next best thing about an e-bike conversion kit is that you can go much further. Those rides you didn't think you were capable of, you now have the extra ability to conquer. It means you can explore places further away without worrying about struggling to get home.
Steep Hills Are Not a Problem
If you live in an area where steep hills get the better of you and have you walking, then worry no more. Having an electric motor makes easy work of steep climbs and stops you from having to dismount.
Commutes Are Less Sweaty
If you use your bike to commute to meetings, you no longer have to worry about turning up and smelling like you need a shower. An electric motor can take all the hard work out so you can turn up fresh from your ride.
Cheap to Run
If you commute into a city using a car or a motorbike, it can be costly with petrol and diesel. Using an e-bike conversion kit can save you a fortune in the long run, as electric bikes are incredibly cheap to run.
What Do We Look For in E-Bike Conversion Kits?
When we put this list together, we had to look through many different e-bike conversion kits to ensure we found the best ones for you. E-bike conversion kits come in all shapes and sizes, and it can be challenging to find the right kits for you, but not to worry, we have done that for you. Here's what we look for when finding the best kits.
Fitment Type
E-bike conversion kits come in many different forms, some will power and pull you by the front or rear wheel, and some will use the cranks to drive you forward. Depending on what fitment you have depends on how it attaches to your bike.
Motor and Battery
Then we come to the motor and battery, which is the heart of your e-bike conversion kit. We're not just looking for the most powerful motor but the most efficient combination of both so you can get the most value for the power you are producing.
Looks
Sometimes we want a conversion kit that doesn't stick out like a sore thumb. We also take into account how it fits on your bike and what it looks like so you can still be proud of the bike you're riding, even with an electric conversion.
Price
Finally, we come to the price. It's important to understand that some kits are much cheaper than others. We are not looking for the cheapest or the most expensive, but we're looking for the best value-for-money kits we can find.
| | | | | | | |
| --- | --- | --- | --- | --- | --- | --- |
| Kit | Fitment | Power | Battery | Price | Where to buy? | Rating |
| Voilamart | Wheel | 1000w | 624Wh | $595 | Check price | 4/5 |
| Swytch | Wheel | 250w | 180Wh | $580 | – | 4.5/5 |
| Ebeling | Wheel | 500w – 1500w | Optional | $668 (With Batt) | – | 4/5 |
| Rubbee X | Rear Tire | 250w | 92Wh (Can add) | $499 | – | 4.5/5 |
| Bafang Hub | Crank | 750w | Optional | $468 (Plus Batt) | Check price | 5/5 |
| TongSheng | Crank | 250w – 500w | Optional | $350 (Plus Batt) | Check price | 4/5 |
Wheel Drive Kits
1. Voilamart Electric 26" Bike Kit
$316 (Motor) + $279 (Battery) = $595
KEY SPECS
| | |
| --- | --- |
| Fitment | Rear wheel |
| Motor | 1000w |
| Battery | 624Wh |
| Top Speed | 28mph (Restricted to 24mph) |
PROS
Very powerful motor
You get to choose your own battery
Come with all safety features and extras
Quick delivery
CONS
More challenging setup compared to others
Have to order battery separately
Suited to older, more basic bikes
The Voilamart kit is an excellent way to go if you're looking to upgrade your bike to something powerful that is going to give you a lot of boost and distance. This is a very thought-out kit and doesn't just come with a simple motor. It has all the technology you can expect from high-end electric bikes.
The first thing to mention is for this kit to work, you will need a 26" rim brake bike with preferably a 7-speed cassette. With this kit, you swap out the rear wheel and then wire it up, replacing your grips and even your brakes. It is going to give you excellent direct power and has everything you're ever going to need from the pedal assist sensor and road legal switch wire.
You have to buy a battery separately with this kit, but it gives you the option of different wattages depending on how long and far you plan to ride and how quickly. This isn't a challenging kit to put together, and if you don't feel confident, it will be something your local bike shop can do easily.
Overall Rating 4/5
We really like the Voilamart kit. It offers a very good option to turn your old bike into something incredibly powerful. The fitment will take time, but it's a good investment.
2. Swytch Bike Max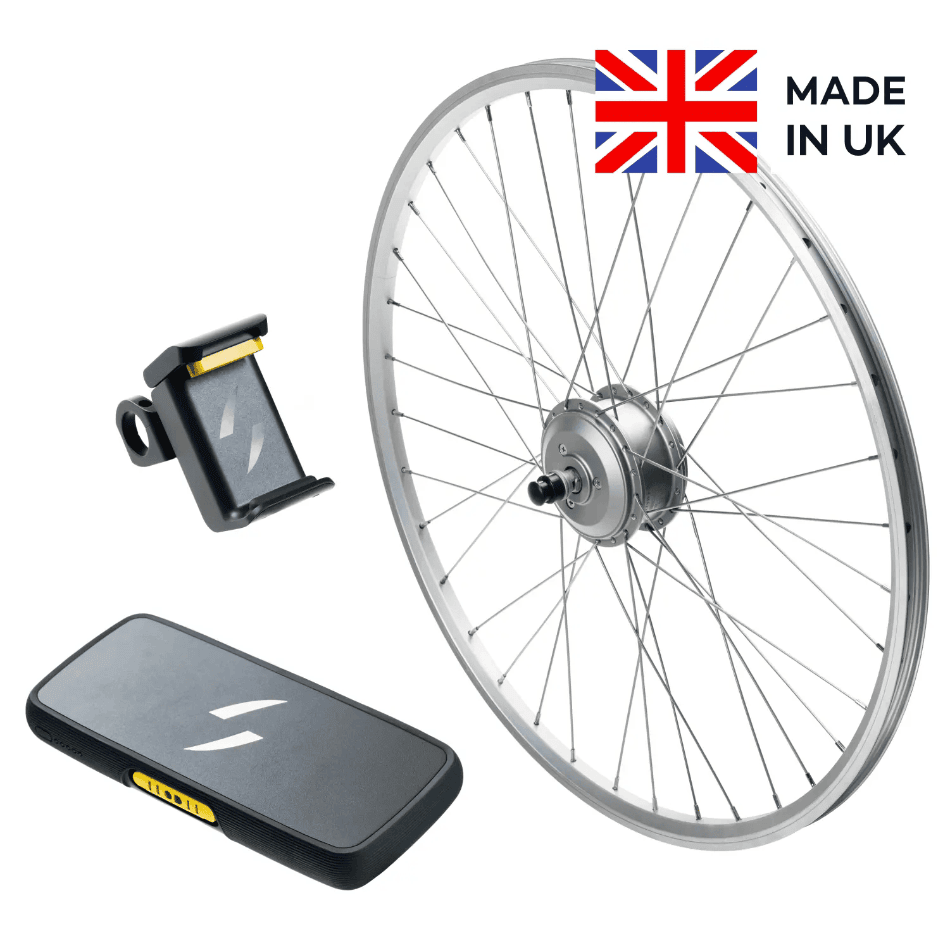 KEY SPECS
| | |
| --- | --- |
| Fitment | Front-wheel |
| Motor | 250w |
| Battery | 180Wh |
| Top Speed | 15mph |
PROS
Easy to fit
Hides on the bike well
Good value for money
CONS
Not superpower
Not a huge range
The Swytch has made one of the best universal e-bike conversion systems, which is not only easy to fit but can be done within minutes. It also hides itself so well that you can't even tell that the bike has been converted. They are one of the most talked about systems and have sold over 26,000 since they started production.
The motor is 250w, and this is powered by a 180Wh battery that will give you about 30km at its top speed of 15mph, which is the maximum allowed without certain safety features. All you have to do is change the front wheel over and strap the battery to the front. It's one of the quickest conversions to electric you can make.
When purchasing this kit, all you need to do is measure your wheel size and then pick the kit you want, and it will turn up at your door, ready to go. They are great for city riding, and we feel that they are by far one of the best hassle-free kits.
Overall Rating 4.5/5
The Swytch is an incredible kit that will be perfect if you are looking for an e-bike conversion kit that will be very easy to fit. It's not the most powerful, but if you don't require a hill munching motor, then it's ideal.
3. EBELING
KEY SPECS
| | |
| --- | --- |
| Fitment | Front or Rear Wheel |
| Motor | 500w – 1500w |
| Battery | Multiple Options |
| Top Speed | 28mph |
PROS
A lot of options for mounting
Good value for money
Different motors and batteries
Very powerful
CONS
Battery sold separately
Large kit
The Ebikeling electric bike conversion kit is a great way to go if you want a kit that you want to swap across bikes as you upgrade equipment. It's very adaptable and can be used on the front and rear wheels of the bike, providing your wheels are 700c and you are using rim brakes.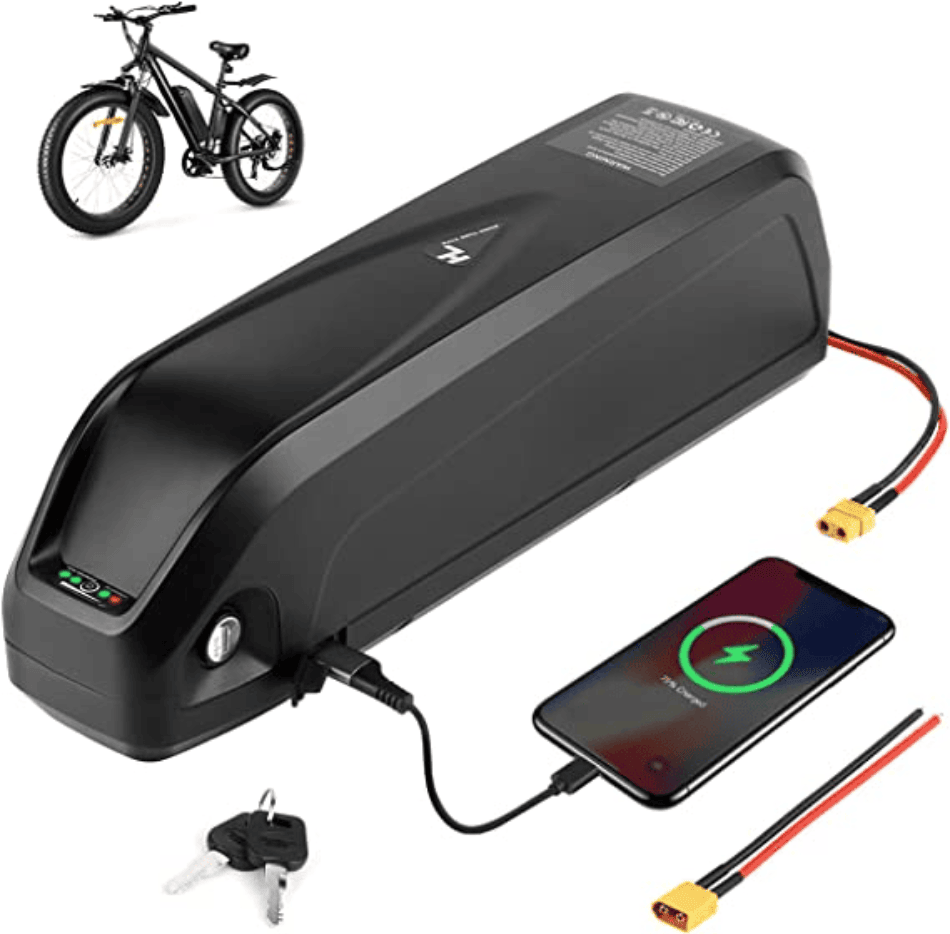 You get to pick from a variety of options, you can choose the power of your motor, and these motors range from 500w all the way to 1500w, which is incredibly powerful. Then you have batteries, and you have different brands, and also different sizes to choose from too. It's nice to be able to pick exactly what you need for your own personal riding.
This kit is perfect for turning your bike into an incredible electric machine to help you on long bike rides and commutes. It will take a bit of fitting, but we love the fact it has an LCD display and comes with everything you need to get some boost.
Overall Rating 4/5
The Ebikeling is an incredible kit that offers an incredible amount of power to your wheels. We highly recommend it and feel it offers an excellent boost for your cycling.
Wheel Mounted
4. Rubbee X
KEY SPECS
| | |
| --- | --- |
| Fitment | Saddle |
| Motor | 250w |
| Battery | 92Wh |
| Top Speed | 15mph |
PROS
Very easy to fit
Easy to switch between bikes
Good value for money
Rear light and sensors
CONS
Not very powerful
Limited range without extra batteries
The Rubbee X is an e-bike conversion kit like no other and works in an entirely different way compared to other kits. It attaches to the seat post, then to the rear wheel, where it sits on the tire, driving the bike forward with its electric motor. It means attaching this is very easy and can be switched between bikes.
It is easy to use, but it does make some noise and can wear your tire down quicker than normal typical wear. It comes with one battery as standard, and you can add more in a series inside the unit to give the bike more distance.
It has a top speed of 15mph which is plenty for quick commutes and keeping up while riding with friends. We also love that it has a light on the rear and multiple sensors to add to the bike, such as a cadence and speed sensor.
Overall Rating 4.5/5
The Rubbee X is a very unique product, and we really like it. It's easy to use, very capable and gives your bike a lovely boost for not much money.
Crank Drive Kits
5. Bafang Hub Motor Kit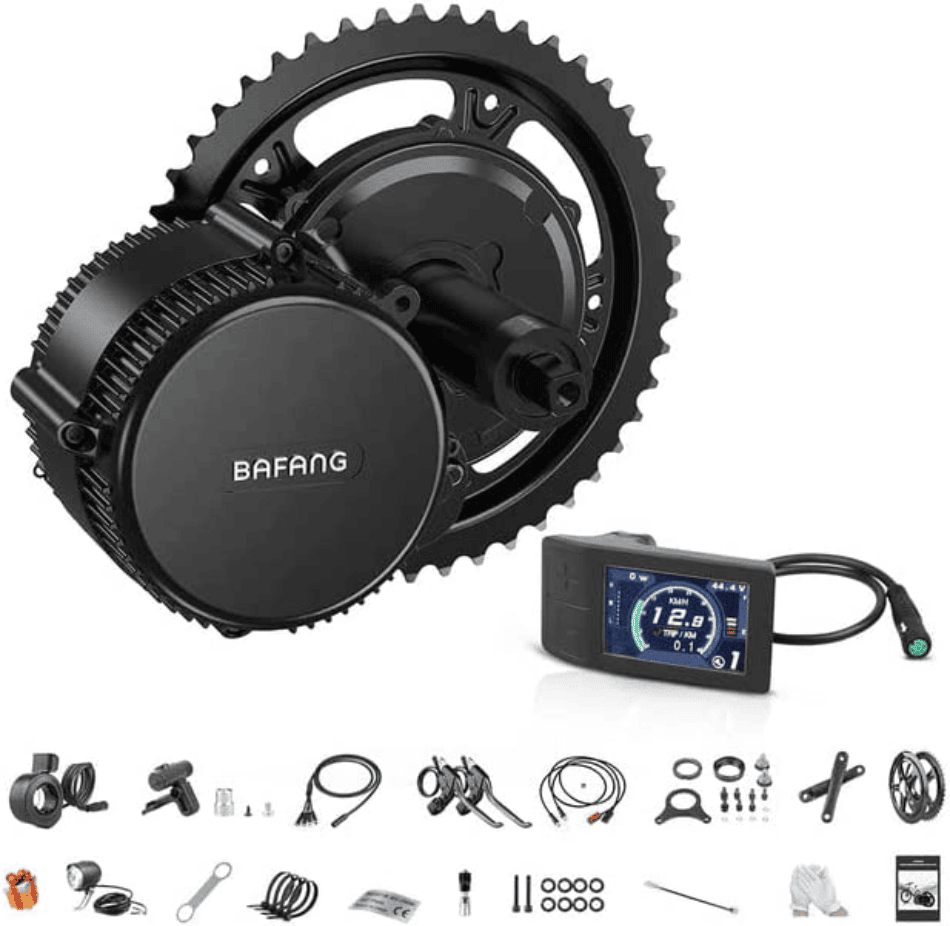 KEY SPECS
| | |
| --- | --- |
| Fitment | Crank |
| Motor | 750w |
| Battery | Multiple options |
| Top Speed | 25mph |
PROS
Secure fit
High power
Multiple battery options
Great motor
CONS
Time-consuming installation
Bafang is one of the leading brands when it comes to providing motors for electric bikes. Many of the best electric bikes on the market are equipped with internal Bafang motors. The quality is high, and they are built to last for many years and perform excellently.
Bafang recently decided to produce a kit that could be attached to a bike. This 750w motor connects to the crank itself and sits under the frame of the bike. It attaches through the bottom bracket and will fit over 99% of bikes, they claim. It wires up to the bike and even comes with the shutoff brakes and an LED display to tell you all the data of the system.
A rack is even provided to carry the battery and comes with a lighting system that runs off the motor's battery. The Bafang even comes with a throttle switch to adjust the assistance you want. When purchasing, you get to choose the battery size, which will govern your mileage.
Overall Rating 5/5
Bafang is an excellent brand when it comes to e-bikes, and we love that they have made the call to make a conversion kit. It's powerful, reliable, and is going to supercharge your bike.
6. TongSheng TSDZ2
KEY SPECS
| | |
| --- | --- |
| Fitment | Crank |
| Motor | 250w – 500w |
| Battery | Multiple options |
| Top Speed | Unknown |
PROS
Secure fit
Looks great
Multiple batteries and power options
CONS
Time-consuming installation
Battery required on top
Last but not least, we have the TongSheng TSDZ2. It's a great kit and very similar to the Bafang above in that it replaces the crank. It's one of the cheapest kits on the market, and many people use them because of how secure and simple they are.
When it comes to fitting, this completely replaces the crank, and when buying this kit, it will come with new pedal arms and even a front chainring. It doesn't come with a battery, and you get to choose that yourself. The bigger the voltage of the battery, the more power you get from this motor.
The kit comes with an LCD display and everything you need, from brakes to wires and even cable mounts. This kit will take some fitting, but when it is up and running, it will be very reliable and an excellent cycling tool.
Overall Rating 4.5/5
The TongSheng is an excellent kit that really does look the part when it's on the bike. It gives you plenty of options, and we love that it replaces everything in the crank area, including pedal arms.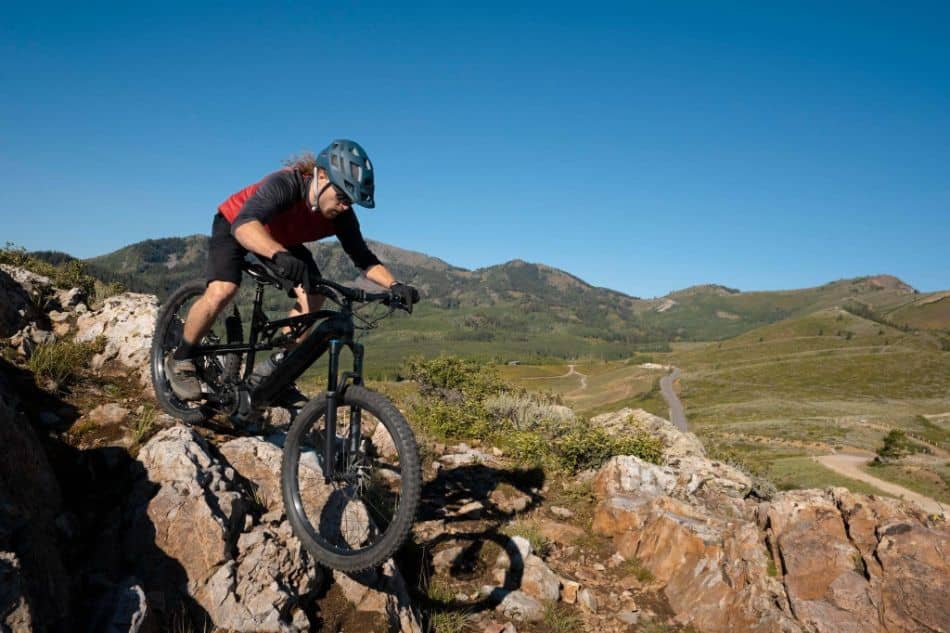 E-Bike Conversion Buyers Guide
When buying an electric bike conversion, there's a lot to take into account. Sometimes it can be challenging to find what you are looking for, and the more you search, the more confusing it can get. In this next section, we want to tell you everything you need to think about before buying your e-bike conversion kit.
Will It Fit Your Bike?
The first and most important question you need to ask before using an e-bike conversion kit is whether it will fit your bike. E-Bike conversion kits come in all shapes and sizes as they have been designed for different types of bikes. So before buying, check.
Wheel Drive
Wheel sizes
Wheel attachment
Disc or rim brake
Rack mounts for battery
Room for cabling
Crank Based
Bottom bracket size
Room for Motor itself
Mounts for battery
Room for cabling
Is It Legal?
E-bike conversions are typically done at home by yourself or with a bike shop. The kit you're putting on must be legal to do so. Check the rules of the country or state you're in for clarification and ensure the kit is ok to use. Many countries request 15mph as a top speed and don't allow throttle, just pedal assistance.
Does It Come With a Battery?
A lot of conversion kits don't actually come with batteries. This is because they can be very difficult to transport for suppliers and many companies feel it's important for the rider to choose. If they all sent one generic battery, you would find that it would be too big for some users and have too much capacity, or it might be too small for some people and not have enough. It's not a bad thing to buy the battery separately.
Is It Better to Convert or Buy an Electric Bike?
It's important to consider electric bikes instead of conversions. It is much cheaper to convert, but if you have a bigger budget, you might want to consider going for a fully-made electric bike instead, which will save you a lot of hassle in the long run and will be easier to maintain in the future.
Can I Convert It Myself?
Many people ask if it is possible to do an electric bike conversion yourself, and yes, you can. Many of them are very simple and as easy as changing a wheel or bolting on a pack to the back of your bike. If you are doing a more complicated conversion, it's worth considering asking a bike shop to do it. Many will, and they typically don't charge much.
Brands
Although with bikes, we would typically recommend going for high end, well known brands, but with conversion kits, it's not that simple. There are very few companies making them, and the majority of e-bike conversion kit brands are very new to the market and aren't well known names. We recommend researching and reading some reviews of the product before buying.
Conclusion
E-bike conversion kits are a great way to improve your cycling experience. They are affordable to buy and most come very easy to fit with some excellent features. We highly recommend using an e-bike conversion kit as you will get many benefits such as, you will go faster, riding further, you won't need to walk up steep hills, and also it will give you the option to explore more of your local area. We highly recommend the kits we have suggested and hope you enjoyed our article.
Frequently Asked Questions
Are e-bike conversion kits good?
E-bike kits are excellent. If it's the right kit for your bike and it's installed properly, then you will get loads of happy miles out of it. They are also very fun to ride and can open up to riding to new places and with other groups who you might not have been able to keep up with before.
Is it cheaper to make your own e-bike?
Typically it does come out much cheaper to convert a bike you have already. If you have the tools and the willingness to fit the kit then you can easily turn a basic bike into a powerful electric bike. There's also something quite nice about converting a bike your used to instead of swapping over to a ready-built e-bike.
Can any bike be converted to an e-bike?
There's an e-bike kit to suit most bikes currently on the market. Some will work though the wheels and others will work off a motor on the frame. We recommend doing the conversion to a metal bike as it will be stronger. You do need to consider the amount of stress that will be put on the bike and if it can handle it. 
How fast do e-bike conversion kits go?
E-bike conversion kits come in different classes and levels. Some will take you up to 15mph which is the legal limit in many countries for an electric bike. Other conversion kits will take you to 20mph, and the quickest will take you to 28mph. They go plenty quick enough to be on a bike; any quicker we feel would be dangerous.
How far will e-bike conversion kits take you?
It depends on a lot of things such as the battery capacity, the motor which is connected, the terrain you are on, and also how hilly the route your riding is. You can expect anything from 30 miles all the way to 80 miles depending on the kit you purchase.
---
I'm Robbie Ferri, a writer from Norfolk in the UK. I love cycling, the gym, and have a huge passion for sharing my stories and knowledge to anyone with the time to read them. My main passion is cycling. I started eight years ago. In that time I have broken world records, cycled all over the world in Ultra Bikepacking races, and am lucky enough to have enjoyed some incredible times on two wheels with some incredible people. I have also worked in a bike shop and with some of the industries leading brands, not just promoting products but designing them too.
Under it all I am just someone very passionate about exploration and living a healthy lifestyle. Everything I do I put 100% into it and feel that life is for living. Never should you have a dull day.