(Last updated on January 27th, 2023)
Can you really buy a quality electric bike for under $1,000? The answer is yes, and there are plenty of models to choose from. To help you make sense of the endless stream of new ebikes and budget manufacturers on the market, I've created this list of the best affordable ebikes available in 2023.
Take a look and discover worthwhile options that'll help you go faster for longer, no matter where you ride.
What Are Entry Level Ebikes?
Ebikes that cost $1,000 can be great value, and cheaper ebikes could end up being more trouble than they're worth. Ebikes significantly under the $1,000 price point can feel like a shot in the dark, and buyers can be surprised at what they receive. And when it gets time to ride, I've found that the cheapest models don't have a long lifespan and are more prone to problems.
To avoid all that hassle and sort through today's saturated ebike market, I've put together this list of affordable ebikes you can be sure are great value. These popular bikes come from well-known brands in the industry and are backed by positive reviews from amateurs and experts alike.
Keep in mind that the ~$1,000 price tag means that the bikes aren't the premium packages that cost upwards of $3,000 or $4,000. The bikes below don't have all the bells and whistles of top-tier bikes and have lower-grade electrical systems.
All of the models utilize reliable rear hub motors rather than the higher-end mid-drive systems that preserve the natural balance of the bike. They are heavier than more expensive ebikes, but hey… you've got a motor to help you out. If you want to purchase a premium model, check out our recent article on the 5 Best Electric Mountain Bikes on the market.
For entry-level riders, $1,000 can get you an impressive ebike that'll push you along for many miles to come. Smart design and sourcing of parts make these entry-level bikes great value. The bikes on the list are perfect for riders looking for an affordable way to join the fast-growing community of ebikers out on the trails.
How I Picked These Ebikes Under $1,000
Bikes have to check a significant number of boxes to make it onto this round-up of the best budget electric bikes. I considered their technical specs and componentry and numerous reviews from users and other bike experts.
Ebikes priced around $1,000 are typically entry-level models, so I based my rankings on their utility and value for people just getting started on ebikes. Here are the criteria I used to judge if candidates made the cut and are a worthwhile investment:
Reliability: Ebikes have the complexity of an entire electrical system in addition to the many moving parts on a traditional bike. Therefore brands have to invest a lot of effort into making a dependable machine. The bikes on this list use durable parts that will keep you pedaling for many miles to come
Ride feel: There's no point in riding a bike if it's uncomfortable or awkward to use. Ebikes are larger and heavier than normal bikes, but smart engineering can make them feel just as nimble and responsive as non-motorized bikes.
Utility: Ebike riders should be able to use their bike for just about anything. Many of the bikes on this list come with useful integrated lights, racks, and other sought-after features.
Price: For budget-conscious cyclists wanting to get into ebikes, the $1,000 mark is a good place to start. A couple of the bikes on this list have a slightly higher price tag, but I included them because of their impressive value for money.
Compare the Best Electric Mountain Bikes Under $1,000 at a Glance
| | | | | | | | |
| --- | --- | --- | --- | --- | --- | --- | --- |
| Model | Ebike type | Wheel size | Price | Where to buy? | Gearing | Motor | Battery |
| Ride1UP Roadster V2 | City/commuter | 700c | $1,049 | Click here | Single speed | 350W | 7Ah |
| Rad Power Bikes RadMission 1 | Commuter/hybrid | 700c | $1,199 | Click here | Single speed | 500W | 10Ah |
| Lectric XP Step-Thru 2.0 | Foldable/fat bike | 20" | $999 | – | 7-speed | 500W | 9.6Ah |
| FIIDO D11 | Foldable/city | 20" | $1,099 | – | 7-speed | 250W | 11.6Ah |
| Ancheer 27.5 | Electric mountain bike | 27.5" | $849 | Click here | 24-speed | 350W | 10.4Ah |
| KBO Hurricane | City/commuter | 700c | $899 | – | Single speed | 250W | 9.6Ah |
Here are my picks for the best electric bikes under $1,000
Best Overall Ebike Commuter
1. Ride1UP Roadster V2
PROS
Maintenance-free belt drive
Amazing, sleek aesthetic with hidden battery
350W motor and fast top speed
Super lightweight (33 lbs.)
At first glance, most people won't even realize that the Roadster V2 is an ebike. The second-generation Roadster looks like a traditional fixie with its single-speed drivetrain and rim brakes, but don't let that fool you this bike packs a punch.
This Class 3 ebike has a 350W rear hub motor hooked up to a 7Ah Samsung battery hidden in the downtube. There's no throttle, but riders can choose between four pedal assist levels (maxes out at 24 mph). The bike can easily reach between 20 to 30 miles on a single charge depending on the terrain and power level. That's not a huge range, but it's appropriate for this kind of sleek, daily commuter.
My favorite feature is the single-speed belt drive. The ultra-durable belt can handle the dirt, grime, and abuse of city riding. Rim brakes are a rare choice on motorized bikes, but they can handle the moderate power of the Roadster. This knocked down my rating by half a point.
Last but not least, the ebike only weighs 33 lbs.! This urban ebike from Ride1UP is a sleek solution for riding fast in the city and not breaking a sweat on the way to your destination.
Most Capable Urban Ebike
2. Rad Power Bikes RadMission 1
$1,199
at radpowerbikes.com
PROS
Powerful 500W motor
Throttle and pedal assist modes
Integrated front and rear lights
CONS
External battery isn't the sleekest look
The RadMission 1 is a commuter ebike with 500W of power and a stylish metro design from fan-favorite brand Rad Power Bikes. It's a Class 2 ebike with a single-speed drivetrain built for city paths and the urban jungle, perfect for your daily ride to work or class.
The Rad Power Bikes brand made its first ebike in 2015 and has become a major player in the highly-competitive industry. As the largest electric bike brand in North America, Rad Power Bikes has an impressive range of affordable models and often introduces new tech before anyone else. The RadMission 1 is their all-rounder model for cyclists that stick to paved roads and want a moderate amount of pedaling assistance.
Many ebikes on the market today have sturdy frames and ultra-wide tires that can weigh the bike down and ruin the aesthetic. The RadMission is set up like a traditional city bike, only with a neatly mounted external battery on the frame. At under 50 lbs., it's ultra-light for an ebike. The bike would have got a perfect 10 if not for the not-so-attractive externally mounted battery.
The RadMission has a 500W rear hub motor powered by a 10Ah battery. You can use the half twist throttle for on-demand speed, or you can toggle between the four pedal assist levels. Rad Power Bikes rate the bike's range as between 25 and 45 miles, depending on what mode you use.
The bike has 180mm Tektro mechanical disc brakes and puncture-resistant Kenda Kontact 1.95" tires. There's only one gear, but the motor provides plenty of power to climb steep hills. The integrated lights are a nice touch, and Rad Power Bikes offers lots of other add-on accessories. The price tag comes in a bit over budget, but the RadMission's impressive bang for your buck earned its way onto this list.
Best Foldable Ebike for Any Terrain
3. Lectric XP Step-Thru 2.0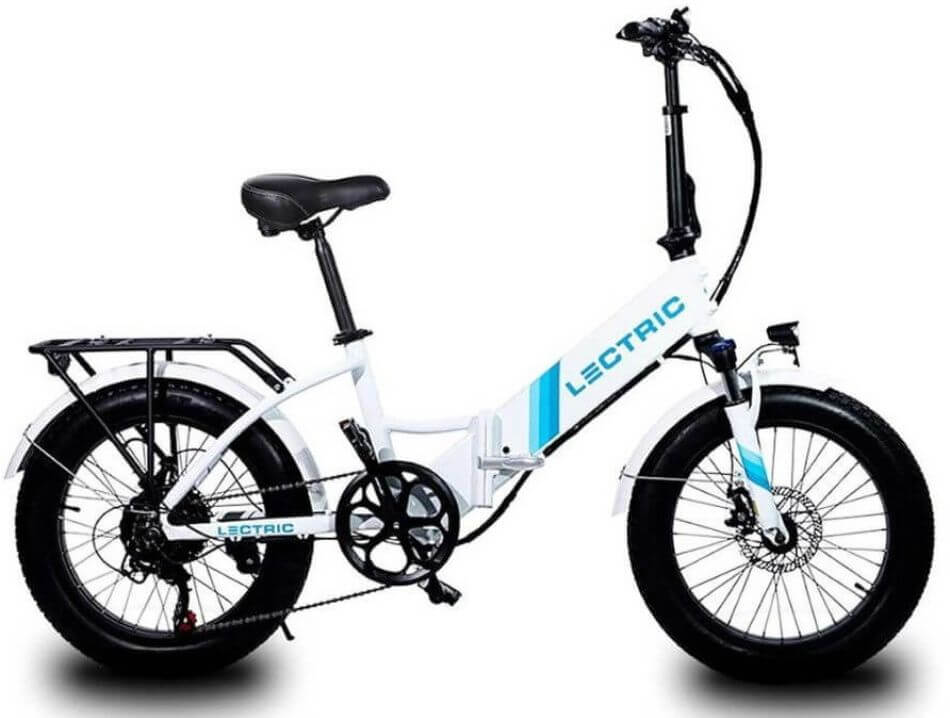 PROS
Customizable as Class 1, 2, or 3 ebike
Mighty 500W motor
3" fat tires for extra grip and cushion
Throttle and pedal assist modes
The Lectric XP 2.0 is one of the most popular ebikes in the US, and for a good reason. The foldable bike has enough power to be run as either a Class 1, 2, or 3 ebike and fat tires to handle any terrain.
The small package comes equipped with a mighty 500W rear hub motor and 48V 9.6Ah battery that charges up in around 5 hours. The large capacity battery is great for stress-free riding, but it's the main reason the bike weighs in at a hefty 64 lbs. The brand estimates the range at around 45 miles, depending on power modes and the terrain. Riders can choose between the fun throttle mode or the five levels of pedal assist.
I appreciate that the XP 2.0 comes with a 7-speed drivetrain, so riders don't have to rely solely on the motor when riding up hills. 160mm Tektro mechanical disc brakes are a smart choice, and the 20" x 3" tires offer plenty of grip in wet or dry conditions. This bike loses out on a perfect 10 rating because it is quite heavy at 64 lbs.
I've recommended the Step-Thru model, but the step-over version is also available. Whether you're looking to bring an ebike on the subway or go trail riding, the Lectric XP is a worthwhile foldable ebike.
Best Foldable Ebike for City Riding
4. FIIDO D11 Folding Sport Electric Bike
PROS
Huge range from high capacity 11.6Ah battery
Innovative and stylish aesthetic
Super lightweight (38 lbs.)
CONS
Not the most powerful motor
Low top speed of 16 mph
The Fiido D11 is my favorite foldable ebike because of its innovative design and sleek aesthetic ideal for style-conscious commuters. The 250W rear hub motor is powered by a large-capacity 36V 11.6Ah battery cleverly concealed in the seat tube. And if you forget to charge your bike, don't worry the estimated range is up to 62 miles.
Unlike the Lectric XP, this Class 1 bike opts for a pared-down design and skinnier 20" tires specific to urban riding. It's super light at only 38 lbs. and has a top speed of around 16 mph. The D11 isn't the most powerful ebike on this list, but its compact size and urban utility make it an attractive option. The low speed bumps my rating down half a point from a perfect 10.
I've never been a huge fan of how foldable bikes look, but the D11's simple design that's free of messy angles and cables proves ebikes can be eye candy. You can fold the bike when you get to the metro or the office, but I'd be too busy showing off its complete look.
The D11's radical design injects some much-needed innovation into the foldable ebike category. For city trendsetters and aesthetically-minded commuters, you can't go wrong with this lightweight and long-range model.
Best Affordable Electric Mountain Bike
5. Ancheer 27.5
PROS
High capacity 10.4 Ah battery
Front suspension and 24 gears for mountain trails
5 pedal assist levels
The new Ancheer 27.5" electric mountain bike comes with front suspension and extra gears so you can tackle tougher trails and rougher terrain. I recommend this 350W motor version over the 500W model because it has the same top speed and range and costs $130 less.
The mountain bike set-up allows this bike to go places beyond the scope of foldable bikes or traditional hybrids. 27.5" wheels is the most popular size among MTBers for extra speed and responsiveness over technical terrain. The front suspension will give you a bit of cushion but isn't rated for large bumps and jumps.
The 350W motor is paired with a 10.4Ah lithium-ion battery that gives users a range of up to 25 miles on a single charge. Ancheer lists the top speed as 15 mph with the five pedal assist levels. Other bikes on this list reach higher speeds and ranges with similar specs, but it's a solid value for the price. Similar to the FIIDO D11, the low top speed lowers my rating of this bike.
I'm glad to see the 24-speed drivetrain so that riders can attack steep climbs with or without pedal assist. The Ancheer 27.5" is a brawny, budget-friendly way to try out electric mountain biking.
Best Beginner Ebike for City Riding
6. KBO Hurricane
PROS
Quality Samsung 9.6Ah battery
Very lightweight (36 lbs.)
LCD display on handlebars
Belt drive and mechanical disc brakes
CONS
Not the most powerful motor
The KBO Hurricane's stealthy design does a good job at hiding its impressive electronics, but its solid performance and price make it stand out. The 36 lbs. bike is purpose-built for city riding with its durable belt drive, road tires, and an integrated LED headlight.
Out of all the ebikes on this list, the KBO Hurricane feels the most similar to a standard hybrid bike. The 250W offers enough power to keep you from breaking a sweat, and the 36V 9.6Ah Samsung/LG battery tucks neatly into the downtube. A backlit LCD display shows you important metrics like speed, battery health, and the three pedal assist levels. I'm happy to see that KBO chose mechanical disc brakes to provide dependable stopping power.
If you're on a tighter budget, this bike is a great alternative to the slightly higher-spec Roadster V2 and RadMission 1 on this list. It doesn't score a perfect 10 because of its light motor, but it's still well worth the money. For people interested in ebikes but aren't fully convinced yet, the Hurricane is a capable option that won't overwhelm you with extra features.
How to Pick the Perfect Ebike for You
When searching for the ideal bike for you, it's important to reflect on your riding style and preferences. As shown in this round-up of the best ebikes, there are foldable, mountain, city, and commuter models among other types. Think about where you will typically be riding your new bike and select the category accordingly. Browse the available options or choose the bike on this list that best suits you.
The last step is to pick the correct size frame based on your height or leg inseam. There's no single size chart for ebikes since they can be so different, so check the manufacturer's recommendations.
Frequently Asked Questions
How much is a decent e-bike?
Ebikes that cost between $600-$800 are typically not a good investment because they have cheap parts that offer poor performance and break down prematurely. Ebikes increase quality around the $1,000 price point and come with longer-lasting electric systems.
Each bike on this list costs around $1,000 and is a great entry-level option for beginner riders. Mid-tier ebikes typically run between $1,500-$3,000, while premium models cost upwards of $4,000.
How do I choose an electric bike?
First, consider your riding needs and preferences. Electric bikes have subcategories designed for smooth roads, mountain trails, snow, and more. Decide on how much you'd like to spend and take a look at retailers that offer a few models within your budget. While many stores are out of stock of bikes, try to test ride several models to understand what you like and don't like. Consider the whole package like components, accessories, and warranty to determine if the bike is right for you.
What's the most reliable electric bike?
Ebikes are complicated machines, so it can be hard to tell which models are more reliable than others. However, the most important features are the battery and motor. Typically, when these parts are branded from a well-known manufacturer like Samsung, Bafang, or Shimano, it's a clue they are a step above the rest.
Where are Ancheer electric bikes made?
Like many other ebikes and bike parts on the market, Ancheer electric bikes are manufactured in China and Taiwan. Ancheer has been a popular brand in the health and fitness industry for the past ten years and produces several affordable ebike models.
What is the longest-lasting electric bike?
The range of an ebike depends mostly on the capacity of its electric battery, measured in amp-hours (Ah). A battery management system (BMS) also helps the battery run efficiently and increase its overall lifespan. Most ebike batteries range between 9Ah or 10Ah. The bike on this list with the largest battery is the FIIDO D11 with a 11.6Ah battery.
What are the top 10 electric mountain bikes?
For recommendations on the best electric mountain bikes on the market today, take a look at our recent article on the 5 Best Electric Mountain Bikes. They're significantly more expensive than the bikes on this list, but their premium specs and impressive designs are worth it to the dedicated rider. Quality brands that manufacture my favorite eMTBs include Santa Cruz, Specialized, and Canyon.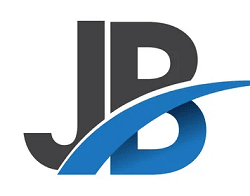 Jeffrey Brown is a writer, editor, and professional bike mechanic with over 7 years of experience working in full-service and community-based bike shops. As a bicycle educator, he has supported youth programs across the US that teach bike mechanics and life skills to prepare the next generation of cyclists.
Jeffrey began his professional mechanic career at his university bike co-op, so he recognizes the grassroots power of the cycling community. Initially self-trained as a mechanic, his subsequent positions as manager and lead educator gave him official training. He has won various awards and grants for his role as a bicycle and environmental advocate.