(Last updated on May 9th, 2023)
Electric bikes come in all shapes and sizes and are fun. They have advanced so much in the past decade. We have new technology that can take you further than ever and epic designs to do it in style. One of the most popular types of electric bikes available is a cargo bike.
Cargo bikes were different before we had electric motors, as they were so big and heavy you needed incredible strength to ride one at any speed. With powerful electric motors, these days are in the past, and now cargo bikes are becoming very popular for businesses and recreational cyclists.
This article will discuss:
What Do I Look For When Picking The Best Electric Cargo Bikes?
The Best Electric Cargo Bike Recommendations
Electric Cargo Bikes Buyers Guide
Frequently Asked Questions
What Do I Look for When Picking the Best Electric Cargo Bikes?
Does it Offer Value for Money?
When looking at electric cargo bikes, I am not just finding the most expensive ones and expecting them to be the best. I look for value for money. Are you getting excellent value for the money you're spending? You are with our bikes.
Is it Fit for Purpose?
Are the cargo bikes I am recommending fit for purpose? Can they carry large loads? Are they going to handle the rough cycle path home? Are the components right for the bike? These are all things to think about.
Is it Good Quality?
I have seen bikes that have incredible functionality but lack basic quality. The best electric cargo bike is going to have high-quality components and will last for years and years. Low-quality bikes don't get on our list.
What Brand?
The brand is very important to us regarding the best electric cargo bike. I want bikes from brands that have proven themselves in the market. E-bike brands are constantly popping up and then going just as fast. I want brands that are consistent and have been around for a while.
Can it Go Far?
Electric cargo bikes are generally very heavy. They need the range to get you home and not leave you stranded. We're looking for bikes with a decent battery to keep you out hauling as long as possible.
Special Features
Some cargo bikes have incredible features such as lighting, fenders, special carrying options, and even LCD displays. I look at these as they can add a huge amount of value to the cycling experience.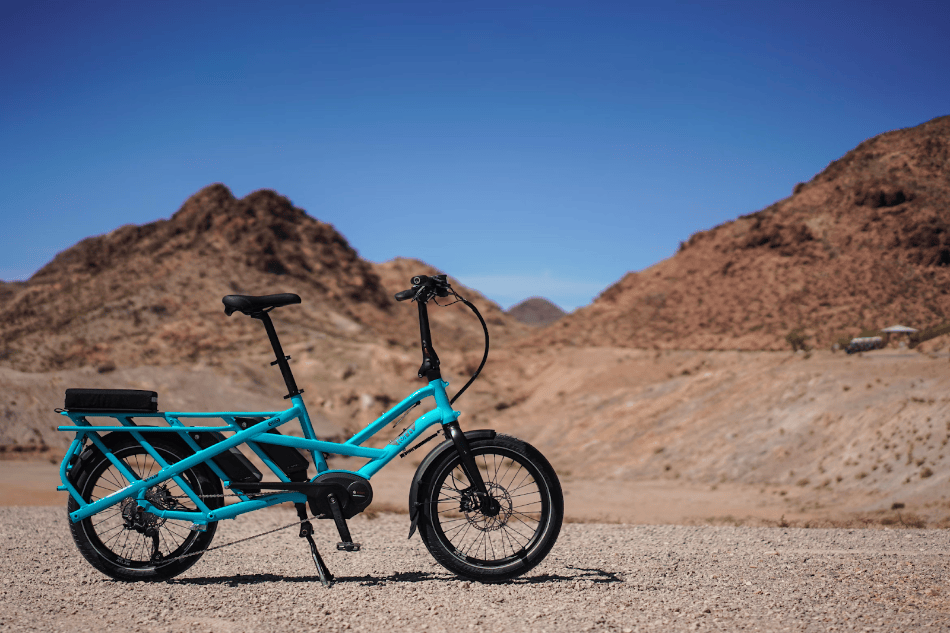 Compare the Best Electric Cargo Bikes at a Glance
| | | | | | | | | |
| --- | --- | --- | --- | --- | --- | --- | --- | --- |
| Bike | Frame | Suspension | Motor Battery | Gearing | Brakes | Wheels | Price | Rating |
| Aventon Abound Step | Aluminum | Front | 750w / 720Wh | 1×7 Speed | Hydraulic Disc | 20" | $2200 | 10/10 |
| Hyper Scorpion | Aluminum | Front and Rear | 1000w / 990Wh | 1×8 Speed | Hydraulic Disc | 20" | $2000 | 9/10 |
| Radio Flyer Longtail Ebike | Aluminum | None | 500w / 672Wh | 1×7 Speed | Mechanical Disc | 26" F20" R | $2000 | 8.5/10 |
| KBO Ranger Cargo | Aluminum | None | 750w / 840Wh | 1×7 Speed | Mechanical Disc | 20" | $1600 | 8/10 |
| Rad Power Bikes Rad Wagon 4 | Aluminum | None | 250w / 670Wh | 1×7 Speed | Mechanical Disc | 22" | $2600 | 7.5/10 |
| Tern GSD S00 Folding Ebike | Aluminum | Front | 250w / 500Wh | SS Drive | Hydraulic Disc | 20" | $6500 | 7/10 |
Best All Rounder
1. Aventon Abound Step Thru
KEY SPECS
| | |
| --- | --- |
| Frame | Aluminum |
| Motor | 750w |
| Range | 50 Miles |
| Suspension | Front |
| Groupset | 1×8 Speed |
| Brakes | Hydraulic Disc |
| Wheels and Tires | 20" |
| Weight | 81lbs |
PROS
Looks excellent with a unique sloped design
Great motor and battery
Powerful hydraulic disc brakes
Front suspension for a smooth ride
Application to link your phone to
Packed with all the special features
Great value at $2200
CONS
There's very little I didn't like. It's a couple of kilos heavier, but that's it.
Aventon makes a great electric bike, and they are not shy of trying new styles that have taken other companies in their direction. The Abound Step Through is one of the top-rated bikes on this list because it is the perfect all-around cargo bike.
With the large, long step-through frame and 20" wheels, this bike is incredibly easy. It has a lot of adjustabilities for many users and, with front suspension, offers an incredibly comfortable ride. I really can't fault the design. It looks fantastic and ticks every box for us.
The 750w motor gives you 50 miles of range and lots of power for any incline you want to get up. You can even connect the system to your phone to fine-tune it for your personal riding. It also has an 8-speed gearing system, powerful hydraulic brakes, and a 20" wheel for control.
It has rear wheel guards, fenders, rails for rear seating, lighting, a stand, a unique rack design, turn signals, and a chain tensioner. The handlebars also have the ability to be dropped to save space in storing this bike. It's fully loaded, and this bike has so much to like.
OUR VERDICT
The Abound is a fantastic bike, and there's very little I don't like. In our opinion, it is the best electric cargo bike on this list. There's very little I could change to improve it, and at $2200, it's an incredibly reasonable price.
Best For Performance
2. Hyper Scorpion
KEY SPECS
| | |
| --- | --- |
| Frame | Aluminum |
| Motor | 1000w |
| Range | 70 Miles |
| Suspension | Front And Rear |
| Groupset | 1×8 Speed |
| Brakes | Hydraulic Disc |
| Wheels and Tires | 20" |
| Weight | 102lbs |
PROS
Very powerful 1000w motor
The 70-mile range is great
Hydraulic disc brakes for the stopping power this bike needs
Lighting is amazing
Dual suspension makes this a very comfortable ride
CONS
Classed as a moped in some places
The seat is not adjustable
Heavy at 102lbs
Juiced bikes make some of the best electric bikes and offer unique designs and unmatched performance. The Hyper Scorpion is their version of a cargo bike and an absolute beast. This is it if you're looking for a performance bike that can carry everything you might need.
Instead of your typical cargo design, Juiced has come on this list with a cargo / moped-style bike. It comes in a sleek silver and doesn't resemble much of a typical bike. That much so that you can't even adjust the seat. It's the only bike on this list with suspension on the front and rear, giving a very comfortable ride.
With a 1000w motor that can take about 30mph and a 990Wh battery that lets you go 70 miles, it's not for a shy rider. Aside from that, you get basic gearing, small agile 20" wheels with multi-terrain tires, and hydraulic disc brakes, which are needed with all this power.
Like many other bikes on this list, it also has many special features, such as a 2000-lumen light on the front, fenders, rear mirrors, and a good LCD display. I will warn you because of the power of this bike. It can be classed in some countries as a moped, not a bike.
OUR VERDICT
The Hyper Scorpion is about as powerful as it sounds. It is a performance bike disguised as a cargo bike. It's not the lightest bike and practically a moped, but that is exactly what many people want from a cargo bike.
Best For Passengers
3. Radio Flyer Longtail
KEY SPECS
| | |
| --- | --- |
| Frame | Aluminum |
| Motor | 500w |
| Range | 50 Miles |
| Suspension | None |
| Groupset | 1×7 Speed |
| Brakes | Mechanical Disc |
| Wheels and Tires | 26" Front, 20" Rear |
| Weight | 84lbs |
PROS
Great looking bike and comes in many different colors
The mixed wheel size makes it a fun bike to ride
Great accessories, the lighting is incredible
Good motor and battery
Great for carrying people as well as luggage
Everything is well thought through, and the quality is great
CONS
Not cheap at $2000 compared to KBO
It is heavier than many of the other cargo bikes on this listing
Radio Flyer has been around for a long time and has a wide range of products available. They make two cargo bikes, the Flyer longtail and the Flyer Midtail. The longtail for us has more capacity, so I have gone down that direction on this list.
With a strong aluminum frame and a very cool design, I can highly recommend the Flyer. It isn't just designed to carry luggage, but people two, and it even comes with boards for a safe, comfortable ride for passengers. The Flyer comes in over six colors and I love the mixed-wheel size design.
The 500w motor gives plenty enough power for anyone to enjoy, whether commuting or just for a fun ride on a trail. It has a 50-mile range which should be plenty for a decent ride out. The bike also has great ability on the road and off-road.
It has a Shimano 1×7 groupset, and they have put great attention to detail to even fitting a chain tensioner for off-road riding. They have wisely used the space, packed with great accessories, from lighting, fenders, an adjustable stem, and much more.
OUR VERDICT
The Radio Flyer Longtail is a great bike with so much to offer. It may be a bit basic underneath, but overall it's good quality and has everything you would want in a cargo bike.
Best Budget
4. KBO Ranger Cargo
KEY SPECS
| | |
| --- | --- |
| Frame | Aluminum |
| Motor | 750w |
| Range | 60 Miles |
| Suspension | None |
| Groupset | 1×7 Speed |
| Brakes | Mechanical Disc |
| Wheels and Tires | 20" |
| Weight | 77lbs |
PROS
Great looking
Powerful 750w motor
60-mile range
25mph top speed
Lots of great accessories
The price is incredible at $1600
CONS
Basic components
One size fits all doesn't always give the best-fit
KBO is not a brand you might have heard a huge amount about, but KBO gets many excellent reviews. The Ranger Cargo is, by all means, the best budget cargo bike on this list, and we believe it's pretty special.
With a rugged design and a sturdy aluminum frame, it's excellent for carrying heavy loads, 400lbs in fact. It's a great design made for both men and women and has a very relaxed geometry making comfort the most important thing.
With a 750w watt motor, this bike is very powerful and can go all the way up to 25mph. It has a range of up to 60 miles, giving you a lot of distance to play with. It's got Shimano gearing, mechanical disc brakes, 20" wheels with 3" tires, and although basic, it's got everything it needs.
What really makes this bike is the special accessories. It comes with a brilliant rear rack, ranger boards, lighting, fenders, and even comes with tools. It also comes in two colors, an orange or a deep gray.
OUR VERDICT
The KBO Ranger is a very fun cargo bike. It's got power and range and is full of amazing accessories. Although it is a bit basic under it, I still think it's an incredible buy for $1600. Well worth the price.
Best Design
5. Rad Power Bikes Rad Wagon 4
KEY SPECS
| | |
| --- | --- |
| Frame | Aluminum |
| Motor | 250w |
| Range | 30 – 50 Miles |
| Suspension | None |
| Groupset | 1×7 Speed |
| Brakes | Mechanical Disc |
| Wheels and Tires | 22" |
| Weight | 76lbs |
PROS
Looks great in bright orange
Price is great value for money
Rad Power accessories to add
Good motor and battery from Samsung
Fenders and covers
CONS
Not a huge range for long days out
Mechanical disc brakes are basic. Hydraulic would have been better
Rad Power Bikes is a big name in cycling, and they set the bar for electric bikes. The Rad Wagon 4 is a great cargo bike of theirs and stands out from the crowd. It's not as high-tech as the Tern above, but simplicity is key and works.
The aluminum frame is designed to carry heavy loads and reach 158kg payload capacity. You use the bike as a base and add all the accessories you want on the Rad Power Bikes website, making owning a Rad Wagon a special experience.
With a 250w motor and 670Wh battery, you are getting 30 – 50 miles, which is pretty good, but it's not a huge range if you carry big loads all day. To help you on your travels, you have a 1×7 speed gearing system, mechanical disc brakes to slow you down, and 22" wheels for smooth rolling.
It has excellent features such as fenders, adjustable stems, cargo covers, and everything Rad Power Bikes offers on its website. Weighing in at 76 lbs, it's not crazy heavy for a cargo bike.
OUR VERDICT
The Rad Wagon 4 is an excellent cargo bike. It is basic, but with a few accessories from Rad Power bikes, it could be unique to you and something very special. I highly recommend it for its simplicity and quality.
Best For Convenience
6. Tern GSD S00
KEY SPECS
| | |
| --- | --- |
| Frame | Aluminum |
| Motor | 250w |
| Range | 30 – 60 Miles |
| Suspension | Front |
| Groupset | Belt Drive Auto Infinite System |
| Brakes | Hydraulic Disc |
| Wheels and Tires | 20" |
| Weight | 77lbs |
PROS
Folding ability
Exceptional quality
Powerful 250w motor with a high range
Gearing is incredible and basically infinite
20" wheels with large tires
Hydraulic disc brakes
Lighting and fenders
CONS
Price is much more expensive than other cargo bikes
Tern is a big name when it comes to electric bikes, and the GSD cargo is a very popular model of theirs. They make very high-quality bikes, and although they are not cheap, they still offer great value for money.
The aluminum frame of the GSD S00 is large and has a lot of capacity to hold cargo and people if required. It is incredibly functional and can fold down at the handlebars, which is great if you only have space for a typical-size bike.
It has a 250w motor and 500Wh battery, which can fit another 500Wh battery if required. As standard, you get up to 60 miles. With 2 batteries, you could get 120 miles. It's a Bosch motor and can produce 85nm of torque, which is great for heavy loads.
It also comes with excellent components, such as gearing and a belt drive, which can produce infinite resistance and require no maintenance. The wheels are 20", making it easy to control and fun to ride. It stops fast with hydraulic disc brakes you can rely on.
OUR VERDICT
The Tern GSD is an incredible bike that will give an excellent experience, but it doesn't come cheap. I highly recommend it if you want something amazing, but avoid it if you're on a budget.
Budget Electric Bikes Buyers Guide
Finding the right electric cargo bike for you can be challenging, and I completely understand that. Here are the questions you need to be asking yourself.
Does it Suit the Riding You Plan to Do?
Think about the riding you want to do and ensure the bike can do that. For off-road riding, you need larger tires and suspension. For road, rigid bikes and smaller tires are fine.
Is the Sizing Right?
Many cargo bikes come in one size, and this can make it very limiting for the user. You need to check if the size is going to work for you. The wrong-size bike will ruin the cycling experience for anyone.
What is Your Budget?
Electric cargo bikes widely range in price. Before picking the bike for you, I recommend you consider a budget and get the best you can.
What About Added Costs?
A good example on this list is the Rad Power Bike. Some cargo bikes come very basic, and you buy the accessories on top. If you go for a bike like this, you should keep some money back. Also, allow for a helmet and cycling gear too.
Does it Work for You?
Does the electric bike tick all the boxes for you? Has it got the power you need to get up hills? Does it have a range for the long commute? Think about if it's the bike for you.
Conclusion
Electric cargo bikes are an amazing tool to help you get around and, in many cases, can replace a car. I highly recommend each bike on this list, and these are our top picks for you to enjoy. In many countries, it's very normal not to own a car and to have a cargo bike instead. A good example is Holland which typically uses bikes much more than many other countries and cargo bikes are extremely popular.
If you liked this article, you might also like the following:
Frequently Asked Questions
What Are Cargo Bikes Used For?
Cargo bikes have many uses. Many people use them for shopping, dropping their kids off at school, and even working as bike couriers with GPS.
Is An Electric Cargo Bike Eco-Friendly?
They are incredibly eco-friendly. Costing around 15 cents to charge for around 70 miles, they are one of the cheapest forms of transport you can buy and don't give off harmful emissions when being ridden. 
Is It Easy To Store And Move A Cargo Bike?
Although it might seem challenging at first, there are many bike racks and storage ideas which can help.
What Is The Top Speed Of An Electric Cargo Bike?
Typically it will be around 15mph to 20mph. Some go quicker, but it is rare. 
Can An Electric Bike Go 60 Mph?
Yes, there is a 7000w electric bike that has that ability. It is more of an electric motorbike than anything. 
What's The Lightest Electric Cargo Bike?
The Vello Sub is currently at 52 lbs. Although many worry about the weight, there are still plenty of storage solutions and racks for heavy bikes.
I'm Robbie Ferri, a writer from Norfolk in the UK. I love cycling, the gym, and have a huge passion for sharing my stories and knowledge to anyone with the time to read them. My main passion is cycling. I started eight years ago. In that time I have broken world records, cycled all over the world in Ultra Bikepacking races, and am lucky enough to have enjoyed some incredible times on two wheels with some incredible people. I have also worked in a bike shop and with some of the industries leading brands, not just promoting products but designing them too.
Under it all I am just someone very passionate about exploration and living a healthy lifestyle. Everything I do I put 100% into it and feel that life is for living. Never should you have a dull day.