(Last updated on March 6th, 2023)
Scooters aren't just for kids anymore. In fact, a whole subset of electric scooters are designed for adults, and many are great for daily commutes. So if you're interested in commuting by scooter, we can help!
In this article, we'll talk about the seven best electric scooters for your daily commute. We'll review the details and technical specifications and give you our verdict on each. We'll also give you the information we used to create our buyer's guide so you know what to look for when you choose a scooter. Let's get started!
Criteria for Ranking the Best Electric Scooters
We looked at several factors when choosing the best electric scooters.
Range
Range is how far your scooter can go on a single battery charge. These scooters range from 12 to 70 miles on one battery charge.
Max Speed
This is the fastest your scooter can go but it is affected by weight and terrain.
Price
Of course, you need a scooter that fits your budget. Except for one, the scooters on this list are under $1000.
Motor
We picked scooters that had powerful motors – 250 watts or more.
Scooter Weight
We examined how much these scooters weigh. You need a lightweight scooter if you carry it onto a train or bus.
Rider and Cargo Weight
You need to know how much your scooter can carry, especially if you need to bring some cargo.

Summary of the 7 Best Electric Scooters for Commuting
| | | | | | | | |
| --- | --- | --- | --- | --- | --- | --- | --- |
| | Max Speed | Range | Motor | Scooter Weight | Rider and Cargo Weight | Price | Rating |
| HiBoy S2 | 19pmh | 12.7 miles | 500 watt | 38 pounds | 270 pounds | $999.99 | 9/10 |
| TurboAnt M10 Commuting Electric Scooter | 20 mph | 18 miles | 350 watts | 29.8 | 220 pounds | $449.98 | 8.5/10 |
| Apollo CityPro | 32 mph | 38 miles | 500 watt | 65 pounds | 265 pounds | $1799 | 9/10 |
| Fluid Free Ride | 25 MPH | 22 miles | 500 Watts | 29 pounds | 265 Pounds | $999 | 9/10 |
| Anyhill | 19mph | 24-28 miles | 750 watt | 44 pounds | 300 pounds | $799 | 10/10 |
| GoTrax GXL V2 | 15.5 mph | 12.5 miles | 250 watt | 26.98 pounds | 220 pounds | $349.99 | 8/10 |
| Kaabo Wolf Warrior 11 | 50 mph | 70 miles | Dual 1200-watt motors | 105 pounds | 330 pounds | $3199 | 9.5/10 |
7 Best Electric Scooters for Commuting
Best All Around Scooter
1. HiBoy S2
KEY SPECS
| | |
| --- | --- |
| Max Speed | 19 mph |
| Range | 12.7 miles per charge |
| Motor | 500 watt |
| Scooter weight | 38 pounds |
| Max Rider Weight | 270 pounds |
PROS
Accelerates quickly to a max speed of 19 mph
Dual braking system
CONS
Not the best scooter over rough terrain
The deck and tires are narrow
The HiBoy S2 makes an excellent all-rounder for that short but punchy commute. You'd get quick acceleration and plenty of speed with the 500-watt motor, so you can get to work in a hurry if you need to. The max speed is around 19 mph, as long as your terrain isn't too bumpy or hilly. It also has a dual braking system, which gives you great stopping power.
At around 38 pounds, this scooter is pretty lightweight. I don't think it would be too hard to carry onto the bus if you needed to.
The only drawback that I see is the range. At best, it can only go about 12 miles on a single charge. However, most scooter commutes aren't that long, and because they're lightweight, you could carry a spare battery along for the return trip.
At a price of $999, it will get you where you need to go at a reasonable price and pace.
OUR VERDICT
This is the ideal scooter for a short, fast commute, earning it a nice 9/10. It accelerates quickly and maintains speed well, and the dual-braking system gives you plenty of stopping power.
Best Budget Pick
2. TurboAnt M10 Commuting Electric Scooter
KEY SPECS
| | |
| --- | --- |
| Max speed | 20mph |
| Range | 18 miles per battery charge |
| Motor | 350 watts |
| Scooter Weight | 29.8 pounds |
| Max rider weight | 220 pounds |
| Brakes | Rear disc and electronic brake |
| Display | Integrated |
PROS
The TurboAnt M10 is a great value scooter with a good range and power for the price.
The integrated display is easy to read and won't be in the way.
Great price.
CONS
This scooter doesn't have a long range.
The motor is small compared to average electric scooters.
If you want a well-balanced, easy-to-ride scooter that won't cost a fortune, consider the TurboAnt M10. While it isn't as fast or as long-range as some more expensive scooters, it does give you great value for the price.
With the TurboAnt, you get a nice 20mph max speed and 18 miles per battery charge range. Where TurboAnt saved money is on the motor. The motor on this scooter is only 350 watts, so you might not have as much hill-climbing power as you would on the HiBoy. If your commute is pretty flat, you won't notice anything other than the money you saved!
It has an integrated display, rear and electronic brakes, and weighs in at a low 29.8 pounds. All of this for under $500 makes this a great budget pick.
OUR VERDICT
We're giving this scooter an 8.5 because the battery range and motor are a bit paltry compared to most of the scooters on this list. That being said, it's a great way to dip your feet into the world of electric scooters without spending a fortune. So if your commute is small and your budget is too, this is a great entry-level scooter for the price.
Best Scooter for Longer Commutes
3. Apollo City Pro
KEY SPECS
| | |
| --- | --- |
| Max Speed | 32mph |
| Range | 38 miles per charge |
| Motor | Dual 500-watt motors |
| Scooter Weight | 65 pounds |
| Max Rider Weight: | 265 Pounds |
| Control | In-app |
| Brakes | Drum brake and regenerative braking |
PROS
This scooter gives you a nice long range for your long commutes or fun rides.
Dual 500-watt motors give you extra speed and torque for hills.
CONS
There is no built-in display; you'll have to use your phone to control your scooter.
This scooter is a bit heavy, so it may be difficult to carry if you need to take it on a train or bus.
If you're ready for a bigger investment, you won't go wrong with an Apollo City Pro. This is a serious electric scooter for those that need a fast, long ride.
Compared to the price of a car, the Apollo City Pro is still a great bargain for a commute. And although it's one of the more expensive scooters on this list, it's definitely worth the investment if you have a long commute.
First of all, you get a max speed of 32 mph. If you commute through the city, this might be even faster than you go in a car!
You also get a great 38-mile range per battery charge. And you get dual 500-watt motors. The extra power will get you uphills and over long ranges faster, but it does make the scooter a little bit heavier at 65 pounds. This would be hard to carry onto the train, but it can be done if necessary.
I love the regenerative braking – which helps to charge up the battery as you apply the brakes.
So although this is a little more of an investment, it's a great choice if you have long or hilly commutes.
OUR VERDICT
We love this scooter for those who have a longer commute and need to get there in a bit of a hurry. Of course, you'll pay extra cash for the extra motor, but we think it's worth it in this case. Therefore, we give this scooter a well-rounded 9/10.
Most Portable Scooter
4. Fluid Free Ride
KEY SPECS
| | |
| --- | --- |
| Max speed | 25+ mph |
| Max range | 22 miles |
| Motor | 500W watt |
| Battery | 48V 9.6Ah |
| Scooter Weight | 29 lbs |
| Weight Limit | 265 pounds |
| Brakes | Electric Throttle charges as you ride, drum brake, and foot brake |
| Charge time | 5 hours |
PROS
Very portable and easy to store, with a carrying handle.
All-around great performance for speed and range.
Lots of options for stopping power
CONS
Only designed for shorter commutes
The display screen is pretty basic.
The Fluid Free-Ride is a powerful, ultra-portable scooter that is great for short to medium-length commutes. What it lacks in range, it makes up for in portability by folding small with a built-in carrying handle.
The Mosquito really shines if you need a scooter that is ultra-portable. Considering its speed and motor size, it's still lightweight at 29 pounds. It folds up fast and easily and boasts a built-in carrying handle. So if you're commuting to the train or bus stop, just fold it up, and you're ready to go.
It has a max range of 22 miles, but it charges up quickly, so if your commute is long, you can just charge it back up while you're at work.
And of course, it has regenerative braking to help charge the battery while you ride.
OUR VERDICT
We give the Fluid Free Ride Mosquito a 9/10. Its range is a little on the short side. However, it's incredibly portable. So we love this scooter, for example, for people who must commute to the train and then carry it with them. It charges fast, so you can charge it up while working.
Best Electric Scooter for Larger Riders
5. Anyhill
KEY SPECS
| | |
| --- | --- |
| Max speed | 19mph |
| Range | 24 – 28 miles per charge |
| Motor | 450 Watts |
| Scooter Weight | 44 pounds |
| Max Rider Weight | 300 pounds |
| Battery | Removable |
| Control | Cruise |
| Handles inclines | Up to 20 degrees |
| Brakes | Front drum brake and rear regenerative brake |
PROS
It provides a smooth ride, even for larger riders
Nice balance of speed, range, and scooter weight. In other words, the scooter will go pretty far and fast without making the scooter too heavy!
The color screen is easy to read, even in direct sunlight.
Great price for the features.
CONS
The handlebar height is a little bit low for larger riders.
The motor is a bit on the small side.
The Anyhill UM2 has a more generous rider weight limit, so it'll give you a smooth ride, even if you are a larger rider or have lots of cargo. It will hold up to 300 pounds.
The motor is a solid 450 watts, so if you have a flat, paved commute, you can get about 19 mph and up to 28 miles of range. It isn't the lightest scooter, though, weighing about 44 pounds.
I really love the color screen on this scooter, so it's easy to read even if you're riding in bright sun. But what I love even more is that it can handle inclines of up to 20 degrees. That's a steep hill for a scooter, so you won't have to worry about walking too much!
Keep in mind, though, that hills will reduce your speed and range and significantly draw the battery power.
Overall, this scooter offers a nice balance of speed, range, and weight for the price.
OUR VERDICT
This scooter is an incredible balance of price, speed, range, and weight. It's also great for climbing and provides a smooth ride even if you are a larger rider. The motor seems small but still gives you plenty of torque and speed, earning it a 10/10.
Best Entry-Level Electric Scooter
6. GoTrax GXL V2
KEY SPECS
| | |
| --- | --- |
| Max Speed | 15.5 mph |
| Max Range | 12.5 miles |
| Motor | 250 Watt |
| Scooter weight | 26.98 Pounds |
| Max Rider Weight | 220 pounds |
| Brakes | EABS and disc |
| Recharge time | 4 hours |
PROS
This is a very affordable scooter.
Extremely lightweight and easy to carry.
CONS
Low speed and range mean you can only use it for shorter, slower commutes.
The max rider weight on this scooter is pretty low.
If you're just a beginner to the world of electric scooter commuting, you'll probably want to start slow and simple. The GoTrax GXL V2 gives you a taste of commuting by scooter without breaking the bank.
The max speed on this scooter is around 15 mph. This doesn't sound like a lot, but if you've never ridden a scooter before, you'll feel like it's fast. The motor is only 250 watts – so you don't get tons of hill-climbing power, but the trade-off is that you'll feel more in control of the scooter if you're just new to scooter commutes.
The range is about 12.5 miles, just enough for a small commute. Although the range is smaller, the battery charges up fast, so you can get to your destination, charge, and return home.
It has two types of brakes, which is important for stopping safely.
What I love about this scooter is that it is lightweight and affordable. So you won't have to make a huge investment to find out if you like commuting by scooter. And it gives you just enough power and speed to learn to ride safely to ease into this new mode of transportation.
OUR VERDICT
This is the least expensive scooter on our list because not everyone can jump in and purchase a costly vehicle. But this little scooter will get you there! Remember that although it only has a 12.5-mile range, the scooter charges in about 4 hours, so you may be able to charge it up while you're at work.
We give this scooter an 8/10 for the smaller motor, but as long as you have a short, flat commute, you should have a nice ride anyway!
Best Off-Road Commuter
7. Kaabo Wolf Warrior 11
KEY SPECS
| | |
| --- | --- |
| Max speed | 50mph |
| Max range | 70 miles per charge |
| Tires | 11" by 3.5" off-road tubeless tires |
| Scooter weight | 105 pounds |
| Brakes | Front and rear hydraulic disc brakes |
| Suspension | Front dual hydraulic shocks and rear dual springs |
| Max cargo and rider weight | 330 pounds |
PROS
You can commute both on and off the road at high speeds.
Lots of suspension means a very comfortable ride at high speeds and over long distances.
CONS
This scooter is a real investment at over $3000
It's heavy, and the deck is very high due to the larger tires.
If you're commuting off-road or need a super fast machine, this is one you'll want to consider. You get high speeds on and off-road and a long range, to boot. This scooter can keep up -or even outride – many ebikes.
It's got big tires, suspension, and hydraulic disc brakes to help you stop safely.
This scooter is much more expensive than the other scooters on our list. It has tons of power, speed, and range, highly contrasting to the entry-level scooter we just discussed.
This is a great choice if you plan on going off-road – either while commuting or just for fun. It has nice chunky tires to get you over rough terrain.
If you love power, you'll love the dual 1200-watt motors. This will get you up hills, through gravel, and all the way to work and back at speeds up to 50 mph. And you can go far with a range of 70 miles.
Remember that the Kaabo Wolf has bigger tires than the other scooters, which raises the deck slightly. So if you're very short, this might be an important consideration. It's also heavy at over 100 pounds. That means it isn't the best choice if you must haul it by train.
Overall, this fast and powerful scooter can go just about anywhere.
OUR VERDICT
We give this scooter a generous 9.5 out of 10 because it has so much power: motor power, suspension, braking power, and traction. It has the highest rider weight on this list, so if you're a very large rider, you might want to consider this one because it will be more comfortable for you.
Make sure you are ready for the high speeds when you hop aboard this electric scooter.
It's an expensive electric scooter, but well worth it if you live in a place where you can't have a car. Of course, if you need a really fast ride, you might want one of the fastest motorcycles in the world.
What Factors Should you Consider When Choosing a Commuter Electric Scooter?
Speed
How fast do you want to get to work? Most adult scooters will go over 15mph, but on this list, they can go up to 50 mph. Of course, if you are going up lots of hills, your speed will be slower; if you are off-roading it, your speed will also be slower.
Also, the more cargo and riders you have, the slower your scooter will go. Higher speeds, especially on hills, drain your battery faster, which could shorten the range.
You'll get max speed if you have a flatter, paved commute.
Even the slowest scooters on this list will take you where you want to go faster than walking. Remember to balance speed, weight, and range so you don't get stranded. With a little practice, you'll know how far you can go on a single charge.
Braking Power
The faster the scooter, the more braking power you will need to have. Many of these scooters have dual or even triple braking options. Many have electric throttle braking, which uses the motor to slow down the scooter (and also helps to recharge the battery!). You'll also find rear step drum brakes, which means you have to step on a lever on the back of the scooter to slow down or stop.
Many also have disc or hydraulic disc brakes operated by a lever on the scooter's handlebars.
You'll need to practice braking safely, especially as you get into steep declines or faster speeds. If you stop the front wheel without stopping the back wheel, you risk locking up the scooter and flying over the bars.
You need to be able to scrub off some speed and come to a stop slowly, just like you would in a car or on a bike.
Incline Ability
Inclines are tricky regarding scooters. Some, like the Anyhill UM2, can handle inclines up to 20 degrees. Others are just better off riding on flatter terrain. The stronger the motor power, the easier it will be to get your scooter up a hill. However, you run the risk of draining your battery faster if you have a lot of hills, so take that into consideration when you are deciding how far you will ride on your scooter.
Walking your scooter up extra steep hills may be worthwhile to save the battery.
Weight (Scooter Weight and Rider Weight)
Most of the scooters on this list are lightweight, making them ideal for commuting, especially if you have to bring them on a train or carry them into your office. However, these lightweight scooters are a little slower and have a smaller range due to the small battery and motor.
On the other hand, scooters with high speed and extra-long range will be heavier and harder to carry. Neither is right or wrong – you just need to figure out which suits your situation the best.
Storage
Commuting scooters fold down into small, easy-to-carry packages. However, if you want a really small scooter, consider the Fluid Mosquito, as it seems to fold down the smallest and has its own carry handle.
Battery Charge Time
How long does it take to charge the battery? Smaller batteries can charge as fast as 4 hours, while larger batteries can take 12 or 13, or more.
If your scooter has a small battery, you can purchase a backup to carry with you or just charge it up while you are at work so you have enough juice for the ride back home.
Range
One of the first things you should look at is the range of your scooter. Why? Because if it can't go far enough to get you to work, there's no point in getting it. The range of the scooter is affected by several factors, including terrain, rider weight, weather conditions, and the size of the motor.
The more weight the scooter has to move, the shorter the battery life. The more hills, the rougher the terrain, and the rougher the weather, the shorter the battery life. Shorter battery life means you can't go as many miles.
However, if your commute is mostly flat and short, just about any scooter on this list will work for you. So you need to know how far your scooter will carry you and how far you need to go.
Knowing what your scooter can do is important so you aren't left stranded without enough battery power to get you to work or home.
Budget
There is a wide range of prices on this list, so there should be something for everyone, with prices from a little over $300 to a little over $3000. Of course, only you know what you can afford, but remember that a more expensive scooter will probably have a bigger battery, a bigger motor, and a faster pace.
Portability
The next question to look at when choosing a scooter is how portable it is. Some scooters are really lightweight – at around 30 pounds. Others weigh much more because they have a heavier motor and battery. Scooters with a longer range tend to be heavier.
So you'll need to weigh which is more important to you – a lightweight, ultraportable scooter or a scooter than can go for a longer range.
If your budget is really tight, a cheaper option might be adding an e-bike conversion kit to your current bicycle.
Terrain
What is your commute like? Is it off-road? If so, you'll need an off-road scooter with bigger tires and a stronger motor. On the other hand, if you have an easy flat, paved commute, you can use almost any scooter.
Motor
The more watts a motor has, the faster it can typically go. It will also be better uphills. But a bigger motor also requires a bigger battery. So you'll need to find a way to balance the motor's size with the battery's size.
Final Thoughts
The scooters on this list cover a wide range of speeds, sizes, and budgets, so it's difficult to pick a favorite. However, when push comes to shove, there are two that we love the best.
The first is the Kaabo Wolf Warrior 11. What's not to love about a superfast, long-range off-road scooter? You can use it for work and fun weekends. You could even take it on camping trips with its high rider and cargo weight. But this scooter is expensive, and not everyone needs to go that fast, anyway.
So our other favorite is the HiBoy S2. It's a pretty basic, well-rounded scooter with quick acceleration to its maximum speed of 19mph. It has a sturdy 500-watt motor, but it only weighs around 38 pounds. The only downside of this scooter is that it has a pretty short range, but this can easily be fixed by bringing along a spare battery or charging it up while you're at work.
Frequently Asked Questions
Are fast electric scooters legal? 
It's hard to say if all electric scooters are legal. In some countries, such as the UK, electric scooters are only allowed on private lands, not public roads. However, electric scooters are usually legal in the United States if the motors are below a specific wattage. You'll have to look into your local laws to ensure it is legal to ride an electric scooter where you live.
How fast do electric scooters go? 
Most electric scooters for adults go a minimum of 15 mph, depending on the terrain and riding conditions. However, some, such as the Kaabo Wolf Warrior, can go up to 50mph. You'll need to pick the speed you feel comfortable with. Don't ride a fast scooter if your skills aren't ready for speed. 
Do electric scooters tell you how fast they are going?
Most electric scooters have a built-in display that will give you speed and battery life, along with other stats. But not all scooters have a built-in display. For some, you'll need to use an app on your phone to control the scooter, so check this out before purchasing one to ensure your phone is compatible.
Do I need a helmet to ride an electric scooter? 
Helmet laws vary depending on where you live. But regardless of the law, wearing a helmet is always a good idea to reduce the risk of serious head injury. 
Are expensive scooters worth the extra money? 
That just depends on your individual circumstances. More expensive scooters typically have bigger motors, batteries, higher speeds, and longer ranges. However, if you don't need the fastest or longest range, you might not want to invest money for the extra power. Also, remember that more expensive scooters tend to be a bit heavier, too, so they might not be good for carrying on the train.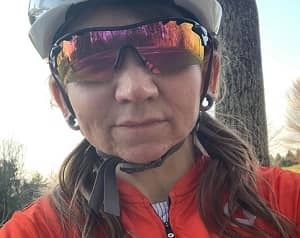 Amanda Whittington is an expert writer, impassioned cyclist, and musician. Coming from a diverse educational background, Amanda discovered a deep-rooted passion for encouraging others through her love of all things cycling, writing, and inspiring hope. 
You'll likely find Amanda pouring over bike specs, comparing the hottest cycling tech, and sporting the latest jerseys while juggling the demands of her editorial calendar, training schedule, tiny homestead, and 6 busy kids. 
She spends her free time absorbed in her own gardening and fitness, cycling, and reading, all while encouraging adoption and foster care, championing the underdog, and of course, working with her chickens and goats.