(Last updated on February 16th, 2023)
Electric scooters have come a long way in the past decade, and many people, from children to adults, use them. They are amazing because they take up very little space to store and park. They cost practically nothing to run, are fairly inexpensive to buy, and are perfect for getting around cities and towns quickly for commuting or even for fun.
General scooters are relatively easy to find online, but one question we are asked often is where can we find the best scooters with a seat? In this article, we're going to tell you where to find the best scooters available and what to look for when buying a scooter.
Why Are Seated Scooters a Great Form of Transport?
Before we go on to tell you about what we look for in a scooter and review the scooters themselves. Let's speak about the benefits of scooter transport.
They Are Fast
The first thing to mention is they are actually very fast. Some scooters can go up to 60mph, and that's going to get you where you need to go very quickly.
They Can Go Pretty Much Anywhere
Scooters have the ability to go pretty much anywhere. Some people like to use them on cycle paths or even on the roadside. With modern off-road scooters, you can even hit a trail on them.
They Cost Very Little to Run
To charge a scooter literally costs pennies. Compared to filling up the car and sitting in traffic, it's a huge saving and can be charged off a normal wall socket.
Easy to Ride
Scooters with seats are very easy to ride. Not only do they offer excellent control, but they are very easy to stop quickly when required.
There Are Very Few Restrictions
Unlike other forms of transport, electric scooters are typically legal to be used on cycle paths and roads in most states, provided they don't exceed 25 mph in speed.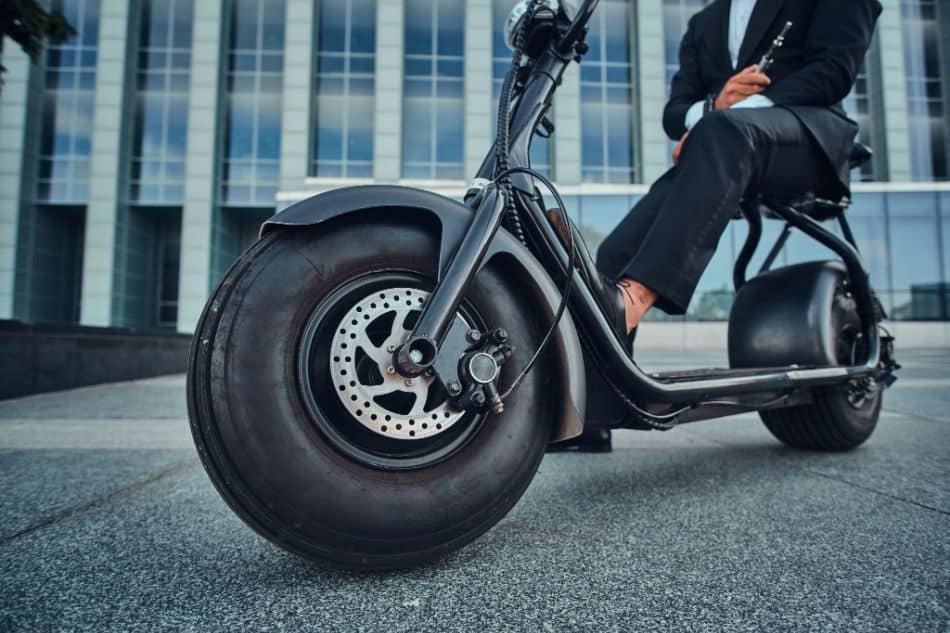 What We Look For in a Seated Scooter
Electric scooters with seats come in all different designs, and finding the good ones can take time and effort. We're here to help you, this is what we look for.
Brand
There are many new brands up and coming into the market. We think using a reputable brand that has either got experience or been around a while is very important.
Performance
The heart of an electric scooter is the motor and battery. We want electric seated scooters that are going to perform not just on speed but also on distance as well. We need a scooter that is going to have enough juice to get you to where you need to be and back.
Design
When looking at seated electric scooters, we want a good design. The scooter should not only look great but also have a comfortable riding position and have some adjustability for different users.
Who Is It For?
Scooters come in many different designs and sizes. We must know the sizes and the range of users that it is going to work for. We will be looking at scooters for adults in this article.
The Scooters
Scooter
Power
Cost
Where to buy?
Max Speed
Range
Weight Limit
Scooter Weight
Brake Type
Rating
Urbanmax C1
450w
$500
Check price
18.6mph
25 miles
265lbs
39.4lbs
Disc
5/5
Hilboy S2 Scooter
350w
$600
Check price
19mph
17 miles
220lbs
33lbs
Disc
4.5/5
Okai EA10 Pro
560w
$749
Check price
15.5mph
34 miles
220lbs
58lbs
Drum and electronic
4/5
REDDYDY
6000w
$1950
Check price
60mph
75 miles
400lbs
112lbs
Disc
4.5/5
Razor E300S
250w
$350
Check price
15mph
10 miles
220lbs
19.5lbs
Drum
4/5
Evercross
Scooter
800w
$780
Check price
28mph
25 miles
330lbs
44lbs
Disc
4.5/5
Best All-Rounder
1. Urbanmax C1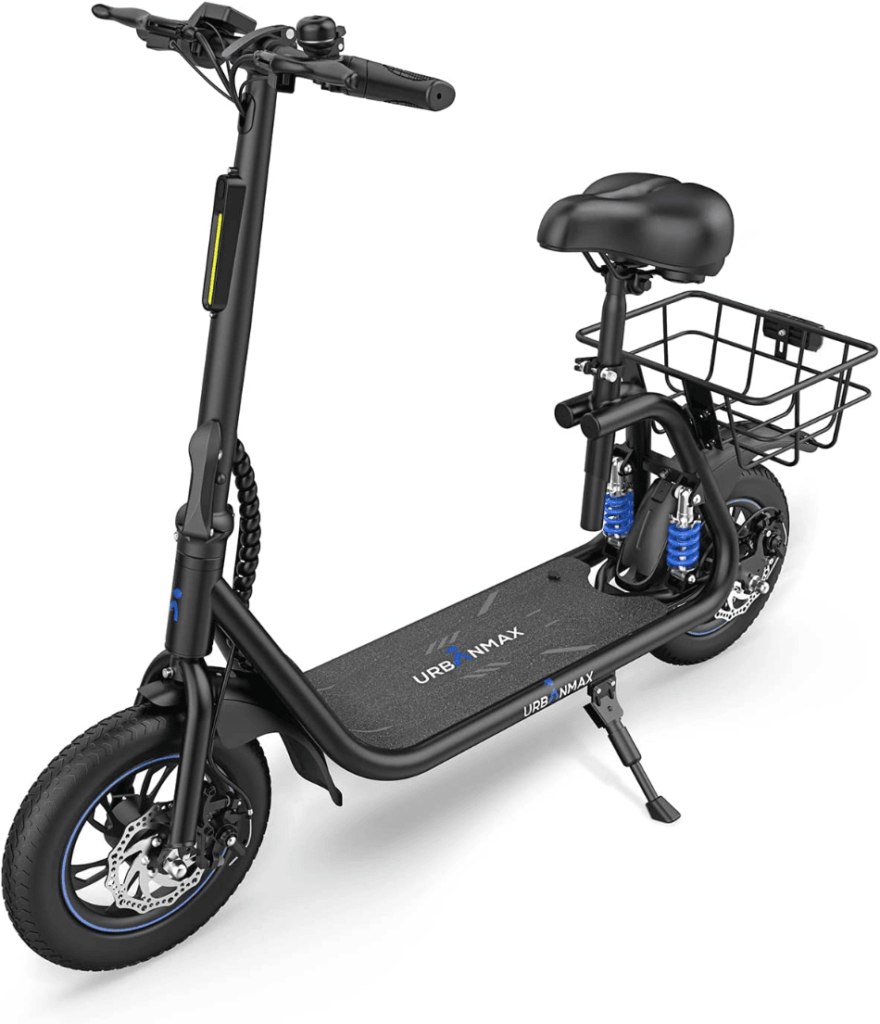 KEY SPECS
| | |
| --- | --- |
| Power | 450w |
| Max Speed | 18.6mph |
| Range | 25 miles |
| Weight limit | 265lbs |
| Weight | 39.4lbs |
| Brake | Disc |
PROS
Price is incredible
Good top speed
Great Range
Fairly lightweight
Folding
Suspension
The Urbanmax C1 is our best all-round scooter, and if you have been looking at a scooter for a while you probably would have come across this as it is very popular. The Urbanmax C1 is one of the best-equipped scooters on this list and comes in at an incredible price.
The scooter has a 450w motor that can take you all the way up to 18.6mph, and it can take you as far as 25 miles on a single charge. It has a maximum weight limit of 265lbs, and the scooter itself weighs only 39.4lbs and has excellent adjustability. To stop, you have disc brakes which are excellent in all weather conditions, and it even has the ability to fold as well.
What sets this scooter apart from the others is all the special features. Dual shock absorbers paired with long tires, alongside the comfort saddle, make it an excellent ride no matter how bumpy the road. It has lights on the front and rear for safety, a cage on the back to carry goods, and even a kickstand for when you need to stop.
Overall Rating
The Urbanmax C1 is an incredible scooter with so much to offer at such a lower price. You get a suspension, lighting, a carrying rack, and a powerful motor, and it even has the ability to fold. It's not the best-looking scooter on this list, but it boasts amazing all-round performance.
Best for Convenience
2. Hiboy S2
KEY SPECS
| | |
| --- | --- |
| Power | 350w |
| Max Speed | 19mph |
| Range | 25 miles |
| Weight limit | 220lbs |
| Weight | 33lbs |
| Brake | Disc |
PROS
Looks great
Lighting
Application for the scooter
Very lightweight
Disc brake
Regenerative braking
Rear Suspension
CONS
Limited range of 17 miles
Not very adjustable
The Hiboy is a great-looking sleek scooter and had to be on this list because of its incredible technology. You will see this is one of the more popular scooters on this list but, surprisingly, one of the least powerful.
The Hiboy has a 350w motor, and this is going to give you a top speed of 19mph and a range of 17 miles. It has a weight limit of 220lbs and, being only 33lbs, is incredibly lightweight and agile to ride. The rear disc brake has the ability to stop you quickly, and it also has rear suspension for a comfortable ride. The seat is detachable, and it has the ability to fold as well.
This scooter comes with some excellent special features but is completely different from the others on this list. Firstly you have an application for this scooter where you lock or unlock, control speed, and you even get cruise control settings. It has lighting on the sides to keep you visible and even has regenerative braking so you can further increase the power while slowing down.
Overall Rating
The Hiboy is an excellent lightweight scooter and because it's small and so lightweight makes it very convenient for traveling short distances. We like the application, and it boasts amazing technology with regenerative braking. It isn't the most powerful scooter and has a fairly short range but still highly recommended by us.
Best Styling
3. OKAI EA10
KEY SPECS
| | |
| --- | --- |
| Power | 560w |
| Max Speed | 15.5mph |
| Range | 34 miles |
| Weight limit | 220lbs |
| Weight | 58lbs |
| Brake | Drum and Electronic |
PROS
Looks great
Lighting
Electric and drum braking
Application for scooter
Incredible range
Easy to use
CONS
Not the lightest
Design isn't for everyone
Low top speed
If you are looking for a bike that boasts a little more style and has some nice curvy edges, then we recommend the OKAI EA10. The EA10 is one of OKAI's four electric scooters, and it's the only one which boasts a seat. It comes in many different colors and looks a cut above the rest.
The OKAI EA10 has a powerful 560w motor which, although only gives you a top speed of 15.5mph, makes up for it in the fact it can go as far as 34 miles on a single charge. It has a max weight limit of 220lbs and weighs 58lbs in total. The braking system is a drum, and this is paired up with an electric brake for excellent stopping power.
The scooter definitely sets itself apart when it comes to its looks. We love the smooth design and also internal lighting, which blends in with the paneling. This scooter also comes with an application that lets you control the settings of the scooter.
Overall Rating
We really like the OKAI EA10. It looks fantastic, has an application for control, is easy to use, and has an incredible range. It doesn't have an incredible top speed, and although we like it, appreciate the design won't be for everyone. Overall though, it is ideal if you have a long city or town commute. If you want to see this scooter in action check out this video
Best Performance
4. REDDYDY Power Scooter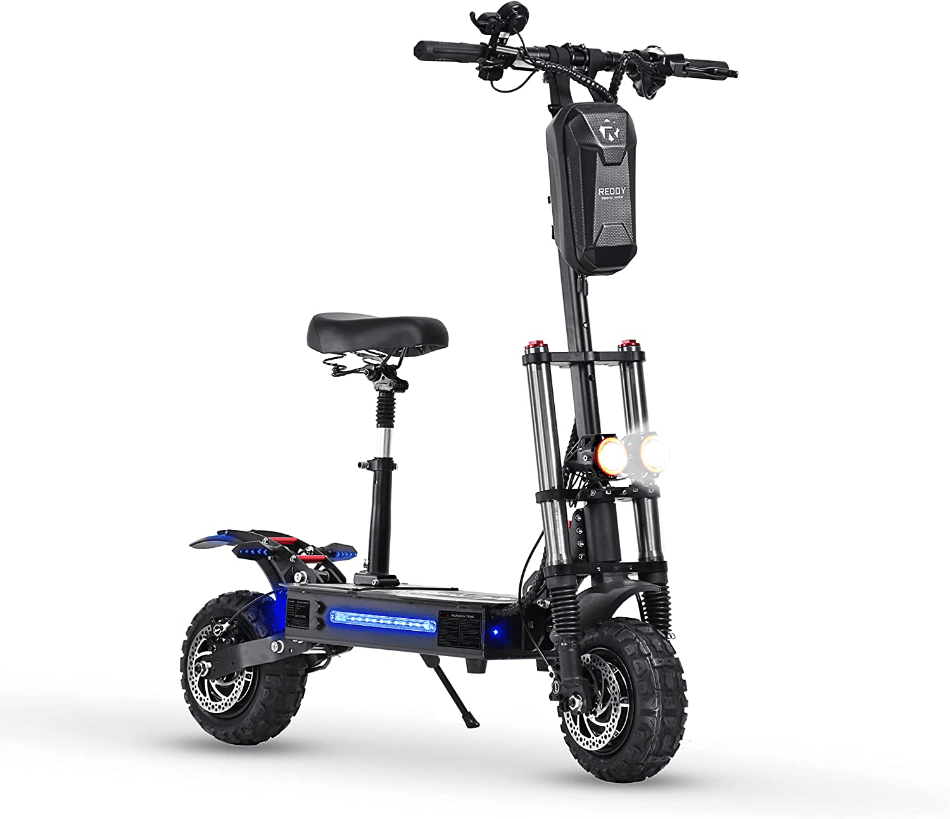 KEY SPECS
| | |
| --- | --- |
| Power | 6000w |
| Max Speed | 60mph |
| Range | 75 miles |
| Weight limit | 400lbs |
| Weight | 112lbs |
| Brake | Disc |
PROS
Very powerful
Huge range
Suspension system
Hydraulic disc brakes
Lighting
Indicators
CONS
Only for experienced riders
Not cheap
It doesn't look amazing
The REDDYDY is one of the most powerful electric seat scooters you will find on the internet. It has some incredible capabilities and has power over ten times its competitors. If you are looking for something totally extreme, then this is the scooter for you.
The REDDYDY has an incredible 6000w worth of motor. Yes, we said 6000w. It gives you an incredible 60mph top speed, and it can take you as far as 75 miles on a single charge. It has multiple modes, such as eco and dual drive, which is a scooters version of all-wheel drive. It comes with large off-road tires and not just disc brakes but hydraulic disc brakes with electronic assistance.
The bike also boasts some great special features, such as off-road suspension, lighting, indicators, and a kickstand. It's made for some seriously fast riding, and we highly recommend only getting this if you have some experience and are controlled enough not to go too crazy.
Overall Rating
The REDDYDY is a very fast scooter and has power that very few scooters can match. It has such capability and can take you further than any other scooter on this list. We only recommend this to experienced riders. I feel it does look very extreme and comes in at a very high price, but if you want performance, this is the scooter for you. If you want to see this scooter action check out their video.
Best Budget
5. Razor E300S Electric Scooter
KEY SPECS
| | |
| --- | --- |
| Power | 250w |
| Max Speed | 15mph |
| Range | 10miles |
| Weight limit | 220lbs |
| Weight | 19.5lbs |
| Brake | Drum |
PROS
Price is great
Very cheap
Looks good
Agile and fun to ride
CONS
Short range
The top speed is low
Struggle on very steep hills
Brakes are basic
Razor is one of the biggest suppliers of electric scooters, and they have a vast range of different models to choose from. The E300S is a very popular model of theirs and comes in at an incredibly low price of only $350.
The E300S is an excellent looking scooter with smooth lines and comes in three different colors, pink, gray, and white. It has a 250w motor which can take you up to 15mph, and has a range of around 10 miles. The weight limit is 220lbs and the scooter itself is incredibly light at only 19.5lbs. The scooter itself doesn't have a huge amount of adjustability but does offer a general fit to suit most riders.
The scooter has a basic braking system, but with a low-power motor, it works just fine. Unlike a lot of these other scooters, you don't have a huge amount of special features, because of this, it does keep it incredibly lightweight and very agile to ride.
Overall Rating
If you're looking for a budget scooter that you only need to use for short journeys, the E300S is an ideal buy. It doesn't have the power of the other scooters on this list, but it is a lot cheaper. We highly recommend it for short trips and as a great budget option.
Best Value
6. Evercross Electric Scooter
KEY SPECS
| | |
| --- | --- |
| Power | 800w |
| Max Speed | 28mph |
| Range | 25miles |
| Weight limit | 330lbs |
| Weight | 44lbs |
| Brake | Disc |
PROS
Great top speed
A good range for a quick scooter
Power motor
Off-road ability is excellent
Lighting
Kickstand
Price is great
Suspension
CONS
The saddle looks a bit odd
Not as sleek as other scooters
The Evercross is an excellent all-rounder and a very fun and powerful scooter to ride. With a huge amount of high ratings, it's becoming a very popular choice for riders, and you get a lot of scooter for the $780 that it costs.
The Evercross has an 800w motor which is very powerful and will get you up to the high speed of 28mph. It will get you 25 miles on a single charge and has a very high weight limit of 330lbs, which is very impressive for a bike as light as 44lbs. The scooter is very adjustable, and unlike others on this list, you can change the height of both the handlebars and the seat. It has the ability to fold and stores away in a cupboard easily.
It has twin disc brakes which, combined with the knobbly tires and sports suspension, make this bike excellent off-road. It has great light for keeping yourself seen if riding in low light conditions or on the road, and the kickstand is a nice touch for storage.
Overall Rating
The Evercross is a great scooter for not a lot of money. It has a huge amount of features and is excellent for riding on and off-road. It could have a more defined look, and some components, like the saddle, do look a bit basic. Apart from that, it's amazing value, and you get a lot for your money.
Seated Electric Scooters Buying Guide
If you are unsure how to pick the right scooter for you, here's our guide. These are the questions you need to ask yourself to help you find the right scooter.
How Much Do I Want to Spend?
The first question to ask yourself is, how much do you want to spend? We recommend having a budget to start so you know exactly what you want to spend beforehand and don't get too lost in special features you might not need making the scooter more expensive.
Can I Use It?
It's important to check if the scooter is going to work for you. Some smaller scooters have low limits on user weight, and some are not very adjustable. Make sure the scooter is going to fit you and work for you comfortably. We recommend getting a scooter for an adult, not one for the entire family, as the sizing is too broad.
What Are the Laws?
If you are in the US, scooters are typically widely accepted, providing they don't go over 25mph unless you're on private land where you can go as fast as you want. We recommend if you're going to be riding the scooter in public to ensure it's legal where you are.
Bike and Seat Design?
We recommend getting a scooter that you like the look of. As you can tell, there are a lot of different designs we have featured above. Some are sleek, and some are more rugged. Looking at the saddle's design is also important. Narrow racing saddles might save weight and look great but won't offer the comfort of a nice wide cushioned saddle.
Range?
If you're looking at a scooter for a purpose such as commuting, you're going to want to ensure it has enough range to complete the journey. A seated scooter is challenging when it runs out of power. If you have a 10-mile journey, we recommend a scooter with a range of at least 15 miles.
Motor Wattage?
Getting the right motor wattage for you can help improve the experience of riding an electric scooter. A 250w motor will be powerful for the flats, but will it be powerful enough if you live in a city with very steep hills like San Francisco? We recommend higher wattage bikes for hillier places.
What Special Features Do You Need?
Sometimes the features make a scooter, and these can come in really handy. Features like lighting and suspension can go a long way to helping you stay safe and enjoying the ride. It's worth thinking about how you will use the scooter and considering a scooter with certain features to improve your experience.
Conclusion
We hope you enjoyed our list of the best scooters with seats and found the perfect scooter for you. Scooters are an excellent investment and can easily add value to a commute or even a meet-up with friends.
Frequently Asked Questions
Are seated electric scooters legal?
The laws differ depending on where you live, and we recommend checking with your local law enforcement services. Typically, they are accepted in the US if they don't go above 25mph, but it's important to check for yourself.
Is there a two-seater electric scooter?
There are many options for electric scooters, but very few for two people. You're probably going to be looking at an electric bike over a scooter for two people.
How do you stop an electric scooter with a seat?
You will generally always have a brake lever to stop an electric scooter with a seat. This is because it can be very challenging to use a foot brake when seated.
How long does a battery last on a seated electric scooter?
It depends on the size of the scooter's battery. Some scooters have larger batteries that can go for 75 miles, while others are as little as 10 miles.
Are seated electric scooters slower?
Typically seated scooters are a little heavier than standing scooters and, because of this, are a little slower. There's very little between the speed of them, and we wouldn't advise using them to race.
---
I'm Robbie Ferri, a writer from Norfolk in the UK. I love cycling, the gym, and have a huge passion for sharing my stories and knowledge to anyone with the time to read them. My main passion is cycling. I started eight years ago. In that time I have broken world records, cycled all over the world in Ultra Bikepacking races, and am lucky enough to have enjoyed some incredible times on two wheels with some incredible people. I have also worked in a bike shop and with some of the industries leading brands, not just promoting products but designing them too.
Under it all I am just someone very passionate about exploration and living a healthy lifestyle. Everything I do I put 100% into it and feel that life is for living. Never should you have a dull day.