(Last updated on February 23rd, 2023)
Full-suspension mountain bikes are easier to ride, more comfortable, and have more control and traction than their hardtail counterparts, especially over the roughest of terrain. They're a bit heavier, a little more expensive, and need a little extra maintenance, but the benefits of these terrain travelers far outweigh the drawbacks.
It can be hard to figure out which full sus bike is best for you, so we put together a list of the 7 best full-suspension mountain bikes. We'll give you the pros and cons for each one and tell you what criteria we used to pick the very best full-suspension mountain bikes.
For these bikes to make the list, I looked at their intended purpose, the amount of travel in the suspension, the aggressiveness of the position, and of course, the cost. We considered what buyers already had to say after using these bikes, too.
We'll give you a few suggestions as to which bike is best for which riders too, so you can pick a bike that you love. But first, let's look at the bikes!
Best Full Suspension Mountain Bikes
| | | | | | | |
| --- | --- | --- | --- | --- | --- | --- |
| Bike | Rating | Head Tube | Seat Tube | Best for | Price | Where to buy? |
| Santa Cruz Blur | 10 | 68.3 | 76.5 | All Around XC Bike | $5,549 | Check price |
| Niner WFO 9 RD | 9.5 | 66 | 77 | Best Budget Bike | $3,800 | Check price |
| Niner | 9.5 | 64 | 77.7 | Enduro racing | $6,000 | Check price |
| LIV Intrigue Advanced Pro | 10 | 65.8 | 77 | Smaller and Female Riders | $5,200 | Check price |
| Cannondale Scalpel SC 1 | 9 | 67 | 74 | Cross country | $6,100 | Check price |
| Merida Ninetysix RC9000 | 9 | 68.5 | 76 | Cross country racing | $5,599 | – |
| Specialized Epic EVO Expert | 9.5 | 66.5 | 75.5 | Mix of XC and downhills | $5,520 | Check price |
All Around Best XC Bike
1. Santa Cruz Blur
KEY SPECS
Weight 11.88kg / 26.18lbs
Max Tire Size 2.4
Head Tube Angle 68.3
Seat tube Angle 76.5
Carbon frame
Front travel: 100mm or 120mm
Rear travel: 100mm or 115mm
Lightweight and designed for speed
PROS
Lightweight frame
Great for speed
Wireless shifting
Three bottle positions
2.4in tire clearance
Short travel
CONS
Pretty expensive but worth the investment
The Santa Cruz gets the best all-around XC title for its lightweight frame, racy handling, and need for speed. The Santa Cruz is a short-travel bike, so it is definitely lighter and more responsive than bikes with more travel. Don't forget SRAMs wireless shifting system, plenty of tire clearance for plushy tires, and three bottle positions to fill up your hydration needs. It isn't a cheap bike, but if speed is what you're after, then this might be a great choice.
I like this bike because it's lightweight and built for speed, has wireless shifting, but it also has lots of tire clearance so you can choose your tire based on your terrain. It's really a great all-rounder, earning it a perfect 10.
Best Budget FS Bike
2. Niner WFO 9 RD
KEY SPECS
| | | | |
| --- | --- | --- | --- |
| Frame: Carbon Fiber | | | |
| Suspension: Fox 38 Float Performance / Fox Float X2 Performance | | | |
| Groupset: SRAM SX Eagle | | | |
| Wheels: Niner Alloy 29" | | | |
| Tires: Schwalbe Magic Mary Evo Super Trail TLE Addix Soft (29″ x 2.6″) / Schwalbe Hans Dampf Evo Super Trail TLE Addix Soft (29″ x 2.6″) | | | |
PROS
Incredible suspension set up
Lightweight for a bike with great ability
SRAM Eagle groupset
Mixed Schwalbe Tire Set up
CONS
The only downside on this bike is the weight – it might be a bit heavy of a bike to drag up very steep hills, but that might not be much of an issue if your fitness level is good.
While the WFO isn't the lightest MTB out there, it probably isn't any heavier than your average XC bike anyway. This mid range mountain bike gives you high-travel suspension of 180/170mm, so it can pretty much do it all, making it capable of not just enduro but downhill too. In addition, it has an aggressive head tube angle, which makes it a good candidate for challenging trails and steep descents.
This bike has plenty of quality components on an aluminum frame. In addition, the frame itself is pretty lightweight. Just remember that aluminum doesn't give you the softest ride but is snappy and responsive. You'll also get lots of stopping power with the SRAM G2 hydraulic disc brakes.
Best Enduro Bike
3. Niner WFO RDO
KEY SPECS
29-inch wheels and 2.6-inch wide tires
Aggressive head tube angle
Head tube angle 64
Seat tube angle 77.7
The carbon frame is lightweight and comfortable
High bottom bracket
Front and rear travel 180mm
PROS
Lightweight carbon frame
High bottom bracket for pedal clearance
Lots of travel for extra traction when you need it
CONS
The price is the only drawback to this bike
The Niner WFO RDO is a world-class enduro bike made for high speed. The aggressive head tube angle means you get both speed and agility. The high bottom bracket means you'll be able to get up and over plenty of obstacles with less chance of catching a pedal. And that rear and front travel will steady you over lots of rough terrain.
The carbon frame also helps absorb some of the bumps in the road and keeps the weight lighter, despite the high travel. This bike earned a 9.5 because it's just pricey! But I love the features, especially the high bottom bracket and the aggressive head tube angle to get you over obstacles and ride at high speeds.
Best for Women's Freeride
4. Liv Intrigue Advanced Pro
KEY SPECS
Lightweight carbon frame
Head tube angle 65.8
Seat tube angle 77
Front travel 140mm
Rear travel 125mm
SRAM SX 1 x 12 drivetrain with 11-50T cassette
2.5-inch wide tires
PROS
Small sizes are great for smaller riders
Efficient on climbs and comfortable and predictable on descents
CONS
Not the best choice for fast, steep technical trails
It would be wrong not to bring up one of the premier mountain bikes for women. In addition, the LIV Intrigue is an excellent bike for smaller riders, something you don't always find in the MTB world. Of course, it has a great carbon frame and it also comes with that in-between travel, making it all around bike for climbing and descending.
Liv Intrigue works great for long days in the saddle, climbs, and easier descents. I personally love LIV bikes for their commitment to helping women ride more! And they make pretty amazing carbon frames that are perfect for women's geometry, too.
I give this bike a 10 because LIV doesn't miss a trick when it comes to women's bikes. Also, if you're a smaller male rider, you might find these bikes comfortable, as well.
Best High-speed Trail Bike
5. Cannondale Scalpel SE 1
KEY SPECS
Travel: 120mm front and rear
Lightweight carbon frame
Shimano XT Groupset and Brakes
Dropper post
Head tube angle 67
Seat tube angle 74
PROS
Light, stiff, and fast.
Dependable and predictable handling is precise even at high speeds.
Great traction.
Comfortable for all-day rides
CONS
This bike comes with a steep price tag.
The Cannondale Scalpel SE 1 gives you smooth and efficient pedaling as well as good climbing. The dropper post is dependable and the handling predictable, so you'll have confidence at high speeds. The carbon frame helps keep the weight lower, and the mid-travel is really a do it all bike.
This bike does it all, but where it excels is high-speed trails. Cross-country racing and all-day adventure rides will have this bike working at its best.
This bike gets a 9 out of 10 because it seems like a high price tag for the components you get. However, I am a big fan of its ability to climb and ride fast.
Best Value Cross Country Bike
6. Merida Ninety-six RC9000
KEY SPECS
Travel (F/R):100mm/100mm
LightweightCarbon Frame
Shimano XTR
Head tube angle 68.5
Seat tube angle 76
29in Wheels
PROS
Great traction and smooth feel
Efficient for seated climbing
CONS
Heavier than competitors
Brakes can be noisy
Not the fastest bike in heavy mud
The slammed stem is a little bit aggressive and may complicate bike handling
The Merida Ninety-Six RC9000 offers a stiff frame and short travel suspension, which gives you plenty of traction and smooth riding. This bike is a great value for the Shimano XTR groupset and brakes and DT Swiss Wheelset.
This bike is a little bit heavy, but it has improved handling over previous models. It sure steers like a race bike, but it has plenty of length for stability and suspension for traction.
I give the Merida a 9 out of 10. It's a great-looking bike with nice components and improved handling, but I think the slammed stem and poor mud shedding abilities could be improved on to make it an even more awesome bike.
Best for a Combination of XC and Downhills
7. Specialized Epic Evo Expert
KEY SPECS
Travel (F/R): 120mm/120mm
Carbon Frame
Groupset: Shimano XO1 Eagle
Wheel size: 29in
Head tube angle 66.5
Seat tube angle 75.5
Zero offset dropper post
Carbon wheels
PROS
Extra reactive suspension for more comfort
Zero offset dropper post for climbing and descending well
Great value for the price
CONS
It does not look like a typical full-suspension bike
Need to choose your lines carefully
Specialized moved the location of the rear suspension to dampen and react better to bumpy surfaces, so you get much more comfort and traction. In addition, carbon wheels and a carbon frame help keep the weight lower, so you can climb and descend.
In short, if you're looking for a bike that will span the distance between XC and downhill, this one might just get the job done with the pizzazz you want.
The Specialized Epic only gets a 9.5 out of 10. I like its full capabilities for climbs and descents, but the rear shock just doesn't look like a typical mountain bike. However, the carbon wheels are a nice bonus.
Buyers Guide for the Best Full Suspension Mountain Bikes
Now that you've looked over some of the best full-suspension mountain bikes, you might be wondering what kind of criteria you should be considering. Here are a few of the things that we considered when coming up with our list of the best full suspension mountain bikes.
When you look over the criteria, you might want to consider things that apply to the type of riding you do or that you want to do. This will help you know which bike suits you best.
Types of Mountain Bike Riding
Mountain biking is a broad category, and I was completely surprised by how many different disciplines of mountain biking there really are. Hopefully, the bike you choose will align well with the type of riding and terrain that you love. Here are a few of the popular options, but of course, there are all kinds of variations out there.
First, Choose Your Discipline
Downhill mountain biking is just like the name says: you start at the top and bomb your way to the bottom. You'll find steep, fast descents requiring oodles of technical skill, intense concentration, and lots of strength. You may find this type of riding at ski resorts during the off-season, where you can take the ski lift to the top and happily speed your way back down. You might want to consider the Specialized Epic EVO Expert if you're into downhills.
Ideally, you need a bike that puts you in the right position for downhill and a full-suspension system that has 200mm of travel to handle the rough terrain.
Cross-Country. Cross-country covers it all. You'll find steep climbs, technical descents, rock gardens, drops, and rollers. These courses aren't quite as technically demanding as downhill, but they do require a lot more fitness and endurance. You want a light and efficient bike for all day speed. Don't be shocked when someone says you need a hardtail for XC, because full suspension bikes are becoming more and more popular on XC courses. For example, try out the Santa Cruz Blur for racy cross country riding.
Free-ride. In a competition, free-ride involves many creative tricks and jumps, using as many of nature's built-in obstacles as possible. Outside of competitions, it's about exploring and finding new lines to ride in amazing and beautiful places. Free-ride bikes should be smaller and lighter but still have about 200mm of travel. If you aren't racing, then you can get away with less travel. A great example of a freeride bike is the Live Intrigue.
Slope-style. This type of mountain biking involves lots of downhill riding with plenty of creative tricks thrown in for good measure. You need a light, responsive bike with plenty of travel. Again, the Specialized Epic might work for your slope-style needs.
Enduro. Enduro is good, old-fashioned mountain biking in beautiful places with long days in the saddle. It may include challenging climbs and technical descents, while enduro races usually involve specific timed stages. You'll want a durable bike to avoid extraneous mechanicals with a dropper post and between 120 and 180mm of travel. Try the Niner WFO RDO for enduro rides.
Budget
One of the biggest hurdles in purchasing a full-suspension mountain bike is the cost. Full sus bikes are generally more pricey than their hardtail counterparts due to the extra parts and more complex designs. These bikes just aren't cheap! And the more high-quality components, the more expensive your bike will be. Lighter bikes are also a bit more expensive because full suspension bikes are just naturally heavy.
There are bikes at a variety of price points on this list, so you can choose one that fits your budget. You need to spend at least $2000 to get a decent entry-level bike.
Geometry
Simply put, geometry is just the shape of your bike. It involves the length and angles that make up the different parts of your bike, from the seat tube, to the head tube, to the handlebar height and the seat height. For starters, a bike that is the wrong size will be hard to manage and could even be unsafe. But you also need the type of geometry suited for the style of riding you will be doing.
For example, a low bottom bracket will make your bike more stable, but it will also make your pedals more likely to hit the ground on rough terrain. So if you're doing lots of rocky rides, you might want a slightly higher bottom bracket.
The length of the wheelbase affects the stability and responsiveness of the bike. If your bike is longer in comparison to others, it will be more stable on fast descents. But a shorter bike might be a better choice if you need maneuverability and agility.
To determine the best type of bike for you, you might ask yourself:
Am I more focused on downhill riding, climbing, or enduro racing?
Do I care more about speed or traction?
Do I need a lighter bike for climbing or something with better shock absorbtion?
Is my fitness good enough that I can ride heavy bike up hill? Or will that slow me down too much?
Shorter bikes tend to be racier, while longer bikes tend to be more stable.
Higher bars might be more comfortable but lower bars will give you more speed.
Keep your eye on the geometry of each bike and know what aspects are important to you. Just remember that size matters – the bike needs to fit you well or it won't handle well at all.
Suspension Travel
Suspension travel is a fancy way of describing how much the wheel can move to absorb the shocks and bumps on your ride. In the front, this happens via the fork. In the rear, on a full suspension bike, this is able to happen due to the frame pivots that include a shock.
Long travel bikes are in the ballpark of 150 to 170mm in both the front and rear suspension systems. These bikes are great for enduro riding and steep, fast descents, but they might feel too cumbersome on steep climbs. On the other hand, if you're a newbie and unsure of the descents, this might be a great bike for you. For example, the Niner is a long travel bike on our list, with a travel of 180mm.
Short travel bikes are typically around 100 – 120mm of travel. These are a little more agile and efficient than long-travel bikes and are great for XC and long adventure rides. These are better if you need a lighter bike to make it up steep hills, but they might feel really sketchy over rock gardens and technical descents. But if your fitness is not as good as those you are riding with, this might be a good choice. The Merida Nineysix is a great example of a short travel bike.
If neither of these sounds good to you, you might prefer a mid-travel bike. These generally have 120 to 140 mm of travel. These are versatile bikes that can do almost anything but aren't explicitly designed for one type of riding or another. These bikes are good if you can only have one bike but don't do one specific type of riding or another. For example, the mid-travel LIV Intrigue is great for those offroad adventures!
Fitness and Skill
Your level of both fitness and skill will help you choose the bike you need. If you are exceptionally skilled, you can do reasonably well on just about any bike.
If you are new to mountain biking and the very thought of quick descents scares the pants off of you, you'll want to pick a good stable bike for easier descents. A longer bike with a lower bottom bracket will give you more stability. If you're new to full suspension bikes, the Ghost Kato is a great place to start!
On the other hand, if your fitness is weaker than the people you ride with, you might want to pick a lighter-weight bike that is easier to climb with, so you'll want a shorter frame with less travel.
Components
The quality of bike components directly affects the price of the bike. Higher-end components will be more precise, durable, and reliable but will cost you more of your hard-earned bucks. However, entry-level components aren't wrong – they'll still get the job done! And they'll save you some dough.
Consider how often you'll be riding, how long you'll be riding to see if high-end components are worth it to you.
Gearing
The gearing on your bike also reflects the type of terrain you'll be riding. Lots of hills? You may want a 2x set up with lots of easy gears to choose from or at least a nice granny gear on your 1x setup so you can spin your way to the top.
On the other hand, if downhill is your game, you don't need too many easy gears if you're taking a ski lift up to the mountain top. You'll want gears for speed rather than for climbs.
While a 2x setup (two chainrings instead of one) will give you more gears, a 1x (just one chainring) will save you some weight, simplify your shifting, and help prevent chain drop.
Frame Material
There are plenty of different frame materials to choose from, too. Steel is the heaviest, but if you're only hitting the downhills, this can be an asset and it will help smooth out your ride as well as save you some cash.
Aluminum is inexpensive and relatively lightweight, but it just can't match the smoothness and stiffness of a carbon frame.
Titanium is sort of a niche market, but there are a few bikes out there with this unique frame material but it will cost you a pretty penny.
Carbon is increasingly the most popular frame material for its ability to be stiff in the right places and compliant in others, to absorb the shock of riding.
| | | | |
| --- | --- | --- | --- |
| Frame Type | Weight | Properties | Price |
| Steel | Heaviest | Durable and offers a smooth ride-feel | Lower-priced and cost-effective |
| Carbon | Lightest | Smooth ride with a responsive feel | Expensive |
| Aluminum | Lighter than steel | Has a snappy but harsher ride feel | Lower priced |
| Titanium | Lightest metal frame | Vibration dampening but not as strong as carbon | Most expensive |
The type of frame depends on the type of riding you do. For example, steel frames are very sturdy and durable and would work well for downhills. On the other hand, carbon frames are lighter and are great for steep climbs.
Final Thoughts on the Best Full Suspension Mountain Bikes
As a general rule, the rougher the terrain, the more travel you want on your full-suspension mountain bike. For lighter terrain, a short travel bike will work just fine but for more technical descents, you'll need more.
That being said, there is a balance between finding the perfect amount of travel and gearing for the terrain and for your level of ability and fitness. Ultimately, the best bike is the one that gives you the confidence you need to traverse the terrain you love.
Frequently Asked Questions
Are full suspension mountain bikes worth it?
In a word, if you want more comfort and traction on rough terrain, then yes, full suspension mountain bikes are worth the extra expense and weight.
Will I be overbiked if I use a full-suspension mountain bike?
It just depends. Hardtails are great for easier terrain and they are much lighter than their full suspension counterparts. So if you'll be doing light terrain and lots of climbing, a full-suspension bike might not be the right choice.
Are there any full suspension bikes under $1000?
You might be interested in the Cannondale Trail 5 or the Marin Bobcat trail 4. These entry-level bikes are good enough to get you started! However, you might want to be a higher-end used bike, instead.
What are the cons of a full suspension bike?
Full suspension bikes are definitely heavier than hardtails. They are also more expensive and need more maintenance since there are more moving parts.
Are full suspension bikes more durable than a hardtail?
Some will say that hardtail mountain bikes are more durable since the rear can handle more shock. However, with today's high-end components, we find full suspension bikes are quite sturdy!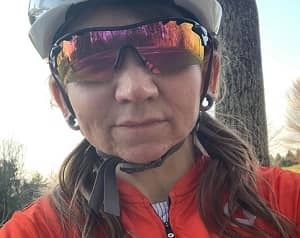 Amanda Whittington is an expert writer, impassioned cyclist, and musician. Coming from a diverse educational background, Amanda discovered a deep-rooted passion for encouraging others through her love of all things cycling, writing, and inspiring hope. 
You'll likely find Amanda pouring over bike specs, comparing the hottest cycling tech, and sporting the latest jerseys while juggling the demands of her editorial calendar, training schedule, tiny homestead, and 6 busy kids. 
She spends her free time absorbed in her own gardening and fitness, cycling, and reading, all while encouraging adoption and foster care, championing the underdog, and of course, working with her chickens and goats.