(Last updated on January 17th, 2023)
Love them or hate them, women's specific bikes are an essential aspect of the cycling industry. For casual rides, mixed terrain, and even commuting, women's hybrid bikes have broken into the market and created an excellent ride for women who want to get fit and have fun!
In this article, we're going to talk about the best women's hybrid bikes. First, we'll take a look at what a hybrid bike is and also what a women's specific bike is. Then, we'll show you the best women's hybrid bikes available right now and help you pick the best one for your type of riding. Let's get started.
What's a Hybrid Bike?
A hybrid bike takes the best parts of a road bike and blends them with the best parts of a mountain bike. So rather than being some sort of crazy Frankenbike – this actually gives you a fun, capable bike that can cover a variety of terrain.
Not every hybrid bike is exactly the same, but many of them share certain characteristics.
For example, a hybrid bike typically has a more upright, relaxed position for comfort. It also has flat bars for easy steering and a range of gears. In addition, a hybrid bike typically has fatter, more robust tires than a road bike, but not as much as a mountain bike. So you ride fast enough on urban streets but still make it over campy-trails and gravel roads, too.
Hybrid bikes will have a nice range of gears to help you get over most hills and still have good speed on flats, too. But they won't be as wide as mountain bike gears or as specific as road bike gears.
Basically, a hybrid bike will do most types of riding reasonably well. It probably won't win you a crit race or bomb down a single track, but it will get you pretty far on that middle ground.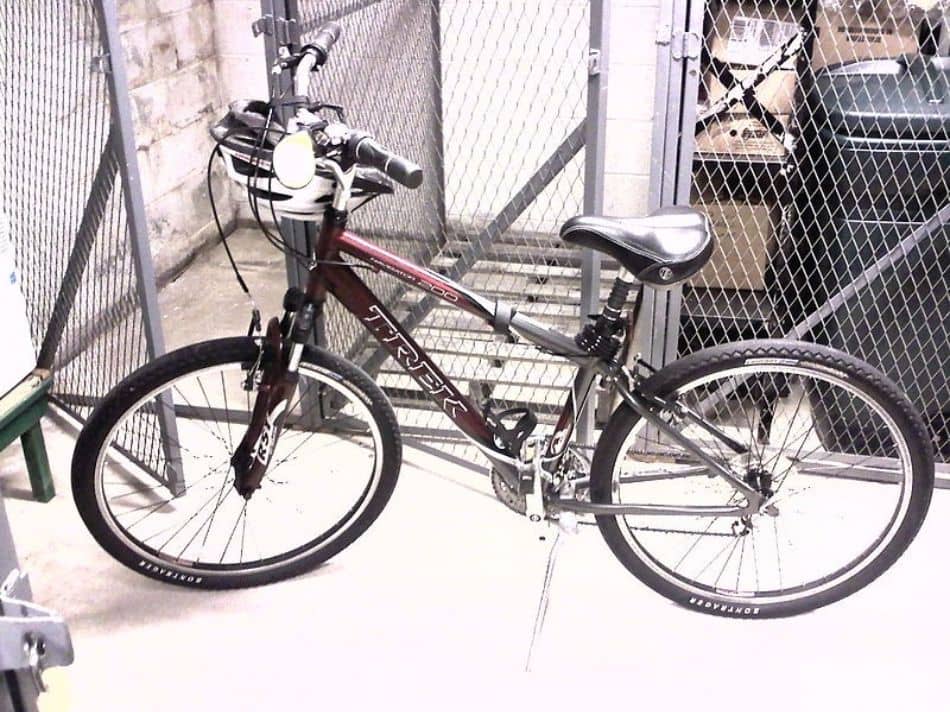 What Is a Women's Specific Bike?
A women's specific bike is a bike that is created to fit a women's shape, as opposed to a man's shape. This doesn't mean a man can't ride a women's bike or vice versa, and it's more about the size and shape of the bike.
In years past, a woman's bike had a low-top tube to accommodate dresses! But now that women aren't stuck riding bikes in dresses, they don't necessarily need a lower top tube (although they are available if you have trouble swinging your leg over the seat of your bike).
So what does this mean, then?
According to data collected by bike manufacturers, women tend to be a little bit shorter than men. They also tend to have longer legs and shorter torsos. So typically, a woman's specific bike will be shorter from the bottom bracket to the top tube. To put it simply, it will also have a shorter reach – the space between the seat post and the handlebars.
Women's specific bikes often have wider saddles because women tend to have wider sit bones than men. As a result, they may have a lower standover height (slightly lower top tube), although this isn't always the case.
Of course, women's specific bikes are marketed to women – so they're often available in more feminine colors and designs, with an emphasis on comfort and style.
That being said, there is no reason a man can't ride a women's specific bike if that is what fits. And there's no reason a woman must have a woman's bike – you might fit a unisex bike even better. But if you have a shorter torso, are on the more petite side, or perhaps are looking for some extra comfort or a pretty color, you might prefer a women's specific bike.
Why We Chose These Women's Hybrid Bikes as Our Top 5
We looked at a wide variety of factors when choosing our top women's specific hybrid bikes. You'll need to know which ones apply to you and your style of riding and which ones you don't need to worry about.
1. Riding Goals
First of all, what are your goals for your bike? Hybrid bikes are popular for commuting because they are comfortable and can carry cargo. On the other hand, you may want to use your bike for trips to the park with your kids, gravel rides on the weekend, and even bikepacking. A hybrid bike can manage all of these things, as well as group rides, riding for fitness, and just riding to the ice cream shop. However, some are more specifically tailored to certain types of rides than others, so it's good to know how you want to ride your bike most of the time.
2. Terrain
What kind of terrain will you be riding on? For us, it is important that a hybrid bike can cover a variety of terrain. It should be equally adept at navigating the urban jungle as it is hitting the easy trails. Keep in mind that a hybrid bike is not designed for single track, crit races, or other very specific types of riding. It is more of a do-it-all reasonably well type of bike.
However, if you'll be hitting more trails than asphalt, look for a hybrid with better suspension and heftier tires. On the other hand, if you'll be mostly riding on nicely paved roads, look for thinner tires and less suspension that weighs you down.
3. Fit
One of the reasons to buy a women's hybrid bike is for the fit. Look for a bike that fits you comfortably, especially if you use it for long rides or daily use. If you're uncomfortable on your bike, you'll end up not riding it, and your investment will be wasted.
Ideally, you'll want to go to the bike shop and test drive a few bikes, so you know what feels good to you. You can also use online fit guides to get a better idea of what size bike you need. They'll want to know your height and your inseam to get you started.
If you can get the fit close, then you can have a bike fitter make any minor adjustments, such as stem length (how far away the handlebars are), saddle (it is easy to change out most saddles for one that is more comfortable for your bum), and crank length (how long the pedals are).
4. Style
Many hybrid bikes come in a wide range of colors and styles, so you can pick one that you love.
5. Comfort
Your bike has to be comfortable for you. You'll want to find the one with the right amount of suspension to take the bumps out of the road, the right fit, and the right position. Most hybrid bikes are more upright, making them more comfortable to ride than a road bike. However, there is some variety in comfort level, so find the one that suits your needs.
6. Braking
You will only trust your equipment if you feel like it can stop you when you need it. We prefer bikes with hydraulic disc brakes for the most stopping power, but you can save money by choosing a bike with mechanical disc brakes or even caliper brakes. All types of brakes will stop your bike, but if you're riding at high speeds, you'll want more stopping power than if you're just going on leisurely rides.
7. Gearing
Some hybrid bikes come equipped with mountain bike gears while others have more of a road bike setup. Mountain bikes have a wider range, which gives you easier and harder gears but you won't be able to keep a nice, steady cadence, like you would with a smaller range of road bike gearing.
8. Frame
We already talked about comfort and position, but another aspect of a bike's frame is the material it is made from. You'll find hybrid bikes in a wide range of materials. Aluminum is one of the most popular types of frame material because it is strong and inexpensive, keeping the cost of the bike low. However, aluminum doesn't give you the most comfortable ride. If comfort is important, you might want a steel bike, which is a lot heavier. On the other hand, if weight and comfort are important to you, consider a more expensive carbon frame that has built-in road-dampening characteristics and is naturally more lightweight than steel.
9. Handlebars
Typically, a hybrid bike will have wide flat bars, like a mountain bike. This gives you a comfortable position to ride in and lots of control when steering. In addition, wide handlebars prevent the bike from feeling as twitchy as a road bike, so you'll feel confident when turning.
A few hybrid bikes will come with drop bars if you prefer that style. You can often change out your flat bars with drop bars, but it will take a little time and cost.
10. Tire Width and Type
Hybrid bikes generally have wider tires than road bikes but thinner than mountain bikes. This gives you an in-between tire that can go reasonably fast on flat, smooth terrain and can handle some rougher, gravel roads.
If you're going to be doing more off-road riding, look for wider, knobby tires on your hybrid bike. On the other hand, if you're going to be sticking to mostly paved roads, look for thinner, smoother tires for better speed. Tires are one of the easiest upgrades you can make to a bike. If you prefer, you can have specific tires for off-road rides and then swap them out for smoother tires for paved rides.
11. Mounts and Mudguards and Accessories
If you're commuting by bike, you'll probably want a cargo rack on the back and fenders to keep you from getting dirty. If you'll be doing long weekend rides, you'll want lots of mounts to hold water bottles and bags. Then again, if you just want to hit the park, maybe you won't need to take much with you at all!
12. Price
You need to find a bike that fits your budget. The higher the cost of the bike, the better the components and the more durable the bike will be. That doesn't mean low-cost, budget bikes are bad, but they may not ride as smoothly or last as long. Choose the bicycle that fits your budget.
Related: Best Hybrid Bikes Under $500
Now Let's See Some Bikes
| | | | | | | | |
| --- | --- | --- | --- | --- | --- | --- | --- |
| | Price | Frame | Sizing | Gearing | Brakes | Suspension | Rating |
| Canyon Pathlite 6 WMN | $1199.00 | Aluminum | 2xs-Medium | 1 x 12, 10 x 51 cassette | Hydraulic Disc | Front fork with 75mm travel | 10/10 |
| Trek Verve 3 Disc Lowstep | $999.99 | Aluminum | Xs- Large | Shimano HG200, 11-36 cassette, 46-30 chainring. 9 speed | Hydraulic Disc | None | 9/10 |
| ALIGHT 2 DD CITY DISC | $850 | Aluminum | XS – L | 8 Speed 30/46 Chainring 11 x 34 cassette | Hydraulic Disc | None | 9.5/10 |
| Cannondale Quick Disc 5 Remixte Women's Bike | $735 | Aluminum | | 7 Speed 46/30 Chainring 12-32 Cassette | Mechanical Disc Brake | None | 8/10 |
| Terra Linda 1 | $450 | Aluminum | XS – Large | Steel Chainrings, 48/38/28T 11-34T | Mechanical Disc | None | 9/10 |
Best for More Trails than Tarmac
1. Canyon Pathlite 6 WMN
KEY SPECS
| | |
| --- | --- |
| Aluminum frame | |
| Mountain bike gearing with 1 x 12 shifting and a wide 10 x 51 tooth cassette | |
| Front fork suspension with 75 mm of travel | |
| Hydraulic disc brakes | |
PROS
It really shines on rough roads
Great for smaller ladies who need
a small bike
CONS
Larger women may need to choose the unisex version of this bike
Larger women may need to choose the unisex version of this bike
The Pathlite is a real do-it-all type of bike, but it really shines on rough roads and gravel due to its mountain bike gearing, front suspension, and hydraulic disc brakes.
What we really love about the Pathlite is that it has size-specific geometry. The XXS and the XS have 650b wheels to accommodate smaller riders and the smaller geometry of the bike. This means you won't end up with huge wheels on a short, twitchy bike – you'll get a nice comfortable ride that suits your small size.
Women's specific designs are available in sizes 2xs- m, giving you a wide range of sizes. However, they might not fit extra tall ladies.
OUR VERDICT
This is the most expensive bike on our list, but if you're as into the trails as you are on the tarmac, you'll want to consider this. And if you're petite like I am, you'll really love the small sizes with smaller wheels. We give this bike a 10/10 because it really epitomizes the whole idea of hybrid bikes. It is also available in a large variety of sizing and at a really affordable price.
Best Bike for Comfortable Rides
2. Trek Verve 3 Disc Lowstep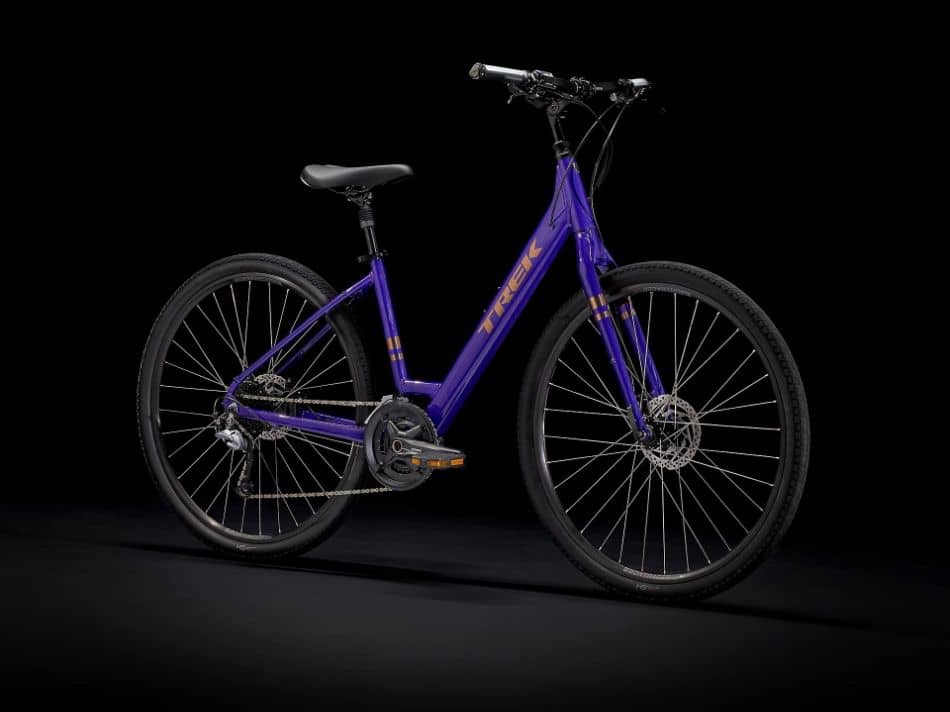 KEY SPECS
| | |
| --- | --- |
| Aluminum Frame | |
| Available in Sizes XS – Large | |
| Hydraulic Disc Brakes | |
| 2x set up with 46-30 chainring and 11-36 cassette to give you a wide range of gears | |
| No suspension, but dampening handlebars | |
PROS
We love the puncture-resistant tires to keep you riding all day.
This bike excels at making you comfortable for your ride
CONS
The aluminum frame would really benefit from a carbon fork or front suspension for extra comfort.
The aluminum frame would really benefit from a carbon fork or front suspension for extra comfort.
Verve 3 Disc Lowstep is designed for comfort no matter where you ride. While it doesn't have an actual suspension, it does have vibration-reducing handlebars that will make long rides easier and more comfortable for your hands and arms. It also has a step-through aluminum frame so that you can get on and off the bike with ease. In addition, you'll find a nice wide range of gears for any terrain and hydraulic disc brakes for excellent stopping power.
OUR VERDICT
We love the focus on comfort with this bike. If you're going to be taking long rides or flitting around the city all day, this bike is a solid choice. In fact, we give it a 9/10 because it's just so comfortable to ride and easy to get on and off.
Best for Fun and Fitness
3. LIV Alight 2 DD City Disc
KEY SPECS
| | |
| --- | --- |
| Aluminum Frame | |
| 8 Speed chain with 30/46 Chainring and 11 x 34 cassette | |
| Hydraulic disc brakes | |
| Available in sizes XS through Large | |
PROS
Great for challenging your fitness and going on long rides.
It works well for commutes in town and has plenty of room to mount your fenders and racks.
CONS
Not the greatest hybrid bike for offroading, but it will work for easy trails.
Only available with 700C wheels.
LIV is known for being on the forefront of stylish and awesome women's specific bikes. So it is no surprise that they designed a great-looking, fun-to-ride hybrid bike.
The LIV Alight gives you an upright riding position with comfortable flat handlebars. The geometry of this bike is well-balanced, so you get a balance of speed and stability for your ride. It also has plenty of mounts for your fenders, racks, and even panniers, so you can take this bike to work, to the grocery store, or on a long trip.
OUR VERDICT
LIV really excels at making bikes that fit women's body types, so we give this a 9.5/10. This is a great bike for balancing your daily commutes and family rides to the park with being fit and strong. Our only complaint is that it doesn't have smaller wheels on its smaller sizes.
Check out a previous model of this bike, here.
Women's Bike Best Hybrid Bike for Speed and Comfort
4. Cannondale Quick Disc 5 Remixte
KEY SPECS
| | |
| --- | --- |
| Aluminum Frame | |
| 7 Speed bike with 46/30 tooth chainring and 12/32 Tooth cassette | |
| Mechanical Disc Brakes | |
| No suspension | |
PROS
This bike will inspire confidence with its OutFront steering, which gives you stability and control.
The integrated wheel sensor makes getting ride data easy and accurate.
CONS
We don't love mechanical disc brakes, although they do work.
There's nothing fancy about this bike – it just works.
The Cannondale Quick Disc 5 blends speed and comfort. Although it comes equipped with road tires, they're high-volume to give you extra grip, durability, and comfort. The Quick Disc has an integrated wheel sensor, so you get speed, route, distance, and service reminders through the free Cannondale app. The front wheel is positioned further forward in this design to give you increased stability and control with their new OutFront Steering. This bike includes plenty of mounts for brackets and bottle cages.
OUR VERDICT
If you want a simple bike that fits and does just what it's supposed to, you might love the Cannondale Quickdisc. There's nothing fancy about it, and it's a simply hybrid bike with nice gearing. Our only gripe is the mechanical disc brakes. However, these simple components help to keep the price nice and low for entry-level riders. We give it an 8/10 for this reason. You can get a quick look at this bike, here.
Best Entry-Level Hybrid Bike
5. Marin Terra Linda 1
KEY SPECS
| | |
| --- | --- |
| Lots of room for upgrades | |
| 700c wheels | |
| Aluminum frame | |
| Steel chainrings are 48/38/28T and 11-34T cassette | |
| Mechanical Disc Brakes | |
PROS
Very affordable, entry-level bike.
Unique triple chainring.
This leaves lots of room to upgrade.
CONS
This bike could really be improved with hydraulic disc brakes.
35mm tires might be overkill on city streets but would be fine for gravel roads.
Marin has made a name for itself with good quality, affordable bikes, and its women's hybrid bike is no exception. There's nothing wrong with an entry-level bike – in fact, if you aren't sure if you'll love it, an entry-level bike is a great balance of quality and affordability.
Something we find unique about the Terra Linda 1 is the triple chainring. These are hard to find on modern bikes, giving this line of bicycles a unique spin! And you get lots of gears for climbing and flying along on the flats. Another great part of the Linda 1 is that it has lots of mounts and plenty of room for upgrades – so if you love it, you've got room to improve it.
OUR VERDICT
We're giving this bike a solid 9/10. It is unique, with its triple chain ring and lots of room to upgrade. We just don't love the mechanical disc brakes. If you're after speed, the 35mm tires might slow you down, so you may want to consider changing out the tires to a thinner road tire unless you'll be hitting the gravel trails. Regardless, this is a solid choice for any entry-level hybrid bike.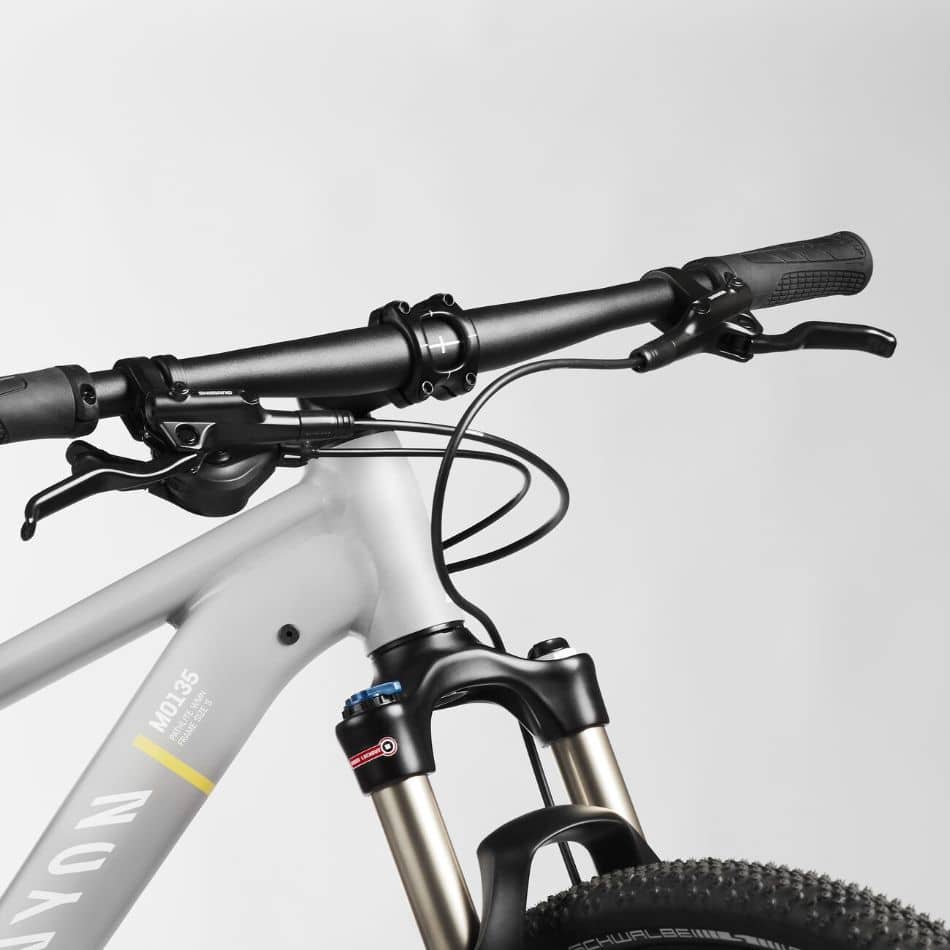 Final Thoughts on the Best Women's Hybrid Bikes
If you're just getting started with cycling, any one of these bikes will get the job done! They'll get you to work, the store, or the park without trouble. They're durable and sized just right for women. However, there's one that is head and shoulders above the rest, and that's the Canyon Pathlite.
We love this bike because you get a lot of quality for the price. Canyon can do this because they ship their bikes direct to consumers. Of course, you'll have to do a little assembling yourself but it is worth the effort for the extra quality components you'll get. And you'll love how capable this bike is, both on the road and off.
Frequently Asked Questions
Do I need a women's bike?
You might want a women's bike if you are petite, have a short torso, or prefer the colors and styles that are typically used in women's bikes. However, if you are taller or have a longer torso, you may prefer a unisex bike.
Are hybrid bikes mountain bikes?
Hybrid bikes have a lot in common with mountain bikes. They may have similar gears, geometry, handlebars, and sometimes even front suspension but they are also made to ride on the roads, too.
Can I use a hybrid bike for fitness?
Yes! While you might not be able to keep up with really fast road races on a hybrid bike, you certainly can do interval work, climb hills, and ride fast.
Are all hybrid bikes 1x drivetrains?
No, hybrid bikes are available in a wide range of gear choices. In this list, we have 1, 2, and 3 chainring setups to give you a variety of gear possibilities.
Are hybrid bikes expensive?
Actually, most hybrid bikes are very affordable. The bikes on this list range from $450 to around $1200.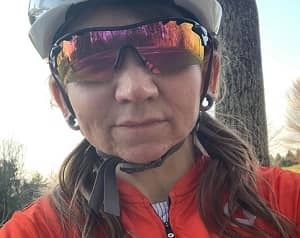 Amanda Whittington is an expert writer, impassioned cyclist, and musician. Coming from a diverse educational background, Amanda discovered a deep-rooted passion for encouraging others through her love of all things cycling, writing, and inspiring hope. 
You'll likely find Amanda pouring over bike specs, comparing the hottest cycling tech, and sporting the latest jerseys while juggling the demands of her editorial calendar, training schedule, tiny homestead, and 6 busy kids. 
She spends her free time absorbed in her own gardening and fitness, cycling, and reading, all while encouraging adoption and foster care, championing the underdog, and of course, working with her chickens and goats.