(Last updated on January 19th, 2023)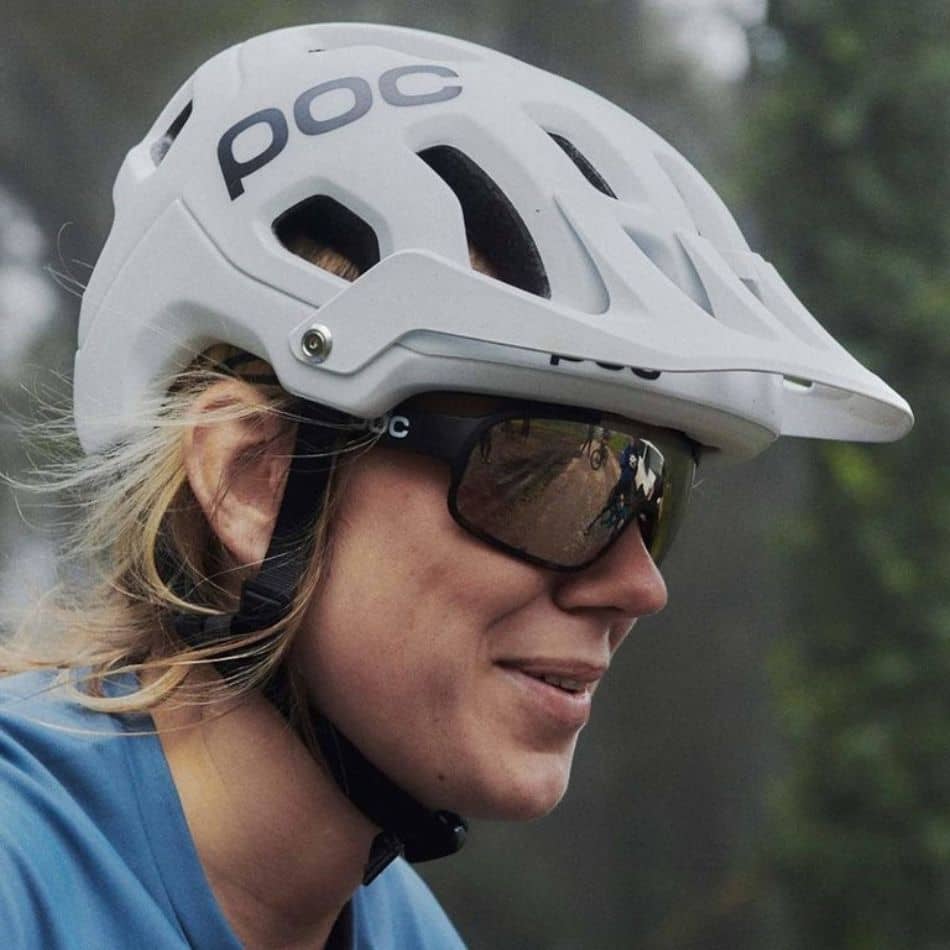 Head protection is crucial when you're sending it through obstacle-ridden mountain trails. Crashes are more common in mountain biking than in any other discipline so wearing a high-quality lid is a must.
Bumpy trails and getting jostled around on the bike are par for the course but a helmet provides necessary coverage to protect your noggin in case of an accident. I've rounded up my selection of the best mountain bike helmets available in 2023 and included helpful tips for buying your next helmet.
How I Made My Picks
There are so many helmets on the market and if you don't know what exactly you're looking for, they can appear very similar. I've picked through endless manufacturer specs, user reviews, and expert opinions to end up with the best mountain bike helmets for sale in 2023. Each model got its place on this list and a rating based on the following criteria:
Safety: All helmets pass required safety standards, but some have innovative tech or designs that boost head protection. Each helmet on this list has some form of rotational impact reduction technology— most scored very highly on Virginia Tech's industry-standard helmet tests.
Performance: To ride at your best, helmets should keep you cool in hot weather, be comfortable to wear, and have a visor to block the sun's glare.
Price: Protecting your noggin shouldn't be prohibitively expensive. There is a range of prices on this list so there's a helmet to fit every budget.
Compare the Best Mountain Bike Helmets at a Glance
| | | | | | | |
| --- | --- | --- | --- | --- | --- | --- |
| Model | Takeaway | Weight | MIPS? | Rating | Price | Where to buy? |
| Giro Manifest Spherical | Best Overall MTB Helmet | 346g | Yes | 9.5/10 | $260 | Check price |
| Specialized Tactic 4 | Best Value MTB Helmet | 380g | Yes | 9.5/10 | $120 | Check price |
| Giro Tyrant | Best Full-Coverage Trail Helmet | 600g | Yes | 8.5/10 | $170 | Check price |
| Lazer Chiru MIPS | Best Budget MIPS Helmet | 335g | Yes | 8.5/10 | $69 | Check price |
| Smith Session MIPS | Best Advanced-Safety MTB Helmet | 379g | Yes | 9/10 | $160 | Check price |
| POC Tectal Race SPIN | Best MTB Race Helmet | 368g | Yes (SPIN) | 9.5/10 | $160 | Check price |
| Troy Lee Designs A3 | Best MTB Helmet Aesthetics | 394g | Yes | 9/10 | $220 | Check price |
| Giro Switchblade MIPS | Best Full-Face Downhill Helmet | 1,077g | Yes | 9/10 | $280 | Check price |
| Bell 4Forty MIPS | Best All-Rounder | 380g | Yes | 9/10 | $110 | Check price |
Best Mountain Bike Helmets For Sale in 2023
Best Overall MTB Helmet
1. Giro Manifest Spherical
KEY SPECS
| | |
| --- | --- |
| Rotational impact protection | Yes |
| Vents | 19 |
| Weight | 346g |
PROS
Great ventilation
Innovative, full-coverage protection
CONS
Love-it-or-hate-it look
Pricey
The Giro Manifest Spherical helmet is leading the pack when it comes to innovative design. Not your typical MTB lid, it prioritizes ventilation and a new two-piece shell built to minimize the severity of rotational forces during an impact. There's extra coverage at the back and a nice two-tone colorway.
The horizontal air channel at the front is a look inspired by road helmets, but might be conversational among MTBers. You can't deny the fact that this helmet keeps your head cool, though. It also comes with Giro's pioneering Spherical Technology— designed with the help of MIPS— where the top shell can rotate independently from the lower part to protect the head.
As a roadie, I love to see our obsession with ventilated helmets crossing over into mountain biking where staying cool matters too. While it has a steep price and a distinctive look not everyone will love, I'm willing to bet other brands will soon start to follow suit.
Best Value MTB Helmet
2. Specialized Tactic 4
KEY SPECS
| | |
| --- | --- |
| Rotational impact protection | Yes |
| Vents | 16 |
| Weight | 380g |
PROS
Two fit options
Great value
The Specialized Tactic 4 is a great-looking trail helmet that's even better looking. The MIPS-equipped lid comes in a ton of different colors and only costs $120. Specialized are hip with the current trends and have extended the coverage around the back of the head and included solid levels of ventilation.
As a person that's struggled with finding the right helmet fit in the past, I love the fact that the Tactic is available in Round and Classic versions to match different head shapes. One shortfall is that the visor isn't adjustable, so I have to take off half a point. The Tactic scored the highest 5-star marks from the industry-standard Virginia Tech Helmet ratings.
Learn more about the Virginia Tech helmet testing program here.
Best Full-Coverage Trail Helmet
3. Giro Tyrant
KEY SPECS
| | |
| --- | --- |
| Rotational impact protection | Yes |
| Vents | 14 |
| Weight | 600g |
PROS
Side and rear coverage
Giro Spherical Technology
The Giro Tyrant ushers in a new wave of full-coverage trail helmets that feature over-ear protection. The helmet wraps around the rear and lower part of the head and increases safety, but does make some sacrifices on ventilation and weight.
The Tyrant scored one of the highest ratings in the Virginia Tech safety tests. While many riders will be put off by the uncommon profile, MTBers who want the most protection possible without switching over to a full-face downhill lid will love this model. There are 14 vents, but airflow is minimal and the helmet is relatively heavy at 600g for a size M.
Best Budget MIPS Helmet
4. Lazer Chiru MIPS
KEY SPECS
| | |
| --- | --- |
| Rotational impact protection | Yes |
| Vents | 15 |
| Weight | 335g |
PROS
Excellent value
MIPS-equipped
CONS
Low ventilation
Large glasses might not fit
On a budget? The Lazer Chiru comes with MIPS technology and only costs $69! Even though Lazer can be forgotten about alongside the big names like Giro and Bell, I'm a long-standing fan of the Lazer brand with their creative helmet designs.
This model is a fairly standard silhouette but has some sweet colorways that'll trick out your setup. The helmet received a 5-star rating from Virginia Tech and it's fairly lightweight, too. It doesn't impress with ventilation, but for the price, the wallet-friendly Lazer Chiru MIPS is an absolute steal.
Best Advanced-Safety MTB Helmet
5. Smith Session MIPS
KEY SPECS
| | |
| --- | --- |
| Rotational impact protection | Yes |
| Vents | 15 |
| Weight | 379g |
PROS
Two protection technologies
Great ventilation
CONS
Expensive
Bugs can fly into the large vents
Tech lovers and safety-conscious riders can both geek about the Smith Session MIPS helmet. This innovative helmet comes equipped with MIPS to reduce rotational forces as well as the Koroyd coverage that crumples to help in the event of a crash. There are a ton of colors available and, although it's pricey, the extra ventilation and double-duty protection systems make this helmet a great choice.
Best MTB Race Helmet
6. POC Tectal Race SPIN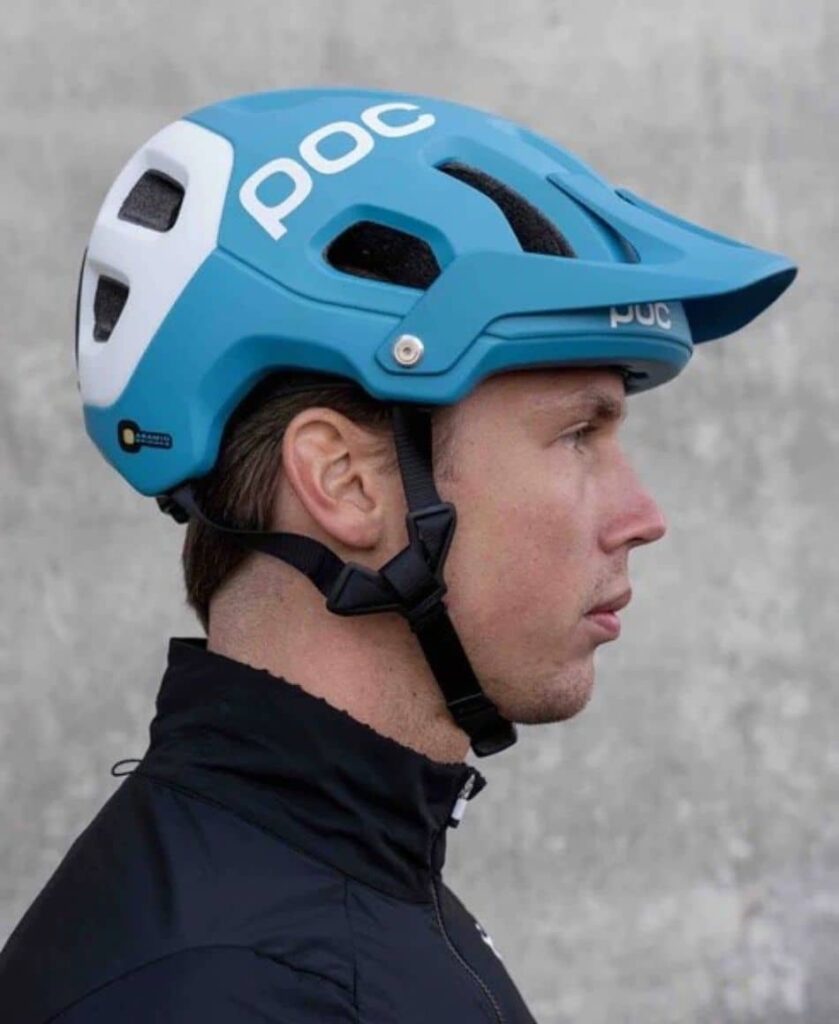 KEY SPECS
| | |
| --- | --- |
| Rotational impact protection | Yes |
| Vents | 18 |
| Weight | 368g |
PROS
SPIN technology
High-end construction
Goggle strap
The POC Tectal Race SPIN helmet is built for high-velocity riders who are chasing podiums and protecting their noggin at the same time. POC is an industry leader in cycling protective equipment and is a personal favorite brand of mine. While there are other great POC helmets out there, the Tectal is well-loved in mountain bike circles.
Instead of MIPS, there is POC's own SPIN technology to minimize rotational forces during an impact. The sticker price is normally quite high for this model, but since it's been out for a while, prices are hovering around the $160 mark— that's a great investment if you ask me.
Best MTB Helmet Aesthetics
7. Troy Lee Designs A3
KEY SPECS
| | |
| --- | --- |
| Rotational impact protection | Yes |
| Vents | 16 |
| Weight | 394g |
PROS
Great design
Comfortable fit
High safety score
Combining their motocross and mountain biking expertise, Troy Lee Designs makes the A3 helmet. I love the race-inspired detailing that stands out from conventional, earth-tone MTB helmets and has a super comfortable fit. There is extra padding and the A3 model achieved one of the highest scores within this roundup on the Virginia Tech rankings. One shortfall, though, is the mediocre ventilation and extra heft compared to other models.
Best Full-Face Downhill Helmet
8. Giro Switchblade MIPS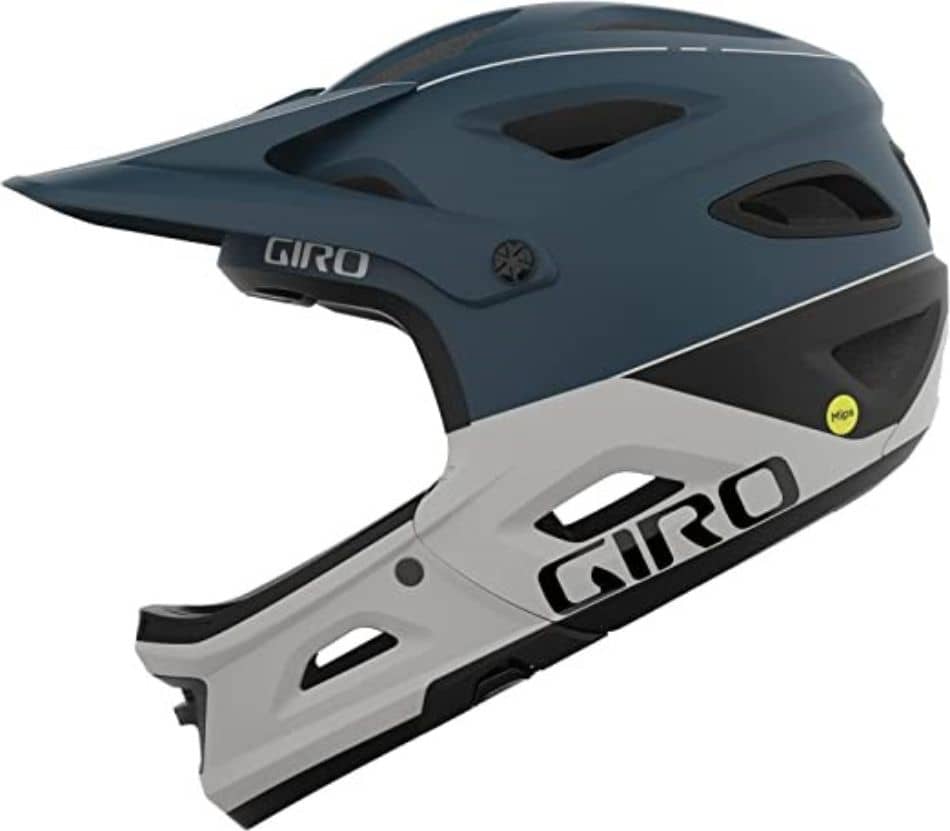 KEY SPECS
| | |
| --- | --- |
| Rotational impact protection | Yes |
| Vents | 20 |
| Weight | 1,077g |
PROS
Removable chin bar
Lots of vents
The only full-face helmet on this list, the Giro Switchblade is designed for hard-hitting trails and downhill riding where the obstacles are bigger and the speeds are faster. A major feature of the Switchblade is that the heavy-duty chin bar can be removed on the climbs or low-speed zones where you'd rather have the extra ventilation than the additional protection. This means it can function as two helmets in one! That said, the heavy helmet has a tendency to move around on the head and can get in the way, causing me to dock a point.
Best All-Rounder
9. Bell 4Forty MIPS
KEY SPECS
| | |
| --- | --- |
| Rotational impact protection | Yes |
| Vents | 14 |
| Weight | 380g |
PROS
Adjustable visor
Great value
Comfortable
CONS
Visor settings could be improved
Heavy
Another helmet that delivers plenty of performance for the money is the Bell 4Forty MIPS. This affordable model comes equipped with MIPS technology and plenty of deep channels for good airflow. The visor is adjustable and many user reviews confirm that it's a comfortable fit, although it seems to work best on rounder heads.
Watch this video to go behind the scenes of Bell's helmet factory and testing center.
Buyers' Guide
Quality mountain bike helmets offer heavy-duty protection out on the trails while still being comfortable and well-ventilated. With different disciplines of MTB, there are a variety of helmet designs that come with specific features that'll come in handy out there. Keep scrolling through this buyers' guide and learn how to pick out the helmet that's right for you.
Level of Protection
Current trends in mountain biking are leading to the increased popularity of helmets with great coverage around the back of the head and ears. This kind of open-faced helmet (no chin bar) is a design that mixes older, traditional MTB lids with full-coverage downhill helmets, resulting in a fantastic all-rounder option that's safer.
Almost all MTB helmets utilize two layers of EPS foam (expanded polystyrene) of different densities to provide optimal crash protection. In the case of an impact, the foam crushes and distributes the force across the helmet and— if it does its job properly— to the rider in a minimal amount.
The foam core sits inside a hard plastic shell that's designed to protect against smaller scratches or bruises. This is the part that can be painted and holds onto the protruding visor. Helmets with this two-part design have what's called "in-molding" that makes for a more cohesive unit.
Cheaper helmets— and many kid helmets— have an outer shell that only covers the top and sides of the molded foam. This difference is noticeable when you can see the exposed foam liner that will still do its job fine, but isn't covered by a more attractive and scratch-resistant outer layer.
MIPS or no MIPS?
MIPS technology stands for "multi-directional impact protection system" and helps reduce the amount of rotational force on the brain in the case of a crash. Recognizable by its flashy yellow color, MIPS is a thin floating liner made of plastic that sits between a rider's head and the EPS foam of the helmet. The liner can rotate slightly in any direction in order to minimize the rotational force of the impact— that rotational movement is a key contributor to bad head injuries or potential brain damage.
The MIPS vs. no MIPS debate was more lively a few years ago, but these days most of us agree that MIPS is a crucial feature. It's no longer a prohibitively expensive add-on and helmets equipped with MIPS technology are priced very similarly to ones without the extra protection. That said, there are other proprietary solutions that do the same thing that aren't MIPS— these include Bontrager's WaveCel and POC's Spin technologies.
If you are mountain biking, I wholeheartedly recommend purchasing a MIPS-equipped helmet. Not only does it offer additional peace of mind, but it provides tested and verified protection benefits to reduce the damage to your brain in the event of a crash. All the helmets on this roundup come with this potentially life-saving bit of tech.
Ventilation
When choosing a helmet, its ventilation capabilities can sometimes take a backseat to the protective or aesthetic elements. However, sufficient breathability in a helmet can make or break your ride experience and shouldn't be an afterthought. Having a super hot head during a ride can be uncomfortable and distract you from enjoying the trails.
Air vent design has historically been more important for road cycling helmets— where conditions on the pavement can reach much higher peak temperatures— but mountain bikers deserve the same attention to detail. That said, current trends display a balancing act between more complete head coverage (which can make your head hotter) and more open vents for better breathability. From where I see it, the more options the better— as long as you know what to look out for.
Improved designs over recent years have successfully combined great coverage and excellent ventilation; the Giro Manifest Spherical is a great example of this. If you typically ride in colder temperatures, cool forests, or rainy weather air vents aren't as critical. For riders in hotter conditions, find a helmet that has long channels around the top and deep vents that let air through.
Comfort and Fit
Just like test riding a bike, I recommend you try on a few different helmets to see which ones fit your head best. Noggins come in all shapes and sizes and helmet brands attempt to accommodate everyone, but you'll find that some models are more comfortable than others.
Most helmets these days come with a retention system that can be tightened via an adjustment dial at the rear of the helmet. Make sure that's loosened and then place the helmet on your head— this way you can check if the helmet fits you correctly from front to back. A few helmets ago, I found one I liked (it matched my cycling shoes!) but it was way too short lengthwise and squeezed my forehead. Fashion is just as important as function, but when it comes to helmets… comfort is crucial to safety as well.
Try on the helmet and buckle it up to see how the straps lay across your ears as well. You're aiming for a snug fit that isn't uncomfortably tight. Some retention systems can get in the way of long hair or if you like to wear a skullcap or helmet liner (like I do!) so keep that in mind. Check to see if the visor is adjustable to keep the sun out of your eyes, but some helmets have a fixed visor position.
Mountain Bike Helmet Size Chart
| | | | | |
| --- | --- | --- | --- | --- |
| XS | S | M | L | XL |
| < 51cm | 51-55cm | 55-59cm | 59-63cm | > 63cm |
Weight
Some helmets are featherweight designs and others are heavier due to added features. Depending on your riding style and preferences, helmet weight may or may not be a dealbreaker. Gram-counting cyclists will want the lightest versions available, typically coming with large air vents and lacking extra coverage at the back of the head.
If you prioritize extended coverage at the rear of the head and around the ears, expect a slightly heavier helmet. That additional protection can be well worth the gram gain. The heaviest models are full-face downhill helmets that wrap around the entire head and come with a chin bar to protect from frontal impacts. This consideration is up to you, but I wouldn't worry about it too much as a deciding factor.
Full-Face Protection
Downhill riders will want to opt for full-face-style helmets that protect the entire head and come with a chin bar. This design is similar to a motorcycle or motocross helmet and protects your precious head from all angles.
I recommend this kind of helmet for dedicated downhill riders who descend at high speeds— the large profile is heavy and a bit too much helmet for casual joyrides. The wrap-around design can cause a sweaty head or feel constricting, but many models feature a removable chin bar so you can breathe easier while climbing or on more relaxed terrain. If you switch between gnarly downhill terrain and lighter trails, a full-face helmet with a removable chin bar could be a smart choice to kill birds with one stone and avoid buying two helmets.
One Crash, One Helmet
Last but definitely not least, it's best practice to purchase a new helmet after a serious crash. Even if you don't see visible damage to the lid, the internal foam structure could be compromised, meaning it won't protect you as well the next time around. Err on the safe side and throw away a helmet that's undergone a big impact and buy yourself a new one. Better to be safe than sorry— and now you have an excuse to get that new helmet design you've been eyeing!
Frequently Asked Questions
What kind of helmet is best for mountain biking?
An MTB-specific helmet with additional coverage at the back of the head, a visor, and some sort of rotational impact technology is a must when riding the trails. Full-face helmets are appropriate for steep enduro riding and downhill racing.
What bike helmet is the safest?
The Specialized Tactic 4 helmet received the best safety rating according to Virginia Tech's rigorous and long-standing research tests.
What is a MIPS MTB helmet?
A MIPS helmet has a floating plastic liner on the inside of the helmet that freely moves in order to reduce the rotational force on the brain of a crash, helping to minimize serious injuries like concussions.
Can I use a road helmet for mountain biking?
It's not recommended to use a road helmet on the trails. MTB crashes are different to road incidents and mountain bike helmets include additional protection around the temples and back of the head. There is always a visor and less of a focus on aerodynamics on MTB helmets.
What does MIPS stand for?
MIPS stands for "Multi-directional Impact Protection" and is a plastic liner on the inside of a helmet that can move independently and reduce the rotational forces of an impact.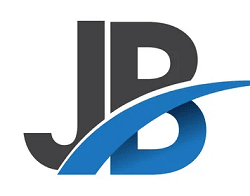 Jeffrey Brown is a writer, editor, and professional bike mechanic with over 7 years of experience working in full-service and community-based bike shops. As a bicycle educator, he has supported youth programs across the US that teach bike mechanics and life skills to prepare the next generation of cyclists.
Jeffrey began his professional mechanic career at his university bike co-op, so he recognizes the grassroots power of the cycling community. Initially self-trained as a mechanic, his subsequent positions as manager and lead educator gave him official training. He has won various awards and grants for his role as a bicycle and environmental advocate.