(Last updated on October 20th, 2022)
Mountain biking is one of the best cycling disciplines. It gets you into nature and gives you the opportunity to explore practically anywhere on and off-road. One thing we highly recommend getting right when mountain biking is using the right equipment. Not only do we look for equipment that works well, but we also look for equipment that is good value for money and going to last.
Shoes can be very challenging to look for when it comes to mountain biking. There are not just many different types, but you also have many different brands, ways they tighten, ventilation systems, and unique features. In this article, we want to recommend some of the best mountain bike shoes, guide you on what to look for when buying mountain bike shoes, and also answer some of your most frequently asked questions.
How Do We Pick Our Mountain Bike Shoes?
When looking at mountain bike shoes, there's more to think about than you might realize. They are very complicated as a lot goes into the design. Not only do they need to look excellent, but it has to be extremely functional too. Here's what we look for when we look at the best mountain bike shoes on the market.
Purpose
What is the purpose of these shoes? Are they made for light trail riding? Are they made for enduro racing? Are they made for long-distance bikepacking and touring? Knowing a shoe's purpose is vital to selecting the correct shoes.
Clip in or Normal?
Shoes also come with different systems depending on the pedaling system that you use. You get clip-in shoes that attach you directly to the pedals, and then you get shoes that are designed just to sit on the pedals themselves. It's important to get the shoes that match the pedals you are using.
Adjustment
We also need to consider the adjustment and how the shoes grip your feet. Some will use velcro straps, some will use laces, and others will use a boas fitment. Velco being the most basic next to laces, and Boas being a much more advanced system which can pull the shoe tighter round the foot.
Comfort
As you can imagine having comfortable shoes is vital to keeping that foot pain at bay. We are always looking for shoes with good insides and padding that can keep you pain-free and enjoying lumpy trails.
Style
The first thing we look at is the style. Do the shoes look good? It's important to like the look of your equipment, in our opinion that goes a long way to wanting to use it and also look after it. Some companies also offer different color schemes, which can match your bike, and that's a big plus for us.
Price Point
We also feel price is very important when it comes to buying any equipment, especially shoes. We look for good technology and great materials at a reasonable price.
Hygiene and Ventilation
Finally, we have hygiene. Smelly shoes are not good for you or the people around you. A good set of mountain bike shoes will be able to ventilate well and stay smelling fairly fresh.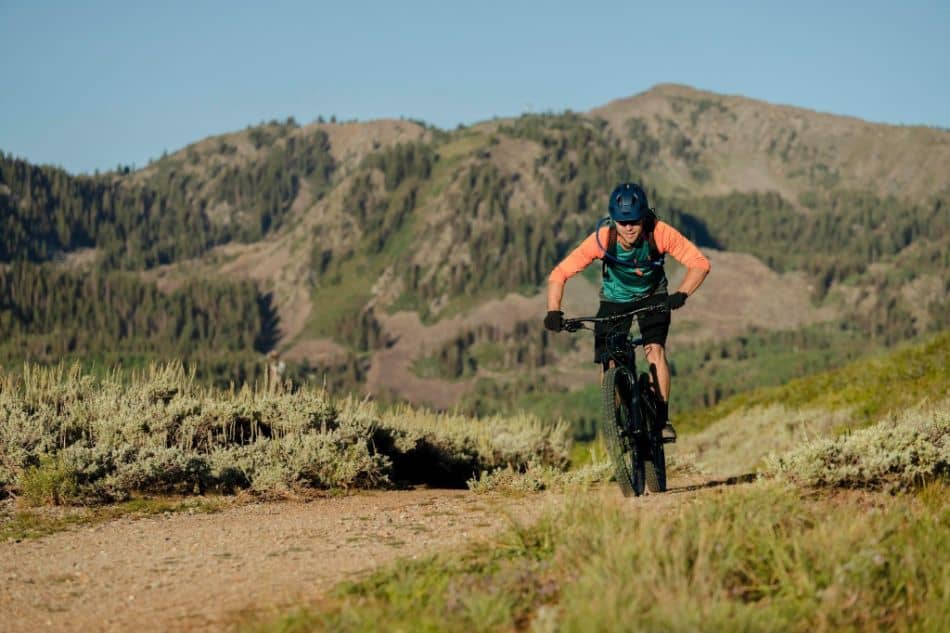 | | | | | | | |
| --- | --- | --- | --- | --- | --- | --- |
| Shoes | Price | Style | Cleat | Material | Weight (Both) | Rating |
| Shimano ME7 | $220 | Racing | SPD | Synthetic Leather | 10.8 oz | 4.5/5 |
| Sidi Trace 2 MTB | $270 | Racing | SPD | Politex | 14 oz | 4.5/5 |
| Pearl Izumi X-Alp | $150 | Racing | SPD | EVA, TPU | 24 oz | 4/5 |
| Shimano SH-XC092 | $430 | Racing | SPD | Synthetic / Carbon | 24 oz | 5/5 |
| Ten Kestral MTB Shoes | $200 | Flat Casual | SPD and Flat | Synthetic / Ortholite | 24 oz | 4.5/5 |
| Ride Concept Women Flume | $190 | Flat Casual | Flat only | EVA Rubber | 24 oz | 4.5/5 |
| Crank Bros Speedlace | $169 | Flat Casual | SPD and Flat | Synthetic / MC1 | 31 oz | 5/5 |
| Ride Concepts Tallac | $160 | Flat Casual | Flat only | EVA / Nylon / Rubber / TPU | 26 oz | 4.5/5 |
1. Shimano ME7 Mountain Bike Shoes
KEY INFO
| | |
| --- | --- |
| Gender | Men's |
| Sizes | 42-48 |
| Style | MTB |
| Clip in | SPD |
| Material | Synthetic leather |
| Weight | 10.8 oz |
When it comes to mountain bike shoes, one of the biggest names in the industry is Shimano. They make shoes that are incredible quality and built to last not just one season but five at least.
The ME7 is an excellent model of theirs with an armored casing and the Michelin solid rubber soles. Not only will they give you excellent pedaling efficiency, but you will also get a great grip for those hike a bike sections.
They come with a buckle tightening system which works well, and they have equipped these shoes with a 2 bolt system for SPD cleats.
Overall Rating
The Shimano ME7 are excellent shoes. They are tough and durable but still offer an excellent level of performance. In our opinion, a twist (Boa) tightener would have made them perfect.
2. SIDI Trace 2 Mountain Bike Shoes
KEY INFO
| | |
| --- | --- |
| Gender | Men's |
| Sizes | 42-47 |
| Style | MTB |
| Clip in | SPD |
| Material | Politex |
| Weight | 14 oz |
Sidi are excellent when it comes to their incredible range of shoes. They are often seen worn by some of the best cyclists on the trails and are highly sought after by many. The Trace 2 is not only known for its performance but its comfort too.
We have a Politex material upper combined with a soft step closure that makes those long days out of the trails much easier on the feet. Combined with their Techno-3 dials, it pulls your feet in, giving you a great fit.
It has a 2-bolt cleat system, you will typically use the SPD cleats with these shoes, and they also have given this shoe a reinforced heel cup to keep your foot in an optimal position.
Overall Rating
The Sidi Trace 2 are excellent shoes that offer so much as far as comfort and performance go. They weigh a little more, but you do get more from them.
3. Pearl Izumi X-Alp Gravel Shoes
KEY INFO
| | |
| --- | --- |
| Gender | Unisex |
| Sizes | 38-46 |
| Style | MTB |
| Clip in | SPD |
| Material | EVA, TPU |
| Weight | 24 oz |
Pearl Izumi makes excellent shoes. As a sister company to Shimano, they give us the high quality we expect. The X-Alp gravel shoes are a great example of a very comfortable, durable shoe from them.
They are made from a one-piece synthetic upper, nylon composite midsole, and a TPU outsole. These shoes are not made to be lightweight. They are designed to feel like a slipper when worn and be tough enough for any trail.
You have the SPD cleat system for clip-in shoes and a single boa that has the ability to tighten the whole shoe up from different angles. The only downside to this shoe is that it is heavy and comes in at over 600 grams for the pair.
Overall Rating
The Pearl Izumi X-Alp gravel shoe is ideal for long days out in the saddle and will be incredibly comfortable. The shoes are night the lightest at 24 oz and they do look plain.
4. Shimano XC-902 S-Phyre Mountain Bike Shoes
KEY INFO
| | |
| --- | --- |
| Gender | Unisex |
| Sizes | 38-48 |
| Style | MTB |
| Clip in | SPD |
| Material | Synthetic and Carbon |
| Weight | 10.4 oz |
Our second Shimano shoes on this list and the best they have available. If you follow professional racing, you will see the Shimano SH-XC902 S-Phyre shoes all the time. They look incredible, coming in a large variety of colors, our favorite being the electric blue. They perform to an excellent standard and come in a huge variety of different sizes.
They are made of micro synthetic material and have a carbon fiber base. These shoes are incredibly comfortable and also create an amazing power transfer because there's no flex on these shoes. They are also incredibly comfortable and even come with different insole options.
You use SPD cleats on these shoes. Coming in at less than 300g, they are incredibly light and will improve your performance without a comfort sacrifice.
Overall Rating
We can't fault the Shimano S-Phyre MTB shoes. They are comfortable, fast, light, and look incredible. The only thing is you have to pay a fair amount to get a set but totally worth it.
5. Five Ten Kestral Boa Mountain bike Shoes
KEY INFO
| | |
| --- | --- |
| Gender | Men's |
| Sizes | 41-46 |
| Style | MTB |
| Clip in | Flat and SPD |
| Material | Synthetic, Ortholite, Rubber |
| Weight | 32 oz |
The Ten Kestral are very popular amongst many mountain bikers. They come in a large variety of different sizes and are a mix between MTB and casual shoes.
They are made of multiple materials, a synthetic top, an Ortholite sole, and also a grippy C4 stealth rubber bottom. They are made for riding long-distance technical off-road trails and have the ability to perform in competition, not just casual riding.
They have an excellent attachment system consisting of a strap and a boa to keep your foot extremely snug and balanced while on testing terrain.
Overall Rating
We really like the Ten Kestral, because they are casual and capable. They are not the lightest, but they offer performance and comfort, and that's more important.
6. Ride Concepts Women's Flume Boa
KEY INFO
| | |
| --- | --- |
| Gender | Women's |
| Sizes | 37-43 |
| Style | MTB |
| Clip in | N/A |
| Material | EVA |
| Weight | 32 oz |
The Women's Flume Boa is a great looking shoe with excellent performance to match its style. The Flume is one of the market's most popular women's shoes, and we can see why.
Ride Concepts have put a lot of time into these shoes, starting with the Max grip rubber sole, ensuring that your feet stick to those pedals no matter how challenging the downhill sections may be. Then we have the EVA midsole and Cordura mesh upper to give stability, comfort, and ventilation.
These shoes use a boa tightening system along with a velcro strap at the bottom. Coming in at around 600g, they are not the lightest, but they offer a great experience for the rider.
Overall Rating
Overall the Ride Concepts Women's shoes are excellent and we love the design, but are quite tall in size.
7. Crank Bros Mallet Speedlace Shoe
KEY INFO
| | |
| --- | --- |
| Gender | Men's |
| Sizes | 39.5-48 |
| Style | MTB |
| Clip in | 2 Bolt SPD |
| Material | Synthetic / MC1 / TPU |
| Weight | 32 oz |
Crank Bros are known for making some excellent cycling equipment, from multi-tools to pedals, and they have always made a quality product. The same goes when it comes to their shoes.
The Mallet Speedlace not only looks great, but it also offers so much when it comes to performance and comfort. They are made of a synthetic top with an MC1 compound on the bottom, which gives you an excellent grip. They also come with TPU for protection and a lace up system with a top strap.
One thing very special about these shoes is the raised heel and ramped toe for better walkability. They are fairly heavy shoes, but they are going to be perfect for any hardcore MTB riding.
Overall Rating
Whenever Cranks Bros make a product, they don't do it half-heartedly, and they definitely haven't with these shoes. We really like the Speedlace, and they are excellent pair of shoes for such little money.
8. Ride Concepts Tallac Shoes
KEY INFO
| | |
| --- | --- |
| Gender | Men's |
| Sizes | 39.5-44 |
| Style | MTB |
| Clip in | N/A |
| Material | EVA / Nylon / Rubber / TPU |
| Weight | 32 oz |
The Ride Concept Tallac shoes are one of the best-looking sets of shoes on this list. Coming in a slick red and brown with blue mesh, it sounds like a mashup, but it works. What we really like about the Tallac is that they look casual and very much like a normal pair of shoes.
The Tallacs have a grippy bottom for those big drops and D30 technology to take the impact of the pedals on your feet. They are made of EVA, Nylon, Rubber, and TPU. You can expect them to protect your feet excellently and also with this kind of construction last a very long time.
They are not the lightest of shoes, but they are going to give you great ability and take the edge off those big drops.
Overall Rating
The Tallac shoes are special. They look great, and offer great support for your feet and we highly recommend them even if they are a little heavier.
Mountain Bike Shoes Buyer's Guide
Just say none of these shoes takes your fancy, what do you need to look for when it comes to buying mountain bike shoes? In this next part, we'll tell you everything you need to think about when finding the right mountain bike shoes for you.
Looks
The look of a shoe is very important. You have to like what you're wearing, or if not, you will either not want to wear them or replace them later in time. Mountain bike shoes come in many different designs and styles, and there's something for everyone. Aim to buy a shoe that you like the look of.
Size
The next thing you need to make sure of is that they have your correct size shoes. If you get shoes that are too big, they will be uncomfortable, and you risk slipping. If you get shoes that are too small, you'll be in a lot of pain using them. Most shops will offer a return service or size swap, providing they haven't been used while out riding or had cleats attached.
Retention System
The retention system is also very important when it comes to shoes. Some shoes have velcro which is cheaper and quick to use but doesn't pull the shoe as tight as you might need. Then you have laces, which hold the shoes together excellently but take time to take on and off and get very messy. The ultimate being the boa fitment which is a turning dial which pulls the whole shoes round the foot but does make them more expensive.
Sole
The sole of the shoe is another concern you might have. A racing shoe will have a stiff lightweight carbon sole which can aid you in power transfer greatly but does come at a much higher cost and isn't ideal for high impact landings. Then you have plastic soles which are heavier but come in a lot cheap and have a better level of flexibility when landing big jumps.
Durability
It's also important to pick a mountain biking shoe that is very durable if you plan on going on some very rough terrain. A common phrase in mountain biking is hike a bike. This means having to walk up or down a climb because it's too difficult to ride. If you plan to go to these extremes we recommend picking a tough shoe with a thick bottom with a lot of tread on it.
Type of Riding
The type of riding you plan to do goes a long way when it comes to getting the right shoes. If you are planning on racing or pushing yourself to the limits, you will want a shoe that reflects that. Racing shoes are lighter, better ventilated, have a very stiff sole, and offer much better power transfer than casual shoes. You might want casual shoes for exploring nature and relaxed riding with coffee stops that will offer more comfort, better protect your feet, and make walking easier. Think about the kind of riding you want to do before picking the shoe.
Materials
You will also want to think about materials too. The materials that are used in a shoe will give it certain characteristics. For example, a carbon sole will make it very stiff and give a shoeless comfort but better power transfer. A rubber sole shoe will offer more comfort and brace an impact better, but it will weigh much more and have more flexibility. Looking into the materials of a shoe does really help you understand what experience it will give you.
Cost
When it comes to shoes, spending a good amount goes a long way. You don't have to spend $400 for a good set but spending above $100 will give you a very high-quality shoe that will last year after year. Cheaper shoes under $50, although they might seem ok to try on, but they will eventually get into your feet on those longer rides and also just don't tend to last very long, maybe a season or two max.
Conclusion
When it comes to mountain biking shoes are a piece of equipment you want to ensure that you get right. The wrong shoes can cause foot pain, affect your performance, and also completely put you off wanting to ride your bike. We hope you enjoyed our article and found a set of shoes that are perfect for your riding.
Frequently Asked Questions
What kind of shoe is best for mountain biking?
The best shoe for mountain biking is simply a mountain biking shoe. They are special because they have a solid base and are designed to protect your feet. Some also give you the ability to clip into the pedal, so your feet stay secure.
Can mountain bike shoes be used on the road?
Yes, mountain bike shoes can be used on the road. Although they might not be as light as road bike shoes, they will still be excellent for cycling and offer much more support than a typical trainer.
How much should I spend on mountain bike shoes?
We all have different budgets, but if you can spend above $100, you will get a lot more for your money than if you spend below that. Typically the more you put into equipment, especially shoes, the longer they last, the better they feel, and the better they perform.
Are clipless pedals better for mountain biking?
Clipless pedals are excellent because they have the ability to fit you directly to the pedals, giving you lots of structure. They are typically used heavily in XC but are also seen in Enduro and Downhill.
Can I use hiking shoes for mountain biking?
They will work as any shoe would, but they won't offer an amazing experience. Hiking shoes don't offer huge ventilation or flexibility; they are very large on the pedals, and you can risk hitting the cranks.
---
I'm Robbie Ferri, a writer from Norfolk in the UK. I love cycling, the gym, and have a huge passion for sharing my stories and knowledge to anyone with the time to read them. My main passion is cycling. I started eight years ago. In that time I have broken world records, cycled all over the world in Ultra Bikepacking races, and am lucky enough to have enjoyed some incredible times on two wheels with some incredible people. I have also worked in a bike shop and with some of the industries leading brands, not just promoting products but designing them too.
Under it all I am just someone very passionate about exploration and living a healthy lifestyle. Everything I do I put 100% into it and feel that life is for living. Never should you have a dull day.