(Last updated on April 17th, 2023)
When my children were small, I would tow them in a bike trailer while I rode my bike. It was definitely cumbersome for me, but they loved the ride. As they got a little older, they outgrew the trailer but still didn't have the bike skills to keep up on a longer ride.
That's when I discovered how fantastic tag along bikes are. And if you're reading this article, you're probably wondering – like I used to – what is the best tag along bike?
In this article, we will discuss the five best tag along bikes. First, we'll review the key specs, pros, and cons for each kid's bike trailer on this list. Then, we'll give each of them a rating and tell you what to look for in a bike attachment for kids. But first, let's take a look at the bikes!
The five best tag along bikes for kids are:
Trail Gator
Burley Kazoo/Piccolo
Weehoo Blast
TowWhee
WeeRide Co-Pilot
The Five Best Tagalong Bikes at a Glance
| | | | | | |
| --- | --- | --- | --- | --- | --- |
| | Mount Style | Age and Weight Range | Why We Love it | Price | Rating |
| Kazam Co-Pilot | Seat Tube Tag Along | Max weight 75 pounds | Best Budget Tag Along | $165.37 | 4.6/5 |
| Trail Gator | Seat tube/Tow Bar | Max weight of 70.5 pounds | Best Budget Tow Arm | $87.82 | 4.5/5 |
| TowWhee | Tow Rope | Up to 500 pounds | Best Tow Rope | $39.99 | 4.5/5 |
| Burley Kazoo/Piccolo | Rack Mount TagAlong | Ages 4 to 10 and up to 85 pounds | Best All Around Tagalong | $419.95 | 4.25/5 |
| Weehoo Blast | Seat tube/ Recumbent | Ages 1 to 6 and up to 80 pounds | Best Choice for Young Riders | $299.00 | 4.25/5 |
Best Budget Tag Along
1. Kazam Co-Pilot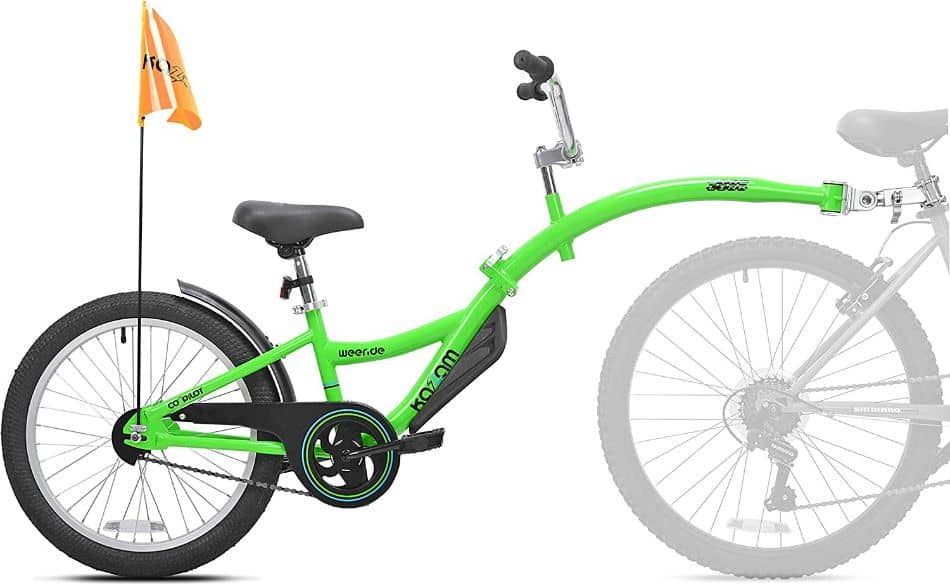 KEY SPECS
| | |
| --- | --- |
| Age Range | 4 – 9 |
| Maximum Weight | 75 pounds |
| Tagalong Weight | 29 pounds |
| Gears | None |
| Mount Type | Seat post with quick release |
PROS
Very stable connection between bike and tagalong.
Quick release with a folding frame makes it easy to store.
CONS
Very heavy to pull.
It does not include gears on the tagalong.
The Kazam Co-Pilot is a traditional tagalong bike, giving your bike the appearance of a tandem. The bike attachment resembles a regular kids' bike, with adjustable handlebars, seats, and pedals. A bar goes over the adult's wheel and attaches to the seat post. It has a quick-release design, so you can quickly switch between a tandem or solo ride.
The attachment has a hinge, also, so you can store the tagalong bike without taking up too much room.
The suggested age range for the Kazam Co-Pilot is 4 to 9 years, depending on your child's size and ability. The maximum weight of the tagalong is 75 pounds, while the weight of the tagalong is 29 pounds. If you're pulling a larger child on the bike, that's a lot of weight! That's the biggest drawback to this particular tagalong – it's pretty heavy.
I love that this tagalong is so sturdy. The attachment bar is really stiff, which will help keep your child from veering to the side during turns. I also like that Kazam has thought about the details – a fender to help keep your child clean, a safety flag, and a battery-powered light all help to keep your child safe.
There aren't any gears for your child to worry about – they can pedal or coast. Unfortunately, you can't detach the bike mid-ride, so your child can ride separately for a while. This particular tagalong has to be ridden attached to the bike.
Overall, this tagalong gets high marks for safety and price.
RATING
| | |
| --- | --- |
| Ease of Use | 4.5/5 |
| Weight | 4/5 |
| Stability | 5/5 |
| Price | 5/5 |
OUR VERDICT
This tagalong is 4.6 out of 5 because it's so stable and priced for value. The major drawbacks are that it is a bit heavy and can't be ridden when not attached to the adult bike.
Best Budget Tow Arm
2. Trail Gator
KEY SPECS
| | |
| --- | --- |
| Age Range | Not listed but fits children's bikes with 12 to 20-inch tires |
| Maximum Weight | 70.5 pounds |
| Tagalong Weight | 6.9 pounds (plus the weight of your child's bike) |
| Gears | Not applicable—uses child's own bike |
| Mount Type | Seat mount with quick release. |
PROS
Uses the bike your child is used to riding.
Clips to fork when not in use (for example, if your child wants to ride by themselves part way)
Helps children learn to ride without training wheels.
CONS
It may cause your bike paint to chip off.
Must go slow enough the bike doesn't veer out during turns.
The Trail Gator is an innovative solution to a difficult problem. If you love to ride with your children, they will almost inevitably hit a stage where they are too big for the bike trailer and too small to keep up on long rides, even though they really, really want to.
The Trail Gator isn't a traditional tagalong bike. Instead, a tow bar turns your child's bike into a tagalong.
This saves you money and weight. The Trail Gator will fit kids' bikes anywhere from 12 to 20 inches to fit a wide range of ages. The maximum weight for your child is 70.5 pounds, with a tiny caveat. The adult must weigh at least twice the amount as the child for balance. This could be an issue for someone like me, who is very petite while my children are not.
Another point that you need to know is that it cannot be used with training wheels. The tow bar keeps the bike in line with the parent's bike, so the child's bike needs to be able to lean. Training wheels prevent children's bikes from leaning, which would put too much torque on the tow bar, the handlebars of the child's bike, and the adult bike's seat post and cause damage.
However, the tow bar is a great choice if your child wants to ride part-way alone. The bar can be quickly removed from the child's bike, folded, and attached to the fork of the parent's bike. This way, the child can ride on their own until they get tired, and then you can reattach their bike to yours with the quick-release system and tow them back home. Ensure your child has a great bike with the tow arm.
RATING
| | |
| --- | --- |
| Ease of Use | 4/5 |
| Weight | 5/5 |
| Stability | 4/5 |
| Price | 5/5 |
OUR VERDICT
I give the tow bar a 4.5/5. I love that you can disconnect it mid-ride and attach it to the fork of the parent's bike so your child can ride solo for as long as they are comfortable. It's also a great price and uses the bike your child is already comfortable riding.
Best Tow Rope
3. TowWhee
KEY SPECS
| | |
| --- | --- |
| Age Range | Any |
| Maximum Weight | Up to 500 pounds |
| Tagalong Weight | 5 ounces |
| Gears | N/A |
| Mount Type | Strap |
PROS
Lightweight – just weighs a few ounces.
It can pull adults and children up to 500 pounds.
CONS
Only designed to be used uphill.
It can't be used in very cold weather.
If your child is a little bit bigger and needs a little boost on hill climbs, you may want to consider the TowWhee tow rope. This is not a traditional tag along at all. Instead, a tow rope is a bungee cord inside a casing that attaches your seat post to your child's handlebar stem.
The tow rope is very lightweight -it only weighs about 5 ounces. You can stash it in a pocket or handlebar bag when you are not using it. Then, when you are about to head up a few hills, you can very quickly attach the tow rope to your bikes. It will stretch up to 15 feet, giving you plenty of space between your bikes. Then, you can pull your child uphill, giving them as little or as much help as they need.
Something I really like about this tow rope is that there is no age or weight limit. It can pull up to 500 pounds. So you could use this for a child, a teenager, or an adult that might not be quite as strong. You can also use it for other sports like skiing, kayaking, and paddleboarding.
This option is great if your child only needs extra support on hills but can otherwise keep up. It is easy to remove and store and takes up almost no room. It is stronger and more inexpensive than trailers, tagalongs, and towbars.
TowWhee recommends using it only for uphill towing, with speeds less than 8 mph. And don't use it in very cold weather.
RATING
| | |
| --- | --- |
| Ease of Use | 5/5 |
| Weight | 5/5 |
| Stability | 3/5 |
| Price | 5/5 |
OUR VERDICT
I love this as an option for children or adults who are getting a bit more advanced and just need an extra boost on big hills. It's inexpensive, easy to store, and very lightweight.
Best All Around Tagalong Bike
4. Burley Kazoo/Piccolo
KEY SPECS
| | |
| --- | --- |
| Age Range | 4 to 10 |
| Maximum Weight | 85 pounds |
| Tagalong Weight | 16.5 pounds |
| Gears | 7 Speed bike |
| Mount Type | Rackmount |
PROS
It fits a wide variety of ages.
Very stable.
The rack can be used when tag along is not in use.
CONS
You can't remove it mid-ride for your child to ride separately.
Very expensive.
The Burley Kazoo/Piccolo is a deluxe tagalong bike – it's got it all. First, the patented hitching system was created to improve stability for both riders. It uses a Moose Rack as a hitch point to attach the tagalong to the adult bike. I really like this because you can remove the tagalong and use the rack like a regular bike rack.
The tagalong is designed for kids between 4 and 10, depending on their skills and size. And it goes up to a whopping 85 pounds of rider!
Remember, though, if you are pulling an 85-pound child on your tagalong, with the weight of the tagalong itself, you'll be pulling just over 100 pounds. That's a lot of weight, but hopefully, by the time your child is that size, they can contribute to the pedaling!
The adjustable handlebar and seat mean it can also grow with your child. The tagalong is like a 7-speed bike, so your child can shift to make it harder or easier to pedal, depending on their strength. And it will help prepare them for riding more advanced bikes later.
The rack mount is a good idea, especially if you have an expensive bike. The rack is designed to attach to your bike without causing damage or paint chips, as a seat tube mount can. You can also purchase extra racks to quickly change the tagalong from one adult bike to another.
Regarding tagalongs, this one is lightweight but costs a lot more.
RATING
| | |
| --- | --- |
| Ease of Use | 4/5 |
| Weight | 5/5 |
| Stability | 5/5 |
| Price | 3/5 |
OUR VERDICT
Although this tagalong is a bit on the expensive side, it's still a great option. I love that it uses a rack instead of the seat tube of your bike, giving you more stability and protecting your bike. I give it a 4.25 out of 5 – it's a great option, just a little pricy.
Best Choice for Young Riders
5. Weehoo Blast
KEY SPECS
| | |
| --- | --- |
| Age Range | 1- 6 |
| Maximum Weight | 85 pounds |
| Tagalong Weight | 22 pounds |
| Gears | N/A |
| Mount Type | Seat Tube mount |
PROS
Great for younger riders.
Includes bags to stow important items.
CONS
This tagalong is heavy.
It can't be removed mid-ride.
You might not want a traditional tagalong if your child is a little younger. The Weehoo Blast is a recumbent-style tagalong. It has a much more supportive seat for a younger child who can't sit up and pedal as an older child can.
Your child can sit back, put up their feet, and enjoy the ride!
The Weehoo Blast is intended for kids ages 1 to 6 and up to 85 pounds. Any bigger, and I think they just wouldn't fit in the seat, or their legs would dangle on the ground, which could cause them to get hurt.
It attaches to the seat post of your bike, which isn't my favorite way to attach since it can damage the paint. However, it is sturdy and quickly releases so that you can take it off quickly.
My only concern is that your child's face isn't protected from any dirt, dust, or rocks your bike might kick up. Some fenders might help, but you may want to put safety glasses on your child – especially if they are young. That's the major drawback compared to a bike trailer – although a bike trailer can usually fit two children, not just one.
Again, if you're hauling a child at the max weight, you'll pull over 100 pounds of rider and cargo weight, which is a lot. But chances are a child that weighs that much will be too big for the tagalong anyway.
RATING
| | |
| --- | --- |
| Ease of Use | 4/5 |
| Weight | 4/5 |
| Stability | 5/5 |
| Price | 4/5 |
OUR VERDICT
I really like this tagalong style because your child doesn't need as much core strength or coordination to ride it. The seat will carefully cradle them. However, they might be subject to some road debris. I give it a 4.25/5 because it's a great option, albeit a bit pricey.
Best Tag Along Bike Buying Guide
You'll want to consider a few factors when choosing a tag along bike for your child.
Age Range and Maximum Weight
First, you need a tagalong bike suitable for your child's age and weight, as well as their skills and abilities. Unfortunately, not every tagalong lists an age range, but most are between ages 4 and 9 or 10. Usually, they're used with children who are a little on the smaller side but capable of sitting on a bike seat and pedaling.
Most tagalong bikes have a max weight of around 75 to 85 pounds, which is good because if the combined weight of the bike and the rider are too heavy, you'll have trouble maneuvering the bike anyway. In some cases, you'll want the weight of the adult to be at least twice the weight of the child, which could be difficult if you tow a larger child along.
There are two exceptions, though. The first is the recumbent style tagalong, which is better for children as young as 1 year. They can't help with pedaling, though.
The other exception is the tow rope. This idea is great for older children who need extra support climbing hills but can otherwise keep up. You can use it for adults, too, since the max tow weight is 500 pounds.
Trailer Weight
The tagalong weights on these bikes are all under 30 pounds, with the towrope weighing just a few ounces. This is a consideration because the bike's weight definitely adds to the weight you need to tow.
Installation and Ease of Use
If the tagalong isn't easy to install, you probably don't use it. I like the types on this list because they use a quick-release mount style. You can easily remove the tagalong from your bike to ride without it.
If you need help with the initial installation, you can always call your local bike shop for support. They'll probably be willing to attach the mount for you if you can't do it.
But once the mount is installed, you should be able to quickly and easily attach and remove the tag without many tools. I really like the tow bar because you can do this in the middle of a ride so your child can have some freedom to ride on their own, too.
You'll also want to consider what part of the bike the tagalong mounts to. For example, many use a seatpost mount because it's easy and fits most bikes, but this can damage the paint on your seat post. And it probably isn't a good choice if you have a carbon fiber seat post.
I like the rack mount because it protects your bike and gives you a rack you can use when you aren't riding with the tag along in place. Also, rack-mounted tagalongs have more stability for both the adult and tagalong bike. However, you'll most likely need some braze-ons or eyelets to mount the rack onto. Unfortunately, not all bikes have these, so you'll need to check compatibility before you purchase a tagalong bike.
Ease of Transport and Storage
A traditional tagalong will occupy about as much room in your garage as an adult bike. If this is an issue, you might want to go for a towbar, which takes up less room and uses your child's bike.
Some tagalongs have a hinge so that the towbar folds back against the bike to take up less storage space or if you need to commute with it.
Gears
Most tagalongs don't really have gears, but some do. This helps your child pedal with you at whatever comfortable cadence. As a result, they can participate in the work of moving the bikes without getting too tired. It also helps children get comfortable with the practice of shifting.
This is a nice feature but isn't really necessary and does increase the maintenance and cost of the bike.
Price
A tow rope is the least expensive option but gives you the least cycling support. Most tagalongs will cost between $100 and $500, giving you a wide range to work with. A traditional tagalong with gears will be more expensive than a towbar.
Final Thoughts on the Best Tagalong Bike
My favorite tagalong bike is the Kazam Co-Pilot. It's easy to use, folds up for transport, and fits most budgets easily. However, I won't be hooking this tagalong up to my best road bike. Instead, I'll hitch it up to my steel gravel bike, which has an extra sturdy steel frame, seat post, and lots of easy gears to make it up the hill with my little one in tow. We may not be fast, but we will be having fun!
If you liked this article, you might also like the following:
Frequently Asked Questions
Is a tagalong better than a trailer? 
A tagalong is a good choice when your child has outgrown the trailer and wants to do some pedaling. They are great if your child is too big to sit in the trailer but not strong enough to keep up on their own. 
Can you put training wheels on a tagalong bike? 
Training wheels should not go on a tagalong bike. Tagalong bikes need to lean along with the adult bike. Putting training wheels on the tagalong will prevent it from being able to lean, which could cause damage to the bikes or even cause an accident. If your child isn't ready to ride a tagalong, you might have them practice with a scooter or training wheel bike first. 
Will a tagalong damage my bike? 
A tagalong should not cause any major damage to a bike. However, if you have a carbon seat post, it could put a strain on the seat post in a direction that it wasn't created to withstand. So you may want to consider changing your seat post for a different kind. Also, it is possible that the clamp from the tagalong will chip the pain on the adult bike. 
Can I take the tagalong off the road? 
Tagalongs are not meant to be mountain bikes. They are designed for slower, easier rides. However, if your tagalong has heavy-duty, knobby tires, you can take it on easy gravel cycling trails. 
A few models were created for off-road, called the Tout Terrain Streamliner and the Tout Terrain Trailer, both of which had a suspension system, but it has been discontinued and is difficult to find. 
Your child might be better off with a sturdy and stable scooter.
Can I replace the tires on my tagalong? 
Yes, most tagalongs have standard 20-inch children's tires. You can typically find replacements for them online or in big box stores.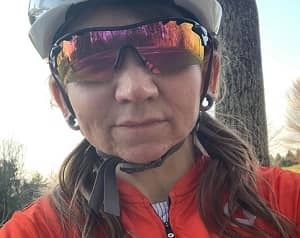 Amanda Whittington is an expert writer, impassioned cyclist, and musician. Coming from a diverse educational background, Amanda discovered a deep-rooted passion for encouraging others through her love of all things cycling, writing, and inspiring hope. 
You'll likely find Amanda pouring over bike specs, comparing the hottest cycling tech, and sporting the latest jerseys while juggling the demands of her editorial calendar, training schedule, tiny homestead, and 6 busy kids. 
She spends her free time absorbed in her own gardening and fitness, cycling, and reading, all while encouraging adoption and foster care, championing the underdog, and of course, working with her chickens and goats.