(Last updated on February 13th, 2023)
Bike racks can get you out of a pickle when you don't have enough space inside your vehicle or simply don't want muddy tires and greasy chainrings to make a mess. Trunk racks are a universal design that outshines their more expensive roof and hitch rack counterparts with unparalleled compatibility with almost every car out there. Check out this complete guide to several of the best trunk racks available today to take your bike (or two or three) along on your next adventure.
What Are the Benefits of Trunk Bike Racks?
Trunk-mounted bike racks are well-loved by the cycling community for two main reasons: vehicle compatibility and affordability. If you're like me and don't have a car outfitted with a hitch or roof rails, trunk racks are here to bail you out— no special equipment needed. This category is also the most affordable rack type, making it a worthy investment even if you don't use the rack all the time.
Another benefit of trunk racks is that they are super easy to store when you don't want to leave a rack on your vehicle. Many riders just want to go for a day trip or quick weekend adventure, and when Monday rolls around, they don't want to fuss around with a big hitch rack on their daily commute. Trunk racks fold up and can be stowed away in the garage in a flash when you're done riding.
How Do Trunk Racks Work?
Most trunk racks share a similar design in which a double-arc frame is secured to the vehicle's trunk with a series of straps. The straps (typically, there are six) have hooks that slide into the grooves of the car's bodywork around where the trunk opens and hold the main frame in place. There is normally room for two or three (sometimes four) bikes on the support arms that jut out and attach to bikes' top tubes.
Bikes are easy to load on the rack that hangs over the road at a comfortable height. When you don't need the rack, it easily folds down into a compact unit that can be stowed inside the vehicle or in a corner of your garage. There is a variety of designs, but most are compatible with almost any car on the road, from sedans to SUVs.
What I'm Looking For in a Trunk Rack
I've searched high and low for the best quality bike racks on the market today and scoured manufacturer specs, user reviews, and expert opinions. The big brands like Yakima and Thule make an appearance on this list and are widely available at many outdoor retailers, but there are a few lesser-known racks that surprised me with their merit. Here are the criteria I used to decide on which models would make the cut as well as assign a rating to each rack on the list so you can get a better idea of its overall value:
Durability/Stability
Trunk racks are naturally not as heavy-duty as hitch or roof racks, but that shouldn't mean they feel flimsy or cheap. The models on this list boast a stable connection to your car and keep the rack and bikes stable with high-quality straps and buckles that'll stand up to bumps and lumps in the road.
Ease-of-use
Start your ride on the right foot with a bike rack that's easy to load and unload. The last thing you want at the end of your outing is a bike rack that's overly complicated with complex straps and unintuitive features. I pay special attention to how the top tube straps work and keep individual bikes separate and scratch-free.
Price
Trunk racks are some of the most affordable rack options on the market and that's how it should be. They are designed for people who just need a simple way to transport their bike and don't require an over-engineered system that'll cost more than their bike. The racks on this list range from $69 to $499.
Compare the Best Trunk Racks at a Glance
| | | | | |
| --- | --- | --- | --- | --- |
| Model | Takeaway | Number of bikes | Rating | Price |
| Saris Bones 2-Bike | Best Overall Trunk Bike Rack | 2 | 9.5/10 | $199 |
| Yakima Fullback | Best Designed Trunk Bike Rack | 3 | 9/10 | $299 |
| Thule Outway Platform | Most Heavy-Duty Trunk Bike Rack | 2 | 9/10 | $499 |
| Thule Passage | Best 3-Bike Trunk Rack | 3 | 8/10 | $249 |
| Allen Sports Ultra Compact | Best Budget Trunk Rack | 2 | 8/10 | $89 |
Best Overall Trunk Bike Rack
1. Saris Bones 2-Bike trunk bike rack
KEY SPECS
| | |
| --- | --- |
| Weight | 9 lbs |
| Maximum load | 35 lbs |
| Number of bikes | 2 |
PROS
Additional seat tube strap
Curved arm to keep bikes at slightly different heights
Fits a wide variety of vehicles
CONS
Front wheel isn't secured
Nothing to lock the rack to vehicle
The Saris Bones 2-bike is one of the most popular trunk racks out there. The classic curved-arm design dates back decades but has been refined over the years— but hey, if it ain't broke, don't fix it right? The durable construction will last forever and the rack includes extra straps that clamp around the bike's seat tube to prevent them from swaying. Since the bikes are secured to a curved arm, they are at slightly different heights to keep them separate and less prone to scratching each other. Saris also sells the EX Bones ($250) if you need to carry three bikes.
Best Designed Trunk Bike Rack
2. Yakima Fullback
KEY SPECS
| | |
| --- | --- |
| Weight | 23 lbs |
| Maximum load | 30 lbs |
| Number of bikes | 3 |
PROS
Anti-sway straps
Sleek look
Lockable and foldable
I love the sleek look of this innovative trunk rack. The Yakima Fullback is a modern redesign of the classic double-arc construction (think: Saris Bones) that utilizes a premium high gloss metal material instead of plastic. Trunk racks are notorious for being a bit of an eyesore with all their extra straps, but this model preserves a cool aesthetic.
There's enough room for three bikes, anti-sway straps, and a cheeky bottle opener built into the rack for cracking open a cold one after the ride. Yakima's exclusive ZipStrip system holds onto the bike frame. The only downside is the relatively steep price tag, so I have to lower my rating by a point— overall, though, this piece of gear is my personal favorite.
Most Heavy-Duty Trunk Bike Rack
3. Thule Outway Platform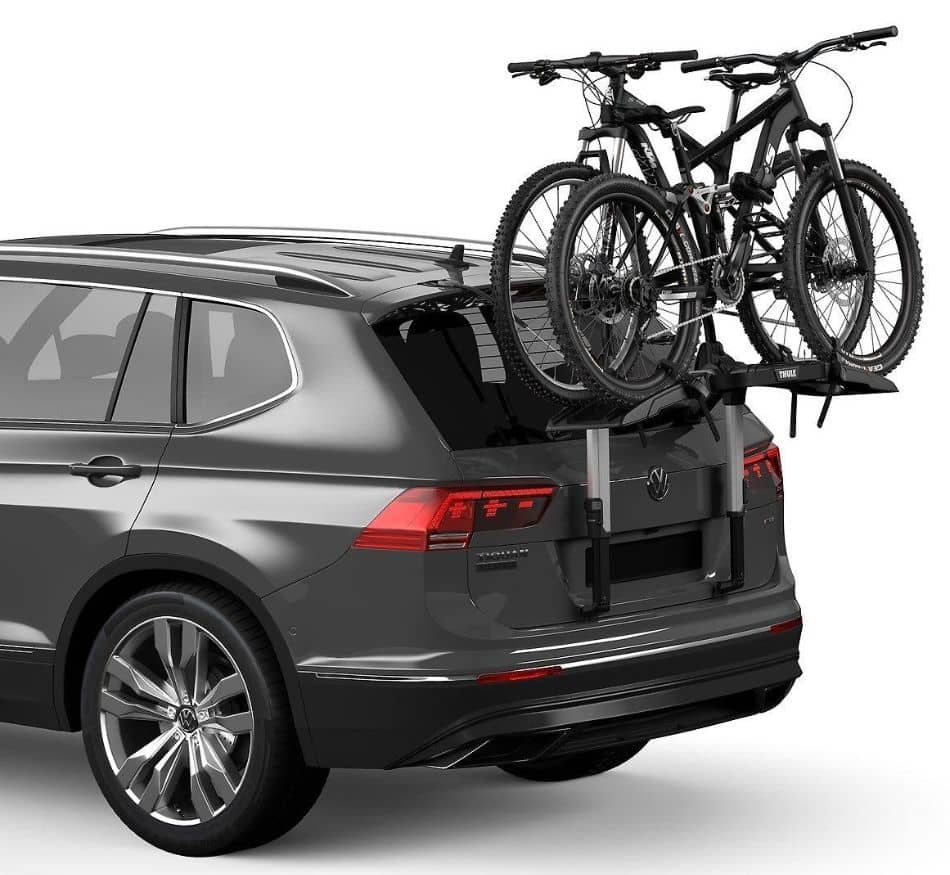 KEY SPECS
| | |
| --- | --- |
| Weight | 27.6 lbs |
| Maximum load | 35 lbs |
| Number of bikes | 2 |
PROS
Platform design
High position doesn't block rear camera or trunk access
Can be locked to vehicle
For riders who want the stability of a hitch rack and the out-of-the-way benefits of a roof rack, the Thule OutWay Platform trunk rack is like no other. This rack hangs onto the rear of your vehicle and features a high platform that bikes are loaded into so their wheels and frame are secured. Unfortunately, this rack is heavy and is the most expensive model on this list, so can score a perfect rating, but it's a great investment for cyclists willing to drop the cash.
While it blocks the rear window more than traditional racks, the high placement keeps your license place and rear brake lights well within view. My favorite feature is that you can open your trunk with the rack attached, making it easy to access gear inside your vehicle.
Best 3-Bike Trunk Rack
4. Thule Passage
KEY SPECS
| | |
| --- | --- |
| Weight | 10.8 lbs |
| Maximum load | 105 lbs |
| Number of bikes | 2-3 |
PROS
Great build quality
3-bike capacity
Bike arms fold down
Another quality offering from Thule is their Passage 3-bike trunk rack that rocks a classic design with a few premium touches. The main frame is super stable and connects to the car with durable straps and soft cushioned pads that press against the vehicle. The no-sway cradles keep the bikes stable and prevent them from touching each other while out on the road. Honestly, though, I don't love the look of this rack— it appears cheaper than it really is— which drops my rating slightly.
Like the Saris Bones, the support arms can fold down when they aren't carrying bikes to streamline the rack's look and prevent drivers from accidentally backing into things! The build quality on this rack is spectacular— I'd expect nothing less from Thule. I've chosen the 3-bike model here over the 2-bike version because it only costs $30 more, well worth it in case a buddy chooses to tag along on the next adventure.
Best Budget Trunk Rack
5. Allen Sports Ultra Compact
KEY SPECS
| | |
| --- | --- |
| Weight | 10 lbs |
| Maximum load | 70 lbs |
| Number of bikes | 2 |
PROS
Folds down super small
Easy to install
Affordable
The unique Y-shaped design of the Allen Sports Ultra Compact bike rack makes it easy to fold it up and store it in your vehicle for when you need it. The central red Y-frame connects to two upper support arms and the whole system is secured to the vehicle via five straps instead of the traditional six.
A maximum of two bikes hang off the support arms, but there aren't any anti-sway cradles to prevent bikes from bumping into each other on the highway. This knocks down my rating slightly, but for the price, this model is a great choice. There is an even more affordable 1-bike option for solo riders who want to store a rack in tight spaces.
Buyers' Guide: How to Pick the Best Trunk Rack for You
With so many different brands and models to choose from, finding a trunk rack that will work for you can seem overwhelming. However, you can quickly narrow down your choices and pick between just a few models depending on the smaller features that pique your fancy.
How Many Bikes Are You Transporting?
When on the hunt for a trunk rack, the first step is deciding on how many bikes you want the rack to carry. Excellent racks like the Saris Bones and Thule Outway Platform have room to hold two bikes and larger options like the Yakima Fullback and Thule Passage can transport up to 3 bikes. Many brands offer both 2-bike and 3-bike versions of the same rack and there are some 1-bike racks out there if that's your thing.
Keep in mind that if you are planning on carrying four bikes, a trunk rack may not be the right setup. Four bikes are a heavy load and are best suited to racks that are more firmly secure to the vehicle's hardware such as a hitch rack or roof rack.
To Sway or Not to Sway
One of the main design differences between trunk racks is whether or not they include an extra cradle that straps to the seat tube and prevents the bike from swaying while on the highway. This additional layer of security complements the two top tube straps and can offer peace of mind when you have a few bikes piled on there that you don't want to scratch or damage. Every rack on this list besides the budget-model Allen Sports Ultra Compact comes with anti-sway straps.
Confirm Compatibility
The last— and potentially most important— step in choosing the right rack for you is checking that it will work with your specific vehicle. Maybe brands include a tool on their website where you can enter the make and model of your car to see if it's compatible with the rack you have your eye on. If you're not sure, it's best to go into a local outdoor retailer or bike shop where you can test out the rack or at least ask for a professional opinion.
Frequently Asked Questions
Are trunk-mounted bike racks safe?
Yes, trunk bike racks are safe to use as long as they are properly secured to your vehicle. Trunk racks that aren't installed correctly can fall off or rub against the bodywork or glass of the car, but modern models are easier to set up than ever. Make sure all the straps are tight and secure, and you're ready to embark on your adventure.
Are trunk bike racks any good?
Yes, trunk bike racks are an easy and affordable way to transport two to three bikes and they can fold up small when not in use. They are compatible with almost any vehicle from sedans and minivans to SUVs. When installed properly, they are just as secure as more expensive hitch and roof racks.
Are trunk bike racks safe for long distances?
Yes, trunk racks are appropriate for long-distance drives, no problem. It's recommended to drive at a slower speed than you would with a hitch or roof rack. Correctly installing the rack and securing the bikes will keep those two-wheelers safe and sound.
How do I transport my bike long distance?
If you can't fit your bike inside your vehicle or simply don't want to welcome dirt and grime into your car, a bike rack is a perfect solution. There are different racks that install onto a vehicle's trunk, roof, or into the hitch, each with its own advantages.
Can I open a hatchback with a bike rack?
No, it's not recommended to open the trunk while the rack is installed. The door hinges on the trunk are not rated to support the extra weight of the rack and bikes and could close unexpectedly. If you want access to your car, check out hitch racks that position the bikes far enough away to allow you to open the trunk.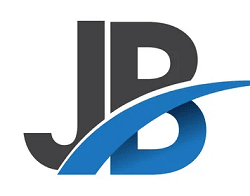 Jeffrey Brown is a writer, editor, and professional bike mechanic with over 7 years of experience working in full-service and community-based bike shops. As a bicycle educator, he has supported youth programs across the US that teach bike mechanics and life skills to prepare the next generation of cyclists.
Jeffrey began his professional mechanic career at his university bike co-op, so he recognizes the grassroots power of the cycling community. Initially self-trained as a mechanic, his subsequent positions as manager and lead educator gave him official training. He has won various awards and grants for his role as a bicycle and environmental advocate.