(Last updated on January 25th, 2023)
Wearing the right pair of mountain bike shoes can be a cost-effective way to upgrade your ride and enhance your trail experience. Whether you shred the hills on flat or clipless pedals, MTB shoes guarantee efficient power transfer and good walkability off the bike, too.
Women's mountain bike shoes are designed with specific measurements and sizes in mind. Below, I've put together a comprehensive list of the 7 best women's MTB shoes to use with flat and clipless pedals, as well as a handy comparison chart and buyer's guide to ensure you make the most informed purchase.
How I Decided
I conducted thorough research across manufacturer specs, user reviews, and expert opinions to find the best women's mountain bike shoes for sale. With so many models available, I prioritized popular brands that are easily found online or in-store in case you want to try them on. To match the type of pedal you use, I've included both flat shoes and clipless shoes on this list.
Ratings out of 10 points are attached to each pair of MTB shoes according to the following criteria:
Durability: MTB shoes are subject to trail debris, scrapes, and inclement weather. The upper material would be water-resistant, breathable, and lightweight.
Pedal Connection: Flat shoes should have a grippy outsole that reduces the chance of slipping on the pedals. Each of the clipless shoes on this list has a 2-bolt cleat system. Extra points for outsole stiffness to improve power transfer.
Closure System: The highest-end shoes feature the Boa Dial closure system while other models have laces or Velcro straps. Laces offer a traditional look and can be easily changed for a new pair if they break or get too dirty.
Appearance: Depending on the model, MTB-specific footwear can look like standard shoes but they always come with trail-tough features to ensure comfortable and efficient pedaling.
Walkability: Both flat and clipless shoes are designed to walk short distances. Some flat models have special outsoles that are great for longer off-bike hiking or trail building.
Best Mountain Bike Shoes for Women
A Head-to-Head Comparison (2023)
| | | | | | |
| --- | --- | --- | --- | --- | --- |
| Model | Takeaway | Pedal type | Closure system | Rating | Price |
| Bontrager Foray | Best All-Rounder Clipless Shoe | Clipless | Boa dial and Velcro strap | 9.5/10 | $75-125 |
| Ride Concepts Hellion | Best Downhill Mountain Bike Shoe | Flat or clipless | Laces and Velcro strap | 9/10 | $150 |
| Bontrager Flatlines | Best Flat Pedal Mountain Bike Shoe | Flat | Laces | 9/10 | $129 |
| Five Ten Freerider | Best Value Flat Pedal Bike Shoe | Flat | Laces | 8/10 | $100 |
| Giro Sector | Best XC Racing Mountain Bike Shoe | Clipless | Boa dials | 8/10 | $240 |
| Fizik X5 Terra | Best Value XC and Gravel Women's Shoe | Clipless | Boa and Velcro strap | 9/10 | $150 |
| Ride Concepts Flume | Best MTB Shoe for Pedal and Trail Traction | Flat | Laces | 8.5/10 | $160 |
Women's Mountain Bike Shoes (Reviews)
Best All-Rounder Clipless Shoe
1. Bontrager Foray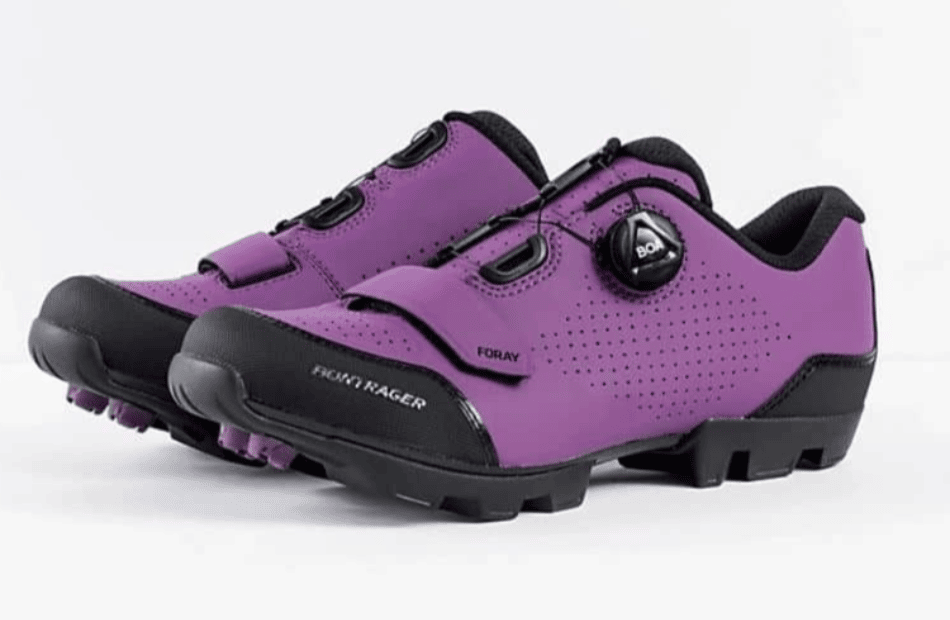 PROS
BOA and Velcro closures
Attractive colors
Stiff yet walkable
Three-piece foam system
KEY INFO
| | |
| --- | --- |
| Pedal type | Clipless |
| Perfect for | Trail riding with clipless pedals and walking short distances |
The Bontrager Foray is an all-rounder mountain bike shoe for clipless pedals that combines several great features into one pair of attractive shoes. There are eye-catching colorways—my favorite is the purple— and the Foray boasts both a BOA closure system and a Velcro strap to keep your foot locked in and secure. The popular shoe has a relatively high MSRP of around $150 but it's frequently on sale or offered at lower prices by various retailers.
The Foray looks great so you won't have to sacrifice any style points on the trail and has a durable outsole that lets you walk around off the bike. It's still a clipless pedal shoe so it'll never be quite as comfortable as a flat shoe, but it strikes a good balance. The outer material has holes to boost breathability while being fairly resistant to water and mud.
Trek gives the sole a 6 out of 14 on their stiffness index so it sits squarely in the middle— not quite a racing shoe, but still a comfy fit that lets you put the power down. The Foray loses out on a perfect rating because of its slightly high price tag, but it confidently claims the title of my favorite shoe on this roundup.
Best Downhill Mountain Bike Shoe
2. Ride Concepts Hellion
PROS
Flat, walkable outsole
Flat or clipless version
Lightweight
KEY INFO
| | |
| --- | --- |
| Pedal type | Flat or clipless |
| Perfect for | Hot laps in the bike park or downhill trail sessions |
Ride Concepts is a big name in the world of mountain bike footwear and the Hellion is one of the most popular models, available in both flat and clipless versions. I'll focus on the clipless model in this roundup though as I think it's an especially good option for trail riders. The shoe features a lace-up system and a strap over the tongue to ensure a snug fit while you're bombing descents.
Unlike the Bontrager Foray, this clipless shoe has a flat outsole that feels natural to walk on and offers decent traction off of the bike. For MTBers that use clipless pedals but who frequently find themselves on foot, the Hellion can be a handy all-in-one solution. The soles aren't very stiff, lowering my rating, but that's not crucial for all riders.
Best Flat Pedal Mountain Bike Shoe
3. Bontrager Flatlines
PROS
Vibram outsole
Casual look
Quality upper material
Add text here.
CONS
Limited color and size options
KEY INFO
| | |
| --- | --- |
| Pedal type | Flat |
| Perfect for | Riding on platform pedals and off-bike strolls |
With some of the best mountain bike shoes on the market, it's no surprise that Bontrager— Trek's in-house brand— makes its way onto this list more than once. The second pair of women's MTB shoes that's worth its salt is the Bontrager Flatline. The Flatlines are compatible with flat or platform pedals and boast a high-quality Vibram outsole for superior durability.
The Flatline has a traditional silhouette with only laces to tighten up the shoe and that does the job perfectly well. The lace-only profile and robust outsole remind me of skate shoes so this pair can easily fly under the radar as a conventional pair of shoes if that's something you care about. The synthetic leather upper holds up against the elements and will last a long time out on the trails. I can't fault the Flatlines on much but I do wish they were available in more colors.
Best Value Flat Pedal Bike Shoe
4. Five Ten Freerider
PROS
Affordable price
Rubber outsole
Leather upper
KEY INFO
| | |
| --- | --- |
| Pedal type | Flat |
| Perfect for | Platform-pedal riding and looking cool off the bike |
From sporting goods brand Adidas comes the Five Ten Freerider women's mountain bike shoe. Five Ten is a subsidiary brand of the apparel and footwear giant and manufactures shoes for climbing and mountain biking. The Freerider model is designed for flat pedals and features a stylish silhouette that looks just as good off the bike as it does while riding.
You'd be forgiven if you though this was a skate shoe, but that's a good thing in my opinion. The Stealth S1 Dotty rubber outsole offers plenty of traction and the leather upper has a high-quality feel to it. For riders looking for an even more durable pair of shoes, though, check out the Five Ten Kestrel with a grippier outsole and an additional strap over the tongue.
The Freerider's closure system includes conventional laces, but I'm unsure how well they will hold up to the abuse of hard trail riding. The potential for switching out the laces in the future drops my rating slightly, but I'm a fan of these flat MTB shoes offered at a competitive price.
Best XC Racing Mountain Bike Shoe
5. Giro Sector
PROS
Stiffness
Dual BOA dials
Innovative upper material
KEY INFO
| | |
| --- | --- |
| Pedal type | Clipless |
| Perfect for | XC racing, gravel riding, and high-speed mountain bike courses |
For the cross-country racers out there, the women's Giro Sector shoe strikes the perfect balance between performance and all-mountain durability. At a glance, the silhouette looks similar to a modern road cycling shoe because of the dual BOA dial closures, but a beefier outsole and weather-resistant upper confirm its MTB status.
This clipless MTB shoe straddles both road and mountain bike categories, making it a great option for diverse riders who want an all-in-one pair of boots. The Sector is a fan-favorite among gravel riders, too. There's some serious tech here, including a one-piece synch wire upper, 3D molded footbed, and carbon-composite outsole plate for added stiffness.
The only downside of this shoe is its steep price tag. Compared to many road cycling shoes, though, it's price is competitive, it's just that MTB shoes are typically a bit more affordable. That knocks my rating down slightly, but riders looking to put the power down and opt for a race-inspired setup will love the women's Giro Sector.
Best Value XC and Gravel Women's Shoe
6. Fizik X5 Terra
PROS
Excellent value
Quality closure systems
Stiff outsole
Lightweight
CONS
Low water and mud resistance
KEY INFO
| | |
| --- | --- |
| Pedal type | Clipless |
| Perfect for | MTB and gravel riding in warm weather or races |
Ideal for mountain biking and gravel riding, the women's Fizik Terra X5 is similar to the Giro Sector but offered at a much more affordable price. The clipless-compatible shoe has a streamlined profile with a BOA L6 Dial B closure and a single Velcro strap to achieve a snug, comfortable fit.
Fizik (technically written as fi'z:k) is one of the most innovative and forward-thinking brands when it comes to cycling footwear, saddles, and bar tape. The brand is well-loved among the pros and commonly outfits professional teams, so you can be confident in the product quality. The Microtex upper is lightweight and breathable but isn't the most resistant to inclement weather or mud, knocking a bit off my rating.
I love the rugged yet speedy appearance of these shoes and the carbon-composite vented outsole increases the stiffness and helps with power transfer. This lightweight shoe is surprisingly tough out on the trails and is the perfect piece of kit for dedicated MTB and gravel riders.
Best MTB Shoe for Pedal and Trail Traction
7. Ride Concepts Flume
PROS
Cordura® upper
Grippy outsole
Walkability
KEY INFO
| | |
| --- | --- |
| Pedal type | Flat |
| Perfect for | Downhill riding and off-bike hiking or trail-building |
Potentially the grippiest option on this list, the Ride Concepts Flume is a women's trail flat shoe built for epic downhill riding and off-bike hiking. This shoe's superpowers lie in the high-quality materials featured throughout the upper and outsole. There's a Cordura® (the same material used on tough bags and jackets) upper that is breathable and lightweight that stands up to even the nastiest trail conditions.
The outsole is noticeably 'knobbier' than other shoes and uses Ride Concepts' MAX GRIP rubber compound for better traction with the pedal platform and the trail itself while on traveling foot. That grippy outsole extends to the heel and toe areas like a traditional hiking shoe to ensure confident footing when walking.
I appreciate the attractive black/blue and red/gray colorways and the speckled midsole design. Off of the bike, this quality pair holds its own as low-cut hiking boots and the bike-specific features are an added bonus! The lacing system is constructed well, but the shoe might feel a bit bulky to some riders.
Buyer's Guide
If you want more options, take a look at Chain Reaction Cycles' top picks for the best women's mountain bike shoes!
Flat or Clipless?
Riders need a pair of shoes that's compatible with the type of pedal they use on their bike: flat or clipless. Flat or platform pedals over a large surface area for great support and riders can adjust their foot placement on the fly as well as bail without worry about clipping out. Clipless pedals provide a more secure and efficient connection but require a bit more attention while stopping and starting.
To learn how to install cleats on clipless shoes, check out this helpful video from Trek:
Do Women's-Specific MTB Shoes Make a Difference?
Just like standard footwear, women's mountain bike shoes are designed especially for the measurements and sizing of female cyclists. That said, riders can wear whatever footwear they like the best. The biggest difference is the availability of the most common women's sizes so you can find the right fit.
Types of Closure Systems
The three most popular closure systems of MTB shoes are traditional laces, Velcro straps, and Boa dials. Laces are commonly found on flat-pedal shoes and offer a classic look. If laces snag, break or get too dirty, they are easy to replace. Velcro straps are adjustable and super easy to use but can be difficult to pull tight if that's your preference.
Boa dial closure systems— originally featured on road cycling shoes— adjust the tightness of a series of thin wires around the foot. This innovative and aesthetic piece of tech allows for a snug fit that wraps around the entire shoe— the simple turn of a dial is very quick to adjust, too. Shoes with Boa dials are typically a bit higher-end and more expensive.
Weather-Resistance
One of the most important features of MTB shoes is the resistance to the elements, trail debris, and inclement weather. Models vary in the toughness of the upper material used, ranging from heavy-duty Cordura® to lighter, breathable fabrics. Mountain biking is no stranger to messy conditions with water, mud, and jagged rocks or branches, so it's important to have a pair of shoes that will stand up to the abuse out on the trail.
Cross-country riders or racers might be drawn towards lightweight uppers with a streamlined silhouette with improved ventilation. This is a less durable construction but is plenty adequate for their needs and has the added benefit of breathability and weight-savings.
Sole Stiffness
A big talking point when it comes to mountain bike shoes— especially clipless— is sole stiffness. This feature is even more important in road cycling where power transfer is everything and MTB riders are chasing the same performance gains. Stiff outsoles facilitate a more efficient power transfer to the pedals, even when the only contact point between the shoe and pedal is the small clip mechanism (rather than a large platform pedal).
Flat shoes are generally less stiff but are still effective because of the bigger surface area of the platform pedal. The stiffest clipless shoes feature carbon fiber soles that ensure that there's no flex or loss of energy between your feet and the pedals— additional liners or cushion ensure that the shoes are still comfortable.
Can I Walk in My MTB Shoes?
Most mountain bike shoes are designed to support walking, at least for short distances. Riders may need to hop off the bike to clear the trail, build a jump, or make repairs, so wearing shoes that have enough traction to navigate tricky terrain is a must. Clipless shoes are more difficult to walk in whereas flat-pedal shoes come with grippy outsoles and comfortable uppers so you'll only need one pair for your outing, whether you're biking, walking, or hiking.
Frequently Asked Questions
Should I size up in mountain bike shoes?
Only if you're between sizes. Mountain bike shoes are meant to fit snugly around the foot and avoid tight or loose spots that could lead to lower performance or injury. Shoes that are too tight will be uncomfortable whereas a little bit of extra room isn't a huge issue because of the low-impact nature of the pedaling motion.
Can I use hiking shoes for mountain biking?
While it's possible for recreational riding or short distances, hiking boots are noticeably heavier than cycling shoes and have a limited range of mobility. Low-cut hiking shoes are a better alternative if you don't want a dedicated pair of mountain bike shoes.
Can you wear sneakers mountain biking?
Riders can get by with wearing sneakers while mountain biking, but dedicated MTB shoes offer much more grip and better power transfer to the pedals. Mountain bike shoes are also typically weather-resistant and come with secure closure systems to achieve a snug fit.
Should mountain bike shoes be tight or loose?
Mountain bike shoes should wrap snugly around the foot. Shoes that are too tight will be uncomfortable and can lead to blisters or numbness. It's best to err on the side of sizing up since pedaling is a calmer motion than other exercises such as running.
What are clipless pedals?
Back in the day, pedals had external toe clips and straps to keep the foot secure, but now there are specific cycling shoes that clip directly into the pedal. These "clipless" pedals have a small mechanism that connects the shoe cleat to the pedal.
How much do mountain bike shoes cost?
Quality mountain bike shoes run between $70 to $160. There are more expensive lightweight shoes built for racing as well as affordable options available to fit your preferences and budget.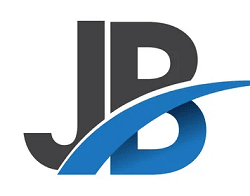 Jeffrey Brown is a writer, editor, and professional bike mechanic with over 7 years of experience working in full-service and community-based bike shops. As a bicycle educator, he has supported youth programs across the US that teach bike mechanics and life skills to prepare the next generation of cyclists.
Jeffrey began his professional mechanic career at his university bike co-op, so he recognizes the grassroots power of the cycling community. Initially self-trained as a mechanic, his subsequent positions as manager and lead educator gave him official training. He has won various awards and grants for his role as a bicycle and environmental advocate.