(Last updated on March 29th, 2023)
Cycling is a great hobby, and there's nothing like it. Getting out into nature with friends and family, challenging yourself on climbs or technical trails, and fast road descents where you're holding on with the wind flying by.
It has so many benefits and is one of the best exercise methods. We highly recommend it to anyone to improve their health and fitness. We often get asked at 333Fab about the best bikes for heavy people.
In this article, were going to be speaking about:
Why Cycling Is An Excellent Exercise For Heavy People?
What Do We Look For In Bikes For Heavy People?
Our Top Recommend On Bikes For Heavy People
Bikes For Heavy People Buyers Guide
Why is Cycling an Excellent Exercise for Heavy People?
As a qualified personal trainer and bike expert, I recommend cycling to anyone who wants to improve their fitness. Here are a few reasons: Weight Management Cycling is an excellent way to burn calories, and if you want to lose weight, that's what you need to be doing. You can also easily adapt the number of calories you burn each hour, and it's much easier to control your work rate than running or rowing.
Joint Health
Not only is cycling a great way to stay fit, but it's easy on the joints and a very low-impact exercise. This means you have much less risk of injury and can recover quicker than with other forms of exercise.
Improved Cardiovascular System
Cycling is an excellent way to improve your cardiovascular system and your body's processes. By building up your heart rate, you pump more blood around the body, making your body much more efficient.
If you need more reasons, check out this article from Healthline
What Do We Look for?
As cycling experts, we get to look at and ride all different kinds of bikes. When picking the best bikes for heavy people, here's what we look for:
Design
We want the bikes to look excellent but also be incredibly functional. The design is a big part of that, and we look for bikes that will look great and work perfectly for the riding you want.
Style of Bike
When looking for bikes for heavy people, we don't just look at your standard hybrid bikes. We will tell you about some road, mountain, and fat bikes to suit whatever riding you want.
High-Quality Components
The components are all the parts on a bike that make it work. The better the components, the better the bike is going to work. We look for high-quality components from brands that have invested much time into research and development.
Weight Limits
Regarding bikes for heavy people, the weight limit is important. We look for bikes with a good weight limit so they can work with a wide range of users and not pass their tolerances. We look for a minimum weight limit of 300 lbs, but 350 lbs is better.
Special Features
Modern bikes can come packed with special features. These features can really enhance the riding experience. We closely monitor parts such as suspension seat posts and adjustable stems, which can make a big difference.
The Bikes
| | | | | | | | |
| --- | --- | --- | --- | --- | --- | --- | --- |
| Bike | Frame | Weight Limit | Gearing | Brakes | Wheels | Price | Rating |
| Hiland Commuter | Steel | 300lbs | 2×7 | Rim Brakes | 700c | $220 | 7/10 |
| Zize Bikes Yonder | Chromoly Steel | 550lbs | 1×10 Shimano | Hydraulic Disc | 26" | $2800 | 7/10 |
| Diamondback Haanjo 2 | Aluminum | 300lbs | 2×8 Shimano | Mechanical Disc | 700c | $900 | 8/10 |
| Mongoose Malus | Steel | 350lbs | 1×7 Shimano | Mechanical Disc | 26" Fat | $495 | 8/10 |
| PanAme Outroad | Aluminum | 330lbs | 2×7 Shimano | Mechanical Disc | 26" | $280 | 9/10 |
| Cannondale Trail 6 | Aluminum | 330lbs | 2×8 Shimano | Hydraulic Disc | 27.5" / 29" | $680 | 9/10 |
Best Budget
1. Hiland Commuter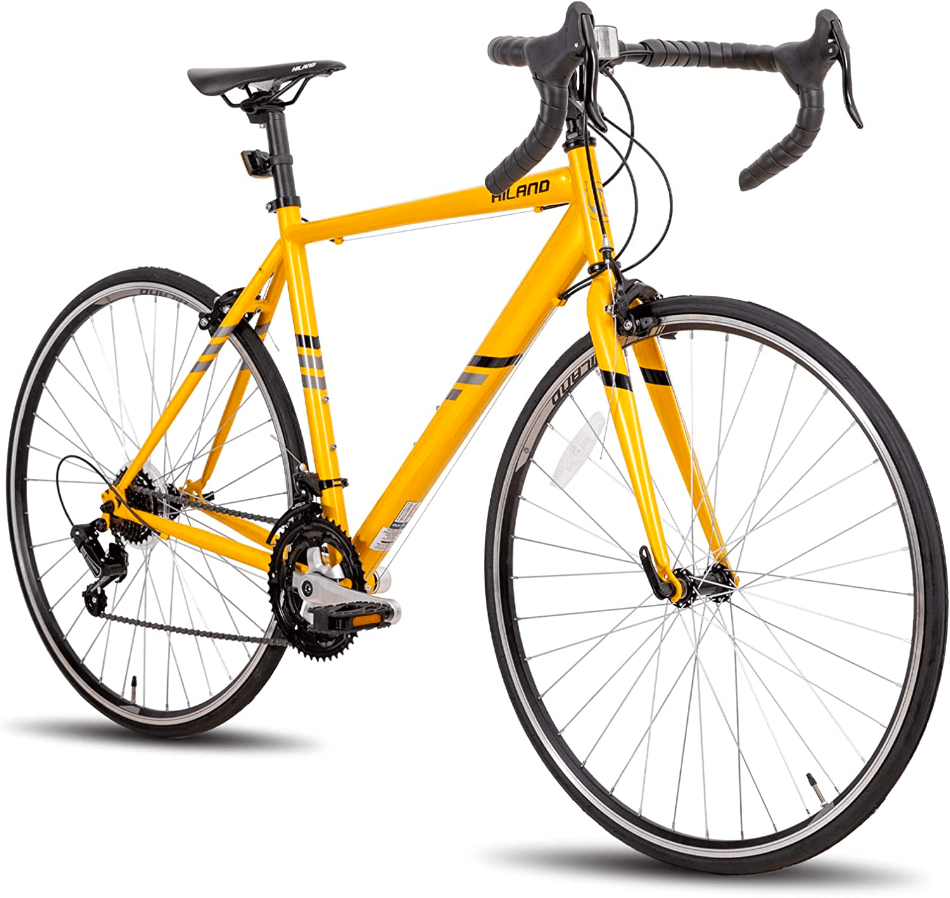 KEY SPECS
| | |
| --- | --- |
| Frame | Steel |
| Fork | Rigid Road |
| Groupset | Shimano Tourney 2×7 |
| Brakes | Rim Brakes |
| Wheels | 700c |
| Weight Limit | 300lbs |
| Bike Type | Road Bike |
PROS
The price is incredible at $220
Excellent weight limit for a road bike at 300lbs
Looks great in bright yellow
It comes in multiple sizes
CONS
Very basic components
Not the most comfortable ride on this list, with small tires
When it comes to budget road bikes, you really can't beat Hiland. They make an incredible road bike that not only looks great but it works well too. We wanted to start this list with the Hiland commuter because it's a great road bike for heavier riders.
The first thing to mention is the frame. Being made of steel makes it incredibly strong, bringing that weight limit up to 300 lbs, which for a road bike is compared to its competition which is generally 250 lbs. It has a relaxed geometry and comes in four different sizes.
The gearing is basic, but it comes from Shimano and gives a decent range for easily getting up and down hills. Paired with this gearing, you get rim brakes, the most basic form of brakes that work ok.
The wheels are 700c, the standard road bike size, and they are equipped with puncture-resistant tires. We recommend as soon as you start getting punctures, swap these tires out, as they are fairly basic.
OUR VERDICT
The Hiland Commuter is an excellent bike. It is very basic, but coming in at $220, you are not going to anything close to this regarding value for money. For a road bike, it has an excellent weight limit, and it offers a fun ride. We highly recommend it.
Best Load Carrier
2. Zize Bikes Yonder
KEY SPECS
| | |
| --- | --- |
| Frame | Chromoly Steel |
| Fork | Rigid Road |
| Groupset | Shimano Deore 1×10 |
| Brakes | Hydraulic Disc Brakes |
| Wheels | 26" |
| Weight Limit | 550lbs |
| Bike Type | Hybrid |
PROS
Very high weight limit of 550lbs
Looks great in a bright white
Hydraulic disc brakes for excellent stopping power
Strengthened wheels with oversized tires
Shimano Deore groupset is excellent
CONS
The price is very high at $2800
Not the lightest of bikes at 50lbs
The Zize Bikes Yonder is an incredible bike with one of the highest weight limits we have ever seen when it comes to cycling. It is not only incredibly functional, but it also looks great. It's a bike that suits heavier users and has undergone rigorous testing.
It's made of strengthened chromoly steel and is a hybrid-style bike giving a relaxed geometry. With a weight limit of 550 lbs, it can carry an incredible load, and it has been designed with heavier users in mind. The bike is bright white, which is a pain to keep clean but looks fantastic.
They have given the Yonder a 1×10 Shimano Deore rapid-fire groupset regarding gearing. This is an incredible groupset you would expect to see on a mountain bike, not a hybrid-style bike. It gives incredible ratios and makes getting up hills easy with its large rear cassette.
It also has powerful hydraulic disc brakes, which can stop you fast when going down the hills. Paired with these brakes is a large set of 26" oversized multi-terrain tires for all kinds of riding. The wheels are also strengthened to cope with the extra load.
OUR VERDICT
The Zize Bikes Yonder is excellent regarding weight limits and will cater to anyone riding a bike. It comes with quality components, and it will be an excellent ride. There's just one drawback and that is the fact it is $2800. Apart from that, it's hard to fault.
Best For Multiple Terrains
3. Diamondback Haanjo 2
KEY SPECS
| | |
| --- | --- |
| Frame | Aluminum |
| Fork | Rigid |
| Groupset | Shimano Claris 2×8 |
| Brakes | Mechanical Disc Brakes |
| Wheels | 700c |
| Weight Limit | 300lbs |
| Bike Type | Gravel |
PROS
Looks great in a bright green
The price is very fair at $900
Disc brakes help you stop fast
Shimano Claris gearing is solid
Great for multi-terrain riding
Quite a lightweight bike
CONS
Not the most forgiving ride
The components are fairly basic
Diamondback is a big brand for cycling and has been making quality bikes for many years. The Haanjo is one of their most recent editions, and it is a range of gravel bikes for multi-terrain riding. What a lot of people don't know is that they have a decent weight-bearing ability.
The Haanjo 2 is a lightweight aluminum frame for riding on light trails, gravel roads, and tarmac. It's got rigid forks that make a less forgiving ride but ensure the bike's weight stays low. It comes in a lovely green which might not be to everyone's taste, but we like it.
With a Shimano Claris groupset, you get 16 different gears on a 2×8 system. It uses drop bar shifters, giving the bike a sporty, fast feel. This is paired with mechanical disc brakes that give you good stopping power in all weather conditions.
The wheels are 700c, so the same size as you get on a road bike, but instead of having small road bike tires, you get larger gravel tires. Not only do these make off-road riding easier they also give much more cushioning adding to comfort.
OUR VERDICT
The Haanjo is a very fun gravel bike. A weight limit of 300 lbs can cater to many different users. We think it's a great all-rounder that offers a great cycling experience. The color we appreciate won't be for everyone, but it ticks every box for us.
Best For A Comfortable Ride
4. Mongoose Malus
KEY SPECS
| | |
| --- | --- |
| Frame | Steel |
| Fork | Rigid |
| Groupset | Shimano 1×7 |
| Brakes | Mechanical Disc Brakes |
| Wheels | 26" |
| Weight Limit | 350lbs |
| Bike Type | Fat |
PROS
It is an amazing-looking bike
The huge tires offer great ability and comfort
The price is only $495
The disc brakes are going to work great
Relaxed geometry offers a comfortable ride
CONS
It's a heavy bike coming in at 50lbs+
It can be difficult to store as it is very large
Mongoose knows how to make a great bike, and Malus is one of our favorite bikes on this list. Not only does it look excellent, but it is a very capable bike that can be ridden pretty much anywhere. This is a bike you could take to the beach, and it would work great.
The Malus is a Fat Bike and has a very relaxed frame geometry. It is made of steel, which has incredible strength and high flexibility. It is amazing for off-road riding, and we love how it looks in a matt black finish with white detailing. With a 350lbs weight limit, this bike can hold a decent load.
It comes with a 1×7 gearing which is a little limited if you live in a very hilly area, but it does work great and is very easy to use. It also comes with mechanical disc brakes, which are great for off-road riding and will stop you quickly.
What really makes this bike is the tire size. It's called a fat bike because of the huge tires it has equipped to it measures 26" x 4". These give it the amazing ability for loose and off-road terrain and offer the most comfortable cycling ever as each bump gets soaked into high-volume tires.
OUR VERDICT
The Mongoose Malus is an excellent bike for a larger user. It has a great weight capacity and offers a level of comfort very few bikes can with its larger tires and upright riding position. It's not the lightest of bikes and doesn't have a huge range of gearing, but it's a lot of fun out on the trails.
Best For Trail Riding
5. PanAme Outroad Fat Bike
KEY SPECS
| | |
| --- | --- |
| Frame | Steel |
| Fork | Suspension |
| Groupset | Shimano 3×7 |
| Brakes | Mechanical Disc Brakes |
| Wheels | 26" |
| Weight Limit | 330lbs |
| Bike Type | Fat |
PROS
Incredible off-road ability
The price feels so cheap it must be a mistake at $280
Suspension and fat tires for a very comfortable ride
Looks excellent and professional
CONS
Not a light bike at 56lbs
A bit much if you just plan light trails and roads
PanAme is not a cycling name you might have encountered before, as they are nowhere near as big as some other larger brands. That aside, the Outroad is an excellent bike with a high weight limit to work with many different users.
This bike has a solid base with a strong steel frame and relaxed off-road geometry. Not only does it look great, but it can also perform on a trail if you fancy challenging yourself. It comes with suspension forks to have it trail-ready and is probably one of the fastest off-road bikes on this list.
It also comes with a 3×7 groupset which offers a massive range of gears for climbing uphill and descending quickly. It is the most capable bike as gearing goes on this list. You also get a solid set of disc brakes, and this bike wouldn't be complete without stopping power.
Like the Malus above, the PanAme Outroad has large 26" x 4" fat bike tires. This again offers a high level of comfort and also, paired with the suspension, helps you float over tree routes on off-road trails and washboard gravel.
OUR VERDICT
The Outroad is a fat bike with a good weight limit and a lot of ability. If you fancy going on some really rough ground, this is definitely the bike for you. It's not light by all means and very large to store, but it's a super fun bike, and you will rip up the trails on it.
Best For Riding XC
6. Cannondale Trail 6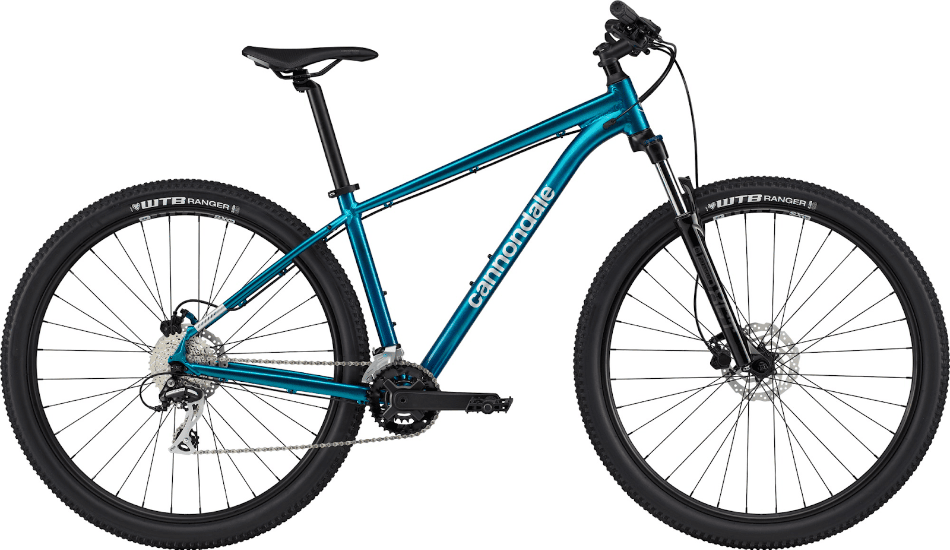 KEY SPECS
| | |
| --- | --- |
| Frame | Aluminum |
| Fork | Suspension |
| Groupset | Shimano 2×8 |
| Brakes | Hydraulic Disc Brakes |
| Wheels | 27.5" / 29" |
| Weight Limit | 330lbs |
| Bike Type | Trail |
PROS
Coming in at 32lbs, its a fairly light bike
Looks great
Great weight limit of 330lbs
The price is very good at $680
It's going to be a lot of fun to ride
CONS
It isn't the cheapest, and you are paying for the name and quality
It will feel fairly laggy on the road
Cannondale is one of the longest-running bikes brands. They make a huge range of bikes; one of their most popular is the Trail. The Trail comes in many shapes and sizes and is the choice of many cyclists who want to enjoy muddy singletrack and dirt roads.
It's a lightweight aluminum frame paired with a mountain bike suspension fork. It has excellent trail ability, and the bike is fairly lightweight at around 32 lbs depending on the size. It's a bike that is going to offer a very agile feel and still can hold 330 lbs.
The gearing comes from Shimano and runs a 2×8 mountain bike gearing system with rapid-fire shifters, and of course, to slow you down quickly, you get hydraulic disc brakes too. It will be fun on a trail, and it's the type of bike that can inspire some confidence as it's easy to use.
When it comes to wheels, the Trail has two sizes. You get 27.5" on the smaller models and 29" on the larger model. They are paired with 2.2" tires, which will be fun off-road without the lag of huge fat bike tires like some of the other bikes on this list.
OUR VERDICT
Cannondale makes a great bike. There's no denying that. The Trail has been running for many years, and we can see why it's a fun bike that is great to ride. It may not be the cheapest, but it is amazing value for money and has a decent weight limit. There's little bad we can say about this bike.
Buyers Guide
When it comes to finding the perfect bike for you, it can be challenging. Here are the questions you need to ask yourself before you hit buy it now.
Does it Suit Your Riding Pattern?
If you plan to be off-road, you will want to be on a mountain bike for the best experience. A road bike would be best if you plan to be on the roads. Get the bike for the riding you want to do. If you want to go further, you could consider an electric conversion kit.
Does it Fit You?
You want to ensure you get the right size bike for you. Check the size guide on the bike manufacturer's website to ensure it will work for you. Here's why it's so important to have the correct size bike.
Is it in Your Budget?
When looking for a bike, we highly recommend having a starting budget. If not, you end up buying a bike that is too expensive or way too cheap. You might consider a higher budget and getting an electric bike.
Conclusion
We hope you enjoyed our article on bikes for heavy people. There are plenty of options on the market, but these are some of the current best options, in our opinion. They will be great to ride and are all great value for money. Thanks for reading, and remember not to forget your helmet when riding.
If you liked this article, you might also like:
Frequently Asked Questions
Can you be too heavy to ride a bike?
There are bikes made for people of all shapes and sizes. We have seen bikes that work for riders up to 550 lbs. Unless you are 600 lbs plus, you might struggle. 
Is cycling good for overweight people?
Cycling is an excellent way to burn calories and lose weight if that is their goal.
Can a 300-pound person ride a bicycle?
Most brands have a weight limit on a bike of 250 lbs, but many brands go to 330 lbs and above. You will be fine riding most bikes at 300 lbs. 
Can cycling slim down your tummy?
Cycling, as we mentioned before, is an excellent way to burn calories, and you will lose weight around the tummy over time, provided you have a decent diet.
What happens if you cycle every day?
You will probably get much stronger legs, and many people lose weight. A lot of people use a bike or a scooter every day for exercise.
I'm Robbie Ferri, a writer from Norfolk in the UK. I love cycling, the gym, and have a huge passion for sharing my stories and knowledge to anyone with the time to read them. My main passion is cycling. I started eight years ago. In that time I have broken world records, cycled all over the world in Ultra Bikepacking races, and am lucky enough to have enjoyed some incredible times on two wheels with some incredible people. I have also worked in a bike shop and with some of the industries leading brands, not just promoting products but designing them too.
Under it all I am just someone very passionate about exploration and living a healthy lifestyle. Everything I do I put 100% into it and feel that life is for living. Never should you have a dull day.