(Last updated on March 16th, 2023)
Cycling is an incredible sport. It's very easy to catch the bug, and you end up with many bikes hanging up in the garage. I often get asked many questions about bikes as a cycling expert, but one of the most common is about BMX bikes.
Unlike many other disciplines, which are fairly straightforward to understand, BMX is a bit more challenging.
There are many different types and parts that make up a BMX come in all different shapes and sizes. When buying BMX bikes, many people get scared because they don't understand what they are looking at.
In this article, I want to tell you:
What is BMX
Our BMX Buyer Guide
Recommendations of some great BMXs on the market
Frequently asked questions
What is a BMX?
BMX stands for Bicycle Motocross. It was originally designed as a sport to mimic the look and feel of off-road motorcycles. BMX bikes are much smaller than mountain bikes and look completely different in every way, shape, and form.
BMX is more of a wider term compared to other disciplines of cycling. With BMX bikes, you get a lot of different styles. You get street riding, freestyle, and BMX track racing. All bikes look different from one another and perform in entirely different ways. It is similar to road and gravel bikes.
A BMX bike is much smaller than your typical bike and generally much lighter. They have very small frames which are paired with small wheels. Wide handlebars that sit nice and up high for maximum control typically have one gear. You typically get little to no suspension on these bikes; the only cushion you get is from the fairly large tires.
Our BMX Buyers Guide
As I mentioned before, when it comes to buying bmx bikes for you, it can be very challenging. I will discuss everything you need to know, and by the end of this article, you will be able to get the perfect BMX for you.
Type of BMX
The first thing I need to discuss is the different BMX types. This is your first choice when picking the perfect BMX for you. I have broken it down into three types because, typically, you can use similar BMXs for multiple riding styles.
Street, Park, Flatland, and Vert
Street BMX is one style you have seen on a trip to your local town and city. This discipline requires the rider to do tricks on things you typically find in an urban setting. You will see riders grind down rails, jump steps, and ride up banks. It's not necessarily about fitness but still and confidence.
Park is where the rider will similarly do tricks, but instead of an urban setting, it will be done in a skate park using bowls and table tops to enhance their tricks. Then you have vert, which uses large ramps and half pipes to gain incredible air and gravity to perform incredible tricks.
The bikes to suit Street, Park, and Vert are designed to be very easy to control, incredibly strong to ensure safe landings, and also can be thrown around easily. These BMXs typically have a short wheelbase and stunt pegs to help perform tricks.
Racing
Racing BMXs are designed to be used on a BMX track. These BMX race tracks are designed with a start gate, a minimum of three turns, and a finish line. Throughout the course, you will have lots of small hills where the rider will have to use their fitness and skill and smarts to be the quickest round.
Racing BMX bikes are designed to be as fast as possible on the track with excellent control. They are incredibly lightweight, typically only have a single gear for speedy acceleration, tall handlebars for control, and a long top tube for an aerodynamic position.
Trail and Dirt Jump
Then we have trails BMX. This discipline is about riding through trails perfecting flow while doing stunts across beams, dirt jumps, and natural obstacles. Dirt jumping is typically in a dedicated jump area or park designed with ramps built especially for jumps. They are similar in styles, but trail is about flow, and dirt jumping is about tricks.
Both BMX disciplines require a huge amount of skill and very decent bikes. Trials BMXs are typically made with large wheels and gearing to varying terrain. Dirt jump BMXs are strong to take big hits from landings and can often come with suspension components.
Sizing and Fit
So now you know what discipline you want to take on, you need to think about the size of bike you are going to need. The last thing you need is to order your dream bike and realize it's made for a child. When looking for a bike, I highly recommend considering your sizing.
BMXs are typically sized by wheel or top tube. Here's our chart: It's recommended that you measure yourself and go by the manufacturer's guidelines for size. This chart is an estimate and can only ever be that, as there are so many different types of BMX.
| | | |
| --- | --- | --- |
| Top Tube | General Wheel Sizing | Rider Height |
| 11" to 12.5" | 12" | 2ft to 3ft |
| 12" to 14.5" | 14" | 2ft 8" to 3ft 5" |
| 15" to 16.5" | 16" | 3ft to 4ft |
| 16.5" to 18.5" | 18" | 3ft 5" to 4ft 5" |
| 18" to 20" | 20" | 4ft to 5ft 5" |
| 20" to 20.5" | 20" + | 5ft 5" to 6ft |
| 21" + | 20" + | 6ft and above |
Brand
Once you have picked the style of bike and found your size, then consider the brands you want to invest your money into. I highly recommend using a well-known brand. Some brands I can highly recommend are:
Cult Bikes
GT Bicycles
Stolen Bikes
Wethepeople BMX
Haro Bikes
Kink BMX
Colony BMX
Sunday Bikes
When you shop with bigger brands, you know the bikes have had a lot of research and development that has gone into them. That means you get frames tested to high levels and lots of quality control. You can still get a lot from smaller brands, but I recommend researching if you go down that route.
Budget
Then we come to the budget. Before shopping, consider your available budget and what you want to spend. A common mistake many people make is going in without a budget and either coming away with a very cheap bike or a very expensive one.
The good idea is to think of the amount you can afford and then get the best BMX you can for the money. So use your filters on websites wisely and come away with a bike that will give you a good experience without breaking the bank.
Safety
Another thing you will want to consider is safety. BMX is a sport that will involve you falling off occasionally. It's a very technical style of riding which takes a lot of time to learn and years to master. Here's what I recommend having when it comes to safety equipment:
Helmet
Gloves
Knee and Elbow Pads
A decent set of shoes
Body Armor
Although it might feel like a lot, you will thank yourself for having it if you were to fall off. BMX riding is a lot of fun but approach the big jumps cautiously. BMX isn't like road biking, where you generally stay upright.
Frame and Forks
Regarding frame and fork, there's much to consider. The two most important aspects are geometry and material.
Geometry
If you pick a BMX with very aggressive geometry, it will make you very aerodynamic, leaning you far forward to make you go as fast as possible. We all love a bit of speed, but it comes at the cost of comfort. Going for a relaxed geometry frame will make you much more comfortable, but it could give you less ability.
Material
Typically, most BMXs are made of metal compounds. You will come across a few main types: Hi-Tensile Steel tubing, 4130 Chromoly, and lightweight aluminum. If you can, 4130 Chromoly Steel is the better option. It's lighter and has a higher level of durability. Here's an excellent blog on Hi-Tensile Steel vs Chromoly.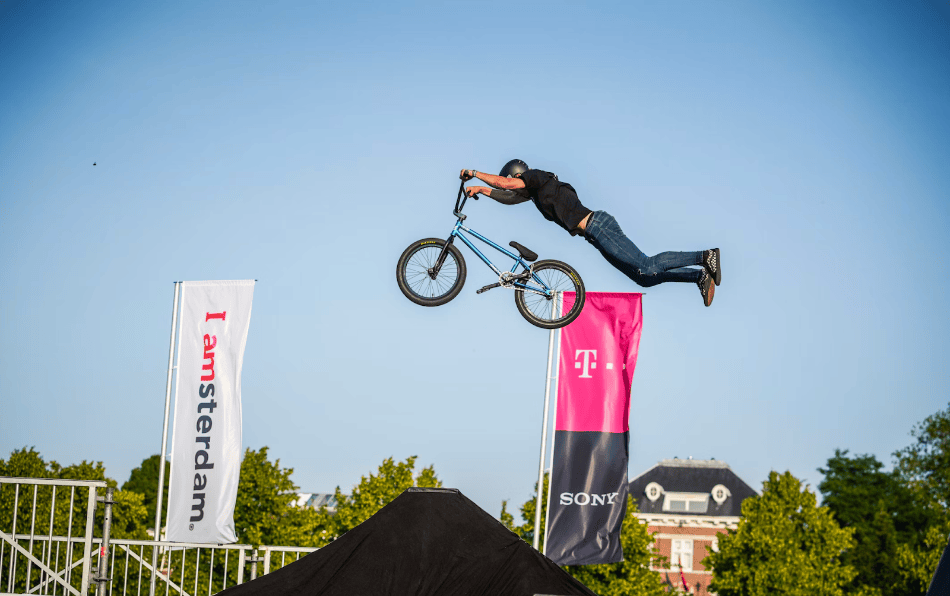 Components
When I speak about components, I am talking about wheels, gearing, headset, chain, and anything which makes the bike work. BMXs are a bit more basic than road bikes or mountain bikes, but it doesn't mean you shouldn't consider your components.
If you go for higher-end components such as gears, for example, they will perform better and last much longer than cheaper components that will wear out quickly and break more often.
The same goes for anything from your headset, wheels, tires, and even the bottom bracket. The more you spend, the better experience you will get. When it comes to cycling components, you definitely get what you pay for.
The components on BMX bikes are not difficult to upgrade later if you want to keep the cost down. What many riders do is wait for parts to break and need changing and upgrade them with high-end parts. Eventually, after a few years, they ended up with a very high-performance bike.
Recommendations
This buyer's guide wouldn't be complete without recommending some excellent BMX bikes for you to enjoy. Here are some of our favorites.
1. Eastern Bikes BMX
KEY SPECS
| | |
| --- | --- |
| Frame | 4130 Chromoly |
| Forks | 4130 Chromoly |
| Wheel Size | 20" |
| Bars | 4-piece |
| Cost | $450 |
The Easternis an incredible bike that has become very popular since its release. Not only does it look fantastic with a stunning pink and purple finish, but it offers excellent performance too.
With a chromoly frame and forks, it's ready to take hits and keep you as comfortable as possible while on the streets. It comes with 20" wheels making this bike incredibly agile and perfect for riders from around 5ft to 6ft.
Weighly only 25 lbs, it's not a heavy BMX and really easy to throw around and get the more challenging tricks down. Costing only $450, you get a lot of BMX for your money, and it looks awesome!
2. Throne Cycles The Goon 29
KEY SPECS
| | |
| --- | --- |
| Frame | Tig Welded Aluminum |
| Forks | 4130 Chromoly |
| Wheel Size | 29" |
| Bars | 2-piece |
| Cost | $600 |
If you are looking for a bike with more ability and the capability to go further and explore some different types of riding, consider The Goon from Throne Cycles. The Goon comes in many different colors, my favorite being the 14k gold which is incredible to look at.
It has an aluminum frame offers excellent stiffness paired with chromoly forks for durability and comfort. It's great for some freestyle BMX, and with the large 29" wheels, it really can help get the speed up and get over obstacles.
Although it's quite a large bike, it still only comes in at 30 lbs. What else I really liked was the price, which was only $600. I can highly recommend this bike when buying BMX bikes.
Conclusion
Riding BMX bikes is a lot of fun and a great cycling discipline to get involved with. Although when most people think BMX, they assume street, there's so much more to the discipline. You have dirt jumping, freestyle, and even racing. With all this to consider, it can be challenging to find BMX for you. I hope you enjoyed the article and now know what you're looking for when buying BMX bikes.
Frequently Asked Questions
How much should a good BMX cost?
For a good BMX which is going to perform and last, I recommend spending a minimum of $500. This is plenty enough to get an excellent frame paired with great components. 
Is it cheaper to build or buy a BMX?
Generally, when it comes to BMX, it's better to buy the bike as a whole. If you build it yourself, it typically costs more, and you end up spending a lot more time putting it together.
Is BMX riding good for weight loss?
Like any form of cycling, BMX is good for weight loss. It's a cardiovascular exercise that increases the heart rate and burns extra calories. Many people buy a BMX bike to lose weight. 
Can you use BMX for long distances?
A BMX is not the bike you want to use for long distances. They are not geared well, not designed to be very aerodynamic, and don't offer the right level of comfort.I wouldn't buy a BMX bike for long distance riding. 
Does size matter on a BMX?
It does like it would with any bike. You need to be on the correct size BMX for you. If not, it's going to give you a poor riding experience, and it won't be comfortable at all. 
I'm Robbie Ferri, a writer from Norfolk in the UK. I love cycling, the gym, and have a huge passion for sharing my stories and knowledge to anyone with the time to read them. My main passion is cycling. I started eight years ago. In that time I have broken world records, cycled all over the world in Ultra Bikepacking races, and am lucky enough to have enjoyed some incredible times on two wheels with some incredible people. I have also worked in a bike shop and with some of the industries leading brands, not just promoting products but designing them too.
Under it all I am just someone very passionate about exploration and living a healthy lifestyle. Everything I do I put 100% into it and feel that life is for living. Never should you have a dull day.