(Last updated on November 17th, 2022)
My kids all wanted electric scooters for Christmas. But then they got excited and said I should have one, too! To be honest, I thought they were just being silly until I realized that electric scooters for adults are a real thing. Electric scooters are a reliable and efficient means of transportation for commuting, running errands, and just having fun with your family. Now that I spent a little time learning about electric scooters, I'm seriously considering getting one so that I can keep up with my kids and use it to get around town.
In this article, we'll take a look at the five best electric scooters for adults. First, I'll tell you which one I'm considering and all of the reasons why. Then, we'll give you some vital information on each of our top pics and how we rated them. But first, let's take a quick look at what electric scooters are and why adults need them.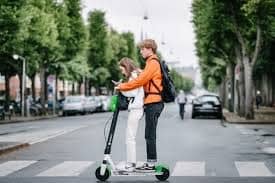 What Is an Electric Scooter?
When I think of a scooter, I think of a kid's toy that looks like a skateboard with a handlebar. Perhaps this is from watching my children scooting along the driveway, pushing with one foot while standing on the other. And although an adult electric scooter has a similar shape and appearance, it does so much more.
Obviously, an electric scooter for adults is going to be significantly larger than a kid's toy. They are generally around 3 feet tall, weigh approximately 30 to 40 pounds, and have a longer deck to stand on.
An electric scooter will have a spot for a battery as well as some kind of display so you can see your speed, distance, and battery life.
While a kids' scooter may be intended for riding around the neighborhood, and an adult electric scooter is intended to go much further. The range of an electric scooter is somewhere between 20 to 50 miles, so you can use them for your daily commute, trip to the store, or just having fun.
These scooters will have more boisterous wheels, suspension systems, and of course, a powerful battery too. A few models offer seats for those who may have trouble standing for the duration. And some are intended for paved roads, while others can handle gravelly and rough surfaces.
So which scooter is best for you? Let's take a look at some of the options.
Best Electric Scooters for Adults
| | | | | | | |
| --- | --- | --- | --- | --- | --- | --- |
| Scooter | Price | Top Speed | Range | Weight Capacity | Best For | Rating |
| Segway Ninebot MAX G30P | $885.15 | 18.6 mph | 40.4 Miles | 220 pounds | Hilly terrain | 9/10 |
| Fluid Horizon | $799.00 | 25 mph | 20-25 miles | 265 pounds | Urban Commuting | 9.5/10 |
| Inokim Quick 4 | $1249.00 | 24 mph | 40 miles | 220 pounds | Best All-Around | 10/10 |
| Hiboy S2 Pro | $598.59 | 19 mph | 25.6 miles | 220 pounds | Best for Those Who Need a Seat | 10/10 |
| TurboAnt V8 Dual Battery | $799.98 | 20 mph | 50 miles | 275 pounds | Best for Long Distance | 9/10 |
Best for Hilly Terrain
1. Segway Ninebot MAX G30P
KEY SPECS
Top Speed: 18.6 mph
Range: Up to 40.4 miles
Weighs: 41.2 pounds
Hill grade: 20%
10-inch tubeless self-sealing tires
Water-resistant
Folding
Dual braking system and powerful motor
If you live in a hillier area, you'll need to consider a scooter that can handle the hills. The Segway Ninebot MAX G30P can easily tackle a 20% gradient, so you won't have to huff and puff your way up – you can just let the scooter handle it.
Its top speed is a well-rounded 18.6 mph, and it has an extended range of around 40 miles. We give this scooter a 9/10 because of its moderate price with an excellent range and nice speed, although other scooters are significantly faster.
Best for Urban Commuting
2. Fluid Horizon
KEY SPECS
Top Speed: 23 – 25 mph
Range: 20 – 25 miles
Hill grade: 10 – 15 %
Weight capacity: 265 pounds
Weighs 40 to 42 pounds
Folding
If you need to get there in a hurry, you might want to consider the Fluid Horizon, with its top speed at about 23 to 25 mph. This scooter excels at urban commuting with its smaller tires, front and rear suspension, and 2- to 25-mile range.
The front tire is air-filled, while the rear tire is solid, preventing flats. Unfortunately, its hill grade is only good, up to about 10 or 15%, so this scooter is better if you live in a flatter city where you can go faster.
We give this scooter a 9.5/10 because it lacks on hill climbs and we just aren't fans of the solid rear tire. However, this is overall an excellent scooter for your urban commute.
Best All-Around Electric Scooter
3. Inokim Quick 4
KEY SPECS
Top Speed: 25 mph
Range: 25 miles
Hill grade: 10 – 15 %
Weight capacity: 220 pounds
Weighs: 47 pounds
Folding
Tires 10inch air tires
Front and rear drum brakes
Front and Rear LED lights
If you want a scooter that can do it all, you'll want to consider the Inokim Quick 4. I think this is the best all-around electric scooter for adults.
It has the speed and range needed for commuting, but its beefy tires and powerful motor mean it can handle grass and dirt roads. We give this scooter a 10/10 because it can do just about anything with great speed and a good range.
Best Electric Scooter with a Seat
4. Hiboy S2 Pro Electric Scooter
KEY SPECS
Top Speed: 19 mph
Range: 25.6 miles
Hill grade: 10 – 15 %
Weight capacity: 220 pounds
Weighs: 40 to 42 pounds
Folding
10-inch air tires
Rear Dual shock absorbers for extra comfort on rough surfaces
Double Brakes with anti-lock braking
Ultra-bright headlights for safety
Includes Hiboy app to lock scooter and customize acceleration and braking
If standing for long periods of time is taxing for you, you might need a scooter with an attachable seat. The Hiboy S2 Pro is one of the few battery-powered scooters that has a seat attachment.
The powerful motor means you can reach speeds up to 19mph with a range of 25.6 miles. We give this scooter a 10/10 because you can attach a seat, which makes commuting by scooter more accessible for those who have trouble standing.
Best for Long Distances
5. TurboAnt V8 Dual Battery
KEY SPECS
Top Speed: 20 mph
Range: 50 miles
Hill grade: 10 – 15 %
Weight capacity: 265 pounds
Weighs: 47.62 pounds
Folding
9.3-inch pneumatic tires with tubes
Your long commute is no match for the TurboAnt V8 with Dual battery. The extra battery power means you get extra range – up to 50 miles of distance on one charge. So if your commute is long, this might be the best scooter for you.
We give this scooter a 9/10 for its long range and great speed, however it is pretty heavy.
Product Guide
So how did we choose the scooters on our list? First, let's take a look at some of the characteristics you might need when selecting the best electric scooter for your ride.
Terrain and Hills
The first thing you need to consider when choosing a scooter is where you will be riding it. For the most part, scooters excel on smooth, paved roads. But you may also encounter things like potholes, speed bumps, gravel, and even off-road conditions. So will your scooter be able to manage all of the terrains you need to ride? Or will there be places you need to get off and walk or carry the scooter? For example, the Quick 4 Scooter by Inokim can handle some gravelly roads and even grassy areas, but other scooters, like the Fluid Horizon, are better off on a flat smooth road.
Another aspect of the terrain is what kind of hills you will be riding. Some scooters are best being ridden on flatter terrain with less than 10% hill grades. However, a few scooters, like the Segway Ninebot MAX, can actually handle hills up to 20% or even more. This is important if you live in a hilly area and don't want to walk that scooter uphill on your own power.
Attachments and Peripherals
Most scooters don't have too many attachments, but you may want to consider whether or not you'll need a seat. For example, if standing is difficult for you, you'll want to keep in mind something like the Hiboy S2. We like this scooter because it has a separate seat that you can attach if you need it.
A few other items you might want to include in your scooter are built-in headlights and taillights, a user screen or display, adjustable handlebars and stem, and whether or not you can attach bags to the bars.
Other accessories could include a rear basket for groceries and supplies and even a spare battery.
Battery Power and Range
The size of the batter and the range of the scooter are closely related. So if you are in need of a long-range scooter, you'll probably want one, like the TurboAnt, which has dual batteries. This gives you extra battery power to go further. Sometimes, you can carry a spare battery and just swap them out if you need to go further.
A few things may affect the battery life and range as well. For example, the rougher or hillier the terrain, the more engine power it will take, which means a shorter battery life.
Higher speeds may also wear out the battery power faster. Lastly, the weight of the rider and cargo, as well as the weight of the actual scooter, can wear down the battery faster.
Top Speeds
How fast do you need your scooter to go? Of course, a more powerful motor will help you go more quickly, but being a heavier rider might slow you down. However, the scooters on this list fall into a range of speeds, from about 18mph to about 25 mph as their top speed.
If speed isn't important to you, then any of the scooters on this list will be great. However, if you need to go faster, consider the Fluid Horizon for urban commuting of the Quick 4 if you also need to go off-road.
Scooter Weight
Scooter weight matters if you need to carry the scooter up the stairs to your apartment or fold it up to carry on a commuter train. A really heavy scooter will make these tasks difficult. On the other hand, if you are just opening up the garage door and riding to work, the weight of the scooter might not be an issue at all.
The Segway and the Hiboy are the lightest scooters on this list, weighing in around 40 to 42 pounds. However, the other scooters are only around 5 pounds more, but you'll also want to keep in mind how much cargo you'll be carrying with it. Extra batteries also add extra weight to the scooter, such as in the case of the TurboAnt, which has dual batteries and is one of the heaviest scooters on this list.
Scooter Weight Capacity
Weight capacity is how much the rider plus the cargo weighs. If you're a small person, this won't be much of an issue at all. But if you are a larger rider, you'll want to consider which scooter will manage your weight the best.
The TurboAnt can handle up to 275 pounds of rider and cargo, so this is the best one for larger riders.
Folding
We think folding is a pretty important aspect of owning a scooter. Every scooter on this list folds down in some way to make storage easier. So you'll save on space when you're scooter isn't being used, especially if you commute to work and need to keep it under your desk.
But there's another reason to get a folding scooter. If you commute to the train or bus station, you'll need to be able to carry the scooter and your gear onto the train or bus. This is usually much easier to do if your scooter folds down into a carryable package.
Tires
The tires you have on your scooter can make a big difference to the feel of your ride. The bigger the tire, the more comfortable the ride and the rougher the terrain you can tackle. On the other hand, bigger tires also require more motor power to turn the wheels.
Smaller, thinner tires with less tread will go faster but only over smooth surfaces. So if your commute is over smooth urban roads, you'll be OK with the 8-inch tires. But if you need a little more grip for bad weather or rough terrain, go for the scooter with bigger tires.
Tubeless, self-sealing tires are great if you are worried about getting a puncture. They will, in most cases, reseal before you even lose much air. However, solid tires will be a little less comfortable, but you won't get any flats at all.
Deck Size
One of the last considerations is deck size. The deck is the part of the scooter that you stand on. A longer, wider deck will be more stable, but a shorter, thinner deck will be lighter, more aerodynamic, and, therefore, faster.
Just make sure you have enough room for your feet to fit comfortably on your scooter.
Our Choice for the Best Adult Electric Scooter
So, after all of these characteristics, you're probably wondering which scooter I'm going to choose. It's a tough call – these are all great scooters, and none of them are exactly cheap. But I'm going for the Inokim Quick 4. Here's why.
We have some minor hills where I live, but I have a long gravel driveway. So I want an electric scooter that can tackle a little bit of gravel and some mild climbs and get me around town quickly and easily. This is where the Inokim Quick 4 excels.
It's the perfect all-arounder. It can handle the gravel as well as the paved road. It has a nice suspension system to take out the lumps and bumps of my local potholes, and it has some nice wide tires so I can ride around in the park with my kids.
I love this scooter because it works great for commuting and running errands with plenty of speed and battery range. But it also has enough oomph for playing with my kids. So in my eyes, it's the clear winner out of this list of great scooters.
Frequently Asked Questions
Do you need to wear a helmet to ride a scooter?
Laws vary by state and location about helmets. However, common sense says it's a good idea to wear one, especially because of the high speeds that you can reach riding an electric scooter. Generally speaking, a good bicycle helmet should be enough to provide protection for you while you are riding an electric scooter, but you can find more details here.
What do you do if your battery dies?
If your scooter won't turn on, it's probably because the battery needs charging. Just follow the manufacturer's directions to charge the battery. However, if the battery is completely dead, it might take longer to charge.
Can you ride an electric scooter without battery power?
Yes. If your electric scooter battery has died, you can technically turn off the scooter and ride it like a manual scooter. If you're out on a long ride and your battery dies, you can manually scoot back home!

However, electric scooters are significantly heavier than your typical manual scooter is. This is due to the extra weight of the motor, the battery, and the extra bulk of the scooter. So while it is possible to ride it without a battery, it will be a lot more work on your part.
Can you ride an electric scooter in the rain?
Most scooters are water-resistant and will work fine in light rain. However, heavy rain could be difficult to ride in, and it might not be good for your scooter. Also, keep in mind that roadways can be very slippery when they are wet, especially at the start of a rainstorm. Any areas of the road that are painted will be extra slippery when they are wet, as well.
Can electric scooters go uphill?
Yes, electric scooters can go uphill, to a point. So if you live in a very hilly area, you'll want to look for a scooter that is built for hills. Most scooters can handle a hill up to around 10%, but if you have steeper hills, you'll need something that can go up to 20 or 30%.
---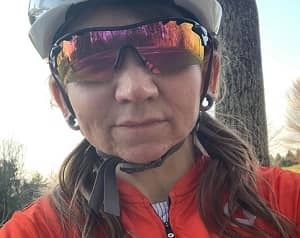 Amanda Whittington is an expert writer, impassioned cyclist, and musician. Coming from a diverse educational background, Amanda discovered a deep-rooted passion for encouraging others through her love of all things cycling, writing, and inspiring hope. 
You'll likely find Amanda pouring over bike specs, comparing the hottest cycling tech, and sporting the latest jerseys while juggling the demands of her editorial calendar, training schedule, tiny homestead, and 6 busy kids. 
She spends her free time absorbed in her own gardening and fitness, cycling, and reading, all while encouraging adoption and foster care, championing the underdog, and of course, working with her chickens and goats.