(Last updated on March 30th, 2023)
Do you have a need for speed on two wheels? There's nothing quite like watching a fleet of bikes roaring by at top speed. That rush of adrenaline can be yours, too. All you need is one of these incredible superbikes.
In this article, we're going to talk about the fastest motorcycles in the world. Surprisingly, many of them are street-legal and affordable! We'll give you the details on our top fastest bikes and let you know which one is our favorite.
Of course, top speeds don't tell the whole story. Keep reading to find out more about why these motorcycles are the fastest in the world.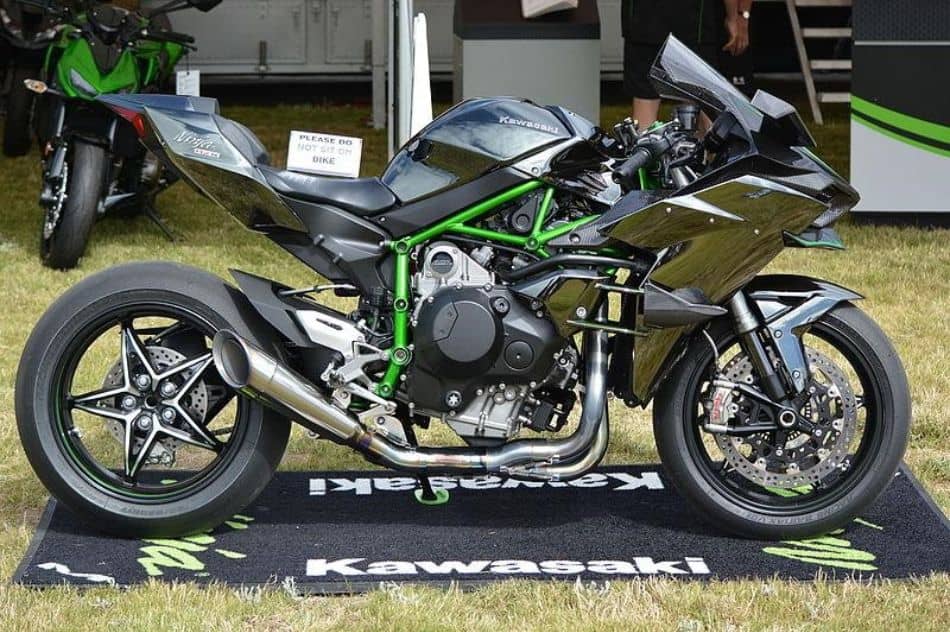 What's the Fastest Motorcycle in the World
The fastest motorcycle in the world is the Dodge Tomahawk. The Tomahawk boasts a top speed of 450 mph and can go from 0 to 60 in as few as 1.75 seconds. Its engine is a massive 8277 ccs.
As far as setting speed records can go, Jorge Martin set the record in 2022 for a long straight when his Pramac Ducati hit a massive 225.9 mph during the Italian Grand Prix at Mugello in 2022.
Corners are an entirely different story. MotoGP riders can take corners as fast as 68 to 86 mph and 52 to 65 mph if the corners are super sharp.
Not all of us are looking for speeds that high – we just want the rush of a roaring engine as we fly down the highway. There are plenty of fast motorcycles that you can ride on the street and a few that are only intended for closed courses.
Read More: Most Expensive Bikes in the World
The Fastest Motorcycle That You Can Actually Buy
Just because you can buy one of these speed machines doesn't mean they're actually street-legal. Some are quite affordable and ready for the road, while others will cost you excessive amounts of your hard-earned cash and can only be used on a closed course. But hey, it's a small price to pay if it's top speed you are after.
| | | | | | | | |
| --- | --- | --- | --- | --- | --- | --- | --- |
| | Dodge Tomahawk | Kawasaki Ninja H2R | Suzuki Hayabusa | BMW S1000RR | Yamaha YZF R1 | Honda Blackbird-Davidson VROD | Harley-Davidson VROD |
| Top Speed | 420 mph | 250 mph | 194 mph | 188 MPH | 185 mph | 178 mph | 130 mph |
| 0 – 60 | 2.5 seconds | 2.93 seconds | 2.47 seconds | 2.96 seconds | 2.9 seconds | 2.77 seconds | 3.59 seconds |
| Street Legal | No | No | Yes | Yes | Yes | Yes | Yes |
| Price | $500,000+ | $57,500 | $14,799 | $16,995 | $17,999 | $10,599 used | $10,900 used |
| Where to buy? | Check price | – | – | – | – | – | – |
| Engine Displacement | 8277 ccs | 998 ccs | 1340 ccs | 999 ccs | 998 ccs | 1137 ccs | 1247 ccs |
| | Best for the Pro Racer | Best for the Dedicated Racer | Best All-Around | Best Prestige Bike | Best for the More Experienced Racer and Rider | Best for the Vintage Lover | Best for the Racing Purist |
| Rating | 8/10 | 9.5/10 | 10/10 | 9/10 | 9/10 | 9/10 | 9/10 |
The Fastest Motorcycle in the World
1. The Dodge Tomahawk
KEY SPECS
| | |
| --- | --- |
| Max speed | 420 mph |
| Acceleration | 0 to 60 in 2.5 seconds |
| Street legal | Not street legal |
| Engine size | The engine is a massive 8277 ccs |
PROS
This is an incredible speed machine
It's just super fast at 450 mph
It has a Dodge Viper engine
CONS
It's incredibly expensive
It isn't street legal
It isn't a typical motorcycle
The Tomahawk isn't exactly street-legal in the United States, considering it actually has four wheels and a throttle intake instead of headlights. But it IS a really cool superbike with a ten-valve, four-stroke engine – the same engine you'll find in a Dodge Viper!
This motorcycle is truly a feat of engineering and just gives you an idea of what a motorcycle can do! I'm just not sure if it's actually a motorcycle or technically an automobile.
Regardless, it is supersleek, super fast, and of course, incredibly expensive. You can't just go drive it on the street, so you'll have to save it for the closed course.
Although most bikes, even superbikes, can't hit speeds quite that high, there are plenty of motorcycles you can buy that still go extremely fast.
I can't recommend that any average person try to go and buy a motorcycle like this. It's just too much power and speed to be even remotely practical, especially at that insanely high price. But hopefully, you can at least see one in action!
Our Verdict
It makes the list for its pure speed and ingenuity. But it only gets an 8/10 because the average racer just can't afford it, find it, or maintain it. And to be completely honest, we think it's too fast!
Best Dedicated Race Bike
2. Kawasaki Ninja H2R 2023
KEY SPECS
| | |
| --- | --- |
| Max speed | 250 mph |
| Acceleration | Hits 0 to 60 in 2.93 seconds |
| Street legal | This bike is not street-legal; it's a closed course-only bike |
| Engine Size | Engine displacement: 998 ccs |
PROS
Speed: all 250 mph of it
Impressive anti-lock brakes, traction control, and launch control mode
Aluminum wheels with carbon fiber aerodynamic devices
Self-healing paint job
CONS
Acceleration is laggy compared to other superbikes
Closed course only bike; you can't drive this superbike on the road
Very expensive
The Ninja is updated for 2023, but what isn't new is its impressive speed. Unfortunately, this is a closed-course-only bike – you won't be riding it on your local highway, and it's definitely not your average commuter bike.
The Ninja is an all out, explosively serious race bike, as you can see from it's $57,000 price tag. Don't buy this bike if you aren't serious about racing – and winning. It's incredibly expensive and definitely not street legal.
If you look inside, you'll be face to face with a four-stroke, 399cc twin engine which offers you plenty of power. But don't let its acceleration fool you – the Ninja is a smooth ride with an even acceleration. And its surprisingly fuel efficient.
Although it looks aggressive and mean, the Ninja offers clip-on style handlebars that give you a little more upright of a riding position, so you feel more comfortable and stable for the longer races.
The Ninja accelerates quickly, but not quite as fast as other race bikes. It does, however, have a fantastically fast max speed of 250 mph. It's design is modern and super sleek, with handling that will help you feel confident no matter what the race course is.
You'll want this motorcycle if you are a seasoned pro looking to ride in some serious races.
Our Verdict
This bike gets a 9.5 out of 10. It's fast, it accelerates quickly, but it doesn't get a 10 because it's pricey and is only good for a closed course.
Best All Around Superbike
3. Suzuki Hayabusa
KEY SPECS
| | |
| --- | --- |
| Max speed | Top speeds of 194 mph |
| Acceleration | Impressive 0 – 60 in 2.47 seconds |
| Street legal | Yes |
| Engine size | 1340 cc engine |
PROS
Quicker and smoother acceleration
Complies with worldwide emissions standards
Suzuki Intelligent Ride system
Style, function, and balance
Docile at lower speeds
CONS
Heavier than most superbikes
The long wheelbase makes it harder to corner
The Hayabusa boasts its status as motorcycling's Ultimate Sportbike. It boasts an iconic and aerodynamic silhouette, coupled with its electronic rider aids for a distinctive and muscular superbike. In addition, the four-cylinder engine features an updated chassis for 2022 with new vent shapes, redesigned logos, LED lighting system, and so many more distinctive and iconic Hayabusa features.
This is a cool bike because you can ride on the roads as well as the race course, that's definitely a benefit that I appreciate with street legal bikes. You don't have to buy separate motorcycles for commuting and for racing, if that's your thing.
Granted, it is a lot of bike for just commuting, but the extra long wheelbase is nice for a more comfortable, stable ride and will help you feel confident when descending steep hills. On the other hand, the long wheelbase makes cornering a little bit harder at speed, so it might slow you down in an actual race.
The Hayabusa is also a bit heavier than typical race bikes, which is an interesting tradeoff for technology with speed. It's probably ok when the course is kind of flat and straight, but that extra weight trip you up when cornering or going uphill. But if power to weight ratio is important to you, you might want a different bike.
If you're looking for a superbike, you can race on the weekends and ride to work. You might focus on the Hayabusa superbike. It indeed does it all, with impressive speed, handling, and balance at a reasonable price.
Our Verdict
This bike gets a 10/10! We love this bike because it effectively straddles both the daily driver world as well as the race world. It does it all and for a great price.
Best Bike for Those Who Love Prestige
4. BMW S1000RR
KEY SPECS
| | |
| --- | --- |
| Max speed | 188 mph |
| Acceleration | Can go from 0 to 60 in 2.96 seconds |
| Street legal | Yes |
| Engine Size | Engine is 999ccs |
PROS
Sleek looking superbike
Has excellent handling
Adjustable rider settings
Impeccable braking system
CONS
Limited color availability
Only available used
If you want a prestigious bike that pushes the boundaries of performance, you'll be interested in a BMW S100RR. It boasts a lightweight, aerodynamic frame with an amazing riding experience.
Of course the BMW insignia is associated with prestige in the 4-wheeled world, but in the motorcycle world, it's also associated with speed. It's a street legal bike with a max speed of up to 188mph. But it doesn't just have speed – it has impeccable braking power, as well.
The BMW can accelerate from 0 to 60mph in just 2.96 seconds. It might not be the fastest on this list, but it is nothing to sneeze at! It creates a significant downward force at higher speeds, which help keep the bike upright and on the track.
I can just imagine the 999cc engine revving from a distinctive purr to its iconic roar as it tears up the track. The Hayabusa may be a
little faster and a little cheaper, but this bike is all about class.
The display tells you everything you need to know -but it might show you a little too much. The cockpit of the bike is a bit cluttered for my taste, which can be distracting when you need to really hone in and focus on what's going around you.
Everything good about BMW is summed up in this superbike. From the road to the race track, this bike is fast and furious.
Our Verdict
This is an upscale bike and its simply beautiful. But it only gets a 9/10 because it just has too much on it and its acceleration could be faster.
Best Motobike for the More Experienced Racer and Rider
5. Yamaha YZF R1
KEY SPECS
| | |
| --- | --- |
| Max speed | 185 mph |
| Acceleration | It goes from 0 to 60 in 2.9 seconds |
| Street legal | Yes |
| Engine size | 998 CC engine |
PROS
Impressive technology with the Chip Controlled Throttle system
Four-piston radial-mounted front calipers and 320mm front rotors, ABS for excellent braking
Balanced road feel and handling
Adjustable suspension
CONS
While it is street-legal, you won't get your money's worth if you aren't racing
Not a great starter bike
You can buy the standard Yamaha YZF R1, or if you're really lucky, you can get your hands on the 60th-anniversary edition with special details like gold forks, gold wheels, and commemorative badging. Not only is it fast, it even looks fast with its electric blue coloring that you can even find on its rims.
To put it frankly, the YZF R1 looks as aggressive as it rides.
Keep in mind that this is not a beginner bike. It goes out hard and fast and isn't as easy to control as some of the other bikes. However, it does have stable and balanced handling, which is critical for racing.
It features a chip controlled throttle system, ABS brakes, and a 998 CC engine.
This bike can go from 0 to 60 in just 2.9 seconds, so it has a quick acceleration with a max speed of 185 mph. And while it is a street legal bike, you really don't need this much power unless you are actually going to race it.
It will set you back a whopping $17,999. But you get loads of features with the YZF R1, including all LED headlights, built in in gryo sensor and g sensor, up and down quick shift, lean angle sensitive traction control system, and plenty of other technology to help you manage and control your ride.
It's a whole lot of bike for the price, making it a great value for the racer.
Our Verdict
We give this a 9/10 because although it's a great bike at a great price, it isn't the right one for a beginner.
Best for the Vintage Bike Enthusiast
6. Honda CBR 1100 Blackbird
KEY SPECS
| | |
| --- | --- |
| Max speed | 178 mph |
| Acceleration | Can hit 0 to 60 in 2.77 seconds |
| Street legal | Yes |
| Engine size | It boasts an 1137 cc engine |
PROS
This bike is very comfortable to ride
It is durable and dependable
CONS
Only available used.
Not quite as fast as newer bikes, but it certainly can hold its own.
If you love vintage and motorcycles, you'll love the Honda Blackbird. Sadly, you can only get this superfast bike used, but it was certainly ahead of its time as far as speed. This bike makes the list for its iconic speed and handling.
The Blackbird was only manufactured from 1996 to 2007. At the time, it won the bragging rights of being the world's fastest production motorcycle, beating the Kawasaki Ninja. In time, it was beat out by the top speeds of the Suzuki Hayabusa.
The blackbird has the largest engine displacement of all the motorcycle's in Honda's CBR lineup.
If you are a lover of fast motorcycles, you'll definitely want to add this one to your collection. Although modern technology may have an edge over the speed of the Honda now, you can't replicate that iconic bike handling that the Blackbird was so known for.
I'm sorry to say that these super bikes are hard to combe by, since they are no longer manufactured. You'll have to look long and hard to find one in good condition. But if you do, they are a treat to ride! I have fond memories of sitting on the back of my dad's as tore it up around town.
If you can find them, they're very affordable but it might be difficult to get new parts.
Our Verdict
This is such a cool vintage bike and it was definitely way ahead of its time. If you need to save a little cash, this is a great choice for getting into racing. However, it only gets a 9/10 because you can only get it used and its a little tough to get parts.
Best for the Original Racing Purist
7. Harley-Davidson VROD
KEY SPECS
| | |
| --- | --- |
| Max speed | 130 mph |
| Acceleration | 0 to 60 in 3.59 seconds |
| Street legal | Yes |
| Engine size | 1247 ccs |
PROS
Classic and comfortable Harley-Davidson riding position
Smooth acceleration
CONS
Too powerful for a beginner bike
Does not comply with Euro 4 Norms
Hard to find parts for this bike
Mixes imperial and metric sockets
Small gas tank
There is nothing more iconic than a Harley-Davidson, and if you're among the purist of the motorcycle realm, this one is for you.
You can't mistake that distinctive humming engine that classic Harley's are known for. And of course, you've got that comfortable riding position, even on a race bike.
What's a little off, in my opinion, is that Harley mixed imperial sockets and metric sockets, so you'll need both sets if you do your own maintenance.
The other thing about this bike is that it has a smaller gas tank but lacks the fuel efficiency of more modern bikes, so you just won't be able to go as far on a single tank. This isn't usually an issue for racing, but it might be for all day road trips.
Even though its vintage, it still has plenty of pure, raw power. In fact, this might not be the best choice for a beginner bike because it has so much power.
On the other hand, if you are on a tight budget, you might be able to save a little bit of coin by purchasing a used motorcycle over a brand new one.
Nostalgic and vintage race bike. In other words, it is really cool! But sales in America dropped, and the VROD didn't comply with the euro 4 norms, so Harley dropped it from its lineup, sadly.
And although we love this bike for its nostalgia and its speed, you can no longer purchase it new. However, you can still purchase them used.
Our Verdict
If you love Harleys or you love a good old race bike, this bike is a treasure. It gets a 9/10 because it's a little on the slower side, but still epic.
How We Picked the Fastest Motorcycles in the World
It isn't all cut and dried when you're looking for the fastest motorcycle in the world. There are a lot of considerations, and not just speed. So let's talk about it.
Max Speed
Unfortunately, a motorcycle manufacturer can't just take their bike out on the street to see how fast it can go. This just wouldn't be safe for traffic and pedestrians. So speed tests are typically carried out on closed courses under ideal conditions.
So when a motorcycle reports its maximum speed, you might not ever be able to achieve this on the road – and you definitely shouldn't since it's clearly illegal.
Of course, the fastest bike on this list is the Dodge Tomahawk. This is a unique bike, being able to hit speeds of 450 mph under the right conditions. But no one is going to drive on the street that quickly.
In fact, some of these street-legal bikes have speed caps to help you be safe. The slowest bike on this list is the Harley-Davidson VROD, which may seem a little slower by today's standards, but it stands on its two feet (or wheels) as an amazing race bike for its time.
Acceleration: 0 – 60
Along with top speed comes acceleration. A bike's top speed is only as good as how fast it can get there. If it takes too long to reach its max, you aren't going to win the race. It's amazing how fast these bikes can overcome the forces of being at rest and accelerating. The Suzuki Hayabusa is the fastest by far. This is a combination of factors, including engine size, bike size and weight, and the rider, too.
Is it Street Legal?
Another factor you might want to consider when you purchase a bike is if it is street-legal or not. There's a whole continuum here. On one end, you have bikes like the Kawasaki Ninja that aren't street-legal. They are only for racing, but they are exceptionally good at it. On the other hand, they're also more expensive, so you'll only want one of these if you're a really serious racer.
On the other end, less expensive bikes, such as the Suzuki Hayabusa, were made to be both street-legal and great race bikes. Again, this is a pretty affordable bike. It's street legal, so you can make it your daily driver if you want, but it is still able to hit high enough speeds and accelerations to make it a worthwhile race bike, too.
Read More: 9 Best Beginner Mountain Bikes in 2023
Can You Find the Parts You Need?
No one wants to get their bike repaired, but sometimes repairs are necessary, and you'll need to be able to get the parts. So while vintage bikes, like the Honda Blackbird, are affordable and fast, you might have trouble finding replacement parts. BMWs are a little trickier to repair, too, so you might want to stick to something that's a little bit more accessible, especially if you'll be putting on a lot of miles.
Cost
There are no cheap motorcycles. These are serious vehicles, and they require some serious cash. Vintage bikes will save you money upfront, but they may cost more in the long run because they'll need more repairs with hard-to-find parts. On the other hand, you're not going to easily repair a Dodge Tomahawk, but if you can afford one, that's probably not an issue for you.
Most of the bikes, though, are both pretty affordable and not too expensive to repair.
Read More: Killer Full Suspension Mountain Bikes Under $3000: Top Picks (2023)
Final Thoughts on Motorcycles
Of all of these motorcycles, we love the Suzuki Hayabusa the best of all. They're all great bikes, of course. But the Hayabusa is the clear winner for the average person who wants to race on the weekend.
First of all, it's both street-legal and race-worthy. It can straddle both worlds with ease. It hits those high speeds of 194 mph and can accelerate from 0 to 60 mph in just 2.47 seconds. At lower speeds, it's a docile and comfortable bike, so it is ok if you're still a beginner. But it revs up smoothly and rides fast on the course, too.
Coming in under $15,000, it's less expensive than a car, handles well, and is a well-balanced superbike. It's a win all around.
Frequently Asked Questions
Do superbikes have good braking systems?
Yes, most superbikes have antilock brakes with large rotors to be able to slow down safely at high speeds.
Do more ccs make a faster engine?
CC stands for cubic centimeters, and it tells you how large the engine is. Generally, more ccs mean more power. However, it isn't the only factor in how fast a motorcycle can go. You also have to consider the weight of the rider and the bike as well as how aerodynamic the bike is, the type of tires, the terrain, etc.

But there is a loose correlation between more ccs and a faster, more powerful bike that can accelerate more quickly.
How big is a motorcycle gas tank?
Most motorcycles can carry between 3 and 6 gallons of gas. Racebikes tend to carry less since they won't go as far while touring bikes will have larger tanks for longer rides.
What bike has the best acceleration?
The Kawasaki Ninja accelerates the fastest. It can go from 0 to 69 in just under 2.5 seconds, beating other superbikes by nearly half a second. It's also one of the fastest bikes in the world, hitting top speeds of 250 mph under ideal conditions. However, it doesn't have the largest engine.
What's the fastest motorcycle in the 1/4 mile?
The fastest ¼ mile is a right of passage for many motorcycle enthusiasts. So, not surprisingly, the Kawasaki Ninja has the record of racing ¼ mile in 9.62 seconds – which is right around 250 mph.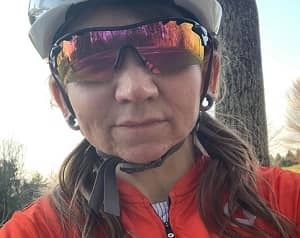 Amanda Whittington is an expert writer, impassioned cyclist, and musician. Coming from a diverse educational background, Amanda discovered a deep-rooted passion for encouraging others through her love of all things cycling, writing, and inspiring hope. 
You'll likely find Amanda pouring over bike specs, comparing the hottest cycling tech, and sporting the latest jerseys while juggling the demands of her editorial calendar, training schedule, tiny homestead, and 6 busy kids. 
She spends her free time absorbed in her own gardening and fitness, cycling, and reading, all while encouraging adoption and foster care, championing the underdog, and of course, working with her chickens and goats.