(Last updated on April 3rd, 2023)
Fat tire mountain bikes open the door to snowy, icy, and sandy adventures and allow riders to explore all year long. The closest thing to a monster truck in bike form, fat bikes leverage their oversized tires to get traction in tricky conditions and provide an ultra-stable ride. Explore this comprehensive roundup of the best fat bikes for sale in 2023 and find your next two-wheeled beast.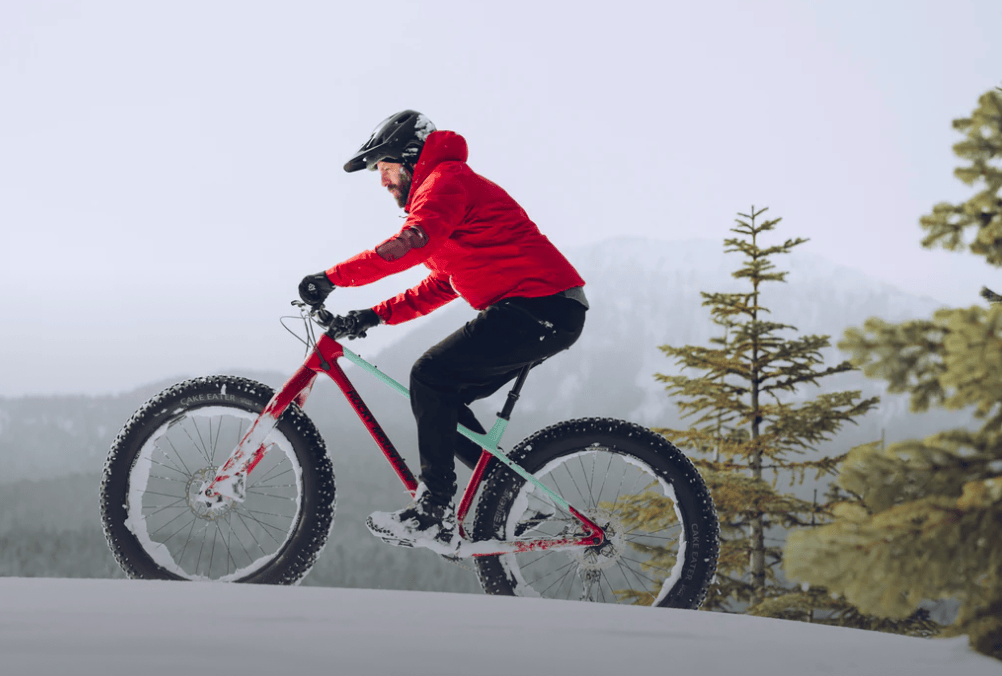 These days, fat bikes are skyrocketing in popularity and bike manufacturers are adding these oversized two-wheelers to their existing lineups, making it increasingly difficult to know which models are the most worth it. Many brands like Specialized and Trek only have only one design to choose from (albeit various versions) whereas Surly and Salsa are leading the pack and offer several great options.
How I Selected the Best Models
After extensive research, I've let the cream rise to the top and identified the top seven fat bikes for sale in 2023. I've cherry-picked fat bikes from a wide range of brands in order to give riders a diverse browsing list and increase their chances of finding them in-store, too. Each bike made the cut and received a rating based on the following criteria:
Performance
Fat bikes are designed to conquer tricky terrains such as snow, ice, and sand. Wide tires and lightweight frames are key to excellent performance.
Components
Since most fat bikes are built around a straightforward, rigid frame, components are especially important to extract the best experience for the rider. I gave solid points for wide-range 1x drivetrains and hydraulic disc brakes.
Extras
With tough competition among brands, fat bikes can stand out with additional features such as frame mounts, dropper posts, carbon fiber, and wheel compatibility. These extras will boost my rating.
Price
Fat bikes are one of the most affordable categories of mountain bikes since they don't come with expensive suspension parts. The bikes on this list make cost-effective upgrades that are worth the money.
Compare the Best Fat Tire Mountain Bikes at a Glance
| | | | | | | | |
| --- | --- | --- | --- | --- | --- | --- | --- |
| Model | Takeaway | Drivetrain | Frame | Tire width | Rating | Price | Where to buy? |
| RadRover 6 Plus Electric Fat Bike | Best Electric Fat Bike | 7-speed | Alloy | 4.0" | 9.5/10 | $2,099 | Check price |
| Trek Farley 7 | Best Hardtail Fat Bike | SRAM GX Eagle 12-speed | Alloy | 4.5" | 9/10 | $2,729 | Check price |
| Salsa Beargrease Carbon Deore 11 | Best Carbon Fat Bikes | Shimano Deore 11-speed | Carbon | 4.0" | 9/10 | $2,949 | Check price |
| Mongoose Dolomite | Best Fat Bike Under $500 | 7-speed | Alloy | 4" | 7.5/10 | $498 | Check price |
| Rocky Mountain Blizzard 10 | Best Value Fat Bike | Shimano Deore 10-speed | Alloy | 4.5" | 9/10 | $1,599 | Check price |
| Surly Big Fat Dummy | Best Fat Tire Cargo Bike | SRAM GX | Alloy | 3" | 8.5/10 | $3,175 | – |
| Salsa Mukluk | Most Versatile Fat Tire Bike | Shimano Deore 11-speed | Alloy | 4.6" | 8.5/10 | $2,149 | – |
Best Fat Tire Mountain Bikes
Best Electric Fat Tire Bike
1. RadRover 6 Plus
PROS
Powerful 750W rear hub electric motor
Front suspension fork
Hydraulic disc brakes
CONS
No dropper post
Traditional 26" wheel size
Lower quality components than rival fat bikes
Rad Power Bikes are leading the ebike movement in North America and their flagship RadRover range is sure to impress. The latest generation, the RadRover 6 Plus, is a fat tire mountain bike with front suspension and a rear hub motor. The new design swaps the old external battery for a sleek, semi-integrated battery pack that's rated for up to 45 miles on a single charge.
Not your typical fat bike, the RadRover 6 Plus provides a boost thanks to 5 pedal assist levels and a pedal-free throttle mode. The frame is made from 6061 aluminum and there's a 60mm front fork to provide a bit of cushion. There are only 7 gears in the 1x drivetrain which is significantly fewer than other models on this list, knocking down my overall rating slightly. That said, the inclusion of hydraulic disc brakes and such a powerful motor are impressive for the price.
Related Article: How to Choose Bike Tires
The Rad Rover 6 Plus is part of a new wave of ebikes that have grown significantly in popularity over the past few years. The burgeoning category is defined by ebikes that are affordable (typically under $2,000) and have fat tires along with built-in features like fenders or lights. Other brands that have a hand in the game include Aventon, Ride1Up, and Himiway, but Rad Power Bikes can emerged as the leader in the North American market.
Cyclists on the hunt for a motorized fat tire bike that won't break the bank, this model performs well off-road and inside the city limits. For the adventurous speed demons out there, the RadRover has fun written all over it.
OUR VERDICT
Competitively-priced electric fat tire bike with tons of added features.
Best Hardtail Fat Bike
2. Trek Farley 7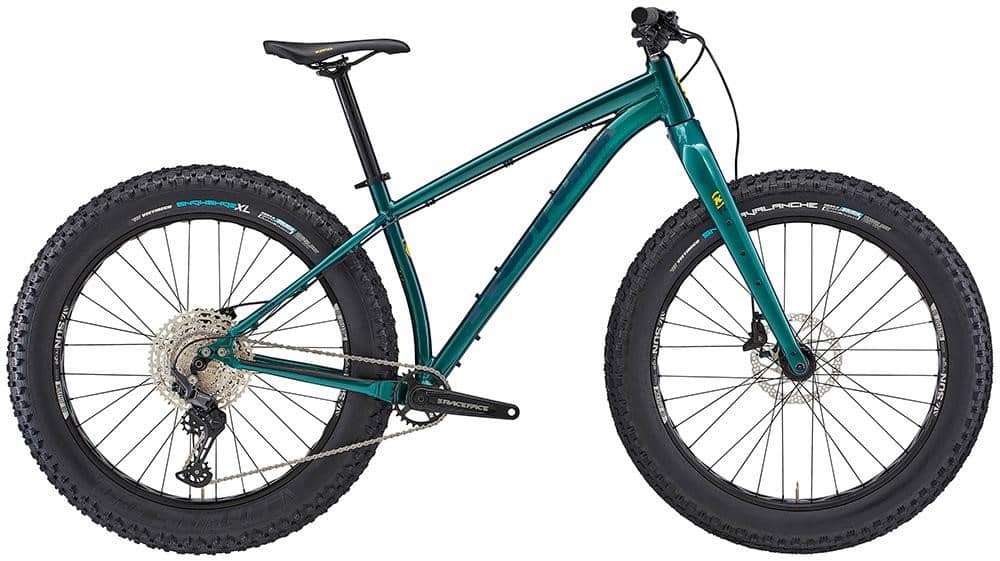 PROS
Front suspension fork
Dropper post
27.5" rims instead of 26"
CONS
Large profile that might not fit smaller riders
A bit expensive
As one of the most commonly thrown-around names in the fat bike world, the Trek Farley is a dependable beast that'll get the job done. Trek is dedicated to producing high-quality fat bikes and hasn't limited itself to just one or two models. The Farley 7 is an iteration that opts for a suspension fork, a somewhat rare sighting among fat bikes, but something that can really come in handy on the rowdiest trails.
The distinctive feature of the Farley 7 is the Manitou Mastodon 34 Comp fork with 80mm of travel. As fat biking is becoming more popular, riders are taking their bikes into the rougher terrain we normally expect with standard MTBs. Fat biking isn't limited to just snow and ice now, suspension helps on choppy singletrack and bumpier trails. The Farley's fork lets you explore chunkier trails and transforms this model into an authentic monster truck on two wheels.
Other stand-out details include the 27.5" rims instead of the usual 26" hoops installed on most fat bikes. This means the bike rolls faster over bigger obstacles. There's also a dropper post so riders can achieve the perfect position based on the current terrain. That said, some riders might stay away from this model due to its relatively high price tag, knocking it down a point in my rating.

Fat bike racing is picking up speed across the country and the Trek Farley 7 could be your ticket to a winning performance. Not all routes, races, or off-piste expeditions require a front suspension fork, but you take advantage of the extra travel to get a leg up on the competition.
OUR VERDICT
Impressive fat tire bike with a Manitou Mastodon front suspension fork and 27.5" wheels.
Check out a helpful video breakdown of the Trek Farley 7 by Al's Sporting Goods bike store here.
For riders wanting a completely rigid frame, feel free to check out the more affordable Farley 5 and carbon fiber lovers can satisfy their weight-saving tastes with the high-spec Farley 9.6.
Related Article: Mountain Bike Essentials
Best Carbon Fat Bike
3. Salsa Beargrease Carbon Deore 11
PROS
Lightweight Beargrease Carbon V2 frame
Shimano Deore 11-speed groupset
Tektro hydraulic disc brakes
CONS
No dropper post
Significant premium to pay for carbon frame
A full carbon fiber fat bike? That's right— the Salsa Beargrease is the ultimate all-terrain machine. The Beargrease strikes the right balance between lightweight performance and trail-tough capabilities provided by the fat 27.5×4.0" tires. For this list, I've selected the Deore 11-speed model over the more expensive SLX carbon version because I think it's a better value.
I mentioned that the Trek Farley 7 could be used as a racing fat bike, but the Salsa Beargrease really takes the cake when it comes to podium performances. The lightweight carbon fiber frame won't hold you back and you'll feel as if you're floating over the terrain, whether it's ice, snow, sand, or mud. Unlike the Farley 7, however, there's no suspension (other than the cushy, large-volume tires) so you can maximize efficiency during races.
While I love the Beargrease as a racing machine, there's nothing stopping from being the perfect bikepacking setup. On all their bikes, Salsa Cycles never ceases to impress when it comes to frame mounts and the little touches and this model comes ready to carry serious amounts of gear.
The Beargrease's highlights don't stop at the lightweight carbon frame, though— there are also plenty of integrated bolts so you can mount extra gear while bikepacking. This bike runs 27.5" wheels rather than the traditional 26" setup for more off-road capabilities and matches them with 45NRTH Vanhelga 4.0" tires. I dock the Beargrease a point because I would have liked to see a dropper post and a slightly more affordable price given the mid-range groupset.
OUR VERDICT
Race-ready carbon fiber fat bike for premium performance on the most fun terrain.
Best Fat Bike Under $500
4. Mongoose Dolomite
PROS
Ultra-affordable
Quality 4" tires
Stylish colored rims
CONS
Low-quality twist shifter
Heavy
The affordable Mongoose Dolomite is perfect for riders on a tighter budget who want the benefits of a fat bike. The Mongoose brand has been around forever and has since pivoted to manufacturing entry-level bikes for beginners or recreational riders. If you are looking to test out fat biking, the Dolomite is a great place to start.
Some mountain bike purists might scoff at the unbranded and, let's face it, cheap components on this fat bike, but the overall build makes sense considering its intended use. The Dolomite is ideal for comfortable street riding and cruising along the boardwalk as the 4" tires roll great over sand. The fun colored rims make a statement, too.
The Mongoose Dolomite is significantly more affordable than other fat bikes on this list and it shows in the quality of its components. I don't see that as a downside, though, because the Dolomite performs great during its intended use. Don't expect to send it through the chunkiest terrain or have perfect shifting every time, but this bike reliably delivers fun on neighborhood paths and local trails.
There are 7 gears with a twist shifter and reliable mechanical disc brakes. Asking for hydraulic brakes is a bit ambitious considering the price, but I would have liked to see a better-quality trigger shifter. If you like the Dolomite, it's worth checking out its Mongoose fat bike siblings the Argus and Malus which come with slightly different features. Overall, the Dolomite's unbeatable price encourages people to hop on a fat bike who otherwise wouldn't and that's something everyone can get behind.
OUR VERDICT
Budget-friendly fat bike designed for casual fun on recreational routes.
Best Value Fat Bike
5. Rocky Mountain Blizzard 10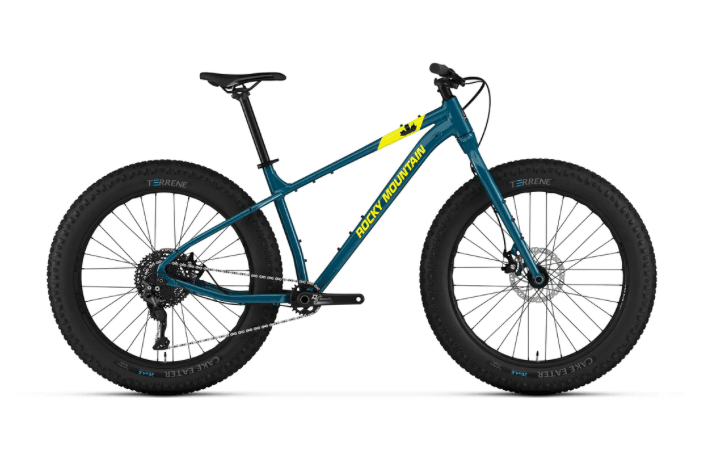 PROS
Tons of frame mounts
Cool colors
Wide 4.5" tires
CONS
No dropper post
Only 10 gears instead of 12
The Rocky Mountain Blizzard 10 takes the cake as the best-value fat bike on this list. At just $1,599, the adventure-ready bike comes with monstrous 4.5" tires and tons of extra mounts distributed across the frame and fork. If you're planning on using your next fat bike for bikepacking or off-piste touring, there is plenty of room for additional racks, water bottle cages, and mounted gear.
I appreciate that Rocky Mountain includes the frame mounts on each of their Blizzard models, from the most-affordable Alloy 10 all the way up to their top-of-the-range Carbon 50. The Blizzard is a fantastic value, but, for me, it's lacking a dropper post — I think Rocky Mountain could have squeezed in that tech, so I've docked a point from my rating.
If you want to explore the higher end of Rocky Mountain's fat bike lineup, there are plenty of options to choose from. I've selected the Blizzard Alloy 10 as a solid starting point but customers can pick packages with improved componentry or a carbon frame. The brand just launched a few new colorways so riders can snag a frame that matches their personal style.
As you can probably glean from the name, the Blizzard excels in snowy and icy conditions but can handle a wider variety of terrains, too. The massive 4.6" tires are mounted on 26" rims for navigating the chunkier trails. This version runs a Shimano Deore 10-speed drivetrain, but riders who want a 12-speed setup can upgrade to the $1,849 Rocky Mountain Blizzard 20.
OUR VERDICT
Dependable fat tire mountain bike perfect for kickstarting your expeditions.
Best Fat Tire Cargo Bike
6. Surly Big Fat Dummy
PROS
Huge tire clearance
Stable, slack geometry
Big cargo capacity
The Surly Big Fat Dummy is a long-tail cargo bike that's unlike anything else, capable of carrying huge loads with tractor-level stability. Surly is well-known and well-loved for its utilitarian bikes that strike the perfect balance between rugged aesthetics and great performance. The brand's Big Dummy is their flagship cargo bike, but they've upped the ante and outfitted this model with massive tires and slack geometry that rides great, even while hauling tons of cargo.
The Big Fat Dummy can run a range of wheel and tire combinations to customize your ride. The bike can accommodate 29" with a maximum tire width of 3" as well as monstrous rubber up to 5.25" wide on 26" rims. The extended deck at the rear lets you carry a passenger or plenty of gear and the bike ships with rails, bags, and rail collars to set you up for whatever errands you need to get done, from grocery shopping to getting around town or delivery.
It's difficult to compare the Surly Big Fat Dummy to other fat bikes because of its unique cargo design and it's not for everyone. That said, if you frequently haul gear over bumpy terrain, this model can transform your experience from a bleak slog to an exciting expedition. I imagine this fat bike workhorse could work wonders for fishermen, hunters, or couriers working through the winter months.
Despite its long wheelbase and oversized tires, I actually consider the Big Dummy as having a much smaller profile than other cargo bikes on the market. Models from city-oriented brands like Yuba Bikes have larger tube shapes and extra materials that can bloat the bike. The strong construction and normal tube shapes make me feel like I'm riding a standard bike, but one with super powers.
Related Article: Best Mountain Bike Shoes
OUR VERDICT
Oversized fat bike built to carry cargo and gear to any destination.
Most Versatile Fat Tire Bike
7. Salsa Mukluk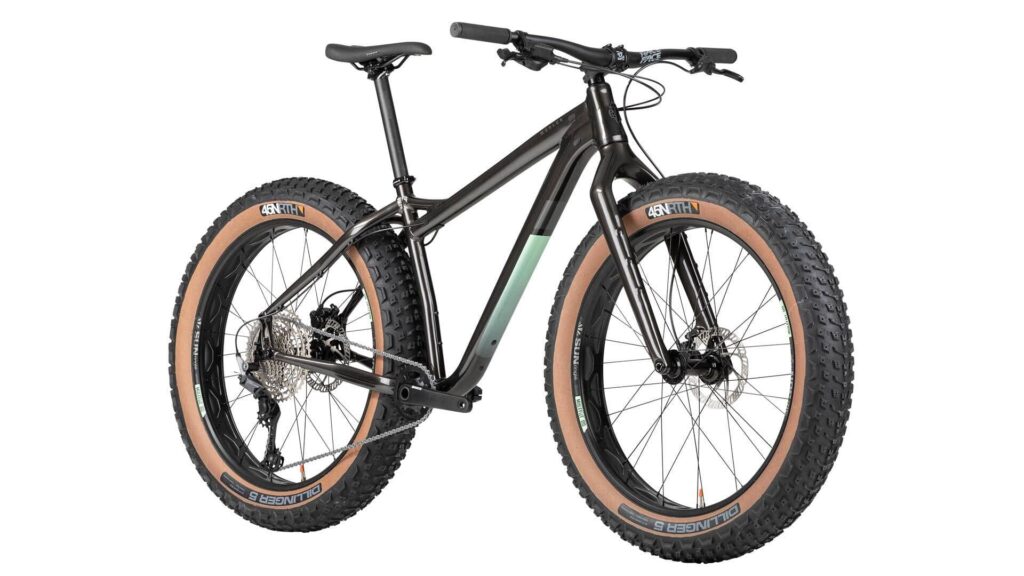 PROS
Plenty of frame mounts
Shimano Deore 11-speed
Big tire clearance
Another all-rounder fat bike that's made its way on this list is the versatile Salsa Mukluk. A brand that shares a similar design philosophy to Surly, Salsa Cycles is the king when it comes to rugged and reliable bikes. The Mukluk is available in a few iterations and I recommend the Shimano Deore 11-speed version— there's also a more expensive carbon fiber model.
The Mukluk is designed for riding in any season no matter the weather or surface conditions and comes with a dependable package with 4.6" tires and SRAM Level hydraulic disc brakes. There's no dropper post, so I have to drop a point and a half off my rating considering the price.
Dive into Salsa Cycle's overview of the Mukluk models in a short video here.
There's plenty of room and integrated mounts to carry frame bags and other ride essentials during your adventures. Both the frame and fork have secure spots for extra bottles, camping gear, and other items. Another special feature are the alternator dropouts— this way, riders can set up their Mukluk as a single-speed or geared fat bike depending on their needs.
OUR VERDICT
Versatile fat bike loaded with mounts to carry gear on long rides or bikepacking trips.
I've included this bike to serve also as an introduction to Salsa's impressively extensive range of fat tire mountain bikes. For the dedicated fat bike racers out there (a fast-growing discipline!) there's the lightweight Beargrease carbon model. And if the Surly Big Fat Dummy was a bit too much cargo capability for your needs, the Salsa Blackborow is a slimmed-down expedition bike with a serious rear rack for carrying gear.
Related Article: 9 Must-Have Mountain Bike Helmets
Buyers' Guide
Fat bikes can make a massive difference for riders who frequently traverse tricky terrains like snow, ice, sand, or mud, and although most models share key features, there are a few tips for picking out the perfect one. Read through the brief buyers' guide below so you make sure your next fat tire mountain bike is the right tool for the job.
Suspension
Fat bikes with front suspension are an uncommon breed, but it's useful to get this distinction out of the way in order to narrow down your search. Fat bikes used to just be rigid frames with oversized tires, but the growth of fat bike racing and other uses has led to some models having a short-travel fork with around 80mm of cushion. If you ride in areas with big rocks and roots or descend steep trails, a suspension fork will come in handy.
Wheel Size Compatibility
Long gone are the days of the ubiquitous 26"x4" fat tire setup; riders now have a wide range of wheel options to choose from. If you want to be able to swap out wheelsets, look out for fat bikes that can accommodate both 29" wheels and 26" (like the Surly Big Fat Dummy), allowing riders to run different maximum tire widths. Many modern fat bikes have embraced 27.5" rims, including the Rocky Mountain Blizzard 10 and the Canyon Dude CF 7.
Tire Size
The main advantage of fat tire mountain bikes are their monstrous tires that provide additional traction and shock absorption. Models such as the Canyon Dude CF 7 come with 3.8" tires (on the narrower side) while other bikes like the Salsa Mukluk come stock with larger 4.6" rubber. Pay attention to maximum tire clearance if you want to upgrade your tires later on. Wider rubber offers more grip but can feel sluggish and more difficult to make tight turns on the trail.
Drivetrain Choices
Almost all fat bikes run a 1x drivetrain, so the decision here is really about how many gears you want on the rear cassette. The more gears the better so you can stay in the right pedaling ratio going up and down hills, but those extra cogs normally come with a higher price tag. The bikes with the best drivetrain on this list are the Canyon Dude CF 7 and Kona Woo, both rocking a 12-speed setup. On the other side of the spectrum, the Mongoose Dolomite comes with a modest 7-speed drivetrain.
Fat Tire Mountain Bike Size Chart
| | | |
| --- | --- | --- |
| Size | Rider Height | Inseam |
| S | 153 – 167 cm 5'0″ – 5'6″ | 72 – 79 cm 28″ – 31″ |
| M | 161 – 175 cm 5'3″ – 5'9″ | 76 – 82 cm 30″ – 32″ |
| L | 174 – 188 cm 5'9″ – 6'2″ | 82 – 88 cm 32″ – 35″ |
| XL | 186 – 196 cm 6'1″ – 6'5″ | 87 – 92 cm 34″ – 36″ |
| 2XL | 195 – 203 cm 6'5″ – 6'8″ | 92 – 95 cm 36″ – 37″ |
Frequently Asked Questions
Are fat tires better for mountain biking?
Fat tires are specifically designed to provide extra grip and stability on ice and snow. Their additional surface area and low air pressure are also appropriate for riding over sand and mud, so if you frequently ride in those demanding conditions, fat tires will help you out.
Which brand of fat bike is best?
Most major mountain bike manufacturers produce their own fat bike model, including quality brands like Trek, Kona, and Canyon. Mid-sized brands like Salsa and Surly are well-known for making excellent fat bikes and offer a couple of versions.
What are the disadvantages of a Fat tire bike?
Fat bikes are built for certain types of riding and their high performance in tough terrain can come with some drawbacks. The specialized tires and wide rims can be heavier and more expensive than standard MTBs and the larger profile can feel sluggish or unwieldy to steer, especially for smaller riders.
Is it harder to ride a Fat tire bike?
Fat tires are actually much easier and safer to ride in tricky terrains like ice, snow, sand, or mud. However, the ultra-wide tires can require more effort to turn and can feel too large for shorter riders.
Why would I want a fat tire bike?
Fat tire bikes excel in the snow and ice, making them a go-to choice for mountain bikers during the colder winter months, as well as off-road adventures who want to take advantage of the comfortable and grippy ultra-wide rubber.
How do I choose a fat bike?
Because of fat bikes' large silhouette, it's crucial to choose the right frame size for your height— we've included a size chart above. Most fat bikes have similar suspension-free frames and 1x gearing, but, depending on your budget, there is room to choose between tire width and the quality of components.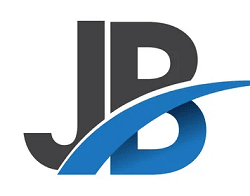 Jeffrey Brown is a writer, editor, and professional bike mechanic with over 7 years of experience working in full-service and community-based bike shops. As a bicycle educator, he has supported youth programs across the US that teach bike mechanics and life skills to prepare the next generation of cyclists.
Jeffrey began his professional mechanic career at his university bike co-op, so he recognizes the grassroots power of the cycling community. Initially self-trained as a mechanic, his subsequent positions as manager and lead educator gave him official training. He has won various awards and grants for his role as a bicycle and environmental advocate.