(Last updated on February 24th, 2023)
If you want a reason to get outside into nature and love to go exploring far and fast, mountain biking could be the perfect sport for you. Mountain biking is increasing in popularity every year, and because of this, we're seeing lots of new bikes on the market. Finding the good from the bad bikes can be very challenging, and they can be a big investment.
In this article, we want to tell you about some of our best picks of mountain bikes under $3000, but not just any mountain bikes, full-suspension mountain bikes. You can pair them with cool gears and feel on top of the world riding all day!. We are going to give you our top picks, a buyer's guide, and also answer some of your commonly asked questions.
What is a Full Suspension Mountain Bike?
A full-suspension mountain bike is the most capable type of bike when it comes to trail and downhill riding. They have suspension on the front forks and rear shock, giving the bike the ability to roll over bumps and perform excellently on loose terrain.
You will see full-suspension bikes in many different cycling disciplines, such as trail riding, enduro, cross-country, and downhill racing. Full suspension bikes are made up of many parts and can hugely range in price.
What Do We Look for When It Comes to Picking the Best Full Suspension Bikes?
Full-suspension mountain bikes can be challenging to understand as they are made up of many various parts. We have been lucky enough to review many and know how to tell the difference between a good and a bad bike. The way we do this is to break it down and by looking at these categories.
Design
The first thing we need to look at is what the bike is designed for. Is it for cross-country riding, which is light trails, or is it made for extreme downhill racing? We want to make sure whatever the bike is designed for has the parts and performance to match.
Frame and Forks
It's important to look at the frame closely. What is it made of? What is the geometry like? Then we have the forks. Who makes them? What kind of travel do they have? The frame and forks are the bike's main parts and must be excellent.
Gearing
The gearing is going to help you get up and downhill quickly. When it comes to riding mountain bikes, you need a good range of gears. Riding on loose terrain and up steep inclines can be very difficult without the correct gearing.
Wheels and Tires
On mountain bikes, wheels and tires come in different sizes, giving them certain characteristics. We must understand the wheel and tire size well because different sizes can completely change how the bike will ride.
Related: Mountain Bike Sizing Guide
Brakes
Going quickly is a lot of fun, but to ensure you do it safely, you need the ability to stop quickly too. Having decent brakes goes a long way to improving the mountain biking experience. We want the bike we recommend to stop quickly and be as safe as possible.
Special Features
Full suspension bikes can come with some amazing features, such as dropper posts, flip-chip rear hangers, fork and shock lockouts, and much more. These can be the difference between a good and a great bike.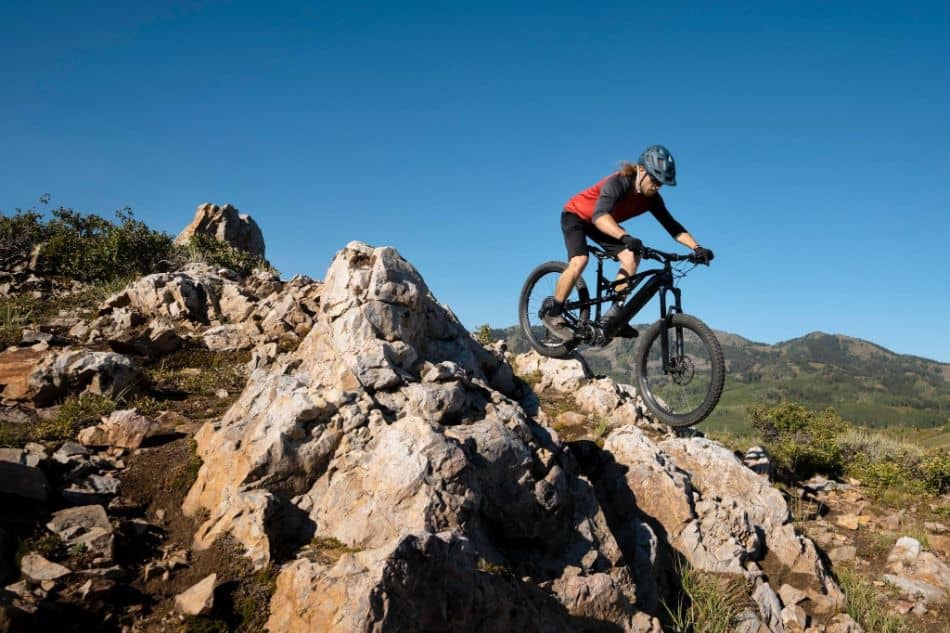 | | | | | |
| --- | --- | --- | --- | --- |
| Gearing | | Wheels | Price | Rating |
| Shimano Deore | | 29" | $2800 | 8/10 |
| Shimano SLX | | 29" | $3000 | 9/10 |
| Shimano Deore 5100 | | 29" | $2525 | 8/10 |
| Shimano XT M8100 | | 29" | $2665 | 10/10 |
| Shimano SLX | | 29" | $2720 | 9/10 |
| Tektro HD-M535 | | 29" | $2000 | 8/10 |
Best Full Suspension Mountain Bike Under $3000 – 2023 (Updated List)
Best All Rounder
1. Orbea Occam H30
KEY SPECS
| | |
| --- | --- |
| Frame | Hydroformed Polished Aluminum |
| Fork | Marzocchi Bomber Z2 140mm |
| Shock | Fox Float 140mm |
| Groupset | Shimano Deore M6100 1×12 |
| Brakes | Shimano MT201 |
| Wheels and Tires | 29" OC1 Maxxis 2.4" |
| Weight | 15.3kg |
PROS
Frame looks incredible
Great suspension
Shimano Deore gearing
29" mixed wheels
OC dropper post
CONS
Not the lightest at 15.3kg
Brakes are basic
The top end of the budget
In recent years, Orbea has been making waves in the mountain bike scene with its amazing value-for-money bikes. They have found a way to be excellent on price and offer incredible performance. The Occam H30 is a great example of this.
The frame is made of aluminum, and it's hydroformed, polished, and looks amazing in bright orange. It's paired up with Marzocchi bomber forks giving 140mm travel on the front and a Fox Float with 140mm on the rear. This is perfect for trail riding and, with a bit of skill, will run an enduro course well.
The gearing is the Shimano Deore M6100, and this will give you 12 speeds to play with an excellent range for climbing up hills with a high cadence. Paired with this are the Shimano MT201 hydraulic brakes. They are great for stopping quickly and incredibly reliable, and easy to maintain.
As far as wheels and tires go, you are rolling on 29" wheels which are Orbea's own, and they have equipped these with Maxxis mixed tires to help grip and control. We also love that this bike comes with an OC mountain dropper post to improve performance further.
We really like the Orbea Occam. It's a great full-suspension bike at an excellent price. It may not be the lightest, cheapest, or have huge brakes, but it will perform and be fun to ride. For more information on the Occam check out this video.
Best All Mountain
2. Marin Alpine Trail XR
KEY SPECS
| | |
| --- | --- |
| Frame | Series 4 Aluminum 6061 |
| Fork | RockShox Lyric Ultimate 160mm |
| Shock | RockShox Super Deluxe Ultimate |
| Groupset | Shimano SLX/XT 1×12 |
| Brakes | Shimano MT420 |
| Wheels and Tires | 29" Marin Maxxis 2.5" |
| Weight | 16.2kg |
PROS
Looks epic
Great suspension ability
4 Piston Shimano brakes
High-end gearing
Dropper post
CONS
Weighty
Extreme for light trails
The top end of the budget
Marin has a heritage, and when it comes to excellent mountain bikes and the Alpine Trail XR boasts some excellent performance to prove that. The frame on this bike is Series 4 aluminum, and it is paired up with twin RockShox suspension giving you 160mm of bounce.
The groupset is a mix between Shimano SLX and XT, which is only a few models away from what the Pros are using. Unlike the Orbea above, you have some large four-piston Shimano brakes that provide incredible stopping power no matter the conditions.
The wheels are Marin's own. They come with Maxxis tires in a 2.5" and are tubeless-ready, meaning they have the ability to self-heal. You also X-Fusion Manic S to help you get low and rip down those trails.
The Marin Alpine Trail XR is an excellent bike, and as far as off-road performance goes, one of the best on this list. Although we highly rate it, it's the top end of the budget and really designed for very technical terrain. If you want extreme riding, then this is ideal. For more information on this bike check out this review
Best Value for Money
3. Cannondale Habit 5
KEY SPECS
| | |
| --- | --- |
| Frame | Smartform C1 Aluminum |
| Fork | RockShox 35 Silver 140mm |
| Shock | RockShox Super Deluxe 140mm |
| Groupset | Shimano Deore |
| Brakes | Tektro M275 |
| Wheels and Tires | 29" WTB Maxxis 2.5" |
| Weight | 15.4kg |
PROS
Looks incredible
Twin Rockshox
WTB wheelset
High-end gearing
Good price
Great for all-mountain riding
CONS
Older Deore Groupset
Not the most visible bike
Cannondale has been making bikes for many years, and the Habit is a mountain bike we really like. It not only rides well, it just really looks the part with a simple jet black design. The frame is Cannondale's smartform C1 aluminum and has a mixed geometry for all types of riding.
The suspension is a twin Rockshox setup with a 35 Silver on the front and Super Deluxe on the rear. It has Shimano Deore gearing, but the Habit 5 only has 11 speeds, as the gearing is the previous Deore model. It still offers a great range and ability though.
The brakes are Tektro M275, and these are powerful hydraulic disc brakes. The wheels are from WTB. They are 29," and tubeless-ready paired up with Maxxis tires. Coming in at 15.4kg, it's lightweight and even has a dropper post too.
The Habit is an excellent bike and offers great value for money. It has great ability, and the components are good, even though the Deore groupset might be a bit outdated. Apart from that we really like it.
Related: Best Mountain Bike Brands
Best for Speed
4. Diamondback Release 29 3
KEY SPECS
| | |
| --- | --- |
| Frame | Hydroformed Aluminum |
| Fork | Fox 34 140mm |
| Shock | Fox Float 130mm |
| Groupset | Shimano XT |
| Brakes | Shimano XT |
| Wheels and Tires | 29" Diamondback Maxxis 2.3" |
| Weight | 13.6kg |
PROS
Fox suspension
XT groupset is incredible
Tubeless ready
Very lightweight
Dropper post
Come with a tool kit and pump
CONS
It will be more costly to maintain than others
If you are looking for a bike that will rip down trails fast and give you some serious performance, then we recommend the Diamondback Release 29 3. It's a very good bike, and it comes equipped with some great components. The frame is hydroformed aluminum and comes in a bright off-white.
The suspension comes from Fox, you have a 34 on the front and a performance float on the rear, giving you 140mm/130mm of travel. This is great for XC and all-mountain riding. It has an XT groupset which is one level below the professional's XTR, and Shimano makes this along with the brakes.
The tires are 29", and they are Diamondback's own. They come tubeless ready and are fairly lightweight equipped with Maxxis tires in a 2.3". The bike weighs only 13.6kg and is one of the lightest bikes on this list, even with a Kindshock LEV dropper post too!
The Diamondback Release is an incredible bike with so much to offer. It's lightweight, has great components, and will be amazing for racing. We struggle to fault it. The only thing we will say is that when services come around, parts will be more expensive.
Best for Enduro
5. Vitus Sommet 29 CRS
KEY SPECS
| | |
| --- | --- |
| Frame | Carbon Fiber |
| Fork | RockShox Zeb 170mm |
| Shock | RockShox Super Deluxe Debon Air |
| Groupset | Shimano SLX |
| Brakes | Shimano SLX |
| Wheels and Tires | 29" Nukeproof Maxxis 2.4"/2.5" |
| Weight | 15.8kg |
PROS
Incredible for off-road riding
Looks great
Fox suspension
Nukeproof wheels
SLX groupset
CONS
Not the lightest
Overkill for light trails
Top of budget
The Vitus Sommet 29 is a different breed of the bike compared to the rest of this list. It has some incredible specifications that will make riding the toughest trails easy. Being carbon fiber, it's super lightweight and stiff, making it an incredible racing machine.
This frame is paired up with RockShox suspension, a Zeb on the front giving 170mm, and a Deluxe Debon Air on the rear to match. This bike gives a lot of travel, so perfect for Enduro racing. It has an SLX groupset giving 12 speeds, smooth shifting, and great reliability.
The brakes are Shimano SLX too, and connected to these, we have 29" Nukeproof wheels and Maxxis tires of mixed sizing for perfect grip. It's not the lightest bike at 15.8kg, but it has an amazing ability for very tough terrain.
Best Budget
6. Norco Fluid FS 4
KEY SPECS
| | |
| --- | --- |
| Frame | Aluminum 6061 |
| Fork | RockShox Recon RL 140mm |
| Shock | X-Fusion 02 Pro R 130mm |
| Groupset | Shimano Deore |
| Brakes | Tektro HD-M535 |
| Wheels and Tires | 29" Stans Flow Goodyear 2.3" tires |
| Weight | 15.4kg |
PROS
Price is excellent
Good all round components
Good suspension
Excellent for All Mountain
Dropper post
CONS
Not the lightest
Old Deore groupset
If you are looking for something with a little more budget for the trails but still want a high level of performance the Norco could be ideal for you. It's a great-looking bike and comes in a stealthy black with gloss detailing. It has great geometry for a long day out on the bike and a quick rip down a trail.
It has good suspension, a RockShox Recon RL on the front, and X-Fusion Pro on the rear. This will give you 140mm on the front and 130mm on the rear. Great for All Mountain and XC riding. The gearing is the 11-speed Shimano Deore. Again it is good, but the older model. It comes with Tektro brakes, they are the HD-M535 4 piston brakes which are excellent.
The wheels are 29" stans flow and come tubeless ready with some Goodyear tires in a 2.3". Coming in at $2000, it's much less than many of the other bikes on this list and still can perform on the trails well. It weighs 15.4kg and even comes with an SDG dropper post which makes this bike incredible value.
Full Suspension Mountain Bikes Buyers Guide
If you're not interested in any of these bikes then you must check out our best full-suspension bikes under $2000 here. In this next section, we're going to be telling you what to look out for when hunting for those new bikes and the questions you should be asking yourself.
Discipline
Mountain bikes come in all shapes and sizes, especially when it comes to full-suspension bikes. It's important to understand what the bike is designed to do regarding discipline. Some will be made for cross country, others for enduro, and even downhill. Whatever discipline you plan to do, you should buy a bike that suits that discipline.
Frame
Frames typically come in either carbon fiber or aluminum. Aluminum is heavier but much cheaper. Carbon fiber is more expensive but lighter and stiffer. We recommend aluminum for beginners and experts carbon fiber if it's within your budget. The second thing you want to ensure is that the bike you're looking for comes in your size. We recommend never compromising on sizes.
Suspension
When it comes to the suspension, there's a lot you can overthink about, but we recommend keeping it simple and just thinking about the amount of travel. Typically the more travel the bike has in the suspension, the better ability it will have on rough trails. For example, cross-country bikes will have around 100mm to 130mm travel, and downhill bikes can have up to 200mm travel.
Gearing
When it comes to gearing, we recommend going for a well known brand such as Shimano or SRAM and if you can get gearing with as wide a range as possible. On modern mountain bikes with 1X groupsets, you want the biggest cassette possible.
Wheels and Tires
When it comes to wheels, you will get different bike handling characteristics from different sizes. On smaller wheels, such as 27.5" and 26", you will have a much better ability to turn and move around objects easier alongside better acceleration. On larger wheels, such as 29", you will have a much better ability to roll over objects and a much higher top speed.
For very technical trails, such as enduro racing, you will probably find smaller wheels of 27.5" could give you an advantage. For less technical trails, such as cross-country racing, you will find larger wheels of 29" could give you a great advantage.
Weight
Although we all want the lightest bike, we wouldn't overthink the weight. Yes, there's a difference in performance, but it's very minimal. Only if you are planning to race professionally would you worry about the weight of a bike. Typically the heavier bikes are, the stronger and have better off-road ability.
If you want more advice on picking the right bike for you check out this YouTube Video.
Conclusion
We hope you enjoyed our article and found the perfect full-suspension bike under $3000 for you. We are very lucky to have ridden many miles and enjoyed lots of different bikes to speak about. These full-suspension bikes are some of the best you will find on the market and will give you an excellent experience when out on the trails.
Frequently Asked Questions
What are the benefits of a full-suspension mountain bike?
A full-suspension mountain bike has two points of suspension, giving it amazing ability off-road. It means you can go over obstacles better, land more comfortably from drops, and create a much better flow while speeding down a trail.
How much should a full-suspension bike weigh?
Full suspension bikes have a lot more components on them, and because of this, they weigh more. Generally, lighter bikes will weigh as little as 12kg, but heavier bikes can weigh as much as 18kg.
Is a full suspension better than a hardtail?
On a tough trail, a full suspension will be much better than a hardtail mountain bike. On a light cross-country course, you might find the hardtail to be better. It depends on where you're riding, but as far as off-road ability goes, the full suspension is better.
Why is high-end suspension so expensive?
Suspension is expensive because it has a very important job to do and when mountain biking is one of the most heavily used components. The fork has to be lightweight, very durable, go long periods without servicing, and some have to travel as much as 200mm. They may seem like simple components, but they are very complex.
Why might you want a hardtail over a full-suspension bike?
Hardtail bikes are much cheaper, they are much lighter, and typically require less servicing than a full suspension bike. If you're not on technically challenging off-road terrain, we highly recommend a hardtail over a full suspension.
I'm Robbie Ferri, a writer from Norfolk in the UK. I love cycling, the gym, and have a huge passion for sharing my stories and knowledge to anyone with the time to read them. My main passion is cycling. I started eight years ago. In that time I have broken world records, cycled all over the world in Ultra Bikepacking races, and am lucky enough to have enjoyed some incredible times on two wheels with some incredible people. I have also worked in a bike shop and with some of the industries leading brands, not just promoting products but designing them too.
Under it all I am just someone very passionate about exploration and living a healthy lifestyle. Everything I do I put 100% into it and feel that life is for living. Never should you have a dull day.