(Last updated on March 16th, 2023)
When I first started cycling, I picked up an inexpensive helmet at Target. But it was heavy and hot and just didn't fit well. I knew a helmet was necessary and that all helmets had to meet basic US CPSC safety standards. But at the time, I didn't see the difference between an inexpensive helmet and a more expensive one.
Over time, I learned more about safety, comfort, and aerodynamics.
Finally, I figured out that you can have a helmet that gives you extra protection against head injuries, feels comfortable, and won't slow you down. The Giro Synthe Mips helmet does all of that. It's a high-performance helmet that works so much better than inexpensive helmets.
In this article, I'll give you my Giro Synthe MIPS review. I'll talk about all of the characteristics that define this helmet. I'll give you the pros and cons, technical specifications, and of course, give you my honest opinion. Let's get started.
Giro Synthe Mips Helmet Overview
The Giro Synthe Mips Helmet gives you excellent performance, safety, and comfort for various head sizes. This helmet has two versions: the original Giro Synthe Mips helmet and the Giro Synthe MIPS II.
The original version of the Giro Synthe MIPS Helmet is still an excellent choice in its own right if you can find one. Still, the Giro Synthe II helmet reviews show it to be even more lightweight and comfortable than its groundbreaking predecessor.
Giro took a really good helmet and made it even better—and better looking.
Giro Helmets Review
First, when you wear a Giro Synthe MIPS helmet, you'll get fantastic comfort, adjustability, and protection rolled into one compact, lightweight package. It's an all-around great helmet for road and gravel riding.
However, it isn't intended for mountain biking since it isn't a full-face helmet.
While the Giro Synthe isn't specifically an aerodynamic helmet, it is compact and has a low profile, so it won't create too much aerodynamic drag. In addition, it uses multiple avenues to keep your head cool, with a fit dial and extra padding for the ultimate fit.
KEY SPECS
| | | |
| --- | --- | --- |
| Protection | Integrated MIPS Brain Protection System | |
| Construction | Roll Cage Reinforcement | |
| Ventilation | Wind Tunnel Ventilation including 19 wind tunnel vents with internal channeling | |
| Comfort | Employs the ROC LOC® AIR MIPS® SYSTEM | |
| Material | Made of an In-mold polycarbonate shell with EPS liner, thermoformed SL Roll cage reinforcement | |
| Weight | Size Medium: 275g | |
| Fit and Sizing | Complies with US CPSC Safety Standard for Bicycle helmets for persons age five and older | |
| Adjustability | Includes featherweight webbing with slimline buckle ionic+ anti-microbial padding | |
| Style | Available in 8 popular colors | |
Giro Helmets Review Criteria
So how did I review the Giro Synthe Helmet? I looked at several criteria involved in creating a great bike helmet. I rated the Giro Synthe Helmet for each criteria, giving it a number between one and five, five being the best and one being the worst.
This way, you can see how good the Giro Helmet is, especially compared to a few competitors.
Virginia Tech Giro Synthe Review 5/5
First, helmets sold in the United States must conform to the US CPSC safety standards for people ages five and above. So naturally, the Giro Synthe MIPS adheres to these minimum safety standards.
However, Virginia Tech has gone above and beyond to measure the safety of helmets at an even higher level.
Virginia Tech tests low and high-energy impacts to see how helmets fair. For example, the Giro Synthe MIPS helmet received 5 out of a total of 5 stars. However, the original Giro Synthe helmet did not have MIPS protection – that version only received 4 out of 5 stars.
Overall, the helmet ranked 84th out of 188 helmets tested by Virginia Tech.
I give the Giro Synthe MIPS II 5 out of 5 stars in this category because Virginia Tech goes above and beyond the US CPSP standards.
Price 4/5
The typical price for this helmet is around $199.95. It isn't the cheapest helmet on this list but isn't the most expensive.
However, I believe this helmet provides excellent value for the price. Although you really can't put a price on safety, you can see that this helmet gives you excellent head protection for a good price with plenty of other features.
Protection 5/5
The Giro Synthe MIPS helmet has roll cage reinforcement, which strengthens the integrity of the helmet structure. This means it will hold together better in the event of a crash. On the other hand, the MIPS system absorbs the rotational forces of the collision, which protects your head even more. And, of course, it has the standard foam padding to reduce crash forces further.
The extra protection for your head is well worth the investment of a helmet of this caliber.
Adjustability 5/5
A helmet won't work properly if it doesn't fit well. Giro Synthe has partly solved this problem by offering three sizes of their helmet, with plenty of adjustability features built into each one.
The Roc Loc Air Fit system helps the helmet fit various head shapes and sizes. It wraps all the way around the head, giving it more room to adjust to head shape.
An adjustment dial at the rear of the helmet can be worked even with gloves on. The headband system lets you position the helmet in the right spot on your head.
There are adjustable Y-buckles to keep the chinstrap tension even and allow the straps to lay flat against your face. In addition, you don't have to worry about the straps or buckles poking you in weird places since you can adjust them to be right where you need them.
Fit and Sizing 5/5
The Giro Synthe MIPS is available in three sizes.
Size small fits heads that are 51. – 55 cm in circumference. Size medium fits 55 to 59 cm heads, and size large fits 59 to 63 cm.
First, measure the circumference of your head by wrapping a measuring tape around your head parallel to the floor. Place the tape measure just above your eyebrows. The helmet should have a little room around your head when the dial isn't fully tightened.
The GIRO Seyen is a similar helmet with MIPS, but it only comes in Small and medium sizes, aimed directly towards women.
Weight 4/5
Heavy helmets make me tired faster and give me headaches, so I appreciate the weight of this series of helmets. The large Synthe MIPS weighs only 312 grams, while the medium weighs just 268 grams. This isn't the lightest helmet on the market but it is relatively lightweight.
The MIPS liner alone weighs roughly 20 to 30 grams, but it's worth the extra weight for its additional protection.
Comfort 5/5
Comfort is an important factor to me because a helmet that isn't comfortable will give me headaches, especially over a long ride. The ROC Loc air fit system has a headband that goes all the way around your head, which keeps your skin from coming in contact with the foam liner.
Because there are so many ways to adjust this helmet, it's very comfortable once you have the right size.
Ventilation 3/5
Another aspect of comfort is ventilation. The headband system helps to improve airflow inside the helmet. Eighteen air channels also give you plenty of ventilation, especially at higher speeds.
However, a few other helmets, such as the Lazer G1, have even more ventilation. The G1 is said to be cooler with the helmet than without.
Aerodynamics 3/5
This is not considered to be an aero helmet. However, it is a very low-profile and compact helmet with some aerodynamic properties. Very aerodynamic helmets can be significantly heavier and warmer.
However, the Lazer G1 has an optional aerodynamic shell, which gives you the best of both worlds in a single helmet.
Style 5/5
Although style isn't my first consideration when purchasing a bike helmet, it is important. I want a helmet that matches my style, my bike, and my wide range of kits.
The Gyro Synthe is available in 8 different colors to match any kit. In addition, the low profile hugs the head, so you don't have that awkward gap between your sunglasses and your helmet. And the size and shape of the helmet makes it so you don't look like you're wearing a walnut hat instead of a serious bike helmet.
You'll also find rubberized sunglass holders in the front vents to look cool when you remove your glasses.
Durability 5/5
The Giro Synthe helmet is as durable as any other bike helmet. But the reality of any helmet is that they need to be replaced every 3 to 5 years. If you've fallen, you probably need to replace your helmet even if there is no visible damage.
You can visit a store retailer if you need help making that decision. However, Giro may offer a discount if you have crashed your helmet and need a replacement.
Price 4/5
I'll come right out and say this is not a cheap helmet. However, compared to similarly equipped helmets, it is a great value. More affordable helmets will not have MIPS protection, nor will they have the extra adjustability and fit options that the Giro Synthe can offer.
There are many helmets on the market that are much cheaper. However, they don't have MIPS, the Virginia Tech rating, or as many cooling vents.
So the Giro Synthe isn't cheap, but it is an excellent value for the price.
The Pros and Cons of Purchasing a Giro Synthe II MIPS Helmet
Pros
The Giro Synthe is very lightweight and comfortable
This low-profile helmet has a great style and appearance
You have good ventilation with this slightly aerodynamic helmet.
The Giro Synthe gets five stars from Virginia Tech for protection and safety.
Cons
The Giro Synthe helmet is on the more expensive side.
This is not an aerodynamic helmet, although it does have some aero features.
Alternatives to Review Compared to the Giro Synthe Helmet
There are several alternatives to the Giro Synthe. These are all high-end helmets that are similar to the Giro.
| | | | | |
| --- | --- | --- | --- | --- |
| | Giro Synthe MIPS | Giro Seyen MIPS | Lazer G-1MIPS | Vento Kineticore |
| Virginia Tech | 5 Stars | Not rated | 5 Stars | 5 Stars |
| Adjustability | Headband | Adjustable Fit System | Headbasket, Lightweight ARS Fit system | Scroll System for adjustment |
| Protection | MIPS, Cage reinforcement | Integrated MIPS | MIPS | Crumple zones, rotational protection |
| Fit and Sizing | S, M, L | S, M, Women's | S, M, L | S, M, L |
| Weight | 268g | 280g | 250g | 290g |
| Comfort | ROC LOC 5 Air Fit System for cooling and fit | ROC LOC 5 Air Fit System for cooling and fit | Adjustable head basket | Headband |
| Ventilation | 18 vents | 25 vents plus internal air channels | 22 Vents plus internal air channels | 13 Vents |
| Aerodynamics | Not an aero helmet | Not an aero helmet | Aerodynamic if using shell | In sprint position |
| Style | 8 colors | 4 Colors | 5 Colors | 8 colors |
| Durability | Replace every 3 to 5 years | Replace every 3 to 5 years | Replace every 3 to 5 years | Replace every 3 to 5 years |
| Price | $199.95 | $79.98 – $129.95 | $249.99 | $299.99 |
My Ratings for Reviewing the Giro Synthe as Compared to Other Helmets
| | | | | |
| --- | --- | --- | --- | --- |
| | Giro Synthe MIPS | Giro Seyen MIPS | Lazer G-1MIPS | Vento Kineticore |
| Virginia Tech | 5/5 | 0/5 | 5/5 | 5/5 |
| Adjustability | 5/5 | 4/5 | 5/5 | 5/5 |
| Protection | 5/5 | 4/5 | 4/5 | 4/5 |
| Fit and Sizing | 5/5 | 4/5 | 5/5 | 5/5 |
| Weight | 4/5 | 4/5 | 5/5 | 3/5 |
| Comfort | 5/5 | 5/5 | 5/5 | 4/5 |
| Ventilation | 3/5 | 5/5 | 5/5 | 2/5 |
| Aerodynamics | 3/5 | 3/5 | 4/5 | 5/5 |
| Style | 5/5 | 3/3 | 4/5 | 5/5 |
| Durability | 5/5 | 5/5 | 5/5 | 5/5 |
| Price | 4/5 | 5/5 | 4/5 | 3/5 |
| Average Rating | 4.5 | 3.8 | 4.6 | 4.1 |
My Verdict: The Giro Synth II MIPS Helmet Reviewed
If you're looking for an all-around performance helmet for road or gravel, the Giro Synthe MIPS fits the bill perfectly. It's a great blend of safety, comfort and fit, good ventilation, and style. The trade-off is that it has a little bit of a hefty price tag and is a little light on the aerodynamic benefits.
However, the most critical factor when looking at a bike helmet is: can it protect my head? And the answer here is a resounding yes. The Giro Synthe MIPS II protects you against head injuries, and I would have no trouble choosing it for my own rides.
The Giro Synth II MIPS helmet is an excellent value for its safety and performance.
That being said, my go-to bike helmet for daily rides is the Lazer G-1. Regarding ratings, it's very similar to the Giro Synthe MIPS helmet. It's slightly more expensive, but for the extra dollars, you get a separate aero shell that boosts your aerodynamics.
This means I can take my helmet on long hot endurance rides in the summer but still get an aerodynamic boost when racing at the track, when the temperature is less of an issue.
But whichever you choose, you'll get a quality high-end helmet that is comfortable, fits a wide range of head shapes and sizes, and helps you feel cool and fast.
Frequently Asked Questions
What is MIPS?
Mips stands for Multi-Directional Impact Protection System. It's a layer inside some bike helmets to help absorb the rotational impact of a crash, giving you more protection.
Do all helmets have MIPS?
The US Consumer Products Safety Commission does not require MIPS on all helmets. MIPS helmets tend to be more expensive than helmets that do not have the system in them.
Will the Giro Synthe II MIPS fit children?
It's unlikely that the Giro Synthe Mips helmet will fit a young child, although it may fit a teenager. For best results, you'll need to measure your child's head and see if it fits the offered sizes.
Is the Giro Synthe suitable for mountain biking?
Mountain bike helmets typically have a visor and sometimes full face protection. The Giro Synthe probably isn't the best choice for mountain biking, although it would be good for road or gravel.
Does the law require helmets?
Helmet laws vary by location, and many places only mandate helmets for children. However, protecting your head from injury is always a good idea, especially in a crash.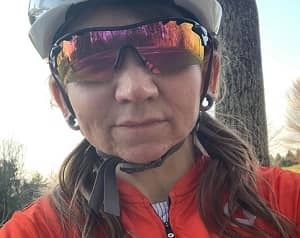 Amanda Whittington is an expert writer, impassioned cyclist, and musician. Coming from a diverse educational background, Amanda discovered a deep-rooted passion for encouraging others through her love of all things cycling, writing, and inspiring hope. 
You'll likely find Amanda pouring over bike specs, comparing the hottest cycling tech, and sporting the latest jerseys while juggling the demands of her editorial calendar, training schedule, tiny homestead, and 6 busy kids. 
She spends her free time absorbed in her own gardening and fitness, cycling, and reading, all while encouraging adoption and foster care, championing the underdog, and of course, working with her chickens and goats.