(Last updated on March 6th, 2023)
When it comes to modern transport, everything is starting to change. With incredible electric technology, I see some excellent ways to get around, such as powerful electric bikes and agile one-wheelers.
One of the most popular forms of transport new to the last decade is electric scooters.
Electric scooters are a great way to get around. They are excellent value for money and perfect for city commutes. In this article, I will speak about a scooter with a lot of hype, the GXL V2. This scooter is a creation from Gotrax, who are well known for their high-quality scooters.
Who are the Team Gotrax?
Gotrax is a brand that makes electric vehicles, such as scooters and bikes. They are based in Texas in the US and were founded in 2017 and have an excellent range of electric scooters, most popular being the GXL V2, GXL Commuting, and the GKS sport. They use high-quality materials and are well known for their great customer service. The scooters are made by their long-term partner Tao Motors, one of the industry's leading electric vehicle brands.
What Do I Look for in an Electric Scooter?
When it comes to getting great electric scooters, you have to look at the finer details. It is not always about how quickly it can go and how far. When I look at electric scooters, here's what I look for.
Design
The design is one of the most important factors when finding the right scooter. You want a scooter that is comfortable to ride, will work with all different heights, and look great.
Motor
The motor is what propels the scooter forward. The more powerful the motor, the more capable the scooter will be. I look for scooters that have great motors.
Battery
The battery is what powers the motor. When I look at a scooter battery, I look for a few things. I want it to give the motor a good range to take you as far as possible.
Wheels and Tires
Wheels and tires on scooters often come in different sizes and styles. I want the wheels and tires of the scooter to match the scooter's purpose.
Brakes
As you can imagine, brakes are very important on electric scooters. I look for scooters with great stopping power to keep you safe.
Special Features
Scooters can come quite basic, or they can be packed with special features. These features can really improve the experience and I like scooters that have gadgets with them.
Cost
The price is vital when it comes to buying a scooter. I don't look for not the cheapest scooters, but the best value for money.
Key Specifications
| | |
| --- | --- |
| Size Folded | 43.3″ x 16.7″ x 44.1″ |
| Motor | 250w Motor Hub |
| Battery | 5.2Ah |
| Charge Time | 3-5 Hours |
| Top Speed | 15.5mph |
| Distance | 12 miles |
| Wheels and Tires | 8.5" Air Tires |
| Brakes | Front Regenerative Disc Brake |
| Weight | 26 lbs |
| Max Weight | 220 lbs |
| Cost | $300 – $350 |
Performance Statistics
| | |
| --- | --- |
| Top Speed | 15.5 mph |
| Range | 12 Miles |
| Braking (24-0 kph) | 5m |
| Acceleration (0-24 kph) | 6.3s |
Pros
Very lightweight at only 26 lbs making it easy to carry
Air-filled tires make for a comfortable ride
Great twin braking system of discs and regenerative drum
Looks fantastic and is designed for a wide range of riders
Easy to ride and takes minutes to learn
Quick charge time of 4h
Lighting helps you ride in dark conditions and keeps your safer
Amazing value for money
Cons
Not a hugely powerful motor, only giving 15.5mph top speed
Only 12 miles of range between charges
Not great with heavier riders as the weight limit is only 220 lbs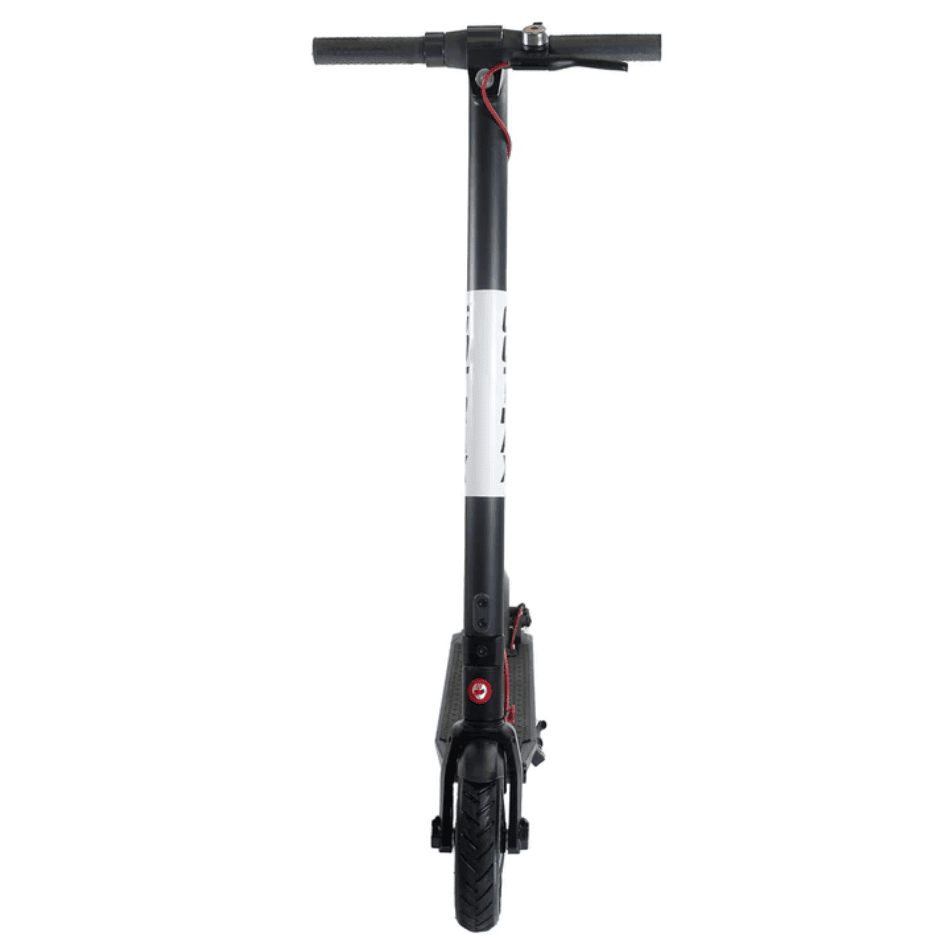 Design 4/5
When it comes to the design, Gotrax has done a great job on the GXL V2 scoring 4/5. It has a minimal look and comes across as sleek and stylish. It's a good size scooter coming in at 43.3″ x 16.7″ x 44.1″, and will work with a wide range of users.
It has tall handlebars, which help with control, and a low center of gravity. This makes the GXL V2 great for handling. It also comes with a wide footplate and small tires, which adds to the agility and handling of the scooter.
Gotrax took their time when it came to the design, as everything looks in a good place. A good example is how the lighting sits flush within the handlebars, and the LCD display is flat inside the stem itself. The little details, like how the cables are run under the scooter, make it look like a whole unit, not a jumble of parts.
The folding ability is excellent if you use this bike for commuting. It means you can take it into the office or a shop without it being too bulky. Not only does this help while traveling, but it also makes for easy storage at home.
The only thing that lets the design down is the weight limit which is only 220 lbs. Although this is quite common on scooters of this price and size, it would have been nice to be 250 lbs or more. This scooter is better equipped for lighter riders.
Motor 3/5
When it comes to the motor it gets 3/5, the Gotrax GXL V2 has a 250w brushless motor. A brushless motor means that it is a modern system that offers better performance, a longer lifespan, and is much more compact. It is situated in the front hub, is very quiet, and works smoothly when accelerating.
At 250w, it's not a very powerful motor. At the price range of $300 – $400, you typically won't see anything over 500w. With a motor this small, it does make the top speed quite limited. The Gotrax GXL V2 only has a top speed of 15.5mph, and that's when conditions are good.
Even though the scooter doesn't have a huge motor, it still offers excellent performance in short bursts. It can climb gradients of up to 15 degrees in the right conditions and does accelerate to 15 mph in only 6.5 seconds.
Unlike other scooters, you don't just twist the throttle to engage the motor. On the Gotrax GXL V2, you need to push it to get it rolling, and the motor will engage. This makes the scooter much less accident-prone but harder if you're always stopping.
If you are looking for a full-on performance scooter, then the GXL V2 might not be for you. As far as a tool for getting around town and going out for the day it ticks all the boxes for us. To have something with more power, you will need to spend more money.
Battery 3/5
As far as the battery goes I give it 3/5. The battery on the Gotrax GXL V2 is a 5.2AH 36v lithium-ion battery. Lithium-ion is what most modern batteries are made from. They offer excellent efficiency and are designed for hundreds of charge cycles. Gotrax uses excellent batteries that last for years without losing too many cells.
You're going to get around 12.5 miles on one single charge. This is typically in good conditions, on fairly flat terrain, with a rider weighing 75kg to 85kg. This isn't a huge range, but it's ideal for a short commute where you can charge the bike at work.
A smaller battery like the GXL V2 comes with some great advantages. Firstly the majority of the weight on a scooter is in the battery. When the battery is small, it makes the scooter very light. With smaller batteries, you also have very quick charge times. The GXL V2 has a very short charge time of 4 hours which is great.
The battery is very intelligent and doesn't just power the motor on the GXL V2. It powers the lighting and the LCD display, and it has the ability to charge itself off the brakes while riding. I speak about this later in the brake section.
Wheel and Tires 4/5
As mentioned before, the wheels and tires make a big difference to the scooter's ability and how it rides. The GXL V2 has 8.5" pneumatic tires, which I think are great for a scooter like this. 8.5" is an ideal size for a scooter made for towns and cities. The wheels being smaller makes them great for acceleration and very agile when steering.
Unlike many other scooters with solid tires, the GXL V2 has pneumatic tires. Pneumatic means that they are filled with air. This means you get a great grip for off-road riding and are much more comfortable when on the roads.
You do need to ensure they are pumped up every so often and might experience a puncture at some point. I feel that air tires offer a much better ride and are worth the extra maintenance. It allows you to adjust the pressure to suit the terrain you're riding on. I give the wheels and tires a solid 4/5.
Brakes 5/5
The brakes are one of my favorite parts of this scooter because it has an incredible system so it deserves 5/5. It offers excellent stopping power and can take you from 15 mph to 0 in 5m. This is great not just for performance but safety too.
It has a disc brake on the rear and a drum brake on the front. The disc brake is great for riding in poor conditions and has a lot amount of power. Then we have the drum brake. Although weaker, it has an amazing ability.
The drum brake can transfer the energy from stopping the scooter and put some charge back into the battery. This is what is called regenerative braking. It does help, but it doesn't force a huge amount of energy back in unless you are braking a lot.
The braking of this scooter comes in two stages to ensure that the wheels don't lock. This is often referred to as the ABS system. It offers a smooth decline in speed and really improves how the scooter feels to ride.
Special Features 4/5
In my opinion, the special features of a scooter can make or break it. Luckily the Gotrax GXL V2 is packed with special features that really impressed me so it gets 4/5. Here's what you can expect when you buy the GXL V2.
The first great feature is the lighting. It has an inbuilt front light. Not only does it make the scooter safer, but it also looks great and does help you ride at night in poor lighting conditions. Having them on does drain the battery quicker but not by much. The rear isn't a light but does have a reflector.
Then we have the LCD display. Many modern scooters want you to connect your phone to the scooter to use that as a speedo. On the GXL V2, you don't need to. It has a small LCD display telling you how much battery you have left and how fast you're going.
It also comes with a kickstand, so you don't risk it falling over, which is very handy. Another great special feature is the bag hook on the front tube, which makes it great for carrying things and keeping the weight low down.
Cost 5/5
For a lot of people, budget is the most important factor when it comes to buying a scooter. They hugely range from as little as $250 to $2000. The Gotrax GXL V2, depending on where you buy it, comes in at between $300 and $400.
It may not have the most powerful motor or the largest battery, but it does offer a huge amount when it comes to quality, performance, and amazing features. It offers incredible value for money and is well worth every cent so it gets 5/5.
Our Verdict
The Gotrax GXL V2 offers a lot as far as a scooter goes. Firstly it's got a great design which not only is functional, but it looks excellent too. It's incredibly lightweight, and the folding ability makes it so convenient.
It may not have an incredibly powerful motor, but it offers fast charging, quick acceleration, and an excellent braking system. It's also packed with special features such as a kickstand, lighting, and an LCD display.
Overall, I really like the Gotrax GXL V2. For the price, very few scooters can offer the specification and performance this offers. Do I recommend it for purchase? Yes!
Our Rating – 4/5
Alternative Products
When it comes to scooters you do have a lot of options to choose from. Here are some other excellent recommendations which I have been lucky enough to review.
| | | | |
| --- | --- | --- | --- |
| Scooter | Gotrax GXL V2 | Hiboy S2 | Xiaomi Mi M365 |
| Top Speed | 15.5mph | 18.6mph | 16.8mph |
| Range | 12 Miles | 17 Miles | 18 Miles |
| Motor | 250w | 350w (500w Max) | 250w (500w Max) |
| Charge Time | 4 Hours | 5 Hours | 4.5 Hours |
| Weight | 26lbs | 32lbs | 27lbs |
| Cost | $300 | $400 | $400 |
Hiboy S2
The Hiboy S2 is one of the most popular scooters in the world right now. It looks fantastic and has a very comfortable design, but it weighs 32 lbs and has a 500w motor which is very powerful. The Hiboy also comes with a top speed of 18.6mph and a range of 17 miles, which is excellent.
It comes with a strong braking system similar to the Gotrax GXL V2. Unlike other scooters, it does have 8.5" solid tires. They remove the puncture issue, but they don't offer a comfortable ride and are awful off-road.
The Hiboy comes with lots of special features. You get cruise control, dual suspension, lighting, and you can even connect it to your phone with an application. The S2 does cost about 30% more than the Gotrax, but it does offer a lot more.
Xiaomi Mi M365
The Xiaomi Mi M365 is very similar to the Hiboy S2 in design but overall very different. It has a good design, is lightweight at 27 lbs, and ticks every box for us. With a top speed of 16.8mph and a great range of 18 miles, it's got a great engine. It also has a charge time of 4.5 hours, with a range of 18 mph, is very short.
The M365 has a dual braking system like the Gotrax GXL V2 and can regenerate while being used. It has 8.5" small wheels, but unlike the Hiboy S2, these are pneumatic and offer a much higher level of comfort, which it needs without the suspension. It is also packed with special features such as lighting, an application, and you can buy loads of accessories from Xiaomi.
Xiaomi offers something slightly different from the Hiboy S2 and the Gotrax GXL V2. It's on the higher end of the price than others, but it's worth every cent, and I can see why so many people are going out and buying an M365.
Frequently Asked Questions
How fast does the GoTrax GXL V2 go?
The Gotrax GXL V2 has a top speed of 15.5mph. As far as scooters go, it's not a high top speed. It's enough for getting around towns and cities and is very light. Many countries have a speed limit on cycle paths of 15mph.
Is GoTrax a good brand?
Gotrax is an excellent brand. They were founded in 2017, so they are not very old. They are partnered with Tao Motors, which is an industry leader. Between them, they make amazing functional ebikes and scooters.
Can you ride GoTrax in the rain?
Gotrax scooters are IP54 rated. This means they are fine to be ridden in the wet. You will not want to use them fully submerged in water though. Most scooters are IP54 which basically means heavily splashproof.
Are GoTrax scooters street-legal?
Depending on where you are, you will have different rules and regulations. It's important to check the rules before going out on the road. Typically, most scooters with a top speed of 15mph are fine to be ridden in most places.
How do I keep my electric scooter from being stolen?
Although many scooters come with electronic locks and even cable locks, they are not great. I highly recommend instead of locking a scooter up, fold it and take it inside places with you.
I'm Robbie Ferri, a writer from Norfolk in the UK. I love cycling, the gym, and have a huge passion for sharing my stories and knowledge to anyone with the time to read them. My main passion is cycling. I started eight years ago. In that time I have broken world records, cycled all over the world in Ultra Bikepacking races, and am lucky enough to have enjoyed some incredible times on two wheels with some incredible people. I have also worked in a bike shop and with some of the industries leading brands, not just promoting products but designing them too.
Under it all I am just someone very passionate about exploration and living a healthy lifestyle. Everything I do I put 100% into it and feel that life is for living. Never should you have a dull day.