(Last updated on March 6th, 2023)
What makes an all-terrain bike even better? A motor! In steps the Himiway Cruiser Electric Bike. This all-terrain fat bike has wide, cushy tires, a sturdy frame, and a powerful motor, making it one of the most versatile and fun bikes.
I'll tell you about the Himiway Cruiser Electric Bike in this article—its features and specs, give you the pros and cons of owning this bike, and my rating, too. I'll also tell you who it's good for and why. Let's get started.
Himiway Cruiser Electric Bike
The Himiway brand is a relative newcomer to the industry, getting its start in 2017 by Mike Magaruh. After traveling and studying other brands of e-bikes, Mike created his own brand focusing on reliable components and a rugged design.
The result is a powerful, all-terrain fat bike. It breezes up hills and sails through snow and sand. In addition, the Cruiser offers excellent value, priced at $1699. It provides five levels of pedal assist, up to 60 miles range, and a 750-watt motor to get you over all terrain.
Features and Specifications
KEY SPECS
| | |
| --- | --- |
| Battery | 48V 17.5Ah Samsung lithium battery |
| Display | LCD display with USB charging |
| Motor | 750W brushless gear motor |
| Pedal Assist | Levels 0-5 |
| Range | 35-60 Miles |
| Throttle | Half Twist Throttle |
| Total bike weight | 72lbs |
| Maximum rider weight | 350lbs |
| Maximum load on rear rack | 45lbs |
| Brakes | Tektro aries 180mm brakes |
| Fork | Alloy front suspension fork with lockout and adjustment |
| Frame | 6061 Aluminum frame |
| Freewheel | Shimano 7-speed gear shift system |
| Gearing | Shimano- 14-28T BROWN/BK |
| Tires | 26″ x 4.0″ Kenda Juggernaut fat tires |
Pros of Riding a Himiway Electric Cruiser Bike
The Himiway Electric Cruiser Bike is a powerful and sturdy e-bike with plenty of 'zip' to get you up hilly terrain, over rough roads, and back and forth to work.
The fat tires absorb road chatter and provide excellent traction over rough roads and surfaces.
The bike has plenty of range on one charge, but you can easily double that with a spare battery.
The electric cruiser bike is large and stable, even at high speeds.
The sturdy bike can carry plenty of rider weight and cargo and includes a built-in rear rack and an optional front basket.
Cons of Riding a Himiway Electric Cruiser Bike
Mechanical disc brakes. I would love to see hydraulic disc brakes on bikes of this speed and weight. With a heavier bike comes more momentum, so you'll need to be aware of giving yourself plenty of stopping room.
One size fits most. The issue with offering one size frame for all means some people will be just too small or too large to ride it. However, even if you fall within the intended size range, the bike just might be too long to be comfortable. And while an e-bike doesn't need to fit like a race bike, you need to be able to feel in control and comfortable, especially on long rides.
Small handlebars. The handlebars on this bike are on the small side for the size of the bike. And this isn't just an aesthetic appeal. The weight and length of the bike can make it hard to handle around tight corners and sharp turns. Larger bars would give you more control in sketchy situations and make handling the bike much easier.
Class 2 E-bike – 4/5
The Himiway Electric Cruiser Bike is a Class 2 e-bike. This means the pedal assist will provide you with assistance up to 20mph. Unfortunately, it also means you can ride only up to 20mph with the throttle.
A class 1 E-bike shares the same maximum speed, but the motor will only assist you when pedaling. A class 3 e-bike is similar, except it has a max speed of up to 28 mph.
Here's the thing, though – not all e-bikes are legal to ride in all areas. So you'll need to check your local laws to make sure. Also, in some areas, you can only use the pedal assist, not the throttle-only mode.
Class 2 e-bikes are the most popular type.
Frame 3/5
The Electric Cruiser Bike is available in two options – the standard aluminum frame and the step-through aluminum frame. The aluminum is sturdy and lightweight. Unfortunately, the frame is only available in one size. That said, the standard frame fits a recommended height of 5 feet 3 inches to 6 feet five inches. However, the step-through frame will accommodate shorter riders, as short as 5 feet one inch.
The single-sized aluminum frame helps keep this bike's cost low, although it limits the range of riders. If you're very small or very tall, this might not be the right bike for you.
The frame gets a 3 just because it only comes in one size.
Fork 4/5
The cruiser bike comes standard with an alloy front suspension fork. The suspension fork serves two purposes. The first is comfort – it will absorb lots of vibration and road chatter to make your ride more comfortable and reduce the fatigue that comes with riding on rough roads.
The front fork will also help you maintain traction. The suspension fork helps keep the tire in better contact with the road, so it won't come off the surface when it's bumpy. This means you won't lose grip as easily when you're riding on loose gravel or sand.
The front fork also includes a lockout for when you don't want to use it. This is helpful if you need to pedal the bike without using the pedal assist since the suspension will absorb some of your power into the pedals. So if your battery dies, lock out the front suspension to help you pedal a little bit easier.
You can also adjust the suspension amount based on the rider's size and weight. Smaller, lighter riders don't need as much suspension as taller, heavier riders. So you can fine-tune it to get it just like you want.
This is a standard fork and does exactly what it is supposed to!
Speed 4/5
A class 2 e-bike has a max speed of 20 mph, whether you use the pedal assist or the throttle only. This means the motor will only take you up to 20 mph. However, if you're descending a steep decline, you may be able to coast at faster speeds without the assistance of the motor.
The bike's weight will help you descend faster since it's heavy. However, you might not be able to reach speeds of 20mph uphill with just the throttle – you might need to put your legs into it to get that fast!
And while the max speed is set for 20mph because that's what the regulations require, you might not always be able to reach the max speed. For example, the rider's and cargo's weight, weather conditions, deep gravel, or steep terrain might mean you can't reach speeds that fast.
It isn't the fastest e-bike available, but it definitely gets the job done.
Range 4/5
The range is the distance you can cover on a single battery charge. According to Himiway, the typical range for this bike is anywhere from 35 to 60 miles on a single battery charge. But just like speed, it depends on how you use the bike.
The less weight on the bike, the less the motor needs to work, giving you a longer range. On the other hand, more weight on the bike – whether rider or cargo – will make the motor work harder, which shortens the battery life.
The higher the pedal assist or throttle level you use, the shorter your battery life will be. Also, the hillier the terrain, the shorter the range you'll get from your battery.
Always monitor your battery level so you don't get stuck having to pedal your way home without assistance.
This is a good range for an e-bike; many give you much less distance. You can make it even better with an extra battery.
Motor 5/5
Himiway didn't skimp when it came to the motor. This e-bike has a 750-watt rear brushless motor. Many e-bikes only come equipped with a 250 to the 300-watt motor, so you can see how this one will give you plenty of torque to get over obstacles, climb steep hills, and fly on the flats.
The battery range is actually quite impressive for the size of the motor in this bike and the motor provides quick acceleration.
You get plenty of acceleration and torque with this motor.
Battery 5/5
The included battery is a 48V 17.5Ah Samsung/LG lithium battery. The battery is easy to install and remove, so you can easily bring it inside to charge. You can also carry an additional battery and easily change it on your ride if you need additional range. In addition, the battery only weighs 9 pounds, so it doesn't add too much weight to your bike if you want to bring a spare along.
The battery charges in 6 to 7 hours—this is a solid battery – it charges quickly and gives you a nice range. Best yet, it's pretty light so that you can carry a spare.
Pedal Assist 4/5
Pedal assist is available in 5 levels. Use as much or as little assistance as you need. Remember that the more assistance you use, the shorter your battery life will be.
5 levels of pedal assist are pretty standard on e-bikes.
Throttle 4/5
The throttle makes it so you can ride with the motor – without pedaling at all. However, it uses a twist grip throttle rather than a lever throttle, so you must ensure you don't accidentally bump it when mounting the bike.
This bike has a lot of pickups, so be prepared to take off once you engage the throttle quickly and easily.
Display 3/5
The included display is an easy-to-read LCD display with USB charging. It gives you all the data you need, including mph and battery life. The battery readout follows the amount of pedal assist you are using, so you might notice the battery indicator changing as you change your levels of assist or throttle.
This can be a bit confusing, but with a little practice, you'll know how much battery you have left and how far you can go. So, we think the display could be a little easier to read if it was in color.
Lights 4/5
The headlight on the front of the bike has a vintage appeal, but it isn't as bright as you probably would need for night-time riding. It will increase visibility, though, so it's an important part of the bike. However, you'll probably want to consider an additional handlebar or helmet light if you'll be riding at night.
The taillight engages when the brake is applied, making you more visible when stopping. So, headlights and taillights are standard on many e-bikes.
Tires 5/5
You'll get plenty of traction with the 26-inch by 4-inch wide Juggernaut tires. The wide tires give you an excellent grip on loose or soft surfaces and also help to absorb the bumps in the road even when your suspension is locked out.
You'll find you can run low tire pressures (great for sand and snow) and still have good puncture resistance. As a result, these tires are a great choice for off-road and all-terrain riding.
These are wide tires that give you lots of cush and traction. Just remember they are a little bit harder to pedal.
Drivetrain 4/5
Another place where Himiway didn't skimp is the drivetrain. The Shimano Altus Derailleur is definitely the way to go since most bike mechanics have plenty of experience working on Shimano parts. With seven speeds, you'll have various gears for climbing. The easy gears will help you get home if your battery dies and you have to pedal with your two legs! But you'll also have enough hard gears that your bike won't spin out at top speeds with the throttle engaged.
The drivetrain gives you plenty of gears if you need to pedal the bike yourself.
Brakes 3/5
The biggest disappointment about this bike, in my opinion, is the brakes. But, of course, you will need good brakes when riding at speeds of 20mph, especially on a heavy bike such as the electric cruiser bike.
This bike includes mechanical disc brakes, which will stop you, and they are the cheaper option when it comes to brakes, so they'll help keep the cost of the bike low. However, given the size and weight of the bike, hydraulic brakes would be a much better option and would definitely improve the bike's stopping power.
We would love to see hydraulic disc brakes on a bike like this.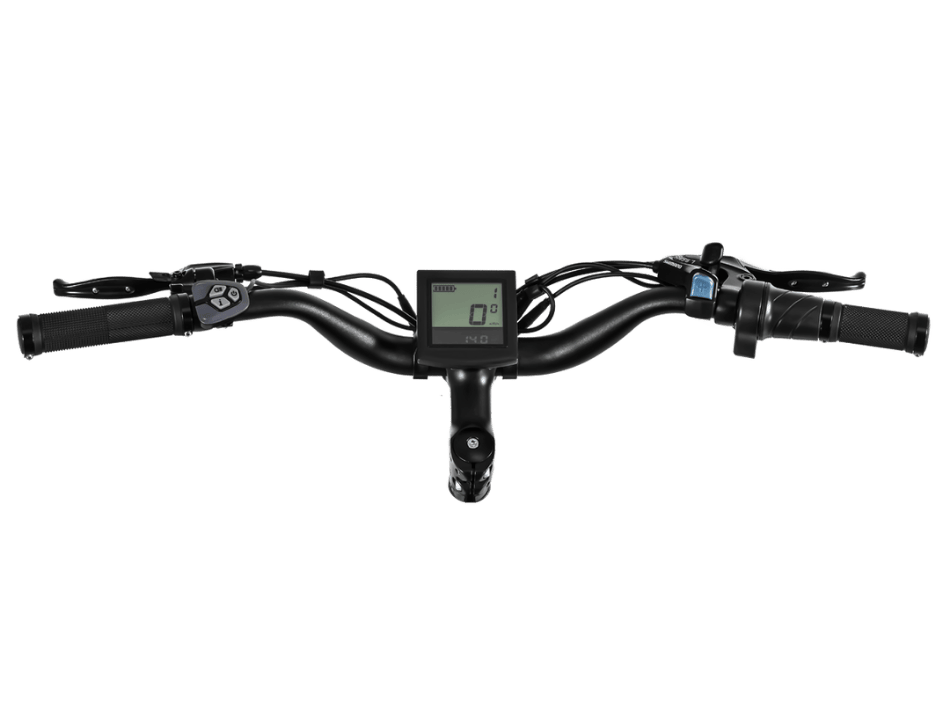 Handlebars 4/5
The standard bars on this bike look a little small for the size of the bike. They'll be fine for most applications, but if you're doing some serious off-roading, you may want to swap them out for a set of wider, sturdier bars.
The size and weight of the bike make it a little difficult to steer through tight turns so wider bars would give you more stability.
However, the included bars are more upright, giving you a more comfortable ride, especially for long days in the saddle.
The handlebars offer an upright and comfortable position, similar to what you would find on a mountain bike.
Saddle 4/5
The electric cruiser bikes come with a regular Velo saddle. It isn't fancy but comfortable, so you'll probably enjoy riding on this seat if you like long rides. If the seat and the ride are more important to you than actually pedaling a bike, take a look at electric scooters with seats as an alternative.
This is a pretty standard style of saddle for e-bikes.
Cargo 4/5
The cruiser bike has a built-in cargo rack that can hold up to 45 pounds. It's great for groceries, packing a lunch for work, or just heading to the park for a picnic. If that isn't enough, there's an optional front basket accessory that you can purchase from Himiway.
We like that this bike has a built-in cargo rack.
Weight 4/5
The total weight of the bike is about 72 pounds. This is a heavy bike, and the wide tires make it difficult to pedal without the pedal assist. That's ok, as long as you know to factor in the length of your rides, so you aren't stuck pedaling a beast of a bike all the way home.
What's really nice, though, is that this bike can handle a lot of rider and cargo weight. Its total carry capacity is 350 pounds, so if you're a larger rider or need extra cargo, you'll be in great shape. And the strong motor can easily handle the extra weight, too.
Ebikes tend to be heavy – this is a pretty average weight.
Not convinced? Check out the reactions of these riders when they try the Electric Cruiser Bike.
Our Verdict
Overall, this is a great bike for the price. We give it a 9/10 because although it is a great bike, it only comes in one size. It's hard to create one size frame that comfortably fits everyone. But the Himiway will definitely get the job done if you're an average-sized rider looking for an entry-level bike!
Alternatives to Himiway Cruiser
| | | | | | | | |
| --- | --- | --- | --- | --- | --- | --- | --- |
| | Motor | Range | Bike Weight | Rider and Cargo Weight | Speed | Price | Where to buy? |
| Himiway Cruiser Electric Bike | 750 Watts | 35-60 | 72 pounds | 350 pounds | 20 mph | $1599 | Check price |
| Rad Expand 5 | 750 Watts | 45 miles | 62.5 pounds | 275 pounds | 20 mph | $1499 | Check price |
| Aventon Aventure Ebike | 750 Watts | 45 miles | 73 pounds | 400 pounds | 28 mph | $1999 | Check price |
As you can see, the Himiway cruiser is very similar to other e-bikes in its price range. It can carry a lot of rider and cargo weight without getting bogged and has a great range. But if you need more speed, you might want to invest in the Aventon Aventure E–bike instead. It'll get you there a bit faster for just a little more cash. It'll also give you a little more leeway if you need to carry some extra cargo.
The Aventon Aventure bike is available in 3 sizes, while the Rad Expand and the Himiway Cruiser are only available in one size. So you might find the Aventon is a little bit more comfortable if you're a larger or smaller rider.
On the other hand, if you need a lighter bike, you might want to consider the Rad Expand 5, which will save you ten pounds of bike weight and a hundred dollars in cash.
Remember that if you're not ready for an e-bike, you can always try a simple mountain bike.
Final Thoughts
The Himiway Electric Cruiser Bike is a great value for a basic off-road e-bike. It's great for sand, snow, gravel, commuting, playing, and having fun. You'll love it if you're an average-sized rider looking for a fun and sturdy bike. It gives you plenty of cargo room and a sturdy frame, making even larger riders feel secure. The motor has plenty of power to get you where you want to go- and fast. And the wide puncture-resistant tires and tunable suspension will make it a comfortable and carefree ride.
I think it needs more stopping power (hydraulic disc brakes) and wider bars for better maneuverability. For this reason, we give the bike a nice 9/10.
But you can decide for yourself when you see it in action!
Frequently Asked Questions
Can I ride my e-bike in the rain?
Yes, you can ride your bike in wet and rainy conditions. However, you should never submerge your e-bike in water. Don't leave it outside in the rain, either. If you ride your bike in the rain, you'll want to dry it out afterward.
Can I get a second battery?
Yes, you can purchase a backup or spare battery from Himiway directly. The battery weighs only 9 pounds, so it is light enough to carry a spare on your bike if you want extra range.
Can I ride the bike if the battery dies?
Yes, you can pedal the Himiway Electric Cruiser Bike just like a traditional bike. If the battery dies while you are out on a ride, you can pedal it home just like any other bike. However, e-bikes are heavier than traditional bikes and may be more difficult to pedal. For that reason, you'll want to plan your rides carefully and ensure you have plenty of battery.
Do I have to pedal my e-bike?
The electric cruiser bike has a pedal assist, which means the motor engages when you start pedaling. However, it also has a throttle, which means you can engage the motor with the throttle without pedaling.

Throttle bikes aren't legal in all areas, so be sure to check your local laws before riding your e-bike on public roads.
How wide are the tires on e-bikes?
E-bikes come in a range of tires, depending on the purpose of the bike. For example, the Himiway Electric Cruiser Bike has 4-inch wide, exceptionally wide tires. While wide tires are slower to pedal on smooth road surfaces, rough roads, gravel, sand, and even snow, the wide tires will give you comfort and grip to make your ride safer and more comfortable.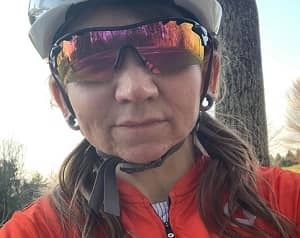 Amanda Whittington is an expert writer, impassioned cyclist, and musician. Coming from a diverse educational background, Amanda discovered a deep-rooted passion for encouraging others through her love of all things cycling, writing, and inspiring hope. 
You'll likely find Amanda pouring over bike specs, comparing the hottest cycling tech, and sporting the latest jerseys while juggling the demands of her editorial calendar, training schedule, tiny homestead, and 6 busy kids. 
She spends her free time absorbed in her own gardening and fitness, cycling, and reading, all while encouraging adoption and foster care, championing the underdog, and of course, working with her chickens and goats.