(Last updated on February 8th, 2023)
Electric bikes have become so big in the past decade, and they are only getting better and better. They offer incredible convenience for commuting, are powerful enough to keep up with the professionals, and some can go over 50 miles on one single charge. Many people are replacing their cars with them and living a cleaner, healthier lifestyle, which is costing less.
A bike that is getting a huge amount of attention is the Lectric XP 2.0. It's been spoken about by many because not only does it have an incredible folding design, but the battery range is vast, and it is incredibly powerful. In this article, we're going to tell you all about Lectric themselves, the great XP 2.0, and everything you need to know about it to ensure it's the bike for you.
Who is Lectric?
The Lectric story began in Lakeville, Minnesota friends Levi Conlow and Robby Deziel. They realized that getting a good electric bike for a reasonable price was very challenging and decided that they could fill that gap. After creating the first bike and taking all the feedback in progressing models, the range started to get very impressive, and today are very highly rated electric bikes.
What Do We Look For in an Electric Bike?
When looking at a bike, there's a lot you need to take into consideration. When looking at an electric bike, there's even more to think about. We have been lucky enough to review many electric bikes and feel the best way to understand a bike is to break it down. Here's what we look for;
Frame and Fork
It's important to understand the frame as it's the bike's main component. We feel it's vital to understand the design, what it's made of, the capabilities the bike will give you, whether it will be comfortable, etc.
Motor and Battery
Electric bikes are all very different, and this comes from how they are equipped on the motor and battery side of things. Motors and batteries hugely differ; some can work like a moped, while others only give you assistance when pedaling. It's important to understand the distance it will take you and how it works.
Gearing
Although this is an electric bike, it's good to understand the gearing. Are you getting a hill muncher for something for the flats? We are looking for a bike to have a good range of gear to choose from.
Wheels and Tires
The wheels and tires give the bike a lot of unique characteristics. Smaller wheels can give you more comfort and control, and larger wheels can help you go faster. Are you equipped with off-road tires, or are you stuck to using roads?
Brakes
It goes without saying that brakes are a vital part of a bike that you need. With the power of an electric bike, it's important to have the ability to stop quickly, so the bike needs to have excellent brakes.
Special Features
Bikes can come with amazing features such as fenders, lighting, charging ports, racks, and even components like suspension seat posts, which can be the difference between a good or bad rating from us.
Lectric XP 2.0
KEY SPECS
| | |
| --- | --- |
| Frame | Aluminum Folding |
| Fork | 40mm Suspension Fork |
| Motor and Battery | 500w Typical (850w Peak) 460Wh (Long Range Battery Available) |
| Distance | 17-65 miles |
| Wheels and Tires | 20" Wheels with 3" Tires |
| Brakes | 160mm Mechanical Disc Brakes |
| Weight | 64Lbs |
| Height Range | 5ft to 6ft 3" |
| Max Weight | 330 lbs |
| Cost | $899 |
Pros and Cons
Although this bike boasts some amazing features, it's important to highlight these and where it falls short. Here are our pros and cons;
PROS
The price is incredible at less than $900
Great for on and off-road riding
It looks great and comes in different versions, such as step-thru
The motor is very powerful and can take you up to 28mph
It works on the throttle and also pedal assistance
It's got a decent range on the battery and offers a long-distance option
A lot of special features, such as a rack and lighting
Suspension forks, small wheels, and large tires make it very comfortable
The folding mechanism makes it easy to store it anywhere
CONS
It's quite a heavy bike at 64 lbs
The small wheels do make it feel a little too agile at times
Inner tubes are a weird size which bike shops typically wouldn't keep
Frame
The Lectric has a great frame and is packed full of excellent features that heavily impressed us. The first thing to mention is that the Lectric XP comes in two different styles. You have a standard version, and you also have a step-through version. The step-through is easier to get on and off, but it doesn't have as much ground clearance compared to the standard straight frame.
Both the frames are made of lightweight aluminum oversized tubing, which is stiff and strong. It comes in two different colors, white and black, with subtle blue detailing. They both have the ability to fold in half, making it great if you are short on storage space and excellent for train commutes as you will be able to take it on trains without the worry of needing to book a bike on.
The Lectric bike is designed for comfort, so you can expect an upright riding position and it to feel excellent on those longer riders. With a height range of 5ft to 6ft 3" and a max weight limit of 330 lbs, it's accessible to many riders. We love the way it looks, and something a lot of companies struggle to do is give a folding bike a sleek design, but we believe Lectric has really made an excellent design.
Forks
Then we have the forks, and Lectric has again focused on comfort here. Some of their cheaper models use rigid forks, but on the Lectric XP 2.0, they have opted for suspension forks. They give 40mm of travel and are going to be excellent at taking the bumps out of the road without making it feel laggy.
They are heavier, but we believe they are a great addition to the bike and gives it the ability to go on light trails as well as the road. They are perfect if you have some rough paths to take and like to take the edge off.
Motor and Battery
The Lectric has great capabilities on the electrical side. The motor is 500w generally but has a peak power of 850w. It is situated out of the way and installed into the rear hub. You can go all the way up to 28 mph, which is very fast.
The bike works on all levels. It can be class 1, 2, or 3. You have two different options when it comes to riding this bike with electricity. You can use it as a pedal-assist bike, so only when pedaling will the motor help, or you can use it as a throttle like a moped.
The standard battery that comes with the bike is 460Wh, which will give you between 17-45 miles depending on what level you're on. They offer, for an extra $200, a long-range battery that will give you up to 65 miles if required.
All the information you need to control the bike comes on a small LCD display helping you by giving you data and keeping you updated on how much battery you have left over. It's IP65 waterproof, so you can ride this bike in all weather without the worry of hurting any electrical components.
Gearing
Even though you may have a motor on your bike, it is important to consider your gearing. The XP 2.0 comes with a 7-speed groupset with a 14-28 teeth rear cassette. It will give you enough gearing to play without the motor on a flat, but you will require some juice when it comes to steep hills.
It's a basic groupset, but with gearing, sometimes simplicity is key, and we like the fact you only have one right-hand shifter on this bike, making it very easy to move up and down the cassette with just your right hand.
Wheel and Tires
The Lectric has quite a unique setup regarding wheels and tires, which sets it apart from its competition. The XP 2.0 comes with small 20" wheels, which make this excellent for handling because smaller wheels are quicker and easier to turn than larger wheels.
Then we have the tires, which are 3" wide and very capable for off-road riding and are designed to be run at lower pressures making them perfect for rolling over rough terrain and keeping the ride super comfortable at all times.
These are quite a rare size so inner tubes might not be readily available at all bike shops, but providing you stock up and make sure you have a spare puncture repair kit then it will be fine.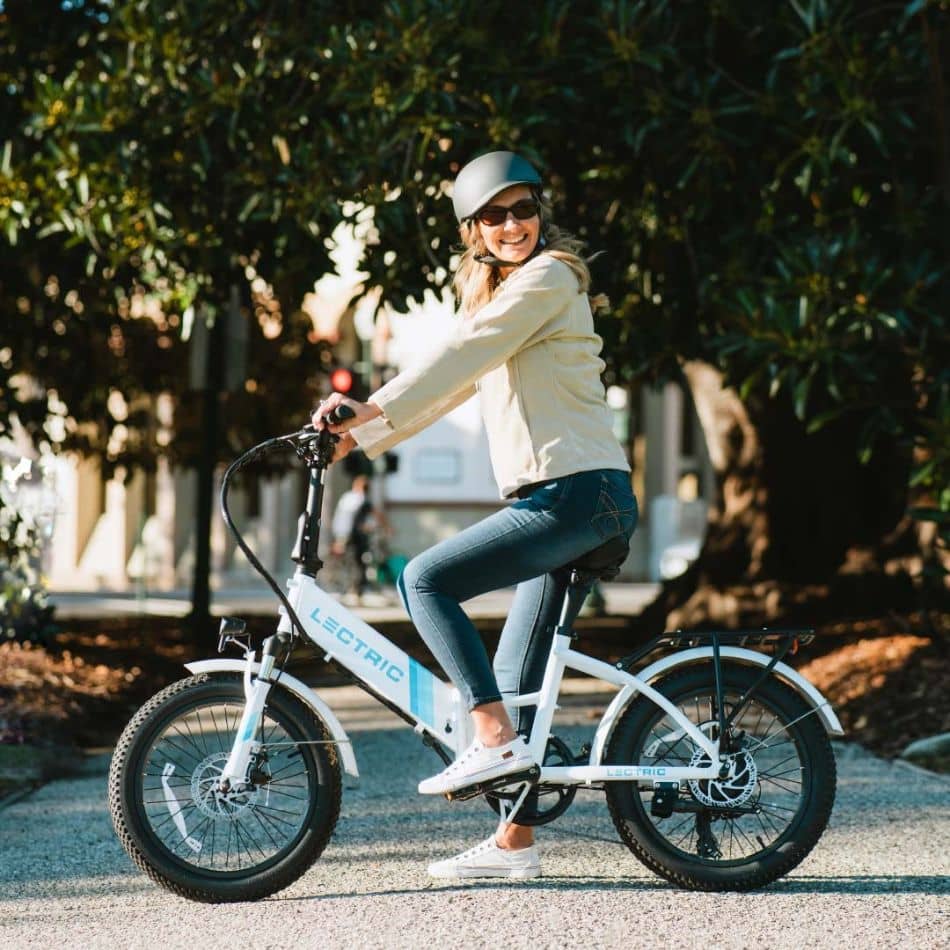 Brakes
Then you have brakes. The XP 2.0 uses disc brakes which provide great stopping power in all weather conditions. They have large 160mm rotors and use a mechanical cable system, making them very reliable and easy to work on and adjust if required.
These brakes are going to be great for those muddy trails and are going to feel very responsive. We are glad that Lectric went with disc brakes, but hydraulic fluid brakes would have been incredible and really finished this bike off nicely.
Special Features
The XP 2.0 is a well-equipped bike, and we absolutely love the time and effort they have put into adding features to improve your cycling experience. The first thing to mention is lighting. The Lectric comes with a front and rear lighting system, which runs off the bike's internal battery. This means providing you have a charge in the bike, you have lighting too.
Another great feature is the fenders which cover the wheels up, so when riding in bad weather or muddy conditions, it stops the wheels from spraying dirt onto you and the rest of the bike. Then the rear rack can hold a weight of up to 55 lbs and can be equipped with a cage at an extra cost.
The final feature is an optional extra and costs an extra $69. It is a wide comfort saddle paired with a suspension seat post. If you have a sensitive behind, then it's definitely worth considering. You also get various other accessories on the website to fit the bike, such as mirrors and locks.
Weight
Like many electric bikes, the Lectric XP 2.0 isn't the lightest. Electric bikes need very strong frames. They hold heavy batteries and require components to be much tougher than a standard bike, so you can expect them to hold more weight.
The XP 2.0 is 64 lbs which is a very heavy bike. With the motor, it does make it feel effortless, but if you live in an apartment and need to carry it upstairs, it can be a little more challenging than you might think. Unfortunately, folding electric bikes with large motors and batteries do come heavy.
Cost
The Lectric XP 2.0 is incredible value coming in at only $899 currently. It does everything a top-end electric bike needs to do and does make electric bikes more accessible for people who have a smaller budget.
Our Verdict
We were really impressed with the Lectric XP 2.0. It's an incredible electric bike that is very easy to ride and very powerful. It's going to be a great tool for long rides out with friends, and commuting, and it could even go touring with a long-distance battery. It looks the part and will be excellent for riding on and off-road.
It is a very heavy bike, though, and if you live on the upstairs floor of a house or flat without a lift, it could be a challenge to move around. You will also find the inner tubes might need to be ordered online if you get a lot of punctures.
Overall though, it is an excellent bike, and we highly recommend it if you want to get out cycling with a little assistance. Lectric are becoming a very big brand, and with nearly 3000 five-star reviews, they are definitely giving great experiences to other cyclists.
If you want to see the bike in action check out this video from the CNET YouTube Channel
Or the video from Ebike School
Alternatives
If the Lectric XP 2.0 doesn't take your fancy, there are other options that might suit you more. Here are our other picks.
Lectric XP Lite
The Letric XP lite is very similar to the XP 2.0. It is about 20 lbs lighter though. You have a smaller frame design that still folds and is made with the small 20" wheels and 3" tires. It is much lighter but it does have a limited range of 15-40 miles, has no suspension, only has one single gear, and doesn't come with racks as standard. Overall it offers a similar but more basic experience. Coming in at $799, we think the extra $100 and 20lbs is worth having the XP 2.0 instead.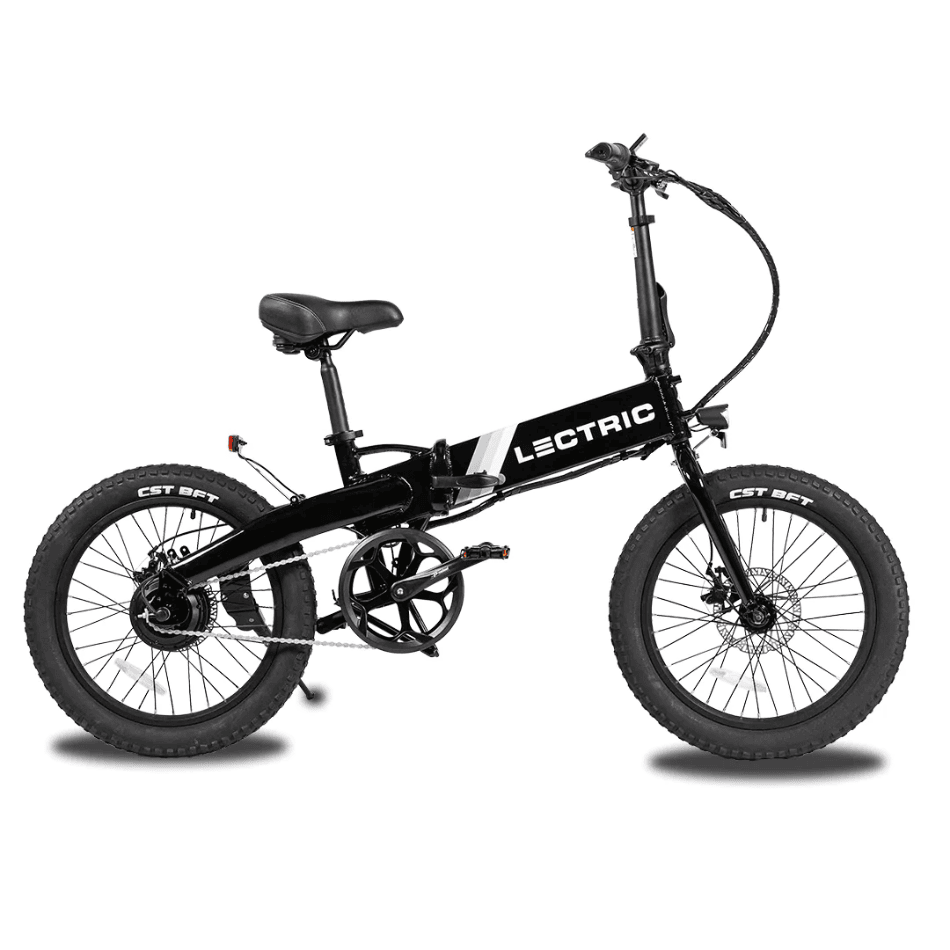 Lectric XPremium
If you have a larger budget and are looking for an extreme E-Bike, then the XPremium could be the bike for you. It has a distance range of over 100 miles with a mid-drive motor, it has off-road 80mm suspension, has a larger range of gears than the XP 2.0, comes with powerful hydraulic disc brakes, and even a gear shift sensor. It is double the price and does weigh a huge 75 lbs, but it does boast some incredible features.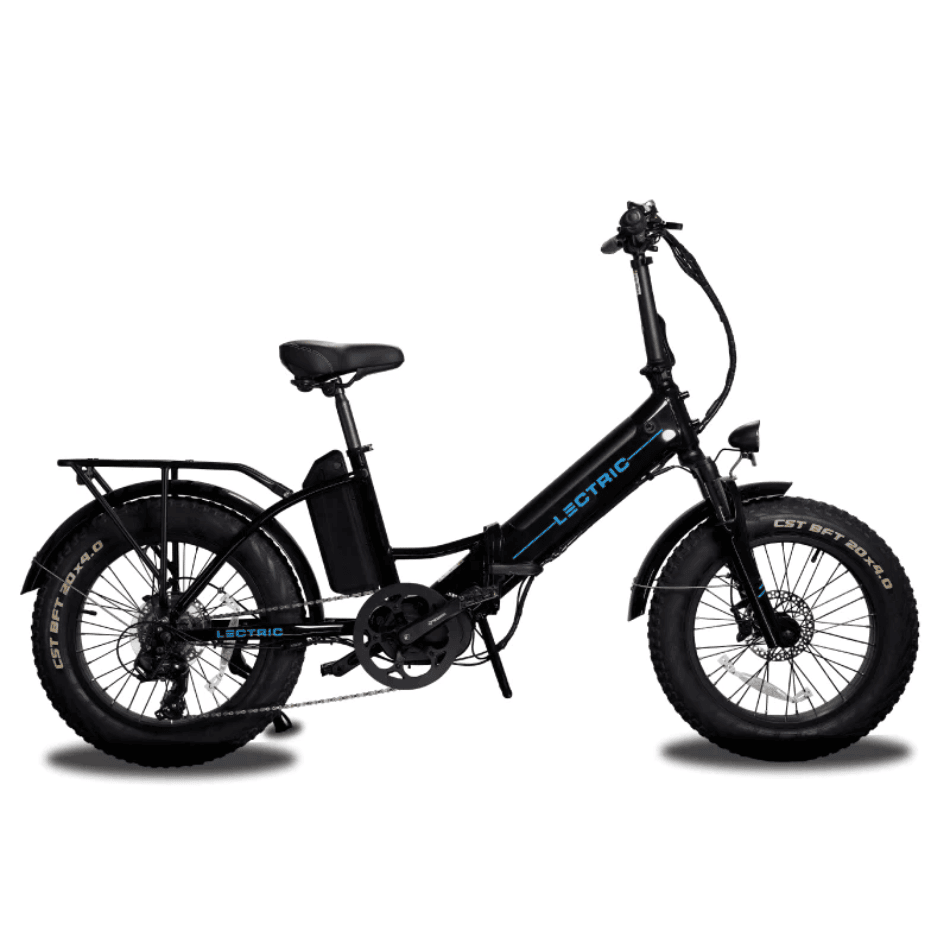 Frequently Asked Questions
How long do E-Bikes last?
Typically you can expect 10 years or longer out of an E-Bike provided you keep it regularly serviced and look after the battery by not letting it fully drain or leaving it stored in a very cold conditions. If you don't look after them you can expect 5 years or less.
Can you ride E-Bikes in the rain?
E-Bikes can be ridden in the rain. Typically manufacturers make the connections waterproof so they can be ridden in all conditions. If you couldn't ride them in the rain, they would be a bit useless for commuting.
Are Electric bikes high maintenance?
Electric bikes are very powerful and will need servicing a little bit more regularly than a typical bike, but only if you're riding it a lot. I would say on an electric bike where you're doing 300 miles a month, you could service it between every 6 and 12 months, and that would be fine.
Will a bigger battery make my E-Bike quicker?
To make an E-Bike quicker, you will typically need a larger motor. The battery will only make you ride for a longer duration. If you want the E-Bike to go faster, you can have them derestricted, but it's not advised.
Are E-Bikes easy to ride?
E-Bike are very easy to ride. Typically most bikes will just work on assistance so when you start pedaling only will you feel it. Then when you brake the motor will automatically cut out by itself.
---
I'm Robbie Ferri, a writer from Norfolk in the UK. I love cycling, the gym, and have a huge passion for sharing my stories and knowledge to anyone with the time to read them. My main passion is cycling. I started eight years ago. In that time I have broken world records, cycled all over the world in Ultra Bikepacking races, and am lucky enough to have enjoyed some incredible times on two wheels with some incredible people. I have also worked in a bike shop and with some of the industries leading brands, not just promoting products but designing them too.
Under it all I am just someone very passionate about exploration and living a healthy lifestyle. Everything I do I put 100% into it and feel that life is for living. Never should you have a dull day.