(Last updated on March 24th, 2023)
Portland, Minneapolis, and Madison are among the most bike-friendly cities in the US, with strong bike infrastructure, bike-sharing programs, and active cycling communities. Others that make it to the list are: Fort Collins, Seattle, Boulder, San Francisco, and Washington DC.
Cycling is good for cities as it increases property values, increases safety, improves the health and productivity of workers, and increases local shop sales. Cycling cities also reduce wear and tear on cars, roads, and the environment.
So it's clear that cycling is good for cities, but how good are cities for cyclists?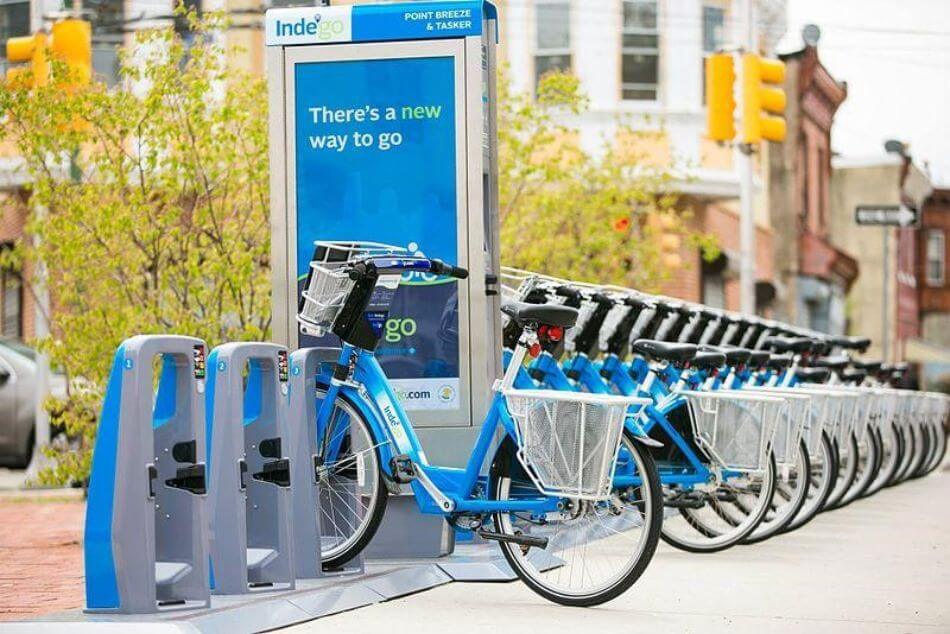 In this article, we're going to talk about the nine most bike-friendly cities in the United States. Then, we'll take a look at what makes them so good for cyclists. We'll also talk about ways to make a city more bike-friendly. But first, let's take a look at what makes a city bike friendly.
What Makes a City Bike Friendly?
There are plenty of characteristics that work together to make a city bike friendly. Let's talk about a few standout items that put these cities on our list of the most bike-friendly cities in the US.
Does the city have bike lanes and trails?
How much of the working population commutes by bike?
Climate
Cycling Amenities
Bike Routes
Safety
Bike Lanes and Bike Trails
A bike lane is a section of the road that has been designated for preferred or exclusive use by cyclists. This enables the cyclist to ride at their own speed without disrupting the speed or flow of traffic. Typically, bike lanes are made on the right-hand side of the traffic lane, either next to the curb or next to curb-side parking.
This creates a safer space for cyclists to ride confidently. In addition, some bike lanes have a buffer next to them to make them even safer.
Bike trails, on the other hand, are smaller paved or gravel trails that cyclists can ride on without having to worry about traffic. Typically bike trails are shared with pedestrians, but they are safer without having to worry about automobiles. In addition, they usually are slower-paced and are available to families of all ages to use.
Bike lanes and trails increase safety for commuters and recreational cyclists and decrease accidents and injuries.
Number of Bike Commuters
The more bike commuters, the more bike-friendly a city is. Where you see large numbers of bike commuters, you'll find traffic patterns that are easier to navigate, motorists who are more used to riding with cyclists, and home-to-work routes that are easily accessible by bike.
Number of Recreational Cyclists and Bike Clubs
You might also consider the number of recreational cyclists and bike clubs. An area that isn't cycling-friendly won't have many people riding their bikes. Perhaps the climate is too harsh, or distances between important locations are just too far apart. But if you see large numbers of recreational cyclists, you can consider the area a pretty good place to ride.
Climate
Climate also contributes to how bike-friendly a city is. If the climate is too harsh or rainy, it isn't conducive to people riding bikes frequently. On the other hand, a more temperate or moderate climate is much easier for cyclists who enjoy riding or commuting by bike.
Cycling Amenities
A bike-friendly city will have plenty of cycling amenities around. For example, the Schuylkill River Trail in Chester County, Pa, has strategically placed bike repair stands. So if you have a mechanical issue when you are out riding your bike, you can stop at one of these stands, which typically have bike-specific tools and tire pumps to get you rolling again.
You can also tell that a city is bike friendly if it has a high number of bike shops. This shows that there are enough local cyclists to support the shop.
You might also look for water stations and publicly available restrooms. Also, the presence of bike racks throughout the city is a good indication that the city loves cyclists! Also, look for places that welcome cyclists to stop in for water. For example, if your town has a Trek store, you can stop in for a water refill! And look for places where cyclists can drop in wearing their cycling gear to get fuel.
Bike Routes
In SouthEast Pennsylvania, you'll find the roadsides dotted with Bike Route Signs. Pa boasts ten routes that cover the state, offering friendly places for cyclists to ride. Pa also offers plenty of rails to trails routes, which convert old train routes into cycling and walking routes. In addition, friendly bike cities will have posted routes for you to follow and enjoy.
Safety
Safety is a huge factor when it comes to whether or not a city is bike safe. You'll notice, according to bikeleague, that the more bike commuters there are, the fewer bike fatalities from traffic happen. Perhaps this is because those cities are used to and expect cyclists to be present and are more aware.
Other aspects of safety include low incidences of bike theft.
Related: How Long Does It Take To Bike across the US
Now that we understand some of the things that make a city bike-friendly let's take a look at what cities there are. Interestingly, smartasset says that the west coast is the safest place for cycling, considering that 5 of their top ten safe cities for cycling are San Francisco, Portland, Or, Seattle, Wa, Irvine, CA, and Oakland, Ca. On the other hand, Towerelectricbikes tells us that Crested Butte, CO, Standford, CA, and Provincetown, MA had 0 bike-related fatalities per 10,000 residents, making them some of the safest bike cities around. Here are the cities that make our list.
We'll give each city a ranking of 1-100 based on the percentage of commutes, miles of bike lanes, safety, and amenities.
"9 Bike-Friendly Cities in the United States"
| | | | | | | | | | |
| --- | --- | --- | --- | --- | --- | --- | --- | --- | --- |
| | Philadelphia, Pa | Portland, Or | Minneapolis, MN | Fort Collins, CO | Seattle, Washington | Boulder, CO | San Franciso, Ca | Austin, TX | Washington, DC |
| Percentage of Commuters | 2.3 | 6.3 | 3.9 | | 2.8 | 9.88 | 4.2 | 1.5 | 5 |
| Miles of bike lanes | 440 | 385 | 128 | 200 | 400 | 300 | 464 | 215 | 150 |
| Our Ranking | 95 | 99 | 95 | 99 | 95 | 98 | 97 | 98 | 96 |
1. Philadelphia, Pa
Philly, the city of brotherly love, is the largest city in Pennsylvania and the 6th largest city in the US. It has 18 colleges and universities and is the landing for much of American history, making it an excellent destination to visit by bike or on foot.
Of the ten largest cities in the US, Philly has more bike commuters per capita than the others. 2.3% of its commuters travel by bike. According to Lemonade, a whopping 12,300 Philly residents ride their bikes to work at least three times per week.
The Bicycle Coalition of Greater Philadelphia is a large non-profit organization dedicated to making cycling affordable, safe, and accessible to the folks in Philly. They've been around for 50 years, advocating for safer and better cycling infrastructure in and around the Philly area.
One example of the bike-friendly areas of Schuylkill River Trail is a 120-mile trail that runs from Philadelphia all the way to Hamburg, Pa, with plans to extend it even further.
Enjoy this tour of the Schuylkill River Trail in Philly.
Philly gets a score of 95/100. It gets high grades for its commitment and support of cyclists, but we think it could have more given the large population.
2. Portland, OR
Portland is known for its miles and miles of bike lanes. In fact, it has almost 385 miles of bikeways. Thirty-one intersections in the city have bike-specific traffic signals, and there are 42 bike boxes that help make right turns more visible to passing motorists. This is a very forward-thinking cycling area to have so many safety features for cyclists.
According to bluejaybikes, there are over 6500 available bike racks. There are also plenty of trails to ride, as well.
Portland also offers a variety of bike maps that not only help you travel by bike, they help you bike according to the best and safest routes. And with plenty of bikeshare opportunities, you're never very far away from an affordable bike to ride around town and sitesee. Portland is home to a large number of breweries and pubs, so you're never far from dinner and drinks, either.
Portland boasts an average of 6.3% of the population commuting by bike. At times rainy, the climate in Portland is otherwise relatively mild, and you'll find a maximum of 393 meters of elevation.
With so many safe ways to travel the city, it's a surprise there aren't even more people on bikes. In fact, Portland is home to the World Naked Bike Ride.
We give Portland a grade of 99/100 for its safety, trails, bike racks, and plenty of commuters.
3. Minneapolis, MN
Minneapolis is one of the most bikeable cities in the United States. There are 95 miles of protected bike lanes and very low elevation. So it's no wonder that 3.9% of the population commutes by bike! But you'll also find that Minneapolis has more bicycle infrastructure than any other city in the US.
There are plenty of bike shops and bike-share opportunities throughout the city, making bikes both affordable and accessible. In spite of the harsh weather, trails such as the Midtown Greenway are used year-round by an average of over 4000 people per day.
Although the winters are brutal, the 128 miles of bike trails are well-maintained and plowed so that bike commuters can use them all year round. As a fair-weather rider, I certainly appreciate the cleared off bike paths.
The city already has a well-established bike infrastructure, making it one of the best places to ride a bike in the United States. But they're continuously working on improvements to make cycling in the city even better. Don't miss the city's bike registry, which helps recover stolen bikes. You can play your way around the city with the bikeways map.
We give Minneapolis a 95/100. Everything about Minneapolis is terrific for cycling – except it's harsh climate.
4. Fort Collins, CO
In Fort Collins, most commuters live less than five miles from their workplaces, which makes commuting by bike pretty ideal. In many cases, you can arrive to your destination faster by bike than you could by car.
The Fort Collins community has plenty of bike safety education, free bicycle safety checks, and many bike clubs and co-ops to support their local riders. No wonder this city makes our list – what more could you ask for than a place that is so committed to helping people ride their bikes.
Personal, I love the idea of cycling in a city that is dedicated to keeping cyclists safe!
Fort Collins offers a network of routes, called the Bicycle Master Plan, which are selected based on low traffic, easy to cross intersections, and low speeds. They also have a program of trained bicycle ambassadors to ride with you in case you need a buddy.
Check out this bicycle tour of Fort Collins.
Fort Collins gets an easy 99/100 for its commitment to safety, offering safe routes to ride, and its buddy program.
5. Seattle, Washington
In 2018, Bicycling Magazine named Seattle the best bike city in America. Seattle features a network of bike trails, bike lanes, and bike-specific traffic signals to ensure that cyclists can safely get where they need to go.
One of the interesting aspects of Seattle is that it is one of the fastest growing cities in the nation. In order to be proactive about the increase in traffic, Seattle made it a point to turn to bicycling. They are constantly striving to improve the cycling infrastructure to make it safer and more effective. By making it easier for people to choose their bikes over their cars, they reduce traffic congestion and pollution.
In addition, Seattle supports several initiatives to reduce bike-related fatalities to zero – a notable cause. Seattle also works hard to teach beginner cyclists how to ride safely, and help kids learn how to fix and maintain their bikes. Seattle truly fits the bill for a bike-friendly city.
In spite of the rainy weather, as much as 2.8% of Seattle's population commutes by bike. Since the weather is mild, though, you can often bike even in the rain.
Seattle gets a 95/100. It gets high grades for its trails and traffic signals, but it loses a few points for all of the rain.
6. Boulder, Co
According to Rei, Boulder, Co, is a college town with over 300 miles of designated bike lanes, as well as trails and dirt paths. Bike cruisers are easily available and inexpensive to rent, and the town features a 24-hour cycling vending machine in front of University Cycles with cycling accessories. You can bike the route featured in the movie American Flyers, or join one of the many cycling groups squeezing in a lunchtime workout.
Not only is the city a great place to bike, but the surrounding area has plenty of amazing trails and incredible scenery that are just right for heading out on a mountain bike.
You can start off easy on the paved 7.5 mile Boulder Creek Path, which is great for families and beginners. Betasso Preserve offers beginner mountain bike trails, if you want to give a little off-roading a good college try. The Flagstaff Road is a popular, long twisty climb that is sure to get your heart pumping hard.
Boulder gets a 98/ out of 100 because we love all of the bike lanes, trails, and paths and the availability of rental bikes.
7. San Francisco, Ca
San Francisco boasts a mild climate, over 800 bike racks, and protected bike lanes. It has one of the densest bike share networks in the nation, with well over 4500 bikes in the city, according to NBC Bay Area.
There are more than 82,000 trips made by bike each day in San Francisco. That is a lot of people riding bikes. San Francisco is committed to increasing bike safety and know-how to encourage people to ride their bikes. The more people that commute by bike, the less traffic pollution there is in the city.
Even more impressive is the free adaptive bike rentals in the Golden Gate Park. These specialty bikes are available to rent for free for people with disabilities in order to make sure they can get out and about, as well.
In addition, the San Francisco Bicycling Coalition works hard to promote cycling in the city, offering workshops, bike parking, and events to help people commute by bike. What's not to love about a city that is so committed to helping people ride their bikes more? I can't think of a thing.
We give San Francisco a 97 / 100 for its bike share network which includes free adaptive bike rentals. This commitment to helping people ride for free is an amazing benefit of living in San Fransisco.
8. Washington, DC
A whopping 5% of DC's population commutes by bike, helping it earn the distinction of being one of the most bike friendly cities in the United States.
It has over 150 miles of bike lanes and trails in its 68 square miles. The Metro is bike-friendly, and bikes are welcome to ride the train with their riders. DC has been promoting biking to work since the very first Earth Day in 1970.
Washing DC is a leader in the bikeshare movement, with over 6100 bikes and 600 bikeshare stations through the metro area. DC has received accolades from the League of American Bicyclists and People for Bikes for their commitment to cycling infrastructure, bike safety, and encouraging people to bike to work. They are continuing to add more bike lanes and trails to keep the pedaling going.
More people on bikes means less people driving cars, which is great for the environment and the flow of traffic. D.C. is easy to explore by bike, and you'll be able to see so much more by bicycle than you ever could by car or train.
Watch Let's Go See It ride the trails in Washington DC.
DC offers plenty of local cycling clubs, annual cycling events, and programs to make bikeshare more affordable.
We laud DC a 98/100 for its commitment and history of promoting bicycle commuting.
9. Austin, Texas
According to Do512, Austin, Texas, is an ideal city for cyclists. There are a number of reasons that I think it belongs on this list, even though it has fewer bike commuters than other cities on this list.
With numerous hills, elaborate trails, specialist shops, and cyclist-friendly laws, Austin is ideal for bike enthusiasts and avid cyclists.
In addition, it features 77 bike-share stations with over 800 bikes to get you from place to place. You never have to worry about being far away from a bike with all of the options to rent one throughout the city.
Austin also features an online bike map to help you plan the safest and most fun trip to your destination. Load the map right into your bike commuter so you always know where to turn,
Austin requires that all children under the age of 17 wear a helmet. This is a welcome practice to help kids learn to protect their head in sport and in cycling.
And just for fun, don't miss out on The Bike Zoo, which is an elaborate array of animal characters on wheels.
Austin gets a 96/100, which is a great grade for its trails, shops, and bike share stations.
Final Thoughts on the Most Bike-Friendly Cities
You could argue that choosing the most bike-friendly cities is a bit subjective, and it probably is. But you can make any city safer by following traffic laws, wearing a helmet, and being aware of your surroundings. Give cyclists plenty of space when you're behind the wheel and look out for each other.
Frequently Asked Questions
What are the safest states for cycling?
According to bikeleague.org, Massachusetts and Oregon are the safest states for cycling.
What states are the least safe for cycling?
Florida, South Carolina, and Delaware have the most cycling fatalities per capita.
What state has the most paved bike trails?
Minnesota has over 4000 miles of paved bike trails, along with plenty of others that aren't paved.
Where is bike theft most common?
According to thebestbikelock, bike theft happens the most in New York City, Los Angelos, and Portland.
What is the most bicycle-friendly city in the world?
The most bike-friendly city in the whole world is Utrecht, Netherlands. Over 50% of the population consider themselves to be cyclists.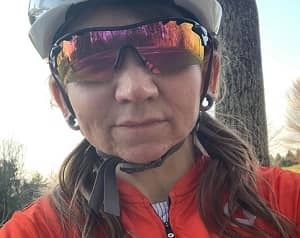 Amanda Whittington is an expert writer, impassioned cyclist, and musician. Coming from a diverse educational background, Amanda discovered a deep-rooted passion for encouraging others through her love of all things cycling, writing, and inspiring hope. 
You'll likely find Amanda pouring over bike specs, comparing the hottest cycling tech, and sporting the latest jerseys while juggling the demands of her editorial calendar, training schedule, tiny homestead, and 6 busy kids. 
She spends her free time absorbed in her own gardening and fitness, cycling, and reading, all while encouraging adoption and foster care, championing the underdog, and of course, working with her chickens and goats.