(Last updated on February 20th, 2023)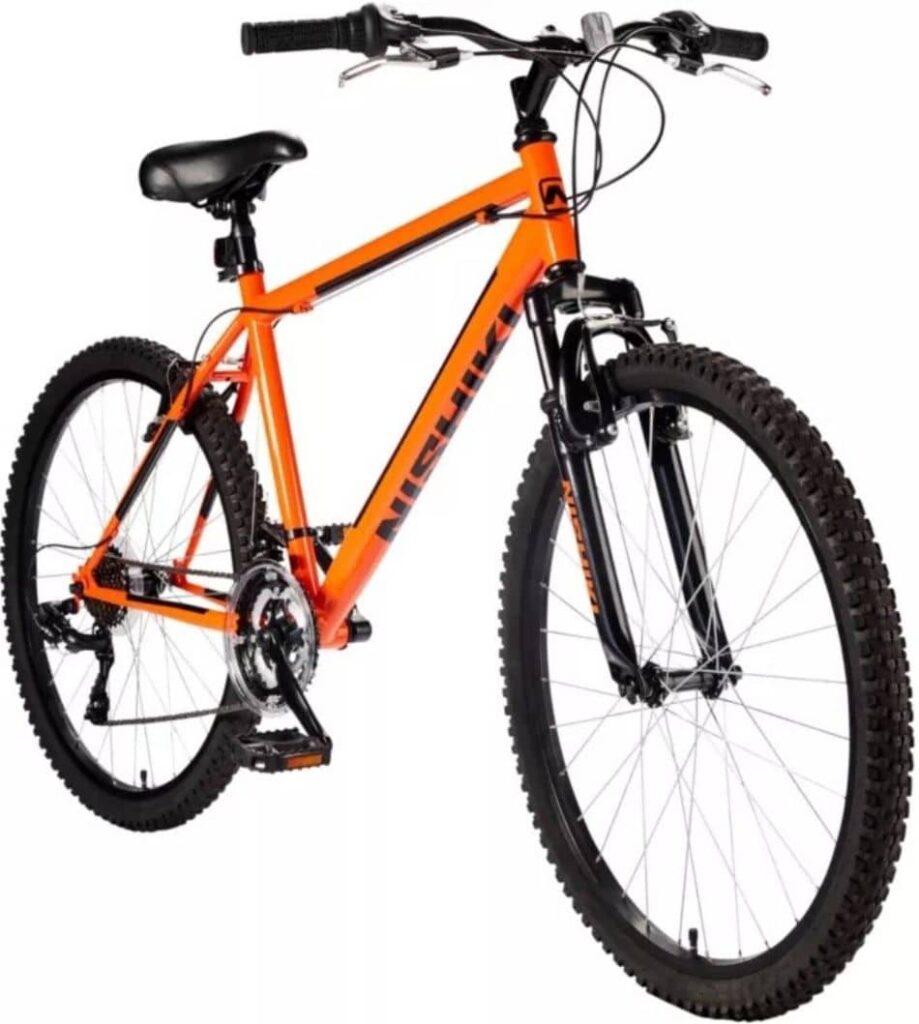 The Nishiki Men's Pueblo Mountain Bike is an entry-level model that's ideal for light terrain and recreational riding. Its affordable price point makes it an attractive option for adult beginners or young teens looking for their first 26" mountain bike. The bike is built around a durable steel frame and wide, grippy tires but the Pueblo's budget-friendly price means it lacks the higher-end components some riders require.
This comprehensive review covers everything you'll need to know about the Nishiki Men's Pueblo Mountain Bike, including its complete specifications and performance ratings out on the trails. I break down each of the key features on the bike as well as compare it with similar models to see how well it stands up to the competition.
What type of bike is the Nishiki Men's Pueblo Mountain Bike?
The Nishiki Pueblo falls squarely within the entry-level mountain bike category, balancing cost with durable components. At only $299, this hardtail is one of the most affordable mountain bikes out there but shows its hand with low-end parts like rim brakes and grip shifters. For recreational or young riders who stick to lighter terrain and paved paths, however, the Pueblo can be a great first bike. The short-travel fork and 26" wheels perform best on dirt paths and bumpy trails that aren't too steep or chunky.
Nishiki Pueblo Specs at a Glance
| | |
| --- | --- |
| Style | Entry-level |
| Travel | 60mm travel |
| Frame | Steel (XS-XL) |
| Drivetrain | Shimano Tourney 3×7-speed |
| Brakes | V-brakes |
| Wheels | 26×2.10" |
| Price | $299 |
Is Nishiki a good brand?
The Nishiki brand today has changed significantly from the Japanese-manufactured bicycles that were originally distributed in the US market in the 1970s and 80s. The quality brand actually got its start in the 1960s but became much more popular later on and competed with rival brands like Raleigh, Peugeot, Fuji, and Motobecane. As a professional bike mechanic, I've worked on plenty of vintage Nishiki road bikes from that era.
The brand changed hands and suppliers a few times over the years and the most recent transformation happened when Dick's Sporting Goods acquired the licensing rights to the Nishiki brand for the US market. The giant sporting goods retailer now sells entry-level bikes like the Men's Pueblo and other cycling accessories under the Nishiki name. This means that the modern Nishiki brand isn't the same as the original company, but its long and storied history helps to add a touch of flair to the current products.
Performance Rating 7/10
The Nishiki Pueblo does a decent job on dirt paths and paved surfaces but can quickly reach its limits on steeper or faster trails. This entry-level bike climbs better than it goes downhill and feels at home on undulating terrain on recreational rides. For the impressively affordable price, though, the overall performance is acceptable and can be a worthy first mountain bike.
Check out what other trusted reviewers think of the Nishiki Pueblo mountain bike here:
Descending 6/10
The Nishiki Pueblo isn't meant for technical trails and steep routes but it'll navigate lighter terrain thanks to a durable steel frame and front suspension fork. The 26" wheels are nimble and easy to maneuver in tight spots and can help smaller riders achieve more controlled handling compared to larger 27.5" or 29" rims. That said, the smaller diameter means a bit less ability to clear large obstacles while going downhill at speed.
The main limiting factor when it comes to descending is the front fork which only offers 60mm of travel. That's enough travel for smoothing out small bumps, city potholes, and hopping curbs but isn't sufficient for gnarlier MTB riding. The 26×2.1" tires are decently knobby which I like but aren't as wide as standard 2.25" cross-country tires.
Climbing 8/10
The Pueblo performs significantly better when pointing uphill thanks to its wide gear range and limited suspension, allowing riders to climb efficiently. While the front fork isn't the best for hard-hitting descents, the short travel specs prevent too much energy from being absorbed by the fork while climbing up the mountain.
There are 21 gears to choose from in the Shimano Tourney 3×7-speed drivetrain. That's an older technology than the modern 1x systems but offers tons of gear ratios so you can pedal with the ideal cadence for the climb. However, riders will notice that the Pueblo is a heavy bike. The steel frame and budget components contribute to this hefty 35.27 lbs. mountain bike that can feel sluggish to pull up steep trails.
To see the Nishiki Pueblo in action, watch this video trail test:
Key Features
Dive into the details of the most important features of the Nishiki Pueblo Men's Mountain Bike.
Frame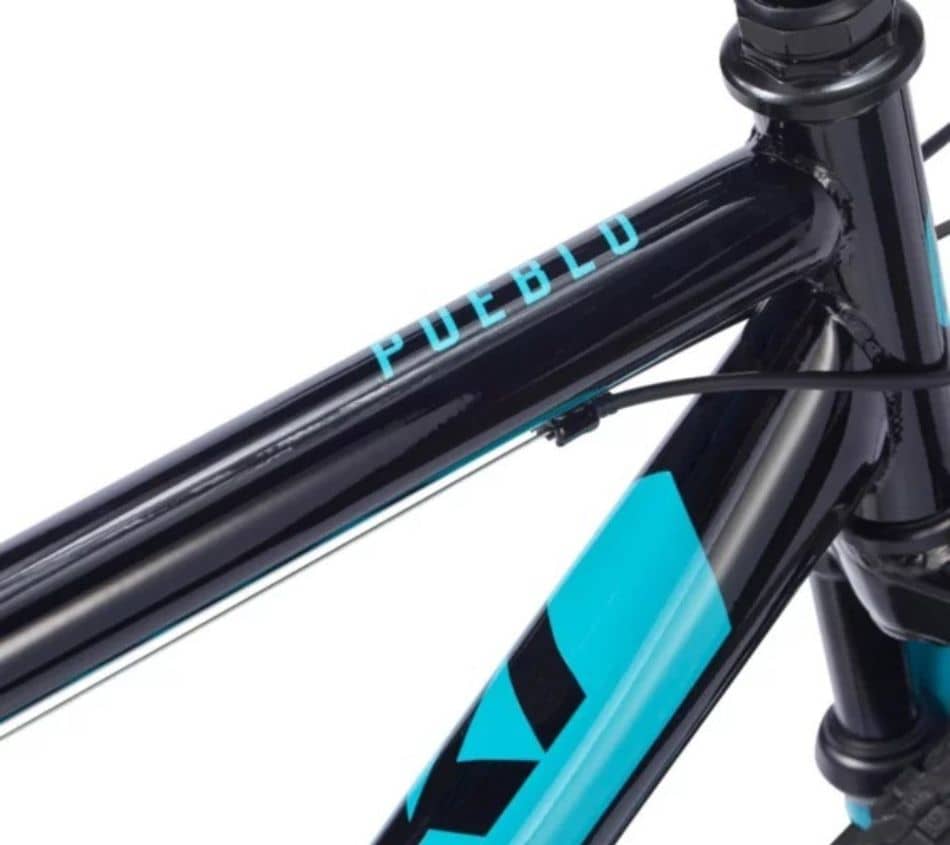 The frame is made of heat-treated Hi-Ten steel which means that it's ultra-durable but also heavier than aluminum mountain bike frames. The geometry is reminiscent of classic mountain bike frame shapes and offers a relaxed riding position that's not too slack. All shift and brake cables are externally routed. The frame is available in seat tube lengths of 14″, 16", 18", 20", 22" which correspond to the XS-XL frame sizes.
Drivetrain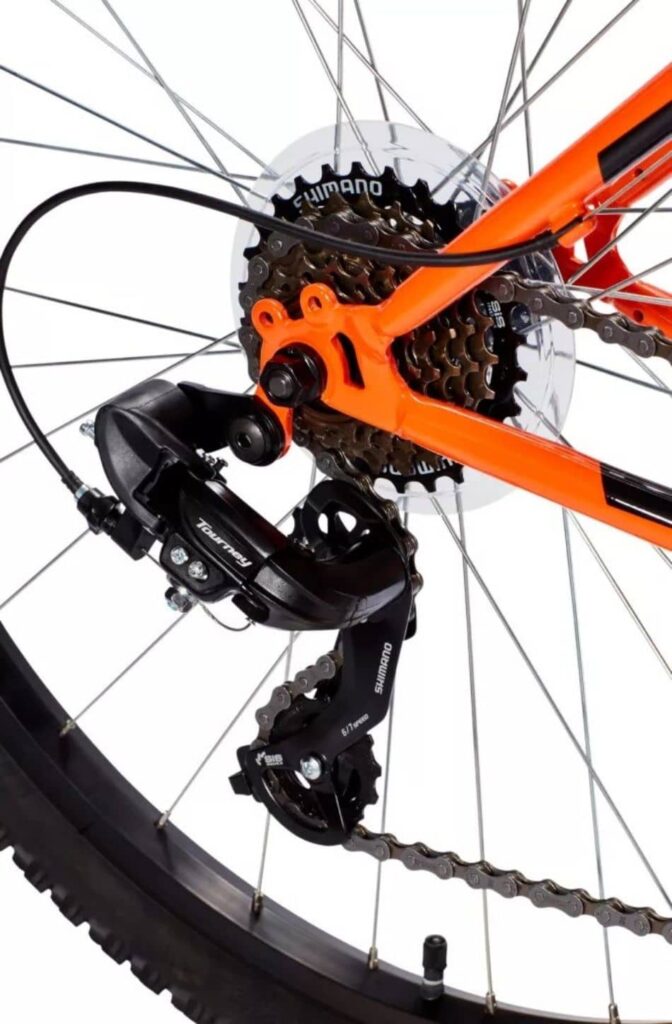 The Pueblo relies on a Shimano Tourney 3×7-speed drivetrain that's controlled via a pair of Shimano Revo twist shifters on the handlebars. The triple front chainrings have 42/32/24 teeth and the rear 7-speed cassette ranges from 14t to 28t. Users and expert reviewers reported that the shifting mechanism can feel cheap and imprecise which isn't surprising given the low-cost nature of the Pueblo mountain bike— I mostly chalk this up to the poor quality shifters rather than the front and rear derailleurs themselves.
Brakes
The stopping power on this mountain bike comes from a pair of alloy linear pull V-brakes on the front and rear wheels. Nowadays, we are more used to seeing disc brakes— even on budget models— but the Pueblo achieves its ultra-low price by using this older brake technology. For calm riding on bike paths and dirt tracks, rim brakes will work just fine but riders may be lacking stopping strength in wet or muddy conditions.
Suspension
The Pueblo is a hardtail mountain bike, meaning it has a front suspension fork but lacks rear suspension. The fork is unbranded but provides 60mm of travel to smooth out bumpy trails and take the sting out of potholes or hopping curbs. This extra cushion reduces stress and fatigue on the hands and arms letting you ride comfortably for longer.
Wheels and Tires
There are 26" wheels with aluminum rims and steel hubs which are paired with 2.1" knobby tires. The tires are decently wide and grippy to offer lots of traction in tricky terrain as well as absorb road buzz or rough terrain. The modern MTB wheel size is either 27.5" or 29" but the Pueblo rocks the smaller, traditional rim diameter. These wheels are better for shorter riders or young riders upgrading from 24" wheels to adult-sized mountain bikes.
Contact Points
The saddle has a medium-width that's narrow enough to still be considered sporty but some users reported it to be pretty hard. Developing riders might enjoy a softer saddle so feel free to swap it over to a more comfortable seat. The pedals are made of a resin plastic material which isn't as durable as metal and will wear much faster over time. The grips are also a bit hard and some riders have said their hands were prone to slipping due to sweat or during wet weather.
Nishiki Men's Pueblo Mountain Bike Full Specs
| | |
| --- | --- |
| Frame | Heat treated Hi-Ten Steel, mountain geometry |
| Front suspension fork | 60mm |
| Rims | 32H Aluminum |
| Tires | 26" x 2.1" |
| Front derailleur | Shimano Tourney |
| Rear derailleur | Shimano Tourney |
| Cassette | Shimano 7 speed (28T/24T/22T/20T/18T/16T/14T) |
| Crank | Steel crank arm, 42T/34T/24T chainrings |
| Shift Levers | Shimano Revo Twist Shifters |
| Handlebar | Steel |
| Handlebar stem | Steel |
| Saddle | Sport Saddle |
| Seatpost | Steel |
| Brakes | Alloy linear pull |
| Frame colors available | Black/teal, gray/red, orange/black |
| Frame sizes | 14″, 16", 18", 20", 22″ (XS-XL) |
Overall Impression 7/10
The Nishiki Pueblo is a decent option to kickstart your mountain bike journey but it's an entry-level model with clear limitations. The $299 price is virtually unbeatable but being that low on the price spectrum means there are cheaper parts such as rim brakes, small 26" wheels, and a heavy steel frame.
Beginner riders can take advantage of the several frame sizes and wide gear range to comfortably traverse local trails and bike paths. Shorter adult riders are a good match for the bike's geometry as well as young cyclists making the switch to adult-sized bikes— keep in mind, though, that they'll eventually outgrow both the 26" wheels and simple components.
PROS
Affordable
Quality 2.1" tires
Durable steel frame
Add text here.
CONS
Limiting 60mm front fork
Small 26" wheels
Rim brakes
Old triple chainring design
Compare the Nishiki Men's Pueblo Mountain Bike
See how the Nishiki Pueblo stacks up against its modern-day rivals in this helpful spec chart.
| | | | |
| --- | --- | --- | --- |
| | Nishiki Pueblo | Nishiki Tamarack | GT Aggressor Pro |
| Suspension | 60mm | 60mm | SR Suntour XCE, 80mm |
| Gearing | Shimano Tourney 3×7-speed | Shimano Tourney, 3×7-speed | MicroShift 3×8-speed |
| Tires | 26×2.1" | 26×2.0" | 27.5×2.1" |
| Brakes | V-brakes | V-brakes | Mechanical disc |
| Price | $299 | $349 | $399 |
| Where to buy? | Check price | Check price | Check price |
Alternatives to the Nishiki Pueblo
Nishiki Men's Tamarack Comfort Bike
Riders interested in the Pueblo might be better served by the Nishiki Men's Tamarack Comfort Bike if they plan to stick to paved routes and bike paths. The geometry is more relaxed and upright while there are very similar components, including a front suspension fork to smooth out bumps and reduce upper body strain. At just $349, the Tamarack is similarly priced compared to the Pueblo but offers a more comfortable and recreational feel.
GT Men's Aggressor Pro Mountain Bike
The GT Aggressor Pro is a hardtail with an innovative frame design and higher-quality front fork, perfect for riders looking for something a bit more capable than the Nishiki Pueblo. That extra performance comes at a premium— the bike's MSRP is listed at $799— but it's currently available for just $399.
My first serious road bike was a carbon fiber GT Attack which I still love and has been super dependable over the years so I can vouch for the quality of the brand. The Aggressor Pro has a 3×7-speed drivetrain just like the Pueblo but has a more modern frame shape, larger 27.5" wheels, and a nicer SR Suntour XCE fork with 80mm of travel. For riders willing to spend a little bit more, this model comes with a wealth of upgrades so you can hit more technical trails.
Frequently Asked Questions
Does Nishiki make a good bike?
The Nishiki brand was well known in the 1970s and 80s for quality road bikes that were manufactured in Japan and distributed in the US. Dick's Sporting Goods now has the licensing rights for the brand and uses the name for the entry-level bikes and accessories. 
Is Nishiki made by Giant?
Nishiki bicycles were originally produced in the Kawamura factory in Kobé, Japan but currency fluctuations caused the brand to switch over to Giant based in Taiwan. The current Nishiki brand is distributed by Dick's Sporting Goods.
How much does a Nishiki Pueblo bike weigh?
The Nishiki Men's Pueblo Mountain Bike weighs a total of 35.27 lbs.'
What kind of bike is a Nishiki?
A Nishiki Pueblo is a men's mountain bike that's rated for light off-road riding and recreational usage on bike paths, pavement, and dirt routes.
What size Nishiki Pueblo should I get?
The Pueblo is available in sizes XS to XL. Refer to the model-specific size chart below for an accurate recommendation of the frame size that fits you best.
Nishiki Pueblo Size Chart
SIZE
RIDER'S HEIGHT
INSEAM LENGTH
XS
4'11" – 5'3″
25″ – 27″
S
5'3″ – 5'7″
27″ – 29″
M
5'7″ – 5'11"
29″ – 31″
L
5'11" – 6″4″
31″ – 35″
XL
6'4″ – AND UP
35″ – AND UP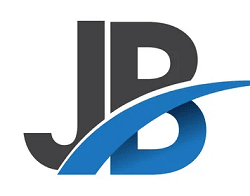 Jeffrey Brown is a writer, editor, and professional bike mechanic with over 7 years of experience working in full-service and community-based bike shops. As a bicycle educator, he has supported youth programs across the US that teach bike mechanics and life skills to prepare the next generation of cyclists.
Jeffrey began his professional mechanic career at his university bike co-op, so he recognizes the grassroots power of the cycling community. Initially self-trained as a mechanic, his subsequent positions as manager and lead educator gave him official training. He has won various awards and grants for his role as a bicycle and environmental advocate.