(Last updated on February 20th, 2023)
Ride1Up has shaken up the e-bike industry with its 700 Series Electric commuter bike. There's a whole lot to love about this bike, and its value is one of them. But don't just take our word for it – let's take a deep dive into this class 3 e-bike and see what it has to offer.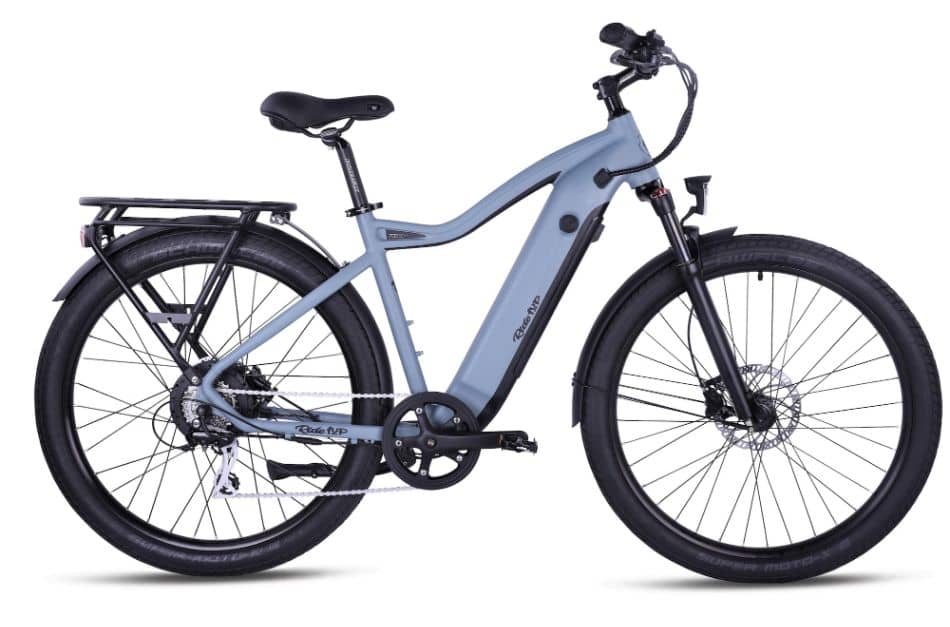 Summary of the 700 Series Features
● Class 3 e-bike
● Available in 2 colors: graphite grey or steel blue
● It weighs 62 pounds and is 70 inches long
● Maximum cargo and rider weight is 300 pounds
● 750w sustained geared rear hub motor with 60mn of torque
● Battery: 48V, 14Ah (672Wh) frame-integrated battery
● Display: Color LCD display
● Headlight: Buchel 50 lux front lights
● Taillights: Spanniga Luceo rear light
● Pedal Assist: Five PAS levels, cadence sensor
● Range: 30-50 miles
● Thumb throttle
● Tektro HD-E350 hydraulic disk brakes
● Fenders: Alloy fenders
● Fork: Mozo suspension fork
● Frame: Alloy
● Drivetrain: Shimano Acera 8-speed 1x eight drivetrain with Shimano trigger shifter
● Throttle – with no pedaling, up to 21 mph
● Saddle: Selle Royal Freeway
● Handlebar: Alloy riser bars
● Kickstand: Included
● Pedals: Wellgo Alloy
● Tires: Schwalbe Super Moto-X 27.5×2.4"
Class 3 E-Bike
Electric bikes are available in 3 classes. Not all e-bikes are legal to ride in all areas, so you'll need to check your local laws, of course. However, here's a quick breakdown of the different types.
● Class 1: The motor only works while you pedal and only up to 20mph.
● Class 2: The motor will work while you pedal or use the throttle without pedaling up to 20mph.
● Class 3: The motor works with pedal assist up to 28mph. Some class 3 bikes have a throttle that works up to 20mph.
The Ride1Up 700 series is a class 3 e-bike. The pedal assist will give you speeds up to 28mph, and the throttle will give you speeds up to 20pmh.
If you compare the Ride1Up 700 series to other e-bikes, you'll find there are a lot more class 1 bikes than class 3 bikes, especially at this price point.
You can see a speed test of the 700 series here.
Aesthetically Pleasing
The Ride1Up 700 Series is a nice-looking set of bikes. It has a pretty streamlined look to it, which is important to me. The battery fits nicely inside the frame, although the size of the frame, which unfortunately pretty much gives it away that this is an e-bike.
It has chunky tires, flat handlebars, a cargo rack, and a cushioned seat. It looks like any other nicely built cargo-commuter bike.
I love that the wires are wrapped, which also gives the bike a nice tidy appearance. However, to me, it really doesn't stand out as looking either cheap or luxurious.
This bike is available in two colors. You can choose either graphite grey or steel blue. Both colors are a slightly understated, matte color, which gives the bike a more serious look to it rather than looking like a blinged-out cruiser bike.
If I were going to show up on the job with a commuter bike, I definitely would want it to have a professional vibe, like this, rather than a vacay vibe, like a lot of e-bikes have.
Size and Weight
This is not a small bike, so you'll want to keep that in mind if you are considering one of these bikes. First of all, it weighs a hefty 62 pounds and is about 70 inches long.
Definitely smaller than your average car, so you'll have no trouble fitting it into a small garage. On the other hand, if you have to store your bike indoors or carry it up a flight or two of steps, it's going to be quite a beast to haul around.
My biggest concern with the 1Up is rider size. As a smaller rider, this just wouldn't be a practical bike for me at all. Here's why.
The 1Up 700 Series is only available in one size. It's built for riders between 5'5 and 6'4 with a total weight limit (including rider and cargo) of 300 pounds.
This bike is really only designed for people of average height and weight. If you're on the short side or a little on the heavy side (or carry lots of cargo), it probably isn't the bike for you. I think that 1Up is able to keep costs low, in part, due to the fact that they only have to make one size.
This is really the biggest drawback of this bike – it is intended for people who are entirely average. If 1Up could offer it in at least 2 or 3 sizes, it would be marketable to a lot more of the population. Brands such as Trek, Cannondale, and even Canyon offer their e-bikes in multiple sizes, so you can choose something that fits you better.
The Frame
The frame is made of alloy with a geometry intended for comfort, not speed. The nice part of the frame is that it protects the electronics inside and has a built-in lock for the battery.
Assembly
Another way that 1Up was able to save on the price of the bike was to pack it in more pieces. That's right, assembly is going to be a bit more work than average, as you can see in this video. Don't be afraid to call a bike shop and get help!
Motor
There are different types of e-bike motors, and they're good at different things. Friction motors are the least expensive and are easy to install if you're doing it yourself.
A mid-hub motor is found at the crank in the middle of the bike. These are sort of the Cadillac of motors, and they give the bike the most natural riding feel. You'll notice that Cannondale and Specialized offer mid-drive motors, but they also come in at more than double the price.
The 1Up motor is a 750w sustained geared hub motor with 60mn of torque. Geared hub motors are less expensive to manufacture than some other types, so they do help to keep the cost of the bike low. But they're also a little smaller and lighter, which reduces weight on the bike. One of the nicer aspects of this type of motor is that they freewheel easily, making coasting and riding without pedal assist a breeze.
On the other hand, these motors might not last as long, especially if you put a lot of load on the bike (such as hauling heavy gear or climbing a lot of hills). They also might be a little bit noisy.
Overall, though, this motor will get the job done. It will easily get you from point A to point B, so it isn't much of a drawback unless you live in a very hilly area.
Gears and Shifting
On a road bike, your gears help you to pedal at a comfortable cadence (rotations per minute) over any terrain – hills, flats, or descents. Of course, E-bikes also have gears, but finding that perfect cadence is much less critical because the pedal assist reduces the strain on your legs and back anyway.
So the front chainring is a 45T, whereas most 1x bikes have a 40T chainring in the front. The 45T is a little tougher to pedal, but that doesn't matter because you have pedal assist! The rear cassette is a pretty typical 11-30T.
These gears are all fine and good with your pedal assist, and they'll be just fine on flats or coasting down descents. However, if you have to pedal up a hill without pedal assist, you'll find yourself grinding away up that hill. They just aren't great climbing gears if you have to use your own leg power.
Thanks to the Shimano Acera drivetrain and the right-handed trigger shifter, you should have nice smooth shifting.
Brakes
Good brakes are critical, especially when you can reach speeds of 28mph. You'll get the best stopping power from hydraulic disc brakes. With the Tektro hydraulic disc brakes, you'll be able to stop easily.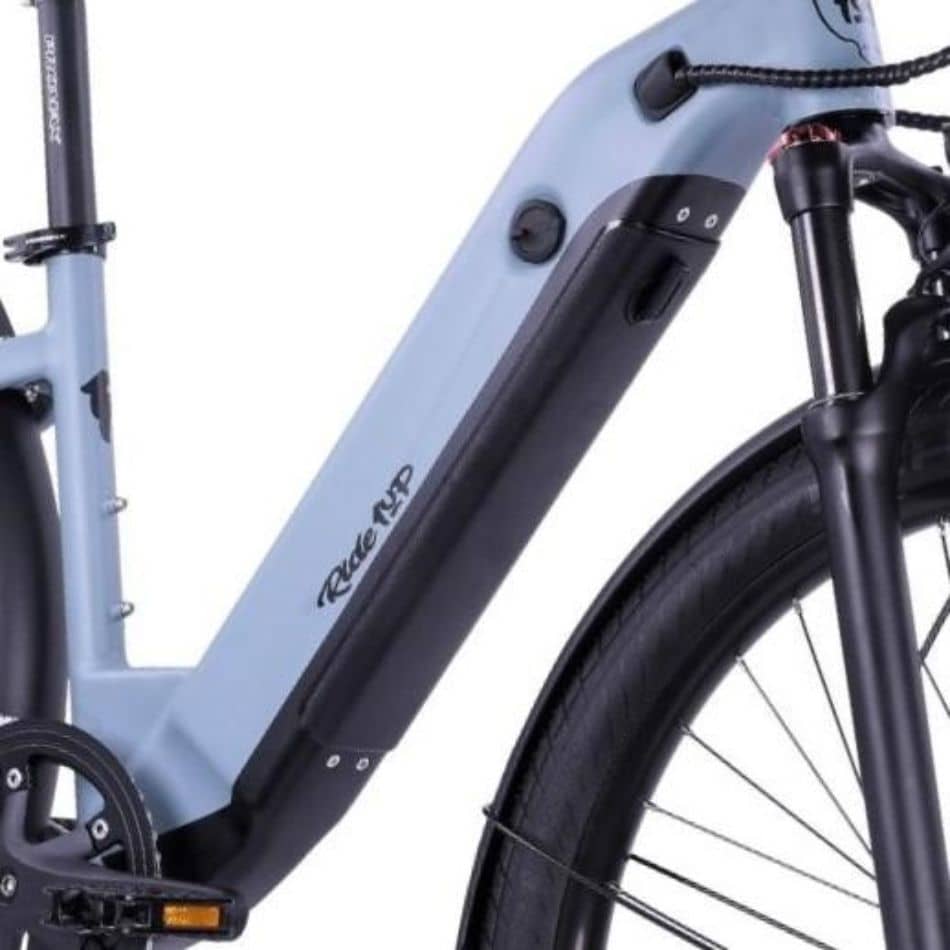 Battery
The 1Up comes standard with a 48V, 14Ah (672Wh) frame-integrated battery. The battery fits right into the frame of the bike, giving it a seamless look. In addition, you can lock the battery in with a key, which is a nice feature if you don't want someone making off with it while you're in the coffee shop!
You can charge the battery right in the bike, or you can take it out easily to charge it as well.
An e-bike battery should last anywhere from 2 to 5 years, depending on how hard you use it. Ride1Up sells replacement batteries for around $450 each. This doesn't include the housing or the keys, just the battery.
If you need to commute extra far, you may want to purchase a second battery to carry with you on your bike. Remember, though, that the battery weighs about 10 pounds, so that's extra weight to carry with you, too.
The only real drawback to this particular battery is its location. It's located on the bottom side of the downtube, which is a somewhat awkward place to reach if you're having to remove it often.
Range
The range is a big consideration when you're choosing an e-bike. You don't want to be caught without enough juice to get back home when you're out on a ride. And while you can pedal an e-bike without the assist, you probably don't want to, considering they are extra heavy when compared to a typical road or gravel bike.
So Ride1Up claims that average riders can get 30 to 50 miles out of one battery charge, depending on how much assistance they use. And this is actually pretty accurate, although you do have to account for variables.
Rider weight, fitness level, weather, terrain, speed, hills, and level of pedal assist will all affect how quickly your battery will drain. But generally speaking, you really can count on your Ride1Up e-bike to give you a good 30 miles or more on any given charge.
The Trek Kakau Go! It is a similarly priced e-bike. It gives you a solid 40 miles on a single battery charge but also offers an additional range extender which gives you an additional 40 miles. Keep in mind, though. It only goes up to 20 mph with pedal assist and no throttle.
The Canyon Grail: On, on the other hand, will easily give you a whopping 70 miles on one charge. The big caveat there is the hefty price tag – at well over three times the price of the Ride1Up.
Tires
Some say that tires are the most critical component of your bike since the tires are what connect the rider to the ground. Regardless, the tires on the Ride1Up don't disappoint. You get Schwalbe Super Moto-X 27.5×2.4" tires.
These are nice chunky boys that will give you a smooth ride. You can take them on the tarmac or a mild off-road trail. This bike isn't set up for mountain biking, so don't even think of trying to hit a rock garden in these bad boys, but you'll get plenty of off-road grip on, say, light gravel.
What I really like about these tires is that they have solid puncture protection and reinforced sidewalls. As a result, they can handle heavy loads, high speeds, and rough roads, and they are easily replaceable should you get a flat.
Suspension
The bike includes a Mozo suspension fork. This, combined with the cushy tires, will give you a nice comfortable ride with plenty of grip. It will definitely take the vibrations out of the road, making the ride easier on your hands and body.
Display
The display unit is located on the left-hand side of the handlebars. There's nothing overly fancy or difficult about it – it is just a simple display that tells you what you need to know while you are riding your bike.
You can see it in action, here.
The display unit shows you your speed, odometer, level of pedal assist, battery indicator, and miles traveled.
Since the level of pedal assist is directly related to how much battery power you're using, this is a great feature. You can pace out how you use the pedal assist to make sure you've got enough battery power to get you where you need to go.
Pedal Assist
The motor has five levels of pedal assist. Even without using pedal assist, this is a decently fast bike for its size, weight, and tires. Of course, the more pedal assist you use, the quicker the battery drains. The cadence sensor may seem slightly laggy, but it does an excellent job of triggering the pedal assist.
Alternatives to The Ride1Up 700 Series
| | | | | | | |
| --- | --- | --- | --- | --- | --- | --- |
| | 700 series | Cannondale Adventure Neo | Hummingbird | Canyon Grail ON: CF 8 | Specialized Turbo Como 3.0 | Trek Kakau Go! |
| Price | $1595 | $4400 | $5320.95 | $5,999.00 | $3,250.00 | $1799.99 |
| Where to buy? | Check price | Check price | – | – | Check price | – |
| Class | 3 | 1 | 1 | 3 | 1 | 1 |
| Motor | Rear Hub | Bosch MidDrive | Rear Hub | Bosch Logo Bezel Performance Line Speed | Mid-drive 250w motor | Rear hub |
| Speed | Up to 28mph | Up to 20mph | Up to 15 mph | Up to 28 mph | Up to 20 mph | Up to 20 mph |
| Weight | 62 pounds | 57 pounds | 22.7 pounds | 36 pounds | 62.2 pounds | 47.8 pounds |
| Range | 30 – 50 miles | 85 miles | 30 miles | 70 miles | 30 – 50 miles | 40 miles, additional 40 miles with range extender |
Now that we've looked at the different components of the Ride 1Up 700 series e-bike let's review the pros and cons.
Pros
● Long-lasting battery with a range of 30-50 using the lowest level of pedal assist.
● It's water resistant, in case you get caught in the rain.
● Standard hydraulic disc brakes
● You can charge the battery while it's on the bike or remove it to charge (with a key)
● Available in 2 colors and two frame types, step-through or step over
● Includes rear rack and straps with a decent 50-pound weight limit for cargo.
● Features an easy-to-read display unit for speed, mph, odometer, pedal assist level, battery indicator, and miles traveled.
● Led front and rear lighting and protective fenders to keep you from getting muddy or wet.
● 2.4-inch cushy tires make for a grippy and comfortable ride.
● Includes a standard kickstand
Cons
● The battery location under the frame is awkward to get to but not impossible.
● This bike is large and heavy – if you have to store your bike inside or upstairs, it might be a problem. However, if you can just wheel it into a garage, you won't have a problem.
● It is a left-side thumb throttle because the right side has trigger shifters. This will take some getting used to if you are right-handed!
● No torque sensor; the pedal assist is triggered by the cadence sensor.
● It seems to be harder to put together than other e-bikes, so you may need a bike shop to help.
Real World Application for the RIde1Up 700 Series E-Bike

The Ride1Up 700 Series is a great value bike if you fit the size and weight recommendations. The geared hub motor is surprisingly fast and adept. It pedals efficiently and handles remarkably well. The fact that it is a long bike, and a heavy one at that, gives you lots of stability and control. The suspension fork and cushy tires give you a nice comfortable ride, as well. And you get the rear rack, fenders, lights, and plenty of name-brand components such as a Shimano drivetrain, brakes, and of course, the Schwalbe tires.
The drawbacks here are that the bike is only offered in one size, which cuts out a lot of smaller and larger folks who might otherwise want a fast, value-priced e-bike for their commute.
If size and weight are your primary concern, then you'll want to consider something like the Hummingbird Folding e-bike, which weighs just 22 pounds and folds in half for easy storage. If you have a little extra coin to drop, then you might want to test-drive the Cannondale SuperSix EVO Neo. It weighs under 25 pounds.
The only other major issue I could find with this bike is its lack of hill-climbing prowess.
It really doesn't have any amazing hill-climbing gears. So if you're trying to get up the hill with the throttle only or with the power of your legs, you'll have a hard time grinding away with such a heavy bike. But if you can combine the two: leg power plus battery power, you'll be alright.
Honestly, on a scale of 1 to 10, I'm giving this bike a 9 because you'll be hard put to find another e-bike with this much value. This bike provides you with brand-name components and a fast, comfortable ride for a fantastic price. Sadly, I won't add this bike to my collection of bicycles, though. It's just too big, and as of right now, there isn't a viable size available for the likes of me. But if you're perfectly average, you'll love this above-average e-bike.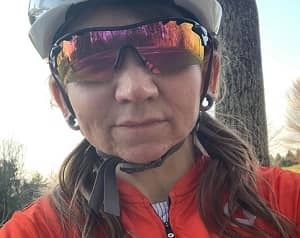 Amanda Whittington is an expert writer, impassioned cyclist, and musician. Coming from a diverse educational background, Amanda discovered a deep-rooted passion for encouraging others through her love of all things cycling, writing, and inspiring hope. 
You'll likely find Amanda pouring over bike specs, comparing the hottest cycling tech, and sporting the latest jerseys while juggling the demands of her editorial calendar, training schedule, tiny homestead, and 6 busy kids. 
She spends her free time absorbed in her own gardening and fitness, cycling, and reading, all while encouraging adoption and foster care, championing the underdog, and of course, working with her chickens and goats.