(Last updated on March 6th, 2023)
Somebody told me about five years ago, electric scooters would be something you would see on the streets every day. He was 100% right. Seeing so many people turn to an electric scooter as another form of transport is amazing.
Many new electric scooter companies are popping up, but one that is regarded as one of the best is Razor. One of their flagship electric scooters is the E300. In this article, I will tell you about it and how it stands against similar models from other brands. This video is excellent if you want to know the benefits of buying an electric scooter.
Who are the Team 'Razor'?
Razor was founded in Cerritos, California. They started in 2000 with the Razor model A, and in the past two decades, they have massively grown. They have sold over 50 million scooters, and 15 million have been electric. It's safe to say they are an industry leader in electric scooters.
They are well known for great quality scooters and have a wide range to suit all budgets. The team Razor also makes kick scooters, hoverboards, skateboards, and even accessories to match. They cater to all ages and offer excellent accessories with their products.
What Do I Look for in an Electric Scooter?
Knowing what to look for when buying an electric scooter can be challenging. Here's what I focus on;
Design
The first thing I look at regarding scooters is the design. I don't just look for the best-looking scooter, but I also want a scooter that is going to be functional.
Motor and Power
The motor is what is going to drive you forward when on an electric scooter. I want a powerful and efficient motor.
Battery and Range
The battery is what sends power to the motor. This ultimately defines the range and how efficient the scooter is. I want great batteries for range and longevity.
Wheels and Tires
Electric scooter wheels and tires come in all different shapes and sizes and are made of different materials. I want wheels and tires that fit the scooter's purpose.
Brakes
Like the wheels and tires, scooter brakes come in many different shapes and sizes. I look for brakes that have the ability to stop you quickly but in all conditions.
Special Features
The special features can make a scooter. Many come equipped with lighting, speedometers, charge ports for your phone, and even regenerative braking.
Cost
Regarding electric scooters, I want to know if I am getting great value for money.
KEY SPECS
| | |
| --- | --- |
| Size Unfolded | 40" x 16.5" x 42.5" |
| Motor | 250w |
| Battery | 24v |
| Charge Time | 12 Hours |
| Top Speed | 15 mph |
| Distance | 10 miles |
| Wheels and Tires | 9" Air Tires |
| Brakes | Hand Brake, rear only |
| Weight | 43lbs |
| Max Weight | 220 lbs |
| Cost | $359 |
| | |
| --- | --- |
| Performance | Statistics |
| Top Speed | 15 mph |
| Range | 10 Miles |
| Braking (24-0 kph) | N/A |
| Acceleration (0-24 kph) | N/A |
Pros and Cons
Pros
Looks great and comes in three different colors
Wide footplate to help to handle
Large 9" air tires for comfort and control
Good weight limit of 100kg
43 lbs which is a good weight
Great price coming in at only $359, great value for money
Cons
Not a lot of range
15 mph is only an ok top speed
Quite bold colors
No suspension
Design 3/5
Let's start with the design, which gets 3/5. The Razor looks fantastic and has a sleek modern design. It comes in three colors, blue, white, and gray. It is designed to be used by teenagers or adults and is sized appropriately.
It's 40" x 16.5" x 42.5", a fairly standard size for a scooter, and weighs 43 lbs. It's a chunky scooter but offers much support and can hold riders up to 100kgs.
It ticks all boxes for us when it comes to comfort and control. I really like the wide footplate, which makes riding it easy, and the handlebars sit high and wide, making steering easy. The large 9" air-filled tires are comfortable and fit well into the scooter's design.
The battery sits under the scooter's frame between the wheels keeping the centre of gravity low. All the cables run from this area up to the handlebars. It would have been nice if they were internally routed like other scooters, but they blend in.
One thing that lets this scooter down is that, unlike other models, it cannot fold. It doesn't change the way it works. It can make it a little bit less practical for day-to-day life and taking on forms of transport.
Motor 3/5
The motor we gave 3/5. This motor on the Razor E300 is chain-driven. Chain drives are much more reliable and require next to no maintenance over the life of the scooter. Razor, although they do not make the most powerful motors, they make a motor that will last.
The motor has a power rating of 250w. This is on the lower side compared to other scooters but is enough to take up to 15 mph fairly quickly and smoothly. One thing I liked about this scooter is its progressive acceleration, so it doesn't feel erratic when gaining speed. This is due to the high torque motor and acceleration control.
The motor being only 250w does mean it uses less power and can work with a smaller battery. It doesn't drain it quickly, making you feel a lot more in control. The top speed may only be 15 mph, but that's the legal limit in many places.
A twist throttle controls the motor. This is similar to what you would find on a moped and is very easy to use. I prefer this system compared to a push button.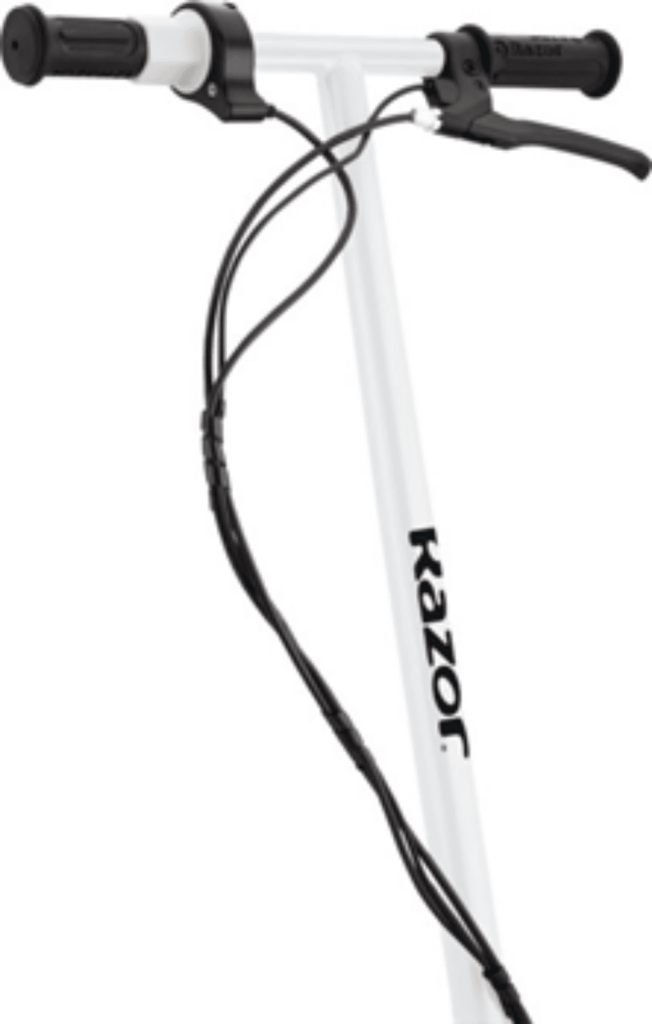 Battery 2/5
Every good motor needs to be paired up with a good battery. Unfortunately, we could only give this 2/5. The Razor E300 has a 24v battery and two 12v batteries combined. It offers a total of 10 miles range which isn't amazing and definitely on the low end compared to other scooters.
Scooters typically come with lithium-ion batteries. The Razor E300 comes with sealed lead-acid batteries. This is quite old technology, and it's not something I don't see very often. If I were designing a scooter, it's not something I would use.
The issue I found with a lead battery is it takes longer to charge. The Razor comes in at 12 hours of charge time compared to other scooters, which are 4. Then you also have the charge cycles, which are how many times a battery can be charged before the cells start dying. Typically lithium ions are ten times more.
Overall the battery on the Razor is very basic. It takes a long time to charge and isn't going to last as long as others over its lifetime. I feel it could be much better in our opinion.
Wheel and Tires 4/5
Then we have the wheels and tires coming in at 4/5, which is the best bit about the bike. They are an odd size of 9", which makes this scooter efficient at high speeds and also great for building up acceleration gradually.
They are air-filled rubber tires, so unlike many scooters, they are not solid. Although they run a risk of getting punctures, they do offer a much better experience. The ride will be very smooth on-air tires. It makes the scooter float over rough surfaces easily.
With larger air-filled tires, you also get a much better grip. With the tire being more flexible, it can roll over obstacles much better and grip itself on the floor. This makes this scooter capable of riding on light off-road.
Another great feature of air-filled tires is that you can adjust the amount of pressure in them. This means you can make it more comfortable if required. The wheels and tires on this scooter are definitely a big bonus.
Brakes 3/5
Then we have the brakes at 3/5. It's vital for an electric scooter to have good brakes when they can go up to speeds of 15 mph. You also need them to be able to stop in all conditions, rain or shine.
The Razor E300 has drum-style brakes. These are great as they are self-contained and sit on the side of the wheel. They will last a very long time and typically need next to no maintenance for the life of the scooter.
They do lack power, in our opinion. Compared to disc and electronic brakes on scooters, they don't offer the same braking force as others. Scooters have many different braking systems, and the drum brake is the most basic.
The scooter shuts off when the brake lever is pulled, and this is a safety feature that ensures you slow down very quickly. The brakes are sufficient, but they are not anything to shout about.
Special Features 2/5
Regarding special features, the Razor E300 doesn't come packed with special features as other scooters do. We could only give it 2/5. It is actually very basic, but that doesn't make it a bad scooter. It just makes it a bit more fundamental.
The only special feature you will find is a kickstand. It is handy as this scooter doesn't fold, so it's easy to store and helps it not to fall over. I would have liked to have seen many more special features, such as lighting.
Cost 3/5
For the cost, the Razor E300 gets 3/5. The scooter costs $359 but floats between $300 and $400. The price is good, and it comes in as a budget scooter. For the price, I feel it offers value for money, and it's worth what they charge.
Our Verdict 3/5
The Razor E300 is a very basic scooter at 3/5. It has a great design and is easy to ride, especially for beginners. I really like the large footplate, and the twisted throttle and brake are very easy to use.
It doesn't have a very powerful motor, but it is chain driven and works excellently. If we're honest, the battery is a letdown. It's rare to see an electric scooter company using a lead battery. They take ages to charge and only will give 10% of the longevity compared to lithium-ion. It has a top speed of 15 mph and a range of 10 miles which is basic.
The brakes are ok. They can stop you quickly, but disc brakes are better. They don't have any special features such as regenerative braking. Regarding special features, you just get a kickstand, and it would have been nice to see more.
Although the Razor may be a basic scooter, it is still good value for money. I like it, but it has strong competition in the same price range. I gave it a solid three out of five and did agree it's worth a look at.
Alternative Products
As I mentioned in the verdict, there's some strong competition for the Razor E300. I wanted to tell you about two other electric scooters I have been lucky to review. The Xiaomi M365 and the Hiboy S2. I recommend two, but I have a list of five compared.
| | | | |
| --- | --- | --- | --- |
| Scooter | Xiaomi M365 | Hilboy S2 | Razor E300 |
| Top Speed | 16.8mph | 18.6mph | 15mph |
| Range | 18 Miles | 17 Miles | 10 Miles |
| Cost | $300-$400 | $300-$400 | $300-$400 |
| Charge Time | 4.5h | 5h | 12h |
Xiaomi Mi M365
The Xiaomi Mi M365 is a great scooter, quickly becoming one of the most popular electric scooters on the market. It's got a sleek design that not only looks excellent but it also has the ability to fold. It has a small motor and battery but still gives you a 16.8mph top speed, a range of 18 miles, and a charge time of 4.5 hours.
The Xiaomi comes with an intelligent braking system which gives the battery extra power, taking from the friction in the brakes, with 8.5" air-filled tires for comfort and offers an excellent ride. It has special features such as lighting, a kickstand, etc.
The Xiaomi Mi M365 is great value for money, coming in at $400. I recommend checking it out if you're looking for a great scooter on a budget. It will last and also give you a great experience.
Hiboy S2
The Hiboy S2 is an excellent contender to stand up to these two great electric scooters. It looks ideal with its smooth design and comes in a great light gray color. I like the internal cabling look and feel. It offers a sporty design that few other scooters can. Like Xiaomi, it has the ability to fold.
Like the other scooters, it has a small 250w motor, but it does give a high top speed of 18.6 mph and a range of over 17 miles. The wheels are solid, unlike the other scooters on this list. They don't give you as comfortable a ride, but you won't get punctures.
It has intelligent regenerative brakes with technology such as dual rear suspension, lighting, and a kickstand. It comes in at the same price as the other two scooters on this list, and I think it is excellent.
Frequently Asked Questions
How fast does a Razor E300 go?
The Razor E300 has a top speed of 15 miles per hour. It's not incredibly quick compared to other scooters, but it's enough. Many cities say 15 mph should be the top speed of a scooter for cycle lanes. If you want to learn how to ride a scooter, wait no more, it will be the best experience of your life.
How long does the Razor E300 last?
The Razor E300 has a maximum range of 10 miles. It's going to be able to last for about 45 minutes. It's not a huge range, but it won't be an issue if your commute isn't far.
How can I make my Razor E300 faster?
Many people upgrade their Razor E300. They change the battery and even modify the motor to make it quicker. The manufacturer does not recommend doing this. It will more than likely void your warranty.
Can you ride a Razor E300 in the rain?
The Razor E300 can be ridden in light rain but is not completely waterproof. I don't recommend riding a scooter in the rain, not only because it could damage the scooter but it could be dangerous.
Are Razor scooters a good brand?
Razor has been around for a long time and has an excellent reputation for making great scooters. They might be less technologically advanced, but they are high quality.
If you have any more questions, I recommend doing some homework to consider the important factors before buying a scooter.
I'm Robbie Ferri, a writer from Norfolk in the UK. I love cycling, the gym, and have a huge passion for sharing my stories and knowledge to anyone with the time to read them. My main passion is cycling. I started eight years ago. In that time I have broken world records, cycled all over the world in Ultra Bikepacking races, and am lucky enough to have enjoyed some incredible times on two wheels with some incredible people. I have also worked in a bike shop and with some of the industries leading brands, not just promoting products but designing them too.
Under it all I am just someone very passionate about exploration and living a healthy lifestyle. Everything I do I put 100% into it and feel that life is for living. Never should you have a dull day.