(Last updated on March 17th, 2023)
A blast from the past that's still shredding trails today, the Trek 4300 is an entry-level mountain bike that was popular throughout the 2000s and early 2010s. The model is now discontinued but remains a common sighting in garages, workshops, and on local paths. I've put together a complete review of the Trek 4300 below that walks you through the history, specs, and performance of this time-tested hardtail.
What Type of Bike Is the Trek 4300?
The Trek 4300 is a hardtail mountain bike that's part of the brand's 4 Series models built for entry-level trail riders. There's a 100mm front fork, a durable aluminum frame, and 26" wheels matched with grippy 2.20" tires. The 4300 is mainly built for moderate trail riding and flowy singletrack but can also be a functional workhorse around the neighborhood or city streets.
The Trek 4300 was first produced in 2000 and was discontinued in 2014. Each year brought different colorways and was typically offered in both rim-brake and disc-brake versions. Back in the day, the 4300 was a step up from the low-cost 3 Series bikes and offered 9-speed shifting and hydraulic disc brakes, while being more affordable than the higher-spec 6 Series.
Check out this helpful video that takes a look at the 2012 model of the Trek 4300!
Trek 4300 Specs at a Glance
| | |
| --- | --- |
| Style | Entry-level |
| Travel | SR Suntour XCT 100mm |
| Frame | Alpha Gold Aluminum |
| Drivetrain | Shimano Acera M390 3×9-speed |
| Brakes | Shimano M395 hydraulic disc brakes |
| Wheels | 26×2.20" |
| Price | $370 |
Is Trek a Good Brand?
American-brand Trek Bicycles is one of the most trusted bike manufacturers. The 4300 was a long-lasting model within the brand's extensive lineup of city, road, and mountain bikes throughout the first decade and a half of the new millennium. Bike mechanics are familiar with Trek models and their widely available components which makes maintenance a breeze.
Performance Rating
Descending 7/10
The Trek 4300 can be the perfect machine to kickstart your downhill adventures, but it's still a mountain bike with limits. The 100mm suspension fork effectively smooths out bumps on forest trails and moderate terrain but is too short for rough descents with bigger obstacles. Riders run the risk of bottoming out the fork if they overextend and end up on steep routes or jumps.
An obvious feature that dates the 4300 are the small 26" wheels. Modern MTBs run wheels at least 27.5" in diameter because of their increased speed and stability. The outdated 26" rims work fine but aren't the best for tough sections and control at high speeds. Keep in mind this is an entry-level mountain bike so its performance won't leave you speechless— that said, it's a great all-rounder for the money.
Climbing 8/10
The 4300 performs a bit better when it comes to going uphill. The short 100mm fork ensures the bike isn't overly squishy on the climbs and maintains solid pedaling efficiency. Some models outfit the XS and S frame sizes with a smaller 70/80mm fork to match the riders' shorter measurements and preserve quality climbing performance.
The triple chainring setup provides a huge range of gears for going uphill, a feature that's been cast aside in modern mountain biking in favor of 1x drivetrains. While the shifting— and potential for a dropped chain— is not as user-friendly or precise as modern systems, many riders like the wide spectrum of gears that ensures they keep an efficient cadence no matter the gradient.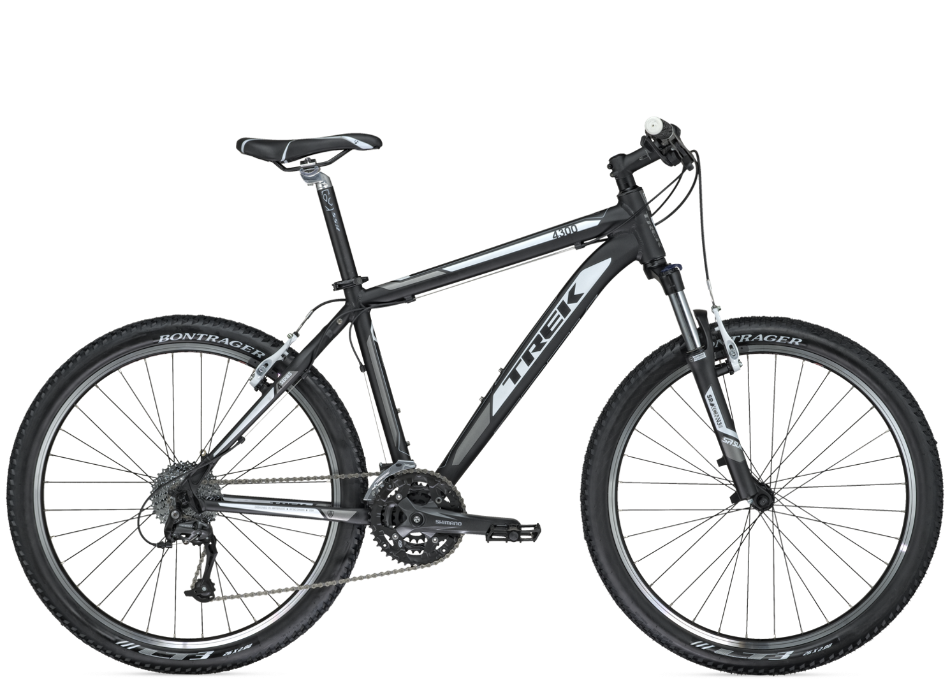 Key Features
Frame
The 4300 is constructed around an Alpha Aluminum frame that's ultra-durable and prepared for rugged trails. The later versions of the 4300 used Trek's Alpha Gold Aluminum material with a bit more aggressive race geometry, internal cable routing, rack mounts, and a replaceable derailleur hanger.
The 4300's frame and paint job are a familiar sight to most bike mechanics as this bike was one of the most popular models of its era. There's a big Trek logo across the downtube and three colors (typically) across the frameset with a few stand-out options over the years, such as the silver 2007 model that appears almost chrome.
Geometry
The Trek 4300 was truly a sign of its times and gradually evolved according to the current trends through the 2000s and 2010s, meaning the geometry was fairly standard until a couple of updates in 2013 and 2014. It offers a comfortable, upright riding position that inspires confidence and a good amount of control.
Drivetrain
Originally developed as an 8-speed mountain bike, the 4300 soon transitioned to the dependable Shimano Acera 9-speed drivetrain. On the 2014 model, there is a Shimano Acera M391 44/32/22t triple chainring that combines with a Shimano HG20 11-34t cassette for a total of 27 gears. While triple chainring MTBs are now a thing of the past, riders can still take advantage of the huge range of gears to get up the steepest climbs and fly on the flats.
Brakes
The 4300 comes in both rim-brake and disc-brake versions. The later models come with Shimano M395 hydraulic disc brakes which is a killer deal for the price. The disc brakes offer controlled and predictable stopping power, even in wet or muddy conditions. The hydraulic option requires little maintenance and is more powerful than its mechanical counterparts.
Suspension
Depending on the model, you'll find between 70-100mm of travel on the front suspension fork. This isn't much but can effectively handle light terrain and moderate off-road paths. Many of the forks were provided by Suntour for reliable and budget-friendly performance.
100mm forks are the go-to choice of XC mountain bikes and are appropriate for fast-paced, smooth trails. Riders should be careful not to bottom-out the fork on rough terrain that's outside the 4300's wheelhouse. But given that most riders use this bike in tamer conditions and pothole-filled streets, the suspension offers plenty of cushion.
Wheels and tires
The Trek 4300 runs 26" wheels with either Formula or Shimano hubs that'll roll fast for a long period of time and are easy to service in case maintenance is necessary. The double-walled rims and 32-spoke construction isn't the lightest combination but is plenty tough for years of use and abuse out on the trails.
The favored tire width of the 4300 is 2.20" and the rubber is typically provided by Bontrager, Trek's in-house component brand. There's tire clearance for a bit more, but not by much. The small wheel diameter allows for nimble handling and agile riding through tight corners. The pared-down size is great for shorter riders as well who might have a hard time finding small enough bikes in the modern market.
Trek 4300 Mountain Bike Full Specs
To see this 2014 model up close, check out this helpful video walkthrough!
2014 Trek 4300 Model Specs
| | |
| --- | --- |
| Frame | SmartForm C3 Alloy |
| Front suspension fork | SR Suntour XTC, 100mm |
| Rims | Formula DC20 alloy front hub; Formula DC22 LW alloy rear hub w/Bontrager AT-650 32-hole double-walled rims |
| Tires | Bontrager XR2, 26×2.20″ |
| Front derailleur | Shimano Acera |
| Rear derailleur | Shimano Acera M390 |
| Cassette | Shimano HG20 11-34, 9 speed |
| Crank | Shimano Acera M391, 44/32/22 w/chainguard |
| Shift Levers | Shimano Acera M390, 9 speed |
| Handlebar | Bontrager Low Riser, 31.8mm, 15mm rise |
| Handlebar stem | Bontrager SSR, 31.8mm, 10 degree |
| Saddle | Bontrager Evoke 1 |
| Seatpost | Bontrager SSR, 31.6mm, 12mm offset |
| Brakes | Shimano M395 hydraulic disc brakes |
| Frame colors available | Matte Dnister Black/Viper Red Trek White/Signature Green/Placid Blue Trek White/Viper Red |
| Frame sizes | 13.5, 15.5, 17.5, 18.5, 19.5, 21.5, 23.5″ |
Overall Impression 7.5/10
It's clear that the Trek 4300 is outdated compared to modern MTB standards, but it remains a solid entry-level mountain bike if you have one in good condition. The durable components were built to last and have allowed tons of 4300s to continue shredding the trails and hitting the streets.
The small 26" wheels and short-travel fork are limitations to serious trail riding for adults, but these specs make this model a great option for tweens or teenagers as well as adults looking for an affordable bike for leisurely rides and occasional off-piste adventures.
Pros
Affordable
Quality aluminum frame
Hydraulic disc brakes
Integrated cable routing
Durable components
Cons
Limiting front fork
Small 26" wheels
Old triple chainring design
Compare the Trek 4300
This helpful spec chart shows how the Trek 4300 stacks up against its modern-day rivals.
| | | | | |
| --- | --- | --- | --- | --- |
| | Trek 4300 | Trek 820 | Trek Marlin 4 Gen 2 | Schwinn High Timber |
| Suspension | SR Suntour XTC, 100mm | SR Suntour M-3030, 75mm | SR Suntour XCE 28, 100mm | Schwinn, 75mm |
| Gearing | Shimano Acera 3×9-speed | Shimano Tourney, 3×7-speed | Shimano Tourney, 3×7-speed | Shimano REVOSHIFT 3×7-speed |
| Tires | 26×2.20" | 26×2.00" | 27.5" or 29" x 2.20" | 27.5" or 29" x 2.20" |
| Price | $370 | $499 | $629 | $399-439 |
| Where to buy? | – | Check price | Check price | Check price |
Similar Models to the Trek 4300
If you are considering the Trek 4300, you may also be interested in the similar models below that can be purchased new in-store or online. The 4300 entry-level mountain bike was discontinued in 2014, but the following modern bikes have picked up the slack and have become fan favorites among beginner MTBers.
Trek 820
The Trek 820 is the brand's most affordable bike and was the most direct successor of the 4300 model. The versatile hardtail build lets beginner riders explore light off-road trails, gravel routes, city streets, and everything in between. At only $499, the value of the Trek 820 is incredibly hard to beat when it comes to entry-level mountain bikes.
Trek Marlin 4 Gen 2
A step up from the other models, the Trek Marlin 4 Gen 2 gets a big upgrade with modern wheel sizes. XS and S frame sizes come with 27.5" wheels while sizes M and above have large 29" hoops for fast-rolling XC performance. There's a Shimano Tourney 3×7-speed drivetrain and Tektro mechanical disc brakes. The $629 is slightly higher but is well worth it for beginner trail riders and daily commuters alike.
Schwinn High Timber
The closest in price to the 4300, the Schwinn High Timber mountain bike comes in 27.5" or 29" wheel options. This beginner mountain bike has a steel frame and 21 gears actuated via twist grip shifters. The large diameter wheels elevate this budget model's performance, but it lags behind its rivals since it opts for rim brakes instead of higher-quality disc brakes. For the price, though, the High Timber lets you start exploring off-road trails while staying well within budget.
What Size Bike Do I Need for My Height?
Modern mountain bike frames are labeled according to alpha sizing (think: S, M, and L), while older models used frame measurements in inches. The size chart below uses both, so it works with the discontinued Trek 4300 frame sizes and modern two-wheelers.
Mountain Bike Frame Size Chart
| | | | |
| --- | --- | --- | --- |
| Rider Height (in) | Rider Height (cm) | Frame Size | Frame Size (in) |
| 4′ 10″ – 5′ 2″ | 148cm – 158cm | XS | 13″ – 14″ |
| 5′ 3″ – 5′ 6″ | 159cm – 168cm | S | 15″ – 16″ |
| 5′ 7″ – 5′ 10″ | 169cm – 178cm | M | 17″ – 18″ |
| 5′ 11″ – 6′ 1″ | 179cm – 185cm | L | 19″ – 20″ |
| 6′ 2″ – 6′ 4″ | 186cm – 193cm | XL | 21″ – 22″ |
| 6′ 4″ + | 194cm + | XXL | 23″ + |
Frequently Asked Questions
When was Trek 4300 made?
The Trek 4300 was first manufactured in 2000 and was produced until 2014, when Trek discontinued the entry-level model in favor of the 820 and newer mountain bikes such as the Marlin.
What size frame is a Trek 4300?
Over the years the Trek 4300's available frame sizes varied but were most commonly listed as 13.5, 15.5, 17.5, 18.5, 19.5, 21.5, and 23.5", offering a wide range for riders of all heights.
What type of bike is Trek 4300?
The Trek 4300 is an entry-level hardtail mountain bike designed for trail riding. The bike is part of the brand's 4 Series which focuses on mountain bikers' first bikes. The 4300's accessible price point makes it great for beginner riders who want a quality build with which to develop their skills.
Do Trek bikes hold their value?
The Trek brand is well known for manufacturing quality bicycles that will last a long time. While used bikes are worth significantly less than new models, Trek bikes retain their value well due to their trusted name and reliable components.
How much does a Trek 4300 mountain bike weigh?
The Trek 4300 mountain bike weighs around 28.4 lbs. or approximately 12.8 kg.
How much does the Trek 4300 cost?
The model was discontinued in 2014, so any used Trek 4300 bikes will be at least several years old. Its original MSRP price was around $300-$370 and you can pick up a used model for around $100-$170 these days.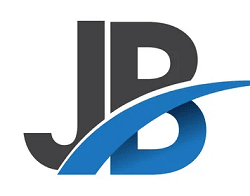 Jeffrey Brown is a writer, editor, and professional bike mechanic with over 7 years of experience working in full-service and community-based bike shops. As a bicycle educator, he has supported youth programs across the US that teach bike mechanics and life skills to prepare the next generation of cyclists.
Jeffrey began his professional mechanic career at his university bike co-op, so he recognizes the grassroots power of the cycling community. Initially self-trained as a mechanic, his subsequent positions as manager and lead educator gave him official training. He has won various awards and grants for his role as a bicycle and environmental advocate.