(Last updated on March 6th, 2023)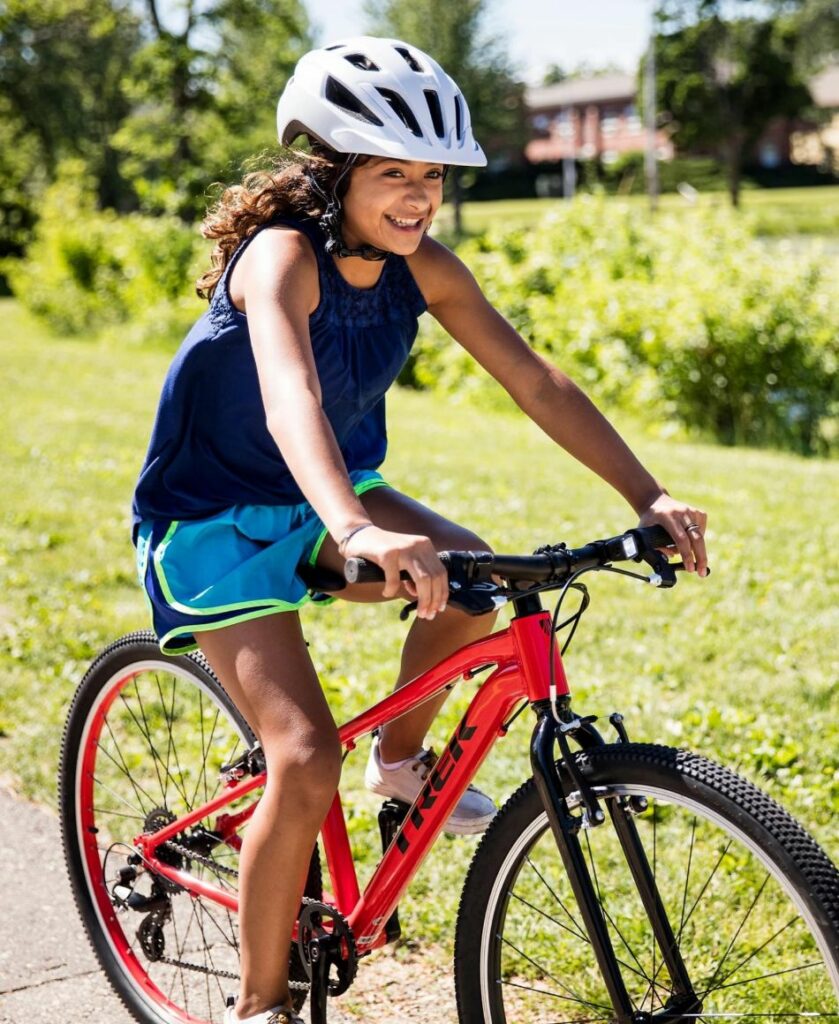 Is your child ready to make the jump to adult-sized bikes? There's no secret formula to determine what size bike for a 12-year-old is right because teens and tweens grow at such vastly different rates.
Luckily, I've put together a guide to help you find the correct size, along with several tips and tricks.
What Size Bike Does My Child Need?
12-year-olds at least 4'8" (56 inches) tall can ride a 26-inch kids' bike. Bike fit depends on height and body proportions, so it's important to remember this general rule is only a suggestion. If your child is short-heighted, they may feel most comfortable on a 24-inch bike, whereas taller kids can switch to adult-sized bikes with 27.5" or 700c wheels.
How are Kids' Bikes Sized?
Unlike adult bicycles, kids' bikes are classified according to the diameter of their wheels rather than the size of the frame. The smallest kids' models are balance bikes with tiny 12" wheels and simple parts that are easy to use as toddlers are just starting out on two wheels.
Wheel sizes increase to 26", which is both the end of youth sizes and the start of adult-sized bikes. This crossover of 26-inch bikes can be confusing when deciding which model is right, but I'll cover this topic later on below.
Kids' Bike Sizing Chart
Correct bike size is determined by rider height. A child's height measurement typically gives us a good idea of their proportions and how they'll fit on a given bicycle, including reaching the pedals and handlebars and riding posture.
The inseam measurement can help you choose the right option if caught between sizes. I've included age on the chart, but it's often not the most accurate metric because children grow at such starkly different rates.
| | | | |
| --- | --- | --- | --- |
| Wheel size | Rider Height | Age range | Inseam |
| 12-inch | 30"-39" | 2-4 | 12"-17" |
| 14-inch | 37"-44" | 3-5 | 16"-20" |
| 16-inch | 39"-48" | 5-8 | 18"-22" |
| 20-inch | 42"-52" | 6-10 | 21"-25" |
| 24-inch | 50"-58" | 8-12 | 24"-28" |
| 26-inch | 56"+ | 12+ | 28"+ |
Watch Olympic gold-medalist Sir Chris Hoy explain how to size a kids' bike with Evans Cycles.
Safety first: the importance of riding a bike that's the correct size
Riding a bike the right size is crucial for safety as it allows for more controlled handling and stopping. A properly fitted bike inspires confidence in the rider so they can continue to develop their skills.
Too small, the bike can feel inefficient to pedal and have twitchy steering. Bikes that are too big can feel cumbersome and stretch out the rider, leading to strain or fatigue.
A Step-By-Step Guide to Finding the Right Bike:
How to Measure Kids' Bike Size by Height
The first step in calculating the right size bike for your child is measuring their height. Kids are growing fast, so it's important to take an updated measurement to avoid buying a bike that's too small or one they'll grow out of in a matter of months.
For more size chart information, visit the kids' bike specialists from our friends over at Cleary Bikes and their kids' bike sizing guide!
How to Measure Kids' Bike Size by Inseam
The inseam is a lesser-known but just as crucial method for figuring out bike size. Leg inseam— or the vertical distance between the crotch and the ground— is a more specific measurement that's used to double-check the size recommended by rider height.
Inseam comes into play because comfortable and efficient pedaling requires a good match-up between leg length and the bike's design.
Follow these simple steps to calculate your child's leg inseam length:
1. Have them stand up straight with their back against the wall and their feet close together
2. Place a book between their legs, the spine facing up, meeting their crotch
3. They need to hold the book there, keep it level, and mark where it meets the wall
4. Measure the vertical distance from the floor up to that mark, and voila… that's their inseam!
Measuring Standover Height
Leg inseam also comes in handy to check whether a bike's standover height matches a rider's measurements. Standover height is the approximate distance from the ground to the top tube's top. This spot is the part of the bike you stand over or straddle while mounting and dismounting.
Kids should be able to stand over their bike's frame while having both feet flat on the ground. This allows them to safely hop off the saddle in the case of a sudden stop without landing awkwardly on the top tube— it's also more comfortable when resting at a red light or any stopped position.
The ideal gap between the bike's top tube and a rider's crotch is about 1" to 2".
What's Most Important— Height, Age, or Inseam?
No one metric can provide all the information you need to deduce the right bike size, so it's a good idea to compare measurements. Generally speaking, height is the single most important and accurate predictor of which bike size is appropriate for your young rider.
Inseam isn't very helpful by itself, but it can be very useful to narrow down your options if you are in between sizes.
Be wary of making decisions based solely on age as kids grow at vastly different rates and have varying bike skills— that said, age can be a useful starting point. Girls and boys mature at different rates, and puberty hits around 12 years old, which can cause growth spurts.
A situation all parents want to avoid is buying a new bike only to have their child grow out of it almost immediately. While this can't always be avoided, you can consider how fast they have been growing or if they expect a growth spurt soon.
In this digital age where purchasing bikes online is so convenient, confirming the selected size with both height and inseam measurements can make up for not being able to test ride the bike in a store.
What to Do if Your Child is Between Bike Sizes
Size charts are only approximations; bikes come in just a few sizes, so your child may fall in between sizes. In this situation, the general rule for kids' bikes is to choose the larger size. Kids are growing, so they'll eventually fit the bike perfectly, even if it feels a bit big.
Riders with relatively long arms and legs can also get away with sizing up since they'll need that extra room to pedal and steer comfortably. The same is true for kids who are skilled riders for their age group— they can move up a size and take advantage of larger bikes' capabilities.
If your child is still developing their skills or is a less confident rider, don't rush to a bigger bike. As long as they are still comfortable on their current bike, let them continue improving their abilities on a bike they're familiar with. Smaller bikes are typically lightweight and simple to operate, making them perfect for beginners.
What to Look for When Test Riding a New Bike
Standover Height
How do I know that a bike fits? Beyond feeling alone, there are a few ways to check that a bike fits properly. The first method happens automatically when you step over the frame to straddle the bike before mounting it.
While standing over the bike, check that there is some space between the top tube and your crotch— this is the standover height. There should be a gap of about 1" to 2".
Leg Extension
Next up is leg extension and finding the right seat height. Sit on the saddle and place one foot on the pedal at the 6 o'clock position— your knee should have a slight bend of around 15°.
Adjust the seat height to achieve this position that maximizes comfort and efficiency. Remember that saddles and seat posts are only adjustable up to a point.
Tall riders can run into this problem when raising the seat and the post is too short, requiring a longer seat post or larger frame size.
Reach
The last fit metric to check is reach, or how far one needs to lean over to reach the handlebars. Reach is determined by the distance between the saddle and the handlebars and can be affected by handlebar shape and angle. You should feel in control while grasping the handlebars and not too stretched out or leaning forwards. The opposite is true; if your posture is too upright, the bike may be too small.
How Important is Test Riding a Bike?
I'm a huge proponent of test-riding a bike at your local store, where you can get the help of an expert mechanic, but not all of us have that luxury. Shopping online for bikes is more popular than ever, and it's not the end of the world if you can't try out the bike beforehand. Reading an article like this is a great way to ensure you pick the right bike model and size. Make sure you've gotten all your measurements in order before buying!
For additional guidance on what to look for in a kids' bike, you may read this breakdown from then none other than legendary track cyclist Sir Chris Hoy!
Top Tips and Tricks
My biggest advice when picking out a bike for a 12-year-old or any kid is this: choose a bike based on current fit and future growth.
This means that a new bike should be immediately rideable, even if it's a little large, so your little one can enjoy it immediately. There should be plenty of room to grow so your child can stick with this bike for as long as possible, and you can get your money's worth as well.
Size Isn't Everything
Selecting the correct bike size is crucial, but it's not the only factor when choosing a new bike. Quality components and aesthetic design play a big role in overall performance and your child's excitement to ride their brand-new set of wheels.
It can seem like small potatoes to us adults, but little details like the paint color or the model name can influence whether a child gets pumped to go on a ride.
I remember my first bike was called the "Peashooter," which equally confused and entertained me, but I ended up powering through the awkwardness of riding almost every day.
Is a 26-inch Kids' Bike or an XS Adult Bike Best?
As mentioned, some tweens can choose between a large kid's bike or a small (or extra-small) adult bike. While the bikes may have the same size wheels or frame, there may be differences in components or price that can sway your final decision.
The adult bike market is larger than kids' bikes, so there are typically more options, especially for skilled young riders looking for higher-quality parts. Adult bikes can come with better suspension, gearing, and brakes that can make a difference for tweens and teens who need components that stand up to hard riding. If you're on the hunt for a full-suspension mountain bike, head to our article on the best full-sus mountain bikes under $3,000.
However, purchasing an adult bike may not be necessary if you have a 26-inch kids' bike lying around because of an older sibling or neighbor. I always appreciate up-cycling and reusing bikes, cutting down on waste, and needless consumerism.
This practice is especially appropriate for kids' bikes since they are used for less time because kids outgrow them.
Can 12-year-olds Ride Adult-sized Bikes?
12-year-olds who are tall enough can ride adult-sized bikes. Kids' who measure around 5'0" and up will typically fit the XS or S sizes of adult bike frames, but every manufacturer is distinct, so it's worth double-checking. A great brand to start with is Cannondale, with their excellent Trail 6 mountain bike that we reviewed.
Most 26" kids' bikes have some sort of mountain bike or all-terrain design that's great for casual riding. Still, tweens may be ready for more options as they get older. There are many more examples of road and hybrid models among adult bikes than kids' bikes.
When I was 14, I received my first road bike with 700c wheels and haven't looked back since!
Final Thoughts
Tweens and aspiring young riders deserve high-quality bikes that fit their growing bodies. We've demystified bike sizing and simplified the process so you can ensure your 12 year old rides confidently. Follow the steps laid out in this article, and you'll know the perfect setup to choose for your child. Feel free to use this helpful guide as a reference resource you can return to or share with friends!
Got a need for speed? Check out our list of the fastest motorcycles in the world that will have you floored!
Frequently Asked Questions
Can a 12-year-old ride a 26-inch bike?
Yes, 12-year-olds who are at least 4'8" are tall enough for a 26" bicycle. Shorter riders may fit better on a 24" kids' bike, whereas taller tweens can jump to adult-sized bikes with either 26", 27.5", or 700c wheels.
Is a 24-inch bike good for a 12-year-old?
24-inch bikes are on the smaller side for most 12-year-olds but can be appropriate sometimes. If your child is between 50" and 58" tall, they can comfortably ride a 24-inch bike. The smaller size also allows riders to develop their skills and grow their confidence before upgrading to a bigger size.
Is a 20-inch bike for a 12-year-old?
No, most 12-year-olds will be too tall for 20-inch bikes. 20-inch kids' bikes are rated for children aged 6-9 and come with simple components that are easy to learn for beginners. 12-year-olds typically fit best on 26-inch bikes.
Is a 26-inch bike too small?
26-inch bikes are ideal for riders between 4'8" and 5'3". If appropriate, riders taller than that range can move up to bikes with 27.5", 700c, or even 29" wheels. Tweens or teens with solid bike handling skills can often size up to modern 27.5" bikes instead of 26" rims.
What inch bike should a 13-year-old use?
Most 13-year-olds are ready for the smaller end of adult-sized bikes. This means XS or S frame sizes and bikes with 27.5" wheels if they are mountain bikes or standard 700c road wheels. There is much more variety within adult bikes and higher quality components.
What age is a 27.5-inch bike for?
27.5" bikes can be ridden by tweens and teens aged 12 and up. Shorter riders are best served by 26" bikes, but most tweens are ready to make the jump to adult-sized bikes with small frames.
Is it better to size up or down on a bike?
For kids' bikes, it's almost always better to size up. It's important to choose a bike that is both rideable right now (or else it will just sit in the garage) and big enough that they won't grow out of it too soon.
Got any more questions about kids' bike sizing? Feel free to let us know!
I'm Robbie Ferri, a writer from Norfolk in the UK. I love cycling, the gym, and have a huge passion for sharing my stories and knowledge to anyone with the time to read them. My main passion is cycling. I started eight years ago. In that time I have broken world records, cycled all over the world in Ultra Bikepacking races, and am lucky enough to have enjoyed some incredible times on two wheels with some incredible people. I have also worked in a bike shop and with some of the industries leading brands, not just promoting products but designing them too.
Under it all I am just someone very passionate about exploration and living a healthy lifestyle. Everything I do I put 100% into it and feel that life is for living. Never should you have a dull day.