(Last updated on December 19th, 2022)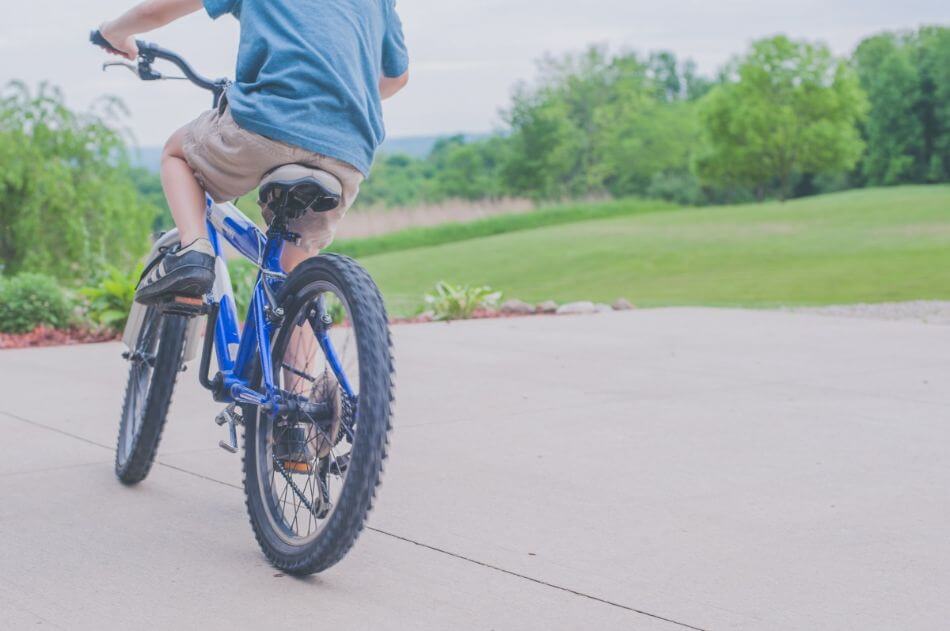 The odds are that many of us have ridden a 24" bike even if we don't remember it. That's because the 24" sized bike is one of the most common kids bikes, normally for kids aged 7 to 11 years old. In this article, I'll share the ins and outs of 24" bikes and tips on choosing the right one.
What is a 24-inch Bike?
A 24-inch bike is typically a kids bike and the 24" measurement refers to the diameter of the wheels. The smallest kids bikes have tiny 12" wheels but move up incrementally to 26" wheels. 26" wheel bikes are normally reserved for preteens and teenagers as well as many traditional adult bikes.
Bigger adult bikes are sized according to frame sizes, measuring the distance from the middle of the pedals to the seat post clamp. Adult bikes with a 24" frame do exist, but they are for very tall riders. Regardless, only road bike frames (measured in centimeters rather than inches) are that large.
The correct understanding of a 24" bike is a kids bike with 24" wheels. But that definition doesn't tell the entire story— there are some exceptions to the rule. For example, some shorter adults fit best on 24" bikes. There are other, adult bikes that come outfitted with 24" diameter wheels too. Keep reading to find out if a 24" wheeled bike is the appropriate choice for you or your child.
How To Know If A 24-inch Bike Is Right For You?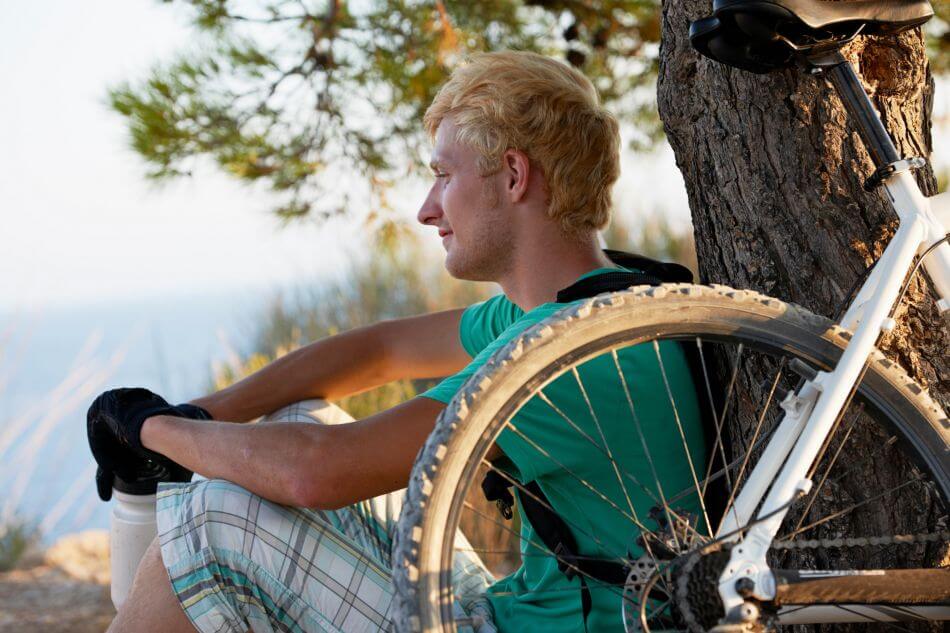 Just like their riders, bikes come in all different shapes and sizes. To make sure that a 24" wheeled bike is the correct option, you should take a couple of body measurements to compare with the recommendations listed on bike size charts. A good rule of thumb is that 24" bikes are suitable for riders with a height of around 4'2" to 4'9", or 50-57 inches.
How To Measure Height And Inseam?
It's always best to work with the most recent information, so take an updated height measurement. This is an important piece of data to have on hand if you visit your local bike shop to test ride some models— you'll save time, and the bike experts there will appreciate it.
An often overlooked measurement in bike fitting is the leg inseam. The length of one's inseam is just as important as rider height because it's the legs doing most of the work. It's critical to confirm that a rider will be comfortable and able to pedal efficiently while seated on the bike.
Here's how to quickly measure your child's leg inseam:
Have them stand with their back against the wall, with shoes on and their feet almost touching
Place a book between their legs with the spine facing up, the book meeting their crotch
Your child keeps the book level, and you can mark where it meets the wall
The vertical distance from the floor to the spine of the book is their inseam!
Kids' Bike Size Chart
| Age | Height (inches) | Height (cm) | Leg Inseam (inches) | Leg Inseam (cm) | Bike Tire Size |
| --- | --- | --- | --- | --- | --- |
| 2 | 2'9″-3'1″ | 85-90cm | 12″ – 14″ | 85 – 90cm | 10″ |
| 3-4 | 3'1″ – 3'3″ | 90-100cm | 14″-17″ | 35-42cm | 12″ |
| 4-5 | 3'3″ – 3'7″ | 100-110cm | 16″-20″ | 40-50cm | 14″ |
| 5-6 | 3'7″ – 3-8″ | 110-115cm | 18″-22″ | 45-50cm | 16″ |
| 6-8 | 3'8″ – 4'0″ | 115-120cm | 20″-24″ | 50-60cm | 18″ |
| 7-9 | 4'0″ – 4'5″ | 120-135cm | 22″-25″ | 55-63cm | 20″ |
| 9-11 | 4'5″ – 4'9″ | 135-145cm | 24″-28″ | 60-72cm | 24″ |
| 11-14 | 5'+ | 145cm + | 28″+ | 72cm+ | 26″ |
The Difference Between 24-inch and 26-inch Bikes
24" bikes and 26" bikes are close relatives in the world of cycling, but the two categories have key differences. The largest distinction (although it's only 2 inches) is their wheel diameter. A 24" bike has slightly smaller wheels to accommodate petite and growing riders. The 24" size is often an intermediary bike between 20" bikes and adult-sized two-wheelers. 24" bikes are a great stepping stone to bigger 26" and 700C options as young riders outgrow their previous bikes and improve their skills.
26" bikes are some of the most common adult bikes on the market. When taller preteens and teenagers reach this bike size, they have tons of options to choose from! Traditionally, almost all mountain bikes had 26" wheels, whereas road bikes had a slightly large 28" or 700C wheel size made for speed rather than technical terrain. Nowadays, though, modern mountain bikes come fitted with bigger 27.5" or precise 29" wheels for better handling on rough trails. 26" bikes are still quite popular today and continue to fill up bike racks wherever you ride.
For Kids
If your child's height and inseam measurements fall within the recommended range of a 24" bike, they are probably ready to upgrade and ride this type of bike. The most common wheel diameters smaller than 24" are 16" and 20" sizes. Kids riding those models for a while— two years or longer— are likely due for the next size up to get a better fit and improve their skills.
For Shorter Women
Sometimes 24" bikes can be the appropriate option for adult riders too. Women are typically shorter than male riders and that's the reason behind much of the female-specific bike models out there. Keep in mind, though, that the 24" bike offers a good fit for only a small fraction of the adult population that is 4'8" and under. Adult women or men around 5' and above can comfortably ride 26" or 28"/700C bikes. That said, if you are a petite rider slightly above the height range and still love 24" bikes, go ahead and stick to what works for you.
Other Types of 24-inch Bikes
In addition to the popular 24" kids bikes, different kinds of bikes also come outfitted with 24" wheels. There are also upgraded 24" kids bikes that include front suspension or road bike features to boost performance for dedicated young cyclists.
FOLDING BIKES
Folding bikes are designed to be easily transportable, so it makes sense that they utilize smaller than average wheels. These adult bikes that collapse into neat, portable packages come in various shapes and sizes. Still, a solid number of them have 24" wheels. Opting for 24" wheels maintains most of the rolling efficiency of normal-sized wheels on hybrid or commuting bikes but shrinks it down enough to fold nicely. Taller riders can find these convenient bikes a bit too small, but shorter cyclists that ride around the city could be the perfect match for a 24" folding bike.
Bmx Bikes
BMX enthusiasts can be young or old, so this style of bike isn't strictly a kid's bike. Many kids and teenagers enjoy riding BMX bikes on local trails and at skateparks, but there are plenty of adult BMXers. One size that you'll frequently come across is the 24" BMX. The 24" wheels are at the larger end of the spectrum for BMX wheels, so it's easier to reach and sustain higher speeds but may be more difficult to complete certain tricks. The 24" size is especially popular among BMX freestyle models which perform best at faster speeds and sit higher off the ground.
Frequently Asked Questions (FAQs)
What size person is a 24-inch bike for?
A bike with 24" wheels is typically for people between 4'2" and 4'9" tall. If your child's height falls within that range, they will probably fit this kind of bike. Bikes, just like people, come with their unique proportions and measurements, so it's a good idea to test the bike out before you purchase, if you can.
Is a 24-inch bike good for adults?
A 24" bike is traditionally a category of kids bikes, but smaller adults less than 5' tall may find advantages to riding a 24" bike. There is much less variety across 24" bikes than the slightly larger 26" bikes, so I recommend testing out 26" bikes first to increase the chance of finding a bike with all the componentry and features you are looking for.
What age is a size 24-inch bike for?
The age range corresponding to 24" bikes is 7 to 11 years old. Kids grow at different rates, so correct bike size depends more on rider height and leg inseam rather than age. If your child is looking to move up a size on their bike, a 24" model might be the appropriate upgrade.
What is the difference between a 24-inch bike and a 26-inch bike?
The difference between a 24" and 26" bike is the diameter of their wheels. 26" bikes are slightly larger bikes because they have wheels that are 2" bigger. 26" bikes are one of the most common sizes of bikes out there and are appropriate for preteens, teenagers, and adults 5' and above.
Have more questions about 24-inch bikes? Drop us a line!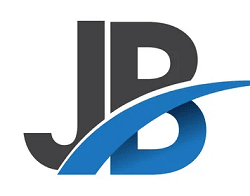 Jeffrey Brown is a writer, editor, and professional bike mechanic with over 7 years of experience working in full-service and community-based bike shops. As a bicycle educator, he has supported youth programs across the US that teach bike mechanics and life skills to prepare the next generation of cyclists.
Jeffrey began his professional mechanic career at his university bike co-op, so he recognizes the grassroots power of the cycling community. Initially self-trained as a mechanic, his subsequent positions as manager and lead educator gave him official training. He has won various awards and grants for his role as a bicycle and environmental advocate.