(Last updated on March 27th, 2023)
I nervously entered a local bike shop and told the owner I needed a bike. He wheeled his smallest bike over to me and said hop on! And while he would have let me spend my hard-earned cash on that bike, I knew it wasn't the right size.
Off to another bike shop, where the owner explained that most bikes kept in bike shops are meant to fit the 'average' rider – a five foot, ten-inch-tall male. Women's bikes, especially for petite women like me, can be a little harder to find off the racks, but they are available. The key is knowing what size you need. A women's bike size chart would have been a huge help when looking for my first bike.
You can roughly choose a bike size based on your height:
4 foot 10 inches to 5 foot 3: XS
5'3 to 5'5: S
5'5 to 5'8: M
5'8 to 5'10: L
However, every bike type and brand is slightly different, so you'll also need to know the specific details of each.
In this article, I will talk about how to size a bike for women. I'll give you the ins and outs of road bike sizes for women and help you find a starting point so you can figure out what size bike you need. Let's get started.
Does Bike Size Really Matter?
Bike size is really important, especially for women.
Safety
First of all, a bike the wrong size can be dangerous. For example, if you can't reach the brakes, you'll have trouble stopping safely, which could mean a serious crash. On the other hand, if you can't reach the pedals well, you'll have trouble getting the bike moving in a hurry.
Injury
If you ride a bike that doesn't fit you well, you could be more prone to injury. For example, being too stretched out on a bike can mean back pain and shoulder and hand pain. If the seat is too high or too low, you could cause damage to your knees. You could have shoulder and hand pain if the handlebars are too wide. If the bike is too small, you'll feel cramped and uncomfortable, and the bike may feel wobbly.
Efficiency
If you want to be fast, a good-fitting bike is a must. You won't be able to pedal efficiently on a bike that doesn't fit you well. You won't be able to handle the bike either, making it difficult to turn, gain momentum, and stop.
How to Size a Bike for Women
One of the most critical measurements for sizing a bike is height. This will give you a ballpark for what size bike you need. As a person five feet tall, I know that most of my bikes will probably be an XS. However, not every woman is shaped the same way, which can affect what size bike you need, especially if you are between two sizes.
Aside from your height, it's also important to consider your inseam (the length of your legs) because this can affect the bike size you need, especially regarding standover height (the height of the top tube).
For example, for my size, I have very long legs and a very short torso. This means I need a short reach from the bike seat to the handlebars, but I can stand over most top tubes on smaller frames but have trouble reaching the handlebars.
A friend, who is about my height, has short legs but a long torso. For her, a bike with a longer reach is better but lower to the ground or with a lower top tube.
Other factors involved in sizing a bike are the distance from the seat to the pedals, the width of the handlebars, and even the distance between the pedals.
Do I Need a Woman's Bike?
Some companies specialize in making women's bikes. There are no rules on whether you should ride a women's bike or a unisex bike; even a man can ride a woman's bike. The difference is usually found in the touchpoints of the bike or the bike fit.
Generally speaking, women are a little bit shorter than men, have a shorter torso than their legs, and have narrower shoulders and smaller feet. So a woman's bike will have a slightly different geometry – or frame shape – than a unisex bike.
Women's bikes are usually smaller, first of all. They may not come in sizes as large are unisex bikes. They generally have smaller handlebars, lower top tubes, shorter cranks (the part of the bike that the pedal attaches to), and wider seats to accommodate wider sit bones.
When it comes to mountain bikes, a women's mountain bike suspension will usually come tuned to smaller, lighter riders, although you can get this adjusted most of the time.
If you are a petite woman with narrow shoulders or shorter legs or trouble reaching the pedals or brakes on a unisex bike, you might want to consider a women's specific bike. However, you might prefer a unisex bike if you have a longer torso, long arms, and legs or are tall.
After considering this, before I show you size details, I want to talk about some of the challenges you may find when looking at what size women's bike do I need.
Challenges to Finding Your Bike Size
One of the challenges to finding the right size women's bike is that there isn't an industry standard for women's road bike size or frame sizes. So a bike in one leading brand may be labelled XS, but a similarly sized bike in another brand could be an XXS or an S.
Another challenge to knowing what size bike do I need is that some brands will adjust the geometry of the bike based on size, while other brands will maintain the proportions of the geometry no matter what size the bike is.
This means that a woman-owned company, such as Jamis, will adjust the shape of the bike to accommodate smaller sizes better, while other companies will just shrink the bike without changing the shape.
Very small women's bikes have a lot of toe overlap, where your toe can scrape the front wheel when you turn the handlebars. Some companies, such as Canyon, will adjust this by using smaller wheels, while others don't adjust for it at all.
It's up to you which you prefer, but it can affect how the bike handles.
What Size Women's Bike Do I Need?
Most bikes are sized according to the length of the seat tube. This is the measurement from the bottom bracket (the spot where the pedals attach) to the seat clamp (not to the adjustable part of the seat). But even bikes with different numbers can be similar in size.
For example, my bikes are small, extra small, or extra-extra-small. But the seat tube, or metric size, ranges from 44 to 48, yet they all fit me reasonably well because there is a big difference between the geometry of the bikes and the way the manufacturers size them.
A Guide to Women's Bike Sizes
| | | | |
| --- | --- | --- | --- |
| Rider Height (Imperial) | Rider Height (Metric) | Bike Frame Size | Bike Frame Size (Metric) |
| 4'10- to 5'1 | 147 – 155cm | XXS to XS | 44 – 48cm |
| 5'1 to 5'3 | 155 – 160 CM | XS | 47 – 49cm |
| 5'3" to 5'5" | 160 – 165cm | S | 50 – 52cm |
| 5'5" to 5'8" | 165-172cm | M | 53-55 cm |
| 5'8 to 5'10 | 172 – 180cm | L | 55 – 57cm |
This chart is just an estimate of women's road bike sizes. Individual manufacturers may differ significantly. However, this will give you a ballpark figure to work with.
As you can see in the chart above, there is some overlap between bike sizes, and it can be tricky to know which size to choose if you are in between two sizes.
You might want to go for the smaller frame if you have a shorter torso. However, if you have a longer torso, you can choose the smaller one and put a longer stem on it, if needed, or choose the larger frame and use it as is.
Most bikes can be adjusted, but the better fitting the frame, the easier the bike will be to fine-tune.
A Guide to Women's Mountain Bike Sizes
| | | | |
| --- | --- | --- | --- |
| Rider Height (Imperial) | Rider Height (Metric) | Bike Frame Size | Bike Frame Size |
| 4'10"- to 5'2" | 147 – 158 cm | XS | 13 – 14 inches |
| 5'2" to 5'6" | 158 – 168 cm | S | 15 – 16 inches |
| 5'6" to 5'10" | 168– 178 cm | M | 17 – 18 inches |
| 5'10" to 6'1" | 178-185 cm | L | 19 – 20 inches |
Women's mountain bikes are a little bit different than road bikes. Mountain bikes have smaller frames with a more upright position and wider handlebars. In addition, a mountain bike has a much more sloping top tube than a road bike, so standover height is much less of a challenge on a mountain bike than it is on a road bike.
A Guide to Women's Hybrid Bike Sizes
| | | | |
| --- | --- | --- | --- |
| Rider Height (Imperial) | Rider Height (Metric) | Bike Frame Size | Bike Frame Size |
| 4'10"- to 5'2" | 147 – 158 cm | XS | 33 – 35cm |
| 5'2" to 5'6" | 158 – 168 cm | S | 38 – 40 cm |
| 5'6" to 5'10" | 168– 178 cm | M | 43 – 45 cm |
| 5'10" to 6'1" | 178-185 cm | L | 46 – 50 cm |
Women's hybrid bikes are sized a little bit differently than road and mountain bikes. You may find the frame sizing falls in between the two. So don't get hung up on specific 'numbers' – look for the frame size that fits your height according to the bike you are considering.
Size Guide to Handlebars for Women
Women typically have narrower shoulders than men, although there are always exceptions. Generally speaking, the narrower your shoulders are, the narrower your handlebars should be if you ride a road bike. Measuring your shoulders in cm from socket to socket is about how wide your handlebars should be.
However, there are other measurements on handlebars to keep in mind, as well. For example, some handlebars have a shorter reach than others – these are better for shorter women who have trouble reaching the brakes when they ride in the drops of the bars. There are also shallow bars, which have a smaller space between the drops and the tops of the bars. Again, this is better if you aren't very flexible!
Handlebars for mountain and hybrid bikes are sized differently and won't match your shoulder width. However, the wider bar gives you more control over rough terrain and a more upright position for comfort.
The stem of the bike attaches your handlebars to the front of the bike. Women's bikes tend to have shorter stems than unisex bikes, but you can usually change the stem for a shorter or longer one to make your bike fit you better.
Get a Bike Fit for the Best Fitting Women's Bike
Don't be alarmed if choosing a bike size is still confusing. Instead, stick to the basic principles:
Use the charts to get a ballpark idea of the size of bike you need. Then, use your specific measurements to match up a bike you like according to the bike manufacturer's sizing guide. You can usually find these online.
Once you get as close to the right size as possible, you can fine-tune the bike fit, if needed, by changing out the handlebars, bike stem, saddle, seat post, cranks, pedals, and wheels. A lot can be adjusted if you have problems with your bike fit.
If you need help, go to your local bike shop and get a fitting. This may cost a couple of hundred dollars, but buying a high-end bike could save you from spending thousands of dollars on the wrong size bike.
Take a Test Ride to Make Sure You Like How Your Bike Fits
Finally, once you've picked a bike and a size, take it for a test ride! When I purchased my track bike, it felt too big, even though it was the smallest available size. The bike fitter took me to the parking lot, where I tried it. Once she adjusted the bars and the seat, the bike fit much better. I had to order a smaller set of cranks, but the bike fit was perfect once they came, and I had them put on.
Final Thoughts on How to Size a Bike for Women
Whether you are petite, tall, or somewhere in between, it doesn't matter. There is a bike that will fit you. First, find the bike you want.Then, use the company's size guide to find the right size bike. Have it fitted and take a test ride. Make any adjustments or fine-tuning that are needed.
Finally, enjoy your bike!
Frequently Asked Questions
What Size Women's Helmet Do I Need?
Women's specific helmets tend to be slightly smaller than men's. They may also have special features, such as a ponytail port. To find out what helmet size you need, measure around your head, parallel to the ground, where your helmet will sit (right above your sunglasses). Then compare this number to the helmet size guide on the manufacturer's website.
What size bike shoes do I need?
Bike shoes for women typically follow standard European sizing. For example, in American shoes, I may be 6 ½, but in European sizes, I am generally a 38. Make sure you find bike shoes that fit you well and are comfortable. You may need to try them on to make sure they fit well.
What Size Saddle Do I Need?
Bike saddles are very personal, and what works for one person may not work for another. A saddle needs to support your sit bones. So if the saddle that came with your bike is uncomfortable, measure your sitbones and see if you need a wider or narrower saddle. You may also want to decide between a saddle with a cutout or no cutout. 
What is the Q Factor?
Simply put, the Q Factor is how far apart the pedals are from each other. A Q Factor that is too wide or too narrow can make pedalling uncomfortable and inefficient.
What if my bike is the wrong size?
Bikes can be adjusted to fit within reason. If a bike frame is just too large or too small for you, you'll probably need to get a different bike that fits better. But if the bike frame is close enough in size, there are plenty of ways the bike can be adjusted to fit you better.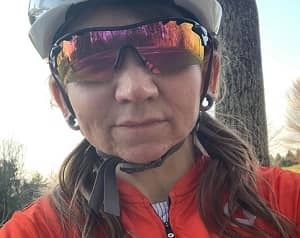 Amanda Whittington is an expert writer, impassioned cyclist, and musician. Coming from a diverse educational background, Amanda discovered a deep-rooted passion for encouraging others through her love of all things cycling, writing, and inspiring hope. 
You'll likely find Amanda pouring over bike specs, comparing the hottest cycling tech, and sporting the latest jerseys while juggling the demands of her editorial calendar, training schedule, tiny homestead, and 6 busy kids. 
She spends her free time absorbed in her own gardening and fitness, cycling, and reading, all while encouraging adoption and foster care, championing the underdog, and of course, working with her chickens and goats.