This page explains everything you need to know about 333fab.
Our Introduction
---
333fab is powered by a team of bike experts and avid cyclists who are passionate about supporting the cycling community. With the recent surge in demand for bikes and the rise of internet sales, it can be difficult to make sense of all the options available online and in-store. Our goal is to provide useful digital content to help people select the right bicycle and accessories for their preferences and needs.
Mainly, we create in-depth product reviews and comparisons, 'best-of' roundups, buying guides, how-to manuals, and educational articles about bicycles. Our research-driven approach ensures that our readers receive the most trusted and up-to-date information available about products on the market. We do all the heavy lifting— inspecting manufacturer's details, product reviews, and professional advice— so you don't have to.
All of the content on the website is written by experienced bike writers and subject-matter experts that have a range of backgrounds and personal interests. The team's sweeping expertise guarantees that we have helpful articles about whichever topic you are searching for. We strive to offer impartial information to our readers and our independent content is always free from bias. Get to know our bike writers and their individual interests and learn more about the world of cycling!
Why Trust Us?
---
333fab was created to explain and streamline the abundance of bike products available online. We provide impartial articles written by experts to help people make sense of bike products, sizing, and maintenance. Each post is supported by comprehensive research based on expertise, numerous product reviews, manufacturer's specs, and industry consensus.
As a team, we conduct in-depth testing and independent research to offer the most objective perspective as possible. Our readers are our top priority so we take care to only recommend excellent products that are worthwhile purchases. Rest assured that we will never endorse a low-quality product just for the sake of an affiliate commission. Read our affiliate disclosure.
All of our content is written by:
Professional bike mechanics
Experienced writers about the cycling industry
Subject-matter specialists with relevant expertise
Our Authors
---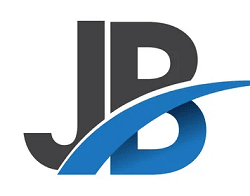 Jeffery Brown is a writer, editor, and professional bike mechanic with over 7 years of experience working in full-service and community-based bike shops. As a bicycle educator, he has supported youth programs across the US that teach bike mechanics and life skills to prepare the next generation of cyclists. Jeffery now writes digital content for a variety of bicycle magazines, websites, and brands that are keeping up with the recent surge in demand for bikes.
Jeffery began his professional mechanic career at his university bike co-op, so he recognizes the grassroots power of the cycling community. Initially self-trained as a mechanic, his subsequent positions as manager and lead educator gave him official training. Demonstrated throughout his extensive experience in nonprofit organizations, he prioritizes transportation equity and bikes' potential to help the climate crisis. He has won various awards and grants for his role as a bicycle and environmental advocate.
Originally a roadie, he now rides his fixie everywhere and plays bike polo when he can. Off the bike, Jeffery plays tenor saxophone, cares too much about fashion, and solves (and writes) crosswords. He still wonders why bike mechanics always have the worst-maintained bikes (hint: it's because they're always fixing other people's bikes). He currently lives in Spain and always wears his chain bike lock as a belt.
Amanda Whittington | Expert writer and impassioned cyclist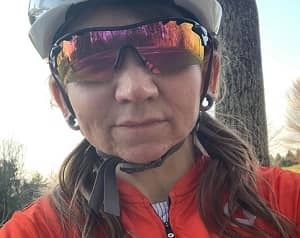 Amanda Whittington is an expert writer, impassioned cyclist, and musician. Coming from a diverse educational background, Amanda discovered a deep-rooted passion for encouraging others through her love of all things cycling, writing, and inspiring hope.
You'll likely find Amanda pouring over bike specs, comparing the hottest cycling tech, and sporting the latest jerseys while juggling the demands of her editorial calendar, training schedule, tiny homestead, and 6 busy kids.
Amanda holds a Master of Divinity from Liberty Baptist Theological Seminary and a Bachelor of Arts in Music from Eastern University. She specializes in all kinds of content writing, especially gardening, lifestyle, spirituality, and, most of all, bicycles. Her writing experience includes blog posts, devotionals, sermons, scholarly papers, articles, album reviews, and magazine articles.
Deep down, though, she's just a big-hearted, determined, coffee-drinking, Jesus-loving mom to 6. She spends her free time absorbed in her own gardening and fitness, cycling, and reading, all while encouraging adoption and foster care, championing the underdog, and of course, working with her chickens and goats.
Just get on a bike and ride!
Our Values
---
Contact Us
We're unbiased, objective & ad-free.
All of our content is written by bike professionals and subject-matter experts that have years of experience under their belt. Each article is backed by comprehensive research to provide impartial and balanced information. We also publish unbiased, objective product reviews so you can make better buying decisions. We are transparent about our affiliate relationships, and we never accept payment or anything else in exchange for positive reviews.