(Last updated on January 17th, 2023)
If you're on the fence between buying a mountain bike or a hybrid bike, I've got all the right information to help you make the decision. Both of these bike types share features like straight handlebars and a relaxed sitting position but they serve starkly different purposes. To ensure you get the appropriate bike for your upcoming adventures, check out this breakdown of the differences between mountain bikes and hybrids.
What is a Hybrid Bike?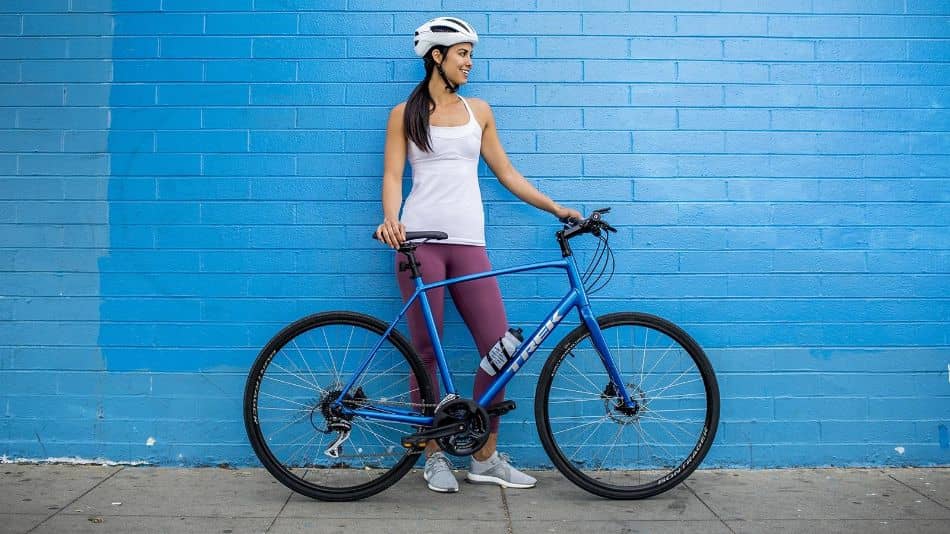 Hybrids— as their name suggests— have some mountain bike traits as well as features borrowed from road cycling. Hybrid bikes are straight-handlebar bikes built to be comfortable and efficient on relatively smooth surfaces such as bike paths, city streets, or light trails. Typically affordable and compatible with racks and fenders, hybrids are the go-to choice for many commuters and city-goers who want a bike that performs well on easy weekend rides as well.
As a kind of mash-up category, hybrid bikes come in all shapes, sizes, and designs. Specifications such as tire width, gearing, and frame geometry can vary across models and include sub-classifications such as fitness, exercise, or commuter bikes. This article considers all of those smaller categories as part of the conventional definition of a hybrid bike.
Read More: Best Hybrid Bikes Under $500
For a video explanation, take a look at this brief video describing hybrid bicycles.
KEY SPECS
Straight handlebars
700c (road) wheels
Upright pedaling position
Multiple gears
Room for accessories
What is a Mountain Bike?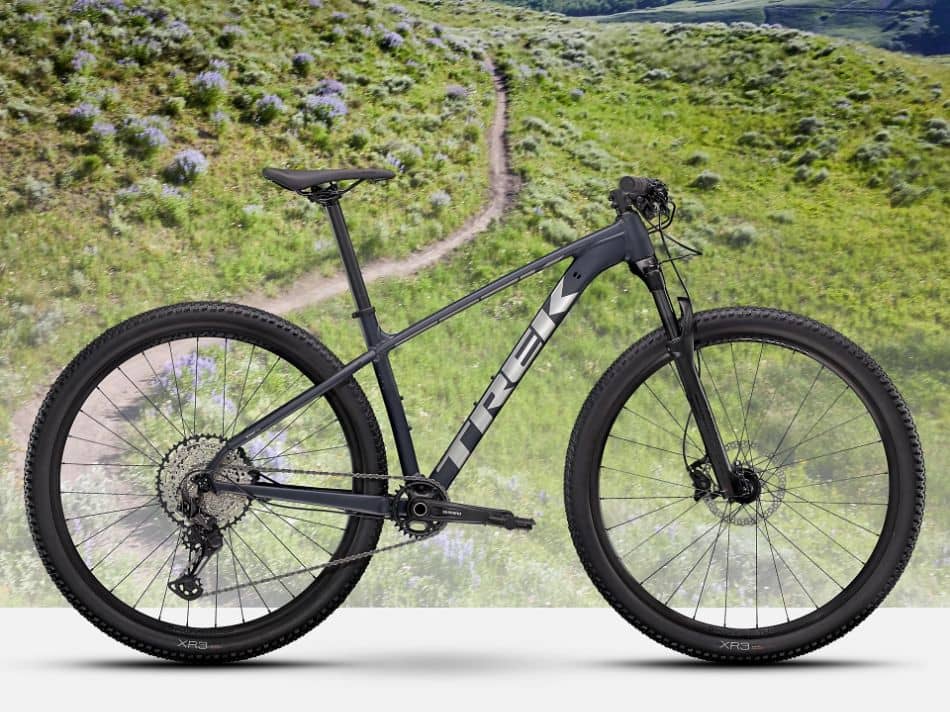 Mountain bikes also come with straight handlebars and a relaxed sitting position but are much more robust machines built to conquer off-road trails. There are suspension systems and wide tires to help absorb bumps and jumps and gain traction in tight corners or slippery conditions. The geometry provides an open posture where arms are stretched-out to wider handlebars for more controlled steering over tricky sections.
Mountain bikes (also referred to as MTBs) come in different styles suited for certain terrains: XC, trail, enduro, and downhill. Each discipline requires a different amount of suspension to handle the expected hills or steep descents. In this comparison article, I'll talk about both hardtail mountain bikes as well as full suspension models.
Read More: Best Budget Mountain Bikes
KEY SPECS
Suspension
Disc brakes
Straight handlebars
27.5" or 29" wheels
Wide tires
Often a 1x drivetrain
And if you're interested in the differences between hybrid and road bikes, check out this helpful video!
Top Differences: Mountain Bike vs Hybrid Bike
Mountain bikes
PROS
Longer suspension travel
Beefier tires and frame
Perfect for trail riding
CONS
Heavier
Heavier
More maintenance
Hybrid bikes
PROS
Lightweight
Affordable
Great for recreational riding
Perfect for commuting
CONS
Not as capable off-road
Less high-end tech
Frame
Mountain bikes are built around durable frames that are designed to withstand hard impacts and high speeds that come along with trail riding. MTB frames often have noticeably thicker or larger tubing than hybrid or road bikes in order to handle the intense vibrations or forces on the bike.
Aluminum is a durable and cost-effective material that's common in mountain bike frames, but manufacturers are increasingly focusing on the production of carbon fiber frames. Carbon frames help keep the weight to a minimum while still preserving the strength we expect from a long-lasting trail machine. MTB frames come with large tire clearance and wide, flat handlebars for controlled steering.
Hybrid frames take notes from mountain and road bikes and incorporate elements of both styles, resulting in a lightweight and comfortable setup. Aluminum is by far the most preferred material for making hybrids due to its relatively low weight and affordability. Recreational riders with hybrids are typically less concerned with saving grams and would much rather have a well-priced bike that's a great value.
Hybrids also have flat handlebars and more tire clearance (up to 45mm) than road bikes, albeit less than mountain bikes. The durable aluminum frame often included eyelets and integrated mounts that allow for the installation of fenders, a rear rack, and panniers.
Read More: All You Need to Know About Hybrid Bikes (2023)
Geometry
MTBs feel more "stretched out" than other types of bikes. That longer wheelbase, reach, and slacker geometry helps mountain bikes stay stable at high speeds while riding over bumpy terrain. Some higher-end models come with a dropper seat post that can move up and down at the touch of a button, allowing the rider to pedal up the climbs in a more efficient position and then lower the seat when they are descending out of the saddle.
Hybrid bikes are some of the most comfortable bikes out there thanks to their relaxed, upright geometry. Riders don't have to lean over very much to reach the handlebars and they sit over the pedals which boosts efficiency. It's not the riding position you'd want during a race, but we can save that for the competitive road cyclists. Hybrid bikes reduce strain on the back and arms so you can enjoy long rides and daily commutes.
Suspension
Mountain bikes and suspension go hand in hand. While fully rigid mountain bikes do exist, they are largely a relic of the 1980s and early 90s. Nowadays, mountain bikes are either hardtails or full-suspension builds. Hardtails have a front suspension fork with between 80mm to 140mm of travel and keep the rear triangle rigid (hence, "hard tail"). Full-suspension bikes pair a rear shock with the suspension fork in order to take on the gnarliest of trails, offering up to 200mm of travel.
Hybrids can go either way here— many models have fully rigid framesets whereas others feature a short-travel suspension fork. While the addition of a front fork on a hybrid can help on light trails, it's often included for comfort reasons. Hybrid suspension forks provide less travel than MTBs— around 60mm to 100mm— and help smooth out city potholes and reduce vibrations in the upper body transferred through the handlebars.
Read More: Killer Full Suspension Mountain Bikes: Top Picks (2023)
Wheels and tires
Like road bikes, hybrids opt for fast-rolling 700c wheels which they outfit with wider tires, typically between 30mm to 45mm. This large rim diameter preserves pedaling efficiency while the wider rubber provides a bit more cushion and traction in tricky weather. The favored tire tread ranges from slick to small knobs that are helpful on gravel or dirt paths.
Mountain bike wheels and tires have much more variety. 26" wheels used to be the standard, but modern MTBs rock 27.5" or 29" wheels— some models even mix the sizes on the same bike. Cross-country tires start at around 2.20" wide and the rubber increases from there, reaching up to 5" on fat bikes. Tread pattern depends on the terrain you ride and varies from small knobs for gravel riding to deep, chunky grooves for downhill racing.
Drivetrain
1x drivetrains have become the industry standard for modern mountain bikes, offering a wide range of gears and significantly reducing the possibility of dropped chains and other shifting issues. Recent technology has slimmed down the profile of rear cogs so there's room for a cassette with up to 12 speeds. Some budget or entry-level mountain bikes still come with the classic triple chainring setup, though.
Hybrids reveal their mixed DNA through a variety of gearing options, including 1x drivetrains, double chainring systems, and triple chainrings. The choice is mainly up to budget and personal preference and, considering people ride hybrids for so numerous different reasons, I'm glad there are so many options to choose from. Hybrids don't have as wide a range between the lowest and highest gear ratios as MTBs since the expected terrain is more moderate with fewer steep hills.
Brakes
Over the past several years, all categories of bikes have been moving towards disc brakes and embracing their performance gains over traditional rim brakes, especially in wet weather. Mountain bikes made the switch to disc brakes a long time ago and, as high-quality hydraulic disc brakes are becoming cheaper to produce, reserve mechanical disc brakes for entry-level models.
Mechanical or hydraulic disc brakes are a common sight on hybrid bikes, but some models still opt for rim brakes. V-brakes perform fine during the recreational riding that hybrid bikes are typically used for, but riders who want a bit more performance or live in rainy areas might want to upgrade to disc brakes.
Accessories
While not crucial for your ride, accessories can bring big upgrades to your mountain bike or hybrid. I like to consider hybrid bikes as the kings of accessorizing— their cross-cutting design lends itself well to a wide range of uses and a variety of handy accessories to throw on the frame or handlebars.
Most hybrids come with eyelets and frame mounts for installing a rear rack or fenders, allowing riders to transform their bike into the ultimate commuter. Unlike mountain bikes, hybrids are designed to carry extra weight or heavy panniers that are useful when running errands or touring.
While hybrids are especially suited for extra touches that enhance the user experience, mountain bikes have room for performance-oriented accessories. Things like dropper posts, electronic shifting, tool kits, or integrated pressure gauges let riders take their trail skills to the next level, go faster, and adjust settings on the fly.
Final Thoughts
Hybrids and mountain bikes are great choices for riders of all skill levels, but making the right decision comes down to the type of riding you'll be doing. For riders on the hunt for a recreational bike to explore local bike paths, neighborhood streets, and light trails, a hybrid bike is your ideal machine. Commuters as well as people who want more comfort than what's offered by a road bike are ideal candidates for hybrid bikes.
If hitting the trails and sending descents is more your thing, a mountain bike is the perfect tool for the job. MTBs come with more suspension, wider tires, and a beefier frame to withstand those hard-hitting adventures on the trails. When the riding gets steep and chunky, the scales tip in favor of mountain bikes as your go-to machine.
Frequently Asked Questions
Can you use a hybrid bike for trail riding?
Hybrid bikes with front suspension are appropriate for light dirt trails or gravel paths, but anything much rougher than that will be beyond the bike's capacity. Trail riding typically requires extra suspension, larger tires, and wider handlebars for stability and control.
Are hybrid bikes good for mountain biking?
No, hybrids are best suited to smoother surfaces such as pavement, light dirt tracks, or gravel roads. Their relatively skinny tires and lack of rear suspension make them highly efficient, but less capable on rough terrain.
Are hybrid bikes faster than mountain bikes?
Hybrids are faster over smoother surfaces, but mountain bikes are quicker over rough terrain with rocks, roots, and larger obstacles. Fast-rolling 700c wheels and tires enhance hybrids' pace on the pavement while MTBs can descend tricky trails at much higher speeds.
What are hybrid bikes best used for?
Hybrid bikes are best used for recreational rides, commuting, and getting around multi-surface routes. Hybrids strike the right balance between efficiency and comfort, especially over smoother surfaces like city streets, bike paths, and light trails.
Is a hybrid bike good for beginners?
Hybrid bikes are a great choice for beginners due to their comfortable, upright riding position that inspires confidence and fast-rolling wheels. Hybrids typically have simpler setups so you don't have to worry about complicated suspension or high-tech parts.
Do hybrid bikes have suspension?
Some do and some don't. Many hybrids stick to a fully rigid frameset that's perfect for smooth surfaces while other models come with a front suspension fork to absorb road buzz, potholes, or bumps on the trail. No hybrid has a rear shock.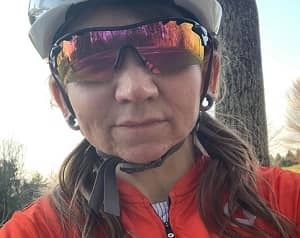 Amanda Whittington is an expert writer, impassioned cyclist, and musician. Coming from a diverse educational background, Amanda discovered a deep-rooted passion for encouraging others through her love of all things cycling, writing, and inspiring hope. 
You'll likely find Amanda pouring over bike specs, comparing the hottest cycling tech, and sporting the latest jerseys while juggling the demands of her editorial calendar, training schedule, tiny homestead, and 6 busy kids. 
She spends her free time absorbed in her own gardening and fitness, cycling, and reading, all while encouraging adoption and foster care, championing the underdog, and of course, working with her chickens and goats.