(Last updated on March 30th, 2023)
Hybrid bikes are an excellent, versatile choice for city riding, from daily commuting to weekend joyrides. If you're looking to start biking more or upgrade your current setup, plenty of quality hybrids are available on a budget.
This popular type of bicycle is designed to thrive in the urban environment but can also handle the occasional light dirt or grass path. Check out this complete guide on the best hybrid bikes under $500 and start pedaling today.
Buyer's Guide: How to Tell Which Hybrid is Best for You
Hybrid bikes come in many shapes and sizes, and it can be difficult to determine which one is right for you. Read through this buyer's guide to learn what matters most when searching for a quality hybrid bike at an affordable price.
There are two main factors when selecting the perfect hybrid bike:
Top features
Consider things such as wheel size, frame material, gearing, brakes, and accessories and how they match up with your preferences. These components can make a big difference in how the bike performs in different situations.
Bike fit
Select the appropriate frame size based on your height and leg inseam. A properly sized bike is more comfortable and efficient.
Frame geometry and material
The best place to start narrowing down your search is with the frame. As the name suggests, hybrid bikes mix elements of road and mountain frames. The result is a medium-weight frame with comfortable geometry and an upright position. A step-through frame is easier to mount and dismount. However, the more horizontal the top tube, the stiffer the bike frame will be.
Hybrids hovering around the $500 mark will most likely be either steel or aluminum. Steel is a classic choice that is repairable in case of any frame damage but can weigh more. Aluminum is the go-to material for affordable hybrid bikes because of its durability and cost-effectiveness.
Gearing
Gearing is a smart way to customize your bike based on the riding you will be doing. More gear choices allow you to maintain an efficient pedaling rhythm on steep climbs or downhill sections.
Most hybrids come equipped with three chainrings in the front and a rear cassette with seven cogs, resulting in 21 gears. Other bikes opt for just one or two front chainrings. In short, if you expect to tackle lots of rolling hills, the more gears the better. If your city is mainly flat, just a few gears will do the trick.
Suspension Options
Some hybrids have front suspension and others feature a fully rigid frameset. Bikes with front suspension have minimal travel to dampen road buzz and handle potholes, but it's not sufficient for off-road riding. Remember that a suspension fork will add a decent amount of heft to an otherwise lightweight frame.
I personally like fully rigid hybrid bikes. Maybe it's because I'm a road cyclist who's used to riding without suspension, but suspension normally isn't necessary for the smooth pavement in city environments. A cushy fork will leak some of your power, making you less efficient. Unless you are hopping curbs or want extra comfort, a rigid frame is a sure bet.
Rim or Disc Brakes
The decision for rim brakes will most likely be made for you, but a couple of affordable hybrid models out there feature mechanical disc brakes. For example, the Vilano Diverse 3.0 on this list has disc brakes that provide extra stopping power in wet conditions. For the most part, however, rim brakes are plenty reliable for hybrid bikes designed for casual riding around town.
Handlebar Shape
Different handlebar shapes can alter bike fit and allow riders to achieve the most comfortable sitting position. Hybrid riders can opt for three types of handlebars depending on their preferences:
Flat bar: Medium, shoulder-width handlebars are one of the simplest designs. There is nothing to write home about here, just a straightforward setup that works well.
Riser bar: As wide as a flat bar, they extend upwards towards the rider to allow for a more upright sitting position. Riders don't have to bend over to reach riser bars.
Swept back bar: A variation on hybrid handlebars, some bars sweep back at the ends towards the rider for increased control and relaxed hand position. The casual steering can feel almost like driving a bus.
A Note About Accessories
The last things to think about before you purchase are the accessories and finishing kit. Hybrids can serve all sorts of purposes, such as beach cruising, commuting, and weekend rides, so certain accessories will be more useful to you.
Check for pre-installed fenders or cargo racks that can boost your bike's utility. Final touches like bike bells and cushioned seats are a plus but can always be added later.
How I Picked the Best Hybrids Under $500
The demand for hybrid bikes has skyrocketed since the pandemic, and new models have flooded the market. The competition between traditional brands and updated bikes has led to more choices than ever for bike enthusiasts but which hybrids are worth the price?
This round-up of the best hybrid bikes under $500 is based on numerous user reviews, expert opinions, and manufacturer specs. I considered models from the big brands such as Schwinn and Giant and found innovative hybrids from lesser-known brands that are excellent for the price.
I've hand-selected the bikes on this list and rated them out of 10 points based on the following criteria:
Utility
Hybrid bikes are multipurpose. Extra features like fenders, racks, and suspension can add utility.
Comfort
Riders are attracted to hybrid models because they are more comfortable than road bikes yet suited to the urban environment. Upright geometry allows for a good sitting position for all body types.
Ride feel
Skinny tires and ergonomic handlebars offer responsive handling and efficient pace on smooth surfaces. Quality hybrids let you enjoy the fresh air all day long.
Price
The $500 price threshold is the most affordable category of hybrid bikes. Any cheaper, and the bikes are probably not worth the investment. The bikes on this list are affordable options that don't cut corners.
Compare the Best Affordable Hybrid Bikes at a Glance
| | | | | | | |
| --- | --- | --- | --- | --- | --- | --- |
| Model | Summary | Rating | Price | Where to buy? | Front suspension? | Brake type? |
| Trek Townie 7D Step-Thru | Best Overall Hybrid | 9.5/10 | $529 | Check price | No | Rim |
| Vilano Diverse 3.0 Hybrid Bike | Best 24-Speed Hybrid | 9/10 | $529 | Check price | No | Disc |
| Kent International Springdale Hybrid | Best Hybrid for City Riding | 8.5//10 | $479 | Check price | Yes | Rim |
| Schwinn Discover | Most Comfortable Hybrid | 8.5/10 | $539 | Check price | Yes | Rim |
| Marin Kentfield 1 | Best Rigid-Frame Hybrid | 9.5/10 | $479 | Check price | No | Disc |
| Royce Union RMY | Best 3-Speed Hybrid | 8/10 | $479 | Check price | No | Rim |
| Public Bikes V1 | Best Vintage-Style Hybrid Bike | 9.5/10 | $529 | Check price | No | Rim |
Best Overall Hybrid
1. Trek Townie 7D Step-Thru
PROS
Shimano Tourney 7-speed groupset
High-quality 6061 aluminum frame with Flat Foot
Internafvgo90l cable routing
CONS
Slightly over budget
Heavier and less efficient than other hybrids
The Trek Townie 7D Step-Thru is one of the most popular hybrids across the US. This high-selling bike combines hybrid and cruiser designs to achieve a comfortable setup that still rolls fast over smooth surfaces. The simple grip shifter system boasts a Shimano Tourney 7-speed groupset that's a great component for the price.
The bike is available with both step-thru or step-over geometry so riders can choose what fits their style. Both options feature Trek's patented Flat Foot Technology so riders can easily plant their feet on the ground when coming to a stop. I appreciate the huge range of colors on sale (9!) so you can pick out your favorite paint. The fact that it's slightly over budget subtracts a point from my rating.
The relaxed, upright pedaling position boosts confidence on city streets and local paths. Wide 26×2.0" tires offer some shock absorption on an otherwise rigid frame and the seat is plenty cushy. I would have appreciated larger 700c wheels to increase the Townie's efficiency on smooth roads. The linear pull V-brakes offer strong stopping power so you can ride in wet conditions worry-free.
The Wisconsin-born Trek is one of the most popular bike brands across North America so you're never too far from a local bike shop that stocks their flagship models. Visit your nearest Trek store or neighborhood shop and odds are they carry the Townie 7D model.
With the Townie doesn't have the latest tech, it shines bright with its stylish pastel colorways and accessible price point. Hop on and start cruising today!
OUR VERDICT
Fun and stylish cruiser with 26" wheels that's an excellent deal.
Best 24-Speed Hybrid Bike
2. Vilano Diverse 3.0 Hybrid Bike
PROS
Mechanical disc brake
24 gears
Sporty and rigid frame geometry
CONS
Drivetrain quality leaves something to be desired
The Vilano Diverse 3.0 is a fully rigid hybrid bike with disc brakes perfect for city commuting and weekend joyrides. The 6061 aluminum frame rocks a sporty, comfortable geometry, available in 49cm, 53cm, and 57cm frame sizes. This capable machine is a sure bet for all-season riders. The Vilano is priced at only $469, so hybrid riders can get a lot of bike for a wallet-frienty dollar amount.
The shifters on the ergonomic flat bar handlebar connect to the 24-speed drivetrain giving you a couple of bonus gears. The drivetrain components aren't anything to write home about, docking half a point from my rating. Some riders may prefer a riser handlebar that's also a bit wider— the narrow flat bar is good for speed but may limit comfort on longer rides.
The Vilano Diverse 3.0 embraces an efficient hybrid design to roll fast over smooth surfaces like roads and bike paths. The high-step frame and 700c wheels are inspired by road bikes while the upright riding position delivers additional comfort. This speedy hybrid would be a perfect all-rounder in the urban environment, from commuting to weekend joyrides on local paths.
The large-diameter 700c wheels are outfitted with 35mm tires with a medium tread pattern and there are mechanical disc brakes. Disc brakes are becoming more popular on modern hybrid bikes but many brands still stick to lower performance rim brakes on their entry-level models. On this affordable bike, the inclusion of mechanical disc brakes is a huge plus for the price.
OUR VERDICT
Efficient flat-bar hybrid bike with 700c wheels and mechanical disc brakes.
Best Hybrid Bike for City Riding
3. Kent International Springdale
PROS
Included fenders and rear rack
Shimano Tourney rear derailleur
The Kent International Springdale hybrid comes tricked out with a rear rack and fenders so you can traverse the city in style. The classic look and faux leather saddle and grips are a nice touch on this 21-speed bike. The front fork is hefty but offers 60mm of travel to absorb road buzz and potholes and keep you comfortable.
Roll fast with the 700c alloy rims paired with all-rounder tires. Linear pull rim brakes provide reliable stopping power, and the Shimano Tourney rear derailleur is a quality component for such an affordable bike. The grip-style shifter is outdated tech that steals a point from this bike's rating out of 10. Overall, style and functionality pedal in unison with this impressive hybrid designed for casual city riders.
The Kent International hybrid makes a good commuter and all-rounder bicycle because of its extra features. The bike comes with a rear rack so you can attack panniers or a top-loaded bike bag for all your riding essentials. There are also full-coverage front and rear fenders to keep you dry and mud-free when the weather takes a turn for the worst.
One potential downside of the Kent International, however, are the bolt-on axles. This makes it more difficult for any possible thief to steal the wheels— they'll need an extra tool and a few more seconds— but it can be a hassle for bike owners, too. Quick-release wheels make it easy to take the wheels off and on in case you have a flat tire or need to fit the bike into a car. Remember this detail when considering your ideal hybrid bike.
OUR VERDICT
Fully-loaded hybrid bicycle that works great as a daily commuter.
Most Comfortable Hybrid Bike
4. Schwinn Discover
PROS
Suspension seat post
Included fenders and rear rack
Super comfortable
If comfort is your priority, the Schwinn Discover has several features to ensure your ride is as enjoyable as possible. The 700c wheeled hybrid is designed around a relaxed frame with handlebars that sweep back toward the rider. The adjustable stem lets you make small adjustments to find the perfect riding position.
There's suspension travel in the front fork as well as the seat post and saddle, so you'll hardly notice bumps and potholes on the road. The included fenders and rear rack make this bike ideal for urban commuters. The 21-speed gearing and rim brakes are par for the course in this category.
The Schwinn Discover is very similar to the Kent International hybrid on this list, but has a few more comfort-oriented features. The two models share the commuter bike design philosophy and come with an integrated rear rack and dual fenders. The Schwinn goes further and has a suspension seatpost and short-travel suspension fork.
The suspension fork will help smooth out your path, but it adds a significant amount of weight, especially since it's made from steel. This added heft lowers my overall rating but riders who want a hybrid with plenty of cushion will love it. One advantage over the Kent International is the Discover's quick-release front wheel. Easily take off the wheel to fit this bike in a vehicle or fix a flat, but make sure to run your lock through the frame and wheel when leaving it unattended.
The Discover is a worthwhile hybrid for riders that stick to leisurely bike paths or want an ultra-comfortable daily commute.
OUR VERDICT
Affordable hybrid bike with a suspension fork and seatpost for added comfort.
Best Rigid Frame Hybrid
5. Marin Kentfield 1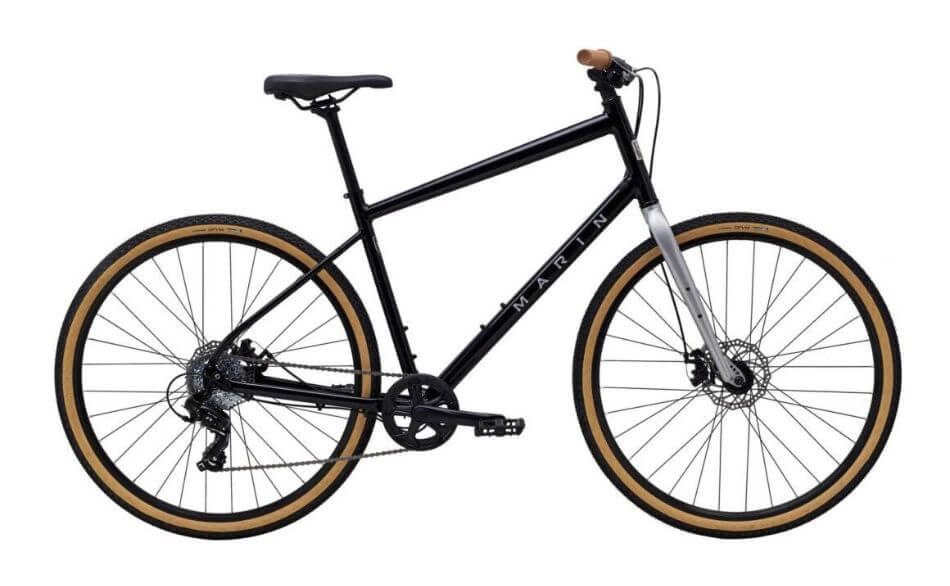 PROS
Mechanical disc brakes
Great look and frame shape
Wide skinwall 700c tires
The Marin Kentfield 1 is one of the sleekest hybrids on the market. The Kentfield 1 backs up its good looks with the extra utility from the mechanical disc brakes and 40mm tires. I'm a big fan of the lightweight, rigid aluminum frame whose design is reminiscent of bikes that cost two or three times more. The monochrome fork paint job is a cool touch, too.
Almost a gravel bike setup, the Kentfield can roll fast on pavement and handle tougher terrain thanks to the wide skinwall tires and Power CX7 mechanical disc brakes. But there are only seven gears in the Shimano Altus drivetrain, docking half a point from my rating. The front chainring has a built-in chain guide so the chain won't fall off and ruin your ride.
The Marin Kentfield is probably my favorite hybrid of this roundup. It doesn't try to overdo it by adding extra components or accessories and subsequently compromising on quality— it's a straightforward machine that rides the road with class. The 1×7 drivetrain won't climb the biggest hills but it's reliable and will require much less maintenance.
The sleek frame design encourages an upright rider position that's efficient and comfortable. And for those riders out there who care about looks— that includes me— the frame colors and tan sidewall tires let this bike ride blend in with much higher-end bikes.
The Kentfield is a sporty setup that more recreational cyclists should know about. If you aren't expecting to ride many hills, this bike expertly combines aesthetics and performance at a great price.
OUR VERDICT
My favorite on the list, it's an elegant hybrid that looks as great as it rides.
Best 3-Speed Hybrid Bike
6. Royce Union RMY
PROS
21-speed Shimano gearing
Comfortable seat
Fenders and rear rack
CONS
Heavy steel frame
Twist shifter
The Royce Union RMY is a 21-speed hybrid available at a jaw-dropping price. The newest generation of RMY is priced at $179 and comes in two frame designs. I reviewed the previous version that came with 3-speed internal hub gears, but the brand has made the switch to a more standard 21-speed Shimano triple chainring setup.
The RMY is most similar to the Schwinn Discover featured on this list because of the added suspension seatpost and short-travel front fork. These components add a significant amount of weight but are worth it for riders who navigate bumpy paths or pothole-populated streets. The cushioned saddle is wider than most and another source of extra comfort.
Customers can choose between the stepover frame or step-thru shape depending on their needs and riding style. The previous interaction of the RMY featured an odd double-top tube design but they've done away with that profile and opted for a traditional hybrid setup that encourages a relaxed, upright pedaling posture.
The aluminum frame features a unique double top tube design and comes with integrated fenders and a rear rack for additional utility. The front fork suspension and heavily padded Velo saddle provide plenty of comfort while pedaling.
All-terrain tires and linear-pull brakes pair with the alloy wheel rims. The riser handlebar places the rider in an ergonomic sitting position. If you're on a tight budget, there's not many options out there that are more affordable than the Royal Union RMY. The low price may mean they'll be maintenance down the road, but a complete bike for under $200 is an impressive offering.
OUR VERDICT
Sub-$200 hybrid bicycle with comfort-oriented parts like a padded saddle, suspension seatpost, and front fork.
Best Vintage-Style Hybrid Bike
7. Public Bikes V1 Hybrid
PROS
Stylish look and colors
Classic steel frame
The Public Bikes V1 hybrid shows off its classic easy on the eyes look and rides smoothly on the road. The timeless design features a single-speed drivetrain and swept-back handlebars so you can sit comfortably over the pedals. The handcrafted lightweight steel frame is durable and comes in three chic colorways with the option of cream-colored tires.
Public Bikes keeps it simple with only one gear and a strong dual-pivot caliper for a low-maintenance setup. I would've liked to see a 3-speed or 7-speed cassette, but it's not an issue if you live in a flat city with few hills. The brand also has the C1 step-through model for an easier time getting onto the bike and a few more stylish color options.
If you're a fan of the Dutch style of bikes, the V1 is your ticket to a smooth ride around town. The brand has been on the rise over the past couple of years, specializing in affordable versions of European-style bicycles that look elegant and ride well. Remember that there's only one gear so you won't be winning any races but I like the simplicity that will reduce the need for maintenance in the future.
The V1 is available in four attractive colorways— sea blue, sage, black, and ivory— and comes in two frame sizes listed as small/medium and medium/large. These options should satisfy almost any rider's wishlist and match their own personal style. Shine bright in the city and cruise with the elegant Public Bikes V1!
OUR VERDICT
Elegant Dutch-style hybrid bike with single-speed gearing and cream tires.
Size Chart For Hybrid Bikes
| | | | | | |
| --- | --- | --- | --- | --- | --- |
| Height (ft/in) | Height (cm) | Leg Inseam (in) | Leg inseam | Frame Size (Inches) | Frame Size (Marker) |
| 4'10"-5'1" | 147-155 cm | 24 – 29" | 61 – 73 cm | 14″ | (XS) |
| 5'1″-5'5″ | 155-165 cm | 25 – 30" | 63 – 76 cm | 15″ | (S) |
| 5'5″-5'9″ | 165-175 cm | 26 – 31" | 66 – 78 cm | 16″ | (M) |
| 5'9″-6'0″ | 175-183 cm | 27 – 32″ | 68 – 81 cm | 17″ | (L) |
| 6'0″-6'3″ | 183-191 cm | 28 – 33″ | 71 – 83 cm | 18″ | (XL) |
| 6'1″ – 6'6″ | 191-198 cm | 29 – 34″ | 73 – 86 cm | 19″ | (XXL) |
Frequently Asked Questions
Which brand is best for hybrid bicycles?
There are many quality hybrid bike brands out there, such as Giant, Marin, and Vilano. These manufacturers are well-known and produce reliable bikes at a great price. Schwinn is also a dependable brand that has mainly focused on making affordable bikes in recent years.
Will there be bikes available in 2023?
The industry-wide bike shortage caused by the Covid-19 pandemic will continue into 2023, but bike brands are getting production and distribution back on track. You can expect wait times for hybrid bikes to drop as bikes become more available to consumers.
Can I get a good bike for under 500?
Yes, it is possible to get a quality entry-level hybrid bike for under $500. The models on this list are made for riders on a budget, so they will weigh slightly more and have lower-tier components. At this price point, the bikes are plenty reliable for daily use and weekend joyrides.
What bike do I need for my height?
Take an updated measurement of your height and compare it to the hybrid bike size chart above. You can measure your leg inseam to double-check that that hybrid bike size is right for you.
What is considered heavy for a hybrid bike?
Heavier hybrid bikes push the 28 lbs. mark, but there is a wide range of hybrids on the market at different weights. The average weight of a hybrid bike is around 25 lbs.
What bike is similar to Trek?
The Giant Escape 3 is a competitive hybrid model compared to Trek's range. Both Trek and Giant are some of the largest bike manufacturers in the world that produce bikes appropriate for any budget. Check out Trek hybrids and the rest of the hybrid bikes of 2023 featured on this list.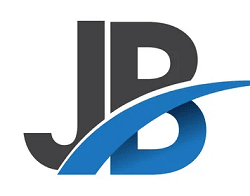 Jeffrey Brown is a writer, editor, and professional bike mechanic with over 7 years of experience working in full-service and community-based bike shops. As a bicycle educator, he has supported youth programs across the US that teach bike mechanics and life skills to prepare the next generation of cyclists.
Jeffrey began his professional mechanic career at his university bike co-op, so he recognizes the grassroots power of the cycling community. Initially self-trained as a mechanic, his subsequent positions as manager and lead educator gave him official training. He has won various awards and grants for his role as a bicycle and environmental advocate.