(Last updated on March 30th, 2023)
Looking to improve your mountain bike skills out on the trails? Mountain bikes under $1000 offer a great entry point to enjoying hard-hitting paths, but not all models are worth the price tag. I've hand-picked the crème de la crème featuring quality suspension forks, mountain-specific groupsets, grippy tires, and more.
Read through this comprehensive buyer's guide to learn about the best mountain bikes under $1000.
How to Choose the Right Mountain Bike: Buyer's Guide
Wheel Size
Unlike road bikes, mountain bikes come in a variety of wheel sizes, so riders have to choose the right one for their needs. 26" was a common MTB wheel size back in the day, but modern bikes come with either 27.5" or 29" rims.
27.5" are the smaller option and are lighter and more maneuverable in technical terrain or tight curves. This option is ideal for smaller riders or MTBers that prioritize a zippy, agile ride feel over stability.
29er wheels are the traditional choice for cross-country and downhill racing because of their fast-rolling capabilities over tough terrain, but they have become a fan favorite across many disciplines. The larger diameter makes it easier to tackle bigger obstacles and offers more traction. If you enjoy high speeds and serious jumps and bumps, 29" wheels are a sure bet.
Brakes: Rim, Mechanical Disc, or Hydraulic Disc?
Mountain bike choice can come down to the type of brakes. With a budget of $1,000, the most affordable mountain bikes come with mechanical disc brakes, but some models run less-powerful rim brakes or ultra-capable hydraulic disc brakes.
Rim brakes are fine for recreational riding, but disc brakes are a more reliable option once you hit the trails. Disc brakes especially outperform their rim-brake counterparts in wet weather and on long descents where brakes come under heavy strain.
Mechanical disc brakes work via a metal cable and are more affordable and easier to self-service. Hydraulic brakes are actuated by brake fluid (typically mineral oil) and are more consistent, but they have a higher price tag.
Drivetrains: 1x or 2x?
Mountain bikes under $1,000 run either 1x or 2x drivetrains. A 2x setup features a pair of chainrings up front to double your gear options, but it's more susceptible to dropped chains over rough terrain. Some bikes on this list have 2×9-speed groupsets for a total of 18 gears a wider range of gears can make for easier climbing and faster flat-out speed.
Higher-end mountain bikes come equipped with a 1x system with a single front chainring. It provides smooth, straightforward shifting with a reduced risk of dropping your chain. The rear cassette typically has a wider range than normal, so you won't be missing out on appropriate gears.
Front Fork Travel… And Full Suspension?
Most mountain bikes on this list are hardtail models meaning they run front suspension but not a rear shock. This keeps costs and weight down and should provide plenty of cushion for the trail riding we expect from an entry-level mountain bike.
Bikes under $1,000 come equipped with around 80-100mm of fork travel. As your skills improve, you'll want to hit bigger trails, so we suggest purchasing a bike with the most fork travel that your budget can afford. Most forks feature a lockout option that makes the fork rigid and more efficient over smooth surfaces like pavement or light dirt trails.
At this price point, full-suspension bikes are largely out of reach. There are options available, but they are often very heavy or made of cheaper components that will slow you down on everything except gnarly terrain. If the original mountain bikers of the 80s and 90s did all of their crazy tricks on hardtails (and fully rigid frames), then it's good enough for us!
How I Picked the Best Mountain Bikes Under $1,000
The mountain bikes featured on this list are the best models among a popular and competitive category of bikes on the market. Almost every mountain bike brand offers an affordable entry-level bike for around $1,000 for consumers looking to start mountain biking. With so many options available to buy, how do we know which bikes are worth the money?
I conducted in-depth research of manufacturer specs from top MTB brands, user reviews, and expert opinions to narrow down the best bikes of 2023. Then, I prioritized well-known brands with bikes that are widely available both online and in your local bike shop, keeping in mind the current bike shortage due to the pandemic.
I considered specific criteria to determine my final selection and ensure that every bike on this list is a quality choice in the long run:
Utility
A mountain bike has to stand up to intense use on the trails and perform on sloping climbs and steep descents. The bike has great capabilities over technical and demanding terrain.
Ride feel
Mountain bikes should feel responsive and maneuverable, even in the trickiest of terrain. The right amount of comfort and stability inspire rider confidence on the mountain.
Durability
The manufacturer chooses quality components that will withstand the rough conditions out on the trail. The $1,000 price tag is an opportunity for a reliable groupset and strong disc brakes.
Price
$1,000 approaches the top of the entry-level category of mountain bikes. Everyone appreciates a deal, and the bikes on this list offer plenty of bang for their buck.
Compare the Best Mountain Bikes Under $1,000 at a Glance
| | | | | | | | |
| --- | --- | --- | --- | --- | --- | --- | --- |
| Model | Summary | Front suspension | Wheel size | Price | Where to buy? | Gearing | Rating |
| Co-op Cycles DRT 1.2 | Best Value Mountain Bike | 120mm | 27.5" | $999 | Check price | 2×9 | 9/10 |
| Rocky Mountain Fusion 30 | Best All-Rounder Mountain Bike | 100mm | 27.5" | $799.94 | Check price | 1×10 | 8.5/10 |
| Cannondale Trail 5 | Best Frame Design | 100mm | 27.5"/29" | $950 | Check price | 1×10 | 8/10 |
| Specialized Rockhopper Comp | Best 29er | 100mm | 29" | $1,000 | Check price | 1×9 | 9/10 |
| Marin Bobcat Trail 4 | Best for Downhill Riding | 120mm | 27.5"/29" | $748.94 | – | 2×9 | 9/10 |
| Kona Blast | Best 1×11-Speed Mountain Bike | 100mm | 27.5" | $1,049 | Check price | 1×11 | 9.5/10 |
| BMC Blast 27 | Best Budget-Friendly Mountain Bike | 100mm | 27.5" | $799 | Check price | 1×10 | 9.5/10 |
| Trek Marlin 7 | Best Overall Mountain Bike | 100mm | 27.5"/29" | $1,029 | – | 1×10 | 9.5/10 |
Best Value Mountain Bike
1. Co-op Cycles DRT 1.2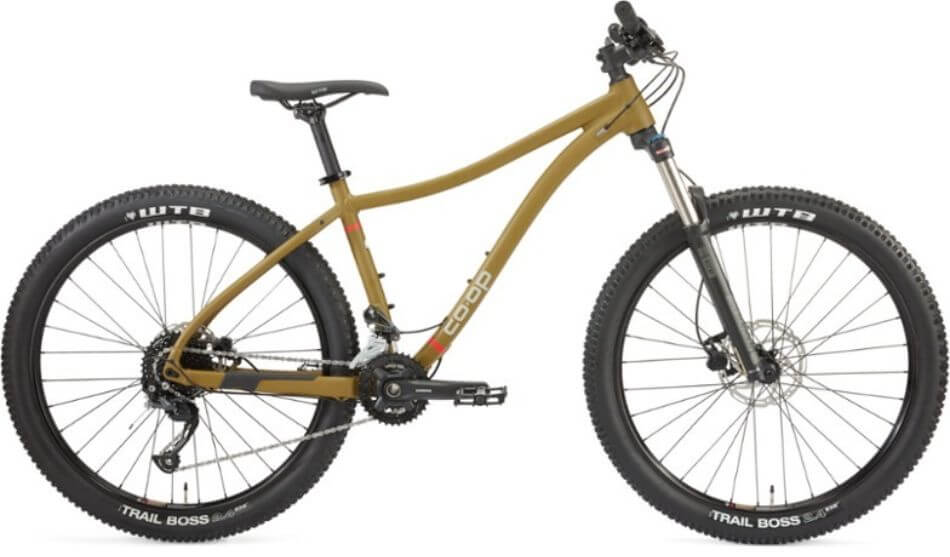 PROS
Hydraulic disc brakes
Great value
REI warranty
Long 120mm fork travel
CONS
Outdated 2x drivetrain design
REI's in-house bike brand continues to deliver serious performance at a competitive price with the all-mountain DRT 1.2. Perfect for beginners starting on singletrack or veterans getting back into trail riding, the hardtail aluminum bike has 120mm of front travel and 27.5" wheels.
Integrated cabling is a luxurious touch on the otherwise standard 2×9-speed Shimano Altus groupset. I would like to see a 1x drivetrain at this price, knocking the rating down slightly, but the hydraulic disc brakes and knobby WTB Trail Boss 2.4" wide tires recuperate the bike's trail capabilities. Some riders may like the 2x setup that's seemingly borrowed from the road cycling world, but I find it a bit of an odd choice— it's a smart way to increase the gear range, though!
I'm a big fan of the "Moss" colorway that reminds me of a bold beige (if that isn't an oxymoron) so the bike will still look great caked in mud or covered in dirt. Like many other hardtails at this price range, the DRT 1.2 relies on a SR Suntour XCR 120mm that'll get the job done. Riders receive a bit more travel than a typical cross-country 100mm setup, too.
The classic DRT 1.2 is being discontinued, however, so REI can make room for its new fleet of in-house bicycles. You can take this opportunity to snag this affordable mountain bike setup for just $699 online! If you ask me, that's a total steal and a great way to kickstart your mountain bike journey.
RATINGS
| | |
| --- | --- |
| Utility | 5/5 |
| Ride feel | 5/5 |
| Durability | 4/5 |
| Value | 5/5 |
Best All-Rounder Mountain Bike
2. Rocky Mountain Fusion 30
PROS
MicroSHIFT Advent X 10-speed groupset
Lightweight 6061 aluminum frame
Hydraulic disc brakes
CONS
Run-of-the-mill 100mm Suntour fork
Let loose on the singletrack routes with the impressive Rocky Mountain Fusion 30. This hardtail XC bike mixes efficiency and capability in an affordable package that punches above its weight. The setup comes tubeless-ready with large 29" wheels to tackle a variety of terrains.
Riders can rely on the 6061 aluminum alloy frame and Suntour XCR 100mm front fork. Rocky Mountain claim that the Fusion is more of a "downcountry" model, meaning it's rated for terrain a bit rougher than typical cross-country routes. It's true that the geometry is a bit slacker than the standard XC bike with longer reach and slack head tube, but the 100mm fork will limit the terrain developing riders can attack.
There's also a mountain-specific MicroSHIFT Advent X 10-speed drivetrain for smooth shifting. The relatively short-travel fork travel docks a point from my rating, but the Clarks M2 2-piston hydraulic disc brakes and grippy WTB Ranger Comp 29×2.4" tires boost confidence on the trails. The 11/48t cassette offers a fairly wide range of gears so you can send it no matter which direction you're pointing on the mountain.
The Fusion 30 is available in frame sizes S-XL and colorways that mix black/blue and black/orange. It's a straight-ahead paint job but I think it looks attractive and fast, matching the sleek frame profile. At just $799, this dependable hardtail is an excellent entry-level option with hints of high-end touches. To start your mountain biking journey, the Fusion 30 will encourage you to develop skills and test your limits.
RATINGS
| | |
| --- | --- |
| Utility | 5/5 |
| Ride feel | 4/5 |
| Durability | 4/5 |
| Value | 5/5 |
Mountain Bike with Best Frame Design
3. Cannondale Trail 5
PROS
Frame material and geometry
29" wheels on larger frame sizes
The Cannondale Trail 5 is built around a lightweight and durable SmartForm C3 alloy frame for excellent handling on light trails and gravel roads. It's a perfect upgrade from an entry-level mountain bike to take your skills to the next level.
The Suntour XCM fork offers 100mm of travel, and Cannondale's SAVE micro-suspension technology adds extra flex for a controlled ride. The Suntour fork isn't a stand-out piece of kit but it'll get the job done on fast singletrack and dirt trails. Cannondale's main benefits come from its advanced frame design that packs in a lot of performance that's felt while riding rather than seen.
Similar to the Trek Marlin 7, smaller frame sizes come with 27.5" wheels, and larger models have 29ers to achieve the best fit for any rider. The slack 68° headtube angle provides excellently stable handling on steep descents.
The Trail 5 model is one of the entry-level options within Cannondale's Trail lineup, sitting right about the even more affordable Trail 6 bike. In another product roundup, I selected the Cannondale Trail 4 as one of the best beginner mountain bikes out there, but for this article, I'm sticking to our $1,000 budget. The Trail 5 slots in right under the mark at $950 and delivers a whole lot of bike for the price.
The Trail 5 used to have a 1×10-speed groupset, but has switched to a 2×10 Shimano Deore system. In a previous article, I mentioned I wanted to see Deore but still wish it was a more modern 1x setup. Reliable Tektro hydraulic round out the bike's componentry, making this model a sure bet for amateur mountain bikers.
RATINGS
| | |
| --- | --- |
| Utility | 4/5 |
| Ride feel | 4/5 |
| Durability | 4/5 |
| Value | 4/5 |
Best 29er Mountain Bike
4. Specialized Rockhopper Comp
PROS
29" wheels
Shimano MT200 hydraulic disc brakes
Great look and colorways to choose from
The Specialized Rockhopper Comp is a purebred 29er designed for hard-hitting adventure and fast-rolling singletrack. While other models on this list only pair 29" wheels on the larger frame sizes, this bike is purpose-built to rock the big rims. The Rockhopper Comp comes in right on budget and features a Suntour XCM fork and Stout 29" wheelset.
Previous generations of the Rockhopper used to come with Shimano MT200 hydraulic disc brakes. but they've swapped over to SRAM Level hydraulic stoppers which are just as powerful. The important point is that they are hydraulic brakes so you can send bigger descents with confidence, even in wet or muddy conditions.
The hardtail Premium A1 aluminum frame looks great and is available in a variety of stylish colorways. The microSHIFT Advent drivetrain only runs nine gears, but the 11/42t cassette offers an ultra-wide range of cogs for efficient climbing and flat-out speed. At this price, that average groupset is the price you have to pay for the extra performance of the 29" wheels.
Specialized's Rockhopper model is one of the best known entry-level mountain bikes on the market and has supported beginner riders for many years. It's a tried and tested machine that's a perfect bike to really get stuck into off-road riding.
There are four distinct color options— normally a rare privilege— so you can match your bike to your personal style. As this bike has been around the industry for a while, there are deals to be had online!
If 29er is what you want, you can't go wrong with this trail machine from one of the best mountain bike brands on the market.
RATINGS
| | |
| --- | --- |
| Utility | 5/5 |
| Ride feel | 4/5 |
| Durability | 5/5 |
| Value | 5/5 |
Best Mountain Bike for Downhill Riding
5. Marin Bobcat Trail 4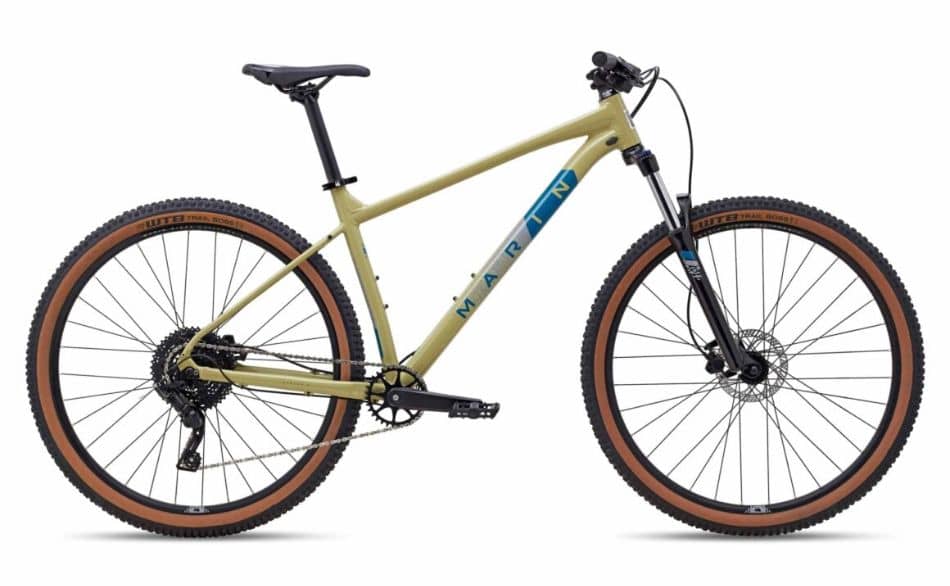 PROS
120mm front suspension
29" wheels on M-XL frames
Aggressive geometry
The Marin Bobcat 4 is an aggressive hardtail mountain bike with impressive downhill capabilities for the price. The slack 67° headtube angle and 120mm front fork travel give it superpowers on steep descents, terrain normally beyond the limits of most affordable mountain bikes.
This model comes with a few upgrades over the entry-level Bobcat Trail 3, including a Shimano Altus 2×9 drivetrain and Suntour XCM HLO DS fork. The only other bike on this list with such long front suspension travel is the Co-op DRT 1.2. The previous general of the Bobcat 4 came with a Shimano 2x groupset, so I'm glad to see that Marin got with the trends and made the switch to a 1x setup. That said, I would have appreciated a 10-speed groupset like many of the other models on this list.
If you're eyeing the Bobcat Trail 4, I recommend purchasing the sand/blue colorway that looks stellar and comes with tan sidewall tires. The light beige frame color and knobby WTB tires with sidewall accents exclaim mountain fun— hey, you've got to look good out on the trail too!
The Bobcat Trail 4 is a purebred cross-country bike with a large appetite for singletrack trails and backwoods paths. The larger frame sizes come with 29" wheels and the smaller sizes run agile 27.5" rims. WTB Trail Boss Comp 2.25" tires feature a great tread pattern and tan sidewall. The Bobcat Trail 4 won't break the bank and is the perfect upgrade to take your downhill skills to the next level.
RATINGS
| | |
| --- | --- |
| Utility | 4/5 |
| Ride feel | 5/5 |
| Durability | 4/5 |
| Value | 5/5 |
Best 11-Speed Mountain Bike
6. Kona Blast
PROS
RockShox Judy Silver TK Solo Air 100mm
Shimano Deore 1×11-speed
Shimano hydraulic disc brakes
Legendary mountain-specific bike brand Kona designed the Blast to be the perfect all-rounder hardtail mountain bike for off-road adventures. The component spec level is second to none for the price.
The Blast is outfitted with a RockShox Judy Silver 100mm fork and mountain-specific Shimano Deore 1×11-speed drivetrain. These two high-quality components make this bike worth it, and definitely justify the extra $49 you'll have to go above the $1,000 budget. Most of the other mountain bikes on this list only have 9 or 10 gears— and some use 2x or 3x groupsets— but this Kona model blasts them out of the water with a premium 11-speed setup.
The Blast is designed for making it up even the steepest of gradients, thanks to its small 28t front chainring and ultra-wide rear cassette. The 11-speed cassette runs 11/51t for a generous spread of gear ratios, the widest in this product roundup. And when it's time to turn downhill, riders can fit tires up to 2.8" to transform this bike into a plus-sized trail machine. More advanced riders may find the 100mm fork to be a little short, but if that's happening, you'll probably be better off with a higher-end mountain bike anyway.
The nimble 27.5" WTB wheels come with grippy Maxxis Forekaster 2.35" tires to handle any backwoods terrain. If you're on the hunt for a 29er instead, check out Kona's Mahuna mountain bike for all the larger-wheel benefits. The name-brand parts extend to the quality Shimano MT201 hydraulic disc brakes. This bike is $49 over budget, but this deal is too good to pass up.
RATINGS
| | |
| --- | --- |
| Utility | 4/5 |
| Ride feel | 5/5 |
| Durability | 5/5 |
| Value | 5/5 |
Best Budget-Friendly Mountain Bike
7. BMC Blast 27
PROS
Shimano Deore 1×10-speed
Fantastic price
Stylish colorway
CONS
2.2" tires for lighter trails
Here we have another rockstar mountain bike named "Blast", this time from Swiss manufacturer BMC and at a more affordable price than the Kona Blast. The budget-friendly cross-country hardtail features a 100mm Suntour fork and Shimano Deore 1×10-speed drivetrain.
I've reviewed this bike before, and I'm always a fan of its quality componentry and killer aesthetics. The design philosophy is similar to the Kona Blast (although the matching name appears to be a coincidence) insofar as nice parts are key to trail performance. The bike also embraces 27.5" instead of large-diameter 29" wheels for a more playful ride feel. The Blast is whippable and nimble around tight corners but may feel a bit lacking over the biggest obstacles.
That said, the BMC Blast is around $250 cheaper than the Kona model so there have to be compromises somewhere— it is swapped the Shimano Deore 11-speed groupset for the 10-speed option and does not have as fancy of a front fork. If you're trying to keep your budget under the $800 mark, however, this model delivers tons of performance per dollar.
The Maxxis Ardent Race 2.2" are slightly skinner than other models on this list, but they perform well on XC circuits and lighter terrain. I would have liked to see knobbier tires but that's a relatively simple and low-cost swap further down the line if that's what you need. Shimano hydraulic brakes round out the mountain-specific components, making this bike one of the best available for the money.
RATINGS
| | |
| --- | --- |
| Utility | 5/5 |
| Ride feel | 5/5 |
| Durability | 4/5 |
| Value | 5/5 |
Best Overall Mountain Bike
8. Trek Marlin 7
PROS
RockShox Judy fork
29" wheels on larger frame sizes
Shimano Deore drivetrain
At the upper end of the Marlin range, the Trek Marlin 7 is a race-worthy hardtail mountain bike rocking a long-cage Shimano Deore 10-speed drivetrain and RockShox Judy 100mm fork. Size S come with 27.5" wheels and the larger frames have fast-rolling 29" wheels. Smaller frames run a curved top tube to lower the standover height and facilitate mounting the bike.
The Trek brand specializes in making bikes that are innovative and competitively priced. This second generation of the Marlin turns up the dial and delivers plenty of performance for developing riders. The Marlin lineup is extensive so interested riders can check out the various componentry packages to see which one best fits their needs.
The spec package is similar to the Kona Blast— including the RockShox Judy fork and Deore groupset— but the Trek Marlin has one fewer gears at the rear (10). The Bontrager tires are also relatively slick so if you are venturing into zones that are rougher than standard XC territory, you may want to swap them out for some knobbier rubber.
The advanced aluminum frame features internal cable routing for a clean look as well as rack and kickstand mounts if you want to use the Marlin 7 as your daily rider. The Marlin is just barely over budget for this product roundup but I'd dare to say the extra $29 can be well worth it for most mountain bikers. For the price, I would have liked to see a 11-speed groupset, but feel free to browse the entire Marlin lineup to find the perfect bike for your budget.
RATINGS
| | |
| --- | --- |
| Utility | 5/5 |
| Ride feel | 4/5 |
| Durability | 5/5 |
| Value | 4/5 |
Related: Best Budget Mountain Bikes
Mountain Bike Size Chart
| | | | | | |
| --- | --- | --- | --- | --- | --- |
| Height (ft/in) | Height (cm) | Leg inseam (inches) | Leg inseam (cm) | Suggested Frame Size (in) | Suggested Wheel Size |
| 4'10 – 5'3″ | 147-160cm | 25 – 28″ | 62-70 cm | 13 – 14″ | 26″ |
| 5'4 "- 5'7" | 160 – 170cm | 25 – 30″ | 63 – 76 cm | 15 – 16″ | 26″ |
| 5'5″ – 5'9″ | 165 – 175cm | 26 – 31″ | 66 – 78 cm | 16 – 17″ | 27.5″ |
| 5'9″ – 6'0″ | 175 – 183cm | 27 – 32″ | 68 – 81 cm | 17 – 18″ | 27.5″ |
| 6'0″ – 6'3″ | 183 – 190cm | 28 – 33″ | 71 – 83 cm | 18 – 19″ | 29″ |
| 6'1″ – 6'6″ | 190 – 200cm | 29 – 34″ | 73 – 86 cm | 19″ + | 29″ |
Frequently Asked Questions
What is the best mountain bike for your money?
I've rated the Trek Marlin 7 as the best overall mountain bike, but if you're looking for the best bang for your buck, the Co-op Cycles DRT 1.2 model is a great value with 120mm suspension and hydraulic disc brakes. For people on a tighter budget, the BMC Blast 27 is one of my favorite bikes that looks great and features a top-spec 1×10 Shimano Deore groupset.
Can you get a good mountain bike for $1000?
Yes, a $1,000 mountain bike can be a high-quality entry-level model to improve your skills and enjoy the trails. Bikes at this price point are a step up from budget options and typically include up to 100mm of front travel, mechanical disc drakes, and upgraded groupsets.
What size mountain bike do I need?
Take an updated measurement of your height and use our mountain bike size chart to determine the correct frame size. Mountain bikes also come in various wheel sizes depending on your height and riding preferences. Most adults choose between nimble 27.5" wheels or large, faster-rolling 29" rims.
What bike is comparable to Marlin 6?
For just a little more money, riders can purchase the upgraded Trek Marlin 7 and still be around the $1,000 budget. There are several Marlin options to choose from, but I appreciate the RockShox Judy fork and 1×10-speed Shimano Deore groupset on the Marlin 7. The Giant Talon 1 is a comparable mountain bike for the price.
Which is better Marlin or Talon?
The Trek Marlin and Giant Talon mountain bikes both made it on this list because of their stellar performance for the price. Both models feature the MTB-specific 1×10-speed Shimano Deore groupset and come with large 29" wheels on the bigger frame sizes. The Marlin has a higher quality RockShox Judy fork, while the Talon's ALUXX aluminum frame is a bit better.
Is Trek better than Giant?
Trek and Giant are two of the largest bike manufacturers in the world, but choosing a favorite is mostly up to personal preference. Both brands offer a wide range of mountain bikes to fit any budget. The most popular models around the $1,000 mark are the Trek Marlin 7 and the Giant Talon 1.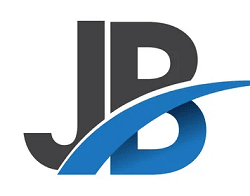 Jeffrey Brown is a writer, editor, and professional bike mechanic with over 7 years of experience working in full-service and community-based bike shops. As a bicycle educator, he has supported youth programs across the US that teach bike mechanics and life skills to prepare the next generation of cyclists.
Jeffrey began his professional mechanic career at his university bike co-op, so he recognizes the grassroots power of the cycling community. Initially self-trained as a mechanic, his subsequent positions as manager and lead educator gave him official training. He has won various awards and grants for his role as a bicycle and environmental advocate.