(Last updated on March 20th, 2023)
Finding a quality mountain bike doesn't have to hurt your wallet. I've researched the top brands and most reviewed models to create this complete guide to the best mountain bikes under $500.
These recommended bikes are ideal for budget-conscious riders that are looking to start developing their skills out on the trail while not breaking the bank. Keep scrolling to learn about the top affordable mountain bikes available for sale in 2023.
What is an Entry-Level Mountain Bike?
Mountain bikes priced around $500 means they are entry-level models designed for budget-conscious riders or beginners just starting out on the trails. Anything under $400 probably doesn't include enough quality components to make it a worthwhile purchase, but there are several bikes at the $500 price point that will perform well for many miles to come.
The affordable mountain bikes in this product round-up have several features in common that keep them budget-friendly and reliable on the trails. Most of the bikes are hardtail designs which means they have a rigid frame (no rear suspension) but include 80-100mm of travel from the front fork. The bikes also have a triple chainring design as opposed to the higher-end 1x drivetrain system on more expensive MTBs.
How I Picked These Budget-Friendly Mountain Bikes
The demand for affordable mountain bikes is at an all-time high because of their versatility and the increased popularity of biking during the Covid-19 pandemic. This means there are thousands of bikes on the market today— how do we know which ones are worth the money?
I considered candidates from top MTB manufacturers as well as popular budget brands to narrow down my selection. I read through extensive technical specs, user reviews, and bike expert opinions to make sure each bike on this list is a quality choice in the long run. My ratings of each bike were based on the following criteria:
Ride Feel
Affordable bikes don't have to feel cheap. Frame geometry and quality components can be the difference between a clunky experience and a smooth, enjoyable ride.
Reliability
Mountain bikes are built to withstand rough conditions out on the trail. Bikes with cheap parts can break under stress and spend more time in the shop than out on the mountain.
Price
Most of the bikes featured on this list are under $500. I've included a few models priced slightly higher because of their impressive value for money.
Best Mountain Bikes Under $500: Comparison at a Glance
| | | | | | | | | |
| --- | --- | --- | --- | --- | --- | --- | --- | --- |
| Model | Summary | MTB Type | Wheel size | Price | Where to buy? | Rear suspension? | Mechanical disc brakes? | Frame material |
| Trek 820 | Best Overall Affordable MTB | Hardtail | 26" | $499 | – | | | Aluminum |
| Co-op Cycles DRT 1.1 | Best Componentry on Entry-level MTB | Hardtail | 27.5" | $599 | Click here | | x | Aluminum |
| Vilano Blackjack 3.0 | Most Affordable 29" Mountain Bike | Hardtail | 29" | $399 | Click here | | x | Aluminum |
| Mongoose Dolomite Fat Tire Bike | Best Fat Tire Mountain Bike Under $500 | Hardtail | 26" | $498 | Click here | | x | Steel |
| Schwinn High Timber 29 | Best 29" Steel Mountain Bike | Hardtail | 29" | $439 | Click here | | | Steel |
| Schwinn Traxion 29 | Best Full Suspension Mountain Bike on a Budget | Full-suspension | 29" | $699 | Click here | x | x | Aluminum |
Related Article: Best Mountain Bike Brands: Our Top 8 Picks in 2023
Best Overall Affordable Mountain Bike
1. Trek 820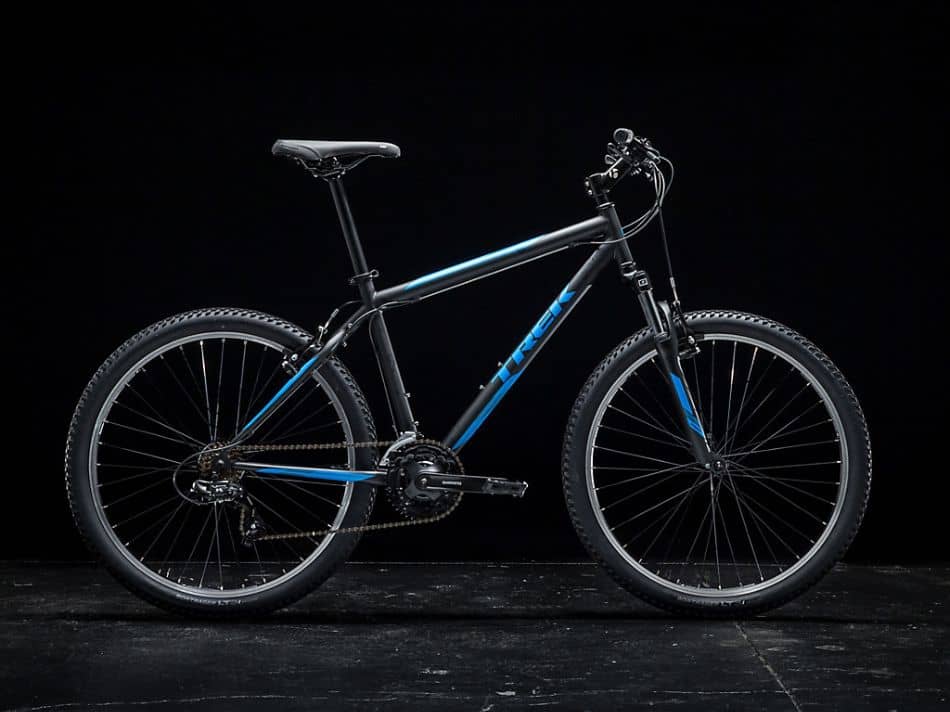 PROS
Excellent value and reliability
Shimano Tourney 21-speed groupset
Responsive and stable on technical trails
CONS
Less powerful rim brakes
Traditional, smaller 26" wheels
Heavier Trek Custom Steel frame
The Trek 820 is the perfect mountain bike for beginners to explore parkways, city paths, and light trails. Speaking as a bicycle mechanic, I can tell you that this model is one of the most popular entry-level mountain bikes around. The 820 is a common sighting around town, across bike shops, and on tame trails, lasting years given it is taken care of well.
For such a budget-friendly model, the frame geometry has a good shape that's reminiscent of Trek's higher-end designs. The rider position is fairly upright and allows for high stability and confidence on mountain trails. This model can easily double as a hybrid bike to dash through city streets and navigate potholes worry-free.
Riders can choose between a huge range of gears thanks to the triple front chainring and 7-speed rear cassette. Smooth shifting is provided by Shimano Tourney front and rear derailleurs which are solid components for this price range. The 820 missed out on a perfect rating because of outdated parts like the steel frame and small-diameter 26" wheels. The steel material adds heft while smaller wheels can limit the bike's off-road capabilities.
The 820 has rim brakes instead of more powerful disc brakes to keep costs down. I would rate the bike even higher if it came equipped with stronger brakes. However, for the type of riding most people will be doing on this bike, those brakes offer plenty of stopping power.
Best Componentry on Entry-level MTB
2. Co-op Cycles DRT 1.1
PROS
Powerful hydraulic disc brakes
Shimano Tourney dependable shifting
All-terrain Kenda tires
From the popular mountain bike brand Co-op Cycles, the DRT 1.1 is your golden ticket to embark on off-road adventures. REI's sub-brand Co-op Cycles is well known for offering quality bikes at amazing prices.
The brand put together an impressive beginner mountain bike with hydraulic disc brakes, 100 mm front suspension, and Shimano Tourney shifting, all for just $599. The DRT 1.1's price tag stretches a bit beyond this list's $500 budget, but I couldn't pass up on including it.
The DRT 1.1 features a durable aluminum frame and 27.5" wheels (the XXS size has 26" wheels) to handle rough terrain and off-road abuse. The SR Suntour suspension fork, installed on several bikes in this round-up, provides 100mm of travel to soak up bumps. Kenda Kadre 2.1" tires are grippy enough for technical trails but can still be enjoyed on smooth surfaces.
The shining star of this mountain bike's set-up is the Tektro hydraulic disc brakes that provide reliable stopping power regardless of weather conditions. Hydraulic brakes are typically reserved for higher-end models, but Co-op Cycles has cracked the code on making them affordable.
The DRT 1.1 has a conventional 3×7 drivetrain with Shimano Tourney derailleurs for buttery smooth shifting, as well as well-chosen gearing to tackle steep climbs. This bike would be rated higher if was a bit more affordable, but for the price it's a solid value. For the mountain biker that's willing to spend the extra $100 on worthwhile componentry, the DRT 1.1 is a capable machine that'll conquer trails for years to come.
Most Affordable 29" Mountain Bike
3. Vilano Blackjack 3.0
PROS
29" wheels
Mechanical disc brakes
Fantastic value for the price
CONS
Not the best groupset
A bit heavy
A mountain bike with 29" wheels for only $399? I know— I couldn't believe it at first either. The Vilano Blackjack 3.0 is ideal for taller riders or riders that want to take advantage of those large 29" hoops to navigate technical trails. Bigger wheels make it easier to roll over sizable obstacles out there on the mountain and give the bike a more stable feel, especially at high speeds.
While the 29ers are the main attraction, the other components do a good job of completing the mountain bike package. The butted 6061 aluminum hardtail frame has standard geometry, and the front suspension fork offers 80mm of travel. That's not as much cushion as rival bikes, but riders of the Blackjack 3.0 probably won't be doing any crazy stunts and jumps that require too much extra shock absorption. The fork does have an easy lockout function, though.
Reliable stopping power comes from the front and rear mechanical disc brakes, another impressive piece of tech considering the ultra-affordable price point. The bike has 24 speeds and an alloy 42/34/24 triple chainring, so there are low gears for climbing and high ones for flat-out speed. Better suspension and smoother shifting would get this bike up to a 10 rating. For beginner riders that want their first 29" mountain bike, the Vilano Blackjack 3.0 is a steal of a deal.
Best Fat Tire Mountain Bike Under $500
4. Mongoose Dolomite Fat Tire Bike
PROS
Huge 4" tires for any conditions
Durable steel frame
Strong mechanical disc brakes
The Mongoose Dolomite is an incredibly priced fat bike with 4" knobby tires designed to handle any terrain you come across. If you've never ridden a fat bike, the beefy set-up and ultra-wide rubber make you feel invincible over tough trails with snow, mud, or sand. It's a fun ride experience on paved paths, too. Mongoose is a brand that's been around for a long time and is well known for offering quality bikes on a budget.
The Dolomite is built around a durable steel mountain bike frame that isn't the lightest material, but it'll stand up to all-terrain use and abuse. The brawny 26" wheels are paired with monster 4" tires with a medium tread pattern for on- and off-road grip. The bike runs a 7-speed drivetrain with a twist shifter. It's not the best shifting, but, after all, the draw of this bike is the fat tires and not the gears.
Front and rear mechanical disc brakes provide excellent stopping power, especially combined with the high traction of the fat tires. There's no front suspension, but it's not very necessary because the large air volume tires absorb many of the bumps. The bike comes with heavy rims and simple shifting, so it doesn't get full marks.
The Dolomite is a perfect first fat bike for riders that want to try out the category and explore all types of terrain. If you live in an area with severe weather or you frequently change terrains, this Mongoose bike can conquer it all.
Best 29" Steel Mountain Bike
5. Schwinn High Timber 29
PROS
29" wheels
Shimano gearing
Great for taller riders
CONS
Heavy steel frame
No disc brakes
The High Timber 29 is a classic mountain bike with modern 29" wheels for cruising around city paths, parkways, and light trails. Ideal for taller riders, the one-size frame best fits people between 5'7" and 6'2". The Schwinn brand has a long history in bike building and has recently concentrated more on offering affordable aluminum and steel bikes.
This version of the High Timber uses a rigid 18" steel mountain bike frame and Schwinn front suspension. The frame shape provides an upright riding position perfect for beginners improving their skills out on the trails.
Riders that want a lighter bike can check out the more expensive aluminum ALX model that costs $539. The 29" wheels have single wall alloy rims and grippy tires with a stylish green stripe to match the blue and green colorway. The heavy steel can make this bike heavy for some riders, knocking down a point or two on my rating.
Riders have 21 gears at their disposal to climb steep hills and go full-gas on flatter paths, with precise shifting with Shimano Revoshift twist grip system. While the bike doesn't have disc brakes, the linear-pull rim brakes work fine to provide secure stopping power and control. The High Timber 29 is the right bike for taller riders who want to take advantage of 29" wheels to navigate paths and technical trails with ease.
Best Full Suspension Mountain Bike on a Budget
6. Schwinn Full Suspension Traxion 29
PROS
Front and rear suspension
Double walled 29" rims
CONS
Not as affordable as hardtail models
For mountain bikers that tackle steep hills and gnarly descents, the Schwinn Traxion 29 is the full-suspension solution you've been waiting for. One of the most affordable full-suspension mountain bikes on the market, it's a great way to explore all those technical trails you've had on your bucket list.
While the bike comes in above the $500 mark, I included it because of its great value to price ratio and an option to riders who are on the fence about buying a hardtail or full-suspension model. A major upgrade to the other Schwinn 29er on this list, the Traxion comes with mechanical disc brakes and 24-speed trigger shifters for precise gear changes.
The all-terrain, knobby mountain tires hook up with the aluminum, high profile double wall 29" rims for great performance in rough conditions and technical routes. The coil spring rear suspension and front fork bring a new level of shock absorption when you're hitting those bumps and jumps. The Traxion 29 is the ultimate machine for riders who want full-suspension performance but are still on a budget.
Related: Best Budget Mountain Bikes
How to Pick the Perfect Mountain Bike for You
To find the right mountain bike for you, think about where you will ride your new bike. Technical trails and big obstacles require more suspension and knobby tires to give you enough grip and stability. Fat bikes do best in snowy and sandy conditions. If you want to ride light trails and city paths, a moderate MTB will fit the bill.
One of the most important steps to selecting the perfect bike is choosing the appropriate frame and wheel size. Check out the size chart below to determine the correct size MTB based on your height and leg inseam.
Mountain Bike Size chart
| | | | | | |
| --- | --- | --- | --- | --- | --- |
| Height (ft/in) | Height (cm) | Leg inseam (inches) | Leg inseam (cm) | Suggested Frame Size (in) | Suggested Wheel Size |
| 4'10 – 5'3″ | 147-160cm | 25 – 28″ | 62-70 cm | 13 – 14″ | 26″ |
| 5'4 "- 5'7" | 160 – 170cm | 25 – 30″ | 63 – 76 cm | 15 – 16″ | 26″ |
| 5'5″ – 5'9″ | 165 – 175cm | 26 – 31″ | 66 – 78 cm | 16 – 17″ | 27.5″ |
| 5'9″ – 6'0″ | 175 – 183cm | 27 – 32″ | 68 – 81 cm | 17 – 18″ | 27.5″ |
| 6'0″ – 6'3″ | 183 – 190cm | 28 – 33″ | 71 – 83 cm | 18 – 19″ | 29″ |
| 6'1″ – 6'6″ | 190 – 200cm | 29 – 34″ | 73 – 86 cm | 19″ + | 29″ |
Frequently Asked Questions
What is a good mountain bike under $500?
Each of the mountain bikes under $500 featured on this list are quality options, but my personal favorite is the Vilano Blackjack 3.0. At only $399, it's a major deal considering the 6061 aluminum frame and large 29" wheels. It also comes equipped with mechanical disc brakes and cushy front suspension with 100mm of travel.
Are 29ers better?
In recent years, mountain bikes with 29" wheels have skyrocketed in popularity among professional riders and recreational cyclists alike. The idea is that the larger wheel has more easily roll over rock, roots, and other obstacles out there on the trail. The bigger size is also more stable at higher speeds and inspires riding confidence. One downside is that 29" wheels and their frame sizes can be too big for shorter riders that feel more comfortable on smaller bikes.
Are cheap mountain bikes any good?
Many cheap mountain bikes are available on the market, but only some of them are worthwhile purchases that'll last a long time. Each bike featured on this round-up offers quality performance and has been positively reviewed by bike experts and actual users. Take a look at the bikes above and browse budget-friendly models that don't cut corners.
What is a decent Mountain Bike brand?
Quality mountain bike brands produce bikes built to last and stand up the abuse out on the trail. They should also offer bikes at various price points to match different budgets. My favorite affordable brand is Co-op Cycles, and my top-tier preference is Santa Cruz. To learn more about all the top MTB brands, check out our article on the Best Mountain Bike Brands of 2023.
What is a reasonable price for a Mountain Bike?
A reasonable price for a beginner mountain bike falls between $400-$800. There are many quality options within that range to match a rider's preferences and style. MTBs below $400 come with components that aren't built to last and can be difficult to repair when something goes wrong. Mid-tier mountain bikes have additional capabilities and are priced $1,000 and up.
What should I look for in a mountain bike?
Consider your riding style and where you are planning on riding the bike. Choose between a hardtail or full-suspension model. Based on your height, select the right frame size and wheel size. Browse bikes that match your preferences and prioritize components that will last a long time over flashy accessories. Budget options are nice on the wallet but can sometimes lead to more repairs down the road.
Are full-suspension mountain bikes worth it?
Full-suspension mountain bikes are worth the higher price tag and extra weight for riders that frequent technical trails with fast descents. The extra rear suspension allows riders to maintain high speeds over rough terrain and absorb bumps from rocks and roots. If you plan on exploring light trails and riding on pavement, a hardtail mountain bike is the ideal machine.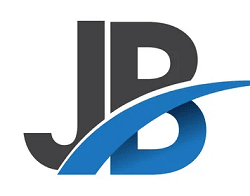 Jeffrey Brown is a writer, editor, and professional bike mechanic with over 7 years of experience working in full-service and community-based bike shops. As a bicycle educator, he has supported youth programs across the US that teach bike mechanics and life skills to prepare the next generation of cyclists.
Jeffrey began his professional mechanic career at his university bike co-op, so he recognizes the grassroots power of the cycling community. Initially self-trained as a mechanic, his subsequent positions as manager and lead educator gave him official training. He has won various awards and grants for his role as a bicycle and environmental advocate.