(Last updated on January 31st, 2023)
When adventures take you off-road, gravel bikes and mountain bikes can handle the unexpected twists and turns. But which bike is best for you when navigating the tricky roots and rocks? How should you decide between a gravel bike and a mountain bike?
This useful guide will explain the differences between gravel and mountain bikes and explain their respective advantages and shortfalls. Keep reading to find out where your riding preferences fit in between gravel bikes and mountain bikes.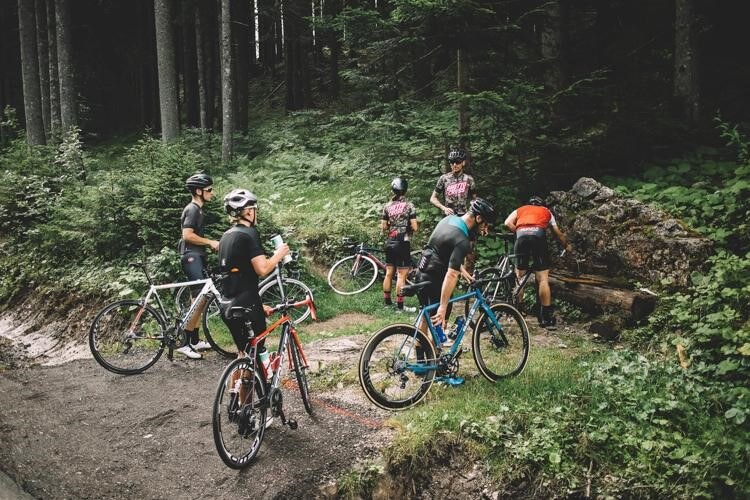 For mountain bike enthusiasts, gravel bikes may seem like modern-day remakes of the older rigid MTB bikes from the '80s and early '90s. Straightforward suspension-less setups with medium tread tires. But what makes gravel bikes different from the various mountain bike options currently on the market?
A Brief History of Gravel Bikes and Mountain Bikes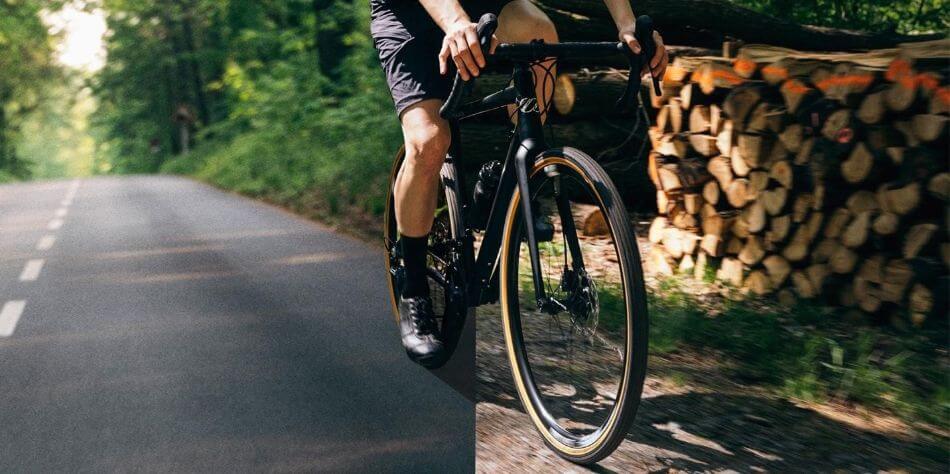 Gravel bikes' popularity has skyrocketed over the past few years, but the specific category is still relatively new. The Minnesota bike manufacturer Salsa Cycles made the first so-called 'gravel bike' in 2012 as an alternative to cyclocross and road models. More and more riders have since joined the trend of 'multi-surface riding' or frequently switching between pavement, gravel routes, light trails, and fire roads.
The most useful comparison here is between gravel bikes and hardtail mountain bikes. Hardtail MTB models have front suspension but the frame maintains a rigid rear— or hardtail. Other mountain bikes with full front and rear suspension are built for rough conditions and are a bit too dissimilar to gravel bikes to warrant an accurate and helpful comparison.
Let's take a look into the important differences between gravel bikes and hardtail mountain bikes.
Differences Between Gravel Bikes and Mountain Bikes
Both gravel bikes and mountain bikes are designed for off-road performance but are optimized for different purposes.
Mountain bikes can easily handle pavement and urban settings but are best suited to tougher terrain, steep climbs, and bumpy obstacles. The heavy tire tread and low gearing make city riding relatively cumbersome and slow-going.
Gravel bikes, on the other hand, take inspiration from road bike geometry and specifications. They roll efficiently on smooth surfaces and perform well on off-road terrain because of their beefier tires. These bikes are perfect for pavement veterans looking to expand their route options to adventurous gravel paths and dirt tracks.
But if you'll be riding steep and technical terrain with serious jumps and bumps, a mountain bike is still your best bet.
Different Bikes, Different Limits?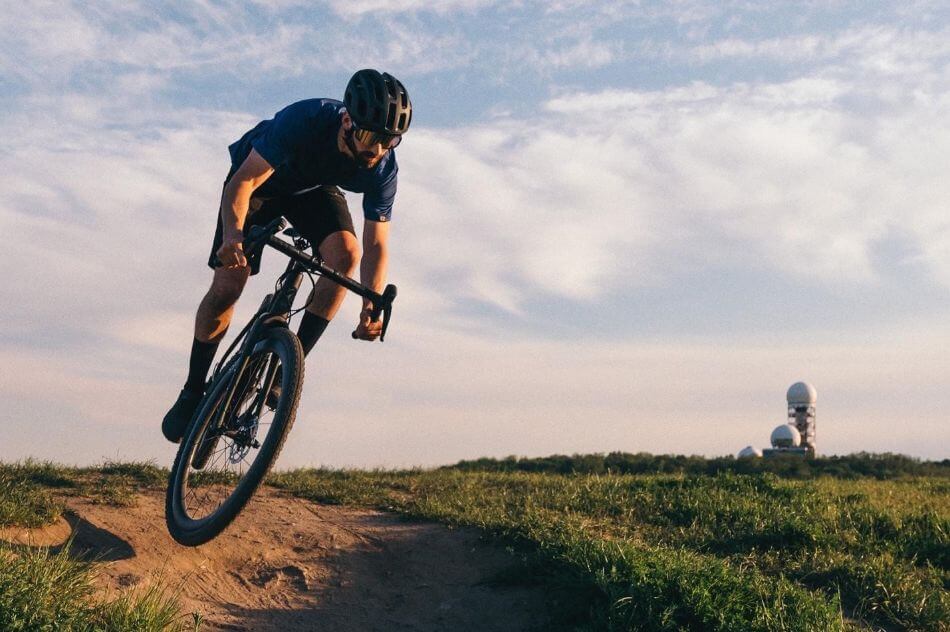 I'm a firm believer that a bike's capabilities are (almost) limitless. Sure, not all bikes are created equal and bikes are designed with specific uses in mind, but recommendations are, well… just recommendations. Get the bike that best matches your riding style and preferred terrain but don't be afraid to ride beyond the suggested terrain sometimes.
Mainly a roadie, I've taken my full carbon frameset on serious gravel, rocky terrain, and pot-hole-galore commutes. Okay, I missed out on some comfort and performance gains but me and my bike always completed the adventure. With proper upkeep, bikes are a lot stronger and more resilient than you think! Take this guide as an educated suggestion and adventure wherever your heart desires, be it on atop a gravel bike or mountain bike.
Spec Difference b/w Gravel Bikes and Mountain Bikes
1. Geometry
Gravel bike frame geometry splits the difference between road bikes and mountain bikes. Compared to pure road models, gravel bikes have a more upright position designed for comfort over long distances or off-road. The relatively long reach to the handlebars allows hips and legs to generate more power on flat terrain.
Mountain bikes, however, offer an even more upright position that offers stability and confidence while climbing or descending technical terrain.
2. Flat Handlebars vs Drop Bars
One of the most recognizable differences between gravel bikes and MTBs is the handlebars. Mountain bikes utilize flat bars that sweep slightly upwards or back towards the rider. These flat bars are very wide, normally around 740-780mm wide. The handlebar width improves steering and control while navigating over obstacles like large rocks and tree roots. The downside is that an upright position with hands far apart is not very aerodynamic.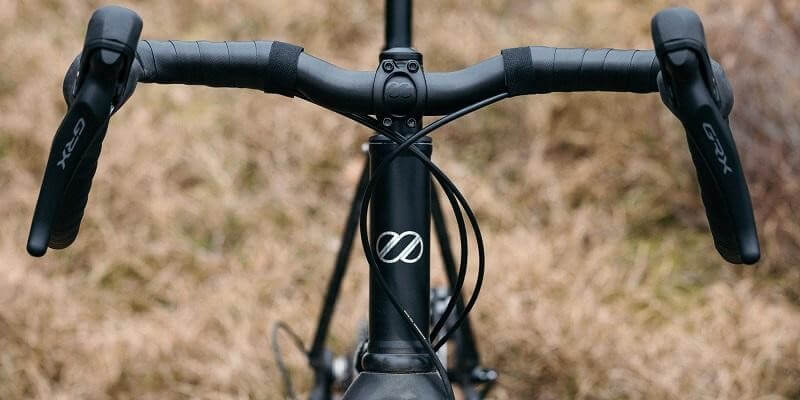 Gravel bikes use drop-bar handlebars like the ones found on almost every road bike. That style allows riders to tuck into an aerodynamic posture and change hand positions over the course of a long ride. Drop-bars typically measure between 38-44cm, a little over half the width of flat handlebars. This makes handling less responsive, a fine tradeoff for bikes that normally see less intense terrain.
Gravel models often opt for drop-bars that flare out to increase hand comfort and recoup some steering capability.
3. Tire Clearance
Mountain bikes take the cake when it comes to tire clearance. They've got room for tires between 2.1" and 2.4" and come with heavy tread patterns that boost grip. Big tire width begets large air volume so the tires can safely run at low pressures for additional traction. Perfect for all sorts of debris and tricky conditions, MTB tires will slow you down on smooth pavement.
Gravel bikes come equipped with tires that range from 38-45mm wide, about 30% narrower than MTB tires. That relative narrowness comes with a lot less volume of air, so can't be run at super low PSI to absorb bumps. They do great at smoothing out road buzz, though.
Compared to normal road tires, gravel tires are a lot wider and have significantly more tread. We have witnessed a boom in gravel tire options, many with some of the coolest tread patterns out there. Endurance cyclists, cyclocross riders, and commuters often outfit their bikes with these optimal tires with just the right amount of traction.
4. Suspension
Suspension is one of the best ways to increase comfort and handling during off-road adventures. That additional cushion is useful, but it isn't always necessary. Mountain bike mavericks in the 1980s and early '90s did all sorts of technical descents and tricks with completely rigid frames. However, modern MTB enthusiasts would wince at just imagining the lack of shock absorption.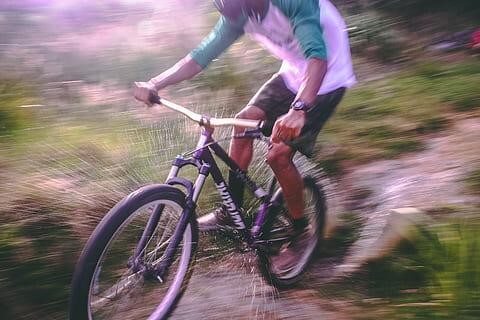 Hardtail mountain bikes normally have at least 100mm of front fork suspension travel. Modern forks come with a lockout knob to quickly disable the suspension when it's not needed on paved surfaces. The brawny fork adds significant weight and lowers top speeds, but it's almost necessary if you love intense terrain and gnarly descending.
MTBs have a taller front end since it's jacked up by suspension. This subtle detail makes climbing steep terrain easier. There's less weight on the front wheel, so it's quicker to maneuver, but don't worry too much about tipping backward.
Cyclocross and gravel enthusiasts don't mind forgoing suspension to increase frame stiffness and speed on the flats. Moderate gravel and dirt roads don't require suspension, and the bumpiness can even add to the adventure. Some gravel bikes come equipped with a comfier package, though, like specially designed handlebars or micro-suspension around the saddle and seat post.
Some high-end gravel bikes do have integrated suspension solutions. If there is front suspension, it's normally not more than 40mm or 50mm of travel, though. As innovation grows, some gravel bikes have a small amount of rear suspension where the seatstays meet the seat tube. But is a gravel bike with full suspension just a mountain bike with drop bars? I'll let you think about that one.
5. Gearing
The difference in gearing between gravel and mountain bikes is noticeable just by glancing at the drivechain. Mountain bikes gearing is designed for steep climbs, and rapid descents where pedaling is almost unnecessary. Professional downhill riders have even won races with no chain!
MTBs have 'easier' gearing that is built for pedaling up hills rather than flat-out speed. Modern mountain bikes use almost exclusively a 1x set-up meaning there's only one chainring at the front. That small ring around 32t is matched up with a cassette that runs an impressive 10-50t range. These gearing ratios are perfect for climbing but too small for serious pedaling speed.
Gravel bikes need to handle off-road sections but also maintain speed on smoother, flatter surfaces. They come with 'harder' gearing, or gearing that will keep your legs from spinning out when pedaling at higher speeds. Gravel bikes can have either two front chainrings or a single chainring like mountain bikes. The average front chainring size here is around 42t, a much larger option compared to MTBs.
Gravel Bike vs. Mountain Bike: Difference In Ride Feel
1. Speed and Efficiency
Gravel bikes are attractive options because of their quickness and pedaling efficiency on smoother surfaces. As part of the road bike family, speed is a top priority and the frame geometry and gearing are ready for you to put down the power. The longer reach to the handlebars puts the rider in a more tucked and aerodynamic position to decrease drag. The characteristic drop bars offer an even more aggressive option, useful on speedy descents and sprints.
As explained above, gravel bikes have harder gearing ratios that can sustain higher speeds. The bigger front chainring (or two) allows you to keep up midpack on a group ride and express your inner speed demon on paved roads and smoother trails.
Mountain bikes are built for steep climbs and loose terrain, not flat-out speed. Top speed does depend on riding conditions, though. MTBs will certainly go faster on intense single track and rocky trails because of their better handling and suspension.
2. Comfort
I love gravel bikes because, after my many years on road bikes, the riding position feels natural. MTB riders might have a harder time making the switch to gravel bikes and adjusting to a more aggressive, bent-over posture. But for me, gravel bikes are road bikes that are way more capable and plenty comfortable.
When I try out hybrids or mountain bikes, the shorter reach makes me feel as if I am pedaling less efficiently. Gravel and road bikes automatically pivot a rider's hips in order to put more energy through the pedals. This advantage is clear on smoother roads and trails but doesn't add much when the going gets tough, uphill, and bumpy.
My background is in road cycling, so riders already acclimated to MTBs could easily share a different perspective. The frame geometry of mountain bikes offers a more relaxed fit. The wide, flat handlebars make a huge difference to many riders. Gripping the bars with hands far apart while sitting fairly upright opens up the chest and shoulders. For some cyclists, that combination can facilitate better breathing and boost confidence.
The large volume of air in MTB tires serves as some extra suspension in addition to the cushy front fork. This is a must on extremely tricky terrain with large rocks, tree roots, jumps, and sudden drops. Comfort is largely a personal preference so reflect on what option could be right for you!
3. Handling and Riding Confidence
The difference in handling between gravel and mountain bikes is a bit more straightforward than the other factors contributing to ride feel. Mountain bikes are designed to handle even the gnarliest of obstacles and most intimidating terrain. It's in their DNA to inspire rider confidence and provide responsive handling in the face of tricky conditions.
The front suspension, knobby tires, low gearing, and flat handlebars are perfect solutions to the obstacles on single tracks and downhill trails. The short stem offers zippy maneuverability. A mountain bike is a grippier package, even on gravel bike terrains such as fire roads and dirt paths. The slacker headtube angle and longer wheelbase make MTBs more stable when descending at speed and pedaling out of the saddle.
But cycling isn't just about safety and traction brawny MTB componentry can have its drawbacks. Fancy suspension and super-wide tires aren't necessary on less intense surfaces like light gravel and dirt. Gravel bikes are a solid option to balance out your priorities of speed and handling.
4. All In Agreement About Disc Brakes
Disc brakes are synonymous with modern mountain bikes and come installed on nearly every gravel bike, too. Other road bike categories have been reluctant to embrace disc brakes (technology originally borrowed from MTB) but gravel bikes welcome the reliable stopping power.
In gravel and mountain categories, hydraulic disc brake systems are reserved for higher tier models whereas classic mechanical brakes outfit the rest of the range. When riding off-road, reliable disc brakes are probably the most important source of safety and confidence in your bike.
What Gravel Bikes are Not
The gravel bike is a relatively new category of bikes and is easily confused with similar multi-surface road bike options. Some cyclists claim that 'gravel bike' is just a fluffy marketing term. That may have been the case a few years ago, but the category is now a full-fledged class of its own.
Gravel bikes are not pure road bikes designed for racing because of their more relaxed geometry and significantly wider tires. This changes gravel bikes' purpose from sheer speed to performance on a variety of terrains.
Gravel models aren't cyclocross bikes either. Cyclocross bikes are specially designed for competitions where you occasionally need to carry your bike on your shoulder. Therefore, the top tube is always horizontal in order to increase the size of the mainframe triangle. Cyclocross drivechains are always 1x systems whereas gravel bikes can be 1x or the traditional 2x. Lastly, these racing bikes are typically lighter than gravel bikes.
Gravel bikes and endurance road bikes are probably the most similar models. They share a very similar, more comfortable geometry and are built for long-distance durability. The only difference is that gravel bikes have bigger tire clearance and use tires with heavier tread.
Where Gravel Bikes are Better
What kind of bike routes and trails do you have in your local riding area? Think about your last five bike rides and if the terrain was better suited for gravel bikes or MTBs. Gravel bikes show their true colors on yup, you guessed it gravel roads! They are also perfect for adventures on fire roads, dirt paths, and the urban jungle.
A hidden advantage of gravel bikes is that they can transform into a racing road bike with a quick switch of the tires. Swap out the wide gravel tires for a narrower slick set, and you're off. When I competed in college, my friend brought his gravel bike outfitted with racing slicks and won the road race!
While gravel bikes aren't explicitly touring bikes, they can definitely handle the journey. Some models come with special mounting holes for extra bottle cages or racks. Whether you are bikepacking or installing some panniers, gravel bikes might get that job done too.
There's no better all-rounder bike for a rider that frequently traverses between both pavement and rougher surfaces. To save money or simply room in the garage, a gravel bike can act like two bikes in one. Serious commuters and spirited roadies rave about gravel bikes as a great all-in-one option.
Where MTBs are Better
A mountain bike is a better option if your normal routes include rocky inclines and twisty, forested descents. They are more capable and can handle the unexpected obstacles that are so common on off-road trails.
Mountain bikes can open up a whole new world of terrain and trails for cyclists that previously stuck to riding smoother surfaces. Riders can make the switch and explore single tracks, bike parks with jumps, downhill courses, and ride through mud and sand.
Gravel Bike vs. Mountain Bike: How to Choose?
If you are still struggling to decide between a gravel bike and a mountain bike, think one more time about these two things: how you ride and where you ride.
The how is about your riding style and priorities when out on the road (or trails). Some riders like a more aerodynamic position whereas other riders desire a more upright and relaxed posture. Do you feel the need for speed when on the flats? Do you go out for long-distance rides?
The where is even more straightforward. As explained before, mountain bikes do better in tougher and more technical terrain. Gravel bikes are multi-surface road bikes that thrive on the pavement just as much as they love rough trails. Think about where you normally ride now and where you want to ride in the future. Have you been yearning to try those steep single-track trails but need a bike with suspension? Do you want to switch out your skinny tire road bike for a more capable gravel bike?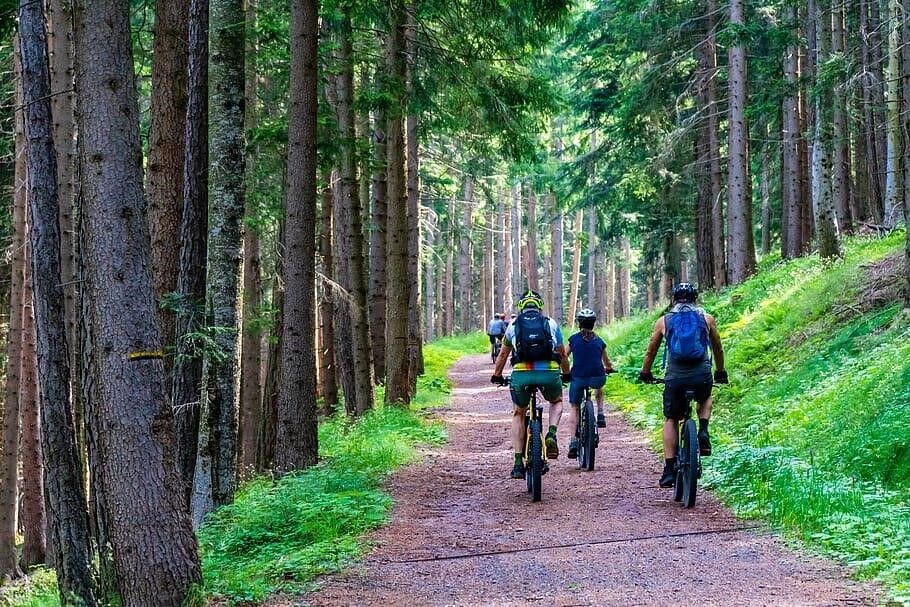 Here is a quick guide to help you choose between gravel and mountain bikes:
Go for a gravel bike if you:
Prioritize efficiency and aerodynamics
Frequently ride on pavement
Are accustomed to road bike geometry
Typically ride lighter off-road terrain
Go for a mountain bike if you:
Ride tougher terrain
Want confident handling for technical trails
Prioritize comfort
Want suspension for shock absorption
Adventure Time
Now you're all set to get pedaling a hardy gravel bike or robust mountain bike! This guide is full of information and tips but remember this: the number one rule of off-road riding is… well, that there aren't any rules. Be a daredevil and ride your mountain bike on pavement. Or be a maverick and take your gravel bike on some mountain bike trails. Bring along your sense of adventure and you're ready to ride.
Frequently Asked Questions
Is a gravel bike better than a mountain bike?
Gravel bikes perform better than mountain bikes on smoother surfaces where riders can go faster rather than worry about large obstacles like big rock or tree roots. Gravel bikes are much faster and more efficient on roads and light terrains like gravel or packed dirt. Mountain bikes are more appropriate for tougher terrain.
Can I ride a gravel bike on mountain bike trails?
You may have to ride slower to compensate for the slower handling and skinnier tires, but it's still possible to enjoy mountain bike trails on a gravel bike. Off-road bike riding is known for its lack of hard and fast rules so feel free to adventure on a variety of terrain, keeping in mind the limits of your bike and personal riding capabilities.
Why do gravel bikes have no suspension?
Gravel bikes forego suspension in order to save weight and maintain efficiency on smoother, flatter surfaces. Many gravel and dirt routes don't have huge drops or obstacles that require suspension for safe riding. Gravel riders often prioritize speed over the increase in comfort offered by a front fork suspension system.
What is the difference between gravel bikes and mountain bikes?
Gravel bikes put riders into a more aggressive, aerodynamic position when grasping the drop bar handlebars. Gravel bikes also have significantly less tire clearance compared to mountain bikes' large tire width. Mountain bikes are built for rough terrain so they have front suspension and easier gearing for navigating up technical climbs.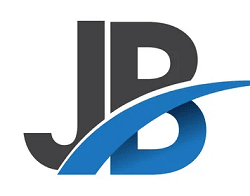 Jeffrey Brown is a writer, editor, and professional bike mechanic with over 7 years of experience working in full-service and community-based bike shops. As a bicycle educator, he has supported youth programs across the US that teach bike mechanics and life skills to prepare the next generation of cyclists.
Jeffrey began his professional mechanic career at his university bike co-op, so he recognizes the grassroots power of the cycling community. Initially self-trained as a mechanic, his subsequent positions as manager and lead educator gave him official training. He has won various awards and grants for his role as a bicycle and environmental advocate.