(Last updated on January 25th, 2023)
These days, cycling is more popular than ever, and people are flocking to mountain biking as a recreational and fitness activity. There are plenty of options out on the market, but this guide is here to help you make sense of what bike is best for you. Take a look at the 9 best mountain bikes of 2023 for beginners.
What Are Mountain Bikes
Mountain bikes are specifically designed to handle rough terrain and intense riding conditions such as steep hills, jumps, and bumpy descents. Compared to other models, mountain bikes typically have wider tires, more upright frame geometry, and heavier-duty brakes. Other MTBs also include suspension systems and 1x groupset to change gears.
What Makes a Good Beginner Bike
As you're developing your mountain bike skills, it's important to start out with the right equipment. Quality beginner mountain bikes are typically more stable, affordable, and have straightforward components so you can focus on riding.
For me, the most crucial elements of a good beginner bike are durable componentry and affordability. Expert level models are too much bike for riders just starting who won't utilize the extra features. Poor quality budget bikes can be unsafe as riders develop their skills and progress to more gnarly terrain and jumps.
The market for beginner MTBs is huge, so there are plenty of quality bikes out there hidden among the glut of not-so-great options. This round-up does the hard work of research and product comparison, so you don't have to!
Novice MTBers don't require the luxury shifting and long-travel suspension that professional riders need to tackle more intense terrain. A hardtail, a bike with front suspension but no rear shock, is the best choice for your first mountain bike, saving on weight and costs. That said, we've included a couple of full-suspension models in this list for the more ambitious beginners out there.
How I Judged These Bikes to Be the Best
My criteria for the best mountain bikes for beginners prioritized durability, value, and performance. In beginner categories, bang-for-buck is one of the most important parts of purchasing a new bike. Almost every bike manufacturer offers an affordable MTB option, so plenty of quality bikes are available. Most of the bikes on this list are priced under $1,000, except for the two full-suspension models. All of the bikes come equipped with either 27.5" or 29" wheels for better handling, a step up from the old 26" wheel standard.
Putting together this round-up, I considered dozens of potential candidates. I analyzed their manufacturer specs, user reviews, and expert opinions. Combined with my industry knowledge and personal experience, I chose bikes that are worthwhile investments and perfect for developing your MTB skills.
Beginner Bike Comparison Table
| | | | | | | | |
| --- | --- | --- | --- | --- | --- | --- | --- |
| Model | MTB Type | Wheel size | Price | Where to buy? | Rear suspension? | 1x Drivechain? | Hydraulic brakes? |
| Cannondale Trail SE 4 | Hardtail XC/Trail | 29" | $919.95 | Check price | | x | x |
| Specialized Rockhopper Comp 29 | Hardtail XC/Trail | 29" | $999 | Check price | | | x |
| Co-op Cycles DRT 1.1 | Hardtail | 27.5" | $599 | Check price | | | x |
| Giant Talon 29 2 | Hardtail | 27.5" or 29" | $674.95 | Check price | | x | x |
| BMC Blast 27 | Hardtail | 27" | $799 | Check price | | x | x |
| Marin Rift Zone 1 | Full-suspension | 29" | $1,518.94 | Check price | x | x | x |
| Trek Marlin 4 29 | Hardtail | 27.5" or 29" | $599 | – | | | |
| Marin Bolinas Ridge 1 | Hardtail | 27.5" or 29" | $528.94 | Check price | | | |
| Giant Stance 29 2 | Full-suspension | 29" | $1,619.95 | Check price | x | x | x |
Related: Best Mountain Bike Brands 2023
Top 9 Mountain Bikes for Beginners
1. Cannondale Trail SE 4
This entry-level mountain bike gives novice MTBers the confidence and right specs to handle moderate trails. Designed by the experts at Cannondale, the aluminum alloy frameset features dropped seat stays for a better ride feel. The tapered headtube and rear SAVE micro-suspension system are smart touches reminiscent of higher-end MTBs. The bike comes with internal cable routing, but I've seen reports that it's prone to rattling.
I'm glad to see the 10-speed Shimano Deore groupset, which offers plenty of performance for beginners and will last a long time. Cannondale opted for Tektro hydraulic disc brakes, a step up from the mechanical option but typical of bikes with this price tag. 120mm of front fork travel is plenty for moderate trail use and absorbing bumps along the way.
The Trail SE 4 has a slack head angle and moderate wheelbase, skewing the ride experience more towards stability than playfulness. More confident handling is a plus for beginner mountain bikers who are still developing their technical skills. Many bikes at this price point come with smaller 27.5" wheels, but the Trail SE 4 has 29" hoops for some extra performance when it comes to big obstacles out on the trails. This bike is ideal for MTB beginners who enjoy recreational paths or gravel roads and growing their skills on low-impact trails.
2. Specialized Rockhopper Comp 29
The Rockhopper Comp 29 is Specialized's flagship entry-level mountain bike that's ready to hit the trails. This model sits in the middle of the Rockhopper range and comes with componentry appropriate for the price, but nothing that screams high-tech. At its heart, the Rockhopper Comp 29 is an aluminum hardtail cross-country bike with 100mm of front suspension and 29" wheels.
The quality frame is probably the best part of the bike, while the Suntour XCM fork and microSHIFT Advent groupset leave a bit to be desired. However, at a competitive price of $999, the hydraulic disc brakes and reliable componentry make it a worthwhile purchase for beginner mountain bikers. If you're just starting out with MTB, this bike is a smart upgrade that performs great on light off-road terrain.
3. Co-op Cycles DRT 1.1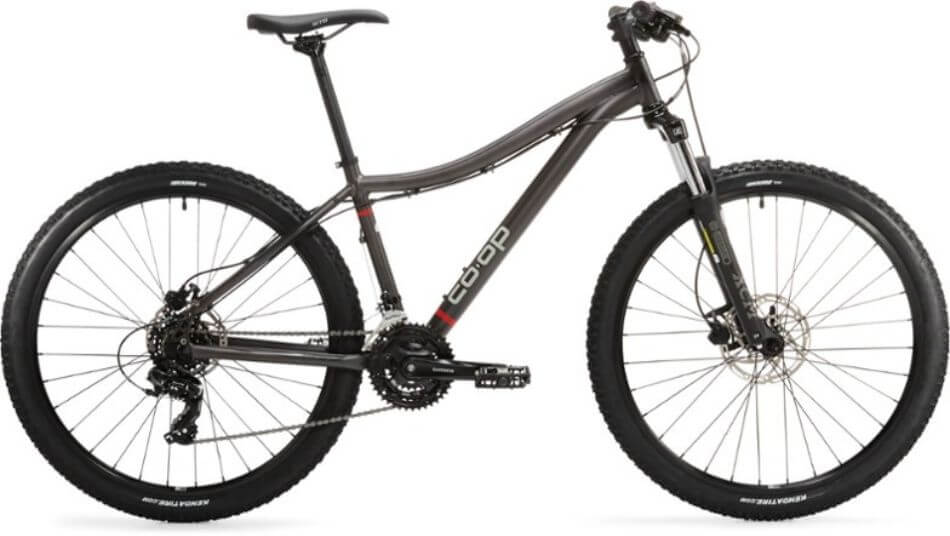 Built by REI's in-house bike brand Co-op Cycles, the well-known DRT 1.1 is the most affordable model in the range, ideal for MTB newcomers. With REIs all over the country and a solid presence online, it's easy to take it for a test ride or order it on the web, even with the current bike shortage.Formerly known as Novara, the Co-op brand underwent an overhaul in 2016 and added additional bikes to the DRT lineup. For example, if you're on a looser budget, check out the Co-op DRT 1.2 model, which has some better features and is a good value as well, priced at $999.
Like many hardtails on this list, the DRT 1.1 features a SR Suntour suspension fork with 100mm of travel. Rather than a fancier 1x system, Co-op keeps the bike affordable with a 3×7 Shimano Tourney drive chain that's fine enough on the trails. A surprisingly luxurious touch for an entry-level bike, the DRT 1.1 comes equipped with Tektro hydraulic disc brakes rather than cheaper mechanical ones. If you live near an REI or just want a great value on your next mountain bike, the DRT 1.1 is a smart choice for enjoying light trails and off-road routes.
4. Giant Talon 29 2
Upgraded from the 2020 version of this bike, the Giant Talon 29 2 features a 1x drive chain and lightweight ALUXX aluminum frame to give a fancier feel at an affordable price. While it has 29 in the name, customers can choose between 27.5" wheels or 29" wheels, depending on their ride preferences. The smaller 27.5" hoops will feel more playful on technical terrain while 29" wheels roll better over big obstacles and are ideal for fast XC riding.
The Suntour XCT30 front fork offers 100mm of travel to soften bumps, and Tektro hydraulic disc brakes reliably stop the bike. While still a lower-tier option, the 9-speed microSHIFT Advent groupset comes as a 1x system with a clutch for a bit of a performance boost. This hardtail XC bike is built for budget-conscious MTBers looking to take their off-road skills to the next level.
5. BMC Blast 27
My personal favorite on this list, the BMC Blast 27 is a beginner hardtail XC bike that punches far above its weight (and price) class. This bike diverges from its rivals with its impressive 10-speed Shimano Deore groupset and flashy paint job. While this model doesn't have larger 29" wheels, many riders prefer 27.5" hoops for their more agile handling on technical terrain.
Like the other bikes on this list, the Blast has a SunTour XCM front fork with 100mm of travel. The Shimano MT2000 hydraulic disc brakes are a slight step up from the common Tektro option in this category. The aluminum frame offers solid performance, although the extra material at the seatstay and top tube junction is a bit unappealing. If you're set on purchasing a bike with 27.5" wheels, this is one of the best options on the market to get you hitting the trails and riding in style.
6. Marin Rift Zone 1
One of the two full-suspension options on this list, the Marin Rift Zone 1 is for amateurs that want to develop their skills so they can tackle technical terrain and steep slopes. There's only so much a hardtail model can do— added rear suspension brings serious MTB performance but comes with a heftier price tag. The 29" wheels and Shimano MT201 hydraulic disc brakes prepare the bike to handle tough conditions and gnarly trails.
This bike shines with its RockShox Recon Silver front fork with 130mm of travel and X-Fusion O2 Pro R rear shock. This combination allows beginners to explore more serious terrain and test their skills. The Rift Zone 1 also features 11-speed Shimano Deore, receiving my complete approval.
To expert eyes, the frame design looks a bit dated, but the straightforward design helps keep costs down considering the full-suspension setup. If your wallet can handle it, this full suspension MTB is a great value and even better performer on intense trails.
7. Trek Marlin 4 29
Tied for being the most affordable bike on this list, the 2023 Trek Marlin 4 is a smart and accessible way to get into mountain biking. For the price, it's obvious that the Marlin 4 won't come with all the bells and whistles, but it has quality parts that are perfect for beginner riders.
The bike comes with a SR Suntour XCE fork with 100mm travel, similar to other more expensive bikes on this list. Customers can choose between 27.5" and 29" wheels depending on their size and riding preferences. Trek shaves costs by outfitting the bike with 3×7 Shimano Tourney groupset, which isn't anything to write home about but does perform reliably.
There are internally routed cables for a sleek look and rack mounts if you want this bike to double as your commuter. This bike is best suited for riders that care less about shiny componentry and more about a great value. That said, for people who want a higher-end bike, feel free to check out the rest of the affordable Marlin range, priced up to $1,329.
8. Marin Bolinas Ridge 1
The third bike in this list at such an affordable price point, the Marin Bolinas Ridge is made for recreational riders looking for a solid MTB from a good brand. This bike has largely the same components as the Trek Marlin 4 (included in this list) and is also available in 27.5" and 29" wheel options. The Suntour 100mm fork and Shimano Tourney 3×7-speed groupset are the same, while the Series 1 6061 aluminum frame is a nicer touch than the Trek.
Marin keeps costs low by opting for mechanical disc brakes rather than hydraulic ones, a smart decision since recreational mountain bikers won't be descending at high speeds. The tires are wide enough and especially knobby for plenty of traction on loose gravel or dirt. If you're on a tight budget and looking for a dependable MTB to explore off-road routes, this bike is a sure bet.
9. Giant Stance 29 2
As the second full-suspension option in this list, the Giant Stance 29 2 is a decked-out bike at a fair price. This Giant model is similar in performance to the Marin Rift Zone 1, but I like the frame design a lot more, and it squeezes another gear in with the 12-speed version of the Shimano Deore groupset.
The large 29" wheels are matched with some serious Maxxis Forkaster 2.35" tires for plenty of grip on the steeper and more technical terrain that suits this bike. The proprietary Giant Crest front fork offers 130mm of travel, and the Suntour Raidon R provides 120mm of cushion, the same stats as the Rift Zone.
Ride confidently using the Shimano MT200 hydraulic disc brakes for sufficient stopping power on long descents. If you're willing to drop a little more cash, this full-suspension setup packs a big punch in a fairly priced package. From light to moderate terrain, this bike comes prepared to tackle it.
Size Chart for Mountain Bikes
Mountain bike frame geometry is different from hybrids, cruisers, and road models, so it's crucial to study mountain bike-specific charts when determining the right size for you.
| | | | | | |
| --- | --- | --- | --- | --- | --- |
| Height (ft/in) | Height (cm) | Leg inseam (inches) | Leg inseam (cm) | Suggested Frame Size (in) | Suggested Wheel Size |
| 4'10 – 5'3″ | 147-160cm | 25 – 28″ | 62-70 cm | 13 – 14″ | 26″ |
| 5'4 "- 5'7" | 160 – 170cm | 25 – 30″ | 63 – 76 cm | 15 – 16″ | 26″ |
| 5'5″ – 5'9″ | 165 – 175cm | 26 – 31″ | 66 – 78 cm | 16 – 17″ | 27.5″ |
| 5'9″ – 6'0″ | 175 – 183cm | 27 – 32″ | 68 – 81 cm | 17 – 18″ | 27.5″ |
| 6'0″ – 6'3″ | 183 – 190cm | 28 – 33″ | 71 – 83 cm | 18 – 19″ | 29″ |
| 6'1″ – 6'6″ | 190 – 200cm | 29 – 34″ | 73 – 86 cm | 19″ + | 29″ |
Frequently Asked Questions (FAQs)
What is a good mountain bike for a beginner?
Beginner mountain bikes should include front suspension, disc brakes, and wide gearing. They should be affordable but not cheaply built. Full suspension is a feature on fancier bikes, but it isn't necessary when you are starting out. My overall favorite pick is the BMC Blast 27.
How much should a good mountain bike cost?
With so much competition among bike manufacturers, plenty of affordable, quality MTBs are on the market. You can purchase a good mountain bike for between $599 and $1,100. Of course, the value depends on what type of riding you're looking to do. If you expect especially rough terrain or steep climbs, it's worth spending some extra cash on getting higher quality components suited to those riding conditions.
Should I start MTB?
Mountain biking is a great way to support your general fitness and mental health. Riding MTB is a full-body workout and can improve your hand-eye coordination and reaction time, especially as your speed increases. Steep climbs and descents require you to be present in the moment, allowing you to set your stress aside and enjoy being outdoors— and the adrenaline boost is just a bonus.
What's the best all-round MTB?
The best mountain bike for you depends on personal preferences and needs, but each of the MTBs in this round-up are worthwhile investments to start your mountain biking journey. My favorite of the list is the BMC Blast 27 because of it's impressive groupset and the flashy paint job for the price.
Are cheap mountain bikes any good?
You typically get what you pay for in the lower tier of mountain bikes. That said, there are plenty of affordable options equipped with impressive componentry packages and thoughtful design. If you are just starting out, I recommend spending at least $600 for a bike that will handle tougher terrain as your skills advance.
What size mountain bike should I get?
Mountain bikes are typically sized according to their frame size, measured in inches. When browsing online, you can refer to the manufacturer's model-specific size chart for the most accurate recommendation. Scroll up to the mountain bike size chart included in this article for a more general idea.
More questions about the best beginner mountain bikes in 2023? Let us know!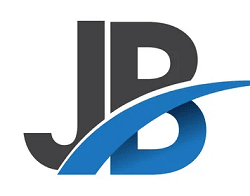 Jeffrey Brown is a writer, editor, and professional bike mechanic with over 7 years of experience working in full-service and community-based bike shops. As a bicycle educator, he has supported youth programs across the US that teach bike mechanics and life skills to prepare the next generation of cyclists.
Jeffrey began his professional mechanic career at his university bike co-op, so he recognizes the grassroots power of the cycling community. Initially self-trained as a mechanic, his subsequent positions as manager and lead educator gave him official training. He has won various awards and grants for his role as a bicycle and environmental advocate.