(Last updated on January 27th, 2023)
Due to the bike shortage caused by the pandemic and supply chain delays, finding a kids' bike these days can be harder than usual. Check out this roundup article for the 9 best kids' bikes you can buy right now.
What Are Kids' Bikes?
Kids' bikes is a catch-all term for bikes designed for children between the ages of 2 and 14. There's a big difference between toddlers learning to ride their first bike and teenagers perfecting their skills, so kids' bikes vary in size and style. As children grow, they gradually move up the range to kids' bikes with bigger wheel diameters to pedal comfortably and go faster.
Balance Kids' Bike vs Pedal Bike
The main design difference among bikes for young riders is whether or not they come with pedals. Kids' bikes with no pedals or drive chain (the mechanism that connects pedals to the rear sprocket to turn the wheel) are called balance bikes. Kids scoot along and use their legs to take strides while attempting to keep their balance. This way, kids as young as 2 years old can get familiar with bikes even before they're big enough to pedal.
A balance bike is a perfect way for toddlers to improve their motor skills and practice steering without any pedals in the way. Some models have the option to install pedals and a front chainring so, when your child is big enough, they can practice pedaling on the same bike that they're used to.
Balance bikes aren't always necessary; many kids start off on pedal bikes. Pedal bikes can be slightly more difficult to get the hang of right away, but it's worth the effort. Once your child develops the skill of pedaling, they'll never lose it! Riding a bike is like, well… riding a bike.
Size Chart for Kids' Bikes
| | | | | | |
| --- | --- | --- | --- | --- | --- |
| Age | Height (Inch) | Height (cm) | Leg Inseam (Inch) | Leg Inseam (cm) | Bike Tire Size |
| 2 | 2'9″ – 3'1″ | 85-90cm | 12″ – 14″ | 85 – 90cm | 10″ |
| 3-4 | 3'1″ – 3'3″ | 90-100cm | 14″-17″ | 35-42cm | 12″ |
| 4-5 | 3'3″ – 3'7″ | 100-110cm | 16″-20″ | 40-50cm | 14″ |
| 5-6 | 3'7″ – 3-8″ | 110-115cm | 18″-22″ | 45-50cm | 16″ |
| 6-8 | 3'8″ – 4'0″ | 115-120cm | 20″-24″ | 50-60cm | 18″ |
| 7-9 | 4'0″ – 4'5″ | 120-135cm | 22″-25″ | 55-63cm | 20″ |
| 9-11 | 4'5″ – 4'9″ | 135-145cm | 24″-28″ | 60-72cm | 24″ |
| 11-14 | 5'+ | 145cm + | 28″+ | 72cm+ | 26″ |
How I Judged These Kids' Bikes to Be the Best
I selected and ranked the kids' bikes on this list based on the following criteria: quality componentry, durability, and value. Far too many kids' bikes on the market are built poorly with cheap parts that can make the bike difficult to ride and maintain.
For example, shoddy brake levers can be hard to pull for kids that haven't developed sufficient hand dexterity yet. Also, I speak from experience when I say that cheapo kids' bikes are a nightmare for bike shop mechanics when they come in for repairs.
Kids will eventually outgrow their bike, but durability is still important to a bike's overall value. Kids are more prone to falling while riding, so their bikes can experience some heavy-duty abuse. Choose a bike that will stand up to intense use and stay functioning properly for longer.
Last but not least, value is a crucial element when purchasing a new kids' bike. There's no need to pay top-dollar because your child will need to upgrade to a bigger model in a few years. The bikes on this list strike a balance between affordability and quality to get your child riding and keep your wallet happy, too.
Comparison Table for Kids' Bikes
| | | | | |
| --- | --- | --- | --- | --- |
| | Model | Wheel size | Price | Where to buy? |
| 1 | Cleary Hedgehog 16" | 16" | $390 | Click here |
| 2 | Public Bikes Sprout V 16 | 16" | $270 | Click here |
| 3 | Woom 1 Balance Bike With Brake | 12" | $199 | Click here |
| 4 | Early Rider Belter 16" | 16" | $439 | Click here |
| 5 | Co-Op Cycles Rev 20 | 20" | $199 | Click here |
| 6 | Specialized Hotrock 20 | 20" | $449 | – |
| 7 | Cannondale Trail 26 | 26" | $624 | Click here |
| 8 | Strider 12 Sport Balance Bike | 12" | $100 | Click here |
| 9 | Priority Start 24 Belt | 24" | $449 | – |
Top 9 Kids' Bikes Available Right Now
1. Cleary Hedgehog 16"
PROS
Well-chosen gear ratio
Good looking bike
CONS
Steel construction isn't the lightest 
From Cleary, the widely-known and trusted kids' bike brand comes the new Hedgehog 16". This model, made for young riders around 4 to 6 years old, keeps it simple but includes high-quality parts. It's relatively light for being made of durable steel, and the vegan leather saddle tops off the good-looking aesthetic.
This bike is perfect for young riders ready to take their skills to the next level. Instead of a coast brake, this model has a freewheel and two hand brakes, allowing for more rideability. Less confident, first-time learners would be better off using a simpler coaster brake setup.
The Hedgehog 16" doesn't try to overdo it it only has one gear which is ideal for kids in this age range. Young riders are still developing their hand dexterity, so shifting gears would be a bit too challenging. That said, the 1.5 gear ratio is an all-rounder choice; it offers plenty of flat-out speed and tolerates moderate climbing.
The Hedgehog 16" model is currently available online and in-stores at almost all Mike's Bikes locations in northern California. Cleary has a flagship model for each common kids' bike size. For younger riders, check out the Cleary Gecko with 12" wheels, and for older kids, there is the Owl 20" model.
2. Public Bikes Sprout V 16
PROS
Chic aesthetic
Cool white tires
CONS
Coaster brake rather than hand brake (depends on the rider)
Public Bikes integrates their Dutch and urban design into their kids' bike range with the Sprout V 16 and Sprout V 20. Well-known for their quality adult city bikes, Public Bikes has made a name for themselves by offering elegant kids' bikes with durable componentry. Stylish touches like fenders and cream-colored tires are attractive features for aesthetically-minded parents and kids alike.
As its name suggests, this bike sports 16" wheels, ideal for youngsters between 4 to 6 years old. The model's bigger sibling, the Sprout V 20, comes outfitted with 20" wheels, more appropriate for kids aged 7 to 10 years old. The Sprout V 16 features a coaster brake, making stopping safe and easy for first-time learners. There aren't any cables for complicated parts, so maintenance is a breeze, leading to less time in the shop and more time out enjoying the trails.
3. Woom 1 Balance Bike With Brake
PROS
Clever small hand brake
Inflatable Schwalbe tires rather than solid rubber
CONS
Pricey for a balance bike
A common name in kids' bikes, Woom designed an impressive balance bike for first-learners aged between 18 months and 4 years old. The special thing about the Woom 1 is that it comes with a mini V-brake with a lever ergonomically adapted for small hands. Your young one can develop their balance simultaneously so that they get used to using a hand brake, a skill that typically comes later on.
The Woom 1 is built with 12" wheels paired with Schwalbe tires with reflective sidewalls for better visibility. Inflatable tires offer a bit more cushion than solid rubber options common on other balance bikes but can lead to more maintenance down the road. The Woom 1 Plus is available for kids 3 to 5 years' old learning on a balance bike. It is $70 more but comes with a front brake and a unique footrest to make gliding more comfortable.
4. Early Rider Belter 16"
PROS
Belt-drive system
Chrome finish is fantastic
Quality Tektro rim brakes
What sets this bike apart is its belt drive system for ultimate durability and performance, even in wet and muddy conditions. Traditional metal chains can rust and stretch over time, eventually having to be replaced. Chains' lifespans are shortened even more if they're frequently exposed to rain or snow. A belt drive functions well no matter the weather and can stand up to the use and abuse kids' bikes typically experience.
The simple but stylish chrome frame will bring a smile to any young rider, and comes with some cool points, too. The bike gets its reliable stopping power from the front and rear Tektro rim brakes. Mainly designed for urban use, this model comes equipped with 2″ Vee Speedsters tires for extra grip; the tires are a bit wider than most other competing kid's bikes.
The Early Rider Belter 16" is fairly light at only 13 lbs. There are plenty of top-spec components from Ritchey Logic which warrants the higher price point. The 16" Belter is currently shipping from their warehouses in Portland and also comes in wheel sizes of 14", 20", and 24".
5. Co-Op Cycles Rev 20
PROS
Name brand tires and brakes
Use either the coaster brake or hand brake
Co-op Cycles is REI's in-house bike brand well-known for being an impressive value. REI is a major player in the industry, so they can affordably source quality parts, giving customers a good deal. Their Rev 20" kid's bike is a great example of their straightforward design and dependable componentry.
The aluminum bike features grippy Kenda tires and two brake options from Tektro, perfect for young kids getting familiar with hand brakes. Riders can stop with the easy coaster brake or pull the brake lever connected to the rear wheel.
For young cyclists that want a bit more performance, check out the upgraded Rev 20 6-speed Plus model that comes equipped with gears and mechanical disc brakes. It's a few pounds heavier and will cost you $130 more than the standard bike, but for a dedicated young rider, the added specs can be worth the splurge.
6. Specialized Hotrock 20
PROS
Decent front fork suspension
Ideal tire tread pattern
Shimano Tourney gears
CONS
Will be heavy for some riders 
The Specialized Hotrock 20 comes fitted with everything an adventurous young rider could want. The front suspension, 7-speed gears, and rim brakes give kids plenty of confidence to start developing their skills on trails and tougher terrain. The coil-sprung Suntour fork's 40mm of travel offers plenty of cushion for small riders to explore pump tracks and bumpy paths.
The Hotrock is designed for both off-road and on-road riding. The 20" Renegade tires have an ideal moderate tread pattern, and the Shimano Tourney 7-speed gear system allows kids to climb hills and move fast on the flats. Priced fairly for such a competent bike, it's a worthwhile purchase for budding cyclists that will take advantage of its unique features.
7. Cannondale Trail 26
PROS
Sunrace 8-speed gearing
63mm of travel on front fork
CONS
A little pricey for a kids' bike
The largest bike on this list, the Cannondale Kids Trail 26 is a mountain bike with adult-level capabilities designed to fit kids' measurements. This model is built for developing riders aged 9 to 13 that have outgrown kids' bikes but aren't quite ready to make the jump to the adult sizes. With a front fork with 63mm of suspension and mechanical disc brakes, the Trail 26 is the perfect companion for taking their trail skills to the next level.
For riders between 4'8" and 5', the 26" wheels are ideal for navigating the bumps and jumps and are easier to maneuver than full-sized adult mountain bike wheels. The Sunrace 8-speed gearing makes it easy to climb hills or boost flat-out speed. If you're having trouble finding an entry-level adult bike for your growing cyclist, this model specially designed for older kids could be a smart solution.
8. Strider 12 Sport Balance Bike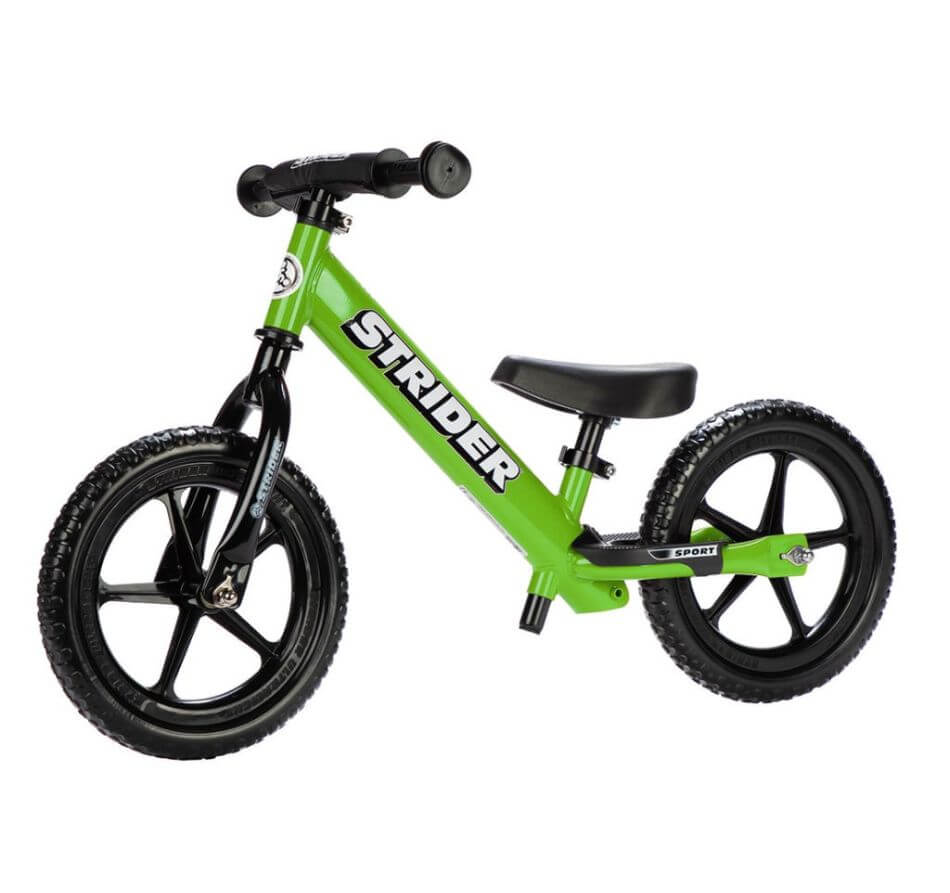 PROS
Great affordable price
Puncture proof tires
Adjustable seat and handlebars
CONS
Not much cushioning from the tires
Every cyclist was a toddler at some point. The 12" balance bike from Strider is a classic choice for kids as young as 18 months to start learning the basics. There's no pedals to get in the way of using their legs to practice balancing on the seat and gliding along. The 12" tires are puncture-proof, so you won't have to worry about any pesky maintenance.
The seat and handlebars adjust to accommodate a range of rider heights so kids won't outgrow the bike too fast. The 6 lbs 11oz bike is easy to maneuver, even for extra tiny riders. The durable steel frame is ready for heavy use on pavement, grass, dirt, or wherever your little one wants to ride.
9. Priority Start 24 Belt
PROS
Belt-drive system
3-speed internal gearing
Adjustable handlebars and stem
CONS
Harder to fix if something breaks
Priority Bicycles is a fan-favorite kids' bike brand and doesn't disappoint with the Start 24" model. This unique bike goes against the grain and comes outfitted with a belt drive and 3-speed internal gearing— you'd be hard-pressed to find those features on other kid's bikes. The low-maintenance belt drive keeps the drive chain area free of grease and rust.
This bike typically fits kids between 8 to 11 years old and has the right features to boost their riding skills and confidence. Young cyclists can take advantage of the reliable rim brakes and get used to changing gears when going up hills.
Often an overlooked component on kids' bikes, the handlebar, and stem on this model are adjustable so they can fit your child even as they grow. If your child is too small for a 24" bike, the Priority Start is also available in 16" and 20" models.
Buyer's Guide
Whether it's your child's first bike or they're upgrading to a bigger size, it's important to choose the right bike. In this round-up of the best kids' bikes, I've included my favorite models in various sizes. Consider the following tips when selecting the next bike for your child.
Picking the Right Size
The largest challenge of choosing the perfect kids' bike is deciding on the correct size. Unlike adult bikes, which stick to just a couple of wheel sizes, kids' bikes utilize wheels measuring between 12" and 26" in diameter. The most common sizes are 12", 16", 20" and 24", with 26" being the last size before adult models.
Adjustability
It's a given that your child will grow, so finding a bike that can adapt can save you from changing bikes every year. The most common way to adjust the bike as kids grow is to raise the seatpost.
When buying a bike, position the seatpost to where it suits your child and note how much seatpost is still inside the bike's frame. This is how much length is available to utilize in the future when your child gets taller, and the seat needs to be raised. Ideally, the lowest seat height setting of the new bike fits your child and can be raised as they grow. Some modern bikes even come with two different length seat posts to offer plenty of options.
Depending on the model, you may be able to adjust the bike's handlebars, too. Growing riders need to raise the seatpost and raise the handlebars slightly so they don't have to bend over too much.
Weight
Heavy bikes can hinder learning and can take the fun out of riding. For adults, the bike's weight isn't as much of an issue because it's a fraction of our own body weight. But for kids, bikes are proportionally heavier. Hefty bikes can be difficult to transport and maneuver while kids are still developing their skills. Features like gears, suspension, and double-walled rims can add significant weight to the bike. Higher quality aluminum allows for lighter frames. Think about what specs you want and how it might influence the bike's weight.
Gears
An important milestone in bike riding is learning how to use gears. Since it's a more advanced skill, gears are typically only included on bikes 20" and up. Experienced riders and kids with enough hand dexterity are ready to use gears and ride more efficiently.
That said, single-speed bikes are a fantastic option for younger and less confident riders. A single-speed bike (one gear) works great for the type of riding kids do in the park, on local paths, and around the neighborhood. Moreover, a single-speed setup makes learning to ride a bike easier since you don't need to think about changing gears.
Tires
Most kids' bikes come equipped with wide tires with a medium tread pattern made for pavement. The most common tires are textured enough for grip in the wet and light off-roading but are mainly designed for safe riding on smooth surfaces. If you anticipate riding on rough terrain like dirt or gravel paths, you're better off with a tire with more grip and a deeper tread pattern.
Assembly
As online bike sales have become more popular, families have to put together the bike at home once it's delivered. Kids' bikes are typically simple enough to make assembly a straightforward process with minimal tools. Quick and easy assembly allows your child to hop on and enjoy their new bike as fast as possible. In comparison, kids' bikes from big box stores are notorious for having components installed incorrectly or coming with unclear instructions.
Frequently Asked Questions
What are the best bikes for 10-year-olds?
The most common size for 10-year-olds is a 24" bike. 24" bikes are typically appropriate for kids around 4'5″ to 4'9″ tall. If your child's height is below that range, you can look at 20" bikes. For taller 10-year-olds that feel comfortable on a bike, they may be ready to upgrade to 26" wheels. 10-year-olds are often experienced and more capable riders, so it's important to have a bike that can handle heavy use.
Can an 11-year-old ride a 20-inch bike?
11-year-olds are typically tall enough to ride a 24" bike. However, kids that measure around 4'0″ to 4'5″ tall are probably better suited to 20" wheels. If your child is a confident rider and taller than 5', they could be ready for a bigger 26" bike to take their skills to the next level.
What bike should a 12-year-old have?
Depending on their height, 12-year-olds can be ready for 26" bikes. Riders that measure 5' or taller are the right size for 26" bikes. Shorter riders can stick to 24" wheels as they continue to grow and build confidence before they move up to the bigger model. 26" bikes start to blend with adult models, so there are plenty of bikes to choose from with different components and accessory packages.
What should I look for in a kid's bike?
Kid's bikes should have quality components and durable construction, all at a fair price. Since kids will eventually outgrow their bike, customers are always looking for a good deal. Most kid's bike brands offer affordable options with simple features and accessories. The bikes featured on this list come in various sizes and are worthwhile investments to keep your child biking.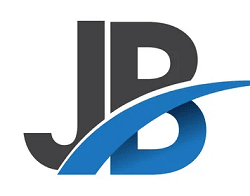 Jeffrey Brown is a writer, editor, and professional bike mechanic with over 7 years of experience working in full-service and community-based bike shops. As a bicycle educator, he has supported youth programs across the US that teach bike mechanics and life skills to prepare the next generation of cyclists.
Jeffrey began his professional mechanic career at his university bike co-op, so he recognizes the grassroots power of the cycling community. Initially self-trained as a mechanic, his subsequent positions as manager and lead educator gave him official training. He has won various awards and grants for his role as a bicycle and environmental advocate.