(Last updated on April 28th, 2023)
Buying a new bike is exciting, enthralling, and a little bit scary. Purchasing a bike is a big investment, and you want to make sure you buy the right bike for your riding type. You also need to choose a bike that fits you well. If the bike doesn't fit, you won't feel like riding it. Finally, you also need to be able to pick up or have the bike delivered. Trek simplifies this entire process with its website, making it very easy to buy Trek bikes online.
To buy trek bikes online, you need to:
First, choose the bike you want.
Select the correct size.
Find out where your bike is available.
Choose any accessories that you need
Get your bike.
Register your new bike.
After completing all the steps, you'll be ready to get out and ride your brand-new bike. Let's get started.
1. Choose a Trek Bike Online
Before you purchase your bike, you need to figure out what kind of bike you want! Trek Bikes has many options, so they've created a bike finder to help you decide.
It's easy to follow the prompts and let Treks bikes guide you.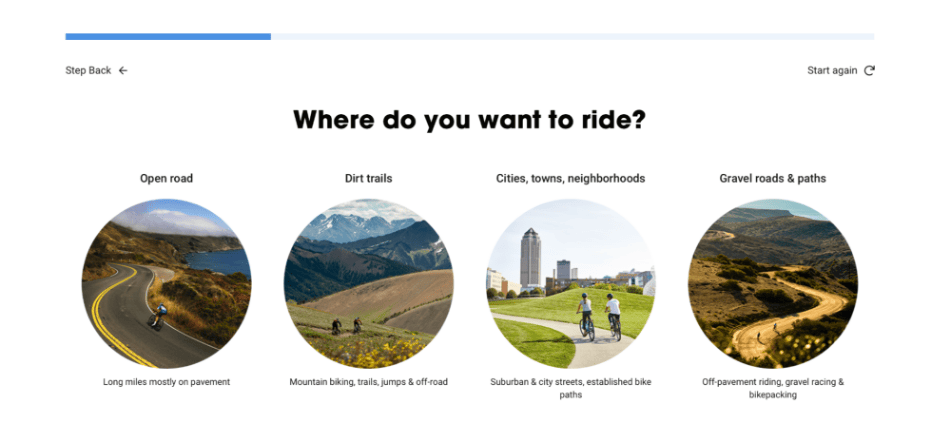 First, select whether you choose a bike for an adult or a child. Then, you can choose what type of riding you want. Finally, you can choose from the following:
Open Road
Dirt trails
Cities, towns, and neighborhoods
Gravel roads and paths
For example, if you choose trails, it will take you to the next screen, where you can specify what kinds of mountain biking you want to do. For example, steep and rocky technical trails will lead you to the next screen, which asks if you want an e-bike. Then, it will ask you what size wheels. If you choose 27.5-inch wheels, it will suggest the Trek Remedy. If you select 29-inch wheels, it suggests the Slash.
Moreover, if you choose the open roads, you'll be taken to a selection of road bikes. If you choose cities, towns, and neighborhoods, you'll find a variety of hybrid and cargo bikes. The gravel roads and paths link you to a few bikes just right for gravel riding and bikepacking.
If you don't want to use the bike finder, you can browse the menu to find the kind of bike you want. Trek offers a complete lineup of mountain, road, city, electric, and kids' bikes.
Once you've chosen the type of bike, you'll need to get a bit more specific. For example, if you want a Trek Slash mountain bike, you can go directly to the Slash sales page. Or, if you want a Trek 4500 or even a Trek 4300, you can go directly to that page.
You'll see pictures, colors, and different models and prices of the bike. On the left side, you can select the filters to narrow down your bike choices. You can sort the bikes by:
Price
Suspension
Rear travel
Size
Frameset
Color
Brake Type
Frame material
Sale price
And if it is customizable.
Click on a bike to explore its features in depth.
If you select the Slash 7, you can see its features and geometry. Then, if you like it, select your size and color and add it to the basket.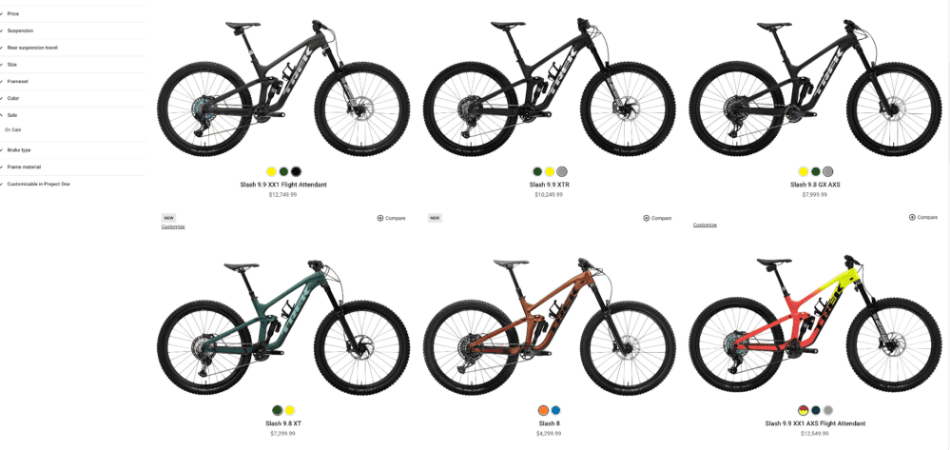 2. Choose Your Bike Size
Once you know what Trek bike you're buying online, pick your bike size. Your bike size is really based on your size! If you don't know which bike to buy, click on the link that says, "What is my size?"
First, a window will pop up with a chart telling you the suggested bike size and their coordinating heights and leg inseam. Then, in the same window, you can click on the link that says, Size Finder.
The Size finder will ask about your height and inseam and suggest a good bike size. Of course, this isn't the same as being measured at a store, but the size finder will get you in the ballpark if that isn't an option.
This can be tricky if you are very petite or very tall, but if you are of average height and inseam, this tool can work great.
3. Is Your Bike Available for Purchase?
After you've selected your bike and the correct size, you can choose your color options, if available, and then see if the Trek bike you want to buy is available.
The options will be crossed out if the bike is unavailable online. If you can't find the bike online, it will show a warning message that the product is unavailable online. You can then check to see if the bike is available from a local retailer.
You can check individual stores if your bike is not available online. Trek
The website will suggest the Trek shop nearest to you. If there isn't one, it will select other stores you can choose from.
The website does not ship directly to you; it will only ship to the local Trek shop of your choice. However, some local stores can ship your bike and accessories to you once the bike has reached the store.

Trek provides free standard ground delivery of bikes to your Trek retailer. First, they will assemble the bike for you at no added cost. Then, they'll hold your bike at the store for 14 days. When you pick up your bike, you'll need your order confirmation, the credit card you used to pay for the bike, and your photo ID.
However, some local Trek stores will deliver your bike to your home. At checkout, you'll need to select home delivery. The bike will be shipped to your local trek store, which will build the bike for you. Then they will deliver it to your home for an extra $50. When the retailer receives your bike, they will contact you to schedule a delivery time. However, not all Trek shops can offer this service, so it might not be available in your area.
4. Choose Your Accessories
The Trek website can ship your accessories directly to you or the local shop where you will pick up your bike. You may need to purchase pedals, a helmet, or even mountain bike shoes. Similarly, you can order all of these online through the Trek website. You may need lights, a cargo rack, or a bike commuter. However, you can arrange with the Trek store to install these items when they build your bike if you wish.
You can order accessories when you order your bike. Trek
5. Pick Up Your Bike
If you are picking up your Trek bike, you can arrange a time with the local shop to get your bike fitted. The shop can make any necessary adjustments to ensure your bike is comfortable and safe to ride.
6. Register Your Bike
After you've received your bike, don't forget to register it with Trek! Just enter the serial number near the bottom bracket of the bike. Then, follow the prompts to record your information. This will help Trek be able to contact you if you should ever need to use the warranty or if there is a recall.
7. Ride Your New Bike
Finally, you're ready to ride your new bike! So get out there and ride but always be safe and have fun.
Final Thoughts on Buying a Trek Bike Online
Trek makes it easy to buy your Trek bike online. Just follow the prompts to find the bike and size you need. Then make arrangements to pay for and pick up the bike. If you need help, you can always chat online with customer service.
If you liked this article, you might also like the following:
Frequently Asked Questions
Do I have to buy a bike online from Trek?
No, you can purchase bikes directly from your local bike shop if you don't want to shop online.
Does Trek have financing options?
Trek does not have online financing options at this time. However, participating stores may offer some form of financing in person.
What if the bike I want is out of stock?
If the bike you want is unavailable, you can check to see if it is available in a specific Trek store's inventory. Then, you may be able to have the bike shipped to you from that specific Trek store.
What if I need more help?
You can shop with a guide on Trek's website by using the popup chat box, or you can call their customer service line at 1-800-585-8735.
Can I pay with multiple cards?
You cannot split the payment up into multiple cards if you are purchasing a bike online. However, you may be able to do so in a Trek shop.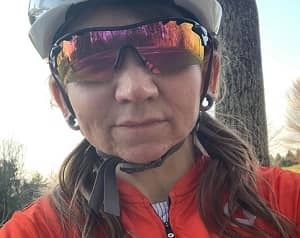 Amanda Whittington is an expert writer, impassioned cyclist, and musician. Coming from a diverse educational background, Amanda discovered a deep-rooted passion for encouraging others through her love of all things cycling, writing, and inspiring hope. 
You'll likely find Amanda pouring over bike specs, comparing the hottest cycling tech, and sporting the latest jerseys while juggling the demands of her editorial calendar, training schedule, tiny homestead, and 6 busy kids. 
She spends her free time absorbed in her own gardening and fitness, cycling, and reading, all while encouraging adoption and foster care, championing the underdog, and of course, working with her chickens and goats.