(Last updated on February 13th, 2023)
Start riding with your best foot forward on the highest-rated mountain bike pedals of 2023. As one of the only places where your body contacts the bike, pedals are crucial to comfort and efficiency.
Mountain biking requires a stable footing and connection to the bike, so selecting the right pedal for the job is important. Explore this useful buyer's guide to see the best mountain bike pedals available.
There is no standard mountain bike pedal or one-size-fits-all option riders can choose from a large variety of pedal shapes and features. Mountain bikers typically opt for clipless pedals or flat platform pedals to help them get up and down the trails. Before you choose your perfect pedal, read about the differences between the types of mountain bike pedals.
Types Of Mountain Bike Pedals
Flat Mountain Bike Pedals
Flat pedals are platforms that give riders a wide range of foot placement while they are pedaling. The large square shape has plenty of surface area and pointy pins to provide plenty of grip between the shoe and the pedal. Flat pedals are typically slightly concave to accommodate the ball of your foot pushing into the pedal's center, making for a more secure connection.
Unlike other pedals that lock your foot in place with a strap or clipless pedal cleat, flat pedals rely on the friction between your shoe and the platform to prevent any slippage. Flat pedals are large enough to support the entire ball of your foot, with extra room to move your foot around to find the best position.
Many riders prefer flat pedals because of their simplicity and freedom of movement. With flat pedals, riders can wear whatever footwear they like rather than sticking to clipless-specific shoes. Riders that like to change up foot position during rides enjoy the large platform.
Clipless Mountain Bike Pedals
Clipless pedals have a retention system that connects to special cleats mounted on the soles of cycling shoes. Despite the confusing 'clipless' name, the pedals actually clip onto those cleats to lock your feet into place. Old-style pedals used to have toe clips and straps to keep your foot from sliding around that cumbersome solution was replaced by this sleeker 'clipless' design.
Most clipless mountain bike pedals are double-sided so that riders don't have to think about which way the pedal is facing as they clip in. That makes them easier to clip into on bumpy roads but adds a bit of weight road bike pedals, on the other hand, are single-sided to save a few grams.
Clipless pedals are typically much smaller than flat platform pedals because they don't need tons of surface area to get grip. Sometimes the entire pedal is simply the mechanical retention system, a little smaller than a golf ball. Other pedal styles place a small cage around the clipless pedal, so your shoe has a bit more support.
Variations on the Main Mountain Bike Pedals
In addition to the common flat and clipless pedals, other pedal styles are purpose-built for specific rider needs. Dual-sided pedals combine the best of both worlds and have one flat side and one side that you can clip into. The design works great for riders who use the same bike on all their outings.
I'm a huge fan of dual-sided pedals, and I never need to worry about which shoes I have on. My dual-sided pedals have lasted for years and always make it into the essential bike gear I travel with, so I'm never caught out with the wrong pedal-shoe combination.
There are several types of attachment mechanisms on clipless pedals, that metal part where the shoe cleat clips into. The most popular choices are Shimano's SPD and Crankbrothers' Eggbeater designs, but there are also Time's ATAC and Expedo's Posi-Fit. Ultimately, it's up to personal preference, but you'll have to stick to one design to make sure your shoes are compatible with your pedals, especially if you have a couple of bikes.
Mountain Bike Pedals Buyer's Guide
Follow these brief tips to understand which type of mountain bike pedal is right for you.
Flat/platform: Ideal for riders that prefer freer foot movement during riding. Compatible with any type of flat-soled footwear. Larger surface area to spread forces across more of the foot in high-impact trails.
Clipless: More efficient and secure connection to the pedals due to being locked into the clip mechanism. Perfect for more advanced riders and cross-country racing.
Dual-function: One side flat and one side clipless. Compatible with any shoe choice. Excellent for multipurpose bikes that are used for trail riding one day and commuting the next.
How I Chose These Mountain Bike Pedals
I hand-selected the mountain bike pedals on this list based on manufacturer specs, user reviews, and the opinions of bike experts. The pedals I chose differ slightly in design and price, so all riders can find a pair of pedals that fit their specific needs. Riders can rest assured that each recommended pedal is a worthwhile investment that will provide sure-footing for many miles. I focused on reliable brands and based my rating on these criteria:
Utility: Offers quality performance based on its design and useful features (i.e., grippy pins, concave shape, lightweight, or clipless system)
Durability: Mountain bike pedals frequently bump into obstacles on the trail and can get covered in dirt and mud. Solid materials and construction make pedals last longer.
Price: Pedals are a necessary component and shouldn't cost an arm and a leg. I've recommended budget-friendly options as well as premium pedals.
Compare the Best Mountain Bike Pedals at a Glance
| | | | | | | |
| --- | --- | --- | --- | --- | --- | --- |
| Model | Pedal Style | Material | Weight | Riding style | Price | Where to buy? |
| Xpedo Ambix | Dual sided (clipless/flat) | Aluminum | 384g | All mountain, commuting, city | $99 | Click here |
| Crankbrothers Eggbeater 3 | Clipless | Aluminum | 280g | MTB with stiff-soled shoes | $130 | Click here |
| Crankbrothers Stamp 1 | Clipless with platform | Composite | small 299g; large 329g | All mountain, enduro, downhill | $49 | Click here |
| Nukeproof Horizon Pro Downhill Sam Hill | Flat | Aluminum | 430g | Trail, Enduro, Downhill | $99 | Click here |
| HT Components T1 | Clipless with platform | Aluminum | 372g | All mountain | $135 | Click here |
| Shimano PD-M520 | Clipless | Aluminum | 374g | Trail, enduro, gravel, city | $45 | Click here |
| Race Face Chester | Flat | Composite | 360g | trail, all mountain | $45 | Click here |
Best Dual-Sided Pedal
1. Xpedo Ambix
KEY SPECS
| | |
| --- | --- |
| Weight | 384g |
| Type of riding | All mountain, commuting, city |
PROS
grippy platform
dual function
adjustable release tension
CONS
clipping in can be tricky
The Expedo Ambix is a dual-function pedal that features a flat platform on one side and an SPD clipless mech on the other. The all-in-one setup is compatible with any shoes you want, whether bike-specific or not. If you use the same bike for trail riding and city errands, this is the perfect multipurpose option.
The pedal features a medium-sized platform and aluminum body that provides good grip and contact with your shoes. There are eight well-positioned adjustable pins, and feels just as natural as a standard flat pedal.
The other side of the pedal holds the SPD clipless mechanism with adjustable tension settings that is simple to get in and out of. Whichever side of the pedal you are using, it feels perfectly normal, so it's easy to forget it's double-sided. This pedal missed out on full marks because it can be slightly difficult to clip in right away.
The only drawback is that getting your foot on the appropriate side for the shoes you are wearing can take an extra second. You may need to flick the pedal with your toe to spin the pedal to the proper position for either clipping in or pedaling on the flat side. But once you're used to that extra step, you won't think twice about it.
Best Overall Lightweight Pedal
2. Crankbrothers Eggbeater 3
KEY SPECS
| | |
| --- | --- |
| Weight | 280g |
| Type of riding | Any kind of mountain biking with stiff-soled shoes |
PROS
ultralightweight
easy to clean
doesn't get clogged with mud
CONS
can be difficult to clip in
best paired with stiff-soled shoes
small profile
As one of the most innovative-looking mountain bike pedals, the Crankbrothers Egg Beater 3 is also the lightest option on this list. The almost futuristic design utilizes Crankbrothers' clipless mechanism and forgoes a pedal cage to save weight. Composed of only the pedal body and clipless mech, the pedal comes in at a featherweight 280g.
The pedal is a favorite among cross-country racers and cyclocross riders looking for the lightest pedals to go faster. The unique clipless mech (which resembles an eggbeater) has an open design that allows clipping in on all four sides, and they won't easily clog up with mud. That makes them easier to clip in and out in mucky conditions and a quick clean after the ride.
Advanced riders are better suited to this pedal because of the small profile that can be difficult to get used to. The mechanism is easy to engage, but riders need to be fairly accurate to find the clipless pedal with their shoe cleat. The lack of a pedal cage or platform means there's no additional shoe support, so you're better off wearing cycling shoes with stiff soles.
These are great options for mountain bike racers or people who frequently ride in muddy conditions. This pedal doesn't receive a full 10 rating because it's a niche clipless design that isn't for everyone. Overall, these ultralightweight pedals are a solid investment in podium-worthy components if you've got the cash.
Best Lightweight Flat Pedal
3. Crankbrothers Stamp 1
KEY SPECS
| | |
| --- | --- |
| Weight | 329g |
| Type of riding | All mountain, enduro, downhill |
PROS
two sizes to choose from
lightweight
CONS
composite material isn't everyone's favorite
If you are searching for an ultralightweight flat mountain bike pedal, then look no further. The Stamp 1 from Crankbrothers features a sleek profile with plenty of surface area, so there's no compromise on grip. The durable composite material is the key to its low weight and holds up excellently to typical impacts, hits, and digs.
Crankbrothers does things differently and offers this pedal in two sizes: small and large. The idea is that riders have different-sized feet, so their pedals should vary in size as well. This works especially well for riders with smaller shoe sizes, and they can take advantage of a super lightweight 299g pedal.
The entry-level pedal features nine hexagonal pins per side for sufficient grip and comes in a few different colors. The small size is recommended for shoe sizes 37-43, and the large is for sizes 43 and up. This pedal loses a point on my rating because some riders want ultradurable aluminum rather than composite material.
Best Downhill Flat Pedal
4. Flat pedal Nukeproof Horizon Pro Downhill Sam Hill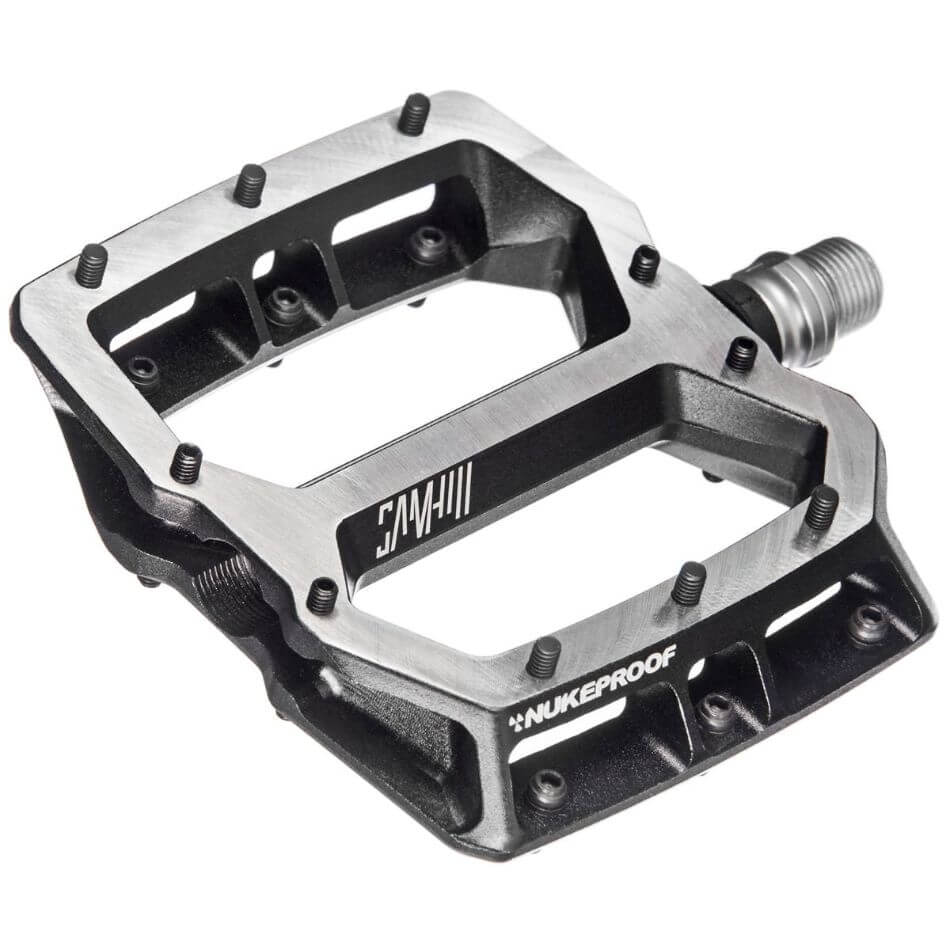 $99
at chainreactioncycles.com
KEY SPECS
| | |
| --- | --- |
| Weight | 430g |
| Type of riding | Trail, Enduro, Downhill |
PROS
good weight
generous size
great grip with pins
straightforward design
CONS
extended pins can get really spiky so watch out
The large platform is made of a strong alloy body and includes ten removable and adjustable pins for superior grip. The pedal has a concave shape to fit your foot and features a no-nonsense flat surface (except for the pins) for predictable and solid contact between the shoe and pedal.
These flat pedals for downhill riding were designed in collaboration with multiple-time World Champion mountain biker Sam Hill. This current generation is the latest update of the tough trail and enduro pedal. This pedal style has already shown its race-winning capabilities, having been used by professional riders and, of course, their namesake champion.
This pedal doesn't receive full marks on my rating because the pins are almost too spiky, but that can be resolved with a heavy-duty pair of shoes. The pedal body spins smoothly thanks to DU bushings and sealed cartridge bearings to handle heavy impacts and loads. Nukeproof sells replacement parts, so you can easily breathe new life into them after a few seasons of tough riding.
Best Clipless Pedal with Platform
5. HT Components T1
KEY SPECS
| | |
| --- | --- |
| Weight | 372g |
| Type of riding | All mountain |
PROS
lightweight
adjustable
many colors
CONS
not as smooth of float
heavy cleats
The HT Components T1 is an all-around excellent clipless mountain bike pedal with a few clever touches to elevate above its rivals. The T1 is a standard clipless pedal with a medium-sized platform, but its proprietary X-1 attachment mechanism has better mud clearance and tension adjustability than the more common SPD design. Fans of the popular Shimano XTR M-9120 pedal should check out this attractive alternative.
The T1's low-profile aluminum body is super strong and built for tough riding. The mid-cage design gives additional support, and the two pins at the front of the pedal increase grip slightly. The clipless mech is a bit more open than the SPD system, so mud is less likely to get stuck and make it difficult to clip in. This pedal doesn't receive a full 10 rating because of the hefty price tag.
The pedals come with two cleat options, the X-1 offers 4 degrees of float while the X-1F cleats provide 9 degrees of float. The tension settings have a large range, so beginners can set the pedals up to be easy to get in and out of, while experts can tighten them for intense riding. I also love the fact that the pedal is available in fourteen different colors!
Best Budget Clipless Pedal
6. Shimano PD-M520
KEY SPECS
| | |
| --- | --- |
| Weight | 347g |
| Type of riding | Trail, enduro, gravel, city |
PROS
easy to adjust
double-sided entry
excellent value
CONS
won't last as long as higher spec models
This straightforward clipless pedal keeps it simple, and that's part of its charm. The Shimano PD-M520 is one of the most popular mountain bike pedals because of its simple design and budget price. They are dual-sided, so riders don't have to mess around with which way their pedals are facing and can clip in quickly.
There's no cage or platform, so you can only ride this pedal with clipless cycling shoes. That no-frills design makes it great for all sorts of riding beyond mountain biking; plenty of commuters, gravel riders, and bike polo players love this pedal. This budget pedal loses a point since the clipless mechanism isn't as long-lasting as some other models.
The PD-M520 uses the lower price point version of the SPD clipless mechanism. It is plenty reliable and works great, but isn't as luxurious as the higher-spec models. As long as you keep the pedals well-adjusted and lubricated, you won't see any lack of performance compared to the more expensive pedals.
Best Budget Flat Pedal
7. Race Face Chester
KEY SPECS
| | |
| --- | --- |
| Weight | 360g |
| Type of riding | trail, all-mountain |
PROS
lots of colors
lightweight
durable
CONS
lack of grip during aggressive riding
From dependable mountain bike brand Race Face, the Chester flat pedal is an affordable pedal that punches far above its price point. This composite pedal strikes the impressive balance of being both ultralightweight and durable and the wide range of colors to match your bike is an added bonus. If you're looking for quality pedals that won't break the bank, the Chester is a no-brainer.
Most of the pedals on this list are metal, but the Chester's nylon composite material competes with the best of them when it comes to handling serious impacts and stress out on the trail. Once you purchase these pedals, it'll be a long time before you'll have to get any replacements. There are eight replaceable hex traction pins on each pedal for grip, and the concave platform feels stable under the foot.
As a great budget option, this pedal loses a point on my rating since many riders want a more durable aluminum body rather than the composite material. The Chester is best suited to moderate mountain biking rather than aggressive or speedy downhill riding. Some riders might find the grip lacking during challenging descents, but they are plenty capable for most terrains.
Frequently Asked Questions
What type of pedals are best for mountain biking?
Clipless pedals are the most popular choice for a secure link between foot and pedal. Flat pedals are also common and allow for more freedom of movement. Dual-function pedals combine those two designs into a single pedal.
Are expensive MTB pedals worth it?
If you ride a lot or participate in races, higher-end mountain bike pedals can be a great investment. The main advantage of expensive pedals is their low weight. They are also main of ultra-durable materials.
Why do mountain bike pedals have spikes?
Most flat pedals include several skinny pins that stick up a few millimeters to strength the connection between shoe and pedal. Without the clip mechanism, flat pedals rely on these pins to keep feet secure during bumpy terrain.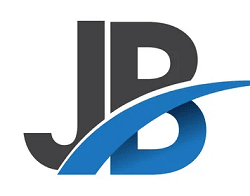 Jeffrey Brown is a writer, editor, and professional bike mechanic with over 7 years of experience working in full-service and community-based bike shops. As a bicycle educator, he has supported youth programs across the US that teach bike mechanics and life skills to prepare the next generation of cyclists.
Jeffrey began his professional mechanic career at his university bike co-op, so he recognizes the grassroots power of the cycling community. Initially self-trained as a mechanic, his subsequent positions as manager and lead educator gave him official training. He has won various awards and grants for his role as a bicycle and environmental advocate.