(Last updated on February 13th, 2023)
Of course, you want to get the best deal on a new dirt bike – I do, too! So it helps to know how much the average dirt bike costs. There's a wide range of prices to choose from, so you can find a dirt bike that fits your budget. Pricing depends on factors such as the size of the engine, the type of bike, and the components the bike has.
In this article, we'll take a look at how much a few typical dirt bikes cost. Then, we'll discuss the price range, how to figure out what bike you need, and what to look for in a new and used bike.
Dirt Bike Price Ranges
Dirt bike prices range anywhere from $3000 – $9000 and up, depending on the size of the engine, the quality of the components, and the safety features involved. An electric dirt bike will cost more than a gas dirt bike. They're quiet and easy to maintain, but they don't have the speed and acceleration you would get with a gas-powered engine.
For example, if you're looking at brand new starter bikes with a 125cc engine, you'll find they cost around $3000. If you want something a little more advanced with some extra 'oomph,' you'll be looking at a 250cc bike, which ranges between $8000 and $10,000. But if you are really skilled and experienced, you'll probably be looking at 450cc bikes, which generally start at $9000 and go up.
Dirt Bike Buying Guide
Bike Size
Before you purchase a dirt bike, you'll need to figure out what size you need. For example, is this bike for an adult or a child? A child's dirt bike has a seat height between 18 inches and 34 inches, while an adult seat height will range from 35 inches to 38 inches.
You need to choose a bike that fits you well. You need to be able to put your foot down so you don't fall when stopping or making sharp turns, but you don't want to be so cramped on the bike that your back hurts every time you ride.
Larger bikes can be a little more expensive than smaller models, and adult bikes will cost a little more than a child's.
Skill and Experience Level
If you're a beginner rider, you'll want to stick to a beginner bike, regardless of your size. Usually, beginner bikes have an engine size of 50cc to 150cc. These bikes tend to be lighter and easier to maneuver. Another feature of beginner bikes is that they don't go too fast. This makes them a lot safer for beginners to learn on. Some beginner bikes will have adjustable throttles, so you can add more speed as you gain skills.
If you're a little bit older and more mature or you have a lot of riding experience, you might want to consider a 250cc engine. These have a bit more speed and a bit more oomph to tackle trails and terrain. They take more skills to maneuver, but they aren't the fastest bikes on the market – they fall squarely in the middle. These bikes can be used for trail riding, enduro races, and occasionally beginner motocross.
If you have lots of experience and great skills, then you might consider a 450cc bike. These have the fastest speeds and the quickest acceleration but are also bigger and heavier. They take a lot of knowledge and skill to ride safely and are most often used for racing.
Goals and Riding Style
Your goals and riding style will also determine what bike you need and how much it will cost. For example, if you just want a fun little bike to hit some trails on, then an inexpensive beginner bike would suit you just fine. You'll have plenty of fun riding over obstacles and over the trails.
But if you're seriously into motocross, are highly competitive, and are highly skilled, you're going to need something that's more serious and expensive.
Trail Bikes
Trail bikes are designed to maneuver obstacles, glide over roots and rocks, and manage a variety of terrain. They'll have wider tires, more suspension to make the ride more comfortable, and a kickstand. They aren't designed for high-speed chases or racing, though, so they won't have the biggest, baddest engine, making them a little more affordable.
Enduro
An enduro dirt bike falls in between a trail bike and a motocross bike. They are designed for high speed, high-end suspension for rough conditions, and they have a lightweight frame. In addition, they have extra-knobby tires for extra grip off-road. These typically aren't street-legal, but they are designed for extended, off-road races. You can take these on the trails if you've got good skills, but they aren't really fast enough for high-speed motocross.
Motocross
A motocross or MX bike is a high-end, off-road race bike. They have powerful engines, stiff suspension, and smaller fuel tanks. They are intended for short, high-speed races rather than long races. They make tight turns with lots of traction, but they have smaller fuel tanks because they aren't made for long races.
They're often used by professionals for Motocross racing, and they generally come with a higher price tag than other types of dirt bikes.
Dirt Bike Price Charts
| | | | | | | | | |
| --- | --- | --- | --- | --- | --- | --- | --- | --- |
| Beginner | Price | Rating | Intermediate | Price | Rating | Advanced | Price | Rating |
| HONDA 2023 CRF125F | $3399 | 10/10 | Kawasaki KX250 | $8499 | 9/10 | Husqvarna FC 450 | $10,799 | 9.5/10 |
| Yamaha TT-R125LE | $3399 | 9.5/10 | KTM 250XC | $10,799 | 9/10 | Yamaha YZ450F | $9899 | 9.5/10 |
Beginner Dirt Bikes
125cc dirt bikes are popular amongst beginner-level riders, as they are lightweight and easy to control. Even though they come with a small engine displacement, these bikes are incredibly agile, thus making them a blast to rip through off-road trails.
They often come in small packages for small riders or are made for trail rides.
Check out the list of the best 125cc dirt bikes below.
1. HONDA 2023 CRF125F
KEY SPECS
| | |
| --- | --- |
| Engine Type | 125cc air-cooled single-cylinder four-stroke |
| Compression Ratio | 9.0:1 |
| Value Train SOHC | two valves per cylinder |
| Fuel injection | 22mm throttle bore |
PROS
Easy and fun to ride on trails
Lightweight and easy to control for beginners
Long travel suspension
CONS
They are not as fast as other bikes, so they aren't ideal for motocross
Better for small riders but not larger riders
The Honda is a reliable, lightweight, and easy-to-ride dirt bike. It's a great beginner bike with a 124.9cc, single-cylinder engine. Fuel injection, long-travel suspension, conventional clutch, and small size make it easy to ride and easy to learn your skills on. But, even if you aren't a beginner, it's also a fun bike for leisurely trail rides.
Our verdict:
We give this dirt bike a 10/10 for being such a great balance between price, reliability, and ease of use. This is a great bike for beginner trail riders and children who are just learning to ride.
Check out the unboxing and setup of this Honda CRF 125.
2. Yamaha TT-R125LE
KEY SPECS
| | |
| --- | --- |
| Compression Ratio: 10.0:1 | |
| Fuel delivery: Carburetor | |
| Electric Start Transmission | |
| Better for larger riders; it may not fit small riders | |
PROS
Electric Start
Adjustable suspension
CONS
Pretty aggressive for beginners
It has a low seat height for the size of the rider it is intended for
Not fast enough for motocross
The Yamaha TT-R125LE is also a terrific beginner trail bike, but this one is intended for bigger kids through adults. It features adjustable suspension for more aggressive rides, a push-button start, and a larger front wheel than the rear.
We give this bike a 9.5/10. It's a little more bike and a little more aggressive than the Honda CRF, but that's ok because it's really intended for larger riders, not children. It has a nice racy look to it, even though it is still designed to hit the trails.
Intermediate Dirt Bikes
If you're looking for something a little bit more advanced, you may want to consider a bike in the mid-range or 250cc category. A bike of this caliber is probably too much bike for a beginner, but it is great if you already have some good skills and experience. Also, these bikes are a little bit heavier, more aggressive, and faster.
3. Kawasaki KX250
KEY SPECS
| | |
| --- | --- |
| 249cc 4-stroke engine | |
| Four-way adjustable handlebars | |
PROS
Lightweight frame
Powerful brakes
2023 upgrades are even better for racing
CONS
Far more expensive than entry-level bikes
It does not corner as well or feels as stable as other models
The Kawasaki is a lightweight, lean, mean green machine! It's agile and quick, even on challenging tracks, and weighs a mere 221 pounds.
Improvements for 2023 include racer-friendly gearing, wider rear tire, and wider footpegs, better suspension
Our verdict
We give this bike a 9/10. It just doesn't have the stability or cornering for all of its upgrades as other bike models have. In addition, you won't be able to use its full speed potential if you are constantly slowing to stabilize the bike.
4. KTM 250XC
KEY SPECS
| | |
| --- | --- |
| 6-speed Transmission | |
| Electric Starter | |
| Wet clutch with DDS multi-disc clutch, Brembo hydraulics | |
PROS
Tapered handlebar
Front and rear suspension
2.24-gallon fuel tank for longer rides
CONS
Highly-priced for a mid-level dirt bike
It has a slower rate of acceleration than expected
If it's the stability you're after, you'll love the upgraded KTM 250XC. With lots of upgrades for 2023, this bike is not only faster but needs less maintenance, too.
See the KTM 250XC in action.
Our verdict
We give this bike a 9/10 for the high price – you would expect better acceleration out of such a powerful bike, but we do love the fast speed, lower maintenance, and great stability that this bike offers.
Advanced Dirt Bikes
For the ultimate in speed machines, you'll be looking at some high-priced 450cc class bikes. These bikes require maturity, handling skills, and good balance. These bikes can reach speeds up to 90mph, but they have price tags to match that kind of speed. These aren't bikes for the newbie dirt biker – these are serious, high-end performance machines, so keep that in mind when you're looking for one.
The price tag may be a deterrent, but it's the equipment you need if you are seriously racing.
5. Husqvarva FC 450
KEY SPECS
| | |
| --- | --- |
| Transmission: 5-speed | |
| Electric Starter | |
| DDS multi-disc clutch, Brembo hydraulics | |
PROS
Consistently fast across lap times
Air fork suspension system
Handlebars are lower and wider than most bikes
CONS
Less aggressive than other bikes in this class
Can feel more vibrations
The Husqvarna FC 450 is a well-rounded 450cc dirt bike built for the track. It's getting plenty of upgrades for 2023, including a more powerful, lighter engine, refined, lightweight steel frame, and quick-shift functions.
Our verdict
We give this bike a 9.5/10 for its consistent, linear acceleration and ability to create smooth and even lap times. While it isn't as aggressive as many bikes in this class, it has a more aerodynamic position which gives it a different kind of an edge in racing motocross.
6. Yamaha YZ450F
KEY SPECS
| | |
| --- | --- |
| 450cc engine | |
| Compression ratio: 13.0:1 | |
| Five-speed transmission | |
PROS
Great traction when cornering
Includes power tuner app
CONS
Uncomfortable seat
A little small for larger riders
A stiff front axle and great traction make this Yamaha a beast on the course, with great control when cornering. You'll get going fast with a 4-stroke engine and easy electric start!
Watch this test ride of the Yamaha YZ450F.
Our Verdict
We give this bike a 9.5/10 for its control and traction in tight corners. However, if you're a tall rider or need a comfy seat, you might find yourself making some adjustments. Overall, a fast, agile bike for motocross.
Should You Buy a Used Dirt Bike?
New dirt bikes can be extremely pricey, but should you purchase a used one? Well, that depends.
If your budget is tight, you might want to purchase a used bike from a reputable dealer, fellow rider, or friend. In addition, you may want to have the bike looked over by a professional to make sure it's safe and in good shape.
What to Look for In a Used Dirt Bike
There are plenty of things to consider when purchasing a used dirt bike.
First of all, does the bike run? If it doesn't run, you probably don't want to buy it unless you're a great mechanic.
How old is the bike? Is it worth the money? Is it in good shape for its age? Here are a few things to consider if you are purchasing a used dirt bike.
Hour meter. Some bikes are equipped with an hour meter. A 4-stroke engine needs to be rebuilt about every 50 hours, while a 2-stroke engine can last much longer. They may lose power over time, but likely won't sustain as much engine damage.
Engine Oil. If the oil has metallic bits in it, this may reveal signs of wear and tear on the engine.
Rear shocks. Make sure the rear shock isn't leaking oil.
Front suspension. This part takes a lot of abuse, so you've got to make sure it's still in good shape.
Overall condition of the bike. Does it look damaged, scraped, or repaired? Or is the bike in generally good condition?
Here are a few more tips on how to purchase a used bike.
Related: Best Kids' Dirt Bikes
How Much Do Used Dirt Bikes Cost
You can save money if you purchase a used dirt bike. A used bike in good condition will depreciate around a thousand dollars each year. So a five-year-old dirt bike in good shape will cost about $5000 less than a similar model does new. In addition, a very dependable model, like the Honda CRF, tends to last longer than some of the cheaper models.
Final Thoughts on How Much Is a Dirt Bike
Dirt bikes are definitely an investment, and purchasing a cheap bike may save you money short term but cost you more in maintenance and replacements in the long term. For a beginner, you'll want to spend at least $3000 for a reliable, entry-level bike. For a more experienced rider, you'll be looking at a minimum of $8000 for a quality, new dirt bike. And for a great motocross bike, you could easily spend upward of $9000.
Frequently Asked Questions
Do dirt bikes require expensive maintenance?
Yes, dirt bikes require maintenance, which varies depending on how much and how hard you ride them. With the cost of tires, oil, gas, and other items, you could easily spend $2000 a year on maintenance.
Are electric dirt bikes as good as gas dirt bikes?
That depends. Electric dirt bikes tend to be more expensive, lighter, and quieter than their gas counterparts. However, they don't accelerate as quickly, so they might not be the best choice for motocross racing.
What's faster, a two-stroke or four-stroke engine?
Four-stroke engines have higher horsepower but are heavier. Two-stroke engines can accelerate more quickly and are lighter but have less horsepower. They may have equivalent speeds but work a little bit differently.
Should a beginner get a 150cc engine?
Yes, the smaller engines are better for beginners. They are typically easier to control, don't go as fast, and cost less than the larger engines. This makes them great for learning skills and gaining confidence before riding a heavier, faster bike.
Can I buy a dirt bike on Craigslist?
Yes, you can buy dirt bikes on Craigslist. You'll want to make sure the bike is in good condition and safe before purchasing any used bike.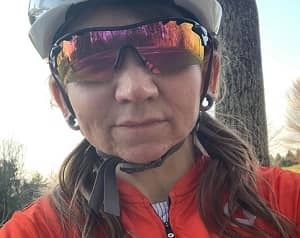 Amanda Whittington is an expert writer, impassioned cyclist, and musician. Coming from a diverse educational background, Amanda discovered a deep-rooted passion for encouraging others through her love of all things cycling, writing, and inspiring hope. 
You'll likely find Amanda pouring over bike specs, comparing the hottest cycling tech, and sporting the latest jerseys while juggling the demands of her editorial calendar, training schedule, tiny homestead, and 6 busy kids. 
She spends her free time absorbed in her own gardening and fitness, cycling, and reading, all while encouraging adoption and foster care, championing the underdog, and of course, working with her chickens and goats.