(Last updated on February 24th, 2023)
My kids have a deep sense of adventure and a competitive spirit, so much so that they wanted to expand their bike riding and focus on the exciting world of dirt bikes. Dirt biking helps them learn skills like balance, coordination, and steering. So I started looking for the best kids' dirt bikes and came up with a list of bikes that I think are the best ones.
In this article, we're going to take a look at the best dirt bikes for kids. We'll discuss each bike in-depth and give you the pros and cons of each one. We'll also go over some of the characteristics you'll want to look for in a dirt bike for your kids. But first, let's define what exactly a kids' dirt bike is.
What is a Kids' Dirt Bike?
To make it really simple, a dirt bike is a bike that is designed to be ridden off-road. They are technically classified as motorcycles, except they aren't always street-legal. Chances are, you won't be legally allowed to ride your dirt bike on the road. This is because dirt bikes don't have the lights, turn signals, or other odds and ends that are required for street driving.
Dirt bikes have a small engine to power them over off-road obstacles, and usually, they are either a two-stroke engine or a four-stroke engine, but some brands are branching into using an electric motor instead. However, no matter what type of engine you have, most dirt bikes aren't all that fast! In fact, the chainsaw you have collecting dust in your garage probably has a more powerful motor than your child's dirt bike does.
Dirt bikes have suspension that will help absorb all of the bumps on the trail. They are smaller and lighter than motorcycles, and they are also more rugged! Dirt bikes are a bit more simplified than motorcycles, and they require less maintenance, too.
Kids' dirt bikes will be much smaller than their adult counterparts. Some even come with training wheels so your child can learn while they're very young! And in terms of wheels, they have some thick, nubby tires that have a lot of grip for those rough roads and trails.
Some brands of kids' dirt bikes will come with a limiter so that parents can control the speed their child can achieve on the dirt bike. This is a critical factor for me, as I want to make sure my kids have all the necessary skills before they ride at top speed.
Now that we know a little bit about the basics of dirt bikes let's take a look at some of the specific dirt bikes that I'm considering for my kids.
Best Kids' Dirt Bikes
| | | | | | |
| --- | --- | --- | --- | --- | --- |
| Bike | Price | Engine Size | Max Speed | Best for | Rating |
| Honda CRF50 | $1699 | 4 Stroke Engine, 3 Gears, no Clutch | 30pmh | Beginner Dirt bikers | 10/10 |
| Yamaha TTR110E | $2299 | 110 CC 4 Stroke Engine with electric start 4 Speed Auto-Clutch | 35-45 mph | Experienced Riders or whole family | 9.5/10 |
| Suzuki DRZ125 | $3299 | Four-stroke engine with clutch | 45 mph | Beginner trail bike for teens or shorter riders | 9.5 |
| KTM SX-E 5 | $5499 | Electric 50cc | 45 mph | Beginner and junior Motorcross races that need less noise pollution | 10/10 |
| Kawasaki KX65 | $3899 | Two strokewtih | 62MPH | Motocross Racing; ages 12 and up | 9/10 |
Best Dirt Bike for Beginners
1. Honda CRF50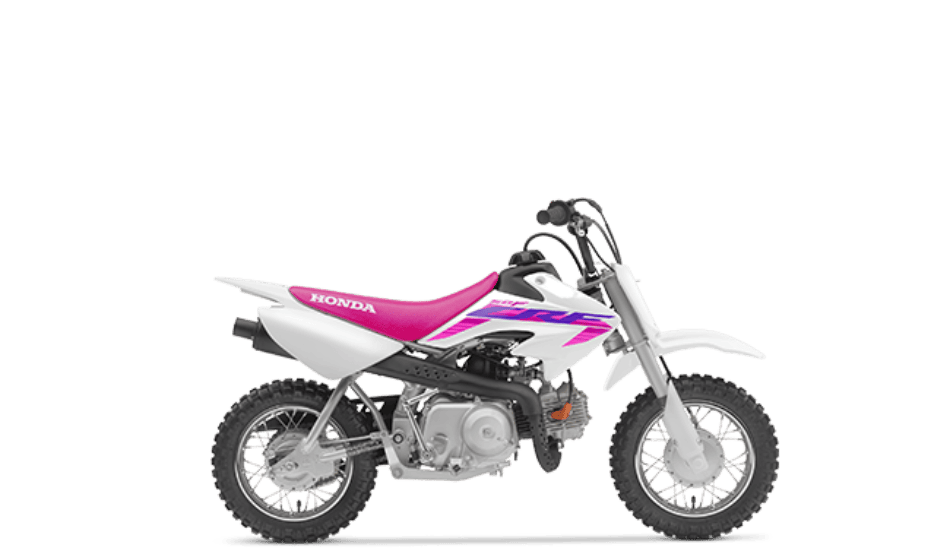 KEY SPECS
4 Stroke Engine
3 Gears
Automatic transmission
10-inch wheels
Kickstart only (no electric start)
PROS
Easy handling for beginners
Automatic transmissions
The throttle limiter screw gives parents more control
CONS
Kick start only
Won't have enough speed for advanced racers
The Honda CRF50 is a great dirt bike for beginners. It helps them get their start in dirt biking without giving them too much power too soon. This bike has a four-stroke engine with three gears. However, it is automatic, so your child won't have to learn how to use a clutch.
What I love about this bike is that it has a throttle limiter screw. So I can control how much power my child is able to access on the bike. I can give them more power as they get better at using it. These bikes are pretty popular and easy to find, too. They are very reasonably priced, so if you aren't sure if your child will stick with it, this is a good balance of value and features.
I give this bike a 10/10 because you can increase the speed over time so your child can slowly increase their skills. It's easy to handle so your beginner can learn with confidence.
Our Verdict
This is an excellent bike for beginners. It gives them a limited amount of power to play with, so they can learn skills like steering and stopping without getting in over their heads. Over time, you can increase the power if you want.
Best for Beginner Motocross
2. Kawasaki KX65
KEY SPECS
62 mph max speed
High-performance engine
Front and rear disc brakes
Adjustable suspension to fit a variety of terrain
Lightweight steel frame
PROS
High-speed engine
Great value bike
2-stroke engine
Moderately priced
CONS
No speed limited
Manual transmission
If you're looking to introduce your kids to motocross racing, the Kawasaki KX65 is a great model to do so. This model of dirt bike is both powerful and reliable. The 2-stroke engine is liquid-cooled. This bike is for more experienced dirt bike riders, though, as it has a six-speed gearbox and can hit a max speed of 62mph!
It gets a 9/10 for its fast speed and adjustable suspension but unfortunately, there is just no way to throttle the speed if you have a beginner rider.
Our Verdict
This is an affordable and competitive dirt bike for beginner motocross races. But it would help if you kept in mind that this bike does not have a speed limiter, so it's better suited for more experienced and mature racers.
Best for Small but Experienced Riders
3. Yamaha TT-R110E
KEY SPECS
Four-stroke engine
Both kickstart and electric start
Drum brakes
Grippy foot pegs
PROS
Accelerates quickly
Low seat and high ground clearance
Has both kickstart and electric start
CONS
It is on the heavier side
There are faster models of scooter
If you have 8 to 12-year-old riders, you may want to look at the Yamaha TT-R110E. These bikes have quick acceleration, which makes them more suitable for experienced riders. In addition, it has higher ground clearance for rougher trails but a low seat, which is better for shorter riders. We gave this bike a 9.5 out of 10 because it can be a little confusing as to who this bike is for: it's great for small but experienced riders.
Our Verdict
This bike has a lot of good characteristics, such as incorporating both kickstart and electric start. But there is a little bit of confusion as to who exactly this bike is for. Size-wise, this bike is a little on the small side, but its acceleration and speed require a bit more maturity and experience to use safely. So if you have a child who is on the small side but is a great trail rider, this might be the bike for you.
Beginner Trail Bike for Teens or Shorter Riders
4. Suzuki DRZ125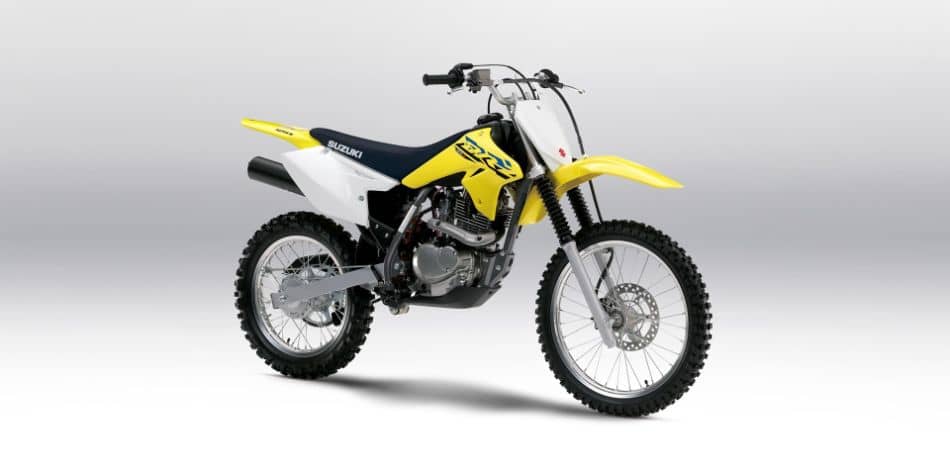 KEY SPECS
Four-stroke engine
Low tech
Great for shorter riders between 4 foot 6 and 5 foot 4
Rollover and crash sensors
For racing or casual riding
Electric
PROS
Perfect for beginner trail riders because it doesn't go too fast
It is simple and reliable; low-maintenance engine
CONS
This bike is not fast, so it is not intended to be a race bike
It isn't great for jumps and tricks
Will not fit riders over 5 foot 6
The Suzuki DRZ125 is a great starter trail bike. It is easy to ride, reliable, and not too fast, so it's a safe choice for beginners who want to hit the trails.
We give this bike a 9.5/10 because it is easy to ride, reliable, and a safe choice for the beginner but it isn't fast and it isn't good for tricks.
Our Verdict
We love this bike for beginner trail riders. It is reliable and easy to ride and easily navigates tight trails. It isn't going to go fast, though, so your tall Motorcross racers won't be satisfied with this model.
Best Bike for Multiple Riders
5. KTM SX E5
KEY SPECS
Multiple ride modes
Lockable power settings
Simultaneous Connections
Rollover and crash sensors
For racing or casual riding
Electric
PROS
Terrific safety features
Electric – no gas or oil to worry about
Swappable battery
CONS
Comes with a high price tag
The battery life won't last through multiple races
The KTM SXE5 is loaded with safety controls. It has a very simple instrument panel with six different ride modes so that you can tailor the settings to different ability levels. This makes it possible to share the dirt bike easily between siblings of different sizes and abilities. In addition, it has a roll-over sensor to cut the power if your child should crash and a wrist lanyard to cut the power in case they fall. You can also limit the power for beginner users.
Our Verdict
If you're looking for safety features, then this is the right bike. What I love about this bike is that you can use it for multiple children, from beginner to advanced. You can preset the ride modes for a newbie while also having a setting for your more experienced moto racer, as well.
Although it's a bit pricey, it will save money and space because you won't need multiple bikes.
Guide to Choosing the Best Kids Dirt Bike
Safety Features
My first consideration on any bike – motorized or not – is safety. I don't think you can be 'too safe' when it comes to dirt bikes and Motocross.
One safety feature that is important to me is being able to limit the power and speed that your child can access. This way, when they are new to riding, you can give them just enough power to learn to ride. Then, when they're more experienced, you can give them a little more.
On the other hand, a bike that has crash features is very comforting, as well. That's one thing I love about the KTM. It has a wrist lanyard that attaches to the bike. If your rider falls off the bike, the lanyard pulls out the key, which turns off the bike. It also has a crash sensor, so if the bike turns over, it will shut off.
Throttle Limiter
Along the lines of safety is a throttle limiter. This can be achieved in a variety of ways. Some bikes have a throttle limiter screw so the parents or coach can just set the appropriate speed. Others do this with an instrument panel.
If you can't afford a bike with these kinds of controls, look for an engine that has fewer CCs. They'll have less power. As the child gets more experienced, you can get them a bike with more CC's or more power. Engines will vary from 49ccs to 249ccs, depending on the bike.
Tires
The smaller the child, the smaller the tires you will probably want to have on the bike. Larger tires mean that the child will be higher off the ground, so they may have a harder time putting their foot down. Larger tires also raise up the center of gravity, which means it will take a little more skill to handle the bike.
Smaller tires will help smaller children be able to put their foot down when necessary – like for stopping. It also means that lighter-weight kids can control their bikes better.
You'll also want to consider the width and knobbiness. Wider tires and knobby tires will give better traction on rough terrain, but they will also take more engine power to spin. On the other hand, thinner, less knobby tires will have a little less traction but will spin faster and easier.
So if you're going to be looking at trail riding, wider tires may work better. If you're going to be racing, thinner tires may be better. Your owner's manual will tell you the range of tires that will work for your specific bike.
Acceleration and Throttle Control
Two-stroke engines have a shorter combustion cycle than four-stroke engines. So what does this mean for your child's dirt bike? Well, a two-stroke engine will have a quicker, more abrupt acceleration, while a four-stroke engine will rev up a little bit more slowly and smoothly.
So for handling purposes, a four-stroke engine might be a better choice for a beginner. However, if you need to accelerate quickly, as in racing, you may want to look into a two-stroke engine.
If you are looking at an electric dirt bike, it won't be a two-stroke or a four-stroke. The benefit of an electric dirt bike is that you don't have to worry about gas or oil.
Cost, Value, and Resale
A good dirt bike is going to be an investment. They just aren't cheap. So you'll want to consider the initial cost – how much of a bike can you afford? The bikes on this list range from $1699 to $5499. That's a big difference. However, consider that the $1699 bike is for beginners and has limits on its speed and acceleration. The $5499 bike is electric and has settings so that it can be used for multiple riders, which saves money on purchasing multiple bikes
You may also want to consider resale value, as your kids may quickly outgrow the size or speed of their bikes.
Shifting
How coordinated is your child? Will they be able to use a clutch and shift the bike? Or will you need to purchase a bike that has an automatic transmission? Typically, a dirt bike will have anywhere from 3 to 6 gears to choose from. When shifting, it is a simple up or downshift.
Frame Material
Dirt bikes are usually made of aluminum or steel, or both. Because of the motor, dirt bikes tend to be heavy, but you can save a little weight if you use a bike with an aluminum frame. However, steel naturally provides a smoother ride and may be more resistant to breakage.
Suspension
There are different amounts of suspension on dirt bikes. Bikes that are meant for trail use have a little more suspension to give traction (and comfort) over obstacles, while bikes meant for racing need less suspension (and thus a lighter bike).
Most of the time, suspension can be adjusted based on the weight of the rider and the types of trails you are riding.
Brakes
Dirt Bike brakes are a little bit different than road bike brakes. The front brake usually is a hand lever on the handlebars, while the rear brake is usually controlled by a foot lever.
Handlebars
The handlebars are flat and wide for making hard turns and giving the rider excellent control.
Final Thoughts on Choosing the Best Dirt Bike for Kids
It isn't easy choosing the best dirt bike for your child. You want them to be safe, but you also want them to have fun – and win! So there is a balance to be found when choosing the perfect dirt bike.
For me personally, I would have to purchase the KTM SX-E5 for my kids. I love this bike the best because it is just loaded with safety features that my kids really need to learn safely. I love the crash and fall features because accidents do happen. Kids fall off dirt bikes just like they fall off their pedal bicycles, and I want to give them the best safety options so they can pick up their bikes and hop right back on.
The other thing I like about this bike is that it is intended to be used with more than one rider. So rather than having to purchase a dirt bike for each of my six kids, I know that they can all pretty much share the same one. So although it is more expensive – it actually saves me a lot of money overall because I can create an individual power setting for each child's specific abilities. And while it might be challenging to have so many kids share the same bike, it's a great way for them to learn to take turns.
Lastly, I love this bike because it is electric. I don't have to worry about filling the tank with gas and checking the engine for oil; I can just plug it in each night when I charge up their tablets and laptops.
All around, the KTM SX-E5 is my favorite choice for my kids.
Frequently Asked Questions
At what age can kids start riding dirt bikes?
Some dirt bikes are equipped with training wheels, so kids as young as three can begin to ride them! There aren't really age limits on dirt bikes. You really just need to know what your own child is capable of so you can get them a bike that is suitable for their age, size, and abilities.
Which is better, an electric or a gas-powered dirt bike?
An electric dirt bike is easier to maintain, quieter, and cleaner than a gas-powered bike. On the other hand, a gas-powered bike will have more power and faster speeds but will be noisier and create emissions. You'll also have to worry about gas and oil, but you'll probably have a longer run time with gas than with electric.
Do dirt bikes for kids have safety features?
Some kids' dirt bikes have safety features. For example, crash features – such as a key wrist lanyard or rollover shut-off are great ideas if your child should fall or flip the bike. Other features include speed or throttle limiters which limit how fast your child can go on the bike.
What is the smallest dirt bike?
In regards to engine size, the smallest dirt bike is a 50cc engine. These are great started bikes for smaller children because they have less speed and power. Your child can learn the skills and handling on a smaller engine before they graduate to something bigger and faster.
Are kids required to wear helmets on a dirt bike?
In Pennsylvania, and probably most other states, children under the age of 12 are required to wear helmets on bicycles. Also, anyone under 21 must wear a helmet when riding a motorcycle. According to riskracing.com, you must wear a helmet when dirt bike riding! You will also want some form of eye protection and probably other protective gear.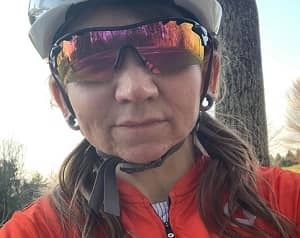 Amanda Whittington is an expert writer, impassioned cyclist, and musician. Coming from a diverse educational background, Amanda discovered a deep-rooted passion for encouraging others through her love of all things cycling, writing, and inspiring hope. 
You'll likely find Amanda pouring over bike specs, comparing the hottest cycling tech, and sporting the latest jerseys while juggling the demands of her editorial calendar, training schedule, tiny homestead, and 6 busy kids. 
She spends her free time absorbed in her own gardening and fitness, cycling, and reading, all while encouraging adoption and foster care, championing the underdog, and of course, working with her chickens and goats.