(Last updated on January 27th, 2023)
Whether you're on your way to the bike shop or starting a cycling expedition, a bike rack makes transporting your bike a breeze. With so many different bike racks and vehicles out there, checking that they're compatible can be tricky. Most SUVs come equipped with roof rails or a trailer hitch that are prerequisites for many models of racks.
This article will share the best seven bike racks compatible with SUVs to make sure your next bike trip is straightforward and worry-free.
Types of Bike Racks for SUVs
No matter what vehicle you drive, there is a bike rack that will fit your specific needs and preferences. There are several main categories of bike racks, but each comes with its strengths and shortfalls. Read through this brief guide to learn more about the types of bike racks commonly found on SUVs.
Roof Racks
SUVs often come outfitted with roof rails on the top of the vehicle to secure bike racks, cargo boxes, and other sports equipment. Roof racks use this extra space above the vehicle to avoid blocking access to the rear trunk where you might need to load and unload additional gear. There are a few distinct versions of bike roof racks, so it's worth a deeper look.
Most roof racks attach to your SUV's existing roof rails to establish a secure and reliable connection. Installing the roof racks is normally a painless process and is highly adjustable, so you can slide the rack to the position you'd like. These days, almost all the models come with dependable locking systems to prevent anyone from snagging the rack (racks by themselves can cost a pretty penny) or your precious bike.
Many roof racks carry bikes with both wheels still attached, while other racks require that the front wheel be removed, securing the bike via the front fork dropouts. "Wheels-on" racks are easier to load since there's wheel removal, but the bike sits higher on the roof and is more exposed. "Wheel-off" models are a bit more streamlined, and you'll need to store the front wheel in your vehicle hopefully, the tires aren't too muddy!
The newest kind of roof rack is vacuum suction cups that mount on any flat surface of the car. Most standard SUVs come equipped with mounting elements, but the suction cups are great if your vehicle didn't come with roof rails or you will be renting a car while traveling.
Hitch Racks
Hitch racks come equipped with a heavy-duty trailer hitch. Installation is easy— simply slide the rack into the hitch's receiver tube and lock it in place. The extra-secure connection allows hitch racks to carry more weight than other types of bike racks.
The main advantage of hitch racks is that it's easy to load and unload bikes. The rack is only a couple of feet off the ground, so you don't have to lift anything very high. Also, some racks include an integrated ramp to make loading and unloading beefy ebikes an effortless task.
Hitch racks can, however, obscure the driver's view out the rear window and block access to the trunk since the bikes are carried at the rear of the SUV. Higher-end racks include features that mitigate these problems, and some can swing/tilt out so you can open the trunk, even while the bikes are loaded on the rack.
The two main types of hitch racks are hanging and platform/tray racks. Hanging-style racks secure bikes by their top tube with two and let them hang this can sometimes lead to swaying or bikes rubbing against each other. Platform or tray racks strap both wheels into wheel wells and have an additional clamp or adjustable arm for extra stability. These racks are closer to the ground and easier to load but are often more expensive.
Trunk Racks
A classic rack style for sedans and SUVs alike, trunk racks are an affordable way to carry bikes that are compatible with almost any car model. Truck racks use durable straps, hooks, and stabilizing arms to secure the rack to the rear of the car. The racks are adjustable to fit any car model, but finding the perfect settings can be a tedious process. While not in use, trunk racks fold up small for easy storage in your vehicle or garage.
Typically the cheapest type of rack, trunk racks are great for weekend riders or budget-conscious cyclists. The lightweight construction prevents these racks from supporting heavy electric bikes. Bikes hanging from the main rack arm can sometimes swing or rub up against other bikes, especially when the bikes are all a similar size. But trunk racks work great for families that have bikes of different sizes.
Buying Guide For Finding The Right Bike Rack
Rack Compatibility With Your Vehicle
Most SUVs already have the right equipment to mount a bike rack, whether it's a roof, hitch, or trunk rack. But all vehicles are different, even across model years, so it's worth a second look to make sure the rack you purchase can work with your SUV.
The Type of Bikes You Will be Carrying
Every bike rack has weight limits and a specific way to secure the frame or wheels. Electric bikes are significantly heavier than traditional bikes. Some higher-end mountain bikes have uncommon frame shapes that can make loading the bike a tricky task.
Ease-of-use and Vehicle Accessibility
If you plan on frequently changing out the rack, make sure the installation and removal process is fairly painless. Lighter racks that can fold can be stored easily in the back of the vehicle or in the garage. Trunk and hitch racks occupy the rear of the vehicle, but some hitch racks tilt out to allow access to the trunk even while loaded.
Related Article: The Best Bike Racks of 2023
How We Rank The Top Bike Racks for SUVs
I chose the bike racks on this list based on SUV compatibility, ease of use, bike stability, and price. The research behind this roundup combines numerous user reviews, manufacturer specifications, and my cycling industry experience. Racks are critical equipment to get your bike from one place to another, so it's important to choose the best one to be a worthwhile investment.
Comparison Table
| | | | | |
| --- | --- | --- | --- | --- |
| Model | Rack Type | Capacity | Rating | Price |
| Kuat Sherpa 2.0 | Hitch (platform) | 2-bike | Best Overall | $630 |
| Saris Bones | Trunk | 2-bike | Best Value | $180 |
| Yakima OnRamp | Hitch (platform) | 2-bike | Best Rack for Ebikes | $700 |
| Saris Bones EX | Trunk | 3-bike | Best Trunk Rack | $220 |
| Saris SuperClamp EX | Hitch (platform) | 4-bike | Best 4-Bike Rack | $1,000 |
| Kuat Beta | Hitch (hanging) | 2-bike | Best Hanging Hitch Rack | $269 |
| Thule ProRide XT | Roof | 1-bike | Best Roof Rack | $230 |
Best Overall
1. Kuat Sherpa 2.0
PROS
Easy to install and load
Rack tilts out for trunk access
Relatively lightweight
CONS
Won't support heavy ebikes
Almost every bike rack aficionado agrees that the Kuat Sherpa 2.0 is one of the best set-ups on the market. This lightweight model is easy to install and has all the durability we expect from platform hitch racks, supporting bikes up to 40 pounds each. You'll be hard-pressed to find such a high-performing hitch rack at such a competitive price. The rack platform is low to the ground, so it's easy to load and secure the bikes with the adjustable locking arm.
My favorite feature is that you can tilt the rack away from the vehicle, even when it's loaded up with bikes. Most bike racks come in muted colors like black or gray, but the Kuat Sherpa 2.0 adds some flair to your bike adventures with a metallic finish and orange anodized accents a big plus in my book.
Best Budget Bike Rack
2. Saris Bones Bike Rack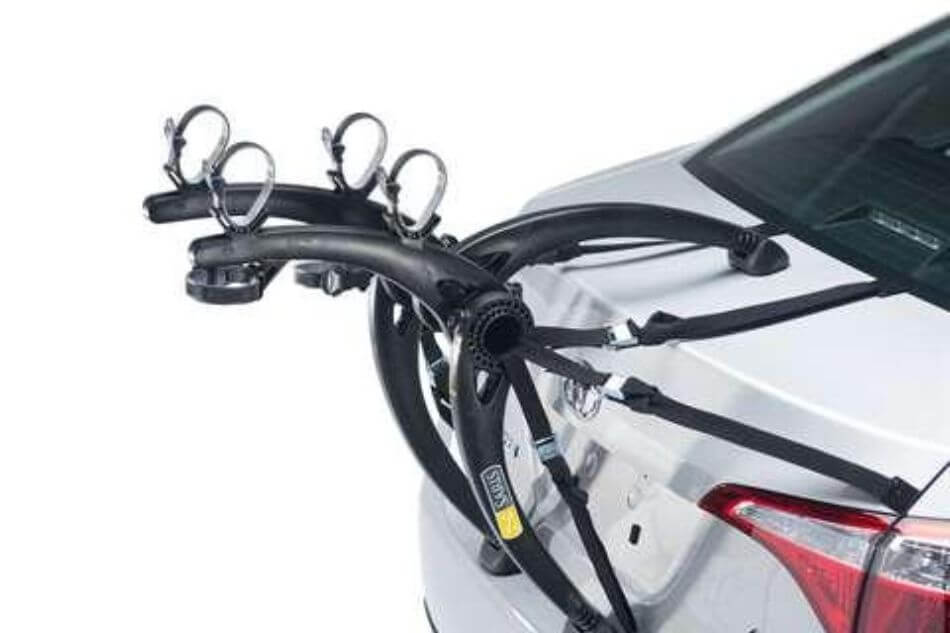 PROS
Affordable price
More stable than similarly priced trunk racks
Fits on any car trunk or SUV
CONS
Hanging bike design isn't the best for avoiding scratches or swinging bikes
The Saris Bones rack is a highly capable and affordable 2-bike model that will fit any SUV. This trunk rack requires more effort during installation, but the durable materials and lightweight construction make it a great value for the price. The stabilizing arms made of heavy-duty, recycled plastic and vinyl-coated hooks ensure a strong connection to the rear of your vehicle, no tools are necessary. The designers at Saris did their homework and produced a fan-favorite trunk rack while keeping costs to a minimum.
As a trunk rack, it may not accommodate bikes with unconventional frame shapes or suspension systems. That said, the narrow profile of the mounting arms allows for better compatibility than most other hanging-style racks. It's not recommended for heavy ebikes, but it's a perfect rack option if your SUV doesn't have a hitch or you prefer a lightweight bike rack over beefier models.
Best Bike Rack for eBikes
3. Yakima OnRamp
PROS
Integrated loading/unloading ramp for heavier bikes
Tilts out to allow trunk access
Weight capacity of 66 lbs. per bike
CONS
Not everyone likes frame clamps
Easily load and transport your ebikes with this innovative hitch rack designed especially for heavy bikes. Leave the days of struggling to lift your weighty ebike in the past. The Yakima OnRamp is engineered to carry two bikes, up to 66 pounds each, and includes an integrated ramp that lets you effortlessly roll your bike onto the rack.
This rack uses adjustable frame clamps as an additional point to secure heavy or large bikes. Like other high-quality hitch racks, this rack can tilt forward with bikes loaded for trunk access. Whether you have an ebike or simply want additional assistance loading and unloading, the Yakima OnRamp is here to make your life easier.
Best Trunk Bike Rack
4. Saris Bones EX 3-bike Rack
PROS
3 bike capacity
Lightweight
Folds down easy for storage
CONS
Hanging design can lead to bikes rubbing
Not the easiest to install
As the upgraded version of the Saris Bones model, the EX rack carries three bikes and easily mounts to almost any car or SUV. The versatile design and sturdy construction come at a great price point, too. The team at Saris has streamlined the installation process, and it's fairly painless to set up, especially considering it's a trunk rack.
The lightweight molded plastic arms keep the rack stable and can fold almost completely flat when you want to store the rack in your vehicle or garage. Bike racks typically come in 2-bike or 4-bike versions, but I'm glad there's this quality trio option. This rack is ideal for people looking for a 3-bike rack that's sure to fit on your vehicle and won't break the bank either.
Best 4-Bike Hitch Rack
5. Saris SuperClamp EX
PROS
Compact platform rack design
Holds four bikes
Rack tilts to access the trunk
CONS
Hefty price tag, but potentially cheaper than buying an add-on to a 2-bike rack
Many 2-bike hitch racks come with add-on options, but the Saris SuperClamp EX allows you to carry four bikes immediately. If you frequently transport three or four bikes, you'll reap the benefits of this innovative platform rack. The super-compact design carries a pair of bikes on each of the two horizontal bars, making it significantly lighter and smaller than 4-bike add-on racks.
The rack includes a tilting feature that allows access to the rear of the vehicle, even when fully loaded with bikes. It has a sleek aesthetic for such a high-capacity rack and folds up when not in use. Take a look at this model if you're expecting to carry four bikes regularly and want to save some money compared to more expensive add-on setups— it even has an integrated bottle opener!
Best Budget Hitch Bike Rack
6. Kuat Beta
PROS
Sturdy and ultralightweight
Tilts out to allow trunk access
Straightforward installation
Aesthetic powder coat finish
CONS
40 lbs. weight limit per bike
Hanging design can lead to bike rubbing
Another stellar offering from Kuat, the Beta model is a hanging-style hitch rack that overperforms its affordable price point. At only 14 lbs, it's ultralightweight for a hitch rack, making it easy to install and store folded up. The durable materials enable the rack to carry two bikes up to 40 lbs each. Maybe not enough for ebikes, but it can definitely handle big frames and heavy steel models.
Hanging-style racks can cause bikes to move around, but the anti-sway carriages ensure a problem-free experience. The rack can tilt down for vehicle access, and it's available in both 2" and 1.25" hitch sizes. I enjoy the sleek, powder coat finish and the simple design; sometimes, that's all we need. Take advantage of the competitive price and get your hands on this quality Kuat product to last you years and years.
Best Wheels-On-Roof Rack
7. Thule ProRide XT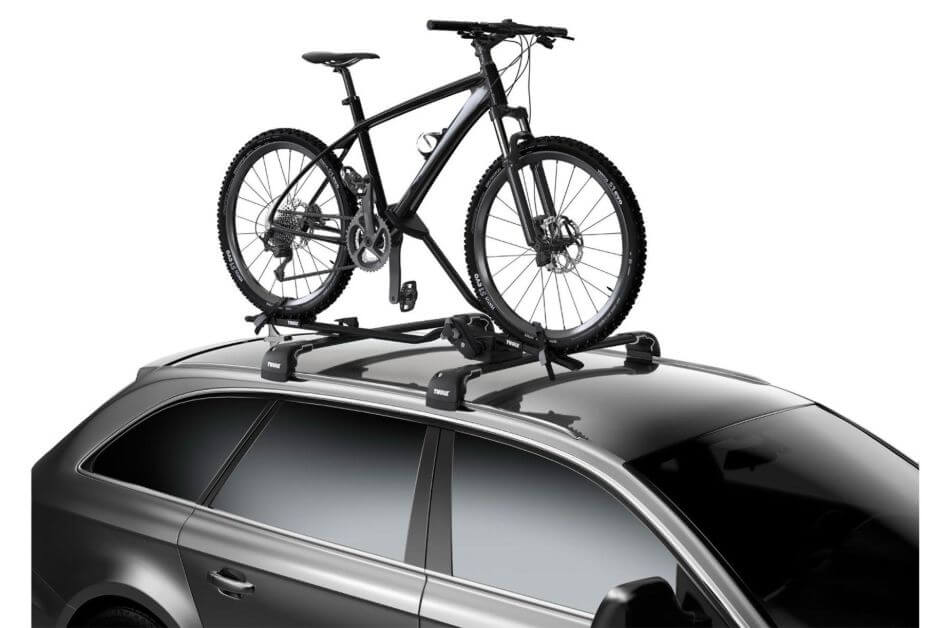 PROS
Simple and easy installation and bike loading
Secure bike frame holding arm
Wheels-on design
CONS
Lifting the bike over your head to the roof
Purchasing of add-ons to fit certain bikes
For people that prefer to mount their bike on the top of their SUV, the Thule ProRide XT is a super-secure and stable solution. The mounting hardware fits most vehicles' rails and crossbars, and you can load the bike from either side of the rack. The most attractive design element is the frame holder bar to keep your bike securely in place with no swaying. The frame bar clamps onto the down tube with a torque limiter and soft pads to prevent any frame damage.
There is no need to take the front wheel off— both wheels automatically position themselves into the wheel tray and get strapped down. You can purchase additional accessories to protect carbon frames or accommodate fat bike tires if you have specific bike needs. If you don't mind lifting your bike overhead while loading and unloading, this rack is straightforward, tool-free equipment that's much cheaper than a hitch rack
Frequently Asked Questions
How do you carry a bike on an SUV?
SUVs often come with additional features that enable you to carry a bike in various ways. Almost all SUVs will allow you to use a trunk-mounted rack that doesn't require extra equipment. If your vehicle has roof rails, you can carry a bike on top of your car with a roof bike rack. SUVs often come with trailer hitches where you can install a hitch rack that make it easy to load and unload bikes.
How do you put a bike on an SUV roof rack?
Loading a bike on a roof rack can be tricky because you'll need to lift the bike over your head. To make it easier, lift the bike with one hand holding the front fork and the other hand grabbing the rear seat stays. Don't lift by the wheels because they will move and twist. Raise the bike over your head and place the wheels into the track of the roof rack and secure the bike.
Can you use a car bike rack on an SUV?
Trunk bike racks that work with most cars and sedans are also compatible with SUVs. This kind of rack attaches to the trunk and rear of the vehicle using adjustable straps and stabilizing arms. They can prevent you from opening the trunk of the SUV, but are a solid budget option for the occasional bike trip.
What kind of bike rack is best?
I would love to give you a simple, direct answer, but the best bike rack depends on your vehicle and feature preferences. Many people enjoy the easy bike loading and unloading offered by hitch racks since they are lower to the ground (you'll need a hitch, though). Roof racks are a neat solution but can be difficult to load. Trunk racks, despite the involved setup, are budget-friendly and reliable.
Do you have to have a hitch for a bike rack?
A trailer hitch is required if you want to install a hitch bike rack on your vehicle. Roof racks and trunk racks, however, don't need a hitch and can be installed on most cars and SUVs. You can install a trailer hitch if your vehicle doesn't have one, but that might be more work than you want to do. Non-hitch rack options are popular solutions that provide a secure way to carry bikes.
How do I choose a bike rack?
First, think about what kind of racks are compatible with your vehicle. Hitch racks require a trailer hitch and roof racks secure onto roof rails on the top of the car. Trunk racks work on almost any car. Then decide how many bikes you will likely be carrying racks can typically carry 2, 3, or 4 bikes. Browse options to see any features like a ramp, tilting, etc. that you might find useful.
Still have questions about the best bike racks for SUVs? Let us know!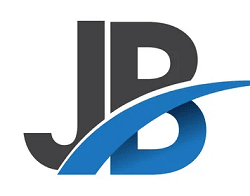 Jeffrey Brown is a writer, editor, and professional bike mechanic with over 7 years of experience working in full-service and community-based bike shops. As a bicycle educator, he has supported youth programs across the US that teach bike mechanics and life skills to prepare the next generation of cyclists.
Jeffrey began his professional mechanic career at his university bike co-op, so he recognizes the grassroots power of the cycling community. Initially self-trained as a mechanic, his subsequent positions as manager and lead educator gave him official training. He has won various awards and grants for his role as a bicycle and environmental advocate.