(Last updated on February 8th, 2023)
Do you need to store your bike indoors but are running low on space? Explore this comprehensive guide to learn about the best bike storage ideas with diverse designs to match your home's layout. Whether it's for a garage or living room, check out the efficient space-saving solutions below.
Types of Bike Storage Solutions
There are plenty of different ways to store your bike that'll match your space. Here are the five main categories of bike storage:
Floor racks
Vertical wall racks
Horizontal wall racks
Ceiling racks/hooks
Free standing column
1. Floor Racks
Using a floor rack is a major upgrade from simply leaning your bike against the wall and is a simple way to organize your space. Most racks of this type come already put together, so you just need to place it on the floor and you're done— easy! If your bike doesn't have a kickstand or you want to store a few bikes together, floor racks are an effortless solution.
Some floor racks are designed to store a single bike whereas other models can fit up to six bikes. The larger racks look similar to the industrial bike racks you'd find in the city at parks, schools, or other public locations— great for a big family or parking your bikes outside your home.
PROS
No installation necessary
Can be moved around
No need to lift a bike
CONS
Takes up floor space
Less stable
2. Horizontal Wall Racks
Horizontal wall racks mean you'll lift your bike and place it on the wall as if you were hanging a large painting. The bike stays level and frees up precious floor space, so if you've got room on your wall, this option is right for you. This storage solution ranges in size but typically won't ruin the aesthetic of your wall when the bike's not there.
There's normally a bit of installation required, but the neat and sturdy storage method is worth it. If you've got a bike you love the look of, horizontal wall racks are a great way to show off your two-wheeled masterpiece like a work of art. Some racks carry two bikes while others are small hangers that secure a single bike to the wall.
PROS
Frees up floor space
Easy to get a bike on
CONS
Some installation required

Requires a wall stud or beam

Takes up a lot of wall space
3. Vertical Wall Racks
As a professional mechanic, I know that the best way to save space is to hang bikes vertically. I'm thinking of some crowded warehouses where past shops I've worked in stored hundreds of bikes, but the same logic applies to your home. These vertical racks hang bikes from the front wheel and the back wheel rests on the lower portion of the wall.
This storage option can work great in a garage or corner of a room where the bike can stick out from the wall. For several bikes, it's easy to line up a couple of racks or hooks and organize them together in a small space. Keep in mind, however, that lifting a bike's front wheel to the rack can be a bit difficult or awkward.
PROS
Great for hanging several bikes close together
Takes up little wall space
Compatible across most wheel sizes
CONS
Awkward to lift the bike to the rack
4. Ceiling Racks and DIY Hooks
Look at the ceiling of any bike shop or the garage of an avid cyclist and you'll probably see something hanging up there. Whether you spot a bike or other two-wheeled accessories, cyclists love taking advantage of ample ceiling space. Storing bikes above your head is one of the most space-efficient methods out there.
Ceiling racks range from complex pulley systems to DIY hooks attached to wooden beams. Feel free to get creative and utilize the unique layout of your garage to get the most out of the space. This solution is perfect for people that don't use their bikes every day and want an out-of-the-way place to store bikes in the off-season.
PROS
Most efficient use of space
Won't ever get in the way
CONS
Most involved installation process
Can be difficult to get the bike on the rack
Requires high ceilings
5. Free Standing Column
If you don't want (or can't) drill anything into your walls, a free-standing column can be a practical way to hang up a couple of bikes. This floor-to-ceiling column, also called a tension pole, can support one or two bikes horizontally.
It takes up the same amount of space as a horizontal wall rack but is easier to move around or take down without much effort. If you have space in front of windows, a tension pole can fit next to the wall— keep in mind that this solution won't work with very high ceilings.
PROS
Not dependent on a wall
Easy to install and move around
CONS
Have to lift bikes to rack
Not compatible with high ceilings
Outside Storage Solutions?
Storing bikes inside your home is always safer than keeping bikes outside, but if space is at a minimum, that may be your only option. Some floor racks are rated for outdoor use and have a heavy-duty coating for extra durability. Consider a lockable bike shed that will keep your bikes safer as well as away from the elements so your bikes are always ready to ride.
Bike Storage Buyer's Guide
Consider the Space You Have
The first thing you have to think about when purchasing a storage system is where it should go in your home. Everyone's space is different and may present limitations that eliminate certain bike racks from your options. Locate the ideal spot for your bike and look around for possible places to mount a rack including the wall, the ceiling, or the floor.
Check out the cheat sheet below for quick tips on which storage solution matches your space:
Plenty of wall space = horizontal wall rack
Lots of floor space = floor rack
A wall corner or behind a door = vertical wall rack
No wall space or next to a window = free-standing column
High ceilings or large garage = ceiling rack and hooks
To Lift or Not to Lift
One of the main differences between bike racks is whether you'll need to lift your bike high in order to hang it up. Vertical wall racks and horizontal racks require that you lift the bike around shoulder level which can be difficult for some people.
Floor racks and single-bike hangers are ideal for cyclists that don't want to do much lifting. Ceiling racks are a great use of space but may mean you need to lift your bike above your head each time you need to get it out.
Price Matters
It's worth saying that leaning your bike against the wall is free and a simple kickstand is super affordable. This means storing your bike can be free, but you lose out on saving space in your home, especially if you only use your bike every once in a while.
Consider how much you want to spend and take a look at the options on this list to see which ones match your budget. The cheapest solutions include storage hooks and small wall mounts.
How I Evaluated
Although there are dozens of distinct bike storage designs out there, good storage systems have certain things in common: a quality bike rack should be easy to install, efficient use of space, and hold your bike securely. I researched a wide range of popular models and dove deep into manufacturers' specs and user reviews to choose the storage ideas that are worth the money.
I've included at least one of each storage system described above so you can pick out the rack that works best for your space. There is a range of prices to match your budget, too. I'm a firm believer that storing your bike shouldn't be too expensive— after all, leaning your bike against the wall is free! Check out the following products that use durable parts ideal for daily use, and perfect for effortlessly storing your bike inside.
Compare Bike Storage Solutions at a Glance
| | | | | | | |
| --- | --- | --- | --- | --- | --- | --- |
| Model | Type | Capacity | Max. tire width | Min. wheel size | Rating | Price |
| Delta Cycle Michelangelo Two-Bike Gravity Stand | Horizontal wall rack | 2 | All widths | 16" | 9.5/10 | $105 |
| Steadyrack Classic Rack | Vertical wall rack | 1 | 2.1" | 20" | 9/10 | $90 |
| Ibera Adjustable Bicycle Wall Hanger | Horizontal wall rack | 1 | All widths | 16" | 8.5/10 | $35 |
| Feedback Sports Velo Column | Free standing column | 2 | All widths | 16" | 9/10 | $220 |
| Racor B-1R Solo Vertical Bike Rack | Vertical wall rack | 1 | 2.3" | All wheel sizes | 8/10 | $20 |
| Park Tool 451 Bicycle Storage Hook | Storage hook | 1 | 2.3" | All wheel sizes | 8.5/10 | $6 |
| Outback Mighty Mite 6-Bike Parking Rack | Floor rack | 6 | 2.3" | 12" | 9/10 | $140 |
Best Bike Storage Solutions of 2023
1. Delta Cycle Michelangelo Two-Bike Gravity Stand
KEY SPECS
| | |
| --- | --- |
| Type | Horizontal wall rack |
| Capacity | 2 bikes |
| Max. tire width | All widths |
| Min. wheel size | 16" |
PROS
Affordable
Easy to set up
Two-bike capacity
CONS
Not the most elegant look
This popular horizontal wall rack stands out because it's super easy to assemble and feels sturdy, even with a load of two bikes. Installation won't affect your wall too much and only requires a Phillips screwdriver and a drill to position a single screw in the wall. Users have even reported the rack's sleek steel tubing is stable enough to stand freely.
There are support arms along the ladder-like frame that hooks onto a bike's top tube and can be adjusted tool-free for a perfect fit. This rack is an affordable option to hold up to two bikes and doesn't require construction worker-level knowledge to put up. It loses half a point in my rating, however, because of its large silhouette that doesn't look great while the bike is off the rack.
2. Steadyrack Classic Rack
KEY SPECS
| | |
| --- | --- |
| Type | Vertical wall rack |
| Capacity | 1 bike |
| Max. tire width | 2.1" |
| Min. wheel size | 20" |
PROS
Easier to use than a standard wall hook

Won't ruin interior design

Fits range of wheel sizes
CONS
A bit expensive for what it is
Another fan-favorite storage solution is the Steadyrack vertical rack that hangs your bike by its front wheel to save wall space. This rack fits a wide range of tires and features a wheel well that's much easier to get a bike in and out of than a standard hook (which can get caught in the spokes).
The rack folds out and allows you to roll your bike forward and secure the front wheel, holding the bike upright. Great places for this rack are in a corner or behind a door to keep your bike out of the way and store your bike if wall or floor space is at a minimum. This rack is a little expensive compared to other vertical options, knocking a point off my rating, but it's still a worthy investment.
3. Ibera Adjustable Bicycle Wall Hanger
KEY SPECS
| | |
| --- | --- |
| Type | Horizontal wall rack |
| Capacity | 1 bike |
| Max. tire width | All widths |
| Min. wheel size | 16" |
PROS
Low-impact on wall
Highly adjustable
Great value
CONS
Installation is a bit more involved
The Ibera wall hanger is a highly adjustable storage solution that's low-impact on your wall. There's a telescopic tube that has two adjustable arms that can be locked into place depending on the geometry of your bike. The tube changes in length so you can alter how far it sticks out from the wall to get the perfect fit for your space.
This customizable storage option is an idea for small living spaces or if you don't have much free wall space. Installation involves some drilling and playing with the adjustable parts, lowering my rating by a point and a half, but that is part of the advantage of this small but mighty horizontal wall rack.
4. Feedback Sports Velo Column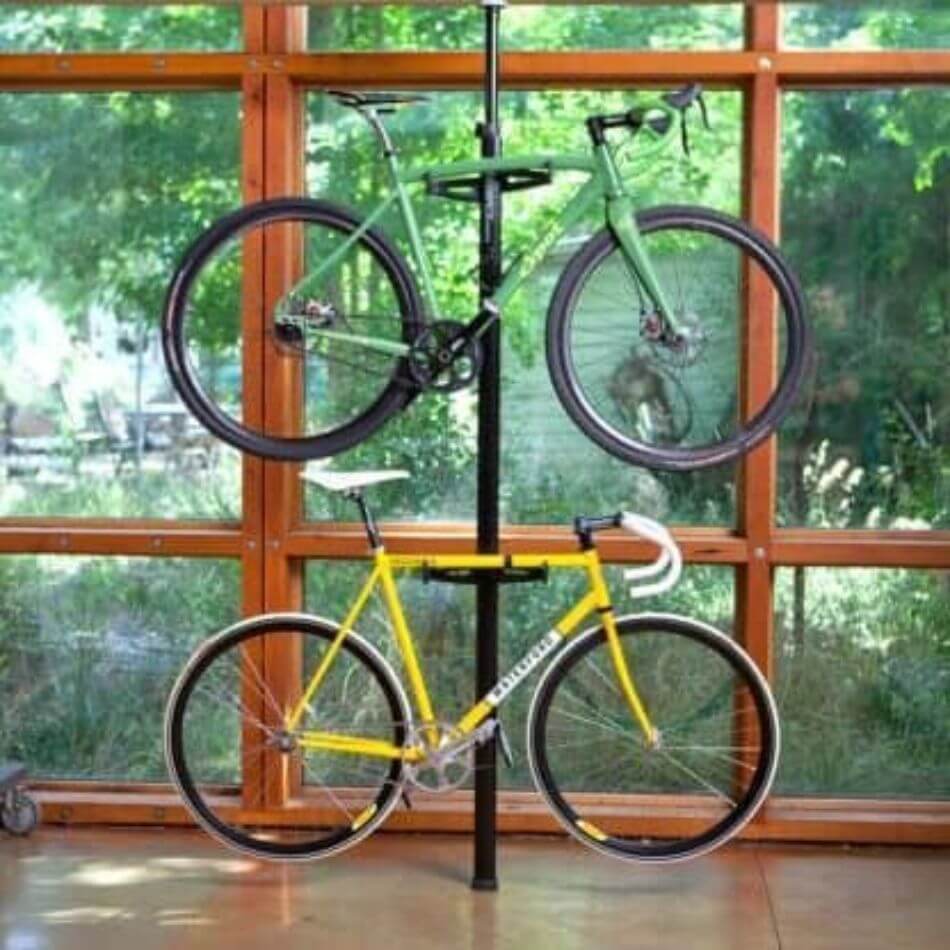 KEY SPECS
| | |
| --- | --- |
| Type | free-standing column (tension pole) |
| Capacity | 2 bikes |
| Max. tire width | All widths |
| Min. wheel size | 16" |
PROS
No need for walls
Quality, stable construction
2 bike capacity
As the ultimate problem solver for people with no free wall space, the Feedback Sports Velo Column is a free-standing rack that can hold two bikes. The tension pole system stretches from floor to ceiling and has two mounts for bikes to hang horizontally. There's no need for tools or drilling so setup is a breeze.
This solution can be positioned in front of windows or artwork and won't take up precious wall space. The solid construction and innovative engineering come at a premium, though— it's the most expensive option on this list. The high price take knocks a point off my rating, but if you have the cash and can't mount a wall rack, the Velo Column is a sure bet.
5. Racor B-1R Solo Vertical Bike Rack
KEY SPECS
| | |
| --- | --- |
| Type | Vertical wall mount |
| Capacity | 1 bike |
| Max. tire width | 2.3" |
| Min. wheel size | All wheel sizes |
PROS
Small profile on wall
Affordable
Easy to install
CONS
Won't work with wide tires
The Racor vertical bike rack is one of the simplest designs on this list— it works like a charm and is budget-friendly, too. Riders lift the front wheel to hook it into the C-shaped hanger, saving a ton of floor space. The hanger has a no-scratch coating to protect your rims and some guard rails that keep your bike from swaying while on the wall.
The low cost and simple installation are hard to beat, however, some users reported that it was difficult to fit bikes with wide tires into the hook. If you have a mountain bike with big tires or a knobby tread pattern, this rack is probably not the one for you. The incompatibility with some MTBs knocks two points off my rating, but road cyclists or commuters will be served well by this affordable bike storage solution.
6. Park Tool 451 Bicycle Storage Hook
KEY SPECS
| | |
| --- | --- |
| Type | Bike storage hook |
| Capacity | 1 bike |
| Max. tire width | 2.3" |
| Min. wheel size | All wheel sizes |
PROS
Unbeatable price
Easy to install
Can be placed anywhere
CONS
Won't prevent bike sway or tire marks on the wall
If you are building your own bike storage system, this simple storage hook is the perfect tool for the job. Whether you are planning a multi-bike rack or just doing a little bit of DIY, this hook from Park Tool can support a front wheel from the wall or ceiling. The threads secure into wall studs or ceiling beams and the vinyl coating prevents any scratches on wheel rims.
At just $6, it's hard to beat this classic bike storage solution loved by cyclists for decades. Sometimes simple is best— I remember the multitude of hooks like this at my old bike shop and my dad's garage back in the day. It's just a hook, so you may need to get creative to prevent your bike from swaying or making tire marks on the wall— this drops a point and a half from my overall rating.
7. Outback Mighty Mite 6-Bike Parking Rack
KEY SPECS
| | |
| --- | --- |
| Type | Floor rack |
| Capacity | 6 bikes |
| Max. tire width | 2.3" |
| Min. wheel size | 12" |
PROS
6-bike capacity
Low maintenance, simple design
CONS
Takes up a lot of space
No coating to protect wheels
The Mighty Mite bike rack is a classic design that you'd expect to see at your local park in a home-friendly package. This rack can hold up to six bikes, making it perfect for a family or roommates who want to keep their bikes all in one place. It'll take up a decent amount of space on the floor, but the main advantage of this type of rack is organizing a group of bikes.
The rack is made of powder-coated steel that looks nice enough to put in your spacious garage and durable enough for leaving it outside in the elements. The brand recommends this rack for large households, apartment complexes, or outside small businesses. There's no special coating to prevent scratches to your wheels which lowers my rating, but it's hard to beat this multi-bike storage solution.
Frequently Asked Questions
Is it OK to store a bike vertically?
It's fine to store your bike in a vertical position and it's a great way to save space. If your bike has hydraulic brakes, pump your brakes a little after taking it off the rack to reset the hydraulic fluid system and get your brakes back to normal. 
How do you store a lot of bicycles?
The key to storing many bikes is positioning them close together which is easiest on vertical wall racks or large floor racks. Simply hang the bikes by their front wheel and line them up on the wall or park them in a floor rack that holds several bikes.
What is the most efficient way to store bicycles?
Ceiling bike racks save the most space since they take advantage of the ample room above our heads. They free up floor and wall space and keep bikes out of the way.
Is it OK to hang bikes by their wheels?
Yes, bike racks won't damage wheels and the rims are plenty strong to support the weight of the hanging bike. Even more, most hooks and hanging systems come with rubberized parts that prevent scratching your bike.
Do bike storage hooks damage rims?
No, appropriate bike storage hooks are curved and have a rubber coating so they don't scratch or damage rims. Just make sure when you place the wheel in the hook gently so as to not hit the spokes or rim. 
How can I store my bike outside without a shed?
Alternate ways to store your bike outside include a floor rack, bike tent, tarp, or other bike covers to keep your bike protected from the elements and less visible to potential thefts. A waterproof seat cover can be a life-saver in the rain.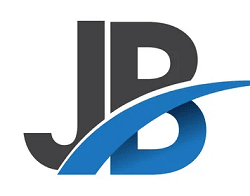 Jeffrey Brown is a writer, editor, and professional bike mechanic with over 7 years of experience working in full-service and community-based bike shops. As a bicycle educator, he has supported youth programs across the US that teach bike mechanics and life skills to prepare the next generation of cyclists.
Jeffrey began his professional mechanic career at his university bike co-op, so he recognizes the grassroots power of the cycling community. Initially self-trained as a mechanic, his subsequent positions as manager and lead educator gave him official training. He has won various awards and grants for his role as a bicycle and environmental advocate.